Road Trip from St Louis to Branson, Missouri
If we told you enjoying live entertainment, thrilling theme parks, jaw-dropping views, and historical exploration is possible in a single road trip, would you believe us? Then you need to take this road trip from St Louis to Branson, Missouri to see for yourself.
This 310-mile road trip from St Louis to Branson, Missouri takes 5 hours to drive and weaves through Lake of the Ozarks, Ha Ha Tonka State Park, Fantastic Caverns, Wilson's Creek National Battlefield, Republic, Osage Beach, Bridal Cave, and Springfield.
If any of these places and attractions have piqued your interest, keep reading to discover our curated routes, the best places to stay overnight, and the most appropriate times to visit Branson.
How far is Branson, Missouri from St Louis, and how long will the road trip take?
Comparison of road trip routes between St Louis and Branson, Missouri

| Route | Distance | Driving Time |
| --- | --- | --- |
| The Direct Route | 310 miles | 5 hours 15 minutes |
| The Kansas City Route | 460 miles | 7 hours 10 minutes |
The Direct Route offers a mix of rural and suburban vibes, with plenty of opportunities to admire the awe-inspiring views of nature. This route is 310 miles long and takes 5 hours and 14 mins to cover.
The more urban and modern Kansas City Route is longer with some historic sites and larger cities along the way. It is 460 miles long and takes just over 7 hours to cover.
This road trip from St Louis to Branson, Missouri may be short but leaves many longer trips behind in terms of offerings. So, we recommend taking at least 2 to 3 days to fully experience the mix of music, nature, and history.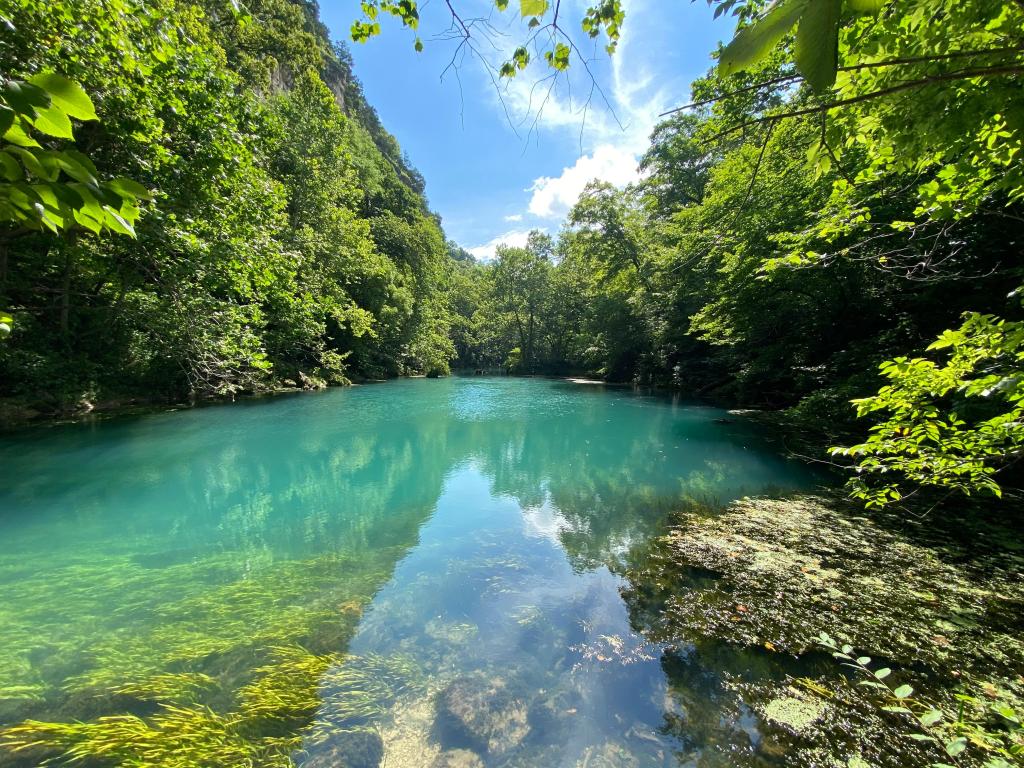 Best road trip route from St Louis to Branson, Missouri
Your decision for route will be a bit more challenging for this road trip from St Louis to Branson, Missouri because both routes offer contrasting experiences and also differ in time. So read on to discover what lies on each and what you would like to experience.
The Direct Route provides the fastest way to reach Branson. If you are after beautiful scenery, rolling hills, and scenic vistas along the way, then this route is perfect for you. Passing through several small towns on well-maintained roads, it gives you a smooth and comfortable driving experience.
Heavily populated areas on this route such as Springfield may result in heavy traffic. If you want to cover more ground with varied lodging and dining options, choose the other route.
The Kansas City Route is longer and takes you through the city of Columbia, offering more of an urban scenery with plenty of dining, entertainment and cultural opportunities. While there are some historical sites along the way, this route does not have a specific historic, picturesque, or quaint vibe.
The Direct Route
To get out of St Louis, get on Interstate 64 (I-64) W and follow it to Kingdom City. From there, follow US-54 W to Bagnell Blvd in Lake Ozark. Get out of the car to spend some quality time on recreational opportunities, surrounded by breathtaking views.
When you're ready, head west on US-54 toward School Rd. Following the highway, you will get to Osage Beach Pkwy which will be your entrance to the stunning Osage Beach. Stay here overnight to relax and regain your energy.
Resume your journey the next day by getting on US-54 in Kaiser and follow it to MO-73 S in Russell Township. Head towards Springfield and from there, hop onto Branson Landing Blvd to reach your destination in Branson, Missouri.
The Kansas City Route
For a modern vibe on this road trip from St Louis to Branson, Missouri, get on I-64 W and follow it to N Providence Rd in Columbia. This is the perfect place to stay overnight on this route.
Drink its famous coffee and indulge in exotic fruits to energize yourself for the second half of the journey. Once you're ready get on I-70 W in Missouri Township. Continue on E 13th St to your destination in Kansas City.
If you can spare some time, consider stopping at this place to fuel up and experience some fine dining. Then get on I-70 E from E 10th St to Branson Landing Blvd. This will take you to your destination in Branson.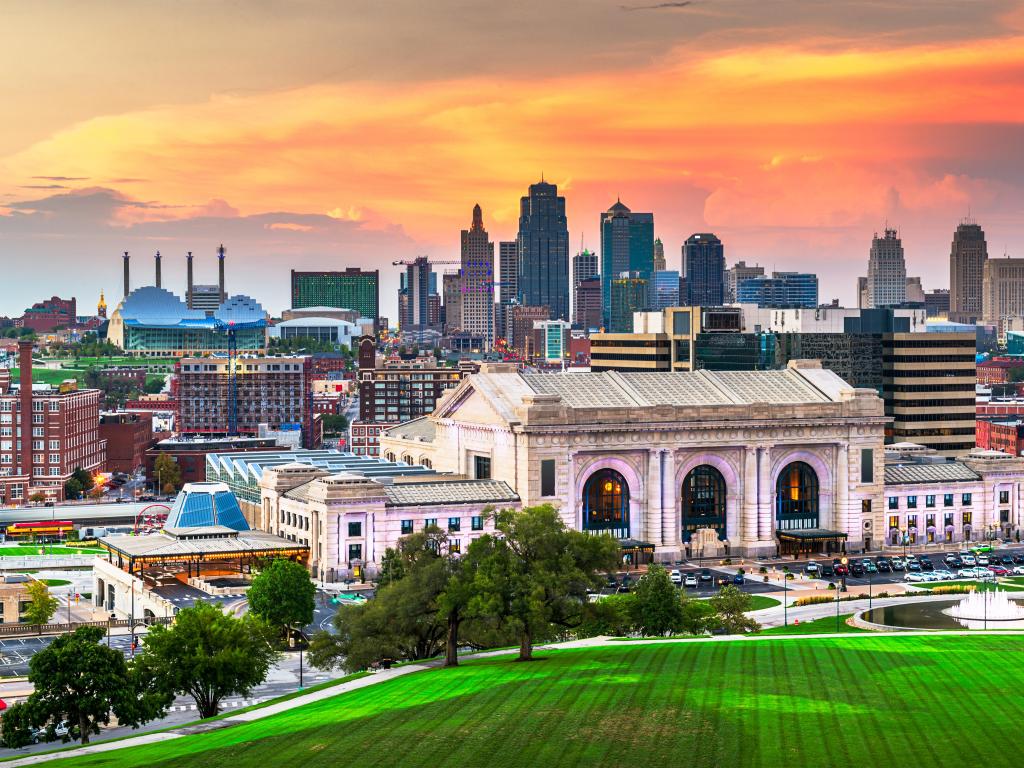 Best places to stop between St Louis and Branson, Missouri
Regardless of the route you take, this road trip from St Louis to Branson, Missouri has several places that would be perfect for a break from driving. Catch your breath and enjoy the exciting attractions these places have to offer before heading toward your destination.
Take a scenic break at Osage Beach
You will find Osage Beach about halfway between Lake Ozark and Springfield on the Direct Route of this road trip from St Louis to Branson. It is situated on the man-made lake, Lake of Ozarks.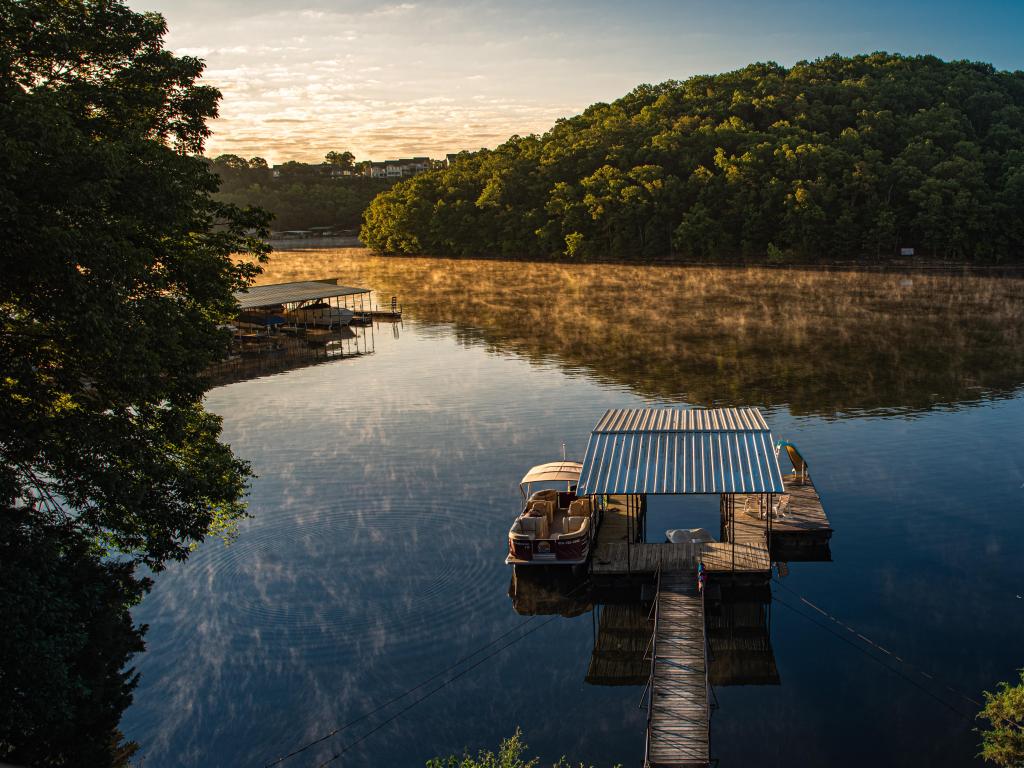 It is conveniently located near several highways. The city is home to the Osage Beach Premium Outlets, a popular shopping destination with over 110 stores. It is also known for its numerous marinas, rolling hills, forests, and expansive views of the lake.
Lake of Ozarks is one of the largest man-made lakes in the United States which offers numerous water activities, including swimming, boating, and fishing. Miner Mike's Indoor Family Fun Center family-friendly entertainment center with go-karts, bumper boats, laser tag, and arcade games.
Ha Ha Tonka State Park is located just a short drive from Osage Beach. It offers beautiful hiking trails, stunning natural features, and historic ruins for nature lovers.
We suggest staying at Tan-Tar-A Estates and Conference Center in Osage Beach. It offers a luxurious and relaxing stay with a state-of-the-art spa, golf course, and swimming pools. Various dining options, including a lakeside restaurant, help you enjoy delicious meals without leaving the property.
It is conveniently located close to the Osage Beach Premium Outlets, Lake of the Ozarks State Park, and several golf courses. Being right off the main road to go in and out of Osage Beach, you won't find it difficult to resume your journey.
Take a break in "Soda City", Columbia
Approximately halfway on the Kansas City route on this road trip from St Louis to Branson sits the "Soda City," Columbia. With many hotels, restaurants, and attractions, it is a convenient place to take a breather. You can also enjoy the vibrant and youthful atmosphere of the University of Missouri here.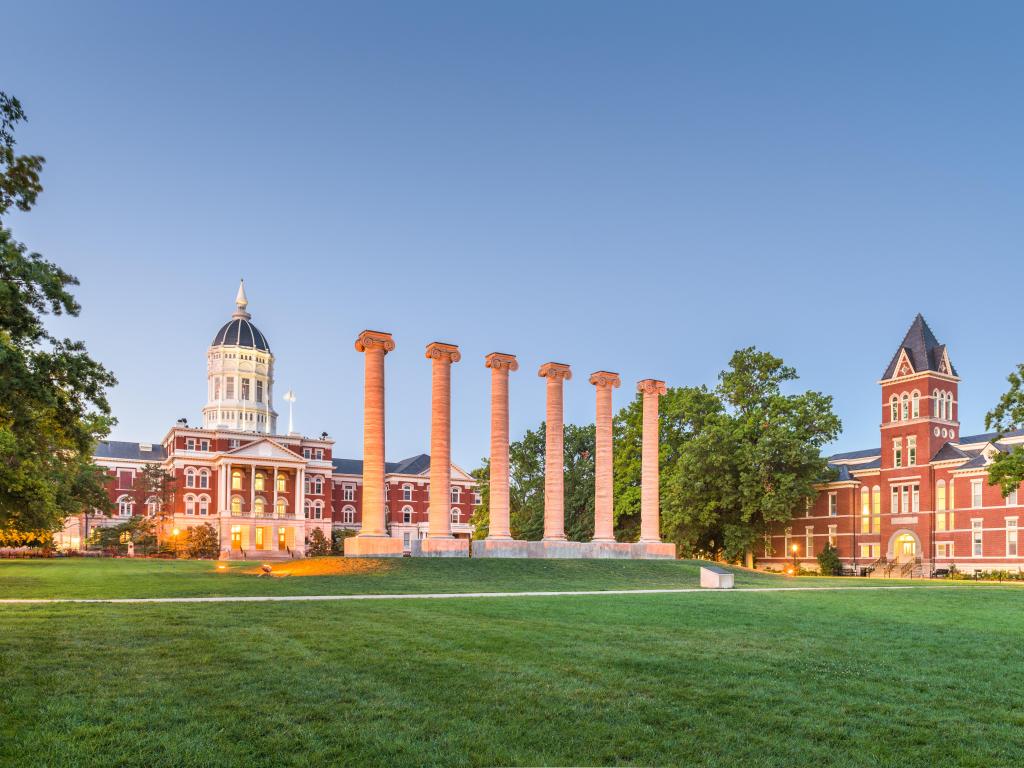 It has a vibrant downtown area that offers locally owned shops, bars, an extensive park system, and trails. It is also known to host numerous festivals and events throughout the year.
Start exploring Columbia by visiting the University of Missouri. Home to many notable alumni, it is one of the oldest flagship universities in the country. Columbia Art League promotes local artists and hosts several art shows, events, classes, and workshops for adults as well as children.
Rock Ridge State Park is known for its unique rock formations, caves, and hiking trails. The District is a great place to experience the local culture.
Our vote for accommodation in Columbia goes to The Broadway Columbia in the heart of downtown. Featuring a fitness center and indoor pool, it can provide a refreshing break for tired travelers. Just off I-70, this hotel makes the highway easily accessible to set off for the rest of the journey.
Numerous shops, restaurants, and attractions including the University of Missouri are within walking distance. The hotel also offers free parking, which is a bonus for car travelers.
Where to stay when you reach Branson, Missouri
Once you reach the musical city of Branson, we highly recommend staying at Lodge of the Ozarks and it's easy to see why. This hotel is located in the heart of Branson, making It a convenient location to park yourself. You can explore several attractions and theaters on foot, leaving the car behind at the hotel.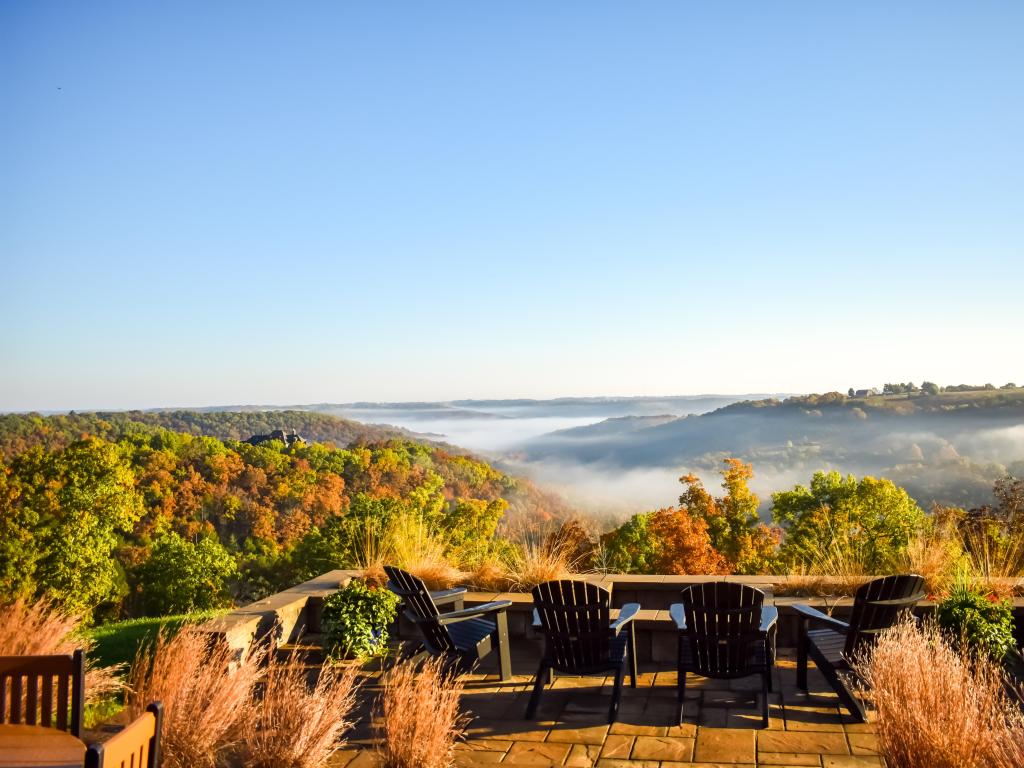 With a comfortable and relaxing atmosphere, this hotel offers incredible views of the Ozark Mountains. An indoor pool and hot tub make sure that you are completely relaxed for the next leg of your journey. It also has a fitness center for health-conscious people.
With free breakfast every morning, you won't have to worry about reenergizing for your packed day ahead. In short, this hotel gives you an enjoyable experience with easy access to the best of Boston, in addition to the basic amenities you will need during your stay.
Things to see on a road trip from St Louis to Branson, Missouri
A successful road trip consists of places along the routes that are just as exciting as the destination itself. This road trip from St Louis to Branson is one of those, so get excited and read on for a virtual tour of what's to come.
The Direct Route
Ha Ha Tonka State Park – Unleash your inner explorer in this scenic park with castle ruins, hiking trails, and natural bridges.
Lake of the Ozarks State Park – This state park gives you the opportunity to take a dip in the lake, bath in the sun at the beaches, and hike on trails and campgrounds.
Bridal Cave – Take guided tours in this beautiful cave system with underground lakes giving you a mixed experience of exploration and relaxation.
Wonders of Wildlife National Museum and Aquarium – Explore diverse wildlife and habitats from around the world in this world-class museum and aquarium.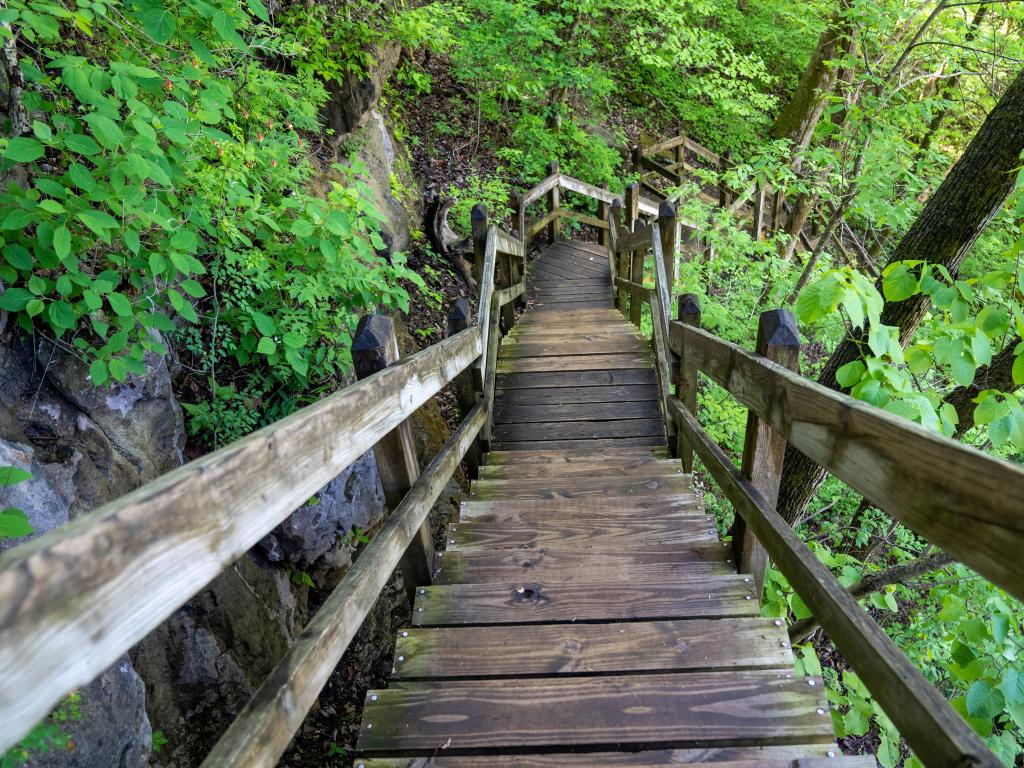 The Kansas City Route
University of Missouri, Columbia – Walk around one of the largest universities in the state known for its beautiful campus and notable alumni.
Boulevard Brewing Company, Kansas City – Immerse yourself in the history and culture of beer-making as you tour this popular brewery and taste its craft beers.
National World War I Museum and Memorial, Kansas City – Go back in time and explore the history of World War 1 in this dedicated museum and memorial with exhibits and interactive displays.
Kauffman Stadium, Kansas City – Visit the home stadium of the Kansas City Royals baseball team which is a great place to catch a game during the season.
Rock Ridge Memorial State Park, Columbia – Feed your inner thrill-seeker in this park with hiking trails, caves, and a natural rock bridge that is must-see.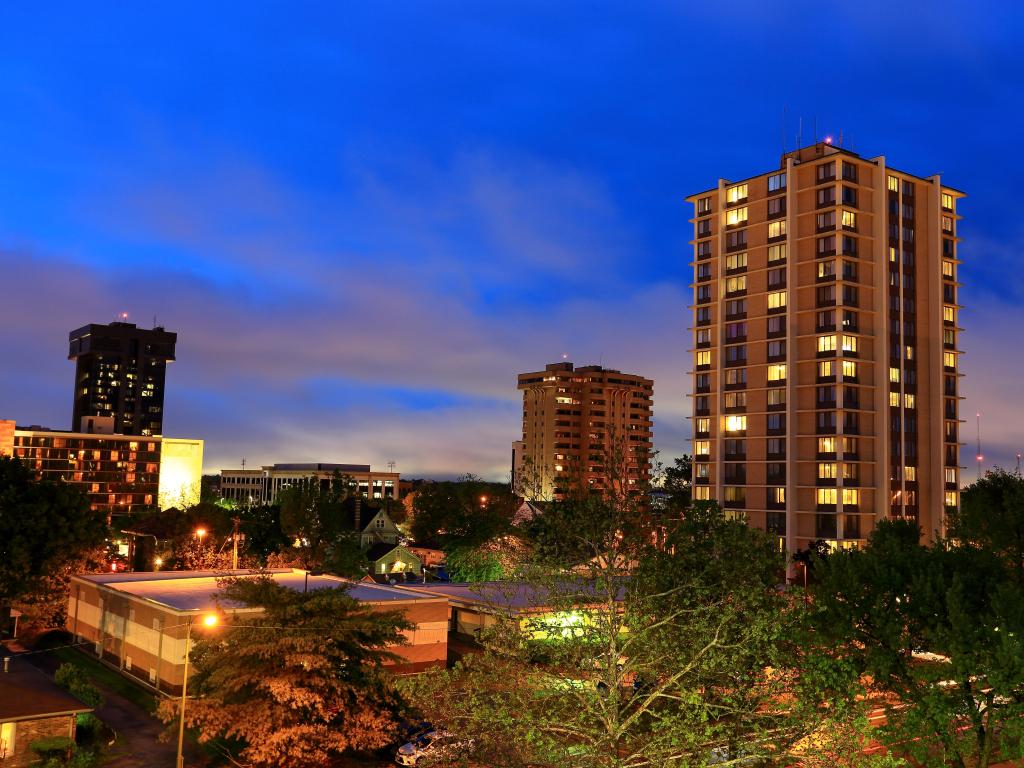 On both routes
Wilson's Creek National Battlefield, Republic– Pay tribute to the soldiers of the Civil War in this historic site that features exhibits, trails, and reenactments.
Fantastic Caverns, Springfield – Put on your explorer hat and tour this unique, underground cave system on a tram ride.
Titanic Museum – Virtually visit the tragic story of the Titanic in this museum with interactive exhibits, artifacts, and replicas of the ship.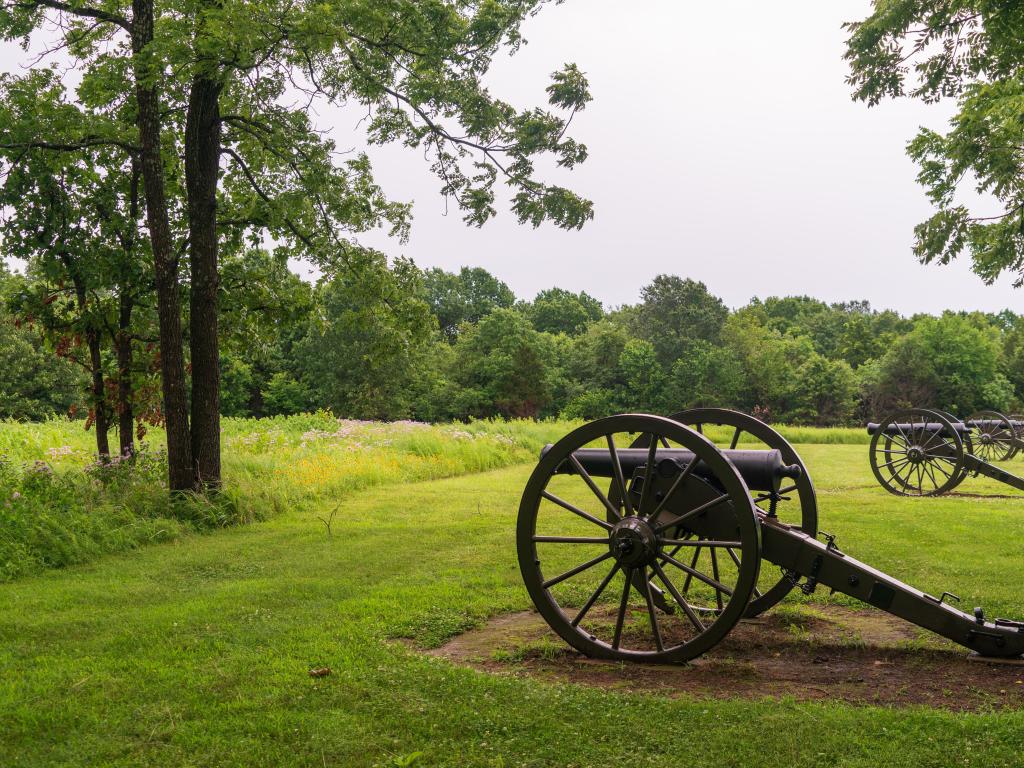 Best time to go on a road trip from St Louis to Branson, Missouri
Branson can be considered a year-round destination, but the climate and attractions vary depending on the season. Most outdoor activities are only open in the warmer months. During the colder months, you can enjoy various indoor options like theaters, museums, aquariums, caves, and arcades.
Summer is a great time to visit Branson if you don't mind peak tourism and want to enjoy its outdoor activities like boating, fishing, and hiking. Though the days are warm and sunny, it can also get very hot and humid. Temperatures often range from 90 degrees Fahrenheit to 99 degrees Fahrenheit.
Winters in Branson are generally cold and chilly with temperatures averaging around the freezing point. But the holiday season is quite beautiful as venues and attractions are decorated with festive lights and decorations. Tourism is quieter and rates are lower as many outdoor activities are usually closed.
Spring and fall are the best times to visit Branson as the weather is mild and the temperature is between 24 degrees Fahrenheit to 71 degrees Fahrenheit. You can enjoy both outdoor and indoor activities with smaller crowds. Branson is more affordable at this time, especially with seasonal deals and promotions.
This city hosts several festivals and events. But it is important to note that these draw large crowds and cause price hikes. Ozark Mountain Christmas is a festival of lights and Christmas shows that take place from early November through December.
Branson Music Fest is a three-day music festival in April with performances by local and national artists. May brings Bluegrass and BBQ Festival. Branson Landing's Annual Liberty Light Up is a Fourth of July fireworks celebration. Veterans Homecoming week in November honors military veterans.
Silver Dollar City's Harvest Festival features crafts, food, and entertainment in the fall months of September through October. Shepherd of the Hills Christmas Trail of Lights is a drive-thru light display that takes place from November through December.