Road Trip from Toronto to Cleveland
Ready to feel the refreshing lakeside breeze in your hair on the ultimate Great Lakes road trip? This road trip from Toronto to Cleveland has it all, from beautiful lakeside cities and towns of Canada and the opportunities to sample the offerings of the wine country to visiting world-famous wonders such as Niagara Falls.
The 550km road trip from Toronto to Cleveland will take about 7 hours to drive nonstop. On the way, you can visit Hamilton, Niagara Falls, Jamestown, Erie, Buffalo, Burlington, Chautauqua Lake, Detroit, Toledo, Ann Arbor, Sandusky, and Put-in-Bay.
If you love maritime adventure and beautiful countryside, then get ready to plan this incredible road trip. Below we've included our two recommended routes, the best places to stop along the way, amazing things to see on each route, and the best time to visit Cleveland.
How far is Cleveland from Toronto, and how long will the road trip take?
Comparison of road trip routes between Toronto to Cleveland

| Route | Distance | Driving Time |
| --- | --- | --- |
| The Niagara Falls Route | 550 km | 6 hours 50 minutes |
| The Detroit Route | 720 km | 7 hours 50 minutes |
The shorter of our suggested routes, the Niagara Falls Route, covers a distance of 550 km with around 6 hours and 50 minutes of driving time without stopping.
The alternative Detroit Route is slightly longer, at 720 km, with a driving time of 7 hours and 50 minutes if you don't make any detours.
Although you can complete either journey in a day, we recommend taking 2-3 days for the adventure. This way, you'll be able to visit the picturesque towns and natural highlights that make this region so popular.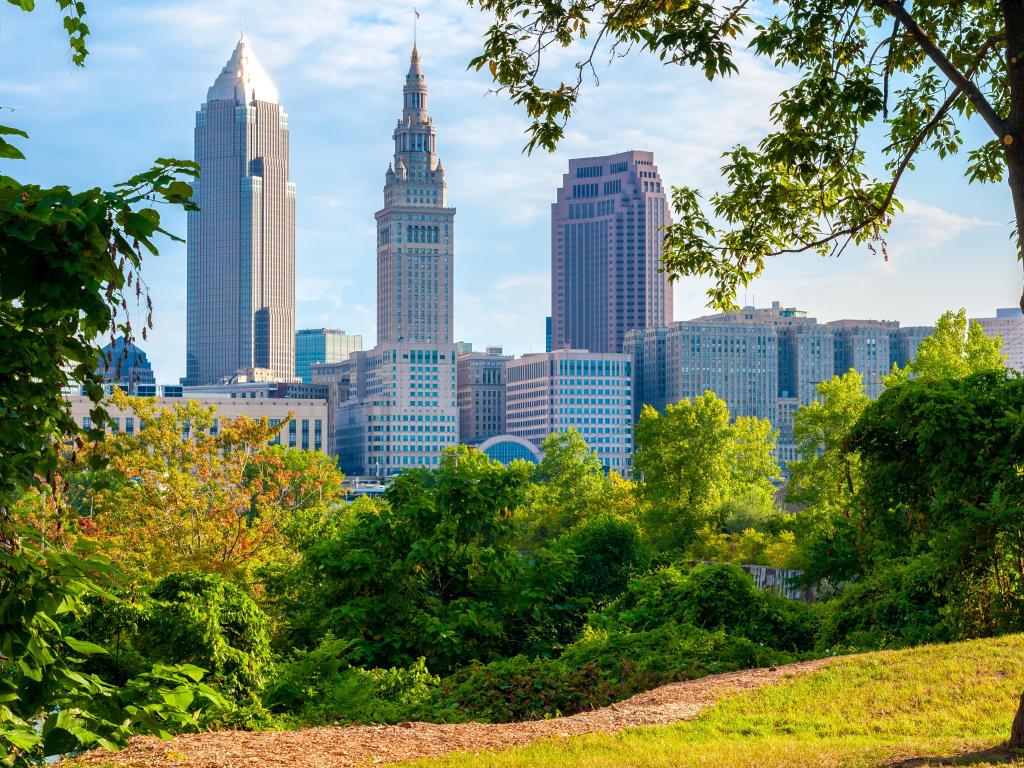 Best road trip route from Toronto to Cleveland
While both routes have plenty of natural wonders and exciting cultural highlights, each has its own unique character with different experiences. Which route you choose depends on where you'd like to visit and how you'd like to spend your time.
As you start your journey on the Niagara Falls Route, you'll begin your drive with urban landscapes, which change into breathtaking lake panoramas and rural communities along the Niagara River before arriving at the colorful city of Buffalo.
As you head towards Jamestown, the landscape transforms, and you'll find yourself in the magical vineyards of wine country. You'll then drive along the shores of Chautauqua Lake, past picturesque small towns and farms, and charming Erie on the shores of Lake Eie.
The Detroit Route, on the other hand, similarly has endless lake vistas right from the beginning. As you cruise your way to Detroit, America's Motor City, you'll see the charming towns and forests of rural Ontario.
As you cross into Detroit and drive into Toledo, prepare for spectacular views of Lake Erie and history-rich communities. Soon, you'll make your way from rural farmlands and into Cleveland.
On this route, you will also get a chance to visit the beautiful island of Put-in-Bay, which is a short ferry ride from Sandusky. If you'd like to learn more about how to drive to Put-in-Bay, here is our comprehensive guide.
How to drive from Toronto to Cleveland
The map above shows our suggestions for the best road trip routes between Toronto and Cleveland. Keep reading for detailed descriptions of both routes, where to stay on either, and the best things to do on the way.
Niagara Falls Route
Start your journey in Toronto, Ontario, and head southwest towards Niagara on Queen Elizabeth Way (QEW). Driving through Burlington, Hamilton and St Catharines, you will soon cross the border to America.
When reach Niagara in New York be sure not to miss the iconic Niagara Falls and the views of the waterfalls from the American side and the famous "Journey Behind the Falls" experience.
Continue your drive to Buffalo on Interstate 190 (I-190) South. While in the city, consider visiting the Buffalo Zoo and the Buffalo and Erie County Botanical Gardens.
As you depart from Buffalo, make a stop at Lake Erie Beach Park for a relaxing pit stop before continuing south.
Continue on I-90 towards Fredonia and then head south to Jamestown. Here, you'll pass beautiful vineyards and rural landscapes. From here, drive back to the coast of Lake Erie towards the charming city of Erie. While in Erie, stop by the Bicentennial Tower for panoramic views of the city and the lake.
Finally, a scenic cruise on the lakeshore will take you to your destination in Cleveland.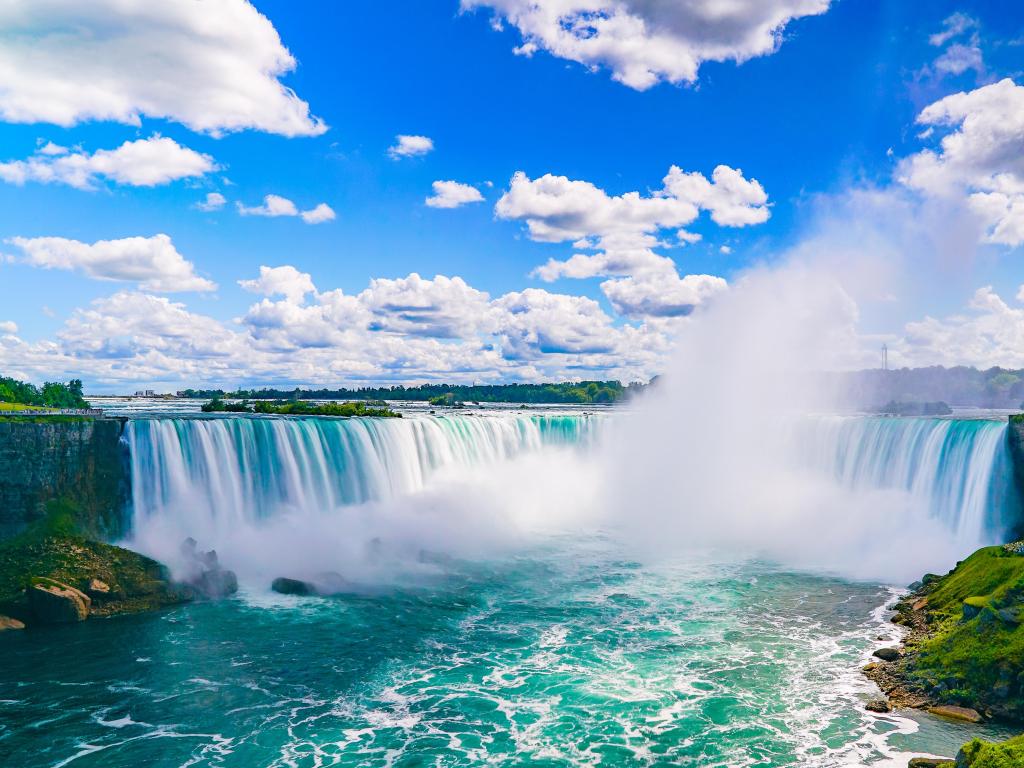 Detroit Route
Kick off your adventure in Toronto towards Detroit on the Queen Elizabeth Way (QEW). As you drive out of Toronto, you'll see plenty of scenic views of Lake Ontario, one of the Great Lakes.
Passing through the outskirts of London and crossing the American border, you'll get to Detroit, Michigan's legendary Motor City. After your visit, head west to reach Ann Arbor. In this college city, you can visit the Ann Arbor Hands-on Museum and see its interactive exhibits.
Continue your journey southward to Toledo, Ohio. If you love art and history, visit the Toledo Museum of Art and the National Museum of the Great Lakes.
Drive further east on OH-2 to reach Sandusky. Here, you can stop by the quirky Merry Go Round Museum. Don't miss the breathtaking views from Marblehead Lighthouse, a beacon that has watched over Lake Erie since 1822.
If you have more time, you will have the option to take a ferry to visit Put-in-Bay from Sandusky. To end your drive, head west to reach beautiful Cleveland, Ohio.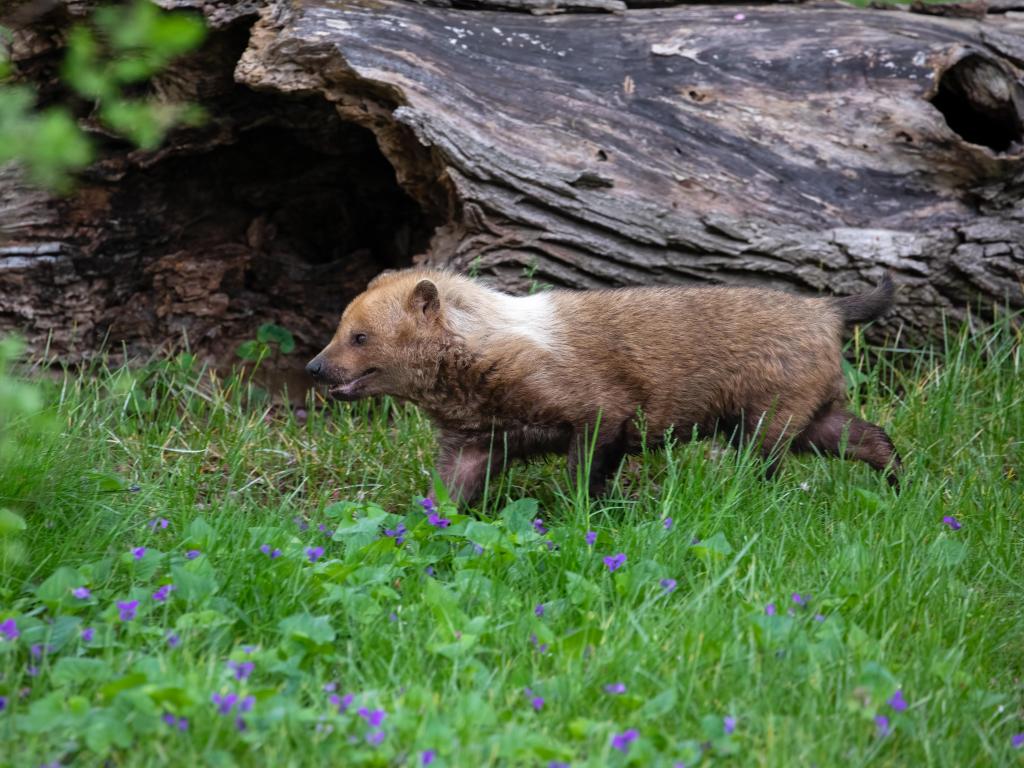 Best places to stop between Toronto and Cleveland
With so much to see and do along your way, you'll want to rest for the night to get the most out of the region's sights and activities. Below, we've included our favourite stopovers and comfortable places to stay so you can rest in style.
Have a laugh in Jamestown
Jamestown is a great choice for an overnight stop along the Niagara Falls Route. The city is just under 4 hours from Toronto and slightly past the halfway mark. Jamestown is renowned as a vibrant city with plenty of cultural and recreational activities.
The main highlight of Jamestown is its dedication to the world of comedy. The Lucille Ball-Desi Arnaz Center pays tribute to the iconic comedic duo and their contribution to television and entertainment.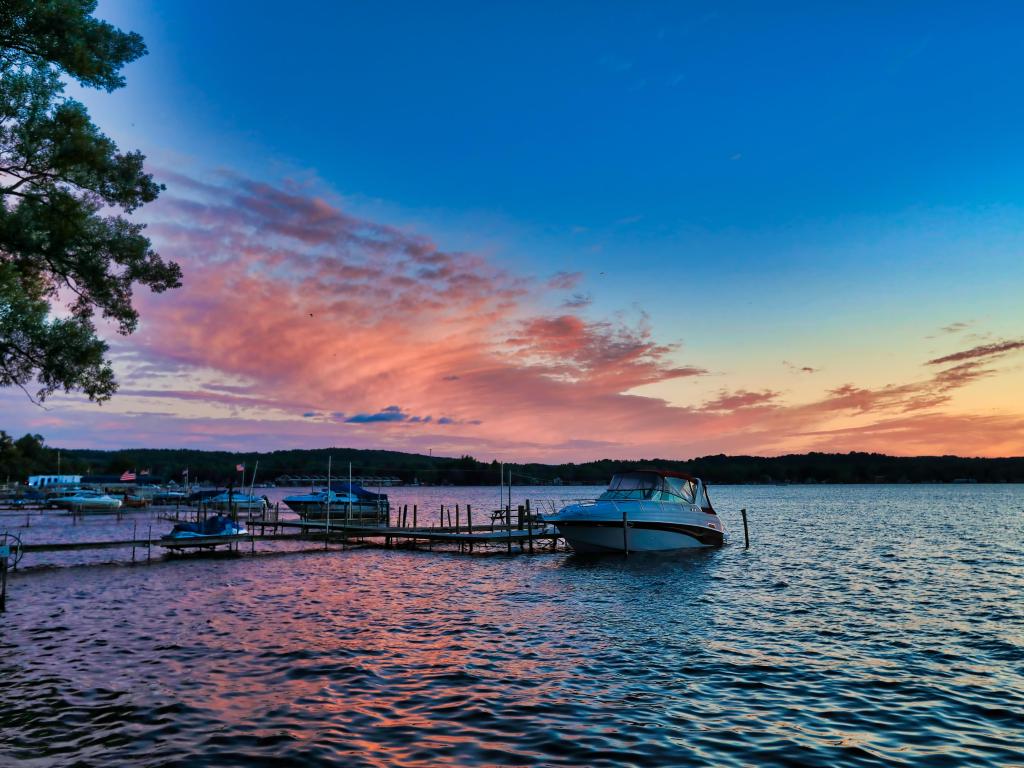 Just a stone's throw away, the National Comedy Center offers interactive exhibits and laughs for all ages. A visit to Jamestown wouldn't be complete without a stop at these two comedy landmarks.
When you arrive in Jamestown, we recommend staying at the highly-rated Chautauqua Harbor Hotel. Independently owned, this gorgeous hotel is both elegant and modern, with each of the hotel's rooms and suites are large, with some offering breathtaking panoramic views of Chautauqua Lake from their balconies.
On the hotel's beautiful grounds are a lakeside playground, outdoor pool, dining options, and expansive patios adorned with fire pits.
The Lakehouse Tap & Grille onsite restaurant serves delicious meals with views of the enchanting Chautauqua Lake. Both the Lucille Ball-Desi Arnaz Center and the National Comedy Center are a mere 10-minute drive from the hotel.
Stunning lake views in Sandusky
Sandusky is a refreshing overnight break on The Detroit Route. Situated about five and a half hours into your journey, slightly beyond the halfway point, this vibrant city's downtown features a blend of eclectic bars and restaurants, unique shops, and art galleries.
Sandusky's architectural grandeur, natural beauty, and rich history make it the perfect stop for anyone interested in American culture and history. The city, known with the codename "Hope", played a pivotal role in the Underground Railroad.
Looking to learn more about the area's history? The Maritime Museum of Sandusky is definitely worth a visit. If you are looking for an adrenaline-packed adventure instead, you can head to Cedar Point Amusement Park.
Summer in Sandusky brings plenty of festivals such as "Island Fest", "Rock on the Dock", and the whimsical "Christmas in July". These events attract thousands of residents and tourists alike.
Once you get to Sandusky, we recommend staying the night at the tranquil Farrell House Lodge at Sunnybrook Trout Club. Modelled after a 19th-century Southern mansion, the Lodge is nestled in 70 acres of picturesque woodlands.
The green meadows and encompassing landscapes of the property are home to diverse wildlife. The legendary Cold Creek also flows through the grounds, giving outdoor enthusiasts three trout species to fish for.
At Farrell House Lodge, you can expect a laid-back retreat with a hearty, homemade breakfast. If you're looking to be one with nature, kayaking or canoeing on the property's pond is available, as is fly-fishing in the neighbouring stream.
Where to stay when you reach Cleveland
Cleveland is renowned for its cultural heartbeat, musical history, and its Polish heritage. The city is packed with world-class bars and restaurants, plus exciting entertainment.
The major highlight for many visitors is the Rock and Roll Hall of Fame. This iconic institution charts the meteoric rise of the genre, its legendary artists, and rock culture. Cleveland is also a hub for contemporary art, best showcased at the Cleveland Museum of Contemporary Art.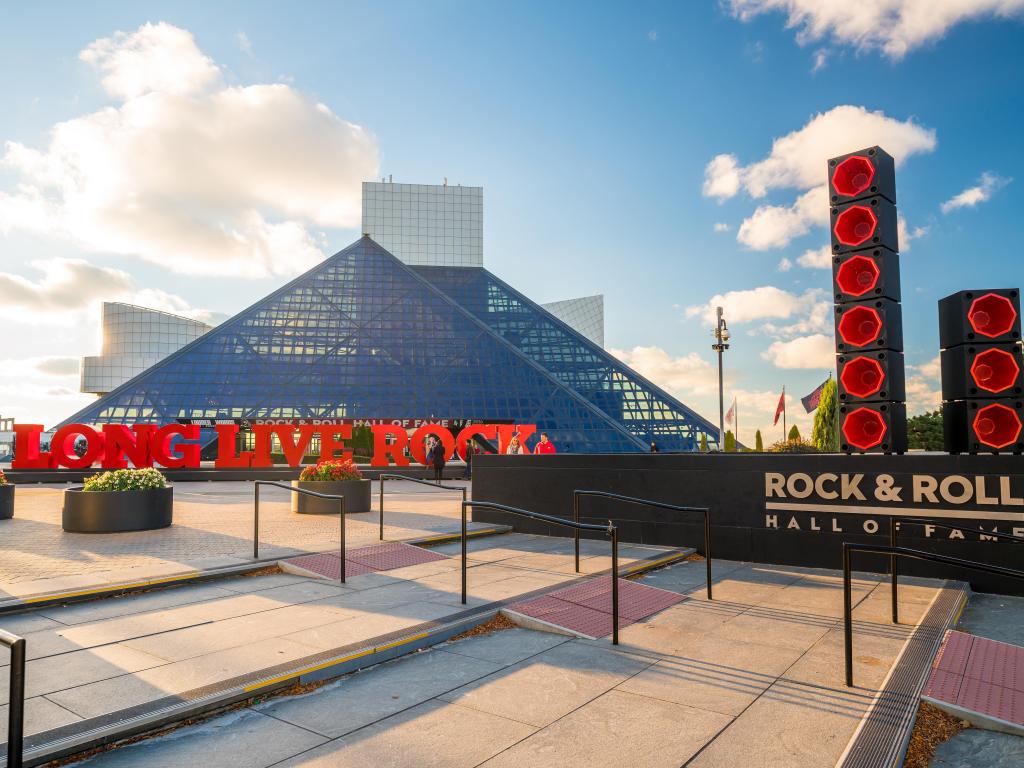 Once you reach your destination, we recommend resting at the highly rated and iconic ROOST Cleveland. This unique hotel has the charm of a boutique hotel but feels like a roomy apartment.
The rooms come with a fully equipped kitchen, perfect if you're looking for a homemade meal. The rooftop patio offers breathtaking views of the downtown Cleveland skyline. Amenities include BBQ facilities, free Wi-Fi, and a fitness centre.
Things to see on a road trip from Toronto to Cleveland
The road trip from Toronto to Cleveland is filled with exciting stopovers and sights along the way. To help you plan your perfect road trip, we've listed our top highlights along both routes.
Niagara Falls Route
Burlington - Located on the western shore of Lake Ontario, Burlington is a vibrant Canadian city known for its beautiful waterfront, parks, and cultural attractions.
Beamer Memorial Conservation Area - This conservation area is renowned for its breathtaking views and is a popular spot for observing the annual hawk migration.
Niagara Falls - A world-famous natural wonder, Niagara Falls is a series of massive waterfalls on the border between the United States and Canada, drawing millions of tourists annually.
Journey Behind the Falls - An attraction in Niagara Falls, Ontario, it offers visitors a unique perspective by allowing them to walk through tunnels behind the cascading water.
Buckhorn Island State Park - This state park provides a natural habitat for a variety of plant and animal life, offering trails and fishing opportunities.
The Buffalo Zoo - Founded in 1875, the Buffalo Zoo is the third oldest zoo in the United States and is home to a diverse collection of wild and exotic animals.
Everhaunt Haunted House - This seasonal attraction provides spine-chilling experiences for thrill-seekers with its haunted houses and scare zones.
Buffalo and Erie County Botanical Gardens - A historic botanical garden in Buffalo, it showcases a wide variety of plants from around the world within its beautiful conservatory and gardens.
Lake Erie Beach Park - This scenic park offers sandy beaches, picnic areas, and panoramic views of the water.
Lucille Ball and Desi Arnaz Museum - Located in Lucille Ball's hometown of Jamestown, New York, this museum celebrates the life and careers of the famous comedic duo Lucille Ball and Desi Arnaz.
National Comedy Center - An interactive museum in Jamestown, it celebrates the art of comedy and honours comedians from all eras and styles.
Bicentennial Tower - Erected in 1996 to commemorate Erie's bicentennial, this tower gives you panoramic views of Lake Erie, Presque Isle, and downtown Erie.
The Spire Institute - Located in Geneva, Ohio, The Spire Institute is a massive multi-sport complex and academy, catering to both professional and aspiring athletes. This is the perfect stop if you love sports and fitness.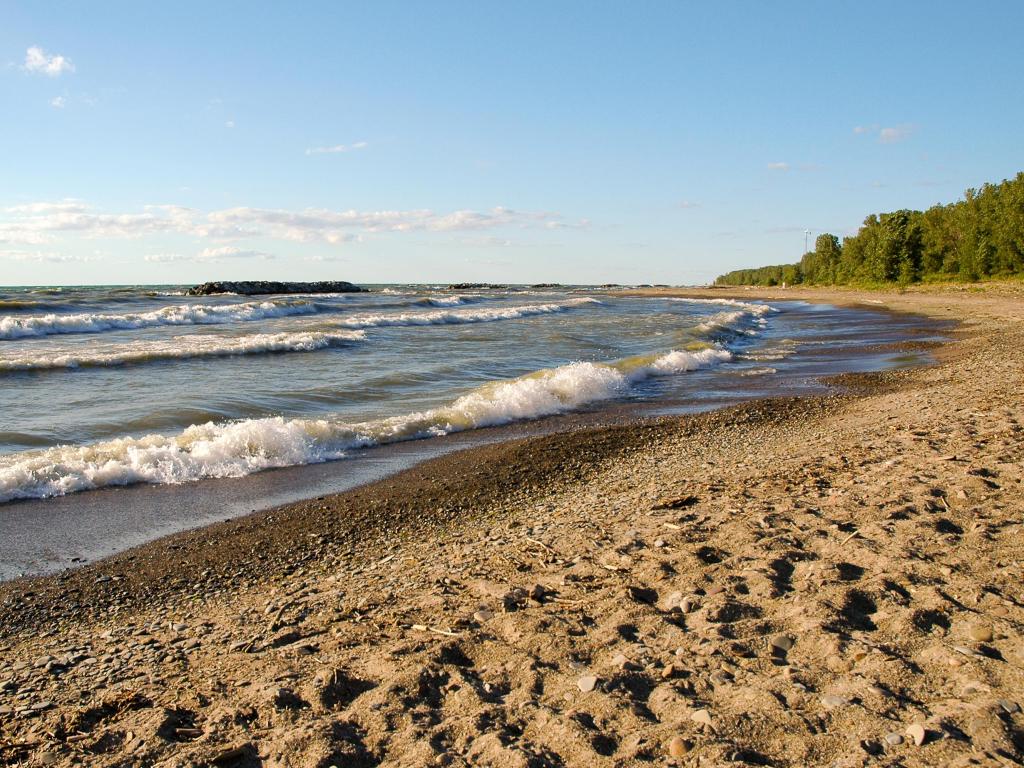 Detroit Route
Art Windsor-Essex - This amazing stop showcases the area's rich tapestry of visual, performing, and literary arts.
Campus Martius Park - Located in downtown Detroit, Campus Martius Park is a vibrant urban park known for its events, historic monuments, and the Detroit Christmas Tree in winter.
Ann Arbor Hands-on Museum - This interactive museum offers a variety of engaging exhibits that promote discovery and innovation, catering primarily to children and families.
Toledo Museum of Art - Located in Toledo, Ohio, this renowned museum boasts an extensive collection of global artworks spanning various periods, from ancient to contemporary.
National Museum of the Great Lakes - Based in Toledo, this museum offers an in-depth look into the history of the Great Lakes, featuring exhibits on shipping, navigation, and the maritime heritage of the region.
East Sandusky Bay Water Trail - Grab your paddles. This water trail provides you with a scenic route along the shores of Sandusky Bay with plenty of natural beauty and wildlife.
Merry Go Round Museum - Located in Sandusky, Ohio, this unique museum celebrates the history and art of the carousel, featuring a collection of antique carousel animals and related memorabilia.
Maritime Museum of Sandusky - This museum in Sandusky delves into the maritime history of the region, highlighting the boat-building industry, shipping, and ice harvesting on Lake Erie.
Sheldon Marsh Nature Reserve - Near Sandusky, this nature reserve is a sanctuary for wildlife and boasts diverse habitats, making it the perfect spot for birdwatching and nature walks.
Marblehead Lighthouse - Overlooking Lake Erie, this historic lighthouse is one of the oldest continuously operating lighthouses on the Great Lakes, and it offers panoramic views from its tower.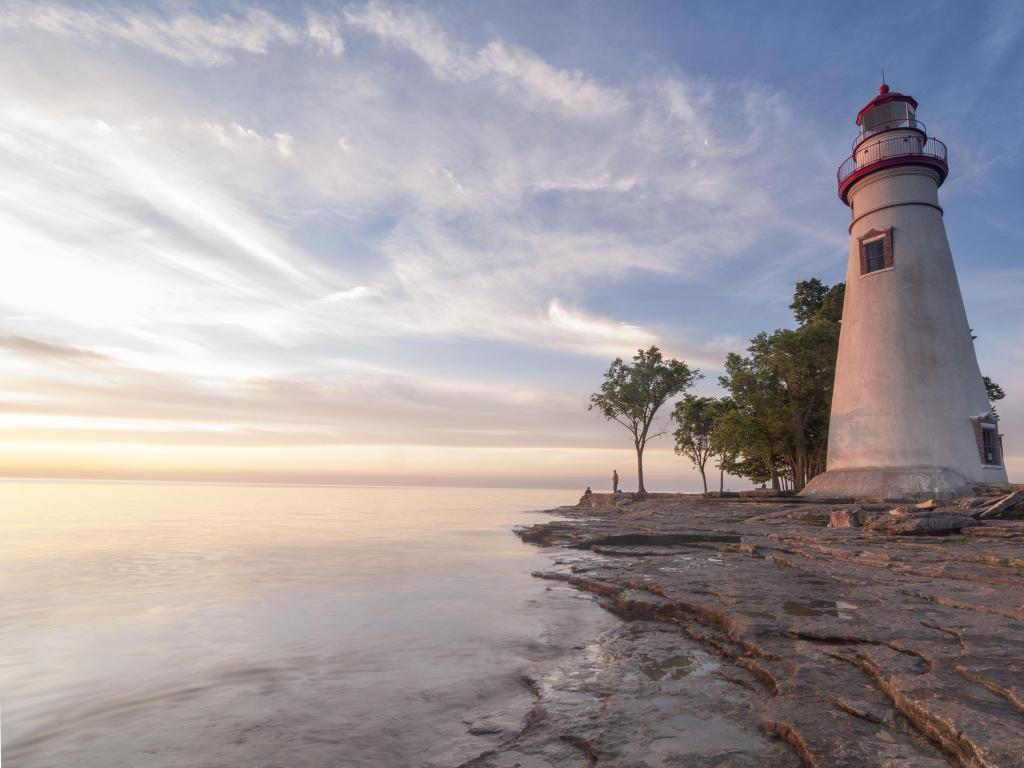 Best time to go on a road trip from Toronto to Cleveland
Cleveland is a year-round destination with plenty of fun festivities throughout the year. However, the area can get freezing in the winter, so make sure to prepare in advance.
Cleveland's chilling wintertime lows hover between 20-40 degrees Fahrenheit, and snow can make roads treacherous, especially around the lake areas. It's important to monitor traffic reports for any highway closures.
However, if you love Christmas and the winter festival season, Cleveland is one of the most festive areas in the country. You'll experience the city's festive decorations and popular German-themed Christmas activities downtown.
Springtime in Cleveland is lively, with daytime temperatures ranging from 45 to 70 degrees Fahrenheit. You can enjoy the Cleveland International Film Festival in April, plus flower viewing around the natural areas surrounding the city.
If you love summer, Cleveland makes the perfect summer destination with its position on the shores of Lake Erie, with temperatures ranging between 70-85 degrees Fahrenheit.
Depending on which route you take, there will be plenty of festivals along the way. If you're driving on the Niagara Falls Route, you can stop by the National Wing Festival in September or the Lucille Ball Comedy Festival in August.
If you choose to take the Detroit Route, you can visit the Art in the Park Windsor in June, or the Festival of Friends in Hamilton come August.
Keep in mind that both routes are often crowded during the summer and holidays. Even so, you'll be sure to have a wonderful road trip through this region and the towns and cities nearby.