Road Trip from Yellowstone to Glacier National Park
Escape the city and get ready for a drive through Montana's endless horizons and beautiful scenery. This road trip from Yellowstone to Glacier National Park will take you past epic mountains, forests and culture-rich towns - you may even catch horses, grizzlies and bison en route!
The 480-mile road trip from Yellowstone to Glacier National Park takes under 9 hours to drive. Head east and you'll pass Great Falls, Big Sky and White Sulphur Springs, or head west and explore Missoula, Seeley Lake, Plains and Lolo National Forest.
There's so much to see on this nature-themed road trip to the stunning mountains and lakes of Glacier National Park, including culturally and historic towns, beautiful forests and breathtaking lakes. Read on to find out the best routes and places to stop along the way.
How far is Glacier National Park from Yellowstone, and how long will the road trip take?
Comparison of road trip routes between Yellowstone National Park and Glacier National Park

| Route | Distance | Driving Time |
| --- | --- | --- |
| The Eastern Route | 480 miles | 8 hours 45 minutes |
| The Western Route | 620 miles | 10 hours 35 minutes |
There are two equally stunning routes you can take from Yellowstone to Glacier National Park. The quickest and most direct of the two will take you east through Montana and past Great Falls. Spanning 480 miles, you could drive this particular route in just 8 hours and 45 minutes.
A slightly longer option explores the Western Route, taking you through Missoula and Plains. Taking you longer at 10 hours and 35 minutes of non-stop driving, you'll cover a distance of 620 miles (though this could be shortened if you missed Seeley Lake, though we wouldn't recommend it).
Given the beautiful attractions and places to stop at along the way on both routes, a solid idea would be to spend between two and three days on this road trip. Stopping overnight en route will give you the opportunity to explore the thriving art, culture and long history of Montana.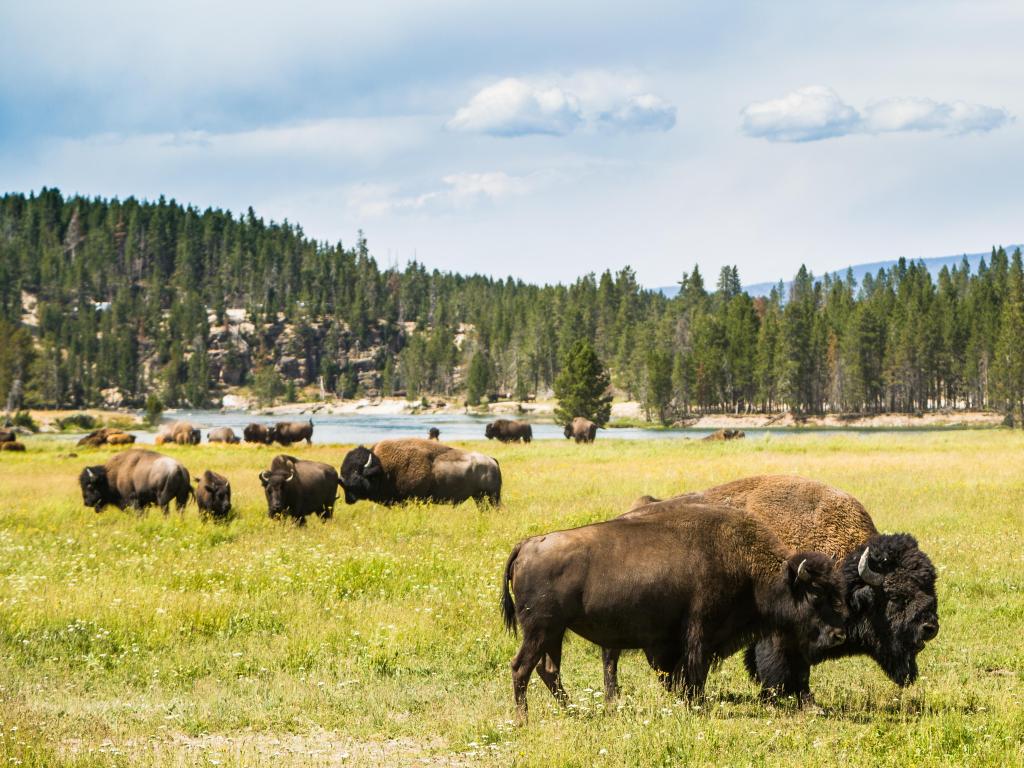 Best road trip route from Yellowstone to Glacier National Park
While both options on this road trip offer picturesque and beautiful routes to Glacier National Park, they each have their own unique features and the best one will largely depend on what kind of attractions you'd like to see along the way.
Our Eastern Route is the quickest, and therefore most ideal if you're stretched for time, but aside from that it also takes you through several historical towns of Montana and close to many destinations in the wilderness of the Big Sky Country.
You can enjoy superb cuisine, natural beauty of great open spaces, springs, and waterfalls, only to explore the history of the Plains Indians and Montana dinosaurs! There are less scenic and mountainous views, but you'll get to experience the delights of Big Sky and Great Falls.
Our Western Route is somewhat longer but boasts stunning scenery and outdoor activities. You'll be passing picturesque towns while close to the natural beauties of Glacier County in Montana. This option also gives you the opportunity to visit the beautiful Seeley Lake and Lolo National Forests.
Other highlights include visiting Missoula and enjoying the scenic Flathead Lake where you can wonder at the magnificent bison before immersing yourself in local art at Bigfork.
While visiting, keep in mind that Glacier National Park implements a vehicle reservation system from May 26th to September 10th, from 6am to 3pm (at the time of writing). Before visiting, please check online to see whether you might need a reservation.
How to drive from Yellowstone to Glacier National Park
The map above shows our suggestions for the best road trip routes between Yellowstone and Glacier National Park. Keep reading for detailed descriptions of both routes, where to stay on either, and the best things to do on the way.
The Eastern Route
Begin at Yellowstone National Park heading north on US-191 to Big Sky, passing West Yellowstone along the way or if you have the time, a quick stop at Red Rock Lakes National Wildlife Refuge first.
After taking in the breathtaking views at the popular ski resort at Big Sky, continue north towards the interstate, leaving the mountain scenery as you pass several lovely towns.
Reach Livingston on Interstate 90 (I-90) heading east, before driving north towards Great Falls. You'll pass White Sulphur Springs along the way, where you can take a dip in the Spa Hot Springs.
Spend some time at Great Falls and learn about its historic downtown or take a scenic hike around Giant Springs State Park before continuing north on I-15.
Follow signs for Glacier National Park, passing the Montana Dinosaur Trail and Flathead National Forest first.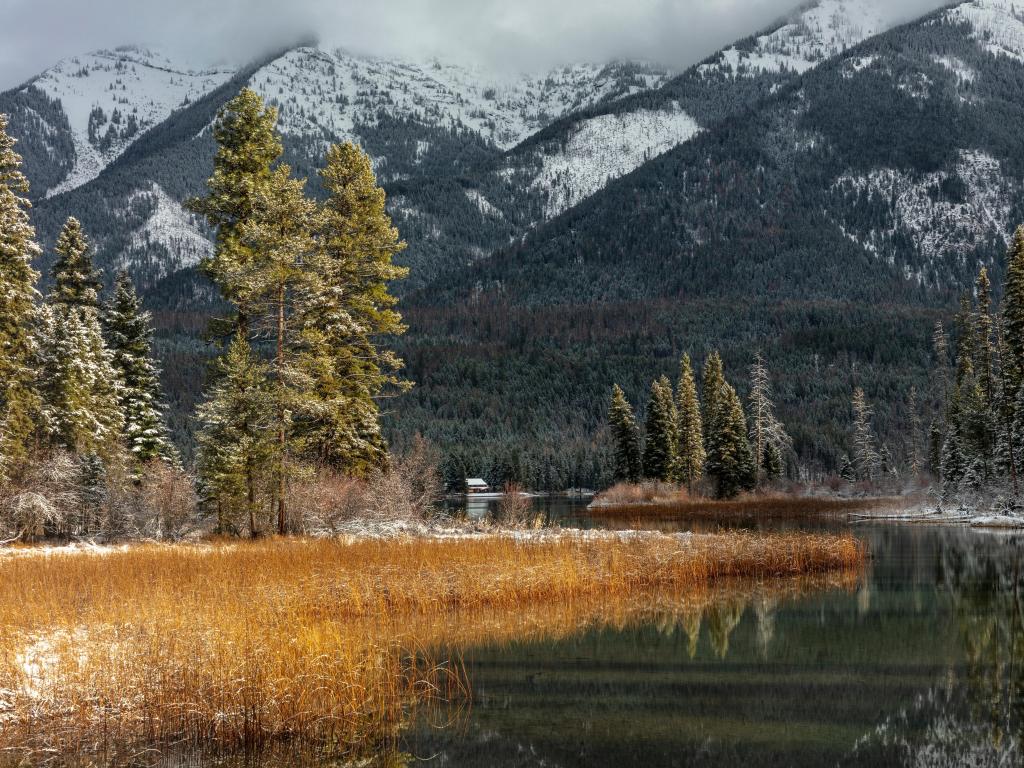 The Western Route
Head north from Yellowstone National Park to Butte, passing by Custer Gallatin National Forest and Beaverhead-Deerlodge National Forest along the way.
From here you could take slight detours to explore the towns of Three Forks and Boulder, otherwise continue west on I-90 close to Helena-Lewis and Clark National Forest where you can take a break and enjoy wildlife and hiking.
Once you reach the town, you're within a short distance of Lolo National Forest and Bitterroot National Forest, both offer great wildlife spotting opportunities.
From Missoula follow MT-200 to visit Seeley Lake where you can enjoy countless water sports activities including fishing. Afterwards, take Highway 93 North towards Plains where you might spot horses and Bighorn sheep.
Drive through Hot Springs and around the shore of Flathead Lake to Bigfork before arriving in Glacier National Park.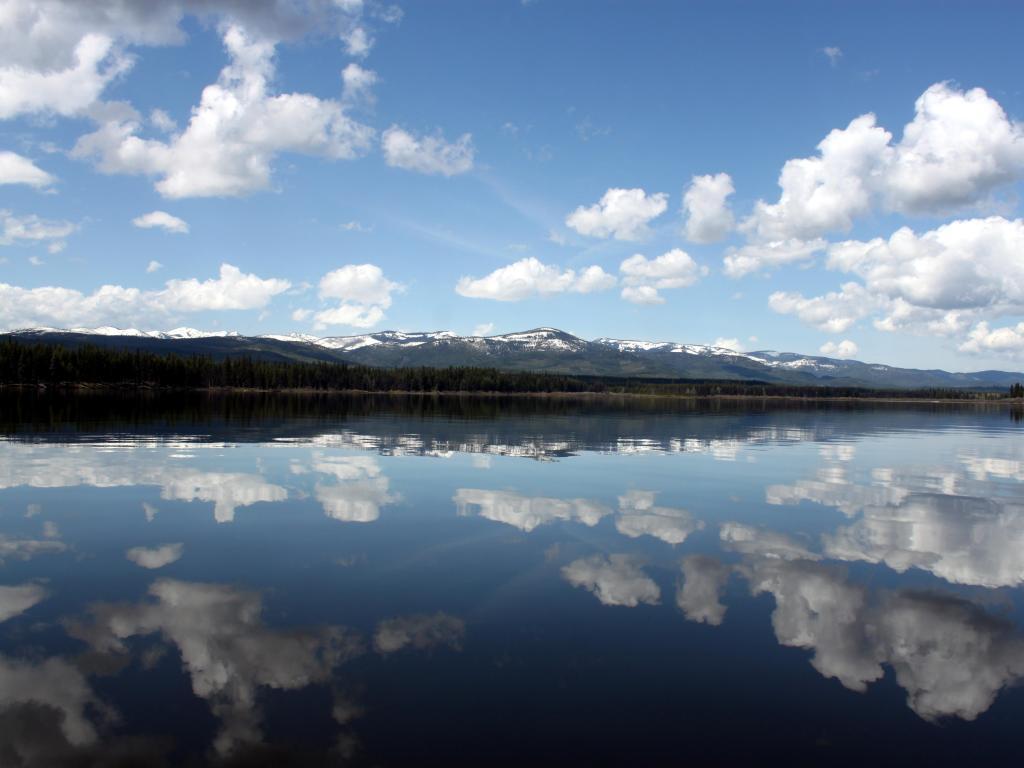 Best places to stop between Yellowstone and Glacier National Park
Although you could drive from Yellowstone to Glacier National Park in a single day, we wouldn't recommend it. Not only would you arrive at the park exhausted, but you'll miss out on exploring the many great towns, stunning forests, lakes and mountain scenery along the way.
There are some great places to can stop at on either route, so read on to discover our favorite places to stay.
Discover the history of Great Falls
Located just 2 hours and 30 minutes from Glacier National Park on our Eastern Route, a stopover at Great Falls will guarantee you'll be relaxed and ready to explore your final destination the following day.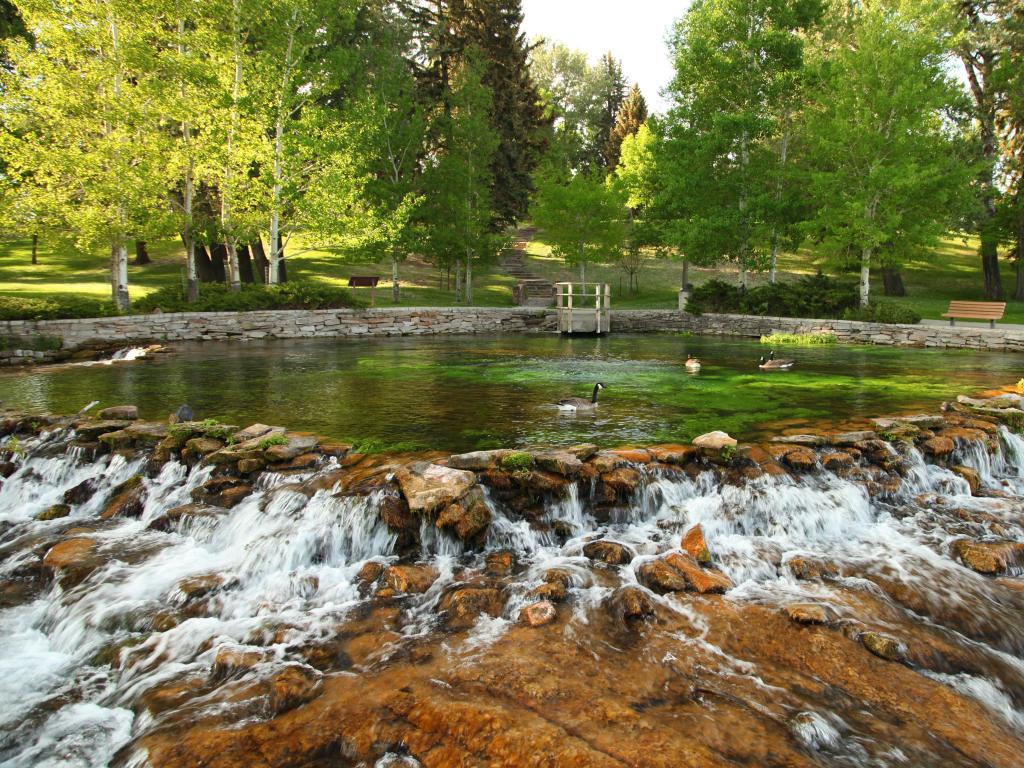 The city cherishes its Native American and Pioneer heritage and offers great cuisine and outdoor adventures! For history buffs, a stay here isn't complete without a visit to the Lewis and Clark National Interpretive Center where you can learn more about the history of the explorers and pioneers who lived here.
Active road trippers will love exploring the Giant Springs State Park which is situated on the banks of the Missouri River or The Falls where you can enjoy a trail connecting several dams and catch a stunning view along the way. There's also Fort Benton and the Highwood Mountains.
Given the fantastic history you'll discover in Great Falls, a stop at the Historic Hotel Arvon really heightens the experience of visiting this charming city. Right in the downtown, this historic hotel gives an experience of early pioneering days in Montana.
The hotel is within walking distance to great restaurants, museums and the Missouri River, but keep in mind that it also offers a bar and an onsite restaurant if you don't fancy leaving your room. If it's the authentic Great Falls experience you're after, then this hotel is hard to beat!
Mountain views at Missoula
An ideal first stop on the Western Route at just over 5 hours from Yellowstone National Park, Missoula is a small city with fantastic amenities and surrounded by numerous natural destinations for half-a-day visits, including Lolo National Forest and Seeley Lake.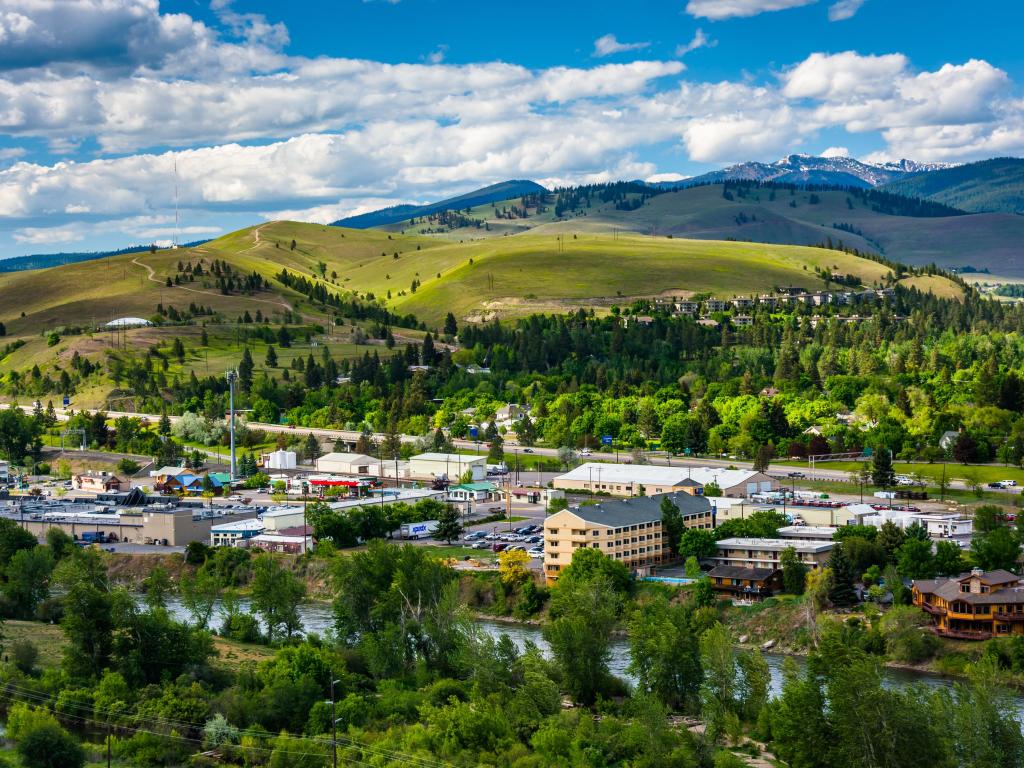 For outdoor fans, Missoula is a superb base to explore Mt Sentinel, Lolo National Forest and Seeley Lake, where you can escape the bustling town and immerse yourself in the wilderness surrounded by forests, mountains, rivers and lakes.
After exploring the Clark Fork River, a beautiful scenic walk along the city's river through its downtown, you'll come across the DoubleTree by Hilton Missoula Edgewater which makes for a great base to spend the night.
Located on the Clark Fork River itself, this beautiful hotel boasts stunning mountain views, some of which offer balconies, an outdoor swimming pool enveloped by trees, and even a jacuzzi to really help you relax and unwind after your first day of driving.
Boasting an upscale restaurant that serves Northwest cuisine, guests are within walking distance of Clark Fork Natural Area and Toole Park, as well as Missoula Art Museum. There's even free parking, which is a great bonus at this fantastic location.
Glamping at Glacier National Park
Once you reach the stunning Glacier National Park you'll have 700 miles of trails, spectacular lakes and incredible glaciers, meadows and valleys to explore. To really explore this mountain wilderness, you need to spend at least one night here.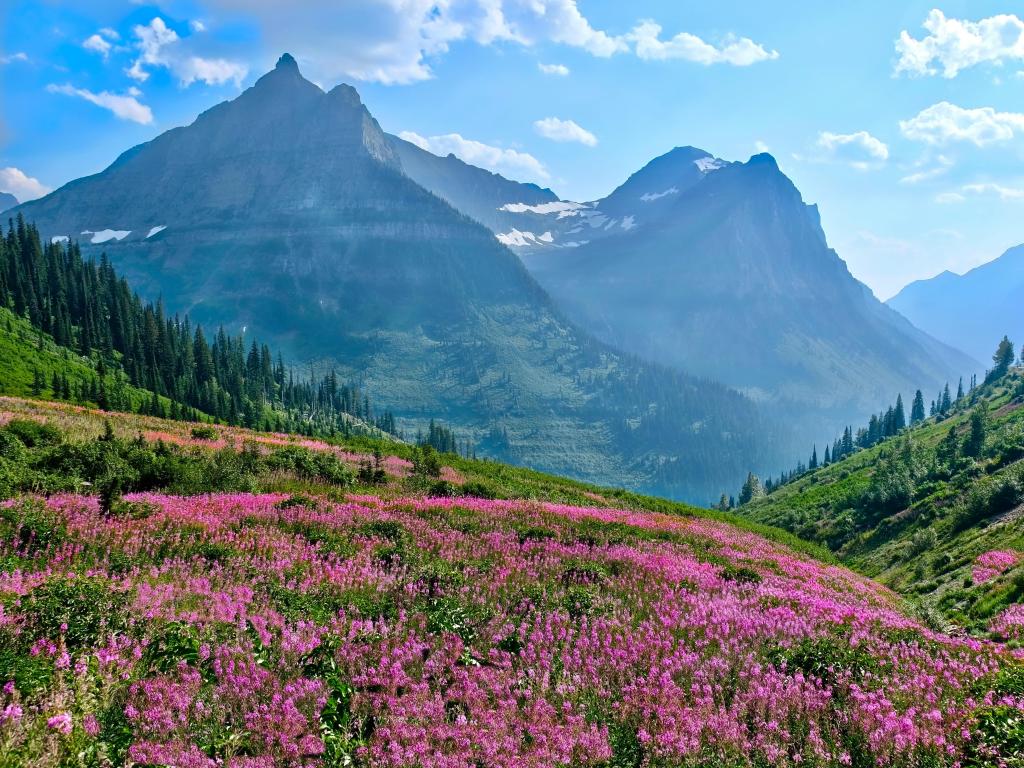 While accommodation in this part of Montana is limited, there are several great options in the nearby towns such as Columbia Falls. For something a bit extra special, you could stop in Coram at the Under Canvas Glacier.
These safari-inspired luxury tents give guests easy access to the stunning natural wilderness all around, as well as modern amenities such as onsite dining, picnic facilities and grills. The luxury tents are eco-friendly environment and offer king-size beds and luxury linens plus private bathrooms.
An array of activities can be enjoyed here, from live music to morning yoga and entertainment for the whole family. You're also less than a mile away from the Flathead River and just a short drive from Glacier National Park and Hungry Horse Reservoir.
Things to see on a road trip from Yellowstone to Glacier National Park
The fantastic drive through Montana's stunning landscape offers a huge variety of activities and views along the way. To help you plan your trip, we've set out some of the best bits you'll pass en route.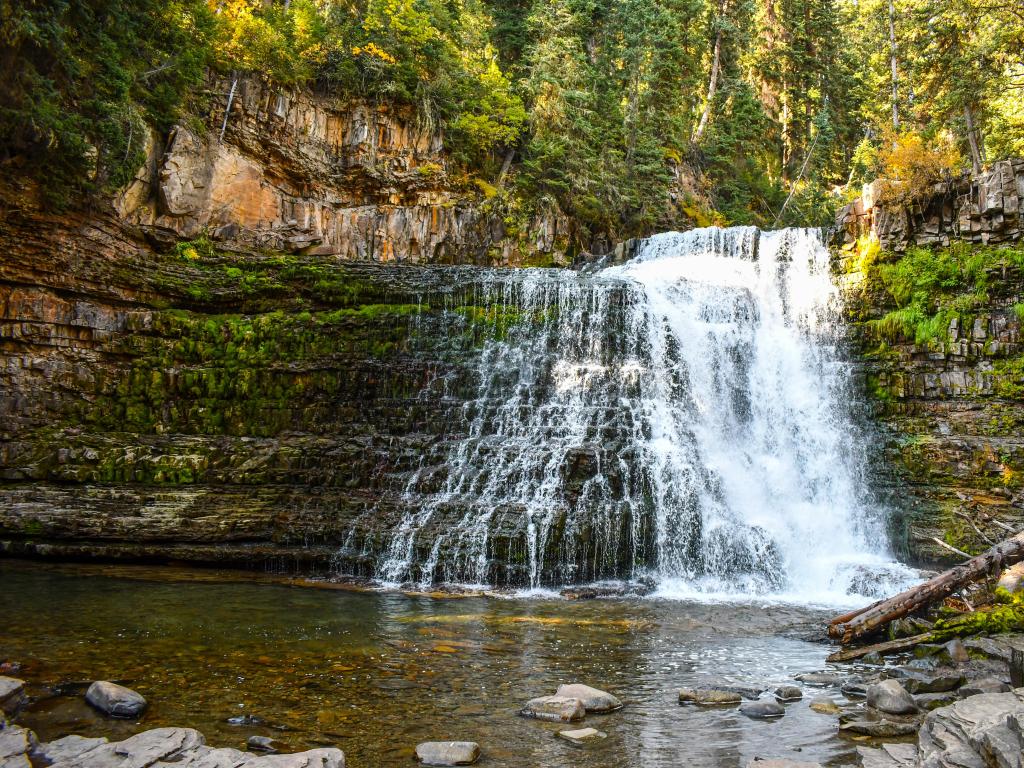 Eastern Route
Big Sky - Big Sky is known for its open horizons (hence the name). In winter this region becomes a great skiing destination at the Big Sky Ski Resort.
Livingston - Many historic places in the downtown, unforgettable feeling of the Wild West and fly fishing at the Yellowstone River are what draw so many people to this town!
White Sulphur Springs - Native Americans called it the Valley of Peace and you can find out why if you dip inside the Spa Hot Springs. Do not forget to visit the Castle museum and carriage house while stopping here.
The Meagher County Art & Culture Trail - Across this county leads a trail featuring art, literature, music, and historical heritage. Check what is on and enjoy being a culture vulture.
Helena-Lewis and Clark National Forest - Next to many outdoor recreational activities, here you can join historic tours, explore interpretative centers and find out more about saving elks, grizzlies and black bears.
Great Falls - Enjoy the Wild Western flair in the historic downtown before venturing to the Giant Springs State Park, magnificent dams, and Lewis and Clark National Interpretive Center.
The Montana Dinosaur Center - Join the Montana Dinosaur Trail and see the skeletal model of the world's longest dinosaur, a diplodocus.
Museum of the Plain Indians - The museum in Browning displays varied histories, lifestyles, and arts of the Northern Plains Native Americans and is situated at the entrance to the Blackfeet Indian Reservation.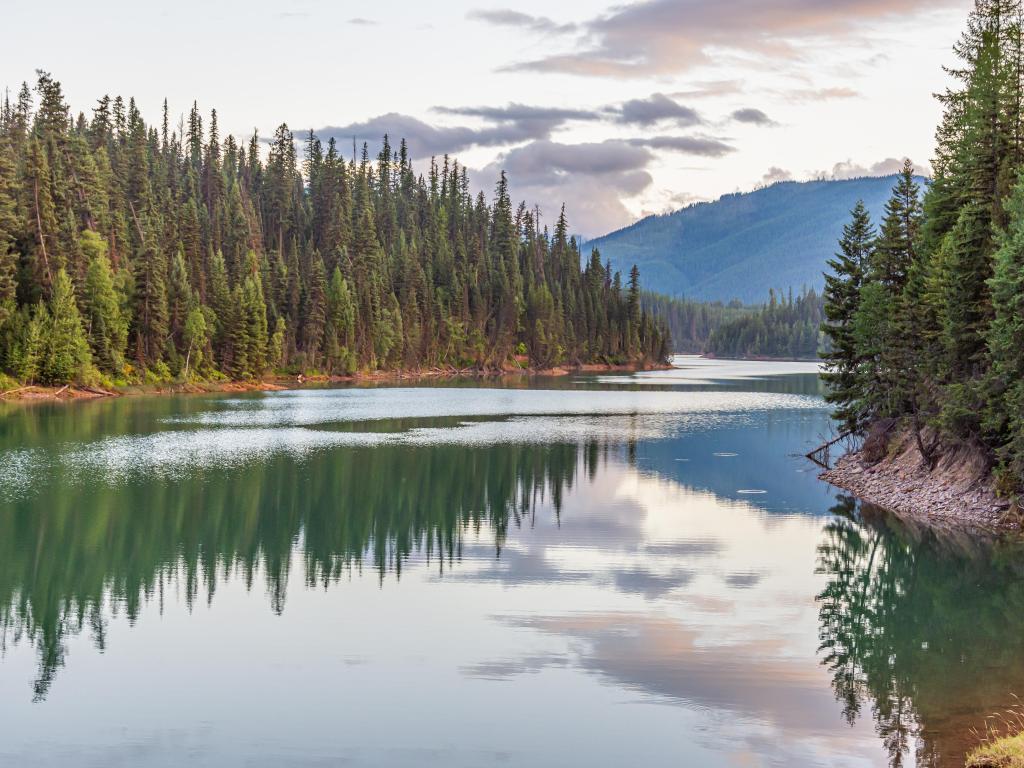 Western Route
Butte - This town is famous for being the greatest mining camp on earth. Visit here the World Museum of Mining, the Mineral Museum, and the Berkeley Pit, also known as the Butte Hole!
Hamilton - A short drive south from Missoula, you can taste mead and dandelion wine in the Hidden Legend Winery, as well as craft beer from Bitterroot Brewery. There's also the nearby Bitterroot National Forest to explore if you love great hiking trails.
Seeley Lake - Fan of fishing? A short and scenic detour from Missoula brings you to the realm of excellent lake fishing but also boating, canoeing, hiking, and wildlife viewing!
National Bison Range - Established in 1908, this natural reserve was established for the conservation of American bison, situated in the Flathead Indian Reservation area.
Missoula - A stunning city surrounded by breathtaking scenery, be sure to take a river walk along the Clark Fork River before exploring the city's historic downtown.
Lolo National Forest - Just an hour from Missoula and you'll find Lolo National Forest where you can enjoy hiking, camping, winter sports and learn more about the forest at its visitor center.
Plains - Abundant grasslands still feature horses and Bighorn sheep, but this is also the place where you can enjoy trout fishing in the Clark Fork River and beautiful hikes in the Lolo National Forest.
Flathead Lake - This wonderful destination in the warmer months offers great activities on and around the lake. Spring and summer give you an opportunity to visit many orchards around the lake; however, you need to obtain a tribal recreation permit if entering the Native American reservation in the south of the lake.
Bigfork - The beautiful art center features galleries, thriving gastronomy, sports facilities, great shopping, and many art and culture festivals.
Flathead National Forest - This forest's green heaven offers you amazing hiking paths, like the Bond Creek Trail. Enjoy the great open spaces!
Hungry Horse Reservoir - High in the Rocky Mountains, Hungry Horse Dam is on the Flathead River and just 15 miles from Glacier National Park. The reservoir itself is 34 miles long and offers an excellent opportunity for fishing, boating, swimming and water skiing.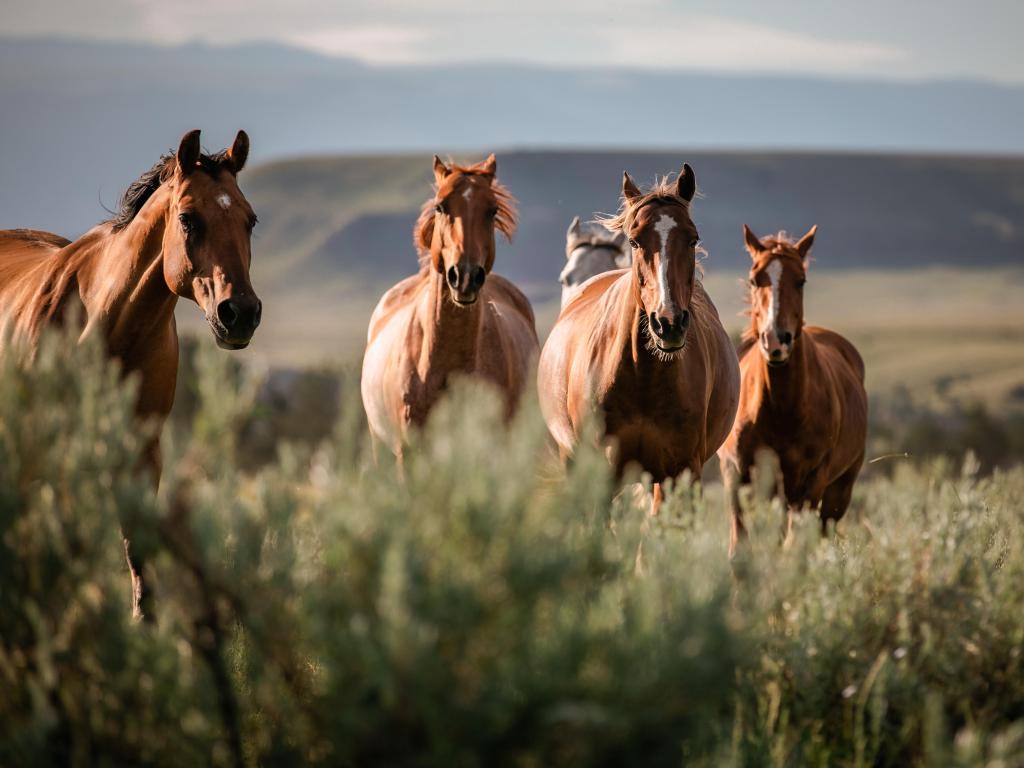 Best time to go on a road trip from Yellowstone to Glacier National Park
Montana, and particularly the mountains, may be harsh in winter with a lot of snowfall, but it's still a destination that is visited throughout the year. That said, the best time will entirely depend on your preference for activities along the way.
The summer months are high season in Montana. The temperatures are comfortable for sightseeing and outdoor activities (between 83 and 87 degrees Fahrenheit, though expect lower temperatures in the high mountains) and the attractions en route will be open and welcoming.
That said, May through to September are some of the busiest months to visit Glacier National Park, with around three million people visiting in the summer season alone. Expect congested parking areas, busier cities and expensive hotel rates if you decide to brave the crowds.
Meanwhile, Montana has harsh weather and very low temperatures in winter. This is the best time to visit if you love winter activities such as skiing, especially if you're following our Eastern Route. Though it's worth noting that many hotels and attractions close during the winter months in remote areas.
The shoulder season offers lower prices and mild temperatures (between 63 and 73 degrees), as well as beautiful spring blooms and fall foliage. However, some facilities high in the mountains might still be closed and you'll still need extra layers in early spring and late fall.
If you'd like to visit during an event or festival, your best bet would be to plan a summer trip since all the major festivals (like Lewis and Clark Festival in Great Falls, Wildwater Festival in Bigfork, or Ravalli County Fair and Rockin' RC Rodeo in Hamilton) take place in the summer months.