Road Trip from Yellowstone to Grand Canyon National Park
The awe-inspiring scenic road trip to Grand Canyon from Yellowstone will take you through fascinating natural beauty and some of the most famous national parks and forests of the states of Idaho, Utah, Arizona and Wyoming as well as charming towns and cities.
The 830-mile road trip from Yellowstone to the Grand Canyon will take 14 hours to drive. Notable stops are Salt Lake City, Jackson, Moab, Idaho Falls, Dixie National Forest, Zion National Park, Geyser Park as well as Canyonlands Arches National Parks.
If you want to learn more about the road trip from Yellowstone National Park to the Grand Canyon, keep reading to discover our favorite stops, hotels and attractions as well as the best time to plan your visit.
How far is Grand Canyon National Park from Yellowstone, and how long will the road trip take?
Comparison of road trip routes between Yellowstone to Grand Canyon National Park

| Route | Distance | Driving Time |
| --- | --- | --- |
| The Salt Lake City Route | 830 miles | 14 hours |
| The Canyons Route | 1,040 miles | 18 hours 30 minutes |
The shorter of our routes is the Salt Lake City Route. This route is approximately 830 miles and will take you about 14 hours to complete. This route is more direct, but it still includes the chance to stop at beautiful national parks along the way.
The second option is the Canyons Route. This is the longer route of the two, comprising of 1,040 miles which will take you around 18 hours and 30 minutes. More leisurely and relaxed, this route immerses you in the natural landscapes of different states.
For this road trip, we recommend allowing between 4 to 6 days. Throughout this road trip, you cover a high number of miles and spend many hours in the car. It is important that you take the time to rest and relax while also witnessing the many beauties that this part of the country has to offer.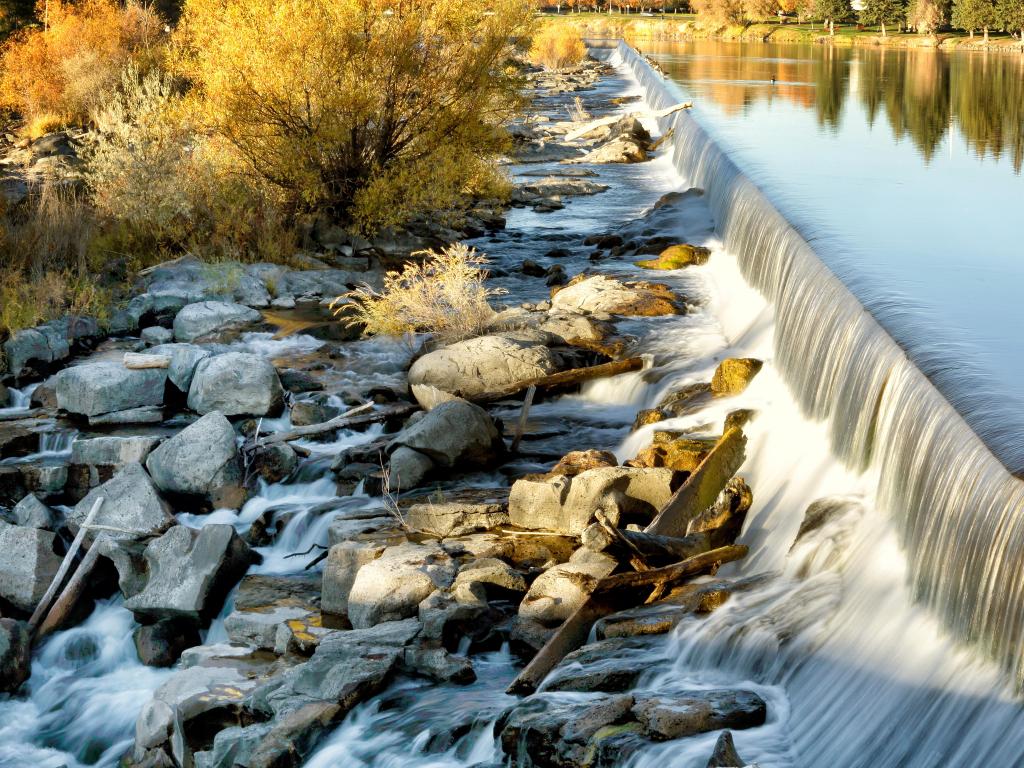 Best road trip route from Yellowstone to Grand Canyon National Park
Each of the routes that we recommend is excellent, so it really depends on your road trip priorities as to which is right for you.
The Salt Lake City Route is more direct and quicker, stopping at metropolitan Salt Lake City and offering tons of options for educational and historic activities along the way.
The Canyons route is longer and features a stretch through the plains of Wyoming before driving through the lush state of Colorado, offering opportunities to visit many natural wonders including hot springs and unique rock formations such as Double Arch.
This takes you through a variety of natural landscapes in the states of Utah, Wyoming, Arizona, and Colorado, where you can expect to see everything from snow-capped mountains, to lush protected parks and dry, red deserts.
While you travel on the Canyons Route, you can take time to stop in Arches and Canyonlands National Parks, as well as the cities of Jackson and Rock Springs in Wyoming.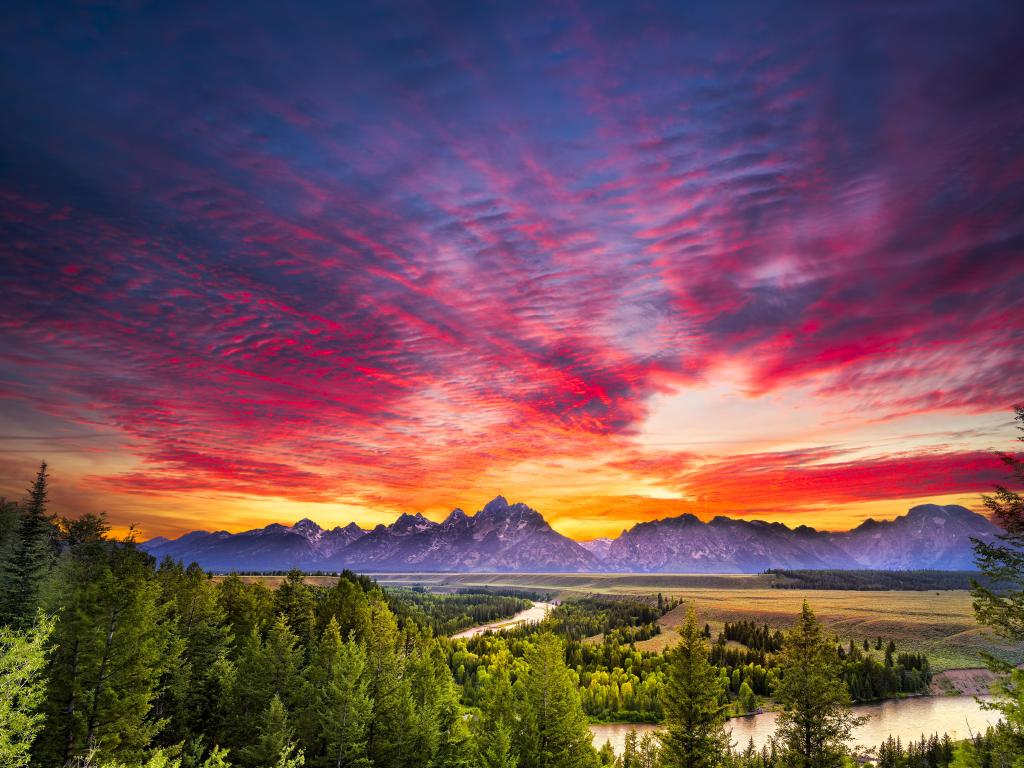 The Salt Lake City Route
To start this epic road trip, head out of Yellowstone National Park on the US-20 W until you reach Idaho Falls. This city is on the edge of Snake River, making it the perfect place to stop and stretch your legs. You can explore the system of trails and discover a beautiful waterfall.
From Idaho Falls, take Interstate 15 (I-15) S until you reach Salt Lake City in Utah. On this section of the journey, you will pass the largest saltwater lake in the Western Hemisphere - the Great Salt Lake. Once you arrive in Salt Lake City, check out the tons of activities and nightlife.
After stopping at Salt Lake City, continue driving on the interstate and soon you will arrive at Dixie National Forest. Incredibly scenic, it is well worth taking a break from your road trip to visit Dixie National Forest.
From Dixie National Forest, rejoin I-15 S until you can join UT-9 E in Springdale. This will take you to the beautiful Zion National Park where you can experience Zion Canyon's steep red cliffs. This is a must-see stop on this road trip.
After Zion National Park, you will head northeast on Zion Park Boulevard. After this, join onto the US-89 S until you can join the AZ-67. This will take you to North Rim Visitor Center on the edge of Grand Canyon National Park.
The Canyons Route
When taking the Canyons Route, start by heading southeast on US-20. From here join onto US-191 until you reach Jackson in Wyoming. Jackson is an amazing city which has attractions for all the family. Take a break in Jackson for skiing, fishing, rafting and ranches.
Leaving Jackson, take US 191 until you reach Rock Springs, which is a city famous for a sad reason. It was the site of one of the worst ethnic massacres in the 1880s. While you are here, visit the Rock Springs Historical Museum to learn more about the devastating history.
From Rock Springs, head through Dinosaur and follow the highway until you reach Moab in Utah. Moab is the best place to stop to visit the red rock formations in Arches National Park. Moab embodies small-town vibes in a city making it the perfect place to take a break from your road trip.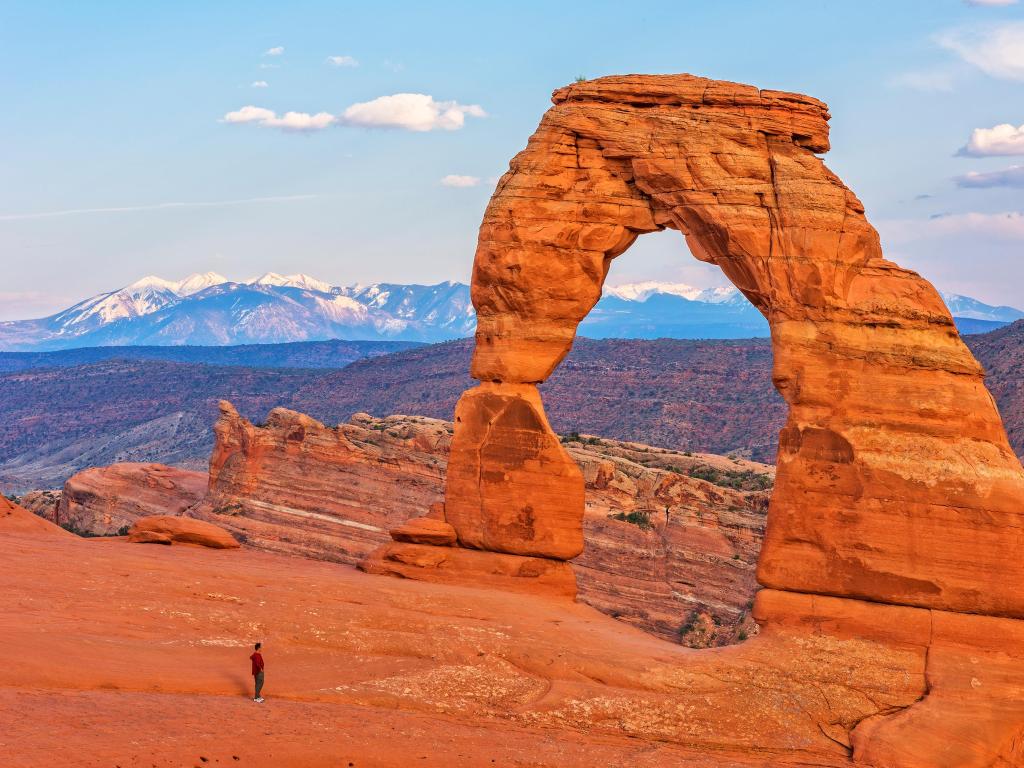 To reach Arches National Park, follow the US-191 N. After stopping here, head to Canyonlands National Park by taking the US-191 N and then UT-313 W. This will take you to the stunning national park known for its dramatic desert landscape.
After taking time to visit Canyonlands National Park, continue on the US-191 S. You will then take the AZ-98 and the US-89 until you reach North Rim Visitor Center. From here you will be able to explore the amazing Grand Canyon.
Best places to stop between Yellowstone and Grand Canyon National Park
During your road trip from Yellowstone to Grand Canyon National Park, you will pass through many stunning towns and unmissable national parks. To make it easier for you to choose where to stop on this epic road trip, you can take a look at our top suggestions below.
A scenic and stylish stay at Salt Lake City
If you are taking the Salt Lake City Route, the titular Salt Lake City is a great place to stop. Halfway on this route, this bustling metropolis offers tons of city activities and nightlife, perfect after (and before) a long day of driving through remote landscapes.
Known for its Mormon architecture and surrounded by mountains, Salt Lake City is known as having been the host of the 2002 Winter Olympics thanks to its popular ski slopes. Tens of thousands of visitors flock to this city every year to take in its beautiful surrounding natural landscapes.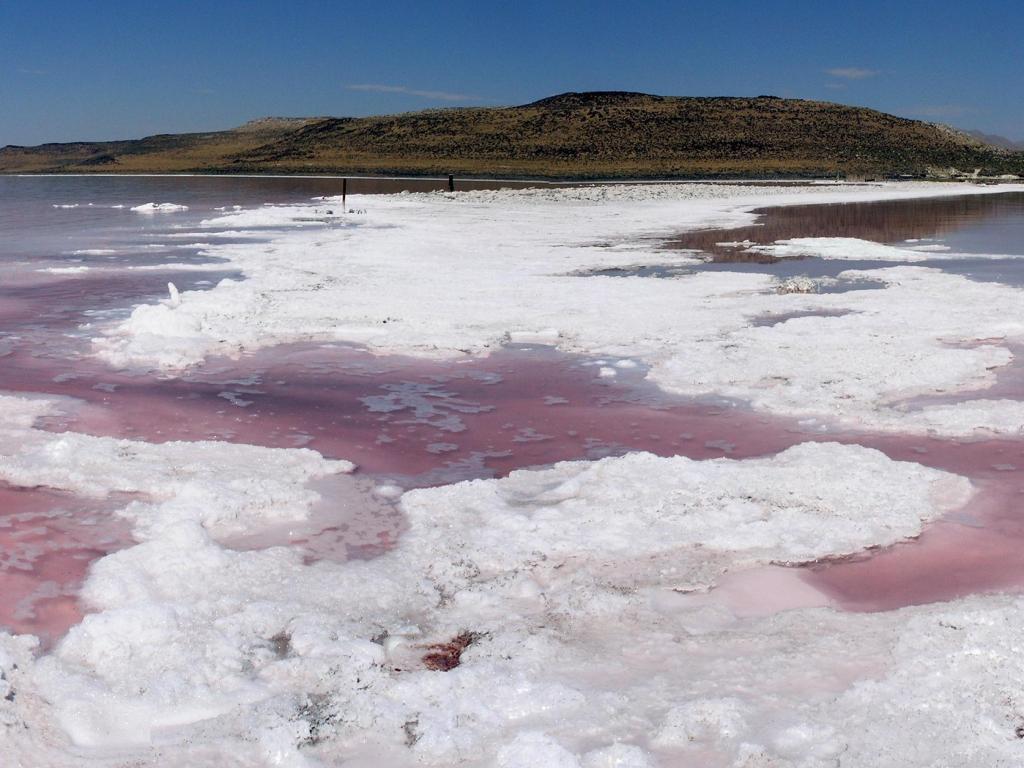 While staying in Salt Lake City, there are many fun attractions that you can visit. Particularly, you must visit the Great Salt Lake while in this part of the country. This multicolored lake, a phenomenon resulting from changes in salinity levels, is also home to the artwork titled Spiral Jetty.
When visiting Salt Lake City, we highly recommend staying at Grand America Hotel. This hotel is centrally located; it is minutes from the city's most interesting attractions including Salt Lake City Hall, the Museum of Church, and Washington Square Park.
This stunning hotel offers tons of amenities that will help guests relax after a long day of driving, including an indoor pool, an outdoor pool, gym facilities and a full-service, five-star spa where you can pamper yourself after the long drive.
Guests can enjoy award-winning Sunday Brunch served at their Laurel Brasserie and Bar or high tea served at the Lobby Lounge, where guests can enjoy views into their courtyard. This hotel is not short of food options. In-hotel bakery Bonne Vie serves up fresh French pastries, while The Gibson Lounge offers cocktails and brews in Golden Age style.
Take in Colorado's wine country while staying in Grand Junction
Grand Junction is located just over halfway along the Canyons Route next to the Colorado River. After a long day of driving, this small city is the perfect overnight stop to rest and take in the nearby wine country.
Grand Junction is best known for being home to over 20 wineries, having earned the name of Colorado's Wine Country. It also offers some interesting cultural institutions, including The Museum of the West, the Eureka! McConnell Science Museum and The Art Center.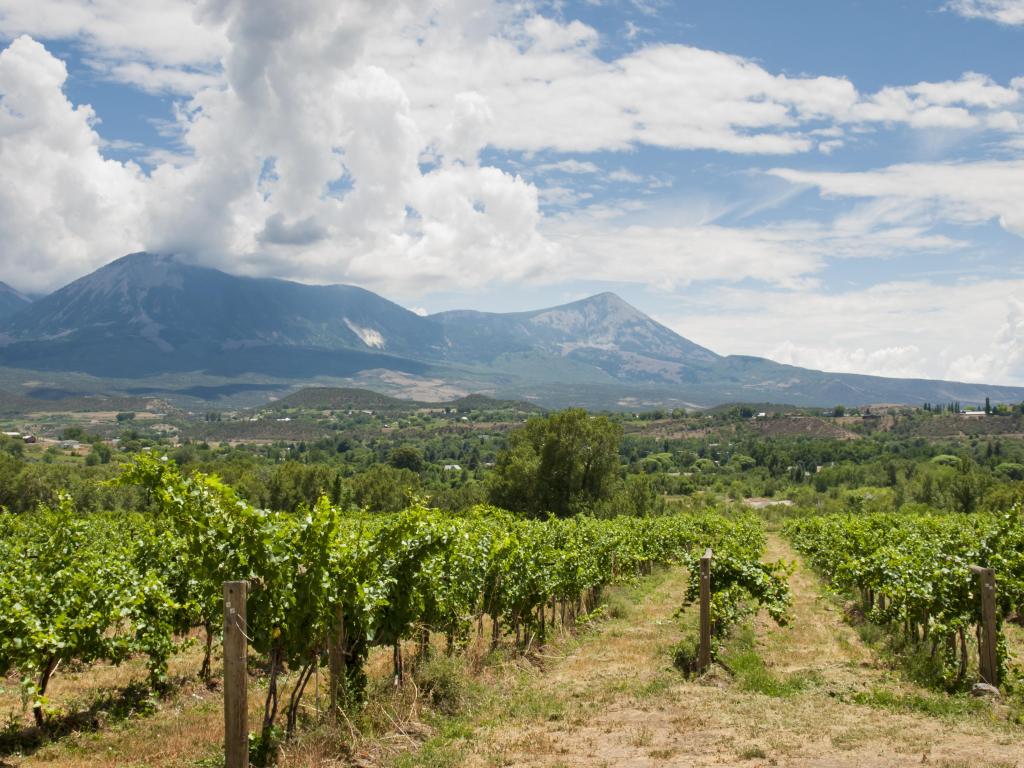 Check out The Museum of the West during your visit. Discover the Wild West at this Grand Junction staple, offering temporary exhibits and permanent fixtures such as the Pastime saloon.
After, you can visit Colorado's National Monument. Take in Colorado's national beauty, including canyons and its signature red sandstone monoliths, at this park just west of the city.
While visiting Grand Junction, our top choice for accommodation is the chic and stylish Springhill Suites Grand Junction. This hotel is ideally located in Grand Junction's bustling downtown, where visitors can explore dozens of stores and restaurants.
Nearby, you'll find the Botanic Gardens and Native Arboretum, as well as the Colorado River. Grand Junction is located just a few miles off-route, but travelers will easily be able to get back on the highway in the morning and continue along their route.
Where to stay when you reach Grand Canyon National Park
Once you reach Grand Canyon National Park, we recommend staying at The Grand Hotel at the Grand Canyon. This beautiful hotel is located about a 5 minutes' drive from the Grand Canyon and Grand Canyon Village.
This five-star hotel offers a swimming pool which is perfect for relaxing your muscles after a long drive. Guests can enjoy impeccably decorated rooms in which they can enjoy a great night's sleep before a day of adventures at the Grand Canyon.
Things to see on a road trip from Yellowstone to Grand Canyon National Park
Throughout this lengthy road trip, you will pass many beautiful and scenic national parks. No matter which route you choose to take, you will travel across multiple states and witness amazing sights.
The Salt Lake City Route
Caribou-Targhee National Forest - Spanning over 3 million acres, the Caribou-Targhee National Forest offers tons of outdoor activities and sports, year-round.
Cress Creek Nature Trail - This 1.25-mile trail winds along the Snake River and is the perfect spot to stretch your legs after a long day of driving. It is even partially wheelchair accessible.
Eagle Rock Fountain - This beautiful and unique fountain located in the center of Idaho Falls is the perfect photo opportunity to document your fabulous road trip.
Museum of Idaho - Recently established in 2003, this museum offers world-class interactive displays on the humanities and sciences, as well as a look at this region's rich history.
Geyser Park - Add only about thirty minutes to your route and catch this geyser majestically exploding 70 feet into the air, once every hour.
Spiral Jetty - American artist Robert Smithson created this sculpture in 1970. The Spiral Jetty is most visible during low water levels as it winds into the Great Salt Lake.
BYU Museum of Paleontology - For dinosaur lovers out there, this museum belonging to Brigham Young University offers exhibits featuring dozens of rocks and fossils from prehistory.
Parowan Gap Petroglyphs - Free to visit, these Native American Petroglyphs are thought to date back almost a thousand years.
Moqui Cave - Moqui Cave was once used as a speakeasy (who would have thought!) and is now converted into a natural history museum which boasts an incredible rock collection and gift shop.
Temple of Sinawawa - Located in Zion National Park, this natural amphitheater contains a paved trail along the Virgin River which features stunning waterfalls and flower gardens.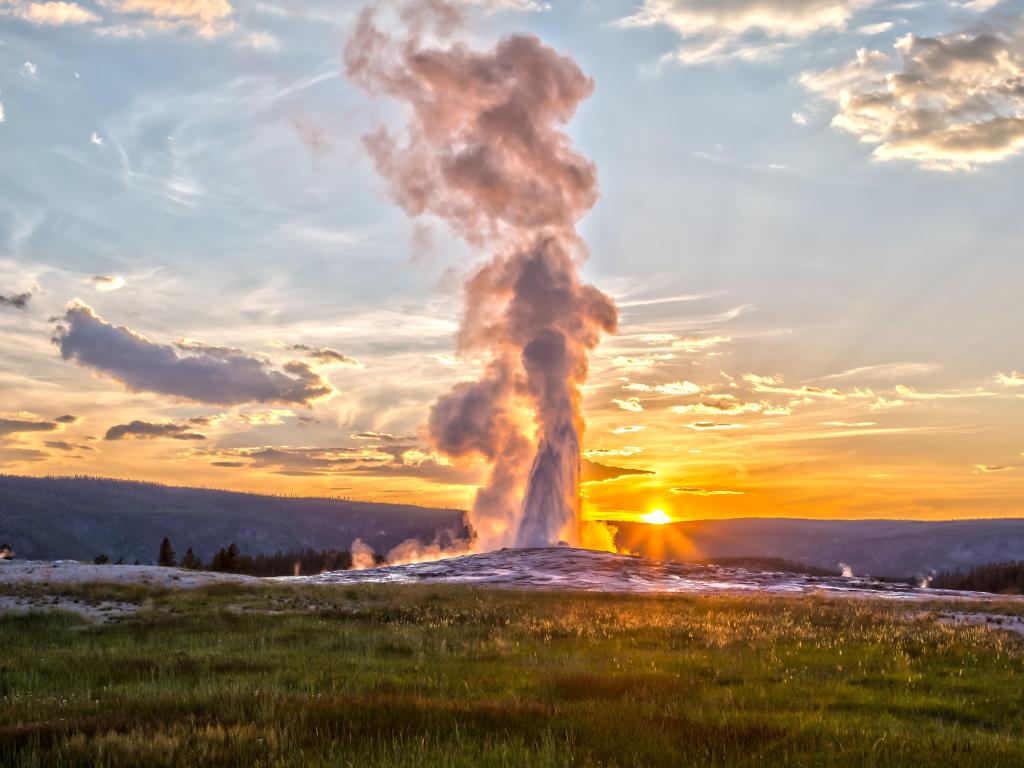 The Canyons Route
Bridger-Teton National Forest - Boasting over 3.4 million acres of wilderness, wildlife and trails, the Bridger-Teton National Forest is a must-see for nature lovers and outdoor adventurers alike.
Jackson Lake Dam - Take the size of this concrete dam which dates back to 1916. It also offers panoramic views of Jackson Lake and the snow-capped Grand Teton mountains.
Granite Hot Springs and Camp - At just under 100 degrees Fahrenheit, these natural hot springs are the perfect place for visitors to warm up and relax, surrounded by towering pines and rock formations.
South Pass City State Historic Site - This restored Old West mining town provides a glimpse into America's rich history, offering tours and family-friendly activities.
Dinosaur National Monument - Located about a half-hour off route, this national park offers rafting and hiking trails, plus pictograms and dinosaur fossils.
Pioneer Town - Travel back in time in this historic museum in Cedaredge Colorado, boasting 5 acres and twenty-four buildings dedicated to recreating life from the late-1800s through to the early- and mid-1900s. This attraction adds about an hour of driving to your route.
Double Arch - This natural sandstone features two large arches that spring from the same side foundation, which makes it a majestic sight to behold. It is also good to note that this is a popular photo spot.
Hole 'N' The Rock - This historic 5000 square foot home, carved into a sandstone boulder, boasts a fireplace, 14 rooms and a gift shop.
Hovenweep National Monument - This preserve was once home to over 2,500 people and consisted of six prehistoric villages built between A.D. 1200 and 1300.
Monument Valley - Marvel at the massive red sandstone buttes that dot this valley, perfect for a stretch before the final journey leg to the Grand Canyon.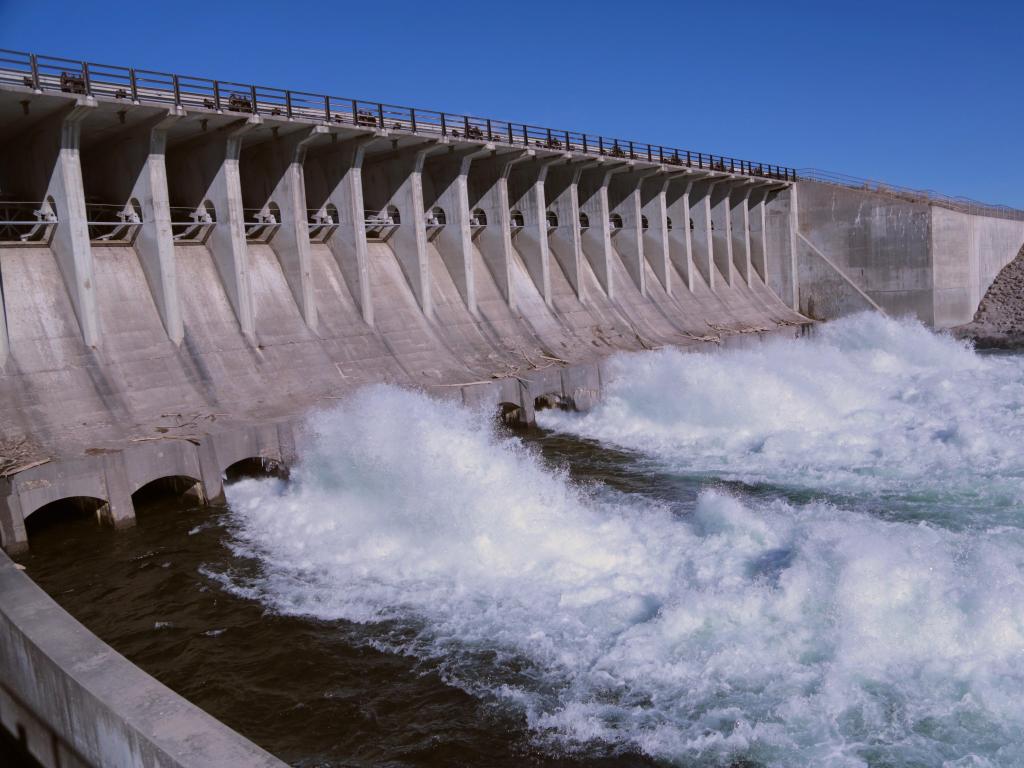 Both routes
World's Largest Elkhorn Arch - A historical landmark and unique attraction in the center of Afton, Wyoming. The World's Largest Elkhorn Arch is only about 30 minutes off-route so it is well worth seeing.
Giant Soda Cans - With an addition of 20 to 45 minutes (depending on your route), discover this quirky roadside attraction featuring massive tanks painted to resemble famous soda drinks.
Lone Rock Beach - This popular sandy beach will add an extra hour to your road trip as a detour. But it is worth visiting, as it is surrounded by awe-inspiring desert plains and is an ideal spot to catch the sunset.
Best time to go on a road trip from Yellowstone to Grand Canyon National Park
While you can certainly visit the Grand Canyon National Park all year round, it is most the most popular in the spring, summer and fall months.
There are two rims at the Grand Canyon where visitors will find lodging and restaurants; the South Rim is open year-long, with some business closures, while the North Rim is open exclusively between May 15 and October 15.
Summer is Grand Canyon National Park's peak season, meaning that travelers should be prepared to book in advance due to limited accommodation options from the influx of summer tourists.
Temperatures during this season typically range between 42-84 degrees Fahrenheit, with the occasional showers during the months of July and August.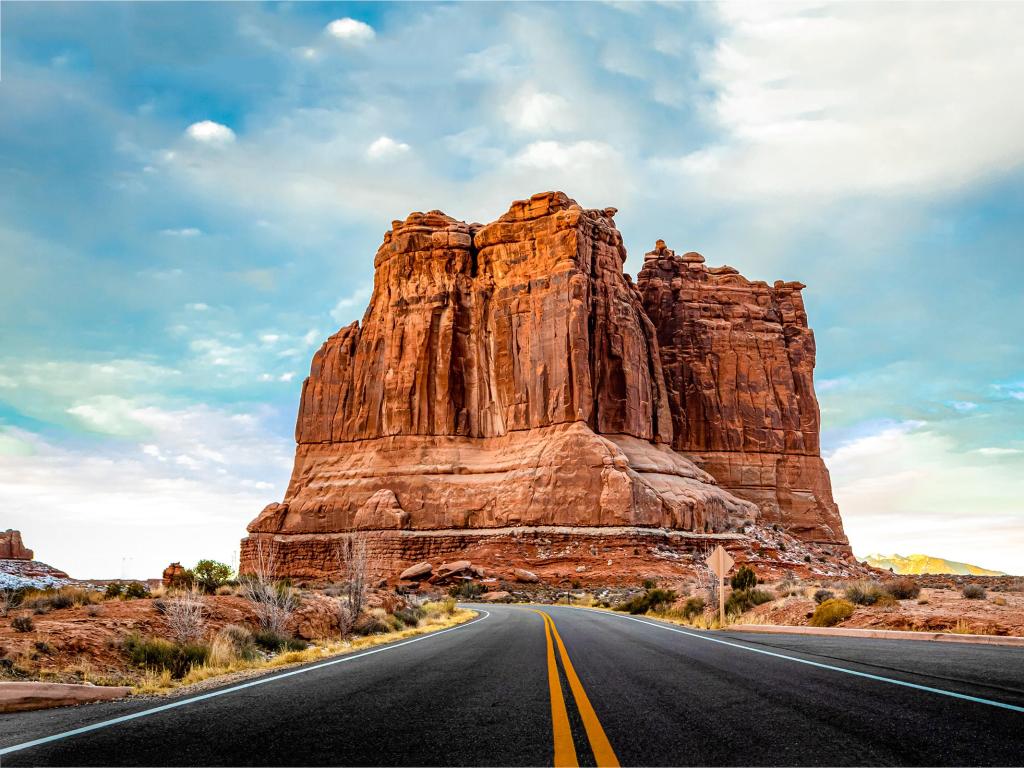 Winter is relatively quiet compared to the high season, and many restaurants and facilities are closed during this time. Winter temperatures will drop down to as low as 17 degrees Fahrenheit, so ensure to bundle up if travelling during this season.
Late spring and fall are great times to visit this natural wonder, namely because there are fewer tourists, so visitors can enjoy most, if not all, of the amenities offered in the summer but with slightly lower accommodation rates and smaller crowds. Spring and fall temperatures both range between the low-20s and low-70s.
Regarding seasonal festivities, the busiest time of the year is summer and fall, when visitors can enjoy events such as the Grand Canyon Music Festival, the Grand Canyon Star Party and a Celebration of Arts.
Echoes from the Canyon is a program that sees park rangers become characters reenacting stories relating to the Canyon. Every November, Native American Heritage Days spotlight the Native American tribes that have lived in and around this area for millennia.
While for most of winter few activities are offered at the Canyon, the holiday season brings several events for Christmas and New Year's Eve.