Road Trip from Glacier National Park to Yellowstone
Glacier National Park and Yellowstone are some of the most awe-inspiring natural wonders on the planet and the drive between them makes just as incredible an adventure. On this epic journey, you'll immerse yourself in snow-capped mountains, view wild and moose, and come face to face with the world-famous Old Faithful Geyser.
The 420-mile road trip from Glacier National Park to Yellowstone will take over 7 hours to drive. Notable sights are Museum of the Plains Indian, Montana Dinosaur Center, Bigfork, Butte, Lewis & Clark Caverns State Park and White Sulphur Springs.
This road trip will provide you with lifetime memories of one of the most striking landscapes in the world. Continue on below to learn more about how to make this wonderful journey to Yellowstone, where to stay once you arrive, and what to do and see once you get there.
How far is Yellowstone from Glacier National Park, and how long will the road trip take?
Comparison of road trip routes between Glacier National Park and Yellowstone

| Route | Distance | Driving Time |
| --- | --- | --- |
| The East Glacier Route | 420 miles | 7 hours 30 minutes |
| The West Glacier Route | 460 miles | 8 hours 20 minutes |
You can do the drive from Glacier National Park to Yellowstone via two amazing routes. Both routes will take you to Yellowstone and bring you through landscapes and wildernesses that look straight out of a magazine.
The East Glacier Route runs all year long and will take 7 hours and 30 minutes to drive the full 420 miles. This route allows you to enjoy the long stretch of Highway 89, also known as Kings Hill Scenic Byway.
The West Glacier Route covers 460 miles for 8 hours and 20 minutes. This beautiful drive runs year-round and will bring you through several small communities and natural landmarks.
For both routes, we suggest taking two to four days to complete your journey. This will give you enough time to comfortably take in all the sights and beautiful wildlife you'll see on your way.
Best road trip route from Glacier National Park to Yellowstone
Driving from Glacier National Park to Yellowstone is a journey for you to escape into the wilderness. As you drive through the wild, you'll come across Siting bison, bears, moose and bighorn sheep.
Between the stretches of the Montana natural landscape, you'll encounter small towns and cities with quintessential historic wild west vibes. Concluding your journey in Yellowstone, you'll visit one of the USA's most famous national parks and see famous natural landmarks like the erupting Old Faithful Geyser.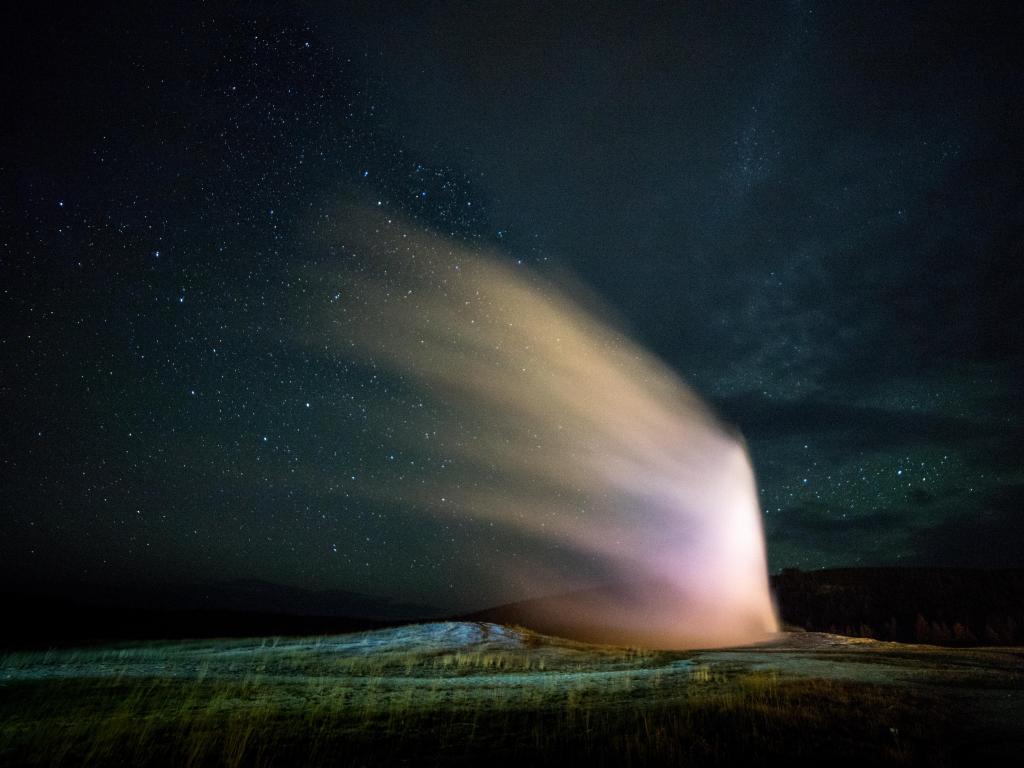 These two fantastic routes have something for everybody. From adventures in nature to spending time in charming little towns, your trip will be full of amazing experiences.
The East Glacier Route is the journey to follow if you want to enjoy a long stretch on Highway 89, otherwise known as Kings Hill Scenic Byway. As you meander through the Little Belt Mountains in the Lewis and Clark National Forest, you'll be able to stop and admire the mountains and pristine lake views.
Throughout the journey from Glacier National Park to Yellowstone, there's art to discover, old western towns, and numerous trails to hike in the Montana mountainous river valleys.
The West Glacier Route goes through notable local natural landmarks such as Flathead Lake, Lolo National Forest and the Lewis & Clark Caverns. It's a good route to take in winter with the main roads kept well plowed. You'll also encounter many towns and cities that have outdoor activities regardless of weather.
While the region is prone to heavy snowfall, you can complete these road trips year-round. Make sure you're comfortable with winter driving and have the necessary equipment like snow tires and GPS.
The East Glacier Route
From East Glacier Park Village, head east to the Museum of the Plains Indian. From here, jump on the scenic US-89 south.
Continue on to the Montana Dinosaur Center and check out the wonderful fossils and artifacts. Drive further south on US-89 to the city of Great Falls.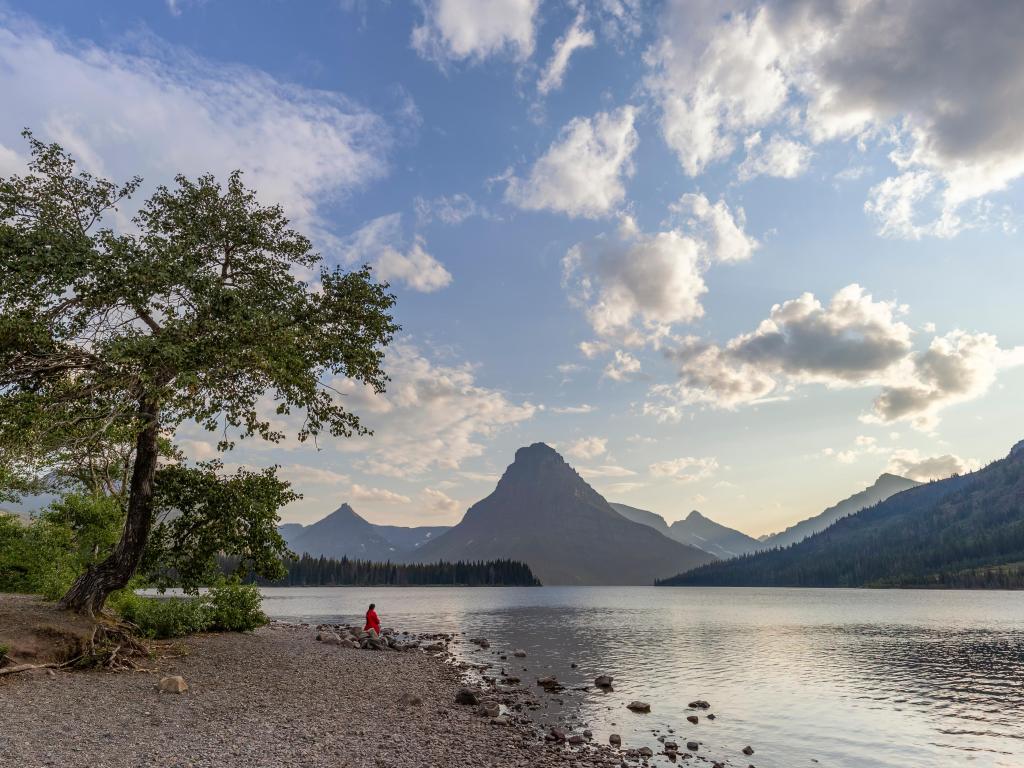 Head south on the highway to check out the beautiful White Sulfur Springs. From here, continue south to the charming town of Livingston.
After Livingston, take US-89 to Gardiner. This is the north entrance to Yellowstone National Park.
The West Glacier Route
From the beautiful wilderness of West Glacier, head south to Big Fork and Lakeside to enjoy these fantastic communities and natural settings.
Continue south on US-93 to Missoula. After exploring the city, hit the freeway east.
At Drummond, take the highway south to Philipsburg. From here, continue on the route to the beautiful town of Uptown Butte.
Take I-90 to the Lewis and Clark Caverns State Park and continue on to Wineglass. From here, veer south and continue on into Gardiner and the grand North Entrance of Yellowstone National Park.
Best places to stop between Glacier National Park and Yellowstone
With so much excitement along the way, you'll pass by some beautiful places to stop and stay the night. Below, we've chosen our top places to stay on your way from Glacier National Park to Yellowstone.
Take in the best of the west at Great Falls
About halfway on the East Glacier Route is Great Falls, Montana. This wonderful community is 195 miles into the journey, making it an ideal place for an overnight stop.
There are plenty of attractions to see in this city surrounded by natural beauty. The most famous and most visited is the Giant Spring State Park. The park is home to one of the largest springs in the USA. Here, you can hike a section of the 60-mile River's Edge Trail as you listen to the relaxing sound of flowing water.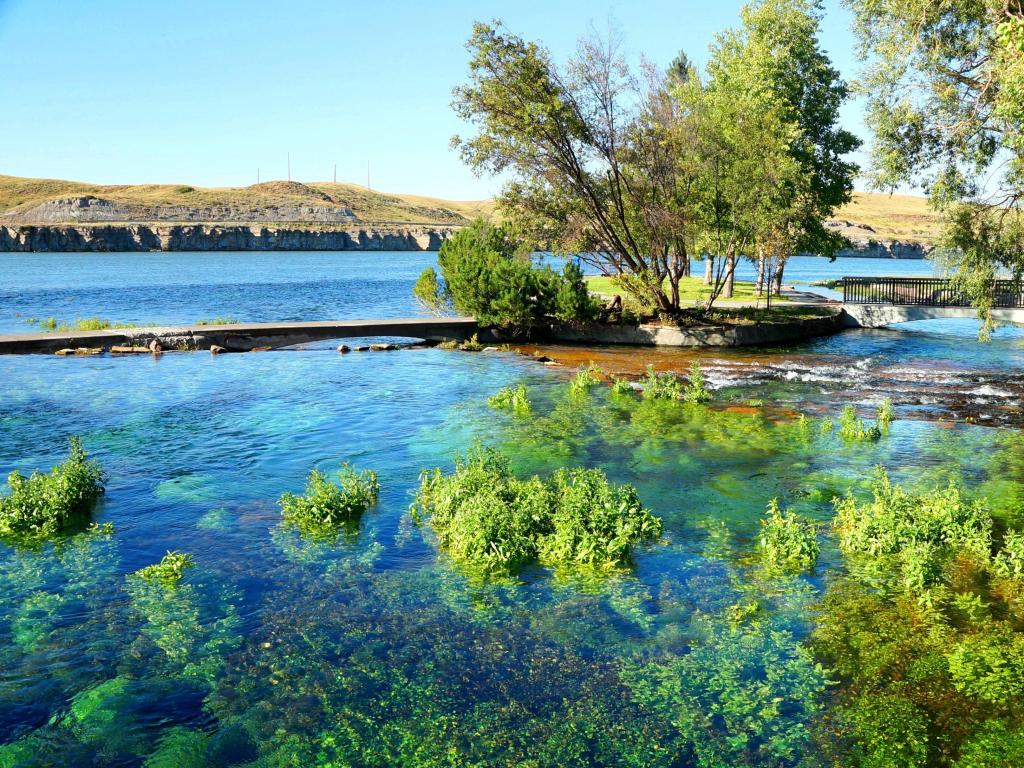 If you love art, make your way to the Paris Gibson Square Museum of Art. See contemporary artwork housed in a historic 19th century building. The museum houses artwork by prominent Montana artists.
Another must-see museum is the C.M. Russell Museum. You'll get to see over 1,000 original works by the Old West American artist Charles Marion Russell and learn about Western History through the eyes of the "original cowboy artists".
Great Falls is home to plenty of restaurants and bars, the most beloved by locals and visitors is the Sip 'n Dip Lounge. GQ named it the "Number 1 Bar in the World worth flying for". Have a drink as mermaids swim past behind the bar.
Once you get to your destination, we recommend staying at the SpringHill Suites by Marriott Great Falls. This luxury hotel has free public parking on-site with electric car charging.
There's a delicious breakfast buffet available and an indoor swimming pool that is open year-round. After your long journey, you can enjoy the fitness center.
After sightseeing, visit the outdoor patio with a fire pit and scenic views of the Missouri River. Another perk is the proximity to downtown sights and the city's top natural wonders.
Enjoy the great outdoors in Missoula
Just under halfway on the West Glacier Route is the city of Missoula, Montana. The city and its surroundings have plenty of outdoor activities to enjoy.
The city was first penned by Norman Maclean's famous novel, "A River Runs Through It". It was later turned into a film in 1993 starring Brad Pitt. The film is set in Missoula and many of the incredible places you'll visit are featured in the film.
There's plenty to see and do in the area, but most of all Missoula is known for its rich outdoor wonders. If you love hiking or biking, head to Clark Fork Natural Park. From downtown, the park is easy to get to and once you're there, you can relax and enjoy its lush surroundings.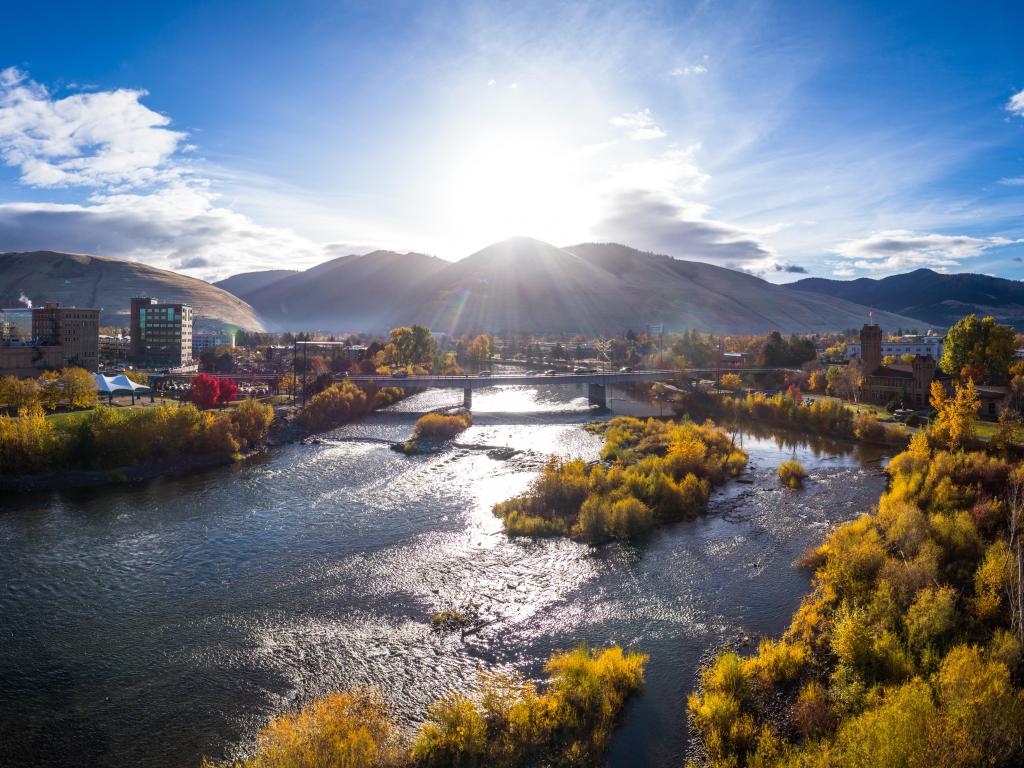 Another great natural area to explore is the 'M' Trail. Here, you can hike up the challenging Mount Sentinel, and brave its steep inclines and switchbacks. Once you reach the concrete 'M', you can overlook the meandering river and downtown with the mountains in the background.
If you love history, make your way to the Historical Museum at Fort Missoula. This amazing testament to history covers 32 acres and has 13 historic buildings and many exhibits to learn about the area and its history.
After exploring the natural surroundings and historic places, head to Missoula's downtown and the popular Hip Strip. Hip Strip is the trendy part of downtown Missoula, where you'll discover trendy restaurants and boutiques.
While visiting the city, we suggest staying at the comfortable DoubleTree by Hilton Missoula Edgewater. Here, you can take advantage of the free parking with electric car charge facilities.
After your drive, you can take advantage of the seasonal outdoor swimming pool with sun loungers to get your body ready for exploring the outdoors. Then after sightseeing, enjoy the on-site restaurant called FINN serving American breakfast, brunch, lunch dinner and a cocktail hour.
Once it's time to wind down for the evening, you'll enjoy the large rooms with different styles and configurations. Some of the rooms feature mountain views. If you want to take in the scenery, you can relax in the outdoor sitting area, located right on the banks of the Clark Fork River.
Where to stay when you reach Yellowstone
Once you reach your destination, we recommend staying at the beautiful Ridgeline Hotel at Yellowstone, Ascend Hotel Collection in Gardiner, Montana, at the north entrance of Yellowstone.
Located 1 mile or a 5-minute drive to the North Entrance of Yellowstone, this hotel offers supreme luxury and tranquil settings. This entrance is open year-round, so you can be sure to enjoy the National Park anytime once you arrive.
There's free parking available on-site. What's more, you're only within walking distance of amazing local bars and restaurants.
After exploring Yellowstone, come enjoy the heated indoor pool with a sauna and a hot tub. The hotel has plenty of new cabins with balconies and scenic views that look straight out of a magazine.
Things to see on a road trip from Glacier National Park to Yellowstone
On your way from Glacier National Park to Yellowstone, you'll encounter wildlife, vistas, and stunning mountains. Below is the list of our top destinations and things to see along the way so you can have the ultimate road trip experience.
The East Glacier Route
Museum of the Plains Indian, Montana - Look upon artwork, historic clothing, weapons and other exhibits of the Northern Tribal Plains people.
East Glacier Park Village - With over 1,000 hiking trails the East Glacier Park Village is an ideal place to begin your journey into the Glacier National Park.
The Montana Dinosaur Center, Bynum - From May to September you can embark on a journey to dig for fossils.
First Peoples Buffalo Jump State Park - Hike alongside the mile-long sandstone cliff. With picnic tables along hiking routes it's a scenic spot to stop for lunch.
Kings Hill Scenic Byway - See the Lewis and Clark National Forest as you drive through the scenic road. As you wind through the mountains and clean lakes pullover to walk trailheads or just enjoy the views.
Memorial Falls Trailhead, Neihart - The trailhead on the scenic byway will take you to two waterfalls. A scenic walk to stretch your legs alongside the picturesque stream.
White Sulphur Springs - With a full-on Western vibe White Sulphur Springs is a small town that'll leave a mark. Go to Spa Hot Springs Motel to experience the famous hot springs.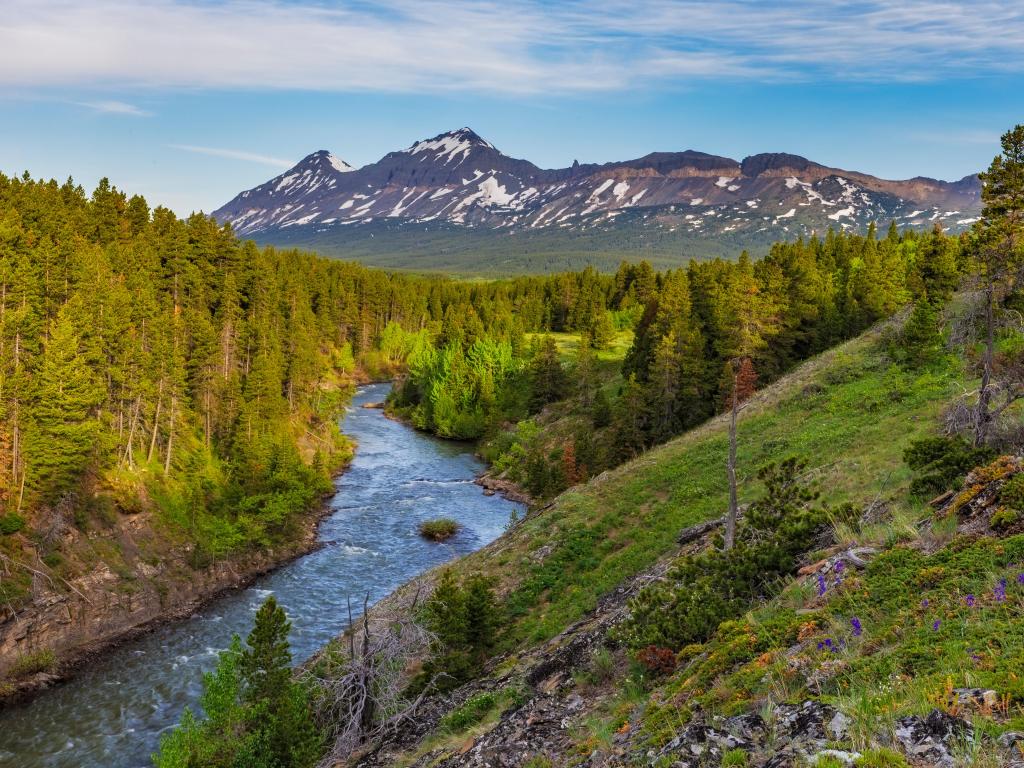 The West Glacier Route
West Glacier - West Glacier has restaurants and hotels with a true Montana feel. It's your gateway into Glacier National Park, where you can enlist the help of local guides for hiking, rafting and camping trips.
Bigfork - Bigfork brimming with artful adventures. The art village has many galleries for you to explore.
Lakeside - Flathead Lake is the biggest natural freshwater lake west of the Mississippi. Volunteer Park is a good place to swim in summer while in winter you can skate on the frozen lake.
Lolo National Forest - Hiking and camping are popular in Lolo. For an immersive escape, you can hire a historic cabin for the night.
Philipsburg - In the 19th century mining town you can visit the Granite Ghost Town in summer. In winter, you can ice-fish and cross-country ski.
Uptown Butte - Discover the countless historic structures of Butte. Whether it's breakfast, lunch or dinner, there are many quaint restaurants to stop by and enjoy this copper mining city.
Lewis & Clark Caverns State Park - Head underground to marvel at the limestone caverns. From the visitor center you'll find campsites and hiking trails to boot.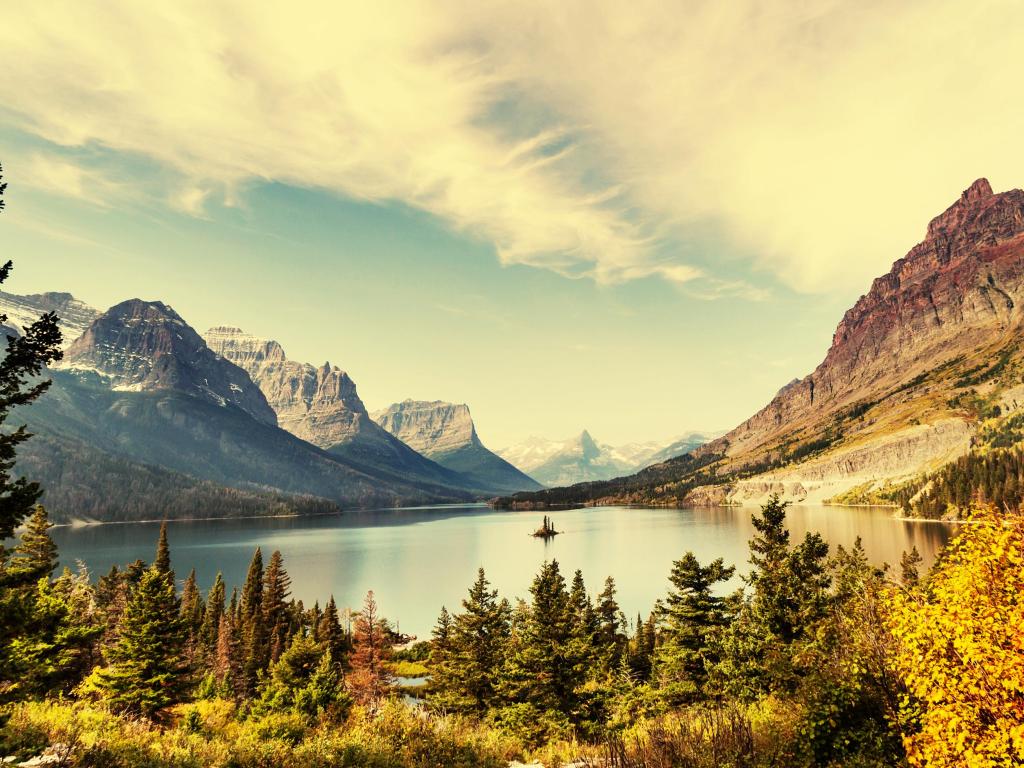 Both Routes
Livingston - The Yellowstone Gateway Museum will prepare you for the visit to the National Park. Then enjoy crisp air as you hike through Sacajawea Park on the banks of the Yellowstone River.
Bozeman - The Museum of the Rockies has the largest collection of dinosaur fossils in the USA. See the history of the Rockies and people and wildlife who've inhabited the region.
Big Sky - Ousel Falls Park Trail is a 1.6 mile round trip. You'll hike alongside the Gallatin River crossing bridges before discovering a scenic waterfall.
West Yellowstone - You can use West Yellowstone as your base to explore the park. While there, go to the AZA accredited Grizzly & Wolf Discovery Center.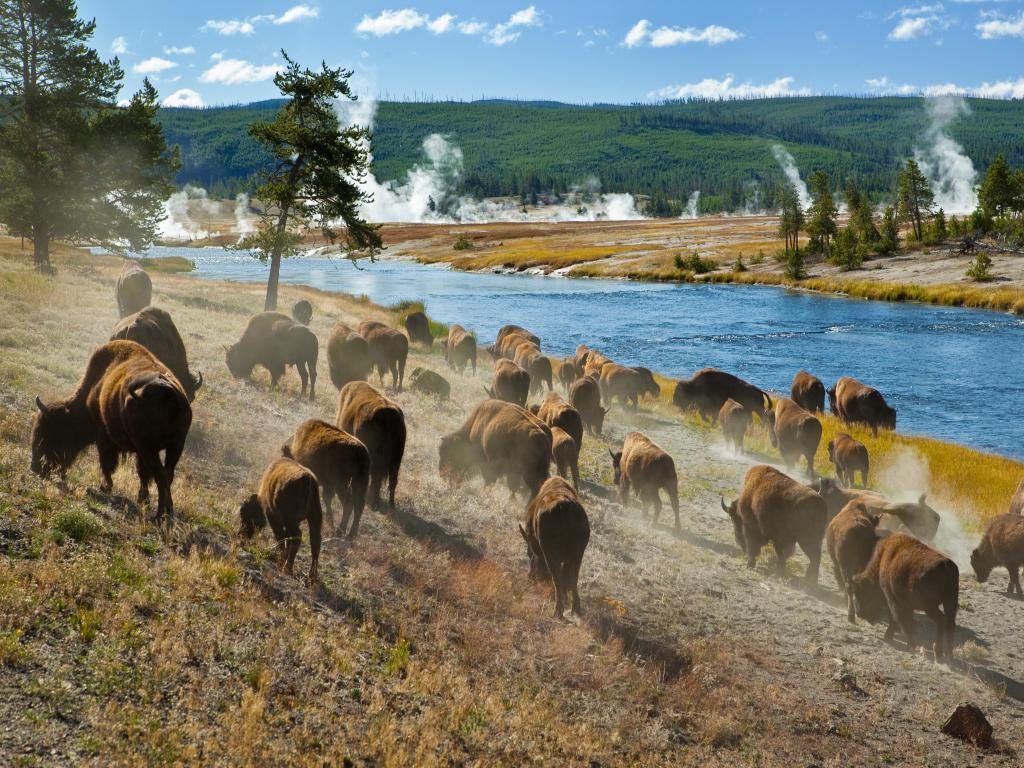 Best time to go on a road trip from Glacier National Park to Yellowstone
Visitors go to Yellowstone National Park throughout the year. There were an astonishing 4.86 million visitors to the National Park in 2021 alone. The park itself is open 365 days a year and 24 hours a day. That said, you're restricted when driving if visiting in winter and fall.
Summer is a pleasant time to visit the national park. July and August are the hottest months with average temperatures of 60 and 58 degrees Fahrenheit. Temperatures can reach 75 degrees Fahrenheit in July and August.
September is the third warmest month with average temperatures of 49 degrees Fahrenheit. September is also the driest month to visit Yellowstone.
June, July and August are also the busiest months and tourism begins to tail off in September, so it's a good time to visit. The Grand Loop is open throughout summer so you can take this amazing drive without worrying about closures.
Winter is severe in Yellowstone. The heavy snowfall causes roads to close. However, the road between the North and Northeast entrance is open year-round thanks to regular plowing.
January, February and December are when temperatures drop to the lowest in the year. These months have average temperatures of 14-16 degrees Fahrenheit, but it can drop as low as 5 degrees.
Although you can't drive to the famed landmarks like Old Geyser, you can still visit using a snow coach or snowmobile tour. There are several operators that offer these services, like Backcountry Adventures, Old Faithful Snowmobile Tours, and Yellowstone Expeditions.
Spring is still cold with March, April and May averaging 25, 34 and 42 degrees Fahrenheit. On top of the cold temperatures, you can expect snow in Spring with March experiencing the heaviest.
May is a great time to visit because the snow level drops and the Grand Loop opens up. There are 5 times less visitors in Spring compared to Summer.
Once you're in Yellowstone, there are plenty of natural landmarks to visit. The most popular landmarks are Old Faithful Geyser and Mammoth Springs. If you visit these landmarks, 10AM to 5PM is the busiest time, especially in peak season.