Road trip from Yosemite to San Francisco
A road trip from Yosemite to San Francisco means you'll start and end at two of the most visited destinations in the country. Along the way, you can take in stunning mountain scenery, beautiful Lakes, incredible views across the Pacific Ocean, and an iconic Californian coastline drive.
The 320-mile journey from Yosemite to San Francisco can be completed in 6 hours and 10 minutes without taking a break. The route takes in the Tioga Pass, Mono Lake, Lake Tahoe, Eldorado National Forest, and Sacramento before arriving in San Francisco.
Not many drives can offer the diverse and natural beauty of Yosemite, Lake Tahoe, and the Pacific Coast in a single trip. Keep on reading to discover the best routes, the best things to do, and the best places to stay along the way on this epic road trip.
How far is San Francisco from Yosemite, and how long will the road trip take?
Comparison of road trip routes between Yosemite and San Francisco

| Route | Distance | Driving Time |
| --- | --- | --- |
| The Monterey Route | 315 miles | 6 hours 20 minutes |
| The Lake Tahoe Route | 320 miles | 6 hours |
The Lake Tahoe Route from San Francisco to Yosemite, taking in the beautiful sights of Lake Tahoe, covers around 320 miles and the journey through the stunning National Forests of California and Nevada takes a little over 6 hours.
The Monterey Route offers a charming alternative as it heads west to the glorious Californian coastline before heading north past San Jose towards San Francisco. The 315-mile trip takes around 6 hours and 20 minutes.
While it's feasible to complete this trip in a single day, the array of enchanting sights and stops along the way might tempt travelers to extend their journey over 2-3 days.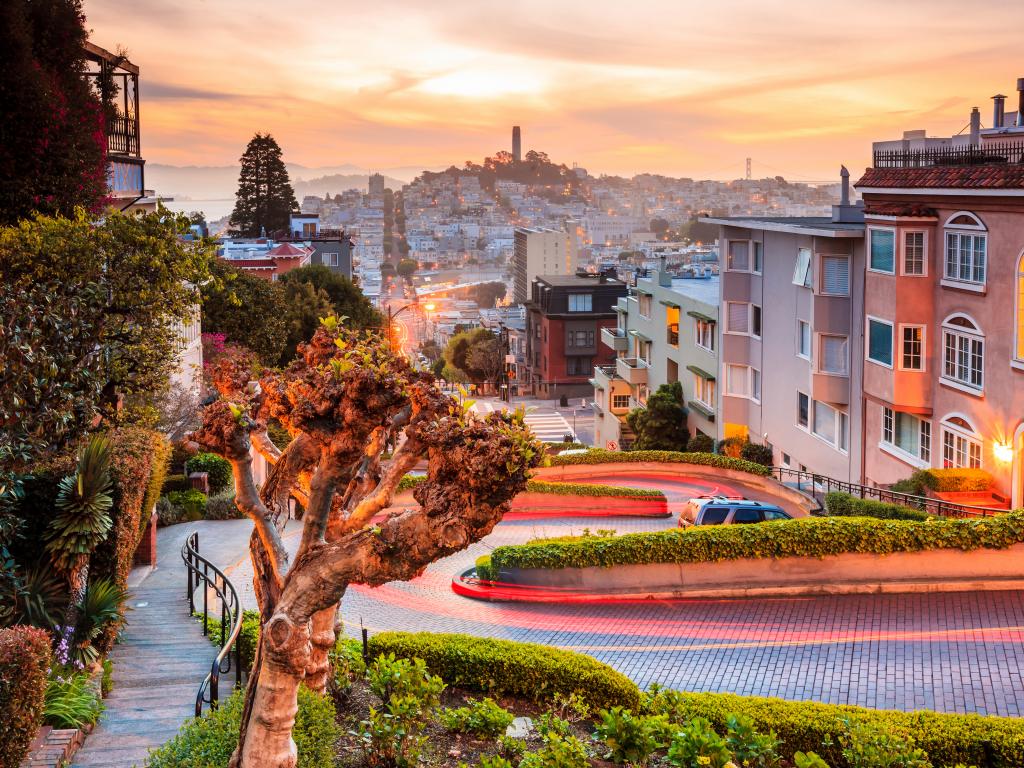 Best road trip route from Yosemite to San Francisco
Our Lake Tahoe and Monterey routes have their own unique set of natural attractions, and the scenery varies distinctly between them. So the route you decide on will ultimately depend on your particular interests and what you would like to get out of the trip.
The Lake Tahoe Route takes you from Yosemite through majestic waterfalls, captivating canyons, towering mountain peaks, and the serene blue hues of alpine lakes.
The route encounters the iconic San Francisco Bay area that encapsulates the Californian spirit and offers stunning views from the Oakland Bay Bridge with a panoramic view of the city, and a haunting silhouette of Alcatraz Island.
If you prefer a trip blessed with mountain grandeur and coastal charm, the Monterey Route is the one for you. Majestic mountain vistas and jaw-dropping canyons line the majority of the route.
You'll travel on the legendary Pacific Coast Highway, where the vast expanse of the Pacific Ocean will leave you spellbound, and as you reach San Francisco, you'll encounter the characteristic fog that blankets the city almost daily.
The Lake Tahoe Route brings you through the heartbeat of San Francisco via its iconic bridge, whereas the Monterey Route offers unparalleled coastal views with the bonus of the city's misty embrace upon arrival.
While leaving Yosemite National Park, you will use the Tioga Pass Entrance (closed in winter) if you choose to follow the Lake Tahoe Route, and the South Entrance if you are following the Monterey Route. Click here to learn more about which other exits you can take.
How to drive from Yosemite to San Francisco
The map above shows our suggestions for the best road trip routes between Yosemite and San Francisco. Keep reading for detailed descriptions of both routes, where to stay on either, and the best things to do on the way.
The Lake Tahoe Route
The route from Yosemite to San Francisco via Lake Tahoe begins close to Mt Dana on US-395 N, heading north, and soon passes Tioga Lake Vista Point before heading along the iconic Tioga Pass Road, passing Big Bend Campground as Tioga Pass Entrance takes you towards Lee Vining.
Join US-395 N heading past Mono Lake as the road winds its way up to Mono Lake Vista Point and then continues onwards to Sonora Junction, before passing Topaz Lake on the way to Gardnerville, around 100 miles into the journey.
Head west from Gardnerville along NV-207 for around 20 miles before arriving at Stateline, where a sharp right onto US-50 E leads you to Zephyr Cove on the shores of beautiful Lake Tahoe.
Retrace your route and head back along US-50 crossing the Nevada/California border as you head past the southern shores of the Lake and continue west through the Eldorado National Forest. Continue past Placeville and Clarksville before arriving at Sacramento.
From here the I-80 W leads you past Fairfield and Grizzly Island Wildlife Area before heading across Alfred Zampa Memorial Bridge towards Wildcat Canyon Regional Park and then following the shores of San Francisco Bay, with views across to Angel Island and Alcatraz, and then crossing the iconic Oakland Bay Bridge into the heart of San Francisco.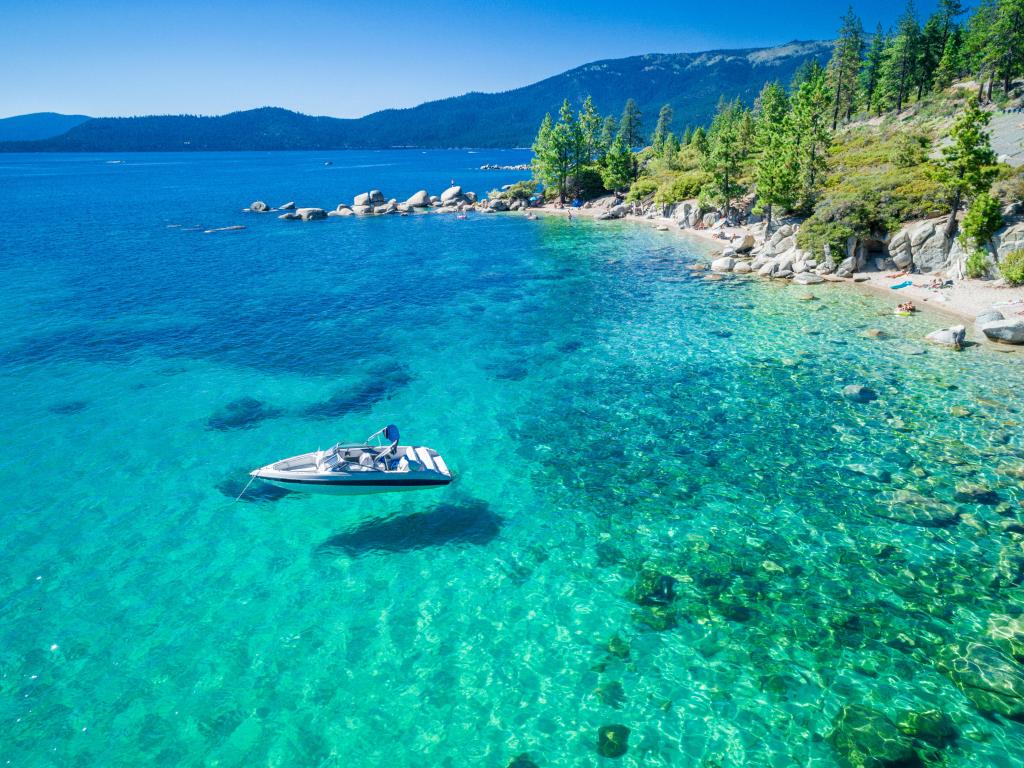 The Monterey Route
The Monterey Route begins near the South Entrance to Yosemite at Fish Camp. Heading south along CA-41, passing Sugar Pine and Yosemite Forks on the way to Oakhurst. Continue past Raymond and Hensley Lake all the way to Berenda, where the CA-99 takes you north past Fairmead before heading west on CA-152.
The route is fairly straightforward passing Santa Nella and San Luis Reservoir before winding its way towards the beautiful California coastline as you join CA-1 heading south to Carmel By the Sea.
This small beach city, famous for its ex-mayor, the movie star Clint Eastwood, has stunning white sandy beaches and coastal views.
From Carmel, it's only a short journey up the coast to Monterey with its rugged coastline and marine-life attractions. Leaving Monterey, head back up CA-1 hugging the coastline to Santa Cruz, passing Wilder Ranch State Park Big Basin Redwoods State Park, with glorious views across the Pacific all the way.
As you reach Half Moon Bay, the route heads inland on CA-92 until Highlands Baywood Park where the I-280 N takes you north towards San Bruno, before joining US-101 N as you head into South San Francisco with amazing views over San Francisco Bay as you reach downtown San Francisco.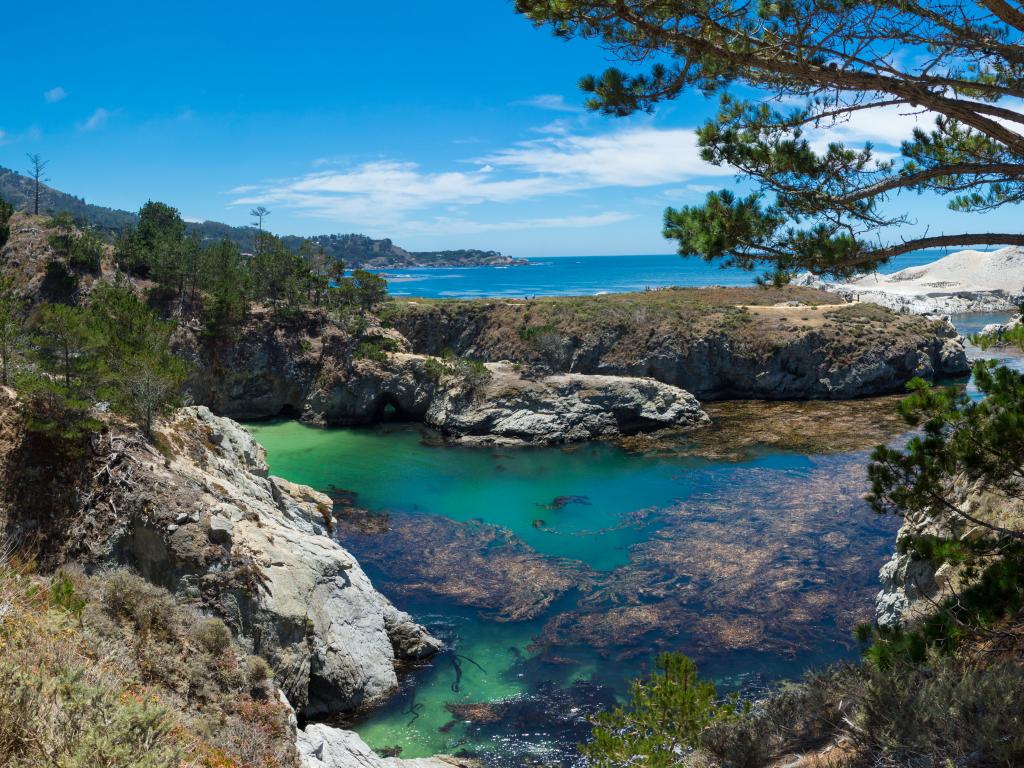 Best places to stop between Yosemite and San Francisco
With our routes taking in the stunning sights of Lake Tahoe and Monterey, it makes sense to make an overnight stop at each of these destinations. Read on to find about our favorite places to stay on either route.
Awe-inspiring landscapes in South Lake Tahoe
South Lake Tahoe is the ideal place to break up the Lake Tahoe Route journey, situated roughly 2 hours and 15 minutes into your drive. The shimmering blue waters of Lake Tahoe are surrounded by picturesque mountain landscapes, making this a postcard-perfect location to make a stop.
Lake Tahoe is the most expansive alpine lake in North America. This pristine body of water is perfect for various activities, from tranquil boat rides to vibrant shoreline picnics.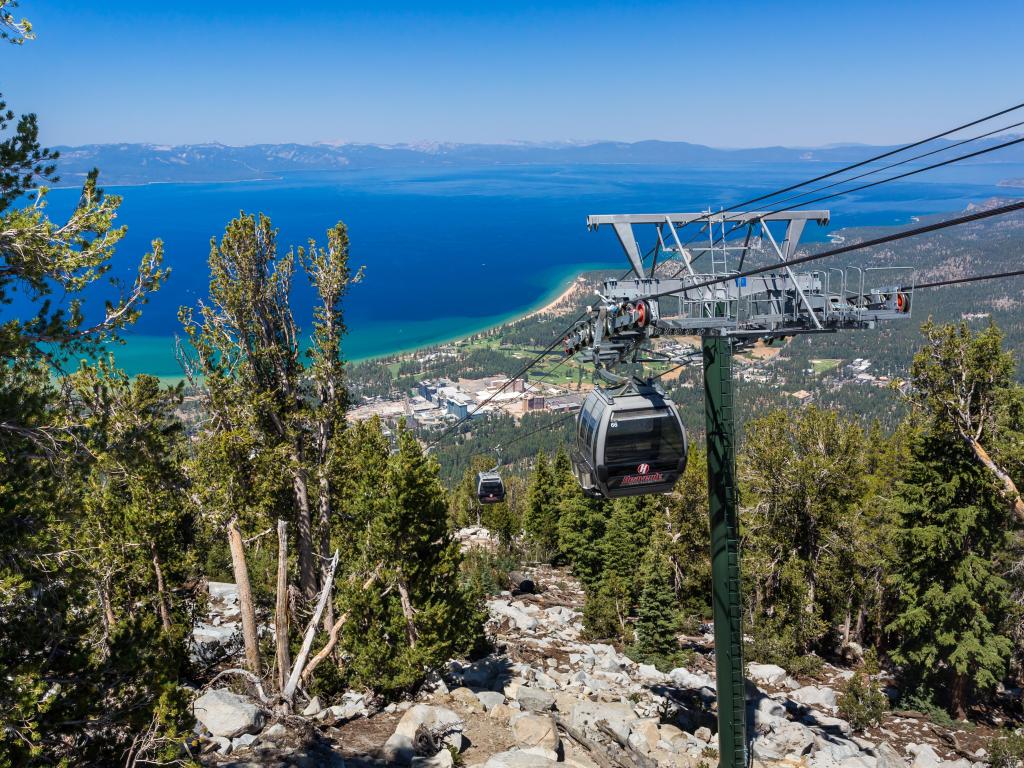 Another popular attraction is The Gondola at Heavenly. This aerial ride provides an unrivaled vantage point of the lake and the surrounding terrain, ensuring a unique and unforgettable experience.
If you're a history enthusiast, the Tallac Historic Site gives an informative insight into the area's structures and interesting past.
For winter sports enthusiasts or those who just love a winter wonderland, South Lake Tahoe is known for its heavy snowfalls, which showcase this incredible landscape in a totally different light. It's the place to go for skiing, snowboarding, and snowmobiling.
For an overnight stay, we highly recommend the Desolation Hotel. Perfectly positioned near the heart of South Lake Tahoe, this luxurious hotel boasts a range of amenities, from an outdoor swimming pool to a rejuvenating sauna and hot tub. And if you're in the mood to explore, the hotel offers free cycle hire.
Just a stone's throw away, a mere 5-minute walk, lies the tranquil Lakeside Beach, an ideal spot to relax and take in the lake's beauty. Alternatively, for those keen to delve into the region's rich history, the Lake Tahoe Historical Museum is a short drive away.
A visit to the aquarium in Monterey
Monterey is a delightful place to spend a night on the Monterey Route from Yosemite to San Francisco. It is a little over halfway through the route, and leaves a short 2.5-hour drive to San Francisco, a timely pause to embrace the coastal beauty.
A trip to Monterey is not complete without a visit to the renowned Monterey Bay Aquarium, where the wonders of the deep come alive in amazing underwater and interactive exhibits.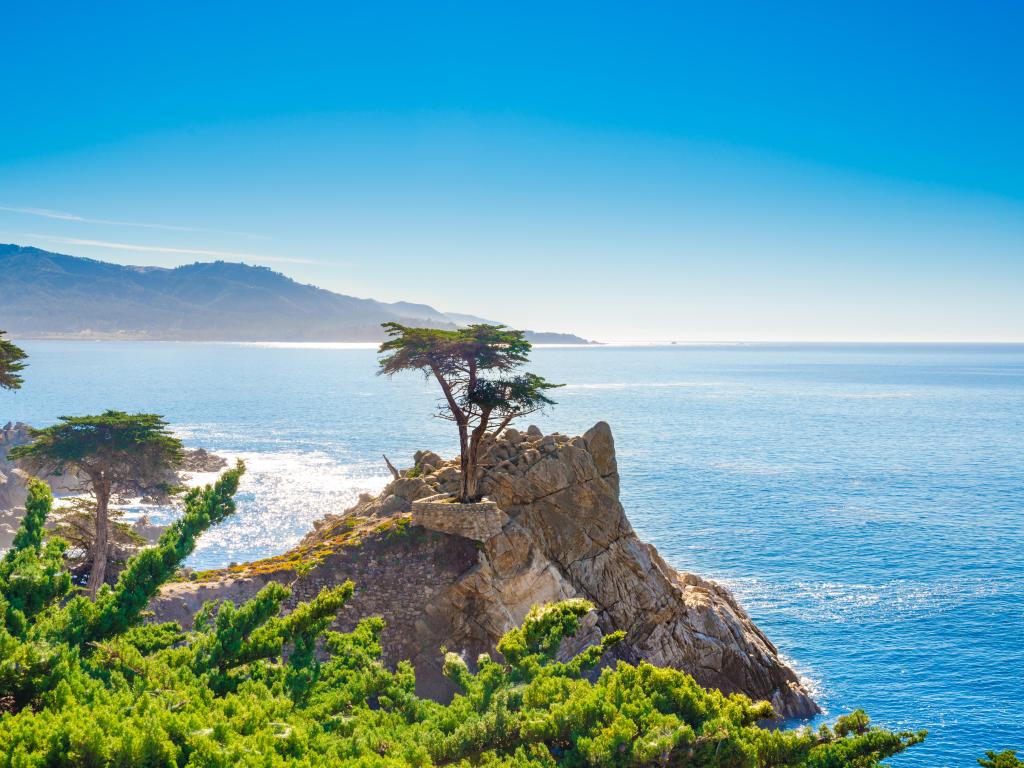 A trip down the iconic 17-Mile Drive is a great way to witness the raw beauty of California's coastline, with rugged cliffs, cypress trees, and panoramic ocean views at every turn.
For golfing aficionados, the Monterey Peninsula boasts a staggering 26 private and public golf courses, establishing it as a globally recognized golfing destination.
When it comes to rest and relaxation, the Monterey Plaza Hotel is hard to beat when it comes to luxury. An elegant seafront landmark, this hotel looms gracefully over the Pacific's coastline, and guests can indulge in its private beach.
You can savor culinary delights at the oceanfront restaurant, and enjoy panoramic views from the rooftop fitness center.
The hotel is ideally placed to explore, with the vibrant Cannery Row only a 2-minute walk away, and there are plenty of shops, eateries, and historic sites close by. Similarly, the Monterey Bay Aquarium is also just a 2-minute stroll away.
Where to stay when you reach San Francisco
San Francisco, with its iconic hills, vintage cable cars, and the majestic Golden Gate Bridge, has been welcoming travelers from around the world, with around 22 million visiting the city each year.
The city's foggy landscapes are well-known, and the locals have a fond moniker for their friendly fog - 'Karl,' the fog has been rolling in for decades.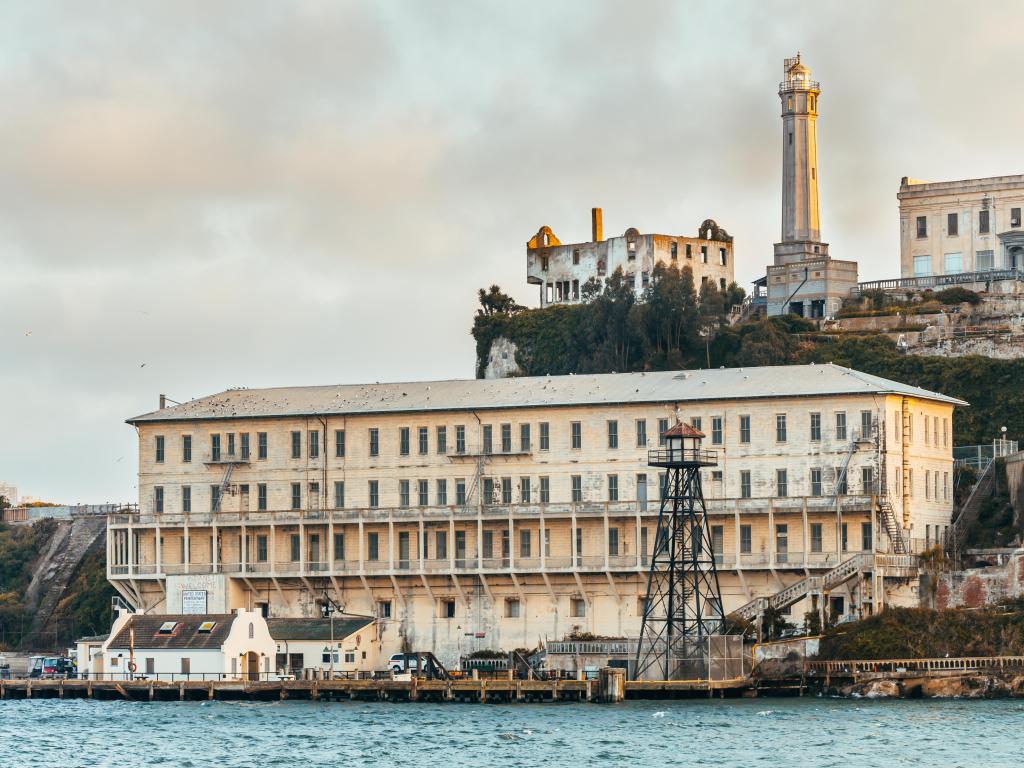 Famous for its delicious cuisine, head to the vibrant Fisherman's Wharf to indulge in freshly caught seafood, while basking in views of the bay, and its lively sea lions.
One of the most popular attractions, steeped in history, is Alcatraz Island, famous as a once notorious and inescapable prison. Alcatraz now stands as a testament to tales of escapees and eerie sightings.
You'll be spoilt for choice with excellent accommodation options, and for a stay by the Bay, we recommend the Omni San Francisco. Housed in a beautifully restored building from the 1920s, this hotel combines old-world charm with modern amenities.
The hotel is ideally located for exploring the city, given its proximity to many attractions. The complimentary coffee in the lobby will help to kickstart your day and the sumptuous breakfast offerings will get you ready for the day's adventures that lie ahead.
Things to see on a road trip from Yosemite to San Francisco
With so much to see along both routes, be sure to plan your trip to allow you time to enjoy as many of the attractions along the way. Here are some of our favorite attractions to help you plan your itinerary:
Lake Tahoe Route
Mono Lake - Mono Lake is an ancient and saline lake in California's Eastern Sierra, known for its otherworldly limestone formations, called tufa towers. Its unique ecosystem and birdlife make it a hotspot for nature lovers.
Topaz Lake - Nestled on the border of California and Nevada, Topaz Lake is a shimmering gem that offers boating, fishing, and stunning mountain views. Its clear waters and surrounding recreation areas are ideal for outdoor enthusiasts.
Lake Tahoe - Renowned for its clear, azure waters and surrounded by majestic peaks, Lake Tahoe is a year-round destination offering skiing in winter and water activities in summer. Straddling California and Nevada, its shores are dotted with beaches, hiking trails, and vibrant towns.
Eldorado National Forest - Eldorado National Forest is home to vast coniferous forests, alpine meadows, and stunning lakes near Placerville. With multiple campgrounds and trails, it's a haven for outdoor activities and wildlife watching.
Gold Bug Park & Mine - Located in Placerville, Gold Bug Park & Mine lets visitors step back in time to experience California's Gold Rush era. Tour the authentic hard rock mine and explore the historic park to glimpse life in the 19th century.
Eldorado County Historical Museum - A museum showcasing the rich history of Eldorado County, with exhibits spanning from the Gold Rush era to the present day. Artifacts, photographs, and stories transport visitors to bygone days.
California State Railroad Museum - Located in Sacramento, this museum celebrates the rich history of railroads in California. With beautifully restored locomotives and engaging exhibits, it offers a journey through the golden age of rail travel.
Crocker Art Museum - As one of the oldest public art museums in the country, the Crocker Art Museum in Sacramento boasts a diverse collection ranging from European paintings to contemporary artworks. Its historic building and modern wing create a harmonious blend of past and present.
Jelly Belly Factory Tour - Located in Fairfield, the Jelly Belly Factory offers a colorful tour where visitors can see firsthand how these iconic jelly beans are made. Learn about the candy-making process and sample a variety of flavors.
Six Flags Discovery Kingdom, Vallejo - This vibrant theme park in Vallejo combines thrilling rides, wildlife encounters, and entertaining shows. From roller coasters to animal exhibits, there's something for everyone.
San Pablo Bay - San Pablo Bay is a tidal estuary that leads into San Francisco Bay. Rich in marine life and birdlife, its wetlands and waters offer serene views and opportunities for boating and fishing.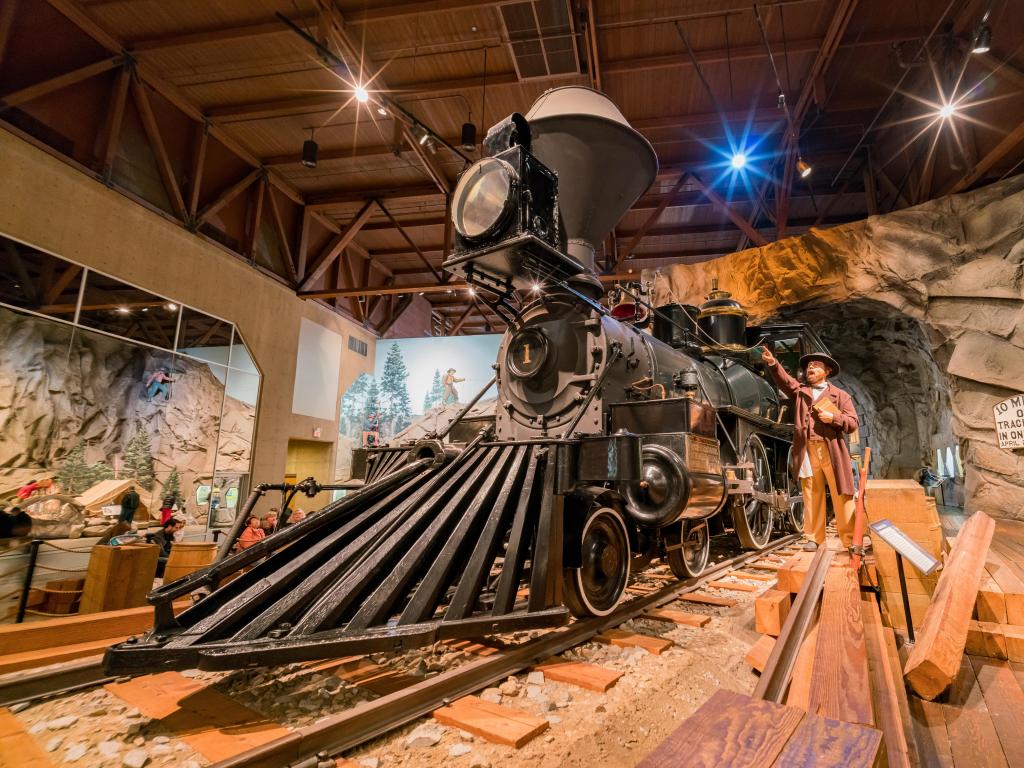 Monterey Route
Ellery Lake - High in the Sierra Nevada, surrounded by rugged peaks, the tranquil waters of Ellery Lake make a perfect spot for a picnic, soaking in the mountain views.
Wildcat Falls - This cascading waterfall offers a refreshing sight amidst the forested landscapes. The gentle trail leading to the falls makes it accessible for most visitors.
Glacier Canyon - Majestic rock formations and verdant landscapes define Glacier Canyon. Hikers and nature enthusiasts are drawn to its scenic trails and viewpoints.
Tuolumne Meadows - Located in Yosemite National Park, Tuolumne Meadows is a vast subalpine meadow surrounded by granite domes and peaks. A serene oasis, it's ideal for hiking, picnicking, and wildlife viewing.
Dead Giant Tunnel Tree - This iconic tunnel tree in Mariposa Grove, Yosemite, stands as a testament to the park's history and the resilience of nature. Visitors can walk through the hollowed-out trunk, marveling at the sheer size of this ancient sequoia.
Fort Orde Dunes State Park - Overlooking Monterey Bay, this state park offers sweeping views of the coastline and diverse habitats. Its sandy dunes, trails, and beaches attract hikers, birdwatchers, and beachgoers.
17-Mile Drive, California - This scenic drive along the Monterey Peninsula offers breathtaking coastal views, iconic golf courses, and luxurious mansions. Landmarks like the Lone Cypress and Pebble Beach are highlights along the way.
Monterey Bay Aquarium - Overlooking the Pacific, the Monterey Bay Aquarium is a great way to see the area's diverse marine life, with interactive exhibits, and jellyfish displays. Learn about the ocean conservation efforts, It's a must-visit for families and marine enthusiasts.
Old Fisherman's Wharf - Located in Monterey, this historic wharf is lined with seafood restaurants, and souvenir shops, and offers boat tours along the coast. The lively atmosphere and regular sea lion sightings make it a favorite among visitors.
Santa Cruz Beach Boardwalk - An iconic seaside amusement park in Santa Cruz, it boasts vintage rides, games, and beachfront attractions. The historic wooden roller coaster and panoramic views from the Ferris wheel are among its highlights.
Wilder Ranch State Park - Situated near Santa Cruz, this park showcases the region's farming history and offers coastal and valley trails. The historic ranch buildings and diverse landscapes provide a glimpse into California's past, whilst highlighting its natural beauty.
Pigeon Point Lighthouse - Standing tall on the California coast, Pigeon Point Lighthouse is one of the tallest lighthouses in the U.S. The surrounding grounds offer picturesque ocean views, a serene spot ideal for relaxation and photography.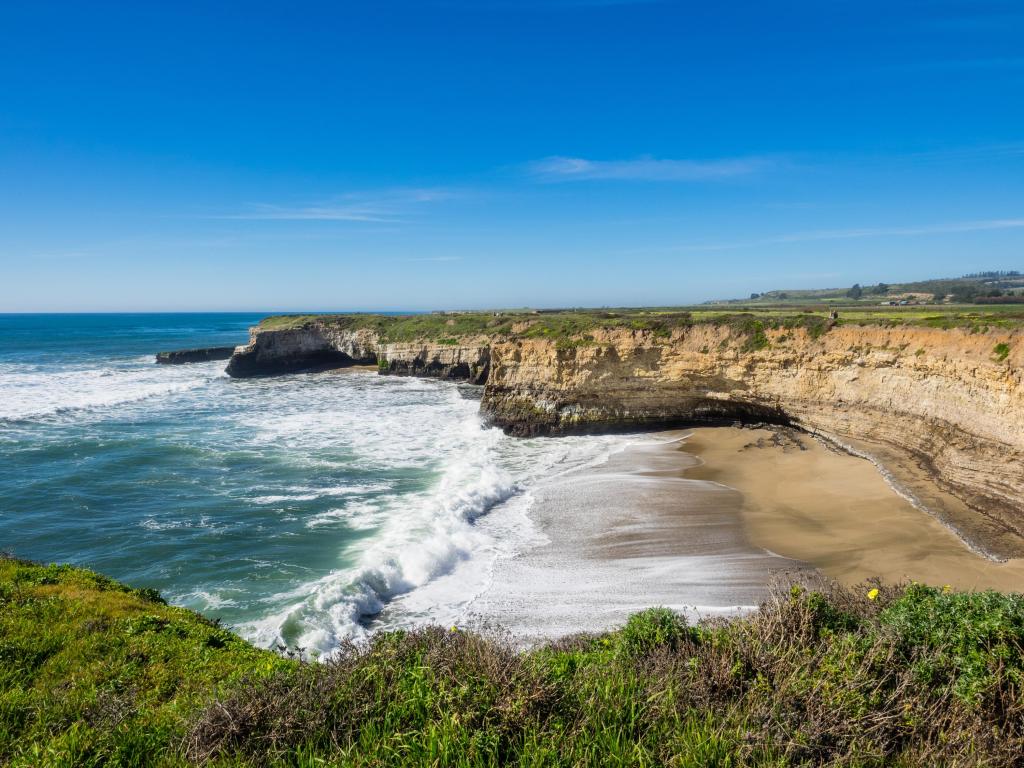 Best time to go on a road trip from Yosemite to San Francisco
San Francisco, with its iconic hills and coastline, is a city that presents a myriad of experiences year-round. However, the essence of your road trip can vary markedly depending on the chosen season and route.
For those leaning towards the Lake Tahoe Route, a crucial point to remember is the Tioga Pass in Yosemite National Park is closed in winters.
If you wish to fully immerse yourself in Yosemite's natural beauty, visiting between June and September is the optimal time to see the park. Keep in mind that you will need to purchase an entrance pass and only card payments are accepted at the gates at the moment.
While Lake Tahoe is always a draw for tourists, those seeking tranquility might prefer the quieter months of April-May or September-November. The Chinese New Year Parade & Festival in San Francisco, in September is an ideal way to mark the end of a memorable trip.
For adventurers leaning towards the Monterey Route, remember that the Sierra Nevada, while breathtaking, can also get uncomfortably hot in July and August. If you're planning to explore outdoors, avoiding the heat of peak summer season may be advisable.
San Francisco itself has a temperate climate, with temperatures ranging from 50 to 60 degrees Fahrenheit in winter, and 60 to 70 degrees in summer.
Interestingly, the city sometimes sees quite warm days during fall, with temperatures in the low 60s, specifically between September and November, making it an excellent time to explore.
Events on this route include the Monterey Whalefest in February and the Monterey Jazz Festival in September.
Once you arrive at your destination, San Francisco doesn't disappoint. The Fleet Week in October offers a display of naval prowess, while the Outside Lands Music Festival in August brings in a mix of music genres to groove to.