Scenic Route from San Francisco to Los Angeles
Why not spend some time with a juicy Pinot Noir overlooking golden hills, take in a misty morning on a kayak, attend one of the world's greatest music festivals, or join a pick-up volleyball game on a beach – there is a myriad of vibes to choose from on a scenic route from San Francisco to Los Angeles.
The 450-mile scenic route from San Francisco to Los Angeles will take 9 hours 45 minutes to drive. Amazing sights en route are Santa Cruz, Monterey, Carmel-by-the-sea, Big Sur and Malibu on the coast; Yosemite National Park and Death Valley inland.
We have laid out two equally tempting routes that you can even choose to combine in a grand loop around this exciting state. Read on below to find out more details about each route, including must-see stops and unforgettable places to stay.
How far is Los Angeles from San Francisco, and how long will driving the scenic route take?
Comparison of the scenic routes between San Francisco and Los Angeles

| Route | Distance | Driving Time |
| --- | --- | --- |
| The Scenic Coastal Route | 450 miles | 9 hours 45 minutes |
| The Scenic Yosemite National Park Route | 770 miles | 13 hours 30 minutes |
The Scenic Coastal Route from San Francisco to Los Angeles will take 9 hours and 45 minutes to drive, covering 450 miles on the Pacific Coast.
The alternative Scenic Yosemite National Park Route will take you inland and span 770 miles, which will take 13 hours and 30 minutes to drive nonstop.
Plan on taking at least 2-3 days for this ultimate California road trip to take in all the views and explore all the sandy beaches that await you on this journey.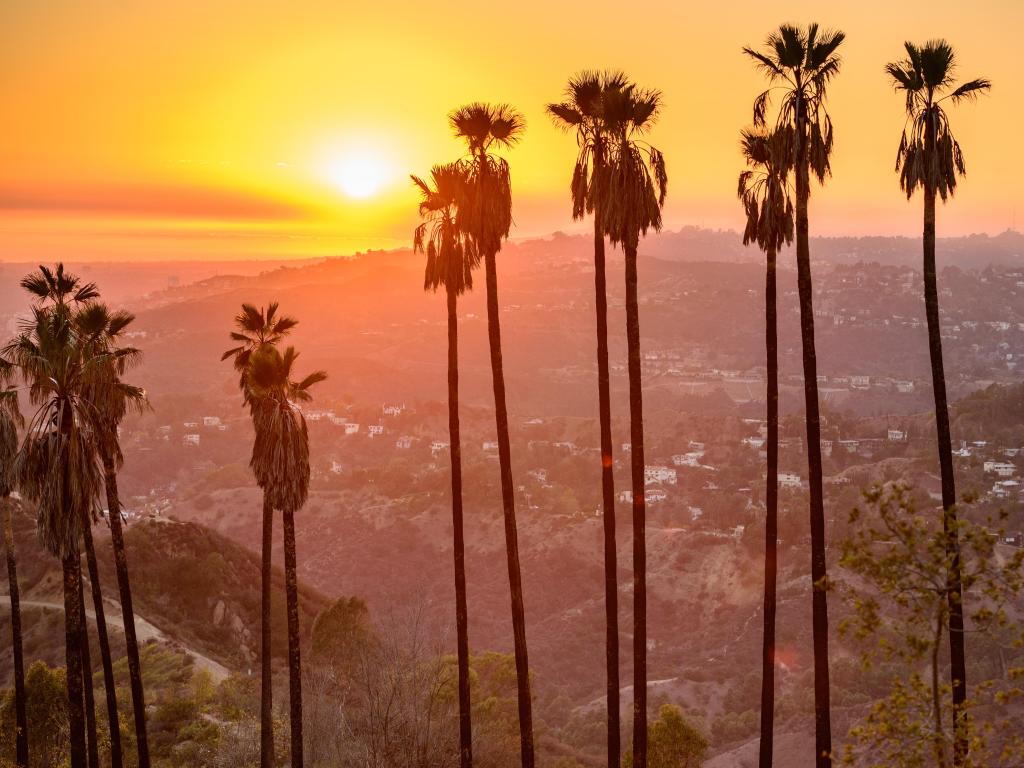 Best scenic road trip route from San Francisco to Los Angeles
With hundreds of miles of coastal terrain paralleled by even more expansive mountain ranges, California beckons the epicurean adventurer in us to come out. In a state with such varied terrain like California, it can be hard to settle on the best route to get the most out of your trip.
The Scenic Coastal Route follows the legendary California Route 1 (CA-1), also known as the Pacific Coast Highway. Though ultimately the shorter route, the driving pace is also slower with many sections of CA-1 having speed limits as low as 30 miles per hour.
On the way you'll pass some of the most famous stretches of the California Coast like Monterrey, Big, Sur, and Malibu. In addition to breathtaking state parks and oceanic overlooks, there are culturally rich towns with their own entertainment, culinary, and artistic offerings.
The Scenic Yosemite National Park Route heads straight through the heart of Gold Country, over the snow-capped Sierra Mountains, and deep into the Great Basin and Mojave Deserts, before heading back to the Pacific Coast in Los Angeles.
You'll pass two of California's most famous national parks, Yosemite and Death Valley, as well as old mining towns and up-and-coming wine regions.
How to drive from San Francisco to Los Angeles
The map above shows our suggestions for the best scenic routes between San Francisco and Los Angeles. Keep reading for detailed descriptions of both routes, where to stay on either, and the best things to do on the way.
Scenic Coastal Route
From the heart of foggy San Francisco, you will drive via Interstate 280 (I-280) to CA-1, which has an off-ramp just past Daly City. This will take you past a string of charming coastal towns on "The Peninsula" as this part of the wider SF Bay Area is known.
First you'll pass the surfing town of Pacifica and then the fisherman's haven of Half Moon Bay. There are also a few great picnic spots on the isolated state beaches just south of here, like San Gregorio and Pescadero.
The first major town you'll pass is Santa Cruz, which also has a rich history as the birthplace of mainland surfing. It sits to the north of the Monterey Bay, which CA-1 curves around, leading to the beloved weekend getaway spots of Monterey and the more up-scale Carmel-by-the-Sea.
South of Carmel, you'll enter the rugged and mythical stretch of coast known as Big Sur. While this is arguably the most scenic stretch of road on this trip, and perhaps in the entire state, it requires sustained attention to navigate all the curves and some sections are occasionally closed due to landslides. Be sure to check the latest road conditions before you depart.
At the southern end of Big Sur you'll pass Ragged Point and a little further on, the famed elephant seal breeding and rearing grounds of San Simeon.
In the next stretch of the route you'll be brought closer to a greater variety of restaurants and amenities in Morro Bay and Pismo Beach, two popular coastal retreats.
The route veers away from the coast temporarily from the edge of Pismo Beach to Gaviota. You'll then pass through idyllic Santa Barbara, before driving along the Malibu hills and the ever-lively coastal edge of Los Angeles, Santa Monica.
You'll finally exit CA-1 in Santa Monica then take I-10 East to the heart of Los Angeles.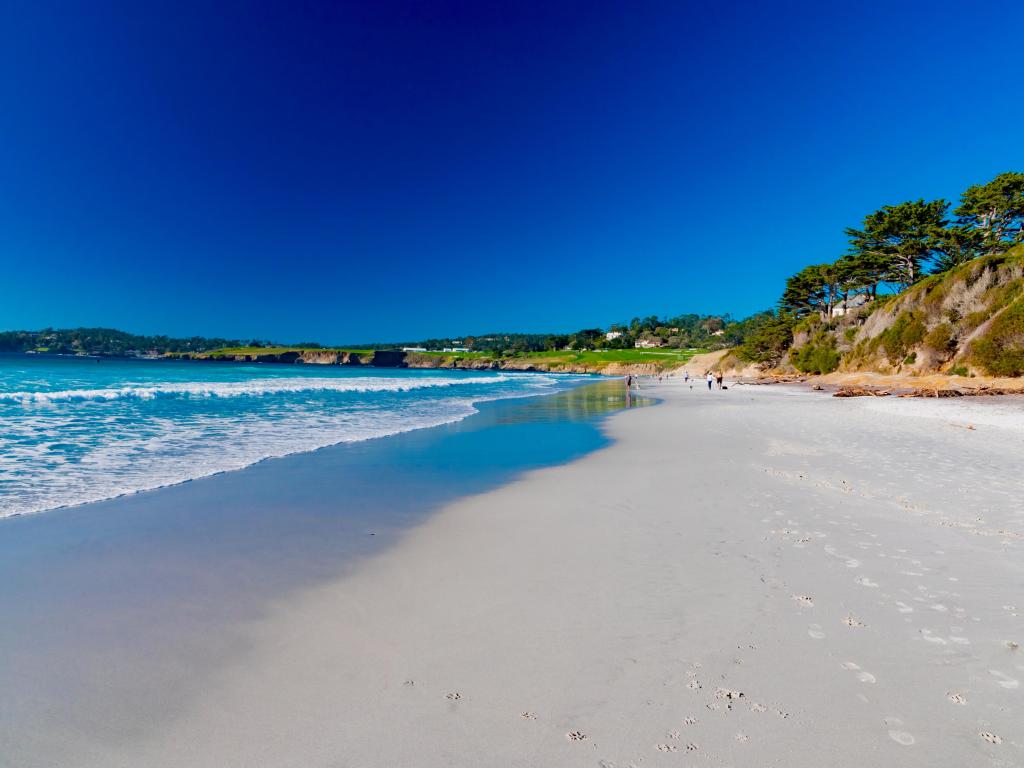 Scenic Yosemite National Park Route
To begin, you'll head east from San Francisco, crossing the Bay Bridge to link up with I-580 South. Follow this through the energetic town of Oakland and through the hills towards Livermore, which has a nice array of tasting rooms and might be a good place to stop for a late breakfast or early lunch.
Soon you will drive through the bucolic towns of Oakdale and Knight's Ferry, with their distinctive rodeo culture and historic covered bridge, respectively.
You'll then drive by Groveland which is also known as the Gateway to Yosemite. Though on this route, you'll forego venturing further on Big Oak Flat Road and instead stay on CA-120 as it makes a sharp left at Crane Flat and becomes Tioga Road.
Tioga Road leads over the awe-inspiring Tioga Pass and along glacier-fed pools like Tenaya Lake to the dreamy Tuolumne Meadows. An advantage of entering Yosemite from this side is that it is far less crowded than the Yosemite Valley side of the park, even during the peak of summer.
CA-120 eventually reaches Lee Vining, on the shores of Mono Lake, where you'll change onto US Route 395 South. Follow this road past Inyo National Forest, Crowley Lake, and the town of Bishop all the way to Lone Pine where you'll get on to the rural CA Route 190.
This takes you through several parts of the massive Death Valley National Park, including Stovepipe Wells and Furnace Creek. Once you pass through the hills of Cajon Junction, take Interstates 210 and 10 past San Bernardino to downtown Los Angeles.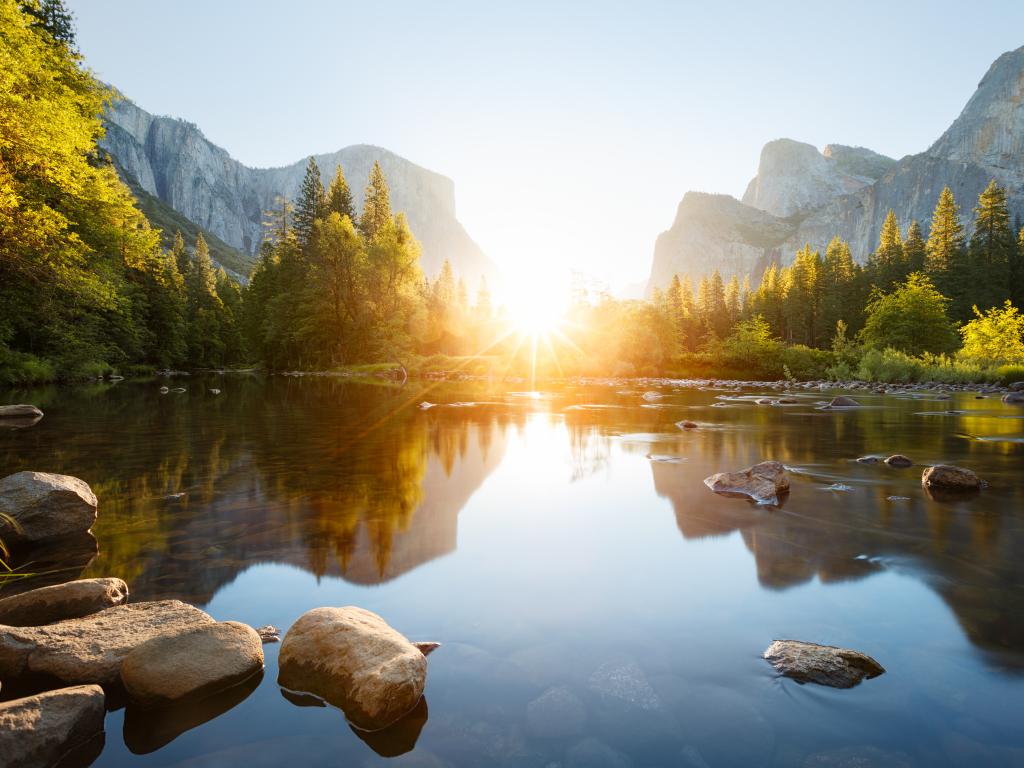 Best places to stop between San Francisco and Los Angeles
There's no dearth of options for places to stay on either route, from retro motels to carefully curated luxury hotels. Here are some towns and accommodations that really stood out for capturing the best of what each route has to offer.
Get to know the San Luis Obispo beach towns
Avila Beach is roughly halfway through the Scenic Coastal Route and not everyone knows about this hidden gem along the Central Coast in San Luis Obispo County.
You can visit the public pools of Avila Hot Springs any day of the week between 8am and 9pm. If you prefer to splash in salt water, then the sandy beach is great for swimming and boogie boarding. Right next to the beach, you can dine and watch the sunset at one of the many tempting bistros along Front Street.
If you feel like some more physical activities, there are some great trails along the hills, many with breathtaking ocean views and even spots where you can watch migrating gray whales in the winter. Look for the Bob Jones, Ontario Ridge, and Pecho Coast Trails.
Did you know that loofahs are actually a vegetable related to cucumbers? At the Luffa Farm in nearby Nipomo, you will gain a whole new appreciation for these all-natural and excellent exfoliators.
A choice place to lay your weary head in Avila Beach is the Avila La Fonda Hotel. As you approach it, you'll immediately be struck by the warmth of its distinctive Spanish colonial style.
The location of the hotel is fantastic, being within walking distance from Avila Beach and lively Front Street. It is also a ten-minute drive from Pismo Beach and an hour's drive from the elaborate Hearst Castle.
To help you feel even more at home, the sweet staff places welcome baskets in the room, which include wine, cheese, and other goodies. Some rooms have kitchenettes in case you want to prepare your own food or have dietary restrictions that can be hard to accommodate while on the road.
Relax amid green and gold in Sonora
Sonora is one of the liveliest Gold Rush Era towns situated in the oak and pine-covered foothills of the Sierra Nevada. It comes about a third of the way through the Scenic Yosemite National Park Route.
Once called "Queen of the Southern Mines," Sonora has a quaint, historic downtown and too many dining options to choose from, making it one of the most popular weekend getaways in Gold Country.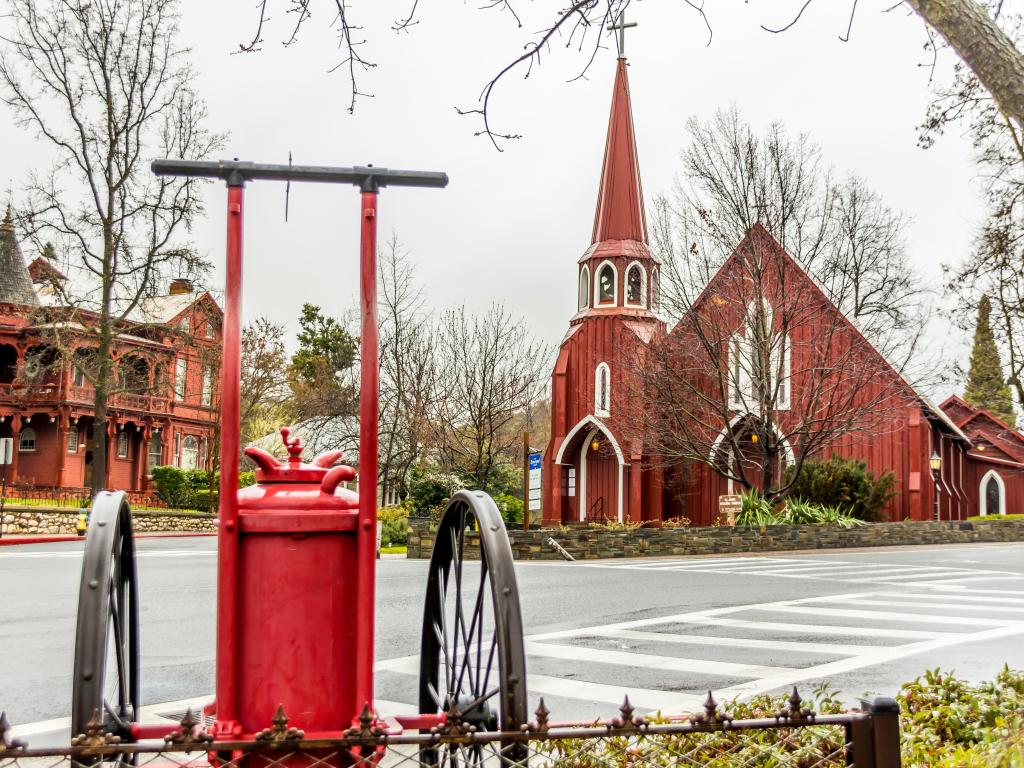 After walking the postcard perfect downtown and admiring the many antique stores, you can go on a more extensive hike or horseback ride along the Dragon Gulch Trail.
History buffs can take the opportunity to learn more about the 19th-century Gold Rush and how it shaped the surrounding area at the Tuolumne County Museum.
And for that golden sunset, there are some local wineries and the Sonora Brewing Company where you can whet your whistle with a craft beverage and enjoy the serenity of the hills.
We could not believe the tender attention to detail and culinary excellence of The Inn on Knowles Hill Bed & Breakfast Hotel in a quiet corner of Sonora. This historic B&B was built in 1927 and each corner contains treasures from bygone eras.
Every room has its own distinct feel and beautiful views of the surrounding garden and hills. We were also blown away by the phenomenal breakfast. This is a place to stay if you're intent of treating yourself.
Where to stay when you reach Los Angeles
When you're visiting a major hub of film, music, and fashion, it makes sense to stay in a stylish abode, and few hotels have dedicated themselves as wholeheartedly to vibrant, edgy design as The Prospect Hollywood.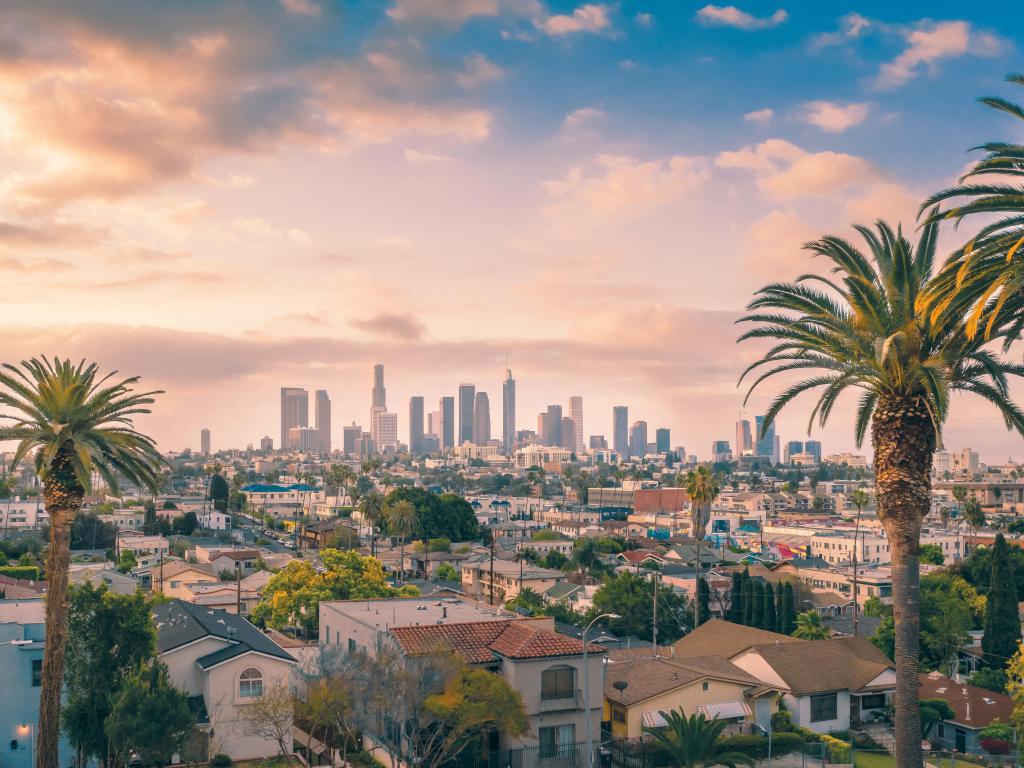 This boutique hotel right in the middle of West Hollywood backs up all that style with substance. Here you'll go through a seamless check-in, enjoy immaculate rooms, melt–in–your–mouth croissants each morning, and cozy evening moments by the courtyard fire-pit.
It is also a mere block away from Hollywood Blvd, so major attractions like the Hollywood Walk of Fame are within walking distance, and Universal Studios and the Guggenheim Museum are a short drive away.
Things to see on a road trip from San Francisco to Los Angeles
We don't need to tell you that there is a lot to see and experience on this trip. We'll list each of the attractions according to the route since the routes only ever meet in San Francisco and Los Angeles. Remember, the truly ambitious road tripper can combine both routes into a grand tour of this captivating state.
Scenic Coastal Route
Half Moon Bay - This is one of many cute coastal towns, but one with a great array of dining options and a long, sandy beach that can get a bit crowded on a sunny weekend. If you make a short detour inland along CA Route 92, you'll pass through a gorgeous valley filled with award-winning nurseries.
Santa Cruz - Santa Cruz is an ode to surfing on the cusp of central and northern California. In addition to watching the surfers and visiting the museum on Steamer's lane, you could have some good ol' fashioned fun at the Boardwalk, grab a cup of craft-brewed tea in town, or commune with nature, including banana slugs, at Henry Cowell Redwoods State Park.
Monterey – This town has a lot to boast about: tranquil ocean views, a world-class aquarium, an irreplaceable place in American literary history, and of course salt water taffy and a view of adorable sea otters at Fisherman's Wharf. If you come in the fall, consider attending the Monterey Jazz Festival, which has been taking place every year since 1958.
Pfeiffer Beach, Big Sur - There's no shortage of beautiful beaches to check out on this trip, but Pfeiffer Beach deserves a special mention for its purple sand and iconic Keyhole Rock. Especially if you can only stop at a handful of beaches, be sure to include this one.
Julia Pfeiffer Burns State Park, Big Sur - Scenic doesn't even begin to describe this state park sandwiched between the Santa Lucia Mountains and the crashing waves of the Pacific. One highlight is the McWay Falls viewpoint, which is an incredibly photogenic waterfall that empties directly into the ocean, one of only two tidefalls in the entire state.
San Simeon - This is an exciting stop for animal lovers. One of the largest elephant seal rookeries in the world, you can follow a short trail to a viewing platform to see hundreds of these seals which can weigh up to 5,000 pounds. Seal numbers peak in late January, early May, and the end of November.
Pismo Beach - The broad sandy beaches in Pismo Beach are famous for family holidays and abundant clams. To the north of the town there's a monarch butterfly grove and to the south, there are some of the few ocean-side sand dunes in the state, which you can traverse with ATVs.
Solvang - This hamlet is a little slice of Danish charm nestled in the hills of Southern California, a short detour from CA-1. In addition to bakeries and museums showcasing the area's Scandinavian influences, there are also incredibly fun bike tours of the surrounding vineyards and wineries.
Santa Barbara - If you've read our blogs, you already know that we have a soft spot for Santa Barbara. Perfect weather, great restaurants, Spanish colonial architecture, and a lively downtown right next to the ocean make it a not-to-miss stop. It's also a good starting point for a side trip to the Channel Islands.
Point Mugu State Park - Built around Point Mugu Peak, this state park is filled with scenic trails that overlook both the ocean and distant mountains. During the spring the hills and valley come to life in a brief flush of wildflowers in every hue.
Santa Monica - This is the epitome of SoCal culture where streets with high-end shops and chic restaurants intersect beaches filled with bronze sunbathers and toned bodybuilders. The whole town is pedestrian-friendly, so it is a great place to ditch the car for a day after so many hours of driving.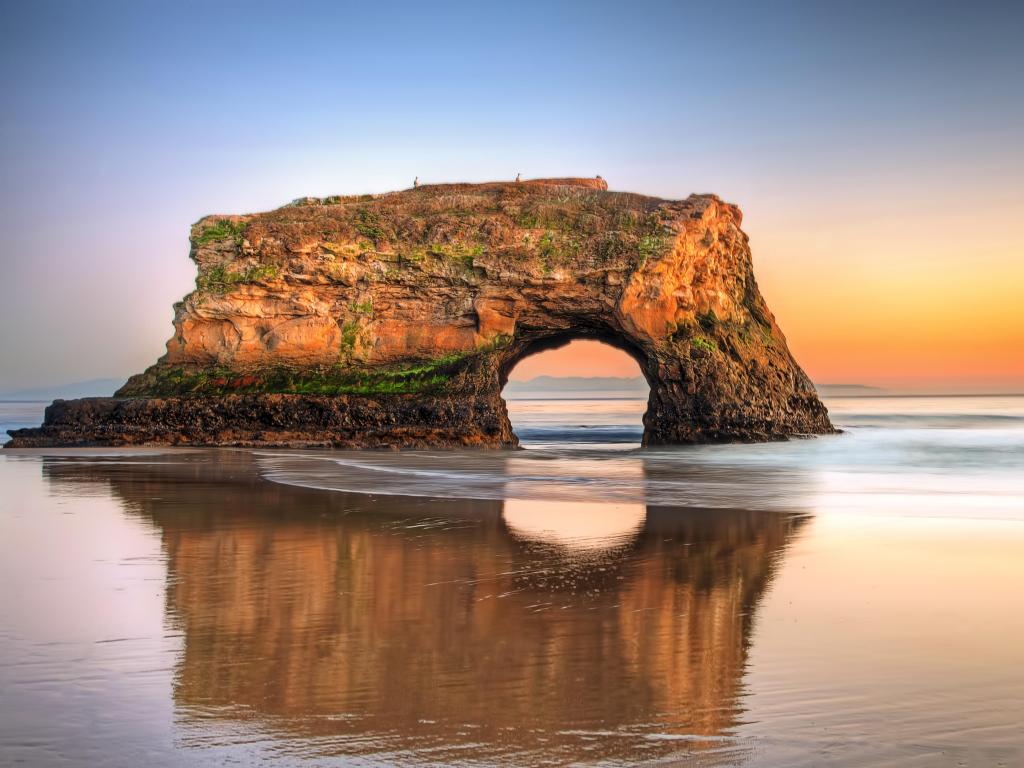 Scenic Yosemite National Park Route
Oakland - Though only a stone's throw from San Francisco, Oakland embodies an entirely different urban feel that has long been at the forefront of regional and national cultural innovation. Spend a morning walking around Lake Merritt and then learn more about the state you're about to traverse at the Museum of California.
Knight's Ferry - This rustic community was first built up as a trading post between the gold-rich foothills of the Sierra and the navigable waterways of Stockton. It's most famous it's 330 foot-long covered bridge which was built in 1863 and is still the longest covered bridge west of the Mississippi.
Groveland - The adorable downtown of Groveland deserves a lunch stop at least, and it might be one of the last places you can grab a slice of pizza and microbrew for over a hundred miles. You can also learn more about the natural history and human history that led up to the creation of Yosemite National Park at the Groveland Yosemite Gateway Museum.
Tenaya Lake - While not as deep or as blue as Tahoe, Tenaya Lake is arguably one of the most beautiful, undeveloped alpine lakes in the world. Surrounded by bulging granite and dotted with pines, we bet you just can't resist the urge to pull over and spend some time walking around this watery gem in the Sierra. For backcountry types, there are also a cluster of trailheads to even more elevated and remote lakes near here.
Tuolumne Meadows, Yosemite National Park - This wide valley offers striking views of the surrounding mountains and has many accessible, flat hiking trails. While not as popular as the signature valley on the other side of the national park, it usually offers less competitive parking and cooler temperatures, making for a more relaxed Yosemite experience.
Mono Lake - An ancient, saline lake in the rain shadow of the Sierra, Mono Lake has a host of unique ecosystems and natural features, including haunting spires of limestone called "tufas." The visitor center and short trail to the lake's edge are worth a one-hour stop, and we recommend a day here if you're into kayaking or birdwatching.
Inyo National Forest – "Inyo" comes from a Native American term for "dwelling place of the great spirit" and when you set your eyes on the boundless expanse of mountains, trees, and glacial rivers, you'll know why. If you get a permit and head out for a backpacking trip in this gorgeous forest, you might also spot incredibly rare animal species like the Sierra Nevada bighorn sheep.
Museum of Western Film History, Lone Pine - Even if you're not particularly into the Western genre, this surprisingly well-stocked museum in the middle of tiny Lone Pine is impressive. With dedicated and knowledgeable staff and a wide range of memorabilia, you'll likely walk away with a new appreciation of the gunslingers of the Golden Age of Hollywood.
Death Valley National Park - From its very name you can guess that this is a place of extremes. It is one of the hottest places on earth, its Badwater Basin is the lowest place in North America, and it is the largest national park in the lower 48. It is home to various surreal landscapes and scenes, like the multi-colored hills of Artists Palette. If you do decide to explore this park, be sure to bring plenty of water, snacks, and a first aid kit.
San Bernardino - Home to the original Mcdonald's, which has been turned into a museum you can tour, San Bernardino is a suburban enclave to the east of Los Angeles. Here you can also hike through parts of the San Bernardino National Forest and get a last whiff of pine-scented air before entering the concrete jungle of Los Angeles.
Best time to go on a road trip from San Francisco to Los Angeles
California is famous for its abundant sunshine and warm weather, so this is a trip you can make at any point in the year. The summers can sizzle, especially along the desert portions of the inland route.
Los Angeles itself is usually in the mid-80s to 90s degrees Fahrenheit during the summer and it can be even cooler along the coast. The waters of the Pacific Ocean aren't as warm as those of the Atlantic, so this is actually the only time of year when a dip in the ocean doesn't require a tremendous amount of willpower.
Of course all this means that attractions and accommodations, especially along the coastal route, will be in exceptionally high demand during the warmer months.
As for the Scenic Yosemite National Park Route, the summer and early fall is the only time you can drive via the stunning Tioga Pass Road before it is closed due to snow.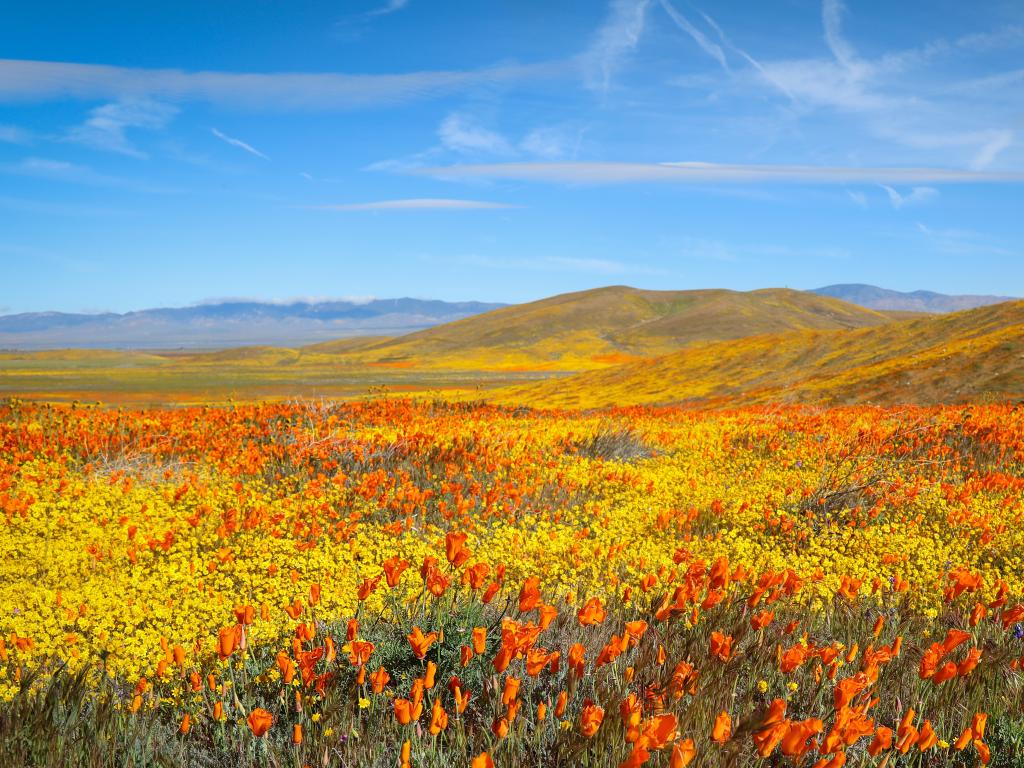 If you can only make this trip in the winter, don't fret! The Scenic Coastal Route is still very temperate and beautiful during the winter months, with only a few intermittent rain storms.
If you were hoping to see the interior national parks and desert, you can opt to visit Yosemite Valley via the Big Oak Flats Entrance and then head through Bakersfield towards Death Valley, which is actually much easier to visit when the sun isn't trying to make any new heat records.
Spring and fall trips each have their advantages. In the early spring, you can expect to see wildflowers and green hills on your way into LA and might even catch a superbloom in Death Valley. In Los Angeles, mild weather prevails with temperatures from 55-75 degrees Fahrenheit and a few showers in both the spring and fall.
LA is a famously glamorous city that hosts dozens of film and art festivals each year. Try to time your trip to coincide with the American Film Institute Festival in November if you'd like to see some screenings and get a glimpse of a red-carpet affair on the opening night.
As for music, the biggest electronic music festival in Los Angeles is the Hard Summer Music Festival in August. Not too far away on the edge of Palm Springs, the world-famous Coachella Music Festival takes place every April.
Being a multicultural city, throughout the year, you'll find various neighborhoods and communities in a jubilant mood during a holiday or street fair. The Lotus Festival of AAPI cultures in July and Dia De Los Muertos festivals in early November are two of the largest public cultural celebrations in Los Angeles.