Can You Drive The Royal Gorge Bridge?
At over 995 feet above the Arkansas River, the Royal Gorge Bridge is a strikingly beautiful engineering marvel that makes the perfect road trip destination. Nicknamed "America's Bridge", this is the largest suspension bridge in the USA, attracting waves of tourists and photographers every year.
As daunting as it may seem, you can, in fact, drive across the Royal Gorge Bridge. However, you have to become a member of the bridge's car club. Alternatively, you can park your car nearby and walk over the Royal Gorge Bridge and enjoy the views.
There are fortunately other ways of crossing the bridge, including the aerial Gondola or a short walk. Continue reading to learn more about how to get to the Royal Gorge Bridge, how to cross it, and things to do once you get there.
Can you drive the Royal Gorge Bridge?
The Royal Gorge Bridge is one of the most spectacular roads in the United States. On this incredible suspension bridge, you'll be hovering almost 1,000 feet above a deep canyon.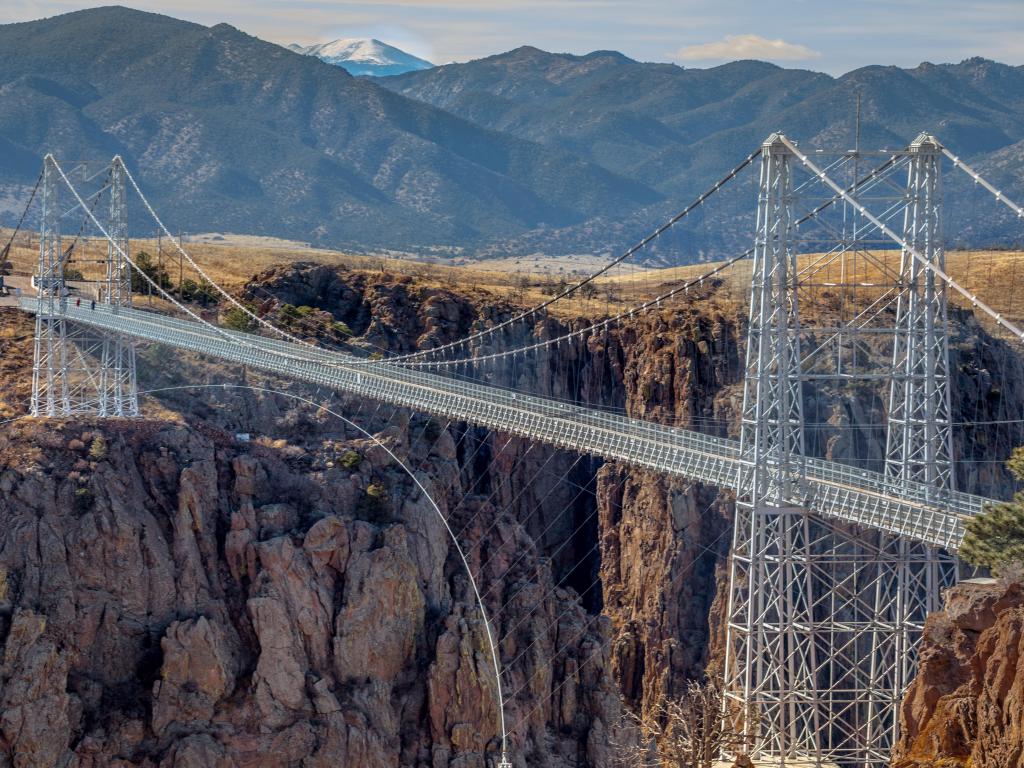 If you're a member of the bridge's car club, you'll be able to drive across the bridge. If you're a member, you would need to pre-book and make the drive between 8AM and 10AM, before the park opens.
Can you walk on the Royal Gorge Bridge?
As fun as it sounds to drive across the Royal Gorge Bridge, it's only for car club members. Unless you are a member, you won't be able to take your car across.
However, there are several other ways of getting across the bridge and experiencing its grandeur. The best method by far is walking.
The walk itself is very fun and allows you to gaze off the sides of the canyon at the Arkansas River below. You'll walk 1260 feet from one side to the other, a thrilling adventure to say the least!
It costs $27 to get admission to walk across the bridge. It's open 365 days a year, but it closes early on some days of the month.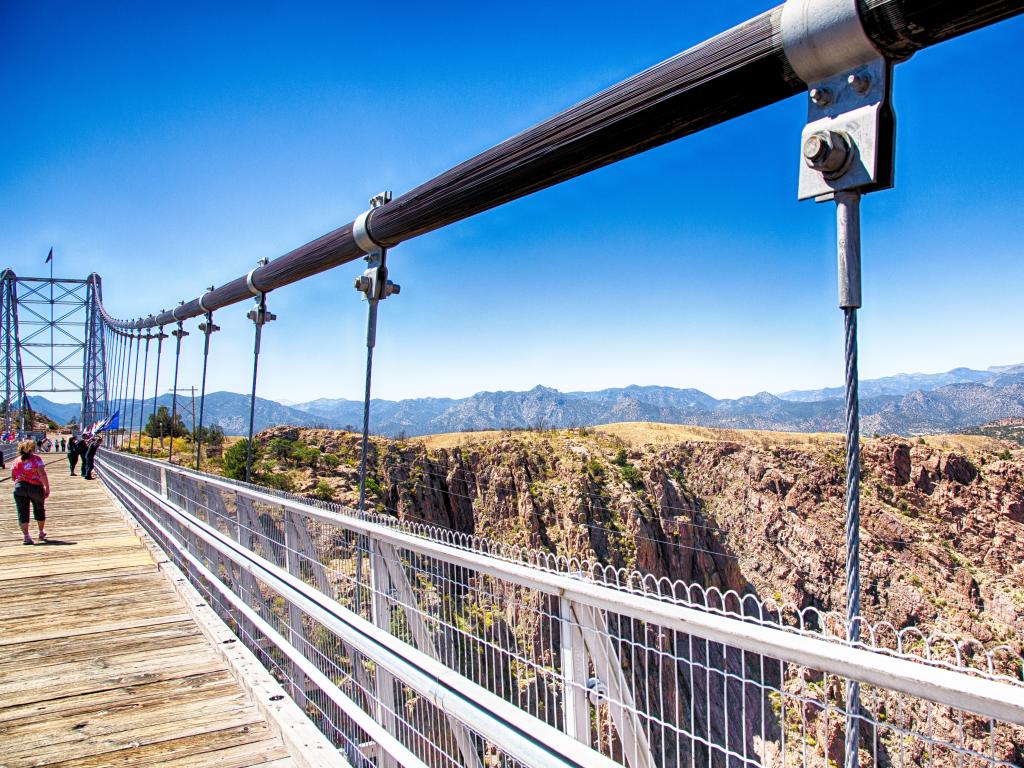 If you'd rather have a different experience, the Aerial Gondola is included in the entrance fee. The gondola is helpful with handicap accessibility, and there's wheelchair access up to 30 inches.
How to get to the Royal Gorge Bridge
The Royal Gorge Bridge is in central Colorado near Cañon City. It's 58 miles southwest to the nearest major city of Colorado Springs.
It's very easy to get to and attracts thousands of visitors every year who make the thrilling crossing. Below is more information on how to get there and what to do once you're at this incredible landmark.
Driving to the Royal Gorge Bridge from Colorado Springs
Driving to the Royal Gorge Bridge is fun and easy and makes for the perfect Colorado road trip. You'll drive 34 miles on CO-115 from Colorado Springs.
This road varies from a four-lane to a two-lane road, with winding corners and beautiful lookout points. There are some scenic stops and mountain views worth stopping for but no switchbacks or cliff edges.
You'll then drive along US-50 to reach your destination. This is a three-lane road with overtaking only permitted when driving in a certain direction.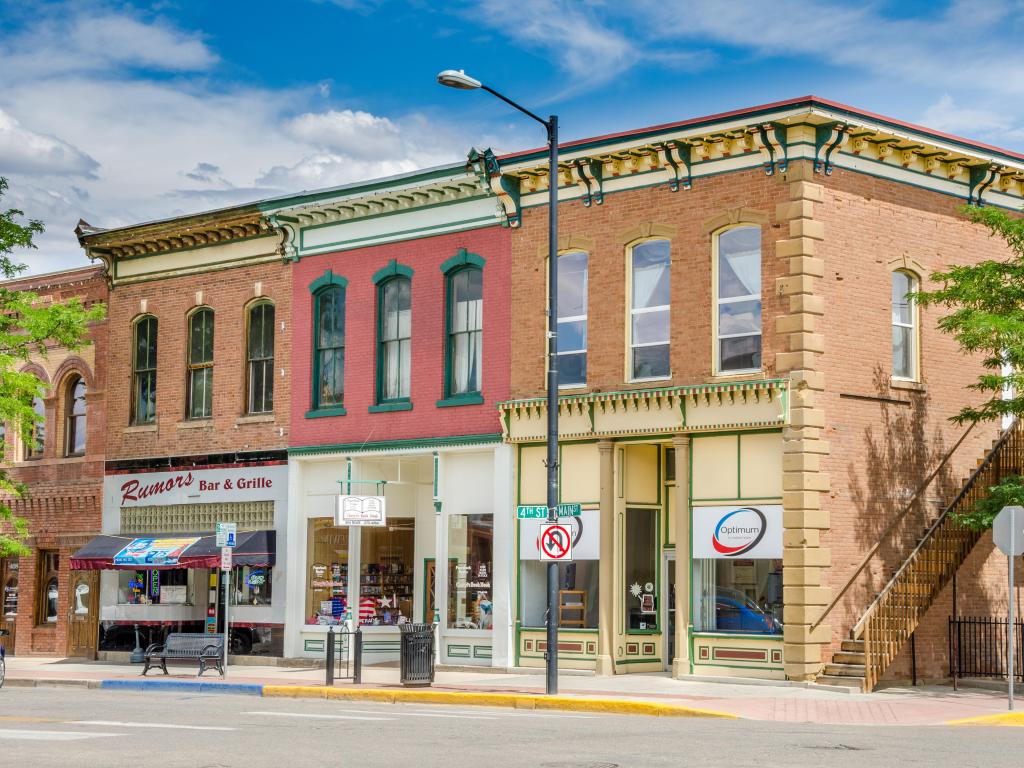 On the way, you'll pass landmarks like the Colorado Springs Pioneers Museum, Cheyenne Mountain State Park, Herkimer, the World's Largest Beetle, Aiken Canyon Preserve, Beaver Creek State Wildlife Area, Cañon City, Point Alta Vista Trailhead, Made in the Shade Trailhead, and much more.
How long does it take to get to the Royal Gorge Bridge?
It takes 1 hour 15 minutes to get to the Royal Gorge Bridge from Colorado Springs, Colorado. The distance is 58 Miles, through the beautiful Colorado countryside and rocky mountain passes.
You can get to the Royal Gorge Bridge from other destinations as well. From Cañon City, it's only 14 miles away. From Albuquerque, the bridge is only 5 hours and 40 minutes and only 2 hours and 20 minutes from Denver. If you're driving from Las Vegas, Nevada, you can make it to the bridge in just over 12 hours.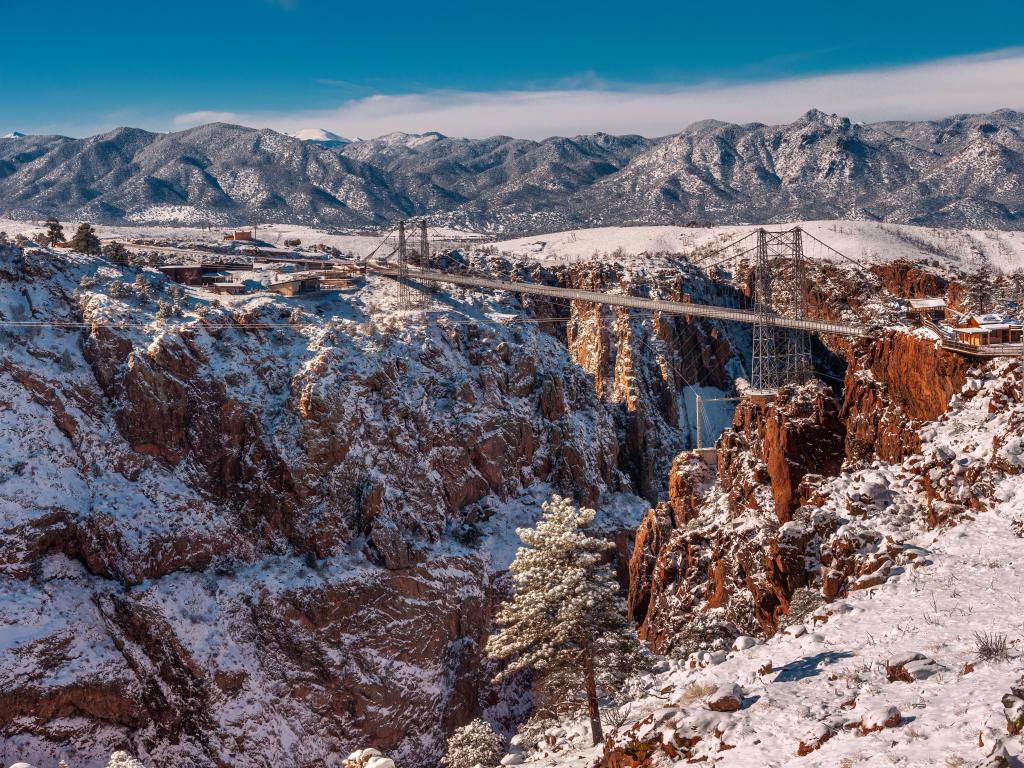 Can you park near Royal Gorge Bridge?
Once you drive to Royal Gorge Bridge, there's free parking on-site at the park itself. Oversized vehicles such as RV's have a separate parking lot, but it's still free. Handicap parking is possible closer to the Visitor Center.
Once in the park, there's unlimited access to the gondola and bridge. So there's nothing stopping you from doing both, or walking one way and returning using the gondola.
Things you need to know about getting to the Royal Gorge Bridge
Although the Royal Gorge Bridge is easy to get to, there are a few things to know that will help you make the journey easier. Below is a list of top things to consider before making the journey to the beautiful bridge.
Here are our top tips when it comes to preparing for your trip to the Royal Gorge Bridge:
During snow, there's a delay in opening for snow removal. Note that the zipline and Skycoaster close during winter and open from 1st March.
You can use your ticket for up to a year.
Stay hydrated! The park has an altitude of 6,700 feet. Dress accordingly in sturdy walking shoes and bring a coat as it can be windy on the bridge.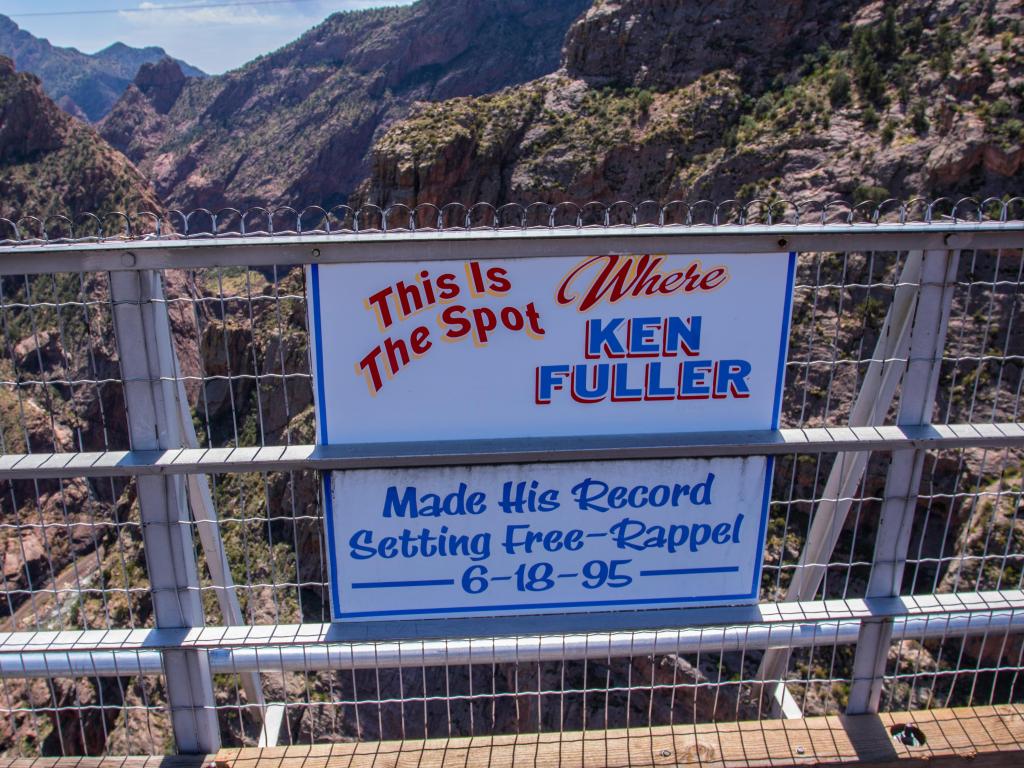 You can actually drive across the bridge, but only if you're part of a car club. In the rare occurrence you're in a car club here's what to do.
You'll have to pre-book.
You'll have between 8AM and 10AM before the park opens to drive across.
A lump sum payment is required beforehand.
It'll have to be a group booking of at least 10.
If strong winds and heavy rain cause the park to close. Ask to have your ticket validated, which will allow you back in the next day. Even without bad weather you want to return the following day, validated tickets are allowed to re-entry the following day.
Things to see once you reach the Royal Gorge Bridge
There's plenty to do and see once you reach the Royal Gorge Bridge. Below are our top activities and sights so you can make the most out of this incredible landmark.
Royal Gorge Bridge - Walk across the highest suspension bridge in the USA. 956- feet above the gorge floor, it's a breathtaking experience completing the 1,260 feet walk across the wooden slats.
Via Ferrata - Via Ferrata is considered "Colorado's Best Climbing Experience". The park has a cable system to follow and a guide will lead you up rock walls with the Arizona River below. Pick from either a 3 hours or 5 hour tour.
Royal Rush Skycoaster - For the adrenaline junkie, this. The coaster will hoist you up 100 feet before launching you over the gorge at speeds of 50MPH.
Cloudscraper Zip Line - You can zipline your way over the gorge and soar 1,200 feet above the river below.
Aerial Gondola - Since 2013, the Aerial Gondola ride has provided visitors with awesome views of the bridge and gorge below. It's the longest single span gondola in the USA.
Visitor Center - Here you can find Cafe 1230, where you grab a bite to eat on a patio overlooking the gorge.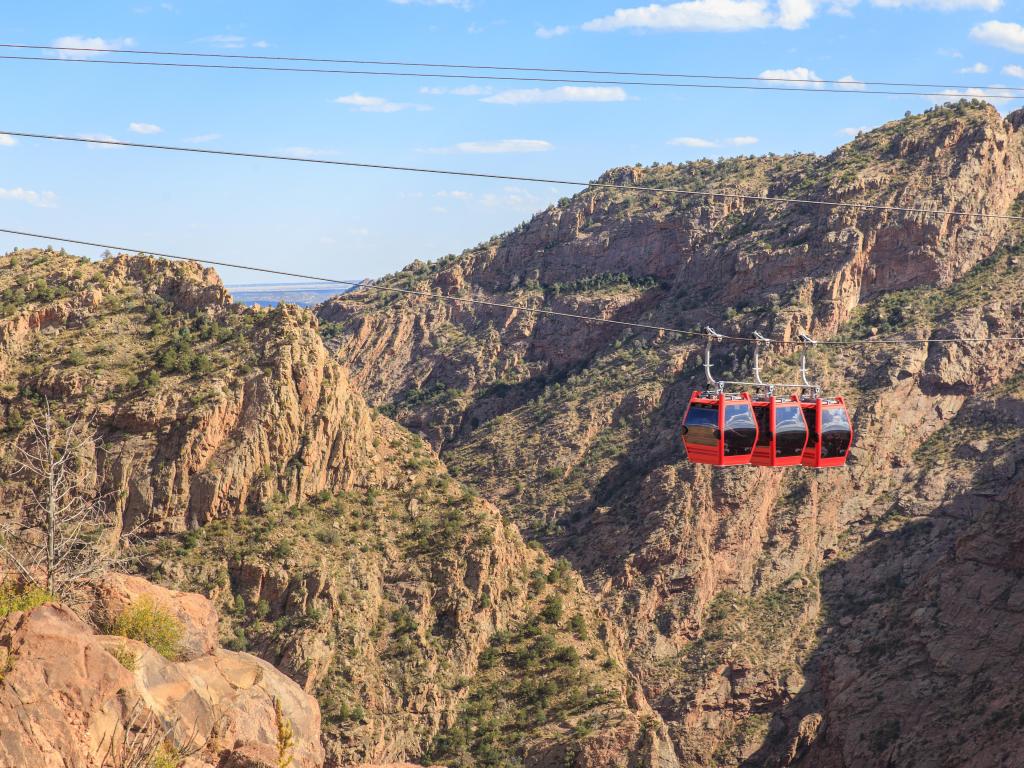 Whether you travel across the Royal Gorge on foot, in a car club or overhead on a gondola ride, this is sure to be an unforgettable taste of Colorado's natural beauty!