Can You Drive Through Banff National Park?
The mountain peaks of Alberta's Banff National Park are a year-round magnet for hikers, rock climbers, photographers and nature lovers. The dramatic mountains stand out in striking contrast against the turquoise glacial lakes, and a visit to Banff National Park is one of the ultimate Canadian road trip experiences.
The 200-km drive through Banff National Park takes 2 hours 15 minutes to drive. Highlights of this stunning road trip include Johnston Canyon, Lake Louise, Moraine Lake, Crowfoot Glacier, Howse Point Viewpoint, Sunset Pass Trailhead and Panther Falls.
Sitting to the west of Calgary, Banff National Park is the perfect destination for adventure seekers or those looking for a peaceful retreat from the city life. Keep on reading to find out about the ways you can drive through Banff National Park to see its main sites in style.
Can you drive through Banff National Park?
The main ways to drive through Banff National Park
Route
Distance
Driving Time
Main Route


via Trans-Canada Highway

200 km
2 hours 15 minutes
Alternative Route


via Bow Valley Parkway

200 km
2 hours 25 minutes
Driving through Banff National Park in the Canadian province of Alberta is a straightforward and absolutely stunning drive that takes you through the heart of the Canadian Rockies. However, at certain times of year, you won't be able to reach all parts of the national park in your own vehicle.
Although you can expect heavy snowfall in the winter, the roads are regularly ploughed, meaning that it's possible to drive through Banff National Park all year round.
However, due to high demand, you'll only be able to visit Lake Louise and Moraine Lake via a shuttle service between May and October.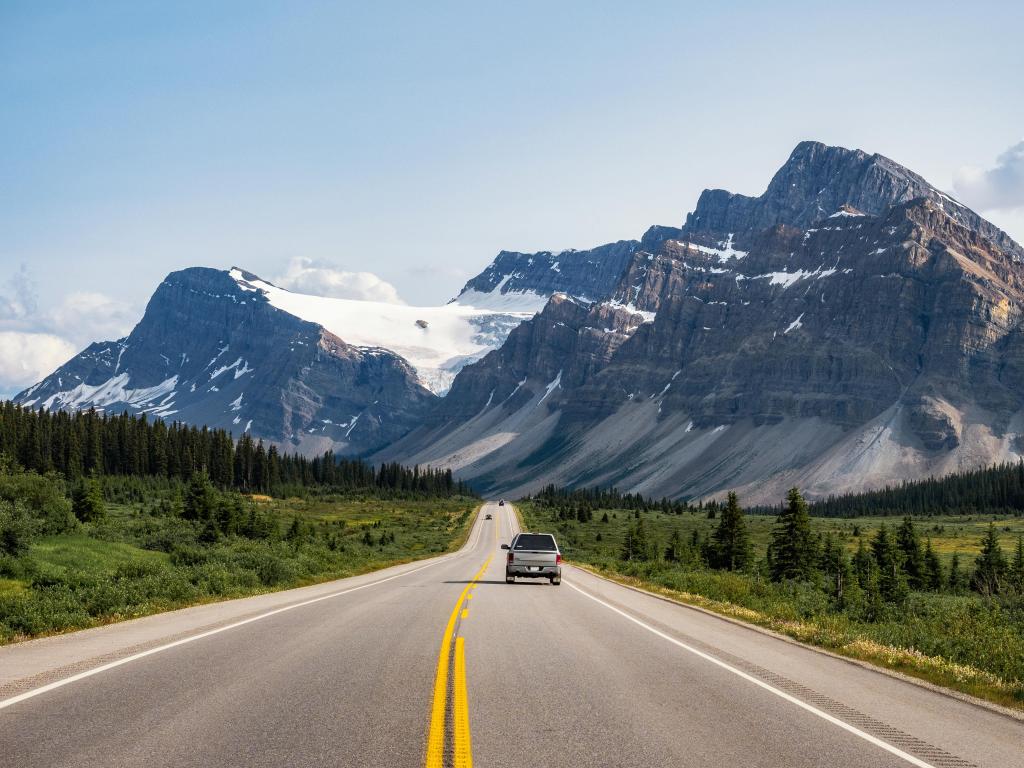 Our Main Route through Banff National Park starts out on the Trans-Canada Highway from Banff before joining the Icefields Parkway (AB-93), so it's easy to navigate.
Both roads have mountain views throughout, while a stretch runs parallel to the Bow River. The Icefields Parkway travels along the "roofs of the Rockies". Although snow is common, you can make the journey year-round along the well-paved road.
By turning off the Trans-Canada Highway to take our Alternative Route, you'll be able to enjoy an even more scenic drive along the Bow Valley Parkway.
This route is just 2 lanes for much of the way, with limited passing places, so it won't be every traveller's first choice, but you'll enjoy a more serene experience as you venture through pine, spruce, and fir-lined roads.
If you would prefer to sit back and enjoy the view rather than having to navigate crowded roads and parking lots, there are also tour companies that let you see all the sights without the stress of driving. Check out Ten Peaks Shuttle & Tours in Lake Louise, among others.
How to drive through Banff National Park on the Main Route
Approaching Banff National Park on Trans-Canada Highway 1 from Calgary, you'll enter the park a few miles past Canmore. The highway takes you past Anthracite and on to Banff, which is just a short detour off the route.
Continue along Trans-Canada Highway 1 until you reach Lake Louise. This is a great place to spend a little time, as you can visit Lake Moraine from here too, as well as ride the gondolas up into the Lake Louise Ski Area, even in the summer months.
Moving on, change onto the Icefields Parkway (AB-93) a short distance past Lake Louise. Tracing the Bow River past Herbert Lake, Crowfoot Glacier Viewpoint, Bow Lake Viewpoint, Peyto Lake and Mount Patterson Glacier, you'll be able to stop to enjoy more stunning views.
Travelling along the Howse River, you'll also visit Howse Pass Viewpoint, Sunset Pass Trailhead, Weeping Wall Viewpoint and Panther Falls before your route ends at Wilcox Pass Trail.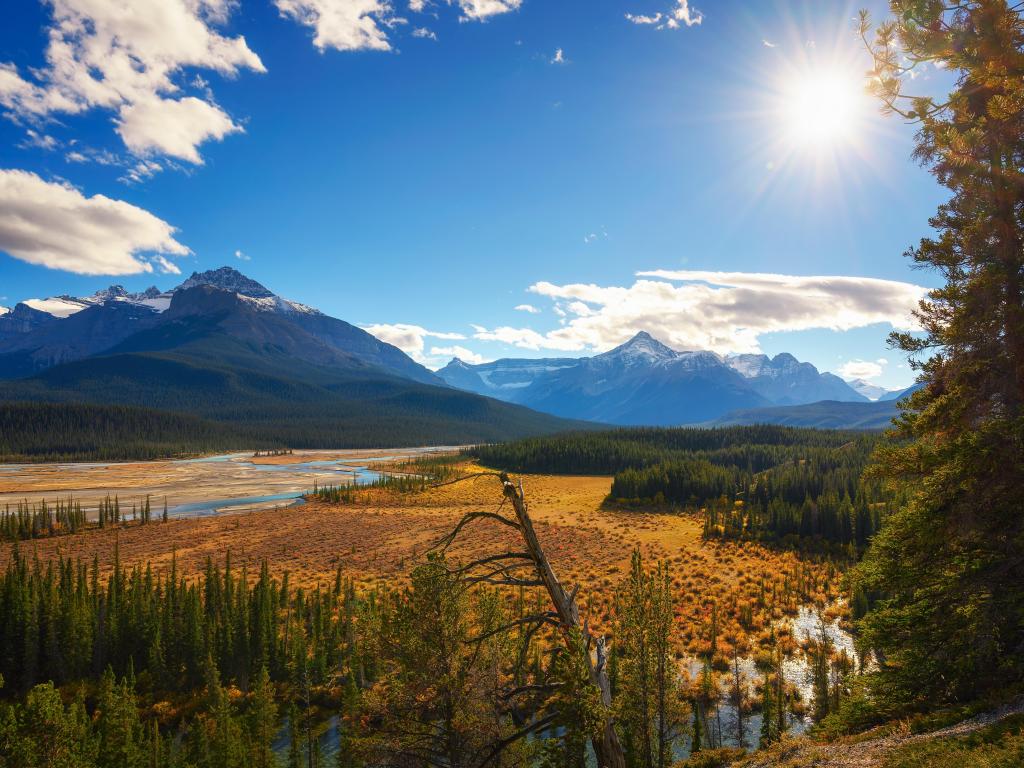 How to drive through Banff National Park on the Alternative Route
Take the Trans-Canada Highway through Banff then exit onto the Bow Valley Parkway (AB-1A) which runs parallel to the highway all the way to Lake Louise.
At the time of writing, a stretch of the Bow Valley Parkway is closed for a cycle pilot scheme, so you might have to join the road at Castle Mountain, but when the pilot scheme isn't operating, you'll be able to pick up the scenic route a couple of km outside Banff.
On this first stretch of the route, you'll be able to stop at Backswamp Viewpoint, Johnston Canyon, Castle Lookout Trailhead and Morant's Curve before enjoying the fantastic landscapes around Lake Louise.
This route is open all year round, although snow is common so in periods of extreme weather, you might have to switch onto the Trans-Canada Highway and follow our Main Route instead.
From Lake Louise, you'll join up with the Main Route, following the Icefields Parkway for the rest of your drive through Banff National Park.
How long does it take to drive through Banff National Park?
If you don't make any stops, it will take you between 2 hours 15 minutes and 2 hours 25 minutes to drive directly through Banff National Park.
It's a straightforward 200-km drive, however, you might encounter congestion or icy road conditions that can slow you down. Our advice is to allow plenty of time for the drive, and not rush.
You'll almost certainly want to pull over to enjoy the view a few times, even if you're planning a short trip through the national park. Stopping at just one overlook every 25 km will add between 1 and 2 hours to your drive, depending on how long you spend marvelling at the view.
Of course, with so many hiking trails and other attractions to enjoy, Banff National Park is a destination where you can easily turn a short drive into a road trip that lasts for several days. That means that however much time you have to spare, Banff is a great place to visit.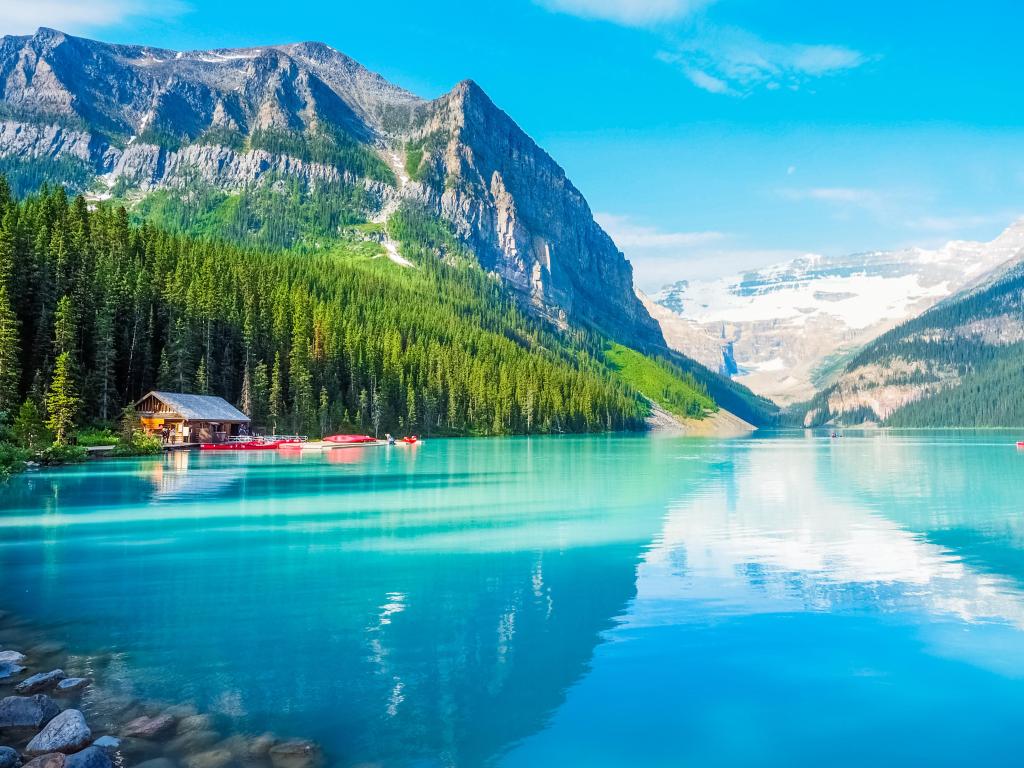 Which entrance should you arrive at in Banff National Park?
There are three main entrances to Banff National Park. Banff East Gate near Canmore is where both of our recommended routes begin, but you can also enter at the South Gate, near Banff, or the West Gate, near Lake Louise.
Both of our recommended routes travel some 200 km across Banff National Park, so depending on where you're starting your drive you might prefer to approach the park from one of the other entrances and drive the route in reverse.
We've put together travel times and driving distances from some common starting points, including the most convenient entrance to the park, to help you with planning your trip.
Comparison of travel times from major cities to Banff National Park
Origin
Recommended entrance
Distance
Time*
Calgary
Banff Visitor Centre
130 km
1 hour 30 minutes
Edmonton
David Thompson Gate


Summer only

390 km
4 hours
Vancouver
Lake Louise Visitor Centre
790 km
8 hours 40 minutes
Bozeman
Banff Visitor Centre
920 km
9 hours
Seattle
Lake Louise Visitor Centre
1,050 km
11 hours 10 minutes
Portland
Lake Louise Visitor Centre
1,130 km
11 hours 50 minutes
Winnipeg
Banff Visitor Centre
1,460 km
14 hours 15 minutes
* Driving distance and time are given to the nearest entrance
Best places to stop on a drive through Banff National Park
Although you can drive right across Banff National Park in under half a day, most visitors will want to spend a while longer than this enjoying the stunning landscapes.
Whether you're coming for just a night or for a week or more, we've picked out some fabulous spots for an overnight stay.
Start your trip in style in Banff
Whichever route you're taking through Banff National Park, you'll pass through the city of Banff on your trip. If you're starting out from the park's East Entrance Gate near Canmore, then Banff will be close to the beginning of your route.
It's a great place to spend some time exploring this part of the national park before you begin your scenic drive. Plus, if you've already spent a few hours on the road to get to Banff National Park, then you'll probably want to take a break from driving.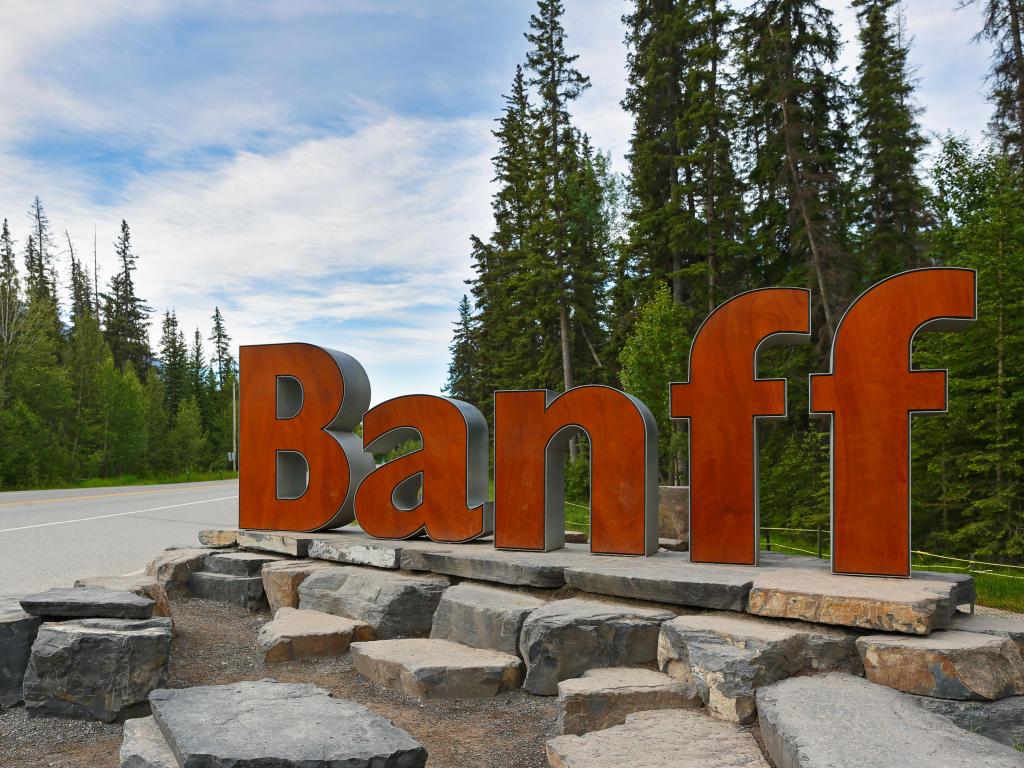 As well as being a scenic wonderland known for its views of the surrounding mountains, Banff is a resort town with plenty going on.
It's a popular spot for outdoor activities, whatever time of year you visit, and also home to fabulous hot springs which make the perfect end to a day of hiking, climbing or winter sports.
Just moments away from Banff's restaurants and bars, some of the rooms at the Peaks Hotel and Suites showcase stunning mountain views. Splash out on one of the Summit Suites for the most impressive outlooks.
There's a shared living room where you can relax in front of the fireplace on cooler evenings. Guests also have access to the indoor pool, steam room, plunge pool and fitness center at the neighbouring Banff Park Lodge.
The hotel is just a short drive from the Trans-Canada Highway and once you've checked in you can leave the car behind to see some of the sights of Banff. Whyte Museum of the Canadian Rockies, Banff Visitor Centre, Banff Park Museum National Historic Site and the Banff Sign are all less than a 10-minute walk away.
Marvel at the Icefields Parkway
From Lake Louise, both routes follow the Icefields Parkway as far as the Wilcox Pass Trail. The Icefields Parkway itself links Banff National Park with Jasper National Park in the Canadian Rockies.
Famed as the location of over 100 glaciers and packed full of scenic mountain peaks and pristine turquoise lakes, it's an amazing place to continue exploring this unforgettable part of Canada.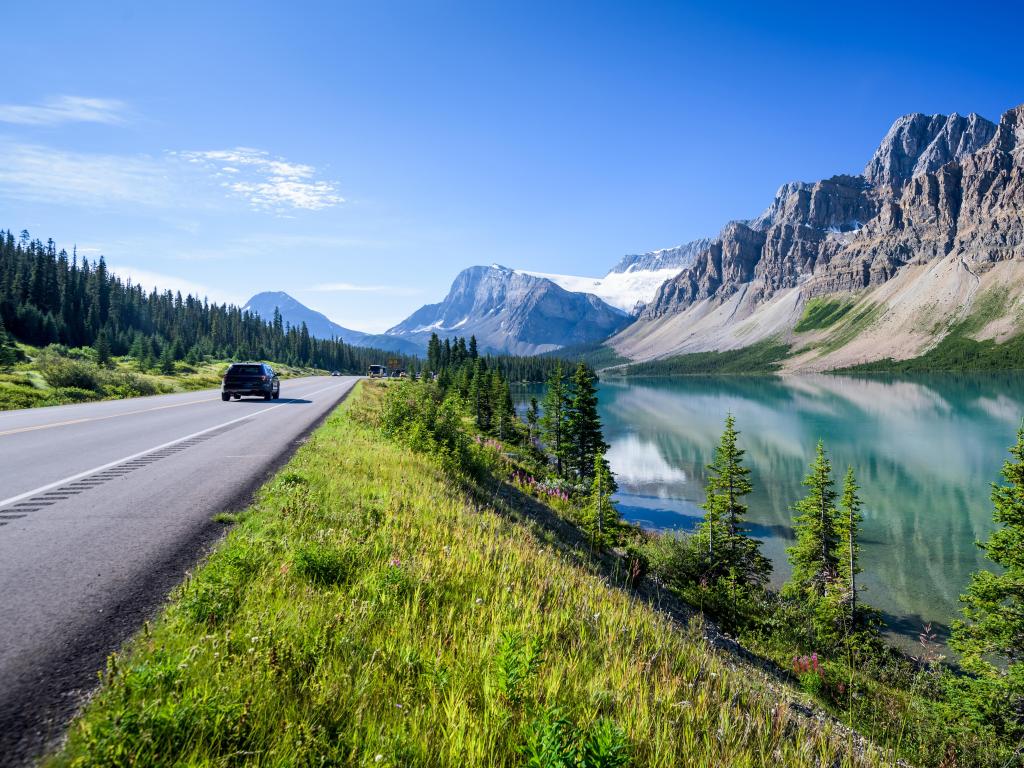 Whether you're turning back towards Banff, exploring more of the Icefields Parkway or continuing the 105 km to Jasper, we'd recommend spending a night at Glacier View Lodge, which is close to Wilcox Trail at the end of our road trip routes through Banff National Park.
The Lodge overlooks glaciers and mountains, so you'll be able to immerse yourself in the area's stunning views once you've checked into your spacious, modern room. The newly renovated restaurant serving Canadian food means you won't have to worry about where to get a great meal.
The Columbia Icefield, one of the main attractions on this part of the Icefields Parkway, is just a 5-minute drive away. To make it easier to visit this awesome natural attraction, the Lodge runs the Columbia Icefield Guided Experience, which includes an evening visit to the Columbia Icefield Skywalk.
Located just 2 km beyond the Wilcox Pass Trail, this is also a great place to base yourself if you're planning on setting out on this stunningly scenic hike at the end of your drive through Banff National Park.
Where to camp in Banff National Park
Of course, you might prefer to immerse yourself in the great outdoors while you're travelling through Banff National Park, in which case there are plenty of camping spots to choose from.
Popular campsites include Tunnel Mountain Village, Two Jack Campground, Lake Louise Campground, Mosquito Creek Campground and Waterfowl Lakes Campground.
If you're travelling in summer, our top pick is the Waterfowl Lakes Campground, where the 116 pitches have a picnic table and firebox. It's just over halfway along the drive through Banff National Park and gives you easy access to the scenic Icefields Parkway.
There are hiking trails and wildlife hotspots nearby, and with toilets, washrooms and hot water you can enjoy a comfortable stay. Tends or RVs up to 7m are welcome at this site, which charges $21.50 a night at the time of writing.
If the cold winter weather doesn't put you off camping, we'd suggest Tunnel Mountain Village II Campground as an alternative so that you're closer to the amenities in Banff. There are hiking and biking trails nearby and even a bus service into Banff.
There's on-site electricity here, and spaces can accommodate larger units, which many travellers find are more suited to cold-weather camping.
Things you need to know about driving through Banff National Park
Travelling through Banff National Park is a straightforward drive that requires very little navigation. It's also a drive that you can take all year round, although your experience will vary from month to month.
There are a few things to keep in mind when planning your trip, with the main considerations being the changing weather conditions and high visitor numbers in peak seasons.
With so many winter sports opportunities and stunning mountain views, winter is one of two peak seasons in Banff National Park. January and December are the height of the ski season, so expect large crowds, especially around the Christmas break.
Snow and ice are a near certainty for several months of the year, but roads are well-maintained and are plowed 7 days a week, so they should be accessible.
However, in the colder months, the weather can turn fast, so stay aware of the conditions and prepare yourself with snow tires for cold conditions.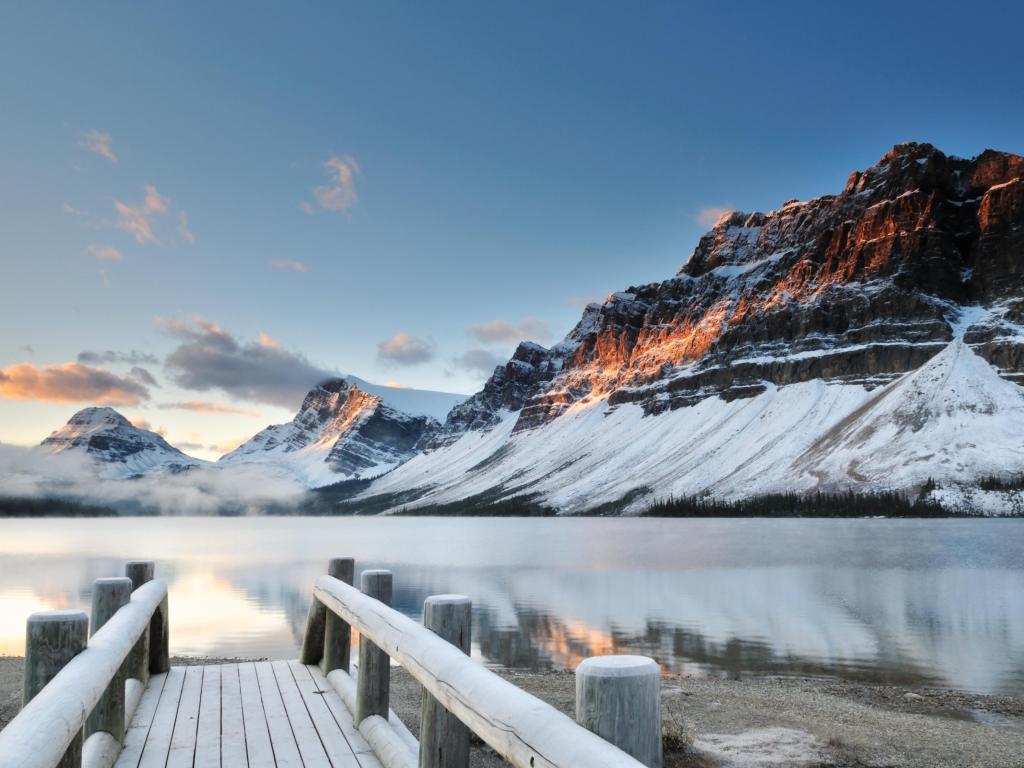 July and August make up the second peak season. Most of the snow will have melted, allowing easy driving conditions and great access to hiking trails. With the milder weather, camping is more comfortable, too.
Traffic can also be very busy around Banff in the summer months, though, and as we've mentioned, you'll have to use shuttles to visit Lake Louise and Moraine Lake between May and October.
Spring and autumn are both great times to visit if you want a quieter trip. May, September and October, in particular, usually see reasonable weather coupled with cheaper hotel prices.
Autumn is also a great time to spot wildlife. However, the weather can change fast even in these months, so make sure you're prepared for snow even on sunny days.
If you stay on the Trans-Canada Highway, it's possible to enjoy scenic views of Banff National Park without paying for national park entry. As both of our routes take you off the highway and into the park itself, you'll need to pay an entry fee.
There are various options to choose from, depending on the size of your group and whether you'll be visiting more of Canada's national parks within a year.
The annual Discovery Pass offers entry to more than 80 locations across the country, but it's worth noting that even a day pass lets you travel through other national parks in the region if you're planning a quick scenic trip.
Entry fees to Banff National Park

| Ticket type | Adult fare | Family fare |
| --- | --- | --- |
| Day pass | $10.50 | $21 |
| Discovery Pass | $72.25 | $145.25 |
*Calculated at the time of writing, family fare applies to up to 7 people in 1 car
Here are our top tips when it comes to preparing for a drive through Banff National Park:
Beware of wildlife while driving through Banff National Park, and stick to the speed limits because animals often venture onto roads.
Many roads are just two lanes, so parking at the side of the road isn't allowed. Use designated pullouts and parking areas instead.
If you're visiting in the busy summer months, head out before 9am to escape the traffic around Banff.
Fill up on gas at Banff before venturing on the journey.
Often, authorities close roads, so check the Banff website for up-to-date closures.
Use the visitor centres for up-to-date hiking conditions.
Remember cell phone coverage might be limited in certain areas.
You'll need to pay the national park entry fee - checks are carried out, especially around popular visitor spots.
A Discovery Pass is a good idea if you plan to visit many parks in the space of a year, or if you're spending a longer period exploring Banff and other nearby national parks.
Don't forget that you'll need a passport to enter Canada from the USA.
Things to see on a drive through Banff National Park
Now that you know how to make the most of your drive through Banff National Park, let's look at some of the highlights you'll be able to enjoy along the way.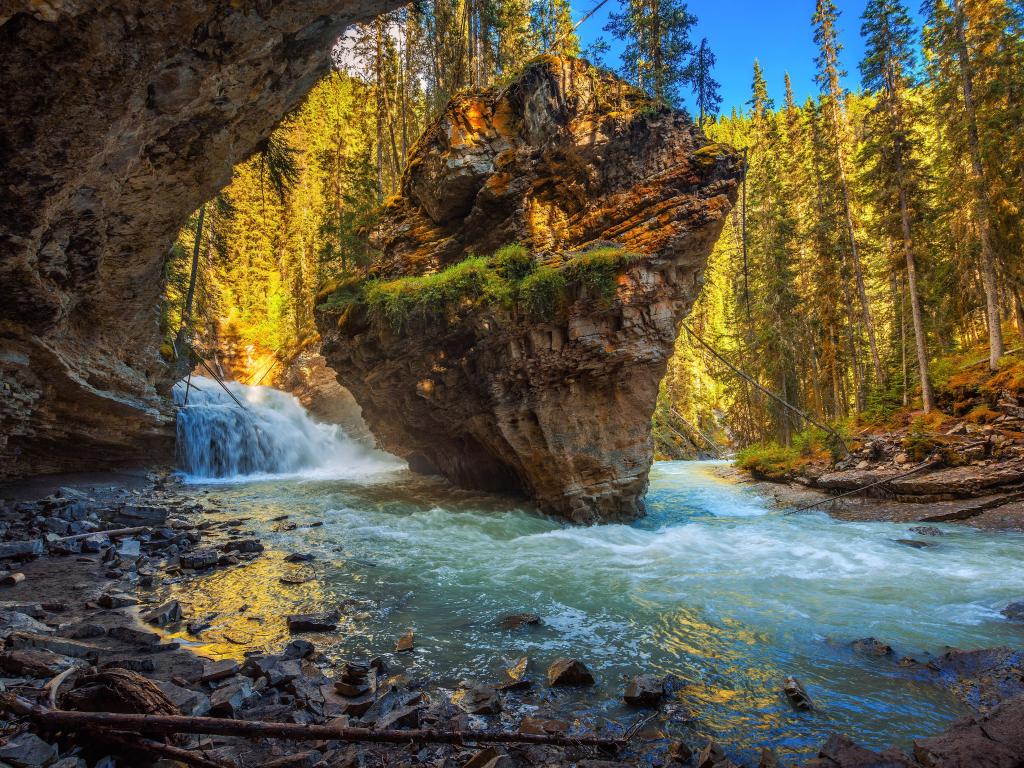 Lake Louise - Fed by glaciers and surrounded by towering mountain peaks, the striking turquoise-coloured water of Lake Louise is one of the park's most photographed spots. Hike around it, canoe on it, or stay a little longer to enjoy the views at the Fairmont Chateau Lake Louise.
Moraine Lake - Another iconic glacial lake, Moraine Lake, has the stunning Valley of the Ten Peaks in the background. Hike the Rockpile Trail for an outstanding viewpoint.
Banff Town - In the quaint town of Banff, you can visit shops, restaurants, and cultural attractions, as well as taking some time to relax in the Upper Hot Springs.
Banff Gondola - Use the Banff Gondola to reach the summit of Sulphur Mountain. Bird's-eye views of the Canadian Rockies await.
Johnston Canyon - It's an easy hike with amazing canyon views to reach both the Lower and Upper Falls
Columbia Icefield - One of the largest icefields in North America. Take the Skywalk to see it from a unique perspective.
A road trip through Banff National Park is an unforgettable experience, so whether you're heading out in search of snowy slopes or summer hikes, you're in for a real treat.