How long does it take to drive around Lake Tahoe?
With its sparkling blue water and amazing views towards the mountains, beautiful Lake Tahoe is a popular destination for visitors all year round. You can swim, cycle, kayak, and even ski in winter, or simply enjoy the stunning views. But did you know you can combine all of these things by taking a road trip right around the lake?
The 80-mile road trip around Lake Tahoe takes 2 hours 30 minutes to drive. Highlights include South Lake Tahoe, Emerald Bay, Sugar Pine Point State Park, Tahoe City, Kings Beach and Sand Harbor, plus countless scenic viewpoints across the lake.
Lake Tahoe spans two states, sitting on the western side of Nevada and the eastern side of California, so once you've finished enjoying those amazing views across the water, you could combine a drive around the lake with a road trip in either state. You can easily get to Carson City or Reno in Nevada; and the closest big city in California is Sacramento.
Time to drive around Lake Tahoe
Starting at South Lake Tahoe and making an 80-mile loop around the lake takes 2 hours and 30 minutes to drive. If you add stopovers at some of the beaches and viewpoints along the way, you should allow at least 3 or 4 hours more.
Distances and driving time to popular cities/landmarks from South Lake Tahoe

| Destination City / Landmark | Distance / Driving Time from Starting Point | Distance / Time from Previous Stop |
| --- | --- | --- |
| South Lake Tahoe | 0 miles | Starting Point |
| Pope Beach | 5 miles / 12 minutes | 5 miles / 12 minutes |
| Inspiration Point | 10 miles / 20 minutes | 5 miles / 8 miles |
| Emerald Bay State Park | 12 miles / 30 minutes | 2 miles / 10 minutes |
| Sugar Pine Point State Park | 22 miles / 50 minutes | 10 miles / 20 minutes |
| Tahoe City | 31 miles / 1 hour | 9 miles / 10 minutes |
| Kings Beach | 41 miles / 1 hour 20 minutes | 10 miles / 20 minutes |
| Crystal Bay Scenic Overlook | 45 miles / 1 hour 30 minutes | 4 miles / 10 minutes |
| Lake Tahoe Scenic Overlook | 50 miles / 1 hour 50 minutes | 5 miles / 20 minutes |
| Memorial Point Scenic Overlook (Sand Harbor) | 57 miles / 2 hours | 7 miles / 10 minutes |
| Cave Rock | 71 miles / 2 hours 20 minutes | 14 miles / 20 minutes |
| El Dorado Beach | 80 miles / 2 hours 30 minutes | 9 miles / 10 minutes |
This makes the drive around Lake Tahoe a very comfortable day trip. However, with some fabulous accommodation options along the route, you might want to stay a night or two and take your time enjoying the beaches, towns and trails around the lake, as well as leaving some time for relaxation.
The main thing that could impact your driving time on this route is traffic, as this beautiful destination is a popular one. Expect the beaches to see heavier traffic during the summer months, and congestion during vacations (especially spring break) and Labor Day.
You should also factor in some traffic getting out of Lake Tahoe and then approaching the popular viewpoints, Inspiration Point in Emerald Bay, Lake Tahoe Scenic Overlook, Memorial Point Scenic Overlook and Crystal Bay Scenic Overlook. Expect up to a 15-minute delay approaching these popular spots.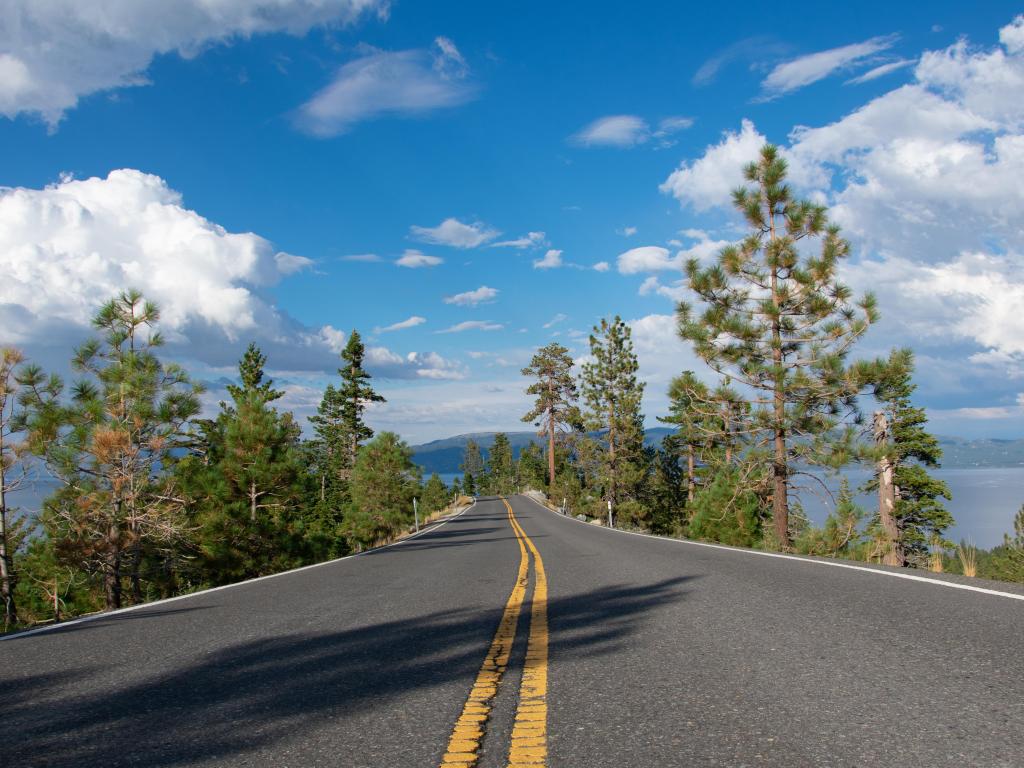 Best round trip route around Lake Tahoe
Following the Lake Tahoe Scenic Drive is a wonderful short road trip, that's really simple to navigate and packed full of beautiful stopping places which are mostly right by the route.
Our suggestion is to start your trip in South Lake Tahoe, then make a clockwise loop heading towards the stunning scenery of Emerald Bay, then up north past other amazing outlooks and beaches as far as Tahoe City.
From here, pass Kings Beach before heading south along the lake's Nevada shore, right the way back to South Lake Tahoe.
Driving around Lake Tahoe from South Lake Tahoe
Leave South Lake Tahoe heading east on Route 50, before picking up CA-89 and following it past Pope Beach and Tallac Historic Site.
You'll soon reach the much-photographed Emerald Bay State Park – take some time to enjoy the fabulous views across the water here.
As you start to make your way up the western shore of the lake, you'll pass Rubicon Point Lighthouse before coming to Sugar Pine Point State Park. Here, you can hike and swim in the warmer months, and ski, snowshoe or even camp during the winter.
Carry on north up the lake shore past Backwood Canyon SNO-PARK, which makes a great stop in winter, and soon you'll arrive in Tahoe City.
After making a stop in the city, turn onto CA-28, which carries on along the lake shore towards Dollar Point before bringing you into the fun town of Kings Beach, on Lake Tahoe's northern shore.
At Crystal Bay, you'll cross the state border and enter Nevada, then as you approach Incline Village, turn onto the Mt Rose Highway which leads you all the way up to Lake Tahoe Scenic Lookout.
Head back to beach-level via Country Club Drive, and spend a little time in Incline Village itself, before following Tahoe Blvd down to Sand Harbor, located in the popular Lake Tahoe Nevada State Park. There are some absolutely stunning beaches here.
The scenic drive heads inland for a couple of miles now, before merging onto Highway 50 just past the smaller Spooner Lake and swinging back towards the coast at Glenbrook.
Between Glenbrook and Lakeridge, you'll pass impressive Cave Rock, then make your way through the town of Zephyr Cove.
All that's left is to make a final trip to the water's edge again at El Dorado Beach, before completing your circuit of the lake in South Lake Tahoe.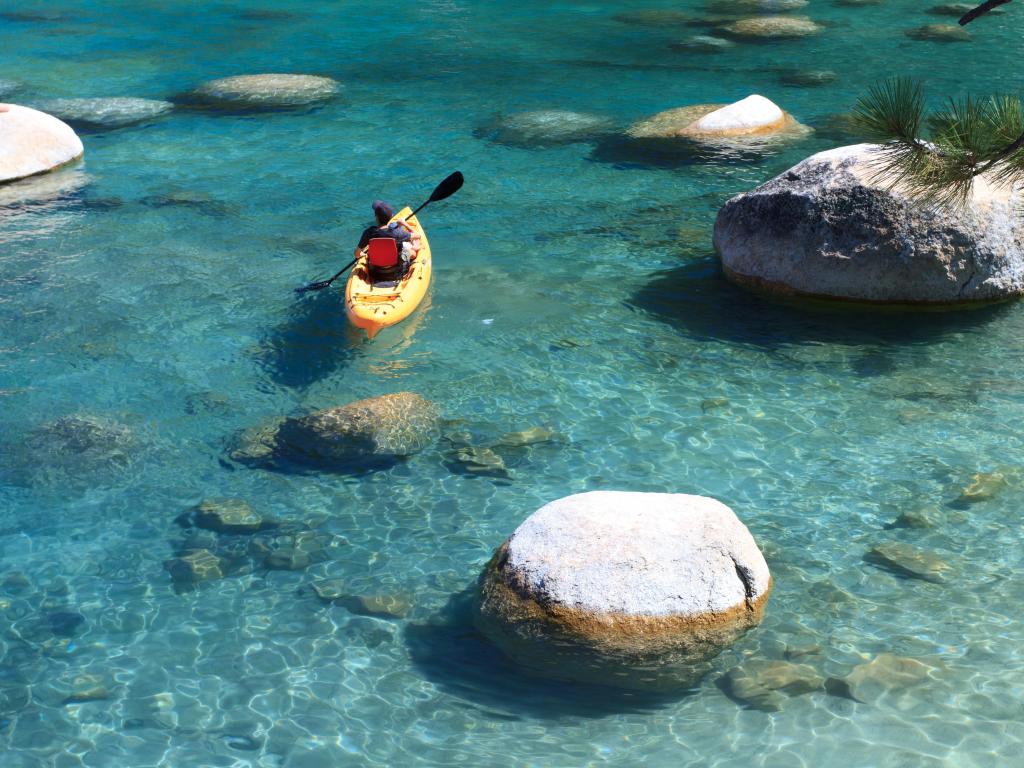 Best places to stop on a drive around Lake Tahoe
If you're making this trip in a single day, make as many stops as your time constraints allow. This is such a beautiful destination that you'll want to take in the incredible views and enjoy the sports and facilities that are dotted around the lake.
There's something to stop and explore every 10 to 12 miles on this loop route, so try to stop at as many viewpoints, parks and beaches as possible. This would mean stopping every 30 to 45 minutes, so you won't have any long stretches of driving on this trip.
If your time is limited, or if you would prefer to only stop a few times, our favorite stopping points are Emerald Bay State Park, Tahoe City and Sand Harbor. Making a stop in each of these three would add 3 or 4 hours to your journey, with a total trip time of up to 6 hours 30 minutes.
If you'd like to spend a little longer exploring the beautiful lake shores, the good news is that there are some amazing hotel options that would let you transform a beautiful drive into a luxury weekend getaway.
Relax in Tahoe City
To upgrade your Lake Tahoe road trip from a single day to a weekend experience, why not check out the hotel options around the lake? That way, you can enjoy the beauty and activities this area offers, without having to worry about rushing between them all.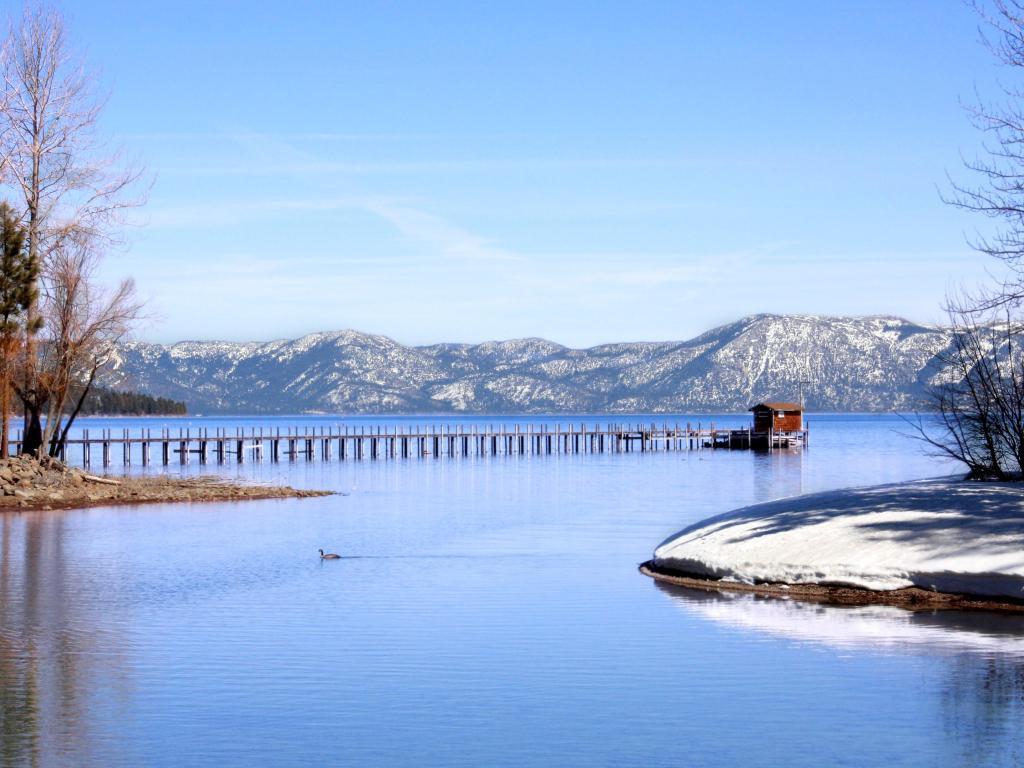 Tahoe City is one of the most popular towns on the lake and offers beautiful hotels that are famous for their luxurious amenities, spas, restaurants and views. Travelers here can also enjoy the fabulous beaches and activities here.
Located on the shores of Lake Tahoe, Sunnyside Resort and Lodge is a beautiful hotel that boasts awe-inspiring lake views while offering lake access to water activities and sports.
The resort has two fantastic dining options on-site and is near the town if you'd prefer to select a different cuisine. Sunnyside Resort and Lodge is not only located just by Lake Tahoe itself, but it's also just a short drive away from Squaw Valley Ski Resort, which means it is a great choice for all seasons.
Stopping overnight here will take your trip time up to one and a half days, giving you plenty of time to make the journey home.
Watch the sun set over the lake in South Lake Tahoe
If you have more time, you should make a last overnight stop at South Lake Tahoe, so you can admire both the northern and southern shores of the lake.
South Lake Tahoe is famous for its luxurious accommodation options, and resorts with spas, so this would be a relaxing and indulgent way to end a scenic weekend trip.
The fabulous The Landing Resort and Spa is located on the southern shores of Lake Tahoe, and its rooms have beautiful views of the lake and the mountains.
The resort has a world-class spa and a restaurant where you can sit outside and watch the sun setting over the lake, for a really unforgettable end to your trip.
It's also just a short drive to Heavenly Village Ski Resort, casinos and Sand Harbor State Park, in case you want to fit in one more attraction before leaving Lake Tahoe. This will take the total travel time for your Lake Tahoe road trip up to two and a half days.
Things to know that can impact your driving time
Although it's only a short route, Lake Tahoe Scenic Drive is a popular one, and you might encounter some traffic along the way. The most likely hotspots are South Lake Tahoe and Tahoe City, but the roads and parking by beaches and scenic vistas can also get busy at popular times.
The number of stops you're planning on making will also impact your total travel time. We'd suggest making at least 5 or 6 stops, just because there's so much to see and do on this short trip, which works out as 1 stop every 12 miles or so.
Speed limits along the route are a limiting factor in how quickly you can make the drive around Lake Tahoe. There are no interstates on the loop around the lake, so you won't take any of this route at higher speeds.
Although most of the route follows the highway where the speed limit is 50 mph, in the South Lake Tahoe Area the limit drops to 35 mph. Plus, on smaller roads, especially through urban areas, the limit drops right down to 25 mph in places.
Our routes and time estimates factor in these speed limits, but as it's such a popular drive, any closures, roadworks or diversions may impact these, as can weather conditions. Be sure to check local advisories before you travel.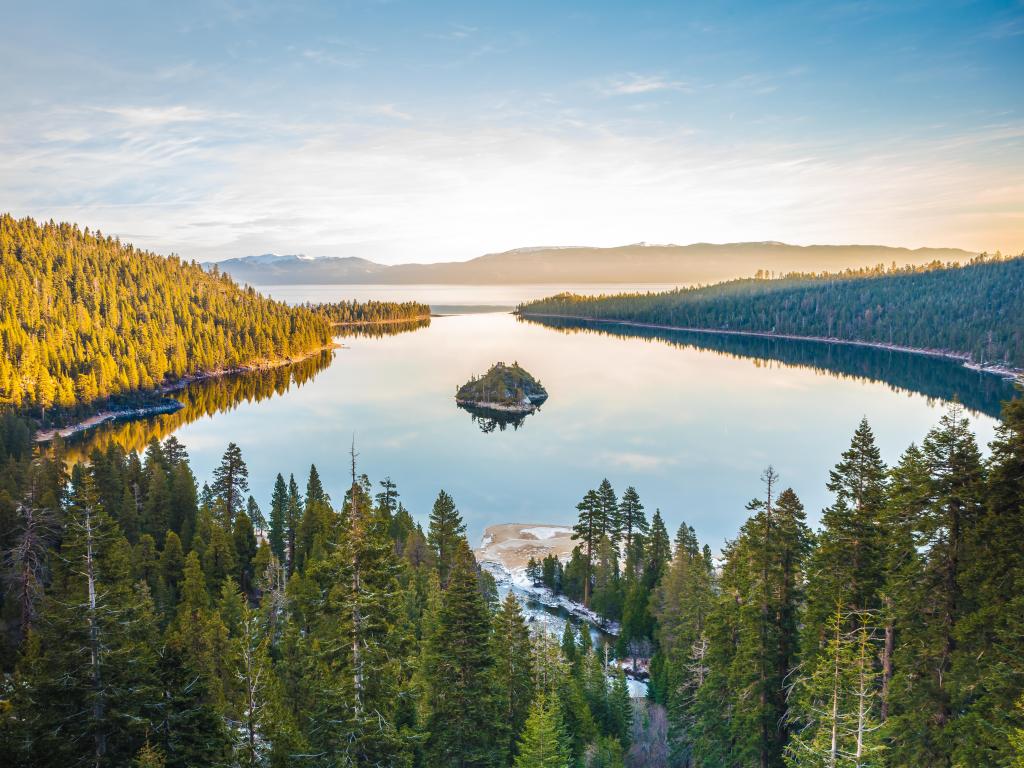 Tips to drive around Lake Tahoe in the shortest possible time
You will have to pay parking fees while visiting the state parks and beaches along the route. Most beaches and state parks also require an entry pass, which you should check on their websites before traveling as different passes can be used depending on where you stop.
You can use California and Nevada annual state park passes. As you'll probably be visiting state parks on both sides of the lake, you'd need a pass for both California and Nevada state parks, so these probably won't save you money unless you already have a pass, or if you're visiting other parks in the state during the year.
You can also use America the Beautiful pass in some places on the route. However, some, like Emerald Bay State Park, do not accept this pass.
To avoid congestion on the roads and crowds on the beaches, try to avoid vacation times, especially school breaks and public holidays. Weekends can get busy too, so if you can take your trip mid-week you'll find the roads and overlooks quieter outside morning and evening rush hours.
If you really need to get around the lake quickly, the best way is to cut down on the number of stops you make along the way, since these all add to your travel time.