How long does it take to drive through Death Valley?
Death Valley is located in Eastern California in the Mojave Desert and is renowned as one of Earth's hottest and driest places. It is a stunning mixture of sand dunes, salt flats, and incredible rock features, such as Artist's Palette where the hillside is a multicolored mix of mineral deposits.
A drive through Death Valley from Death Valley Junction to Saline Valley Road covers 100 miles of jaw-dropping desert scenery, taking 1 hour and 50 minutes. A drive along the alternate Ridgecrest Route takes 1 hour and 15 minutes to cover the 65-mile journey.
With its incredible natural attractions, rich history, and record-breaking temperatures, a drive through Death Valley is a truly unique experience. Keep on reading to discover the best routes through the Park and some valuable tips for surviving the searing desert heat safely.
How long does it take to drive through Death Valley National Park?
Comparison of road trip routes through Death Valley National Park

| Route | Distance | Driving Time |
| --- | --- | --- |
| Main Route | 100 miles | 1 hour 50 minutes |
| Ridgecrest Route | 65 miles | 1 hour 15 minutes |
A drive through Death Valley is a memorable experience and often feels like you are driving around a different planet given the nature of the landscape.
It's one of the reasons it was chosen as a filming location for the original Star Wars film and although our routes through the National Park are relatively short, with so much to see on either route, you can easily spend a day or more exploring the sites.
Death Valley is much less crowded than other National Parks, so it is unlikely that traffic will delay your trip, apart from at the park entrance, where you may encounter queues. The busiest times are late fall and into November when over 1 million visitors a month descend on the desert.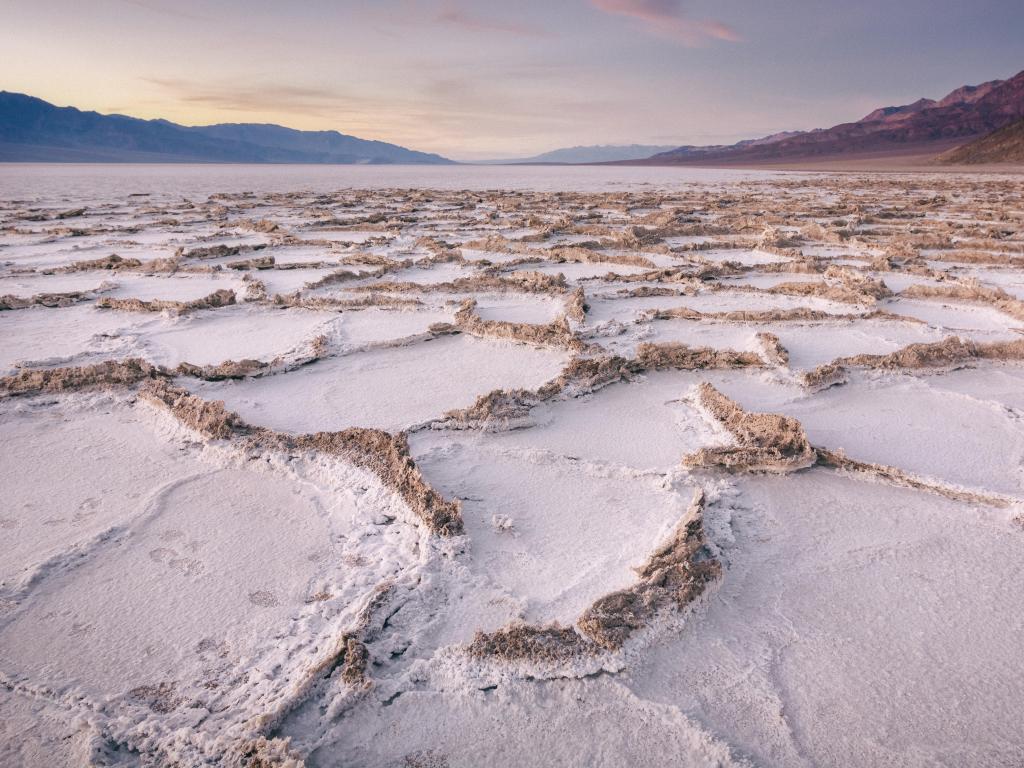 While the trip isn't long enough to warrant an overnight stay, there are numerous campsites and hotels available to do so. The Park is recognized as a Gold Tier Dark Sky Park, with the highest rating of darkness, making it a fantastic place to spend a night stargazing and even viewing the Milky Way.
The Inn at Death Valley is an ideal place to stay, giving easy access to all the prominent landmarks and giving you the chance to spend a night in the heart of Death Valley.
With this being said, most of the roads are currently closed in Death Valley National Park, so check the official website to plan your visit accordingly and make sure you read our detailed guide to how to drive through Death Valley National Park.
Driving the Death Valley Junction Route
Our main route through Death Valley begins at Death Valley Junction and heads through the heart of Death Valley National Park, before arriving at Saline Valley Alternate Road. The 99-mile trip follows CA-190 W and takes you past Funeral Mountains Wilderness Area as you head into the Park.
The route passes Pyramid Peak, an impressive mountain peak that you can explore further along the Pyramid Peak trail. Its peak is a little under 10,000 feet so a trek to the top may not be possible in the searing desert heat.
Continuing along the CA-190, you'll head past Twenty Mule Team Canyon before arriving at Zabriskie Point. The panoramic views on offer from the viewpoint are spectacular and it's a popular spot for catching an amazing sunrise.
Back on the road, the route heads past Indian Village towards Furnace Creek, where you can find out more about the Park and its attractions at the Visitor Center.
The Harmony Borax Works displays the remnants of the 19th century Borax works, where 20 mule teams carried the produce to market. It is also a popular spot for a Dark Sky talk from the park rangers.
Continuing northwest, the route heads past Devil's Cornfield before reaching Mesquite Flat Sand Dunes. Named after the Mesquite Tree, which miraculously grows all over this area, the Dunes are a spectacular sight, and even more impressive at sunrise and sunset, casting dramatic shadows across the landscape.
Kangaroo rats and sidewinder rattlesnakes live in the dunes so if you are exploring on foot, do keep your eyes peeled.
The road then heads south passing Tucki Mountain and Pinto Peak as you head along Towne Pass, at just under 5,000 feet, a perfect place to pull over and admire the views in every direction before heading west towards Panamint Springs.
The route winds its way through a series of bends before reaching Father Crowley Overlook, offering a final chance to look out across Rainbow Canyon and the vast desert wilderness before completing the final 7 miles to Saline Valley Alternate Road.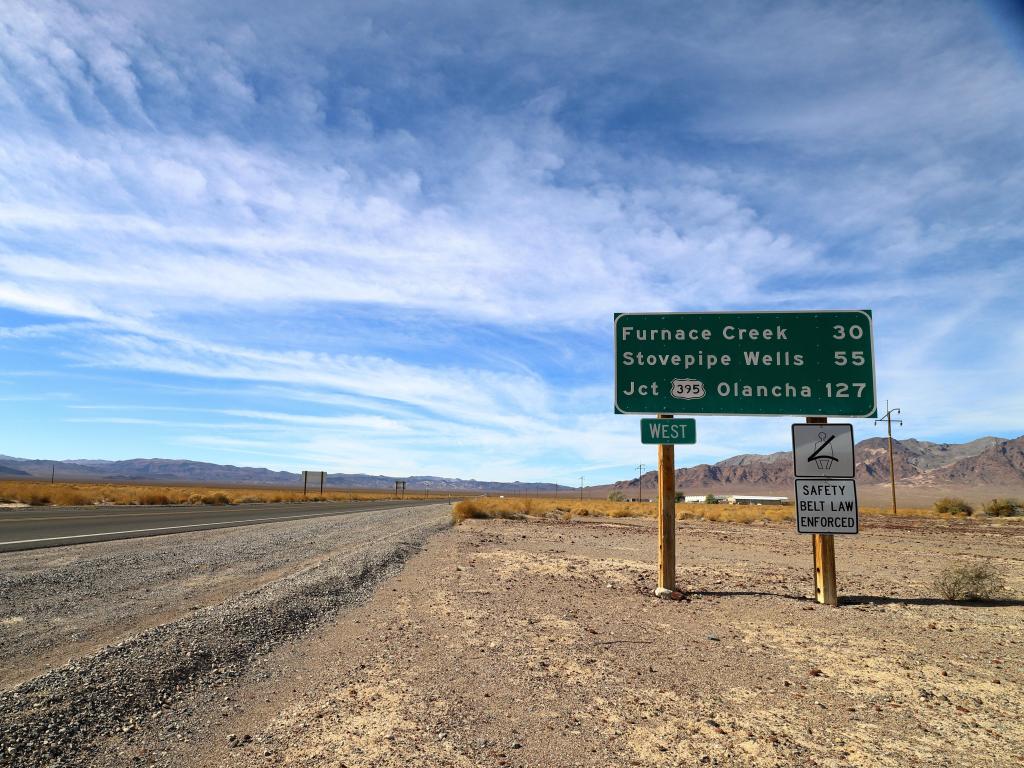 Driving the Ridgecrest Route
Beginning in the city of Ridgecrest, our alternative route through Death Valley heads through the southern area of the park and the 65-mile trip can take as little as 1 hour and 15 minutes, although stopping off at the attractions along the way will add to the overall journey time.
The route begins by heading east along Highway 178, and although Ridgecrest is only a small city, try to avoid leaving during the morning rush hour as traffic will be busier.
You'll soon arrive at Fish Rocks, a quirky and colorful attraction where a number of boulders have been decorated to resemble giant fish. It is a popular place to stop and explore, and get an excellent view of the Trona Pinnacles.
The Pinnacles are unusually shaped spires of porous, some rising over 140 feet from the bed of Searles Lake, and have featured in a number of hit movies. The Lake itself is a dry lake basin and an important source of mineral mining in the area.
After leaving Searles Valley, the route heads through Homewood Canyon, a 5,700-acre wilderness and home to over 100 species of birds, before arriving at Great Falls Basin.
There are excellent cross-country hikes to explore and a spring supplies flowing water through part of the bedrock making it a welcome oasis in the heat of the desert.
The route then continues north to Ballarat, a deserted former gold mining town and now a ghost town. You can explore the ruins that still remain and visit the local museum to discover more about the emergence of the town during the 19th-century gold rush, and its ultimate demise.
Leaving Ballarat and heading north along Trona Wildrose Road, it's not far before a left turn takes you onto Panamint Valley Road, the final destination for this route.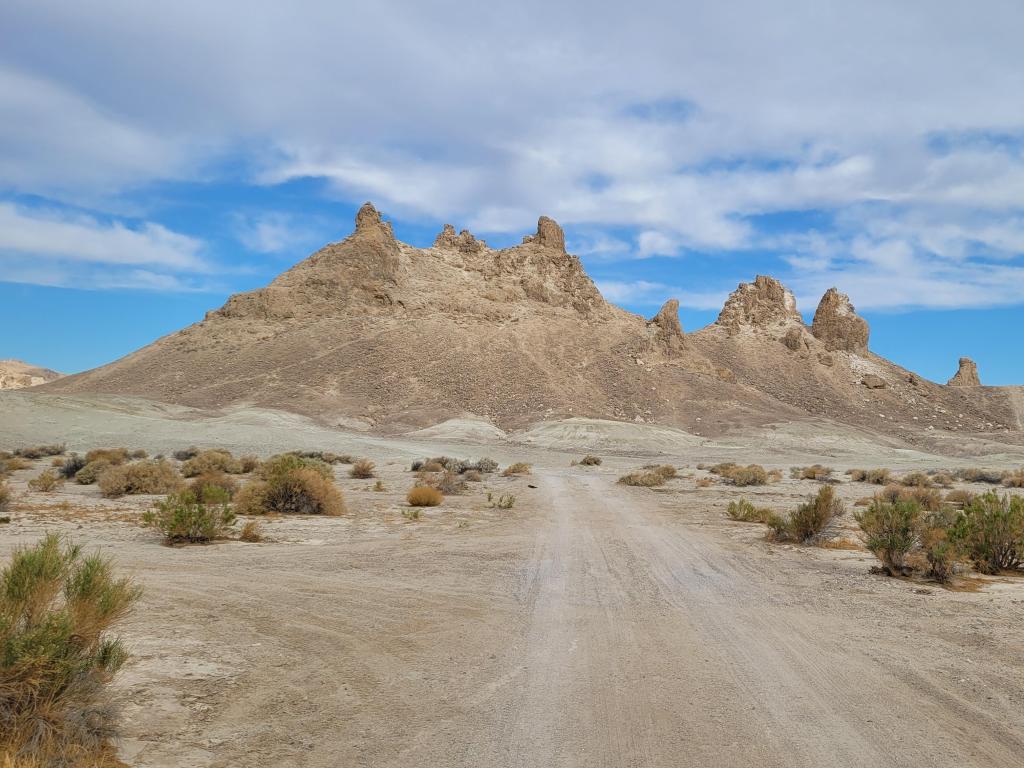 Things to know that can impact your driving time
Comparison of Travel time to Death Valley from major US Cities

| From | To | Miles | Time |
| --- | --- | --- | --- |
| Las Vegas | Death Valley Junction | 110 miles | 1 hour 40 minutes |
| Los Angeles | Panamint Valley Road | 210 miles | 3 hours 40 minutes |
| San Diego | Death Valley Junction | 340 miles | 4 hours 45 minutes |
| Phoenix | Death Valley Junction | 300 miles | 4 hours 30 minutes |
| San Francisco | Ridgecrest | 410 miles | 6 hours 30 minutes |
| Albuquerque | Death Valley Junction | 660 miles | 9 hours 30 minutes |
One factor that will affect your driving time will be how many times you choose to stop for photos - as Death Valley has quite a few Instaram-worthy spots you can take a break at. Here is our ultimate guide to the best photo spots in Death Valley to make your planning easier.
Given the intense desert heat, you may not expect flooding to be a major concern, but flash flooding is common in Death Valley, with only a small amount of rainfall needed to cause road closures as it quickly floods the dry desert floor.
It is also important to be aware of the speed limits throughout the Park, which are variable. As a general rule, the limit is 35 MPH on paved roads and 25 MPH on unpaved surfaces, although the CA-190 can range from 55 MPH to 70 MPH.
Slowing down for corners is necessary and there is ample signage to advise of safe limits, and approaching entrance stations, there is a limit of 15 MPH.
Tips to drive through Death Valley National Park in the easiest way
Our first tip is to take the drive through Death Valley slowly to savor your time in this otherworldly place; there truly is no place like it in the world! Here are some of our tips to help you plan the smoothest drive so that you can focus on the dramatic scenery without worrying about anything else:
All visitors need a pass to enter the park, and the entrance fee is $30 per vehicle and is valid for 7 days. This is calculated at the time of writing, so please check ahead of your travel for up-to-date information.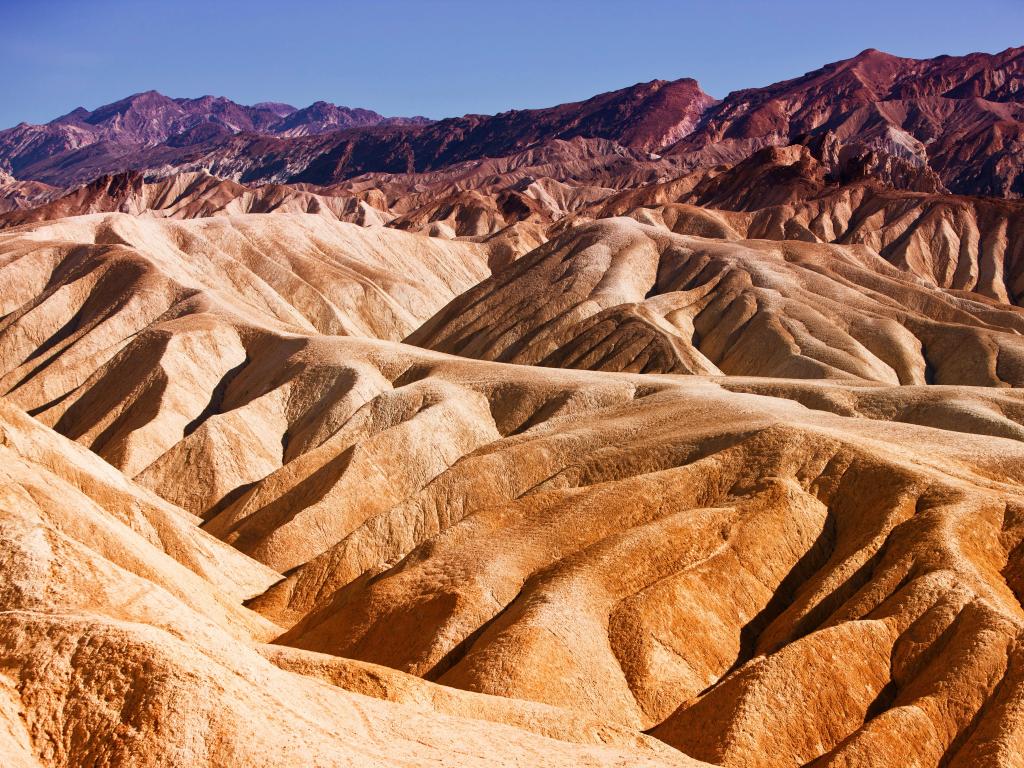 The National Park Service no longer accepts cash, so make sure you bring a credit or debit card, to cover the entrance fee, and camping fees if you choose to stay in the park overnight.
The easiest and fastest way to drive through the park is by staying on major paved roads. This will also ensure a smooth drive, especially if you don't own a 4WD.
If you have two drivers, you can make sure that one enjoys the landscapes while the other drives; and then switch so that everyone can enjoy the unique experience of driving through Death Valley.
We highly recommend choosing an economical car and make sure you have a full tank of gas before entering the park.
Air conditioning is a must when driving through the desert, so if your car doesn't have it, consider hiring one that does to make this exciting trip.
It is a good idea to pack lots of water even if you plan a short journey, as the temperature can exceed 120 degrees Fahrenheit.
Cell phone coverage is limited, or non-existent in Death Valley, so make sure you have a map of the area. The visitor centers will provide them, or you can download the NPS app which comes with an offline map.
Check the National Park website before arriving to make sure there are no road closures in place.
Arrive early morning or late afternoon to avoid the midday heat. Hiking is not advised after 10am in some areas of the park.