Is the drive from Denver to Breckenridge Scary?
Located in Colorado's Rocky Mountains in the western US, Breckenridge is a popular drive out from Colorado's state capital Denver. As it is just a short hop out of the city, Breckenridge is a top choice for those looking to enjoy winter sports in a stunning alpine setting close to Denver; or for picture-perfect scenic hikes in the warmer months.
The 110-mile scenic drive from Denver to Breckenridge crosses the Rocky Mountains, and some drivers might find the hairpin bends, drop offs and snowy conditions scary to navigate. The alternative route - taking the interstate - can make the trip feel much more manageable.
We've put together some of the key information you need to help you plan your trip, so keep on reading to find out what this mountain drive has in store.
Which route should I take from Denver to Breckenridge?
Comparison of route options between Denver and Breckenridge

| Route | Distance | Drive time |
| --- | --- | --- |
| The I-70 Route | 80 miles | 1 hour 30 minutes |
| The Hoosier Pass Route | 110 miles | 2 hours 10 minutes |
There are two main routes between Denver and Breckenridge. The fastest goes via Interstate 70 (I-70), and the more scenic route follows US-285 and then crosses the Hoosier Pass.
As the I-70 takes you right through the mountains, you might be worried about the high elevation, steep drop-offs and hairpin bends on this route (as well as the scenic route), and how to drive through slippery or snowy conditions in the winter.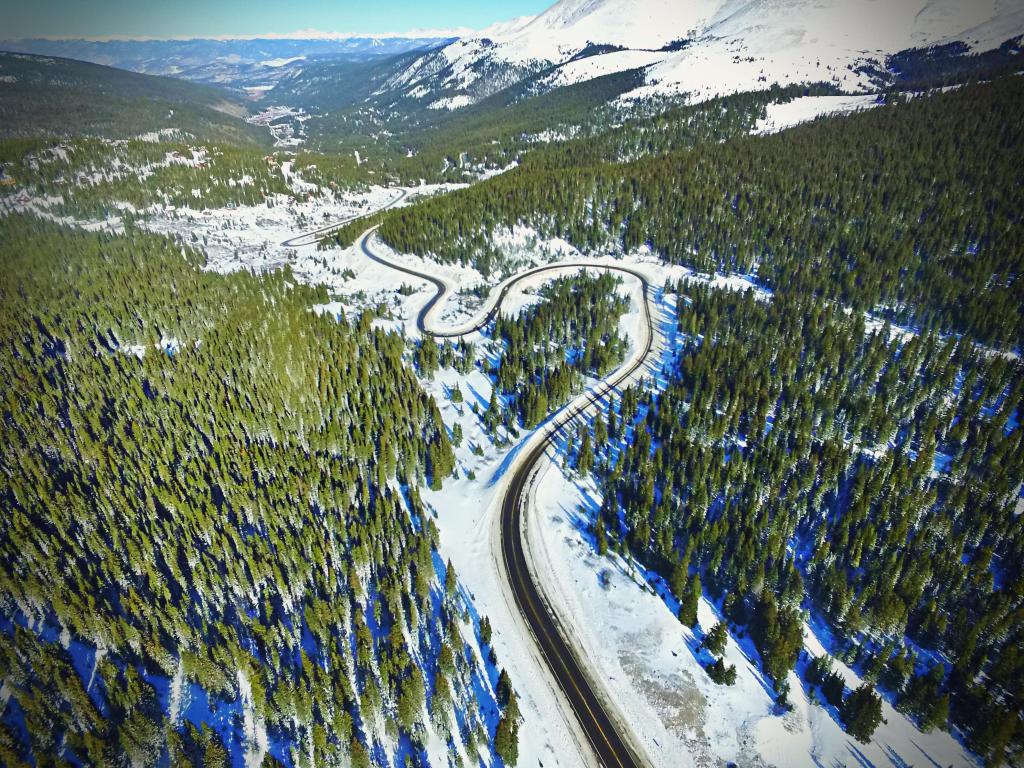 Depending on which route you take, you may also be wondering about the challenges of heavy interstate traffic or the lack of stopping places on the two-lane US-285.
Most of the time these factors won't be an issue, but in winter weather conditions - which can last from November through April - some drivers might find the route scary, especially if they are not used to driving in these conditions, or on mountain roads.
Snow and ice are highly likely on both routes between November and April, and often result in road closures - even on the interstate. But seeing as the Colorado Department of Transport is very experienced in managing these conditions, these major roads are kept as safe and clear as possible through the winter months.
Local regulations also state that additional tire traction is required on I-70 all through the winter and on other routes during severe conditions. This makes driving safer for all.
Keep on reading to find out more about driving in winter conditions, plus some of the other things that might make this route through the Rocky Mountains feel scary.
Driving on the safest route from Denver to Breckenridge
We'd suggest that the safest route from Denver to Breckenridge is to follow I-70 W as far as Frisco, where you'll turn onto CO-9 to make your final approach to Breckenridge.
The I-70 route is a divided highway most of the way and uses tunnels and bridges to avoid winding switchbacks/hairpin bends that are a feature of the Hoosier Pass. The longest is the Eisenhower Tunnel, which in good conditions you can bypass via Route 6 for a short drive with some stunning views.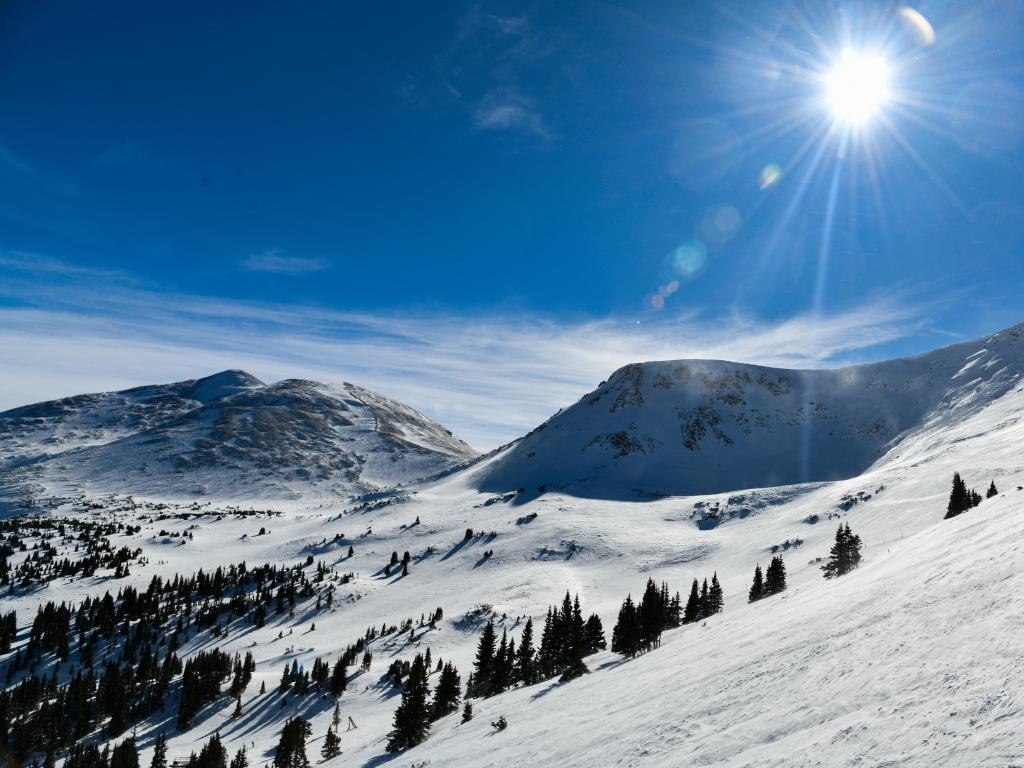 Colorado's Passenger Vehicle Traction Law means that from September to May all vehicles travelling on this stretch of I-70 must meet particular traction requirements (in brief, this means using of snow chains, winter tires or four-wheel drive) – whereas, on other roads including the Hoosier Pass, these requirements are only brought in during particularly bad weather or conditions.
Even when snow chains are taken into consideration, some drivers will be more comfortable taking this route in a four-wheel drive through the winter.
Driving on the scenic Hoosier Pass Route from Denver to Breckenridge
The scenic route from Denver to Breckenridge avoids the interstate, which means it takes a little longer to reach Breckenridge this way. The 110-mile route takes 2 hours and 10 minutes to drive in good conditions.
The scenic route picks up US-285 on the edge of Denver then through Bailey and Jefferson as far as Fairplay. Here, the route turns onto CO-9 to cross the stunning Hoosier Pass, before arriving in Breckenridge from the south.
There aren't as many stopping places on the highway as you'd find on the interstate but seeing as the route passes many small towns and viewpoints there are still plenty of places to pull over on US-285 and CO-9 if you do encounter problems. However, if you encounter a sudden breakdown you might have to stop on the road.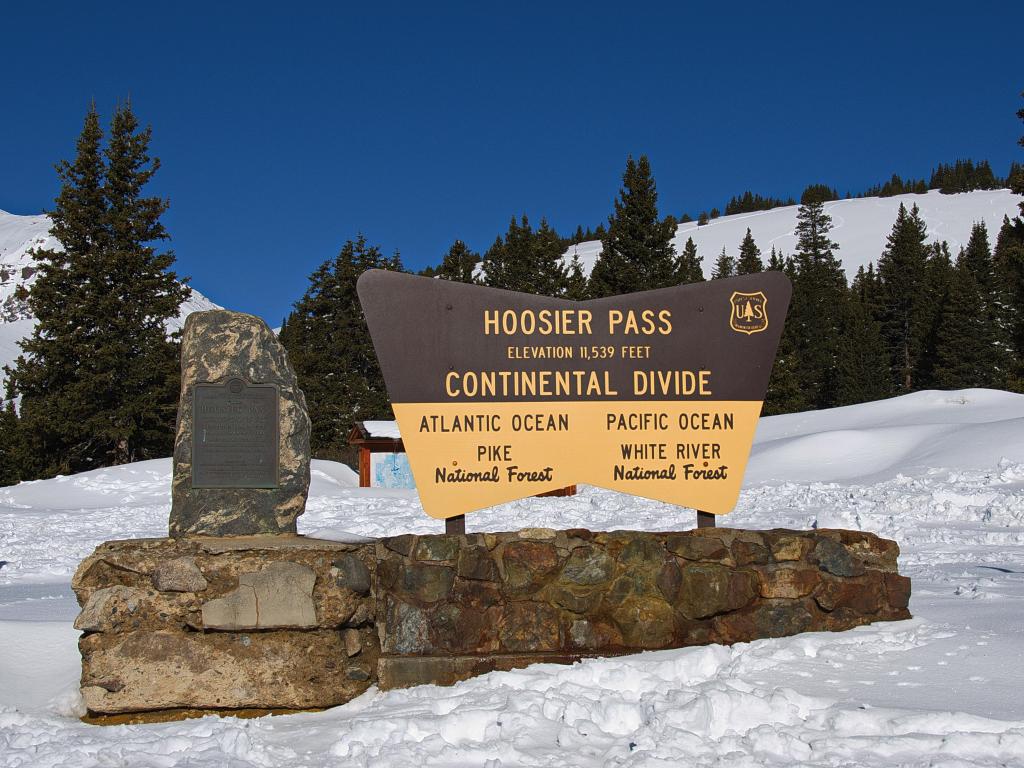 Although this is a smaller road than the interstate, it's still a major route through the mountains. There are a few drop-offs but as CO-9 is a major highway there is still plenty of space on the road - this isn't a cliff-hugging alpine drive.
There are also a number of switchbacks/hairpin bends as the CO-9 travels through the Hoosier Pass, but travellers report that these are easily managed as long as you take your time and approach them at a speed you're comfortable with.
Things to know that can impact the drive on the safest route from Denver to Breckenridge
I-70 is one of the busiest roads in the country, with 4 to 6 lanes on a divided highway (at least two in each direction). This means you might experience heavy traffic, however, it's usually possible to pass other vehicles safely, and the road is kept in a good state of repair.
The route includes innovative and modern structures as it races through the mountains, meaning that many of the concerns you might have about driving on mountain roads can be avoided, however, there are still a few things to keep in mind.
In snowy conditions, plow trucks will be used to keep the road as clear as possible. Even on the interstate, closures due to snow and ice are common in winter, although officials try to reopen major roads as quickly as possible as long as it's safe to do so.
You can check the Colorado Department of Transport (CDOT) for regularly updated information on local advice, road conditions and closures.
The road does reach high altitudes and includes a number of impressive bridges and viaducts. However, there are barriers along the roadside and you don't get up close to big drop offs like you would on smaller mountain roads.
There's also a steep climb out of Denver heading towards Breckenridge (note the warning signs if you're doing this route in reverse) and once you pass through the Eisenhower Tunnel the road descends steeply – this is an accident hot spot when roads are slippery so drive conservatively.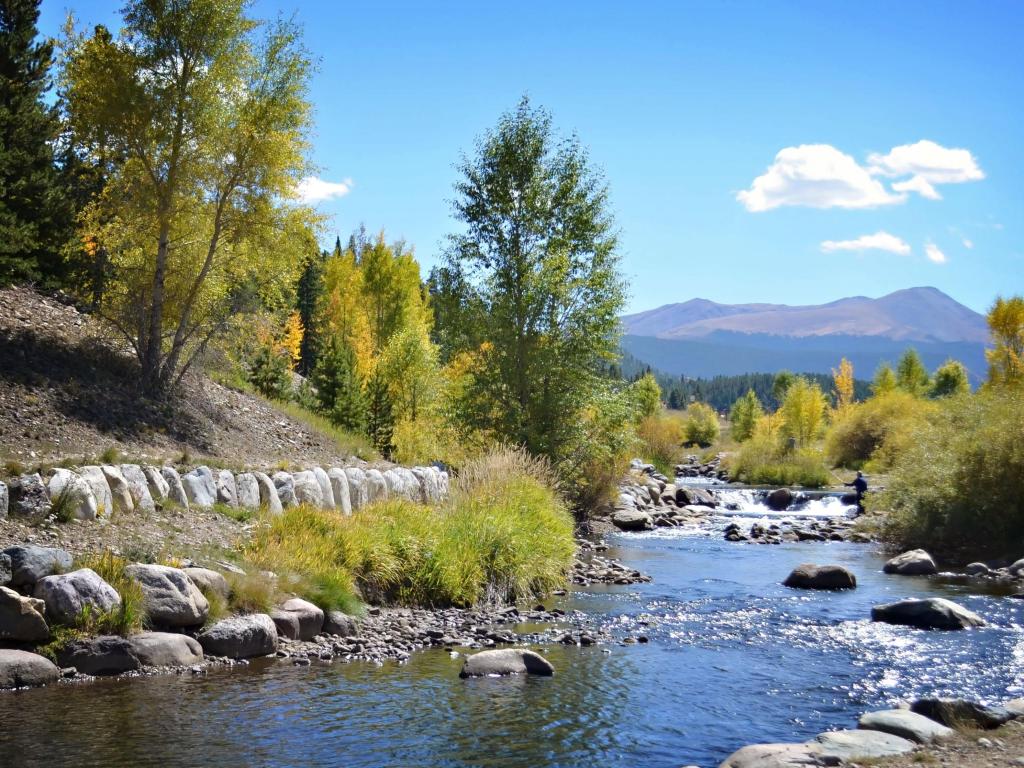 You might also wonder whether the mountain setting for this route affects other services along the way.
There are two official rest stops along this route, at Georgetown Gateway Visitor Center and the Colorado Welcome Center at Silverthorne Outlets. These both have fuel and picnic areas but only the Silverthorne stop has restaurants on site.
Outside of these rest stops there's only one other place to get fuel on the route, and unlike some interstates, you won't find many gas stations close to the route either.
There's usually cell phone coverage along I-70 (4G only in places) but this can drop off if you head up into the mountains.
The speed limit on this route is 65 mph but look out for short sections where the limit drops. Although the speed limit on highways in Colorado is usually 55 mph, this drops to 40 mph on mountain highways so look out for signage when you turn off the interstate. It goes without saying that you should drive at a speed that's appropriate for the conditions you meet when you're out on the road.
Tips to drive from Denver to Breckenridge in the safest way
If you're uncertain about any aspect of the drive from Denver to Breckenridge, we'd suggest doing a "virtual drive" before you set off. Google Street view is a great way to prepare yourself and "see" any challenges along the route for yourself.
Whatever time of year you travel, you're likely to have an easier drive if you avoid traveling at the busiest times of Friday evening or returning on Sunday afternoon.
Be mindful of HGVs and their limitations. Look ahead for heavy trucks crawling along the slow lane, especially on steeper sections of the route. Anticipate this and merge into the fast lane ahead of them.
You should also keep an eye out for large animals straying onto the road. The road has been protected against this with barriers and alternative routes, but always stay alert to any animals that might have got past them.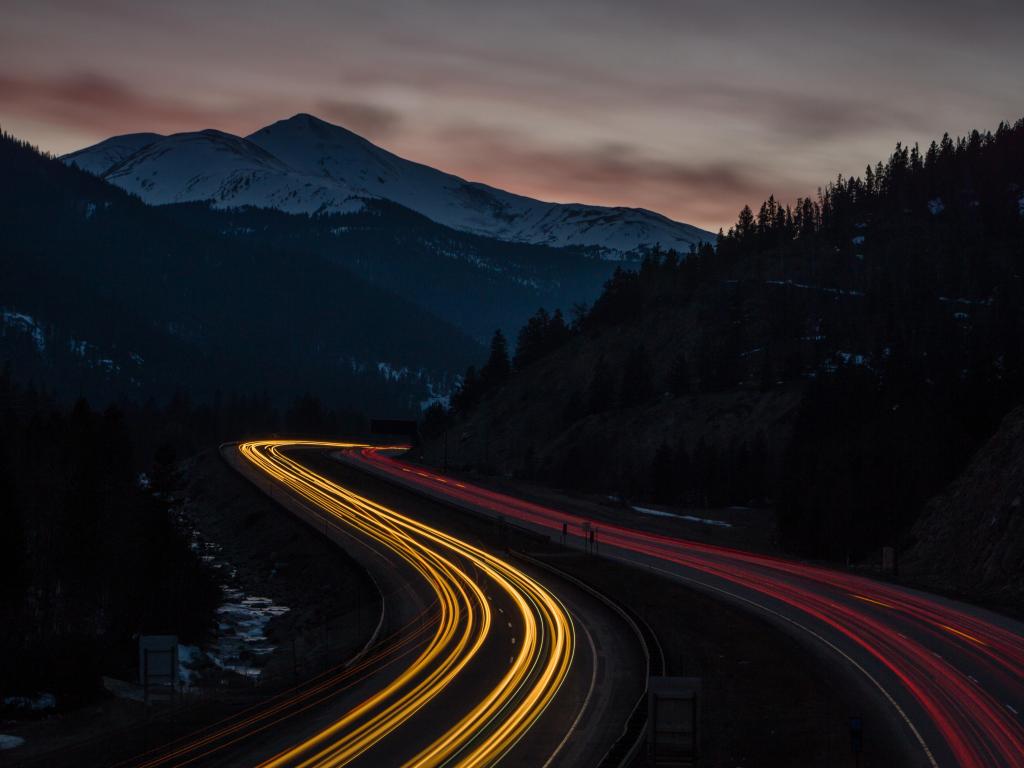 Make sure you have adequate fuel for your journey before leaving Denver to avoid running low – chances to refuel are limited along the route.
As we've already mentioned, you can't visit Colorado in the winter and not drive in snow, so it's important to make sure that your vehicle is ready for the trip. You'll need to make sure your vehicle is fitted with winter tires or snow chains, unless they meet other vehicle traction requirements set out by the state of Colorado.
If you're hiring a car you might want to request a four-wheel drive vehicle, but if that's not an option ensure that winter tires or chains are included in your rental.
Always check weather and traffic advisories before setting out on your journey. Colorado Department of Transport (CDOT) provides regular and detailed updates.
Even with all these precautions, do not drive in conditions you don't feel comfortable with. Stay in a hotel in Denver instead or consider an alternative transport option.
Alternatives to driving yourself from Denver to Breckenridge
There are private and group shuttle services from both Denver airport and downtown Denver to Breckenridge (these can be booked in advance). Uber may also be available.
For a cheaper option, take a bus to Frisco. Greyhound and local operators run services on this route. Then from Frisco, there is a free shuttle up to Breckenridge.
Whichever way you travel, if you're bringing skis make sure to book suitable transport that has space available for them.
Best time to drive from Denver to Breckenridge
The best time to make this drive depends on your reasons for travelling from Denver to Breckenridge.
If you're heading for the ski slopes then you'll obviously have to make this drive in the winter months, which means that snow and ice are possible on the roads.
To avoid the congestion that's often a feature of this route at busy periods, try not to travel on a Friday evening or early Saturday. Some travellers recommend leaving really early and getting breakfast in Breckenridge so that you're ready to go by the time the ski lifts open.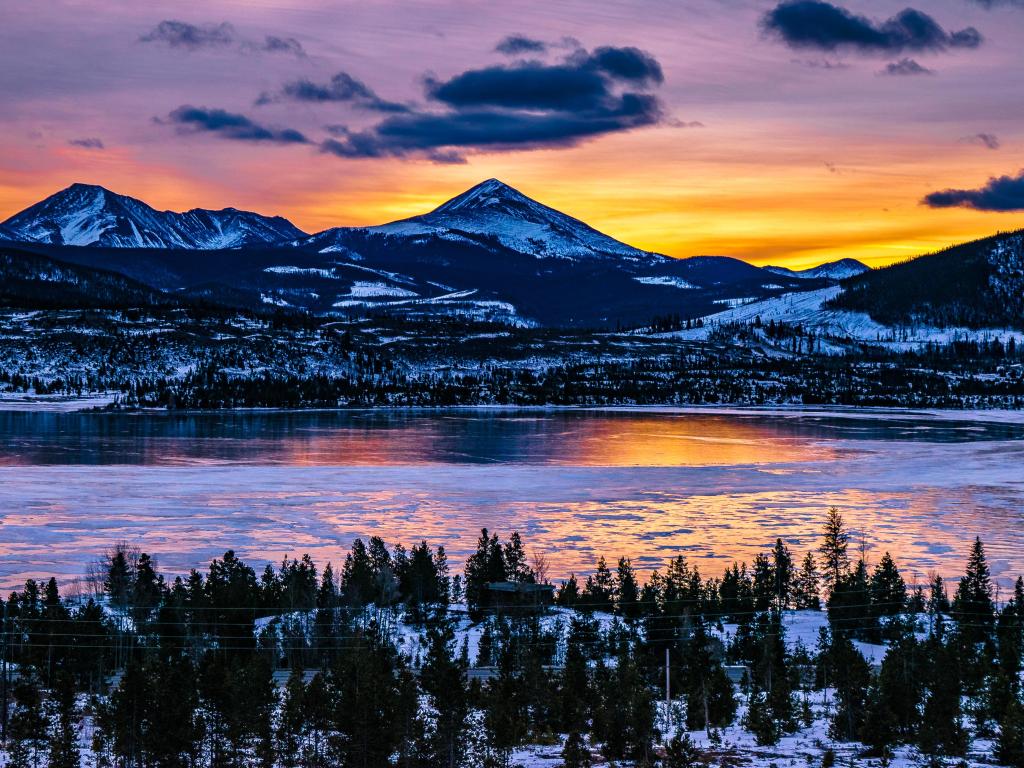 You can also enjoy the mountains at Breckenridge in summer, as the area is ideal for hiking and you can get great views. Keep in mind that even in the summer the route is a busy one ahead of weekends and holidays, as it's such a short hop from Denver to this popular getaway destination.