Is The Drive To Lake Tahoe Dangerous?
Lake Tahoe sits across the border of California and Nevada, in the Sierra Nevada mountain range. It is a popular weekend getaway and vacation destination due to its beautiful lake views and mountainous location with plenty of outdoor activity possibilities.
The 110-mile route contains some winding mountain roads, steep drop-offs, and occasional heavy traffic on 2-lane roads. What can make this drive seem scary is the sometimes severe winter weather. Keep safe by checking road and weather warnings.
You will reach the stunning Lake Tahoe after the drive, and enjoy swimming in clear water surrounded by mountains, and ski on the nearby slopes through the winter. So, keep your eye on the prize and read on to get informed and prepare to enjoy the drive to this unbeatable wonderland safely.
Which route should I take to Lake Tahoe?
Comparison of route options to and around Lake Tahoe

| Route | Distance | Drive time |
| --- | --- | --- |
| Bridgeport Route | 85 miles | 1 hour 45 minutes |
| Sacramento Route | 110 miles | 2 hours 10 minutes |
| Lake Tahoe Loop | 80 miles | 3 hours |
Lake Tahoe lies in the Sierra Nevada Mountains between northeastern California and western Nevada. The nearest major cities are Sacramento, to the west in California, and Reno (to the northeast in Nevada).
The two major settlements close to Lake Tahoe are Tahoe City (on the northwest shore of the lake) and South Lake Tahoe. Your route options depend on where you're starting point, as Lake Tahoe is well connected to other parts of the United States.
Travelers often approach the area from Sacramento via either I-80 or US-50, or from the south along US-395 which connects Yosemite National Park and Los Angeles (and possibly Las Vegas with some detours).
The circular loop around Lake Tahoe is also a popular drive. This can be completed in around 3 hours of nonstop driving.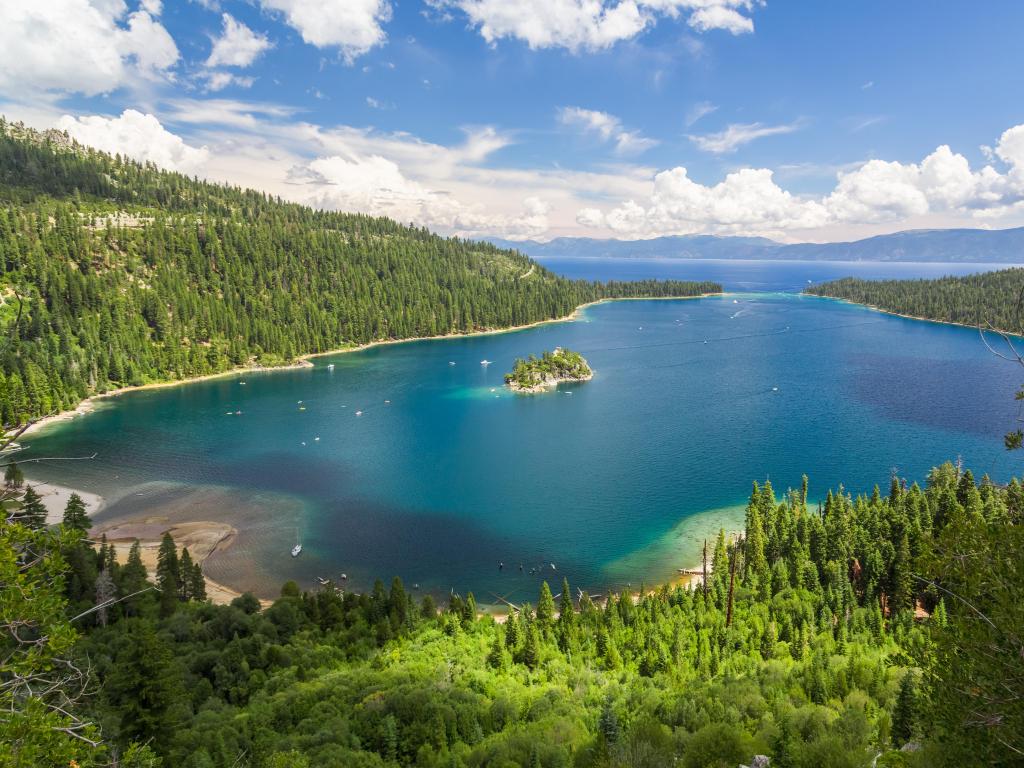 The drive along US-50 from Sacramento is usually the safest way to approach Lake Tahoe, as it's a well-maintained highway which is slower and less busy than the alternative cross-country route on I-80.
Most of the way there are shoulders and a clear center line. However, seeing as Lake Tahoe is in the mountains, all routes to reach the lake will require some mountain driving.
Whichever route you take to Lake Tahoe, it's important to check the weather conditions before you set off, especially in winter.
Driving on the safest route to Lake Tahoe from Sacramento
The safest route to Lake Tahoe is taking US-50 from Sacramento. This route is well-maintained with relatively slow speed limits. There are two lanes, one in each direction. However, it's not always possible to pass other vehicles.
US-50 has a lower summit than the alternative I-80, but it still gets up to 7,377 ft at Echo Pass where there's a section of steep ascents/descents and hairpin turns.
It's not a straight road but most drivers find the twists and turns manageable for most of the route. The section around the Echo Pass is the exception, where you'll need to take extra caution.
This route has some services including gas stations and cell phone coverage. If you need to rest, there are several pull-in points and small towns along the way.
Driving from Bridgeport to Lake Tahoe
If you are heading to Lake Tahoe from Las Vegas, you will most likely pass through Bridgeport in California. The Bridgeport Route follows US-395 north then cuts across to NV-207. This is mostly a 2-lane undivided highway.
The route has low barriers at some sections. You'll reach the highest altitudes and worst weather at the Devil's Gate Pass which reaches 7,519 ft then the road winds down steeply to Walker, following the West Walker River.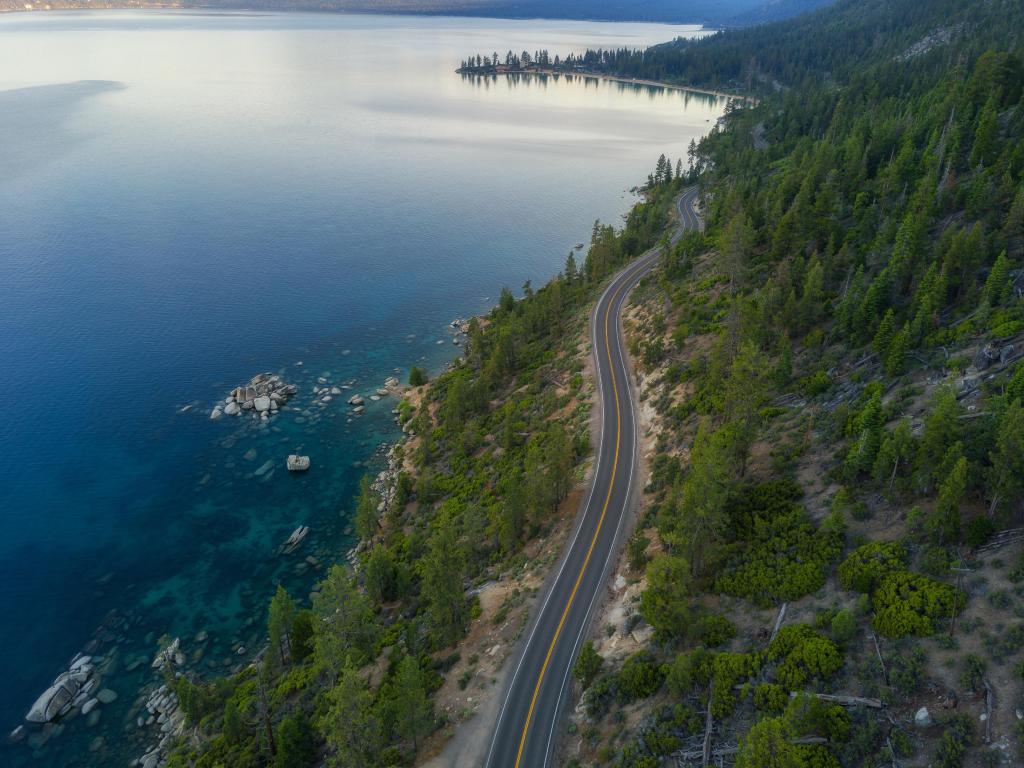 The road then hugs the shore of Topaz Lake where there's a steep drop-off down to the water (there's a shoulder and a barrier here).
NV-207 has some steep descents and tight bends as the road runs through the mountains. What's more, closures due to snow and ice are possible on this road but for the most part, it's a well-kept road.
Driving around Lake Tahoe
The route along Lake Tahoe is one of the most beautiful drives in America but you need to pay attention and drive safely. There are steep drop-offs on parts of the route and they don't all have barriers so take these sections slowly.
Along the windier sections of the roadway, there are some tight hairpin turns, especially on Route 89 on the west of the lake.
A helpful tip is if you take the drive anti-clockwise then you'll have the other lane between you and the lake (and any drop-offs) for most of the way. However, this means you'll have to cross the traffic to pull in and out of any scenic overlooks you stop at.
Things to know that can impact the drive on the safest route to Lake Tahoe
Traffic and weather are the most common factors that can cause delays or unsafe driving conditions on this route. We recommend carrying winter chains and making sure your vehicle is ready for winter weather, with winter tires fitted if possible.
Heavy snow can result in occasional closures along this route, especially crossing Echo Pass. If this is the case, consider using I-80 as an alternative route or stay the night in Sacramento.
The heaviest traffic and the biggest trucks tend to make this journey via I-80 so US-50 traffic tends to be lighter. However, rush hour traffic is still an issue on this route so avoid peak times such as the morning and evening rush hour and Saturday mornings.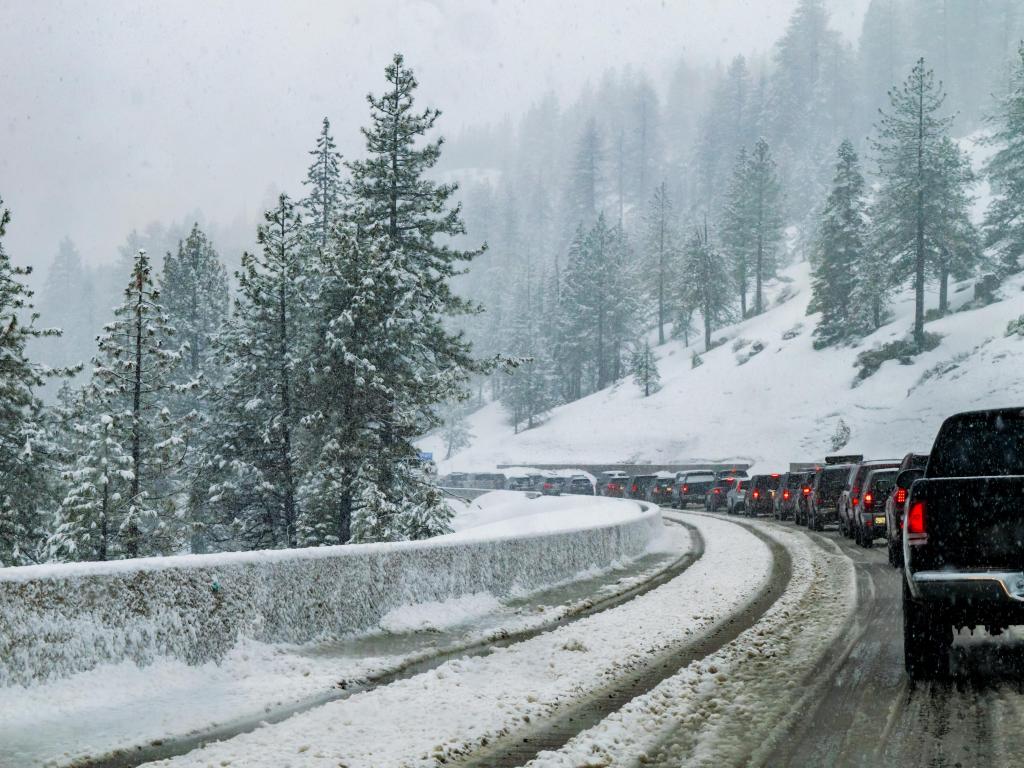 Other factors that could delay your drive include wildlife and lack of lighting. Some sections of the route don't have any street lighting so take extra caution if you're not used to rural driving.
Wildlife may stray in the roadway from time to time. Always pay attention to your surroundings and slowly decrease your speed if you see an animal on the road.
Tips to drive to Lake Tahoe in the safest way
Even though there are some dangerous areas and driving conditions may change, there are things that you can do to make this drive safer.
First, make the trip in the early morning in the summer or the afternoon in winter. It is a good idea to avoid traveling on Friday nights or Saturday mornings too as the roads tend to get busy during these times with long-weekend or weekend travelers.
Make sure your vehicle is fitted with winter tires in the winter and carry snow chains. Or, be prepared to stop and fit them along the way.
If you're hiring a car, make sure you get a vehicle with winter tires and/or chains as some rentals don't let you fit your own chains.
Another important tip to staying safe is making sure you have adequate fuel for your journey in case you have to turn back due to bad weather. Check weather and traffic advisories with the Division of Traffic Operations - Road Information - California Highway Information.
Do a "virtual drive" using Google Street view so that you can prepare yourself and "see" the route for yourself beforehand. This can also prepare you to know where the best stop-offs and scenic spots are along the way.
Be mindful of HGVs and their limitations and be prepared to slow down if you end up following a heavy truck on a 2-lane road.
Alternatives to driving yourself to Lake Tahoe
If you don't feel comfortable driving into Lake Tahoe, you have a few other options, taking a bus being one of the most popular alternatives to driving.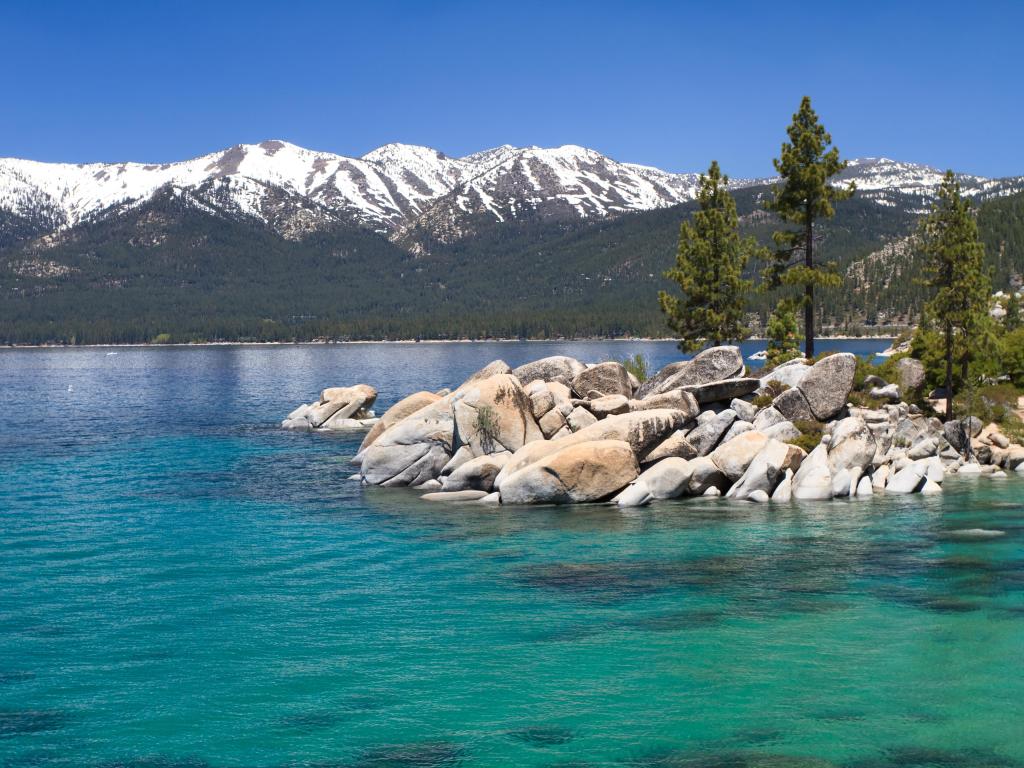 There are buses from major cities like Sacramento, Los Angeles, and Las Vegas (check the operators' websites for schedules ahead of time) and these can have seasonal schedules.
You can also take a train from Sacramento to Truckee. Note that this train ride will not get you directly to Lake Tahoe. From here, it's a 30-minute bus ride to Tahoe City.
Best time to drive to Lake Tahoe
Roadways are often much easier and safer in summer, but you'll miss the beautiful winter landscapes and activities. However, snow is possible for much of the year and as these routes all cross mountains where the chances of hitting snowfall or icy roads are always something to be aware of.
Traffic can be heavy on Friday night/Saturday morning and in the run-up to holiday periods so avoid these times if you're concerned about taking 2-lane roads in heavy traffic.
If you are driving from a major city, it goes without saying that avoiding rush hour in the morning or evening will help make your drive faster and smoother.
As mentioned, there are several winding mountain roads, so it might be a good idea to avoid driving at night to make sure you have full visibility and a better idea of what awaits you ahead.