15 Best Winter Road Trips from Toronto
Toronto is a vibrant city, famous for its diverse food scene, major sports events and buzzing arts and entertainment scene. Though the city shows no signs of slowing down once snow hits the ground, you've got plenty of choices if you want to escape for some winter fun elsewhere.
Whether you want to embrace the snow or head for warmth, a winter road trip from Toronto can involve outdoor recreation in stunning nature, foodie cities and wineries, winter festivals in picturesque settings, or seeking warmer weather at the coast.
Whichever kind of winter road trip you have in mind, we've pulled together key information for a variety of destinations to help inspire your trip. Read on for our guide to the places to go, how to get there, and what to do once you arrive.
Best winter road trips from Toronto: a quick overview
Single day trips (under 3 hours each way)
If you want to experience the snow at its most picturesque, head out of the city and enjoy one of these shorter trips for quaint Christmas markets, stunning winter scenery and a whole range of snow sports.
1. Kitchener (Christkindl Market) and St Jacob, ON
1 hour 30 minutes from Toronto (120 km)
Why you should visit: The shortest day trip from the city on the list, this destination offers a unique program of seasonal festivities with a German flare.
Kitchener is a former German Mennonite town that is rich in German heritage - walking through the snowy streets it really feels like you've stepped back in time to Bavaria, Germany.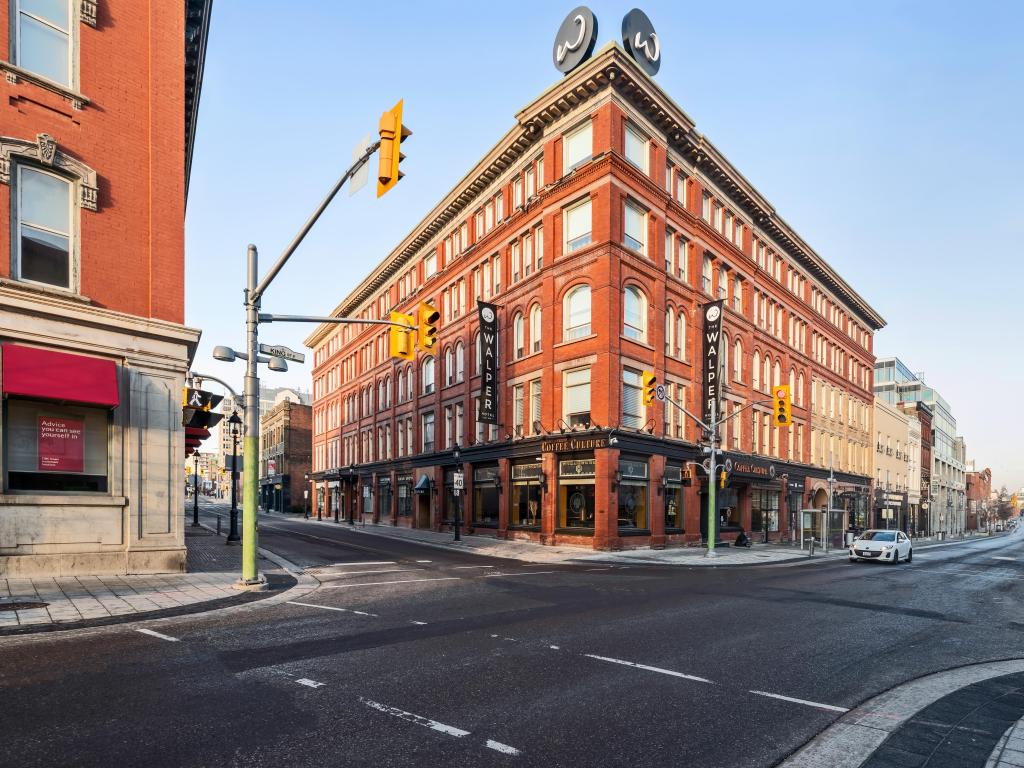 How to get there: Head west on ON-401 out of Toronto and turn north on Highway 8 west towards Kitchener. From Kitchener, head north on ON-85 to St Jacobs, then onward to the St Jacobs Farmers' Market.
Our highlights: Turn back the clock 200 years and this region was settled by German Mennonites, whose heritage is prevalent in Kitchener's architecture, language and cultural traditions.
One such tradition is the Christkindl Market, which from December 1 to 4 is a charming place to browse vendor stalls, get Bavarian-style treats, and do some holiday shopping.
Kitchener boasts another famous market - the St Jacobs Farmers' Market - which features over 250 vendors selling everything from fresh produce, baked goods, home furnishings, toys, crafts, and a flea market.
November is a great time to go as the whole venue is lit up with sparkles, and you can even take horse-drawn winter sleigh rides!
If you want to try skiing, snowboarding and snow tubing, the Chicopee Ski Club offers all three, or try the Waterloo Region Nordic Sports Club cross-country ski trails that cover southern Kitchener.
For a hit of culture, check out the Kitchener-Waterloo Art Gallery, which displays selections from the culturally diverse city of Kitchener as well as art on loan from other galleries.
Bonus: During the holidays, Victoria Park puts on a Christmas Fantasy festive light display with a synthetic ice-skating rink, which is free to experience!
Our travel tips: Book any outdoor activities in advance and check weather conditions online before you set off.
2. Niagara Falls and Niagara-On-The-Lake
1 hour 50 minutes from Toronto (150 km)
Why you should visit: The Niagara River is a stunning sight to behold even in the colder months, and the scenery created by the Falls with ice and glistening snowy surrounding is not-to-be-missed.
Avoid peak summer times and see this world wonder in the winter instead when it's quieter and enjoy the festive holiday vibe in the surrounding city.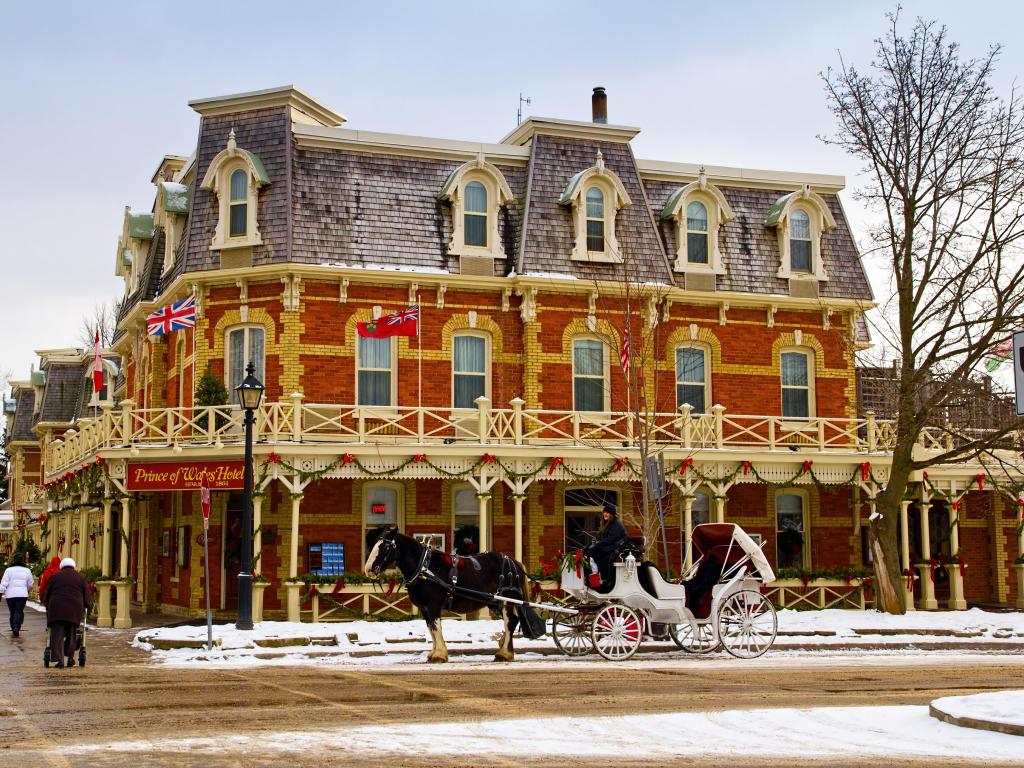 How to get there: Head south on Queen Elizabeth Highway through Hamilton. Take the exit for Regional Road 55 towards Niagara-On-The-Lake. Take Niagara Parkway south to Niagara Falls.
Our highlights: The surrounding areas are filled with local wineries - we recommend Wayne Gretzky's which has an ice rink on-site or Peller Estates which has an ice bar. If you're looking for something more romantic that's great for couples, try the Trius Winery and Restaurant.
The Icewine Festival in January is a festive winter wonderland that might just convince you to stay for the weekend - with special winery visits and tours as well as dinner pairings.
Sentineal Carriages operate horse-drawn carriage rides, which is a nostalgic way to explore the historic town of Niagara-On-The-Lake.
Niagara Falls is obviously the star of the show and is particularly spectacular in the winter when parts of it freeze over. In the city of Niagara there are plenty of restaurants and shopping, as well as a butterfly conservatory which keeps the butterflies (and you!) warm all winter.
Bonus: Inniskillin winery is the original maker of icewine, which you can sample at their premises. Icewine is made with grapes that have frozen on the vine and is very sweet, like a dessert wine.
Our travel tips: If you want, you can cross the Rainbow International Bridge to step onto American soil, though immigration customs checks do apply.
3. Presqu'ile Provincial Park
1 hour 50 minutes from Toronto (150 km)
Why you should visit: On the shore of Lake Ontario, this park is open all year round and offers a unique chance to see ice cliffs, ice volcanoes, and other ice formations up close during the winter months.
This wintery wonderland can be explored by car or on foot, for a peaceful moment of solitude in the wilderness.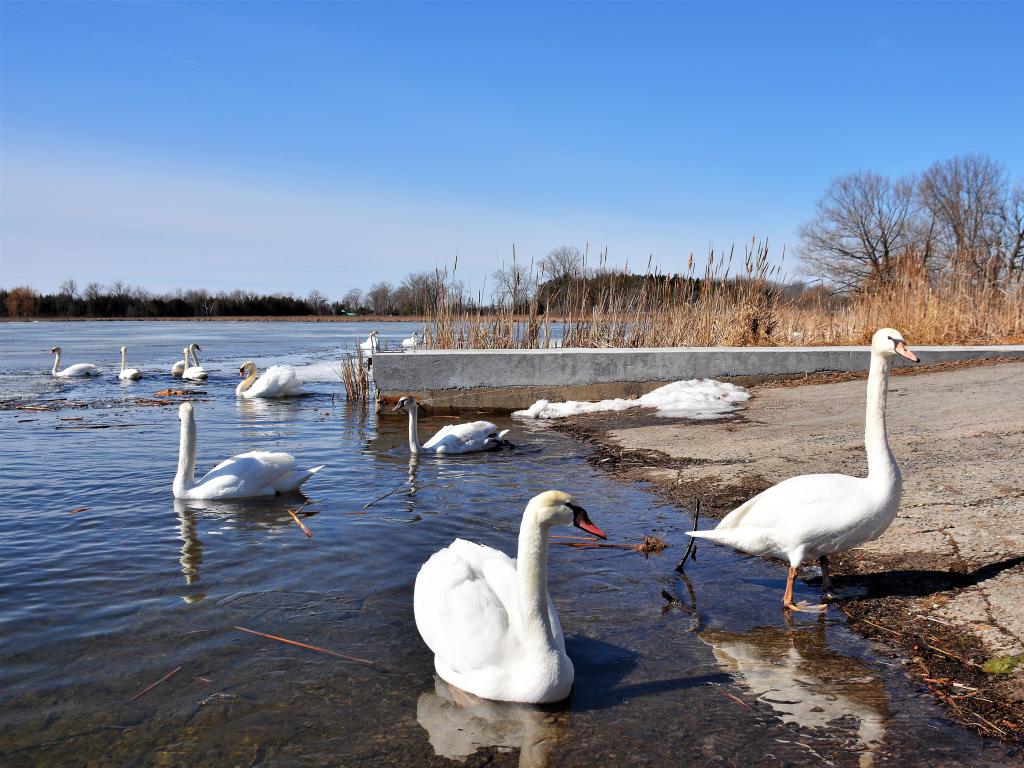 How to get there: Go east on ON-401 and turn south at Purdy Corners on CR25 to follow County Road 2 to the park entrance.
Our highlights: See elusive animals such as foxes, river otters, long-tailed ducks, bald eagles, snow buntings, and snowy owls on the Winter Wildlife Detective Program.
See the famous ice cliffs from the shoreline of Lake Ontario, including pancake ice formations and icebergs. It's also a great place to go snowshoeing, with plenty of outfitters nearby and established trails.
Brimacombe is a small ski area midway between Toronto and the park, which is especially good for beginners!
Waldeinsamkeit means "solitude in the forest", and there is plenty of that on offer here during quiet winter months in the park.
Our travel tips: Don't walk directly on the ice on the shoreline of the lake as this can be dangerous! Stay on the trails on solid land unless you are with an experienced guide.
4. Collingwood and Blue Mountain Ski Resort
2 hours 10 minutes from Toronto (170 km)
Why you should visit: With a beautiful setting on the shore of South Georgian Bay, this area is under 3 hours from Toronto and offers plenty of winter recreation activities including skiing, snowboarding and sledding.
The Blue Mountains area boasts nearly every winter sport imaginable, as well as indoor activities in the historic village and local spas. So, whether you are looking to hit the slopes or want to pamper yourself, this road trip has those boxes checked.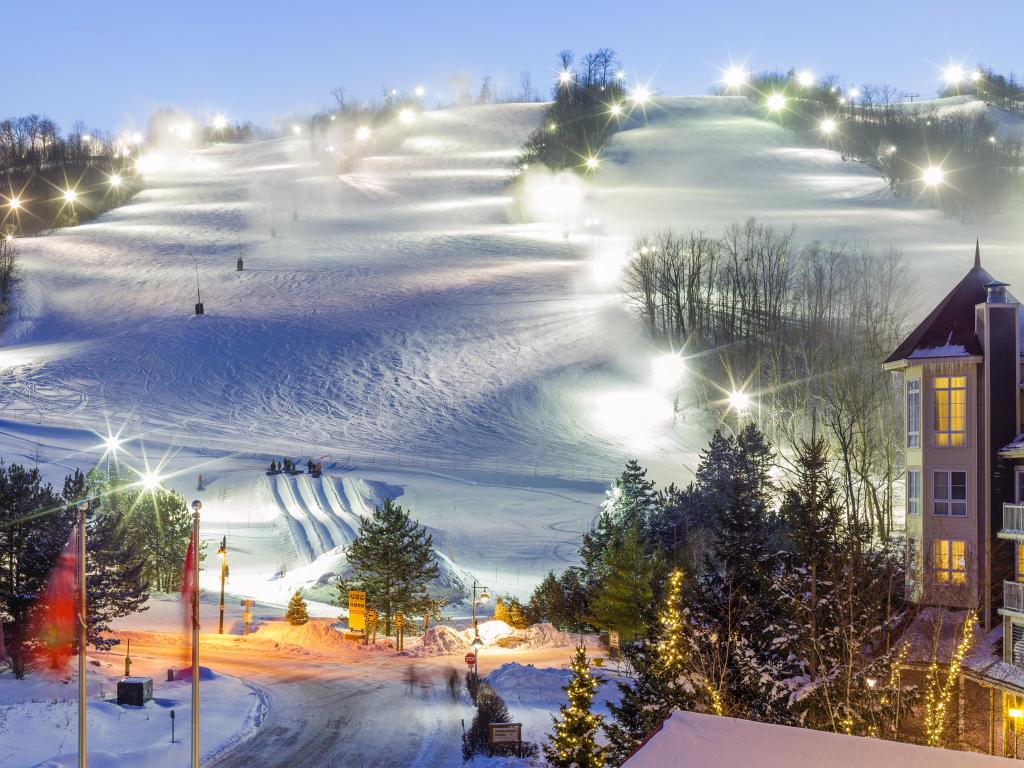 How to get there: Take ON-400 north to ON-26 W to Collingwood, then take Mountain Rd (19) to the Blue Mountain Ski Resort.
Our highlights: The Blue Mountain area is not actually a mountain, but in fact the edge of the Niagara Escarpment which is one of Canada's UNESCO biosphere preserves, hence the stunning landscape.
Blue Mountain Ski Resort boasts 43 runs for skiing or snowboarding and a snowmaking system so you always have fresh powder. It also offers tubing, cross-country skiing and snowshoeing trails.
If skating is more your thing, Woodview Mountaintop Skating is a 1km loop on top of the "mountain" with views off the escarpment, accessed via the Scenic Caves Road. You can also take in the landscape from the suspension bridge at the Scenic Caves Nordic Center.
After you've worked up an appetite, Collingwood is a historic cultural town with quaint shops and dining options.
Bonus: Collingswood has multiple craft beverage breweries, from beer to kombucha and coffee houses - make sure to take a local tour to sample some!
Our travel tips: Look out for scenic drives along Pretty River Provincial Park, Eugenia Falls and along Highway 26.
5. Muskoka Lake and Bracebridge, ON
2 hours 15 minutes from Toronto (200 km)
Why you should visit: This nearby region is only a short hop from Toronto and offers a range of unique winter activities in a stunning setting.
The Muskoka region is known for its natural scenery and is the closest natural wilderness to Toronto, featuring crystal lakes, pine forests and rocky shorelines.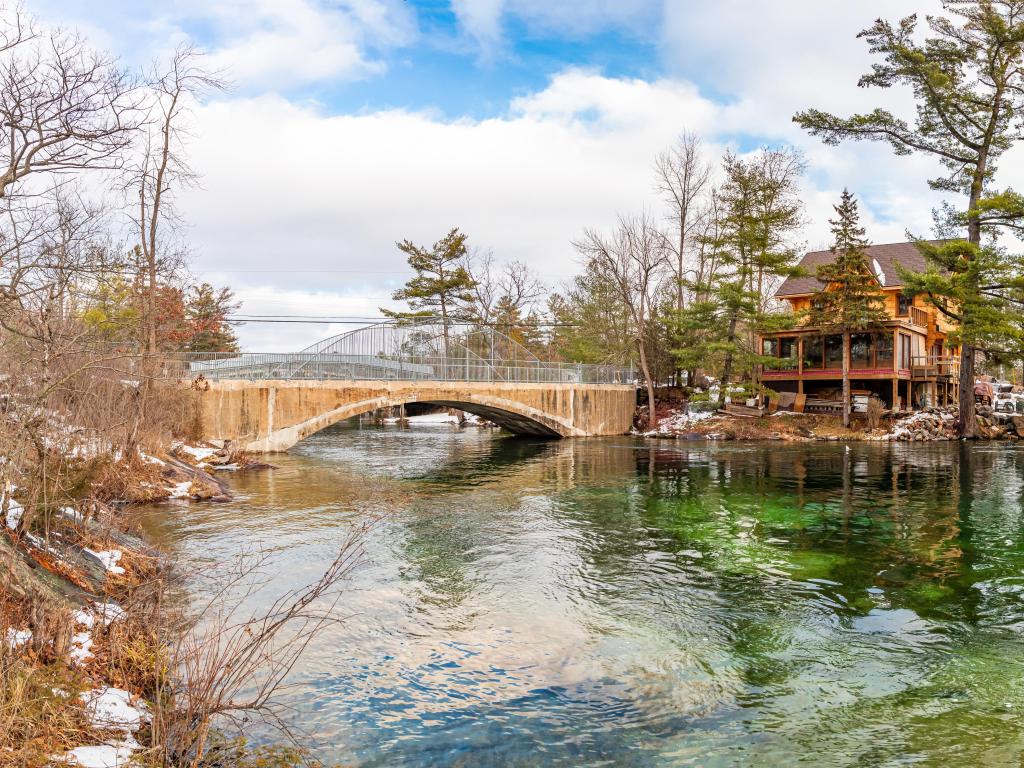 How to get there: Head north on ON-400 out of Toronto and onto ON-11 to Muskoka District Road to reach Bracebridge. Lake Muskoka is to the west of Bracebridge and has multiple access points.
Our highlights: During the winter you can visit Santa's Village, a Christmas-themed amusement park with a petting zoo, rides for kids (and big kids!), and a zip line.
Muskoka Lake Farm and Winery is situated directly on the lake - you can fly around their unique ice-skating trail on a bed of frozen cranberries before enjoying some local wine and cheese by the fire.
Go ice-fishing on Lake Muskoka or Three Mile Lake, with many outfitters and companies in the area offering packages including snowmobile tours.
You can also take a romantic horse-drawn carriage ride at Twin Maples Farm, which is located south of Bracebridge.
Bonus: The town is exactly halfway between the equator and the North Pole, which is the inspiration behind the Santa's Village Theme Park.
Our travel tips: Book Santa's Village in advance, as it's open only on weekends from November through December. For New Year's Eve they hold a 'Partybration' on December 31!
Click here to skip back to the top.
Weekend trips (3-6 hours each way)
Getting a bit further out of Toronto offers an even greater range of outdoor winter activities, but you'll also find towns with significant cultural heritage, spas and festive experiences.
Whatever your speed, what these weekend trips have in common are stunning scenery and cozy places to unwind after a day in the snow.
6. Huntsville and Algonquin Provincial Park, ON
3 hours 10 minutes from Toronto (300 km)
Why you should visit: This untouched region houses spectacular waterfall scenery in a remote setting, with the chance to encounter local wildlife.
Away from the city and well-traveled areas, this haven of solitude has a plethora of outdoor adventures on its doorstep, such as world-class skiing, snowmobiling and dog sledding.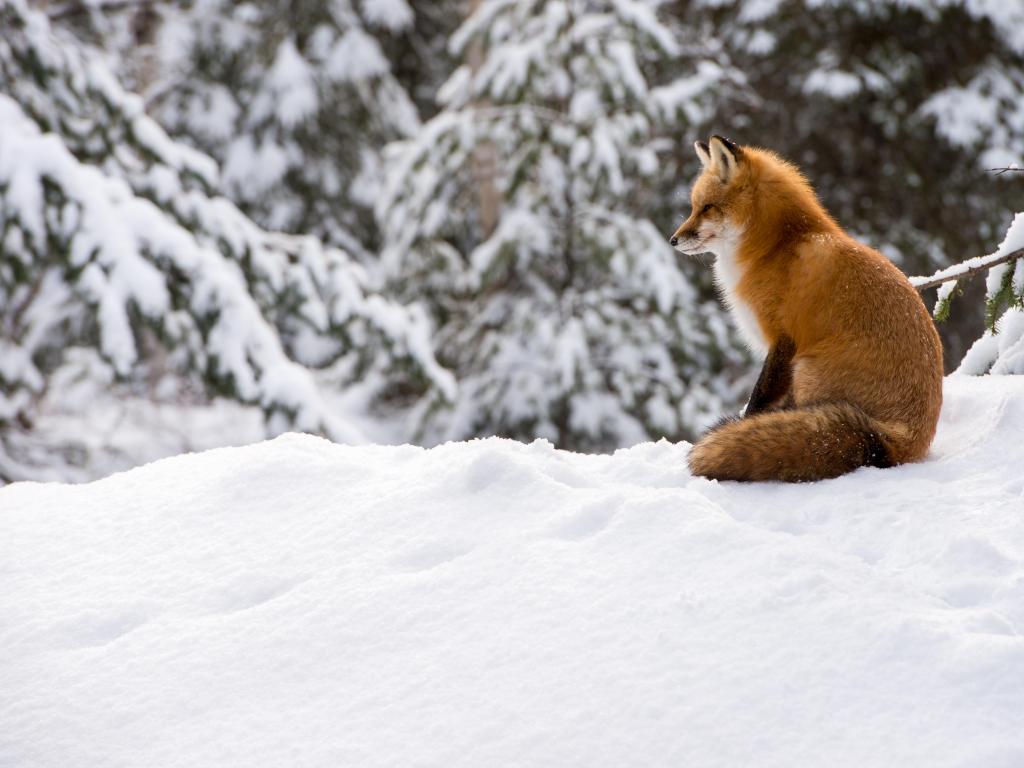 How to get there: Head north out of the city on ON-400 N and ON-11 and take exit 219 to Huntsville. From Huntsville, head east on Muskoka District Road 3 to ON-60 east towards Ottawa via Algonquin Park.
Our highlights: There are a whole host of snow sports on offer in Algonquin Provincial Park, including snowmobiles, hiking, skiing, snowshoeing or biking around the old railway trail. There are plenty of outfitters in Huntsville who can get you kitted up.
Winter camping is allowed in the park, or you can rent a yurt. There is plenty of wildlife to encounter, including moose and bears if you're lucky!
You can stay at Deerhurst Resort or Hidden Valley Resort to access the Hidden Valley Highlands ski area, which has lots of options for ski-and-stay packages, with runs for all levels and ski schools for kids.
If you've still got the energy, there's an ice-skating trail and cross-country skiing trail within Arrowhead Provincial Park north of Huntsville
Bonus: You can go dog sledding through the snowy forest north of Huntsville - make sure to book ahead.
Our travel tips: Winter in the Wild Festival in Algonquin takes place in mid-February, so visit then for indoor and outdoor events throughout the park.
7. Lake Nipissing, ON
3 hours 30 minutes from Toronto (350 km)
Why you should visit: This trip is the furthest north from Toronto, and it is worth the longer travel distance to see the beautiful Lake Nipissing and explore the surrounding wilderness.
Lake Nipissing is a fisherman's paradise and a great place to try your hand at ice fishing. It contains over 40 species of fish and attracts keen anglers from all over.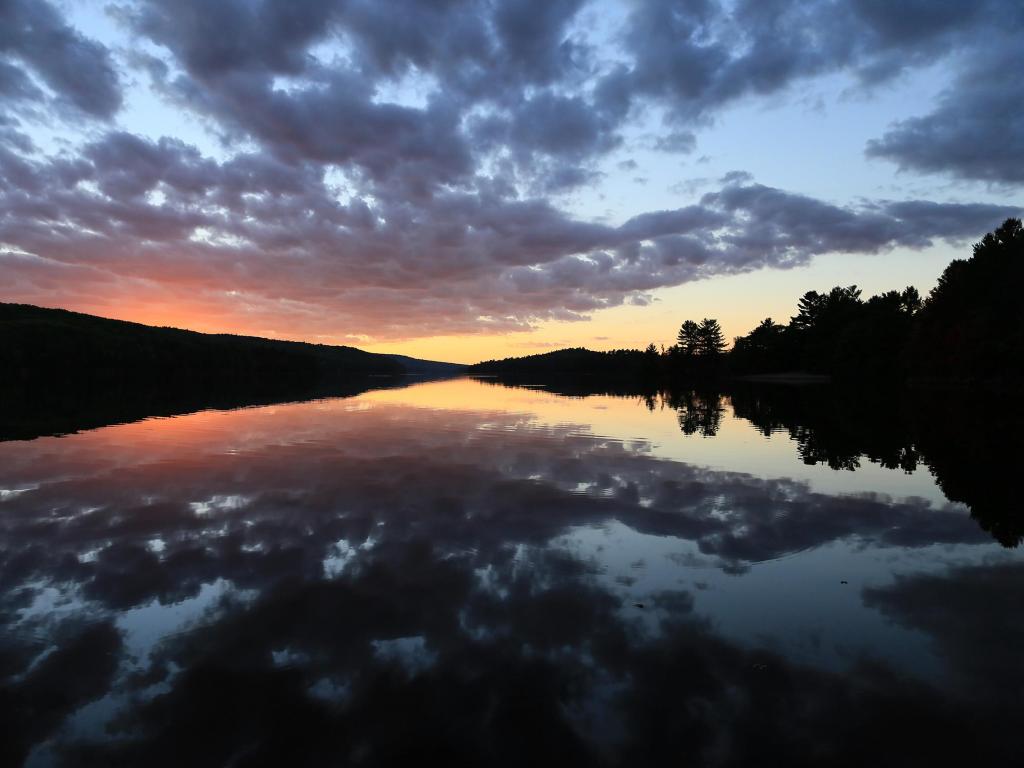 How to get there: Head north out of the city on ON-400 and exit slightly east to ON-11. Head north to Powassan and from there head west on ON-534 to Nipissing.
Our highlights: There are plenty of lodges that can gear you up with bait and tackle for a day of ice fishing on the lake. The lake itself is only 4.5m deep but can get choppy, so make sure you check the weather ahead of your trip.
Local fishing hot spots include Callander Bay, Smith Island, Deep Bay, and Nipissing Beach.
Once you've seen your fill of fish, there are lots of other wildlife to spot - moose, wolves, bald eagles, ospreys, ducks and loons can all be found along the shores of the lake for the keen observer.
There are many small towns and communities that border the lake, many of which are worth visiting to eat fresh fish. North Bay is the largest lakeside city that offers the most dining and overnight options.
Bonus: Try and spot Manitou Islands Provincial Park in the middle of the lake – these mysterious islands are said to be haunted by ancient people. You can catch a glimpse of the islands from Highway 17.
Our travel tips: Ice fishing season generally starts around New Year's Day and continues while the lake is frozen until mid to late April.
8. Kingston and Morrisburg, ON
4 hours 10 minutes from Toronto (400 km)
Why you should visit: Take this trip to discover the host of islands along the St Lawrence River, many of which light up for the festive season. This trip takes you on a rustic drive through stunning island scenery and with the opportunity to discover historic sites and museums.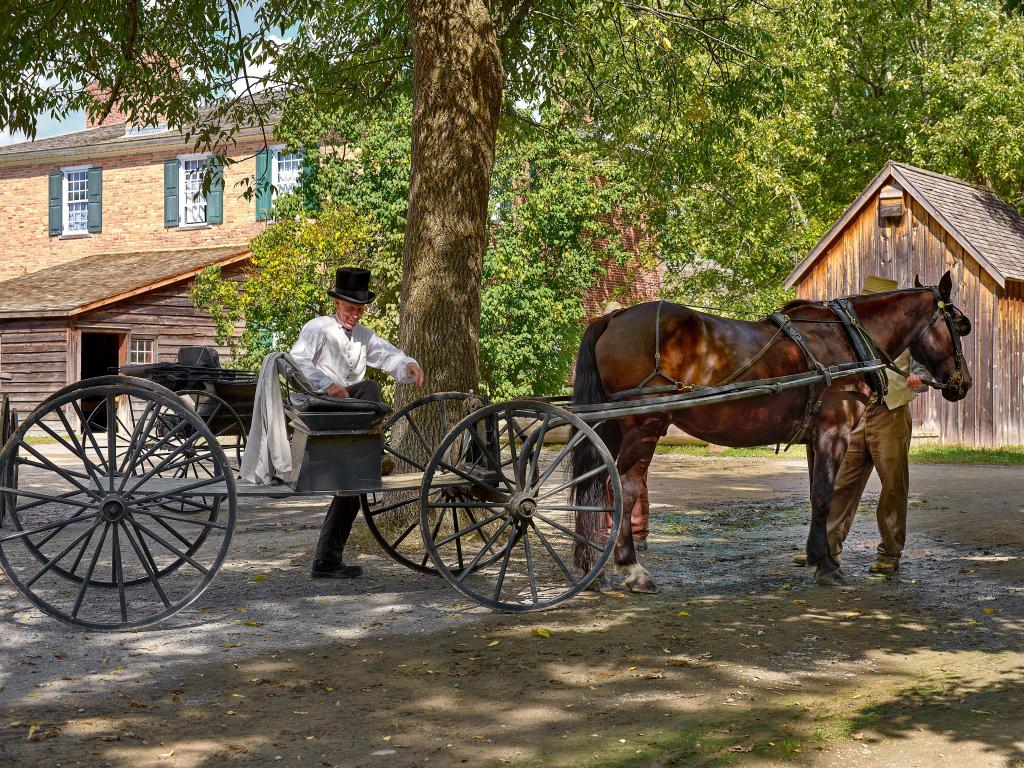 How to get there: Head east out of the city on ON-401 to Kingston. Continue on ON-401 and take exit 758 south towards Morrisburg and the Upper Canada Village on County Road 2.
Our highlights: There are literally thousands of islands in the Lawrence River that you could spend days exploring. There are boat trips during which you can see the mansions and cottages atop this unique archipelago, which stretches from Kingston to Morrisburg.
Upper Canada Village is a living history museum that travels back in time to 1866. There are over 40 historical sites to explore and you can speak with interpreters about early English Canadian lifestyle.
During winter, the Alight at Night festival transforms the village into a winter wonderland.
If you're into history, Kingston is home to several significant sites such as Fort Henry (built to protect the navy dock during the War of 1812), the Grand Theater, Penitentiary, Royal Military Museum, and Bellevue House.
Bonus: The famous Thousand Island salad dressing gets its name from this group of islands, though no one is quite sure how it originated.
Our travel tips: The drive along CR 2 following the St Lawrence River is highly scenic, but can move slowly in winter weather.
9. Ottawa, ON
4 hours 50 minutes from Toronto (450 km)
Why you should visit: Ottawa is the capital of Canada and a smaller city that offers its own unique charm away from the bustle of Toronto. In winter, this charming city is blanketed in snow and transforms into a stunning winter wonderland with quintessential northern charm.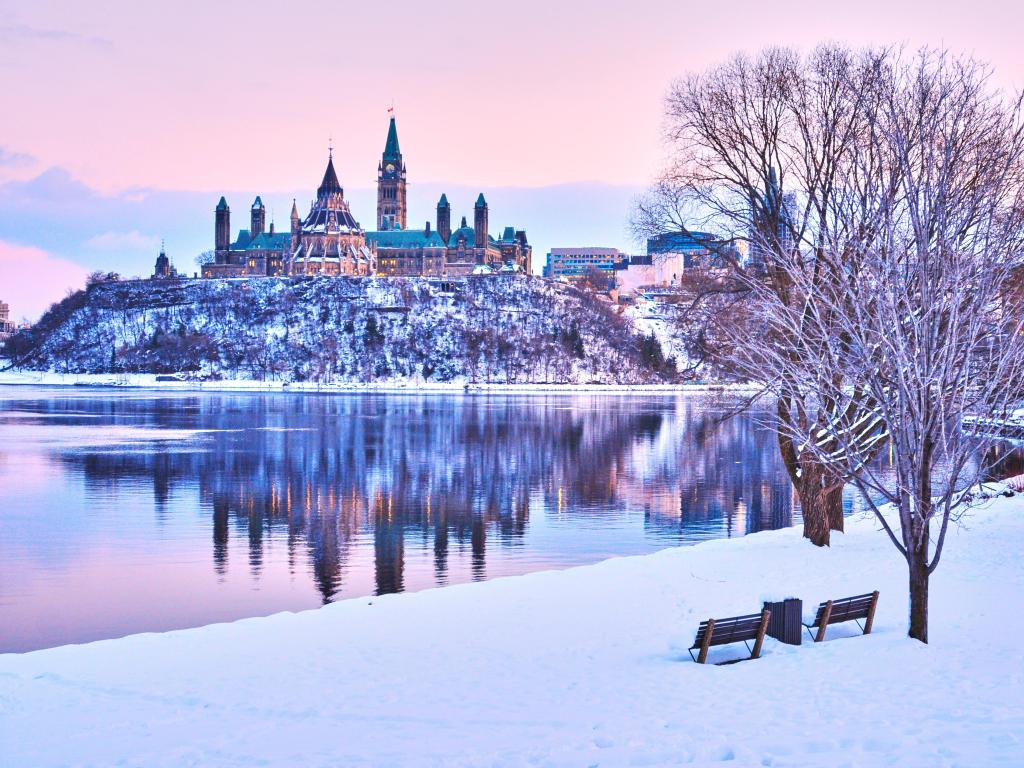 How to get there: Head east out of the city on ON-401 E and turn north on ON-416 N to Ottawa. Take exit 120 from the Trans-Canada Highway/ON-417 to reach the city.
Our highlights: The Winterlude Festival takes place in February, a region-wide celebration of Canadian winter activities including dining and culinary experiences, ice sculpture contests, concerts and a giant snow playground in the middle of the city!
Ottawa is a multicultural city with influences from the First Nations, French, Irish, Scottish, and English so there is a huge diversity of cuisines. With an abundance of surrounding agriculture, you'll also find many local farm-to-market eateries and wineries.
If you want to get active, there are natural skiing areas just outside of Ottawa at the Chelsea Nordic Ski Club, or you can ice skate on the frozen Rideau Canal - a UNESCO world heritage site.
As the nation's capital, the city boasts seven major national museums displaying art, history, science, and military objects. You can also see the government buildings where Canada's parliament meets or visit the Notre Dame Cathedral Basilica built in the 1800s.
Bonus: The largest spa in North America is actually in Ottawa - visit Nordik Spa Nature for a Scandinavian-inspired retreat and the only saltwater floating pool in Canada!
Our travel tips: Don't miss the Christmas lights around Ottawa leading up to the holiday weekend, while Winterlude takes place for the whole month of February.
Click here to skip back to the top.
Longer trips (6+ hours each way)
If you're keen to head slightly further afield, there are a whole host of cities within reach that each offer their own charm. From high-end shopping and bright lights to foodie capitals and historic markets, there are plenty of rich destinations to set your sights on from Toronto.
10. Montreal and Mont-Tremblant
7 hours from Toronto (670 km)
Why you should visit: Winter is the tourism off-season in Montreal, meaning fewer crowds at the Christmas markets and amazing restaurants - it's also the food capital of Canada!
Montreal and Mont-Tremblant are in close proximity, meaning you can get your culture and foodie fix before heading up to the picturesque ski resort for a winter getaway.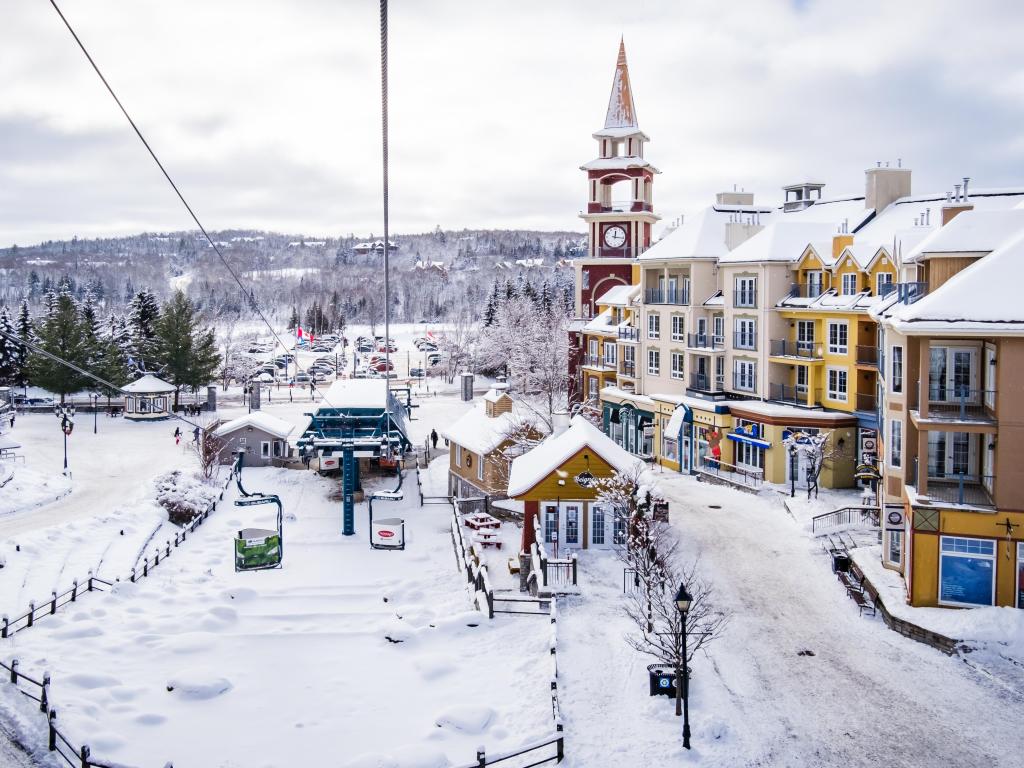 How to get there: Head east out of the city on ON-401 to Montreal. From Montreal, head north on Autoroute 15 to Trans Canada Highway and then follow QC-117 to Sainte-Agathe-des-Monts. Head north from Mont-Tremblant on Mnt Ryan towards the Mont-Tremblant Ski Resort.
Our highlights: Old Montreal is a delight in the winter - get in the spirit at the downtown Christmas festival with sparkling lights, Christmas markets, ice skating and a Ferris wheel.
The city's namesake Mount Royal is a fun place to go sledding tubing or snowshoeing through the forest, and a great spot to catch a vista of the whole city.
For a unique spa experience, visit Bota Bota - a converted steamboat in Montreal - Scandinave Spa Vieux-Montréal or Ono Spa Tremblant. All these spas offer traditional Scandinavian treatments and hot and cold water plunge pools.
At Mont-Tremblant resort you can ski, tube, snowboard and even hit the casino at this scenic ski resort at the edge of the Mont-Tremblant National Park.
Bonus: Montreal is known for its food scene, and a great way to learn more is to take a food tour that teaches you more about the history, cultures, and cuisines on offer.
Our travel tips: Montreal is French-speaking, so you might want to brush up on your language skills in advance to fit in with the locals!
11. Stowe, VT
7 hours 40 minutes from Toronto (740 km)
Why you should visit: Winter brings a quiet beauty to the mountains of Vermont that's worth braving the cold for.
Stowe is one of the most established skiing areas in North America and has extensive facilities for all levels, while still maintaining its small-town charm and scenic beauty.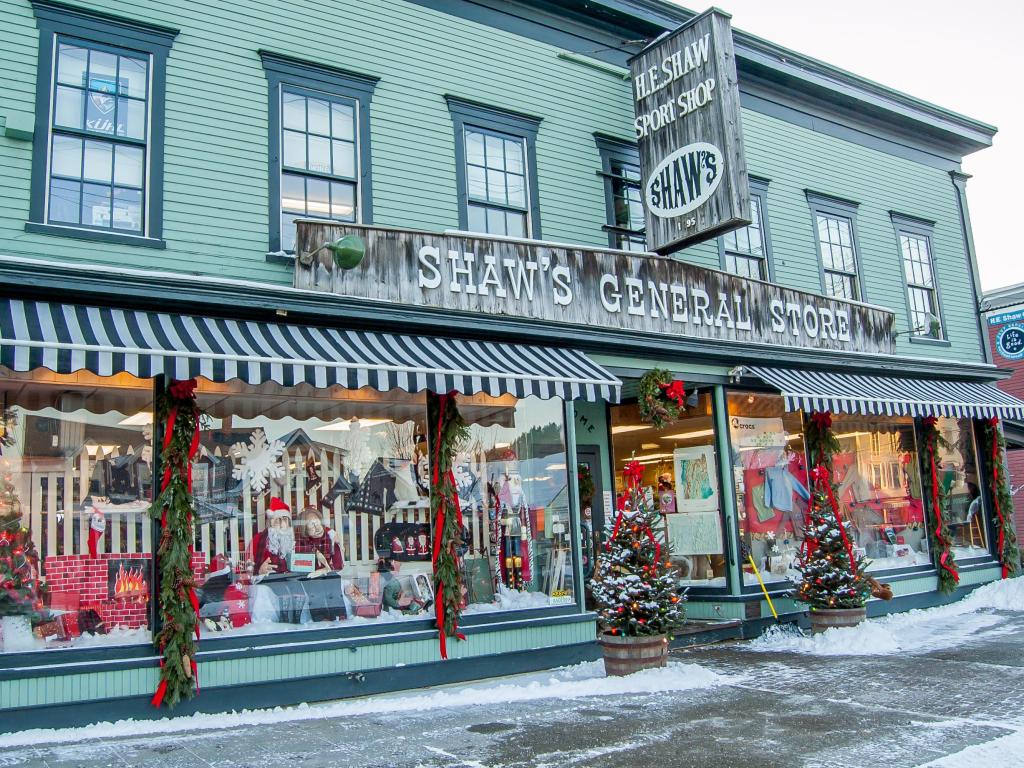 How to get there: Take ON-401 east toward Montreal. Cross into the USA via A 15 S and take I-89 south to Burlington. From Burlington head south on I-89 towards Montpellier and take exit 10 on VT-100 toward Stowe. Head up VT 108 to Stowe Mountain
Our highlights: Stowe Mountain Ski Resort will cater to all of your winter sports and recreation needs. The surrounding area also features activities like dog sledding, snowmobiling, biking and sleigh rides.
Downtown Stowe is straight out of a storybook, with cute shops, cafes, breweries, bars, and hotels. It's at its best when decked out for the holidays with lights and greenery, and you can visit Church Street Winter Marketplace in Burlington for festive food and drinks.
Bonus: On the way to Stowe, stop by the Ben and Jerry's Ice Cream Factory in Waterbury for a tour and a pint.
Our travel tips: If you find Stowe Resort is too crowded, you can try Bolton Valley Resort on the west side of the mountain.
12. New York City, NY
8 hours 30 minutes from Toronto (760 km)
Why you should visit: Manhattan is a classic trip all year round but is particularly spectacular in winter when it is lit up for the festive season.
New York City is a metropolis known for its endless shopping opportunities, food scene and nightlife. It's also world-famous for its Christmas celebrations - with trees, lights and countless Christmas movies set on its streets.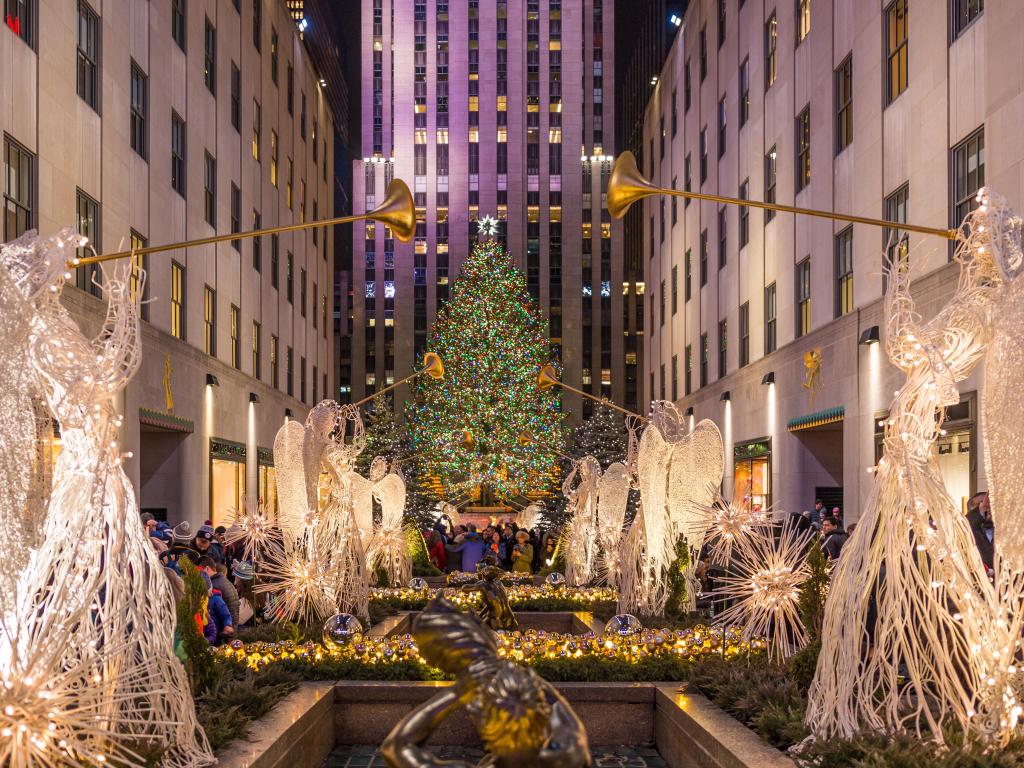 How to get there: Take Queen Elizabeth Way, ON-403 W, to Buffalo, NY. Take I-190 and NY-400 south to Aurora, NY. Head south on I-390, I-86, NY-17E, I-81 and I-380 to I-80, I-280 into Newark, NJ. Cross the Hudson River via the Holland Tunnel in Jersey City into Manhattan.
Our highlights: It wouldn't be New York without a trip to Fifth Avenue, the most famous shopping street in the city with luxury brands and storefronts straight out of the magazines. Take the opportunity to do some Christmas shopping or stare at the famous window displays.
Become a Christmas cliché by visiting the Rockefeller Christmas Tree and ice skating in the plaza or booking a seat at the Radio City Christmas Spectacular. There are also festive markets to visit at Bryant Park, Dyker Heights and Union Square.
The famous Times Square New Years' Eve Party takes place every year, featuring celebrity performances, the legendary ball drop and TV specials broadcasted worldwide.
For something more low-key, Lower East Side Orchard Street has art galleries, museums, and eclectic shops to browse. To round off the day, take in a Broadway show!
Bonus: The Rockefeller Christmas Tree is lit on Dec 1 with over 50,000 lights.
Our travel tips: Get your Broadway tickets in advance or try your luck at the red TKTS booths for same-day tickets.
13. Trois Rivières and Quebec City, QC
8 hours from Toronto (810 km)
Why you should visit: Quebec is the farthest Canadian city from Toronto by distance but is a charming destination for exploring the heart of French-Canadian culture.
Quebec City's old town is particularly charming in the winter, when it is covered in snow and festooned with Christmas lights and decorations.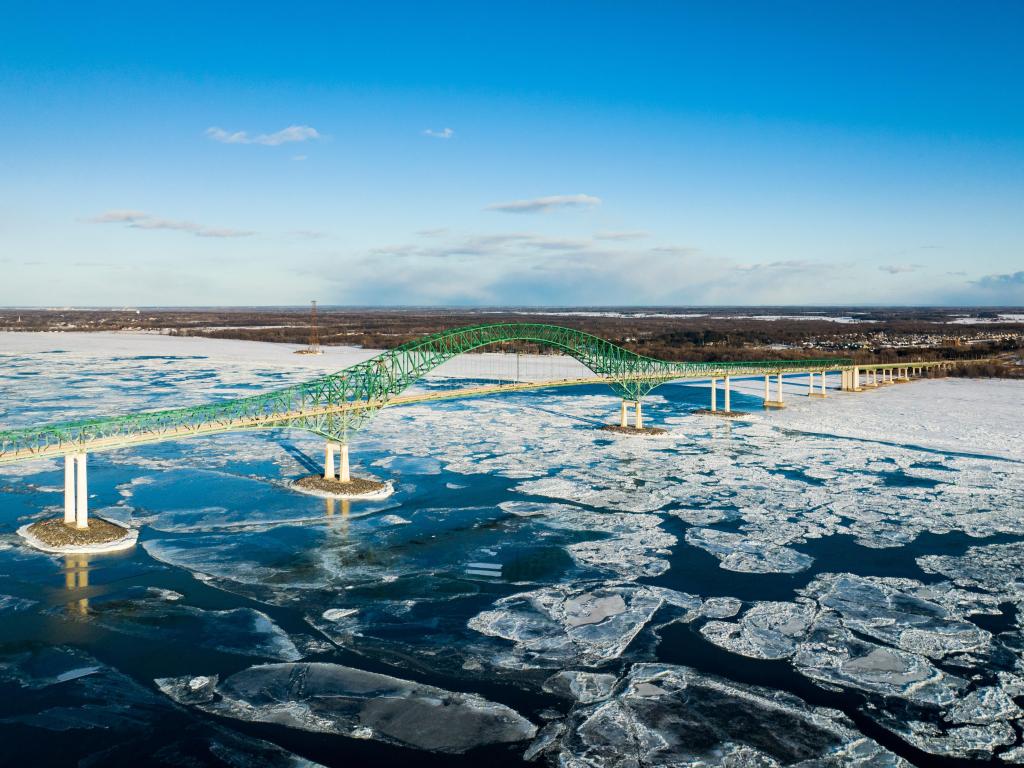 How to get there: Take ON-401 E toward Montreal. Continue East on A 20 through Trois-Rivières, Quebec, Canada and onto Quebec City.
Our highlights: Celebrate at the Quebec Winter Carnival from Jan-Feb each year, with drinks, games, shows and shopping - make sure to visit the sugar shacks and eat maple syrup rolled on top of the snow!
Spend the night at the Hôtel de Glace, a hotel constructed fully from ice every January to March. You can also drop by for a visit and have a drink in the ice bar or explore the surrounding park.
The Quebec City Christmas Market is a German-inspired outdoor market from November up until Christmas. German meets French culture in the food and drink on offer - sample a glühwein and a vin chaud!
Trois-Rivieres is the oldest city in Quebec and offers a historical display of 17th-century architecture. Named for its three rivers, this town is filled with picturesque streets, manors, prisons, churches and museums to visit.
Bonus: Quebec City's toboggan run is one of the oldest attractions in the city, built in 1884. Old doesn't mean slow - you can reach speeds of up to 70km/hr as you slide down the luge track!
Our travel tips: If you want to get out of the city and into nature, you can cross the St Lawrence River to access the Lac-Saint-Pierre Biosphere Reserve.
14. New Orleans, LA
22 hours 10 minutes from Toronto (2,240 km)
Why you should visit: Avoid the crowds by visiting New Orleans in the winter months when they still have warmer weather compared to chilly Toronto.
The winter months in New Orleans play host to festive celebrations, and you can still get fresh seafood no matter what time of the year!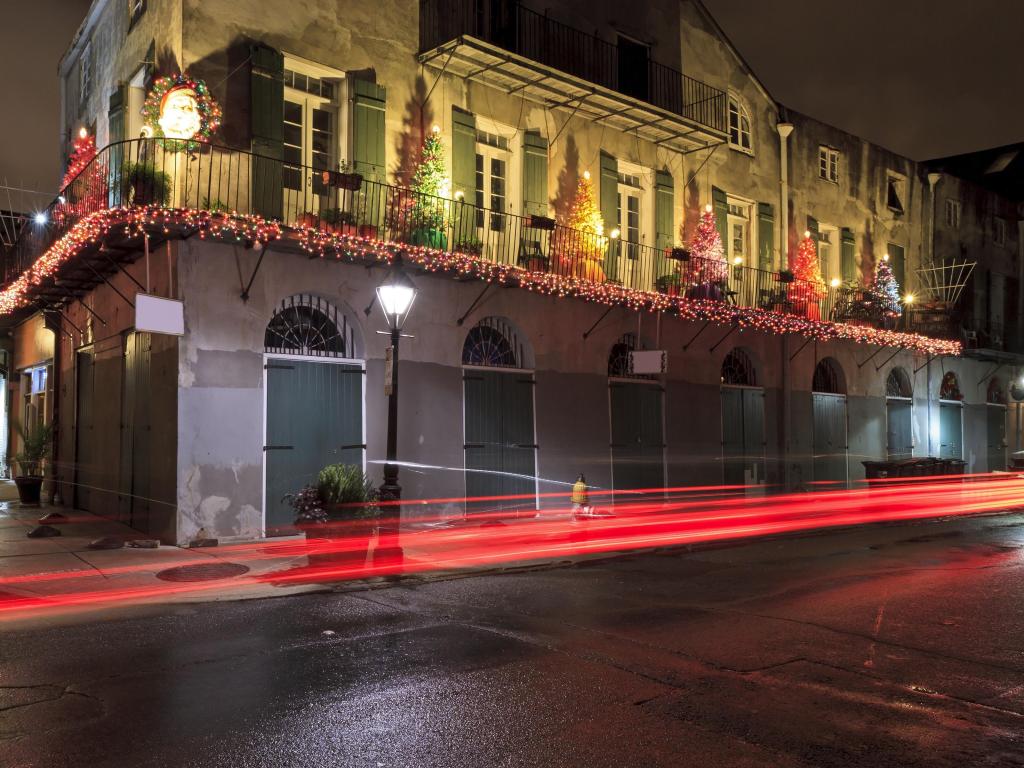 How to get there: Take ON-403 and ON-401 west out of the city towards Detroit, MI. Take I-75 S to Cincinnati, and take I-71 S to Louisville, KY. Take I-65 S to Nashville, TN and follow I-40 west to Memphis, TN, then head south on I-55 to New Orleans, LA.
Our highlights: On the way to New Orleans, make sure to stop in Nashville or Memphis, TN, both home to live music and great southern food.
Once you arrive, hit the Christmas Market in Jackson Square, or the Deutsches Haus Christkindlmarkt for a German-inspired festive shopping experience.
If you're in New Orleans for New Year's Eve, head to Bourbon Street or any of the private parties and galas throughout the city, including on the riverboats!
The famous Mardi Gras celebrations take place in February, but in the weeks leading up to the official event there are countless parties and parades to get into the spirit of things!
Bonus: Mardi Gras means 'Fat Tuesday', and usually takes place in early February, 40 days before the start of Easter.
Our travel tips: Along the way, you could stop in Louisville, KY to sample and shop for their famous bourbons.
15. Orlando and Miami, FL
23 hours 20 minutes from Toronto (2,400 km)
Why you should visit: Escape the cold weather for good and drive in a straight line south - all the way to Florida!
Florida boasts warm weather all year round - it's possible to swim in the ocean even in December. Orlando's famous theme parks are specially decorated for the festive season, and they play host to a range of holiday events.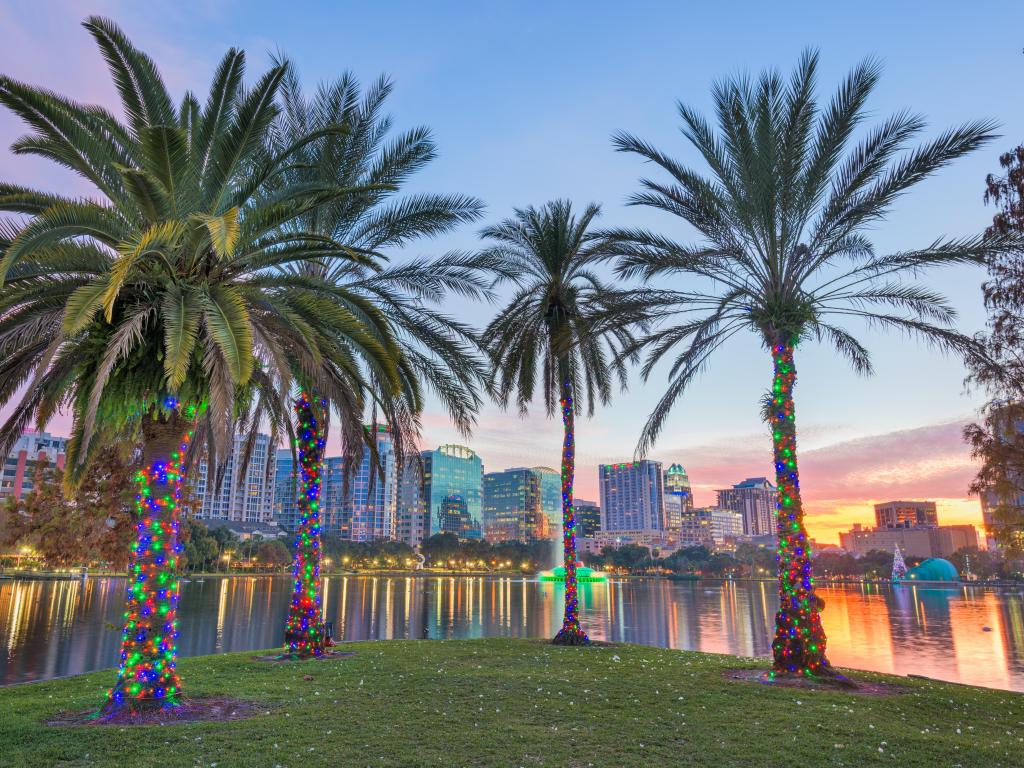 How to get there: Take Queen Elizabeth Way, ON-403 W to Buffalo. From there take I-90 S to I-79 S towards Pittsburg, PA. Take I-77 S (via state highway 19 in Virginia) to Columbia NC. Take I-26 Southeast to meet I-95 S to Jacksonville, FL.
Follow I-95 South to Miami, or detour via I-4 and the Florida Turnpike through Orlando.
Our highlights: En route, make sure to take a break in the Appalachian and Blue Ridge Mountains to experience the fantastic hiking trails and dramatic scenery. There are plenty of other cities worth a stop, including Pittsburg, PN, Charlotte, NC and Savannah, GA.
In Florida, visit the rocket launch pad at Cape Canaveral, or visit the Kennedy Space Center, home of NASA. Get your fill of nightclubs, food and beaches in Fort Lauderdale, West Palm Beach and Miami, or go surfing at Cocoa Beach.
Walt Disney World Resort and Universal Studios are especially festive during the holidays, particularly if you want to experience Christmas at Hogwarts. You could easily spend a few days here before continuing to Miami.
Bonus: Florida is actually home to one million wintertime residents, people who only stay during winter and migrate back north for other seasons.
Our travel tips: This drive has many different route options, so we'd recommend taking at least 3 days to complete the drive - more if you want time to explore more places on the way!
You could also add detours onto the route to visit other destinations such as Asheville, NC, Charleston, SC, Hilton Head Island and Jekyll Island.