Road Trip from Monterey to San Diego
If you're looking for a sunny road trip filled with quaint towns, historic cities, and beautiful white beaches, then the road trip from Monterey to San Diego, in California, is for you. You will get to drive along the glistening Pacific Coast or through the stunning national parks of California.
The 450-mile road trip from Monterey to San Diego takes 8 hours to drive non-stop. You can drive via Big Sur, Santa Barbara, Malibu, Solvang and Pismo Beach or via the Sierra Nevada Mountains, Yosemite National Park, Los Angeles and Bakersfield.
There is much to see and do - continue reading to find out some of our favorite recommendations as to the best routes to take, what to see along the way, and best places for an overnight stay.
How far is San Diego from Monterey, and how long will the road trip take?
Comparison of road trip routes between Monterey and San Diego

| Route | Distance | Driving Time |
| --- | --- | --- |
| The Coastal Route | 450 miles | 9 hours 30 minutes |
| The Inland Route | 490 miles | 8 hours |
The road trip from Monterey to San Diego is 450 miles long and takes 9 hours and 30 minutes to drive non-stop when traveling along the Coastal Route.
Alternatively, you may choose the Inland Route, which is 490 miles long and takes 8 hours to drive non-stop.
To allow time to visit the many wonderful coastal towns and nature areas of the Coastal Route, or to explore the spectacular mountains and cities of the Inland Route, we recommend taking at least 3-4 days to do this road trip.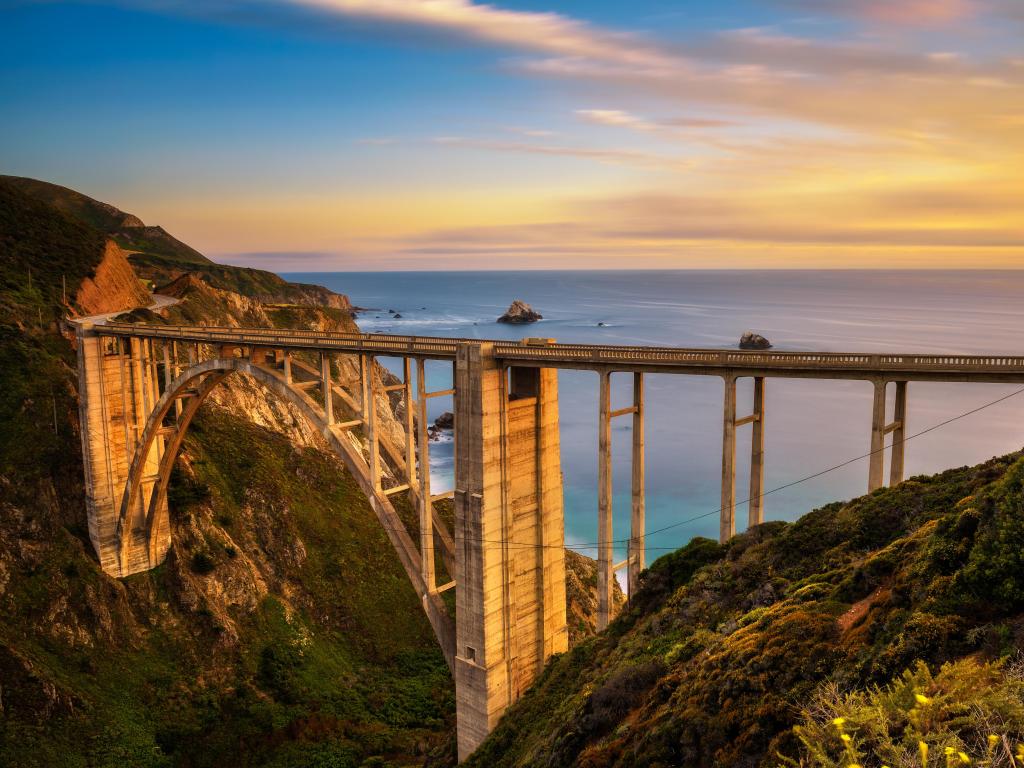 Best road trip route from Monterey to San Diego
Both of our route options include plenty of chances to explore California cities and towns influenced by colonial history, nature areas with coastal beauty, sequoia trees, or mountain landscapes, and famous attractions such as Yosemite National Park or Disneyland.
Your choice of route depends on which particular sites you wish to visit and see.
The Coastal Route takes you from Monterey towards San Diego along the coastal California highway. You'll pass by fascinating, small towns, such as Santa Barbara or Malibu, known for their Spanish colonial architecture and world-famous beaches.
You can also visit beautiful nature areas, such as the Pfeiffer Big Sur State Park with a riverwalk and stunning sequoia trees.
The Inland Route takes you from Monterey to the Sierra Nevada mountains. You'll have a chance to stop at the diverse cities of Fresno and Bakersfield, in central California.
These cities are both wonderful bases for exploring the nearby national parks, including Yosemite and Sequoia National Parks.
Both route options take you through the colorful Los Angeles, the capital of entertainment and filmmaking in the US, and beautiful San Clemente in Orange County, known for its Spanish Colonial architecture and stunning beaches.
The Coastal Route
The start of the Coastal Route option is along Pacific Coast Highway (CA-1) from Monterey southwards. You'll soon reach the small village of Big Sur and the beautiful Pfeiffer Big Sur State Park.
Continue south along CA-1, until at Pismo Beach, take US-101 instead to Solvang, a picturesque Danish-influenced town. CA-154 will take you from Solvang to Santa Barbara.
From Santa Barbara, follow US-101 and California State Route 1 again towards Malibu and Los Angeles. From there, Interstate 5 (I-5) will lead you to San Diego.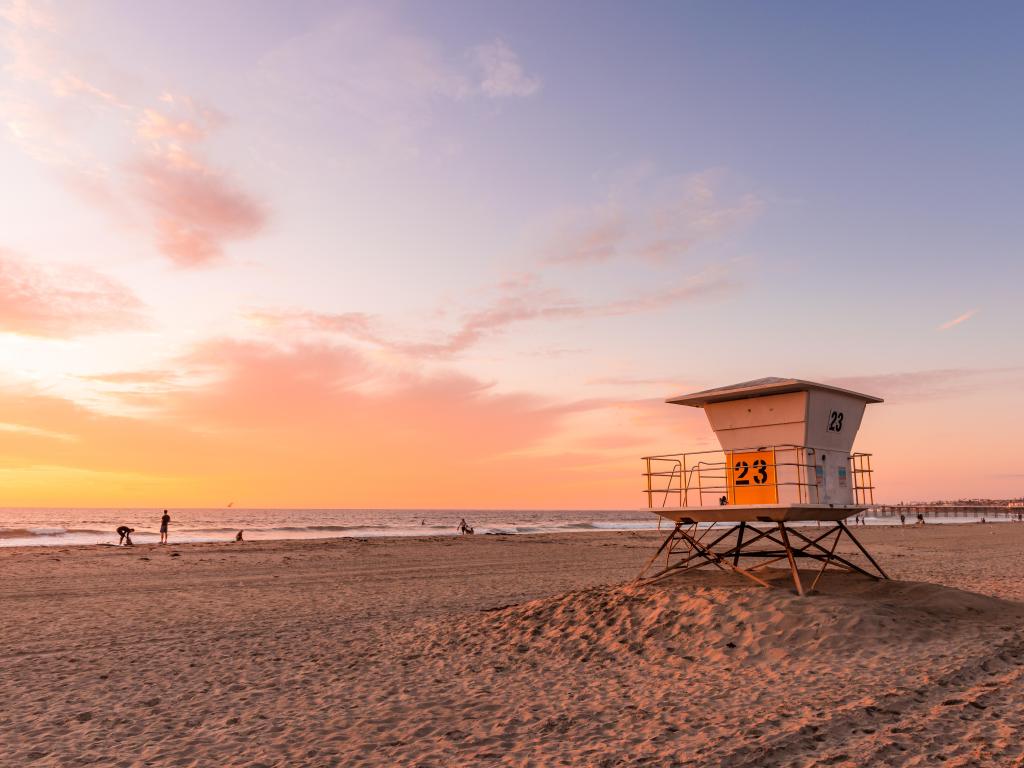 The Inland Route
Start this route option by driving northeast along first California State Route 1, then US-101 and CA-152. Follow signs to the city of Fresno.
From there, CA-99 takes you south towards Bakersfield. Both Fresno and Bakersfield may be used as wonderful bases for exploring the Sierra Nevada mountains and the many national parks therein.
Continue south, still along California State Route 99 that then turns into I-5. This highway will take you all the way through Los Angeles, past San Clemente, and to your destination, San Diego.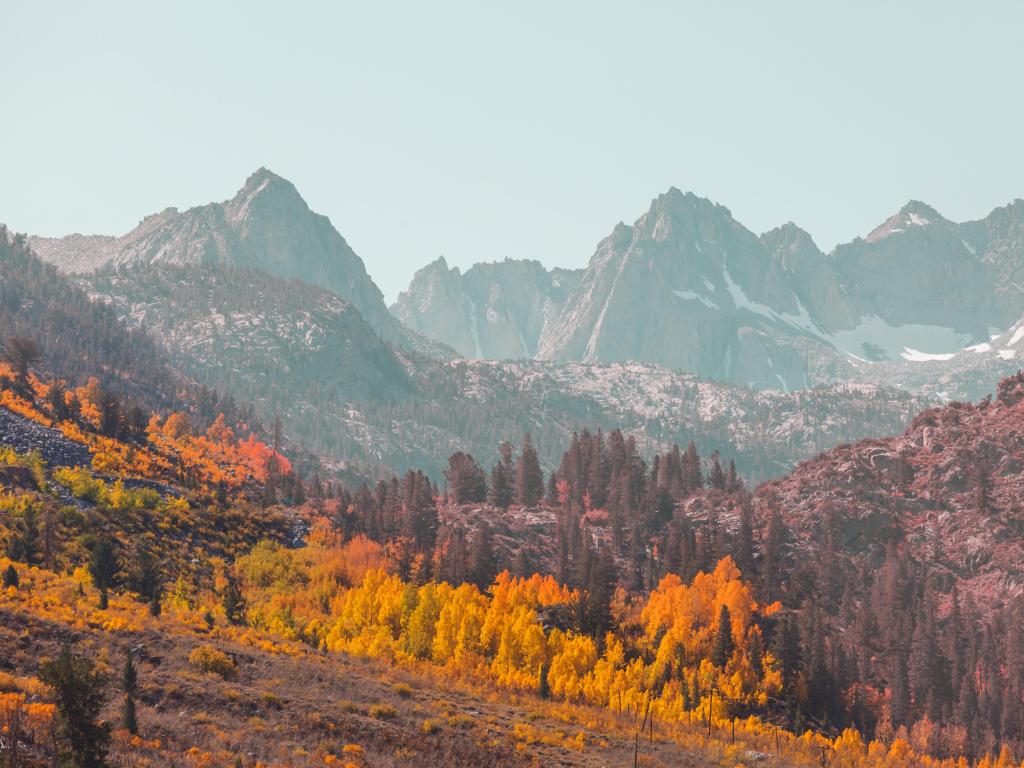 Best places to stop between Monterey and San Diego
This road trip from central California to the border of Mexico is filled with gorgeous sandy beaches, quaint towns and buzzing cities, and, especially when traveling the Inland Route, breathtaking mountain landscapes.
Read below our recommendations for the best places to stay overnight during this road trip, what to do in these places, and our favorite hotel suggestions.
Stay over at "The American Riviera", Santa Barbara
Santa Barbara is a beautiful, interesting historic city on the Pacific Coast, about halfway along the Coastal Route option. The city is known for its Mediterranean-style architecture, reflecting its Spanish colonial history.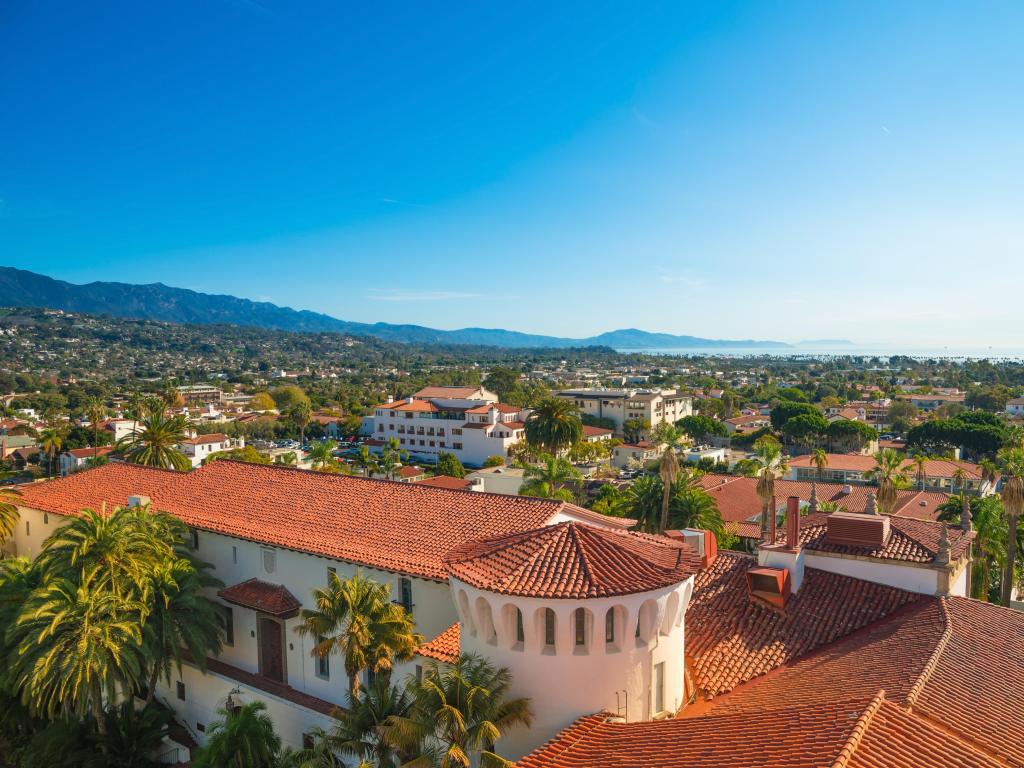 Situated between the white beaches of the Pacific Ocean and the stunning Santa Ynez mountains, Santa Barbara is a vibrant city where you may enjoy visiting historic sites as well as enjoying the buzzing nightlife.
Visit the historic Mission Santa Barbara, a centuries-old building, or the Santa Barbara County Courthouse, built in the Spanish Colonial Revival style, where you may enjoy views of downtown Santa Barbara from an open-air tower.
If you're looking for outdoor adventure, you might enjoy visiting Los Padres National Forest, in and beyond Santa Ynez Mountains. This wilderness area includes chaparral vegetation and old-growth forests, and the area is home to magnificent wildlife.
For a place to stay overnight, we can recommend La Playa Inn Santa Barbara. This inn-style hotel offers luxury accommodation within minutes of the Pacific Ocean. The hotel building is decorated stylishly and there is a lovely courtyard for guests to enjoy.
As to its location, apart from being a very short walk away from the beach, it is also just a 20-minute walk from the hotel to downtown Santa Barbara.
Attractions well worth visiting within less than half a mile from the hotel include the popular West Beach, Santa Barbara Harbor, Santa Barbara Natural History Sea Center and Santa Barbara Maritime Museum. Lovely cocktail bars and restaurants are also found nearby that offer, among others, Spanish, Italian and Mexican food.
Visit Bakersfield and admire the Sierra Nevada Mountains
Bakersfield is found about halfway along the Inland Route option. Set in a valley between several mountain ranges, Bakersfield is a vibrant city, known for a special subgenre of country music, "Bakersfield Sound".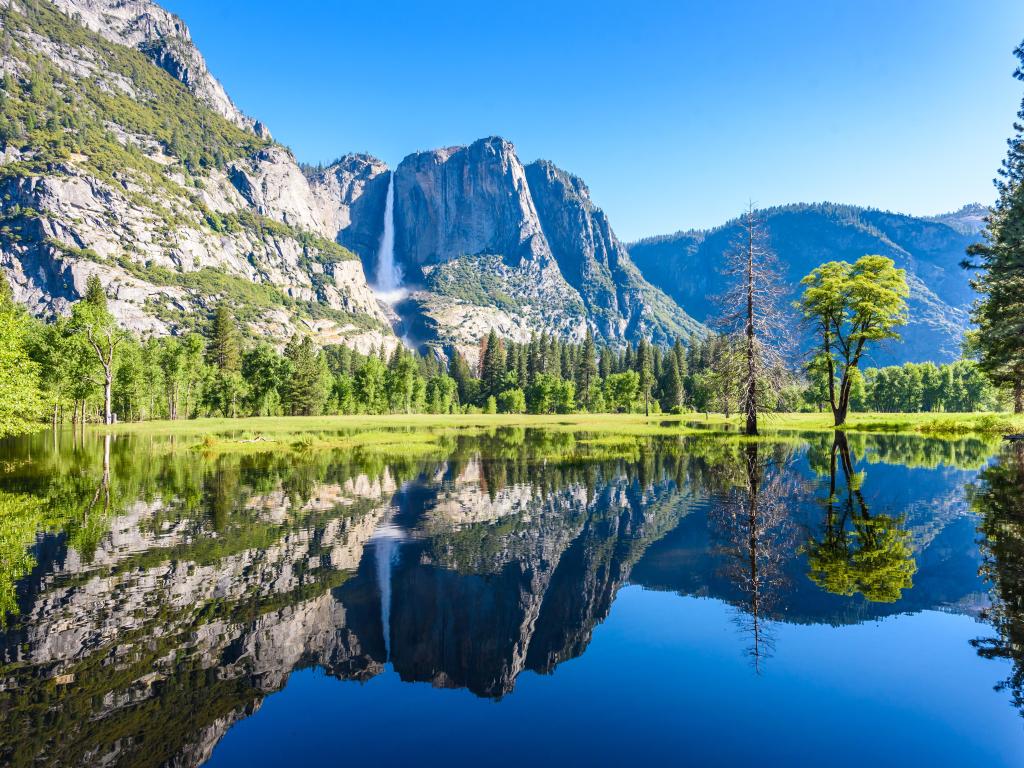 This charming city is also renowned as a wonderful base for exploring the Sierra Nevada Mountains as well as the Sequoia and Yosemite National Parks.
There are some amazing historic sites to visit in Bakersfield city. For example, Kern County Museum has a wonderful collection of regional artifacts and permanent exhibits, whereas the Buena Vista Museum of Natural History displays fossils and other geological and natural history artifacts.
Of the many places to stay overnight in Bakersfield, there is no better option than Padre Hotel. This hotel is at the heart of Bakersfield and easily accessible along the route of your road trip.
The hotel boasts elegant decor, comfortable rooms, wonderful service, and parking available for guests. You'll find two restaurants here, as well as a bar on the rooftop deck with views over the city.
As Padre Hotel is located in downtown Bakersfield, it is easy to explore the city from there on foot or by other means. Attractions within walking distance include the Buena Vista Museum of Natural History, Centennial Plaza, and Kern County Museum.
There are also some amazing restaurants nearby - and Bakersfield is known for its wonderful Basque-inspired cuisine.
Where to stay when you reach San Diego
San Diego is a metropolitan city, known for its beaches, warm climate and numerous art galleries. A fantastic place to stay while visiting San Diego is the hotel El Cordova.
This hotel is a wonderful base for exploring this buzzing Californian city on the Pacific Coast, for it is located on Coronado Island - an amazing resort location itself, and just across from downtown San Diego.
El Cordova offers comfortable accommodation, a charming private courtyard, and a lovely outdoor swimming pool for you to make use of. It is close to the well-loved Coronado Beach, and along Orange Avenue you'll find fabulous restaurants, shops and cafés.
Just a short drive from downtown San Diego, you will find Balboa Park. This park area contains several amazing attractions, including the world-famous San Diego Zoo and the San Diego Museum of Art. This area is definitely well worth visiting during your stay in San Diego.
Things to see on a road trip from Monterey to San Diego
On this road trip, there are lots of fascinating towns and cities to explore, beaches to have a swim on, and nature areas to saunter in. Carry on reading to discover some of our recommendations as to the best things to see and do during your road trip.
The Coastal Route
Big Sur, California - Big Sur refers to a small village on the coast of the Pacific, but also and more commonly it refers to an area of rugged, pristine coastline between Carmel and San Simeon, California. The area is known for its beauty, and scenic, winding roads on the coast and the cliffs.
Pfeiffer Big Sur State Park - Centered around the Big Sur river, Pfeiffer Big Sur State Park harbors beautiful redwood forests, scenic river trails, and amazing wildlife, such as the bobcat, skunks, and belted kingfishers.
Pismo Beach, California - Pismo Beach is known for amazing beaches of the California Central Coast, as well as for wonderful wineries and superb clam digging.
Solvang, California - Solvang is a picturesque town, where you may admire Danish-style architecture and history. Visit Elverhøj Museum of History & Art, traditional windmills, or Hans Christian Andersen Museum.
Santa Barbara, California - Santa Barbara, between the Pacific Ocean and Santa Ynez mountains, is a beautiful city known for its Spanish Colonial style architecture and world-famous beaches.
Malibu, California - In Malibu, California, you may explore the many amazing beaches of the area, including the wide, sandy Zuma beach or the surfrider beach known for its waves. Or, explore waterfalls and canyons at the nearby Santa Monica mountains.
Topanga State Park - Located within the city limits of Los Angeles, Topanga State Park is a wonderful outdoor recreational area. You may explore its many cliffs and canyons, as well as views over the Pacific Ocean, along tens of miles of beautiful trails through grasslands and oak forests.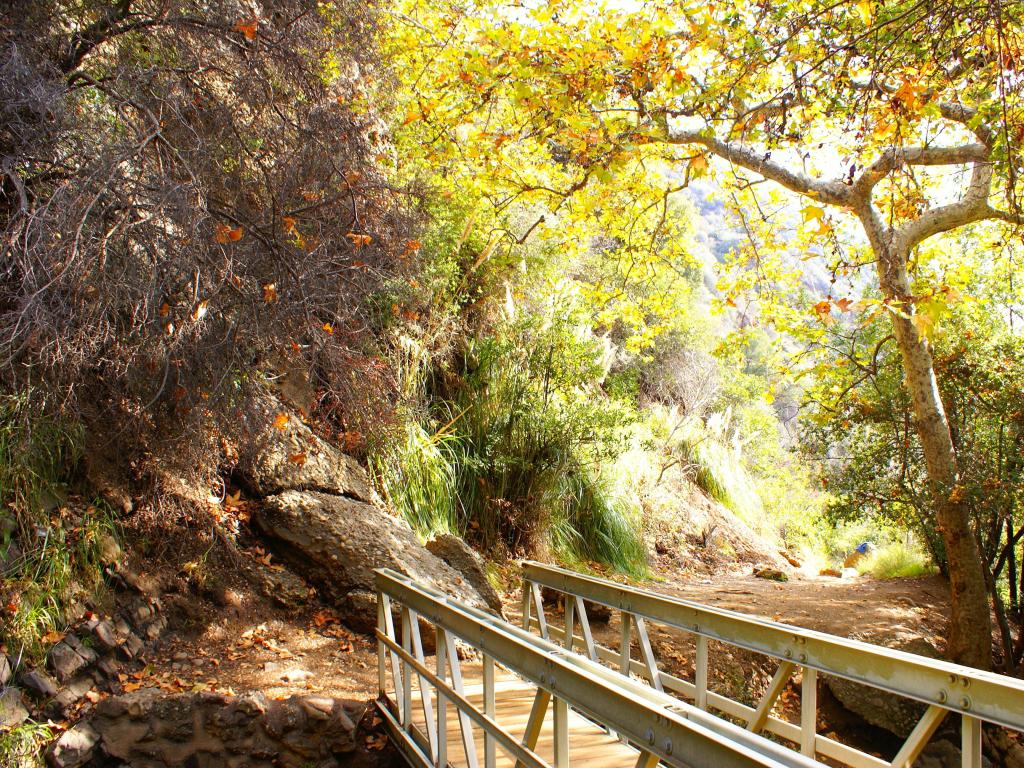 The Inland Route
Fresno, California - Fresno is the largest city in California's Central Valley agricultural region. You may explore Roman-inspired "underground gardens" here, and beautiful parks above ground as well. Fresno is a good place for exploring Yosemite National Park.
Yosemite National Park, California - This national park is known for its stunning cliff formations, sequoia forests, and waterfalls.
Sierra National Forest, California - Sierra National Forest, in the Sierra Nevada mountains, is a wonderful place to enjoy spectacular mountain scenery and alpine lakes.
Sequoia National Park, California - Visit this national park to view mesmerizing forests of giant sequoia trees, redwoods. The most famous tree in the forest - the General Sherman Tree - is the world's largest tree by volume.
Bakersfield, California - Bakersfield is a fabulous base for exploring all the nearby national parks and forests, including Yosemite and Sequoia National Parks. The city itself also offers much to a visitor, in the form of parks, museums, and country music events.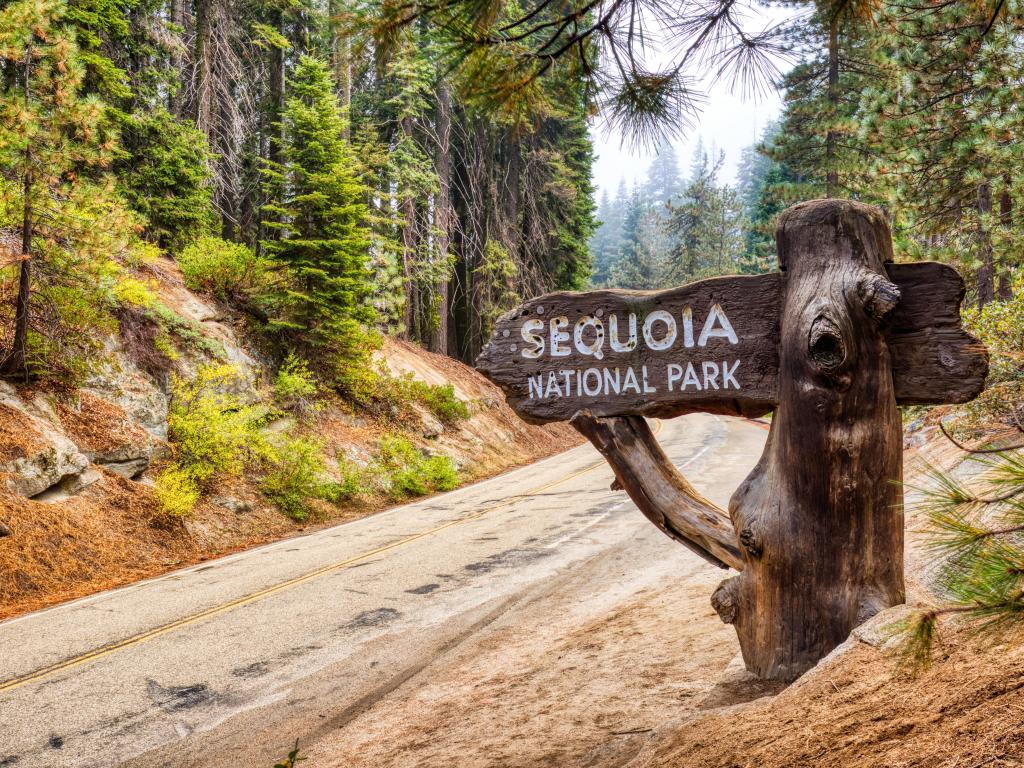 Both Routes
Los Angeles, California - Los Angeles is one main center of the film and TV industry of the US. Visit the Sunset Strip spanning through West Hollywood, full of music and entertainment venues; take a behind-the-scenes tour at the movie studios of Universal, Warner Brothers, and Paramount Pictures; or visit the city's many museums and art galleries.
Disneyland Resort - Disneyland in Anaheim, just south of the city of Los Angeles, hosts two theme parks, wonderful restaurants and live entertainment, and nighttime fireworks.
San Clemente, California - San Clemente in Orange County is a city located halfway between Los Angeles and San Diego. Visit Casa Romantica Cultural Center and Gardens to view the city's historic Spanish-style architecture, take a walk along the special San Clemente Pier protruding into the Pacific Ocean, or stroll along the area's many famous beaches.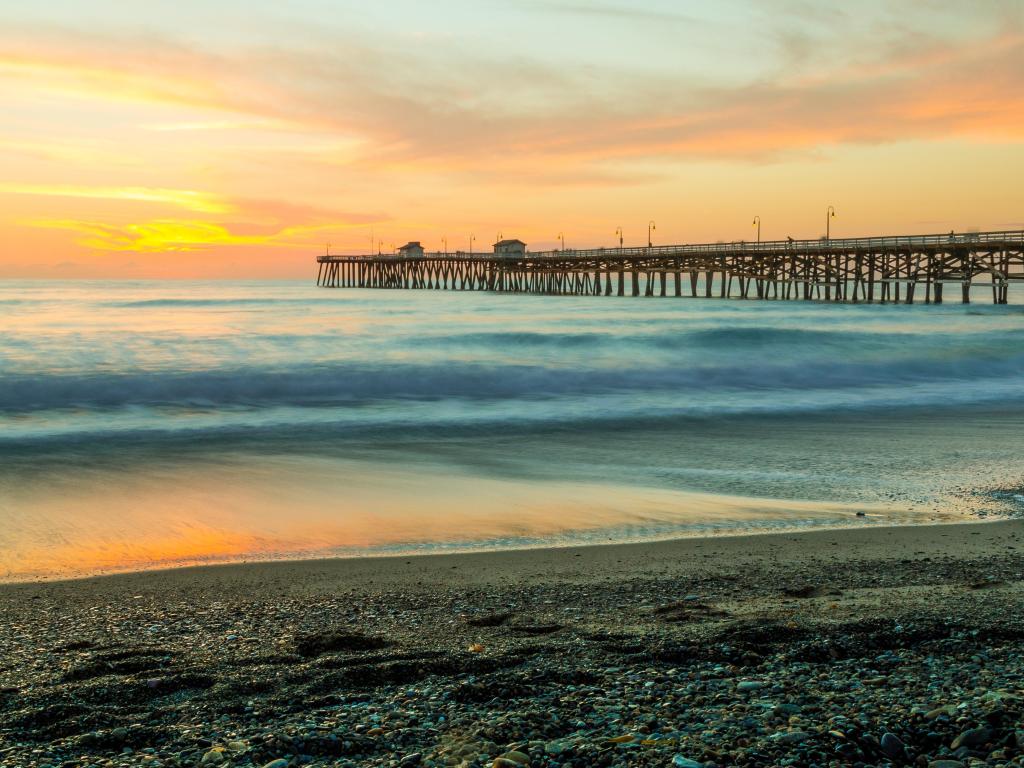 Best time to go on a road trip from Monterey to San Diego
San Diego has a coastal desert climate, making it less hot than the inland desert locations. In fact, the city has been noted as having the most number of "pleasant days" in the world - days with temperatures between 55 and 75 degrees Fahrenheit. This all makes San Diego a wonderful place to visit at any time of the year.
Summer is still considered the peak season in San Diego, due to the fact that people may then make the most out of the city's many beaches. Temperatures rarely rise above 85 degrees Fahrenheit, so extreme heat isn't usually an issue at this coastal location. You may, however, see the most crowds of tourists in the summer months.
Temperatures don't usually fall below 45 degrees Fahrenheit in San Diego even in winter. This means the area doesn't get any significant snow or freezing temperatures, making it quite pleasant to visit even during the winter months.
Spring and fall are generally considered the most favorable times for visiting San Diego. Especially in fall, sea and air temperatures are still warm, and spring and fall seasons may see slightly fewer tourists than the summer months.
Apart from weather and season, local festivals and events are another factor to take into consideration when planning the timing of your road trip.
Many delightful festivals and events take place in San Diego throughout the year. In February, you'll get to enjoy all that San Diego's many museums have to offer during San Diego Museum Month. During this month you'll get a 50% discount on admission to more than 60 of the city's museums.
In March-April, San Diego is host to San Diego Restaurant Week, an event that features the best restaurants and the most special cuisine of the city.
Every summer, the San Diego County Fair takes place at the Del Mar Fairgrounds from June to July, and in September, San Diego Blues Festival brings together fans of blues and other music from all over the country.
Finally, the San Diego Bay Parade of Lights offers a light show to the audience, given by boaters and their decorated boats, every December.