Road Trip from Columbus, Ohio to Yellowstone National Park
Discover the best of the northern United States on this epic road trip from Columbus, Ohio to the celebrated Yellowstone National Park. See legendary Mount Rushmore, iconic skylines in Chicago and Indianapolis, and a host of beautiful crystal lakes. End up in one of America's most-loved national parks, known for its thermal geysers and dramatic canyons.
The 1,830-mile road trip from Columbus, Ohio to Yellowstone National Park takes 27 hours to drive. On the way you can visit Indianapolis, Sioux Falls, Rapid City and Mount Rushmore, or take the city route via Chicago, Minneapolis and Lake Michigan.
This journey meanders through stunning landscapes with plenty of opportunities for wildlife-spotting and outdoor activities. Read on for all the information you need to plan your trip, including the best routes, where to go and what to see.
How far is Yellowstone National Park from Columbus, Ohio, and how long will the road trip take?
Comparison of road trip routes between Columbus, Ohio and Yellowstone National Park

| Route | Distance | Driving Time |
| --- | --- | --- |
| The Minneapolis Route | 1,770 miles | 26 hours |
| The Mount Rushmore Route | 1,830 miles | 27 hours |
The Mount Rushmore Route is the longer of the two, spanning a distance of 1,830 miles. This will take 27 hours to drive, not accounting for any stops along the way.
The Minneapolis Route is more city-forward and goes via the states of Ohio, Indiana, Illinois, Wisconsin, Minnesota, North Dakota and Montana. It is slightly shorter at 1,770 miles, which takes 26 hours to drive.
With a distance of over 1,700 miles to cover, you'll need to make plenty of stops to break up the driving. For both routes, we'd suggest allowing 7-8 days to allow yourself time to explore some fabulous nature and spend a few nights in the characterful cities along the way.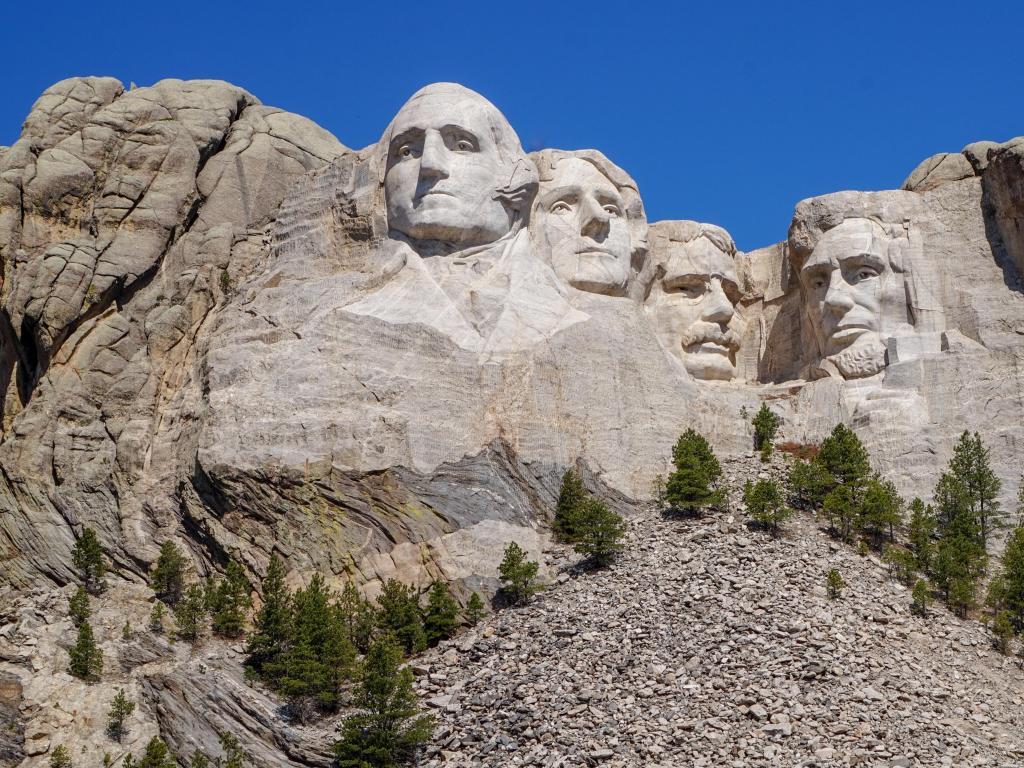 Best road trip route from Columbus, Ohio to Yellowstone National Park
Both routes are similar in length, though one focuses more on lesser-known cities and nature, while the other takes in some fantastic urban centers. The best route will depend on which of these two atmospheres you are more interested in.
The Mount Rushmore Route takes its name from the iconic cliff-side carving of the founding fathers, which is a highlight of this option. This route is more nature focused.
It also takes you through some smaller cities like Sioux Falls and Rapid City, via the mountainous regions of Montana, the plains of Wyoming and the dense forests of Iowa and South Dakota.
If you'd rather pit-stop in bigger cities, the Minneapolis Route prioritizes these with stops in Chicago and Minneapolis. It's a little more direct, but doesn't include a stop at the iconic Mount Rushmore.
The Mount Rushmore Route
Take Interstate-70 (I-70) west out of Columbus and follow this road across state lines all the way to Indianapolis. Take I-74 and cross the Illinois River to head west on I-80.
Take I-380 north to follow US-20, then follow I-29 to Sioux Falls and see the famed waterfalls tumbling over the distinctive pink rocks.
Follow I-90 west to cross the Missouri River and arrive in Rapid City. There are some beautiful places to explore just off-route - try the Badlands National Park or Black Hills National Forest for a spot of hiking. It's a short drive on US-16 to reach iconic Mount Rushmore.
Once you've snapped a picture of the famous faces, follow US-16 to join I-90 going west. Continue on I-90 through Montana's lush forests and take the exit for US-89 to arrive in Yellowstone.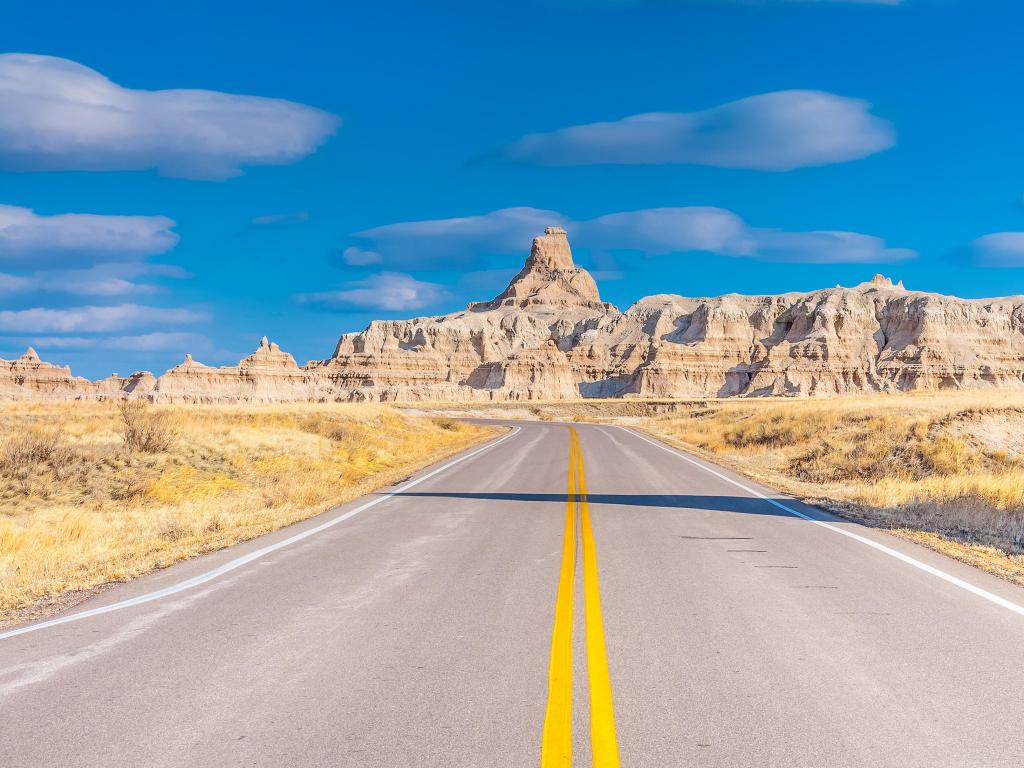 The Minneapolis Route
Head west on I-70 out of Columbus to arrive in Indianapolis. Take some time to explore the state capital's renowned museums and historic sites, then follow I-65 north to reach the shores of Lake Michigan. Follow I-90 to arrive in Chicago.
Once you've got a feel for the distinct vibe of the windy city, follow I-90 and I-94 west to reach the arty city of Minneapolis. Continue on I-94 to cross North Dakota and continue on I-90.
Take the exit for US-89 and continue on to arrive at Yellowstone National Park.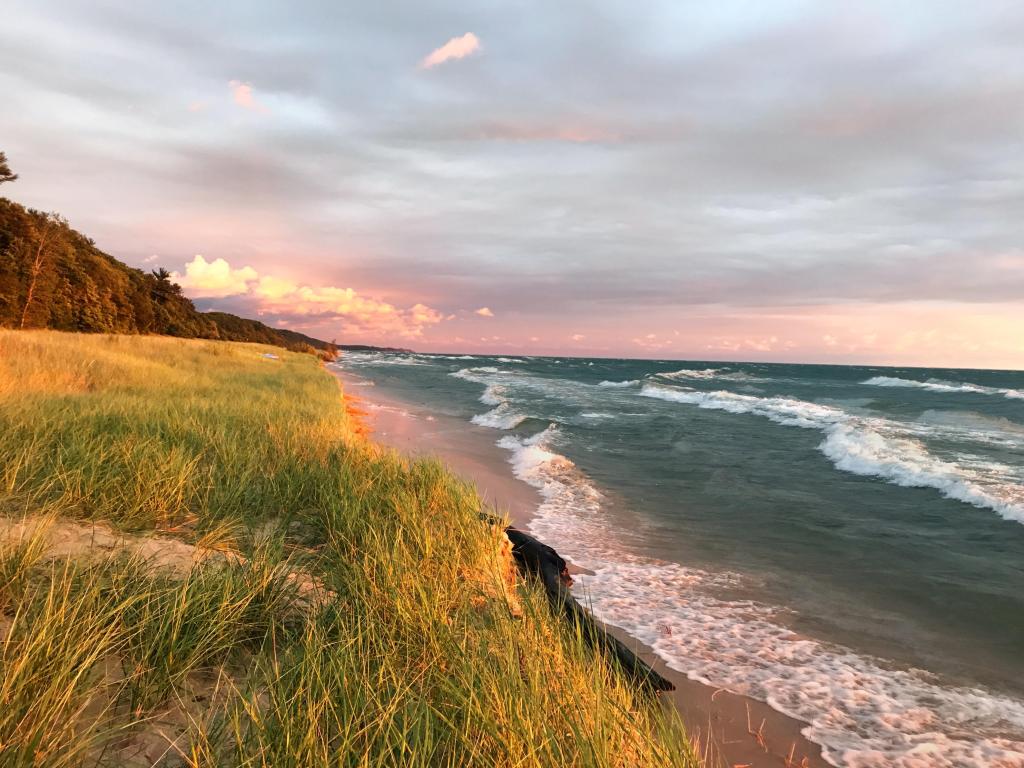 Best places to stop between Columbus, Ohio and Yellowstone National Park
There is plenty of breathtaking nature and urban edge to see along both routes, and we've picked out some of the best places that offer so much more than a rest from driving. Enjoy an overnight stay or two in any of these locations, and soak up the atmosphere on foot.
Relax in peace in Sioux Falls
Located about halfway along the Mount Rushmore Route, Sioux Falls is a great stop-off that offers all the benefits of a quaint town and big city in one.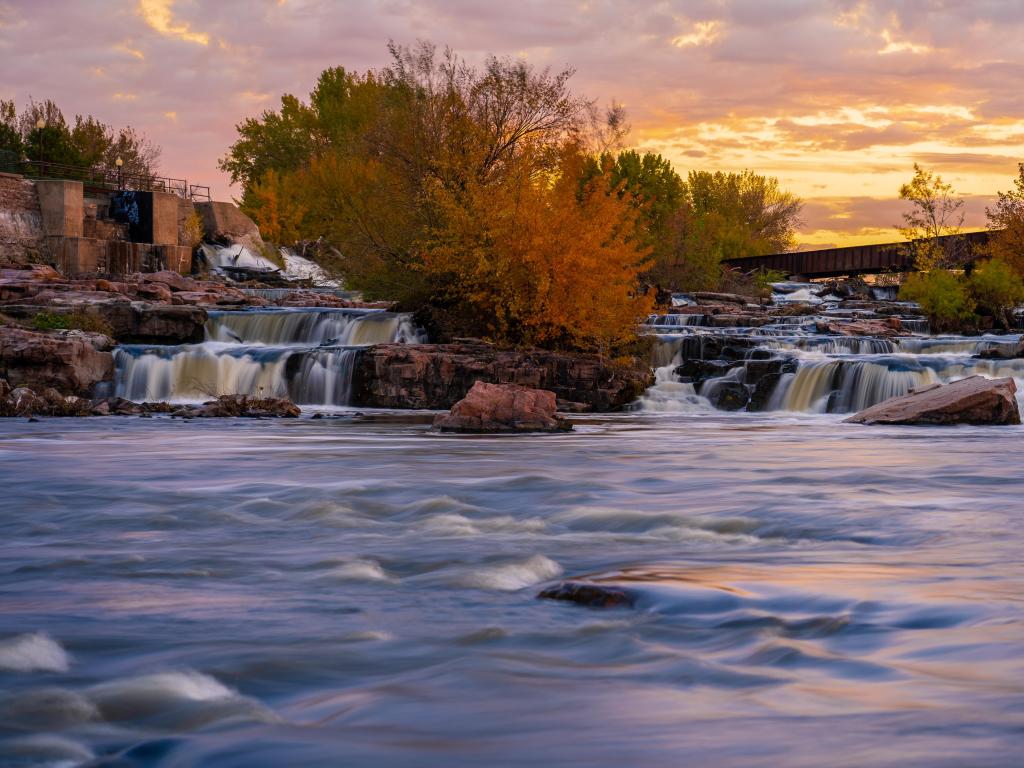 The most famous attraction here is the eponymous waterfalls, where you can see the water of the Big Sioux River flow over the pinkish rocks. The city also wears its history proudly with some cute local museums.
Don't miss Falls Park, as there's more to do than simply see the water spray – it's a refreshing green space with plenty of nature walks, and great for a picnic.
Near Falls Park is the Cathedral of Saint Joseph, which is worth a visit for the distinctive stained-glass windows and attractive interiors. If you are a history buff, drop by Pettigrew Home & Museum or The Old Courthouse Museum to learn about local history and discover how people lived in the Sioux Falls of the past.
Hotel On Phillips is a great place to stay during your visit to Sioux Falls, located just 25 minutes away from Falls Park and close to the highway for an easy return to the route. If you would like to venture out and explore the nearby sights, the hotel provides bikes for hire.
The stylish modern hotel has a fitness center and a bar, in case you want to stop for a drink before heading out into the restaurants downtown. It offers private parking so you don't have to worry about your car while you're out and about.
Shop until you drop in Minneapolis
Just halfway along the Minneapolis Route lies the largest city in Minnesota. Minneapolis is a convenient location for your halfway point overnight stop, with plenty of culture, parks and beautiful lakes.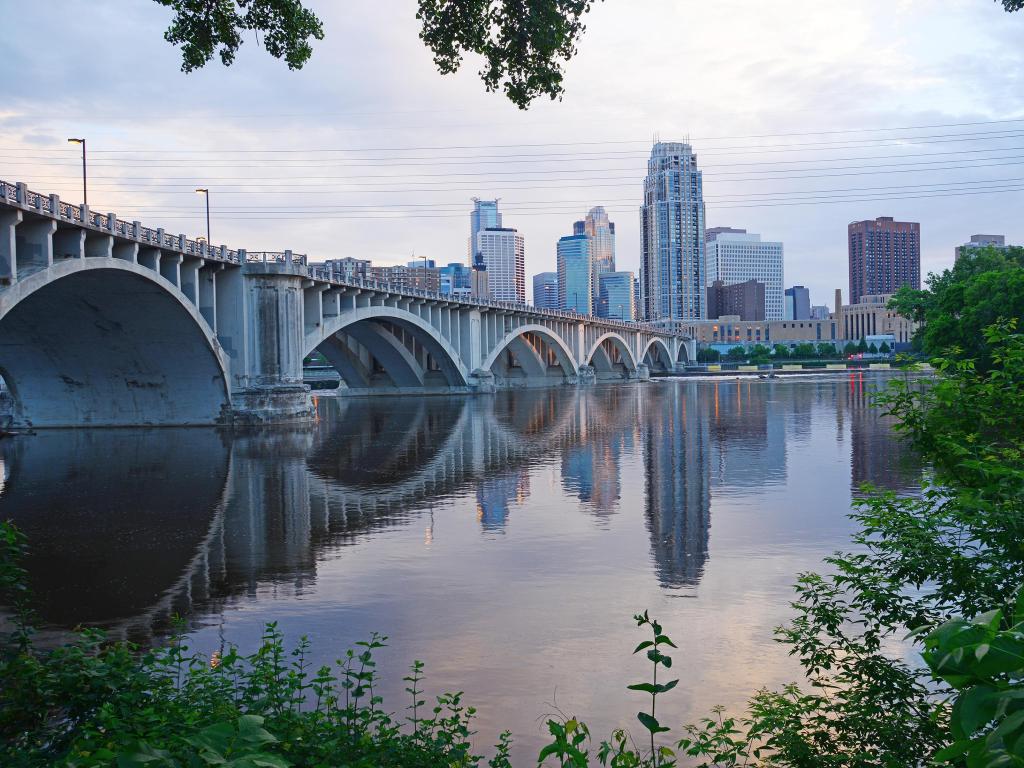 Don't miss the chance to visit the biggest mall you've ever seen, The Mall of America. This huge shopping institution is the largest in the US, and boasts 500 stores of all kinds, 60 restaurants, an aquarium and a 7-acre indoor amusement park.
There are tons of green open spaces in the city, but our pick is the Minneapolis Sculpture Garden. Over 11 acres, this landscaped garden displays more than 40 artworks in a stunning natural setting.
Another city park worth visiting is Minnehaha Park, where you can see the staggering 53-ft Minnehaha Falls. The park also houses plenty of tree species, limestone bluffs and wildflowers.
For a great hotel in the heart of the city, try The Royal Sonesta Minneapolis Downtown. This sophisticated hotel has a 24-hour fitness center, on-site parking and a restaurant offering high-end midwestern cuisine.
The location is unmatched for exploring - the hotel is within walking distance of highlight attractions like the Chain of Lakes, Mill City Museum and the Minneapolis Institute of Arts. It's also situated conveniently for getting back on US-12 the next day.
Where to stay when you reach Yellowstone National Park
Once you get to Yellowstone National Park, you'll need a comfortable base from which to explore the colorful lakes, hiking trails and wildlife-dense forests.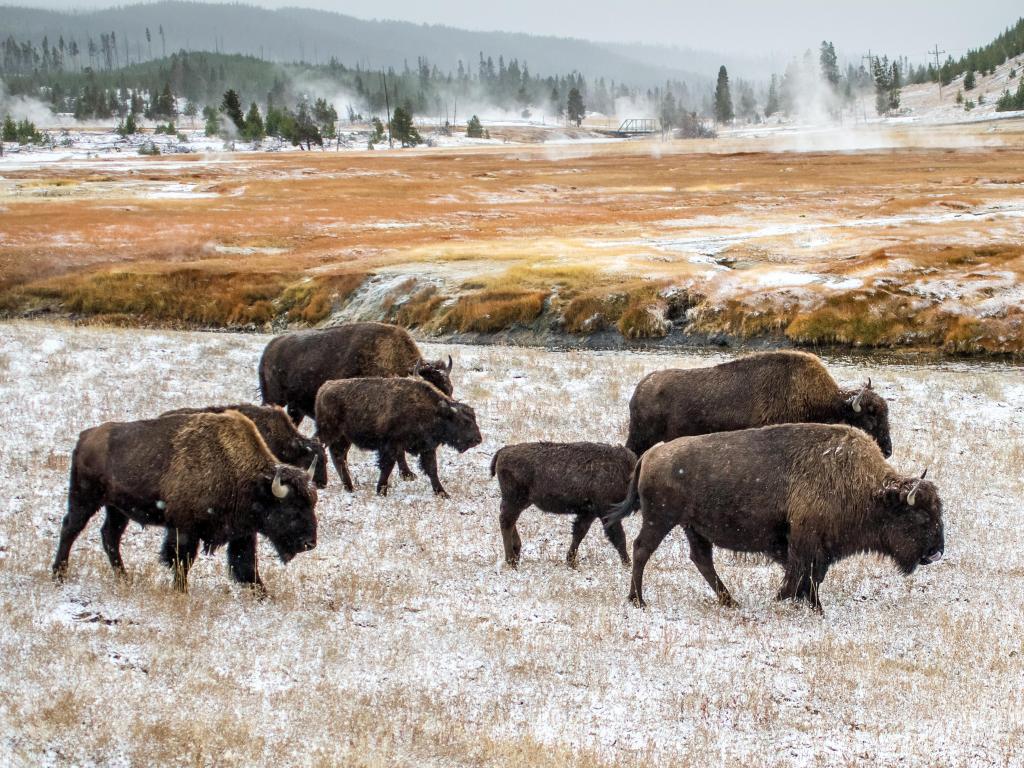 Bentwood Inn is around an hour away from the main entrance to the park, and is also close to other green spaces to relax in. It's located near Wilson, so you can enjoy the amenities and restaurants of a town during your stay.
The hotel has everything you need to keep cozy, including fireplaces in the rooms and soft luxury furnishings. Your stay includes breakfast, so you can fuel up before a long day walking in the park.
Things to see on a road trip from Columbus, Ohio to Yellowstone National Park
There are quirky attractions, great views and wide open spaces all along these routes - we've selected our pick of the best to help you plan where to stop.
The Mount Rushmore Route
Butterfly House & Aquarium - This wildlife attraction in Sioux Falls houses hundreds of species of butterflies and sea life.
Pettigrew Home & Museum - This 19th century historic home has galleries pertaining to the local history of the area and was once inhabited by the senator Richard Franklin Pettigrew.
The World's Only Corn Palace - This unusual building with turrets and towers is located right on the route and is a sight to behold.
Akta Lakota Museum & Cultural Center - This area is rich in Native American history, and this museum and cultural center is a great place to see artwork, historical artifacts and learn about the Lakota people.
Badlands National Park - This massive 244,000 acre park offers unique geological formations and boasts majestic wildlife, like bison and bighorn sheep.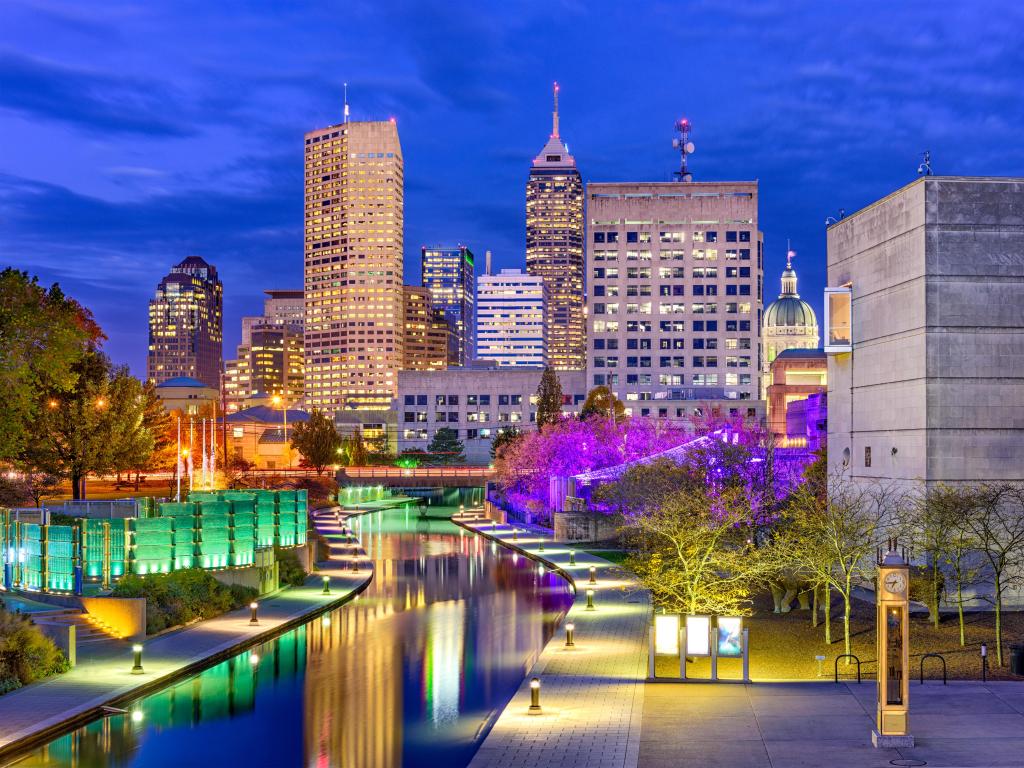 The Minneapolis Route
New Ulm's Glockenspiel - Catch a musical performance by taking an hour-long detour to hear this unusual instrument play. Showtimes are from 3-6pm from April to October.
Runestone Museum Foundation - Another great museum dedicated to Native American history, this also has exhibits about the area's Nordic culture.
Otto the Otter - This gigantic statue is right on the route, and makes for a cute photo opportunity!
Giant Pelican Sculpture - Another wacky statue on route, this one is to be found alongside the Pelican Rapids.
Rourke Art Museum - This small art museum exhibits quality over quantity, with local and international artists on display in a red-bricked courthouse.
Bonanzaville USA - Step into the past in this history museum complex, which features 40 different historic buildings set up in a village setting to explore.
Sheyenne National Grassland - A perfect place to stretch your legs after being on the road, you can walk for miles on this vast open plain.
World's Largest Buffalo - This popular roadside attraction is another great opportunity for a photo, located in Jamestown.
Chief Looking's Village - This historic archaeological landmark is a scenic place to learn about the early citizens of North Dakota, featuring an interpretive self-guided trail.
Range Riders Museum - This museum covers a bit of everything, from dinosaurs, Native Americans, soldiers and pioneers. You'll leave with more knowledge about the land you're driving through.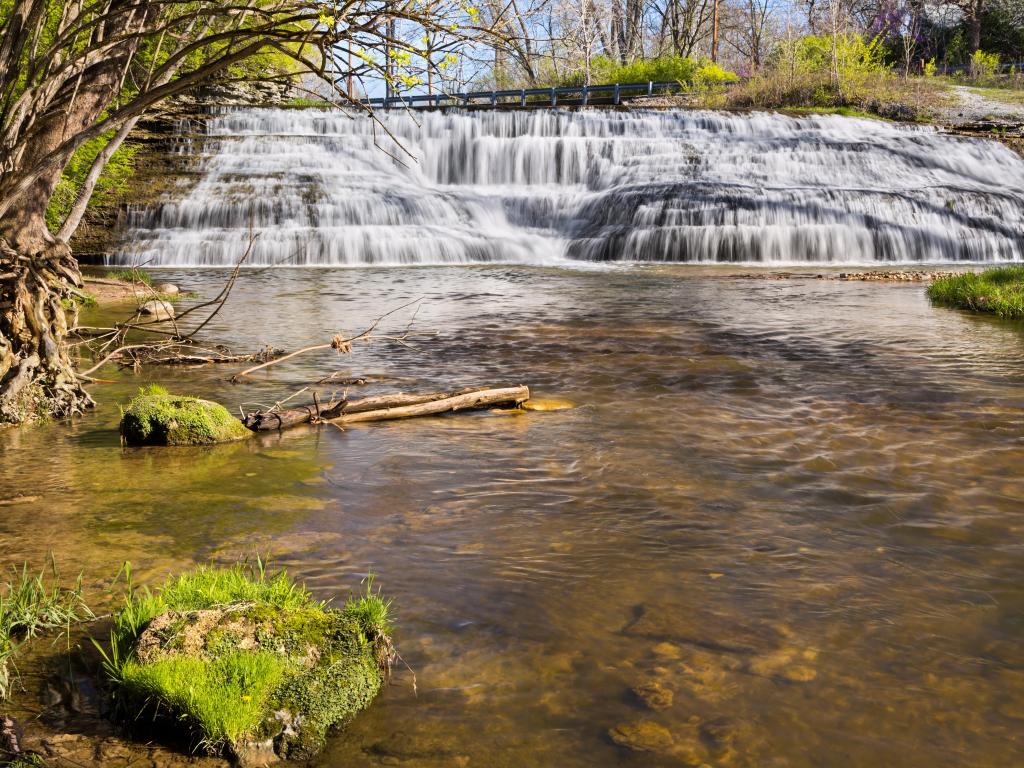 Both routes
National Museum of the US Air Force - Discover this highly-rated museum, dedicated to exploring the legacy of the US Air Force and featuring a 3D theater, a flight simulator and war-themed exhibits.
Miamisburg Mound Park - About half an hour off route, you'll find Ohio's largest prehistoric burial mound featuring an observation platform and picnic tables.
Thistlethwaite Falls - This man-made waterfall was created in the 1800s to power a sawmill and offers a great opportunity to take in some pretty views.
Pink Elephant - Take a picture with this large pink elephant, a road-side favorite located in Fortville, Indiana.
Indianapolis Motor Speedway Museum - Boasting classic race cars and motorsports memorabilia, the Indianapolis Motor Speedway Museum is a must-see.
Cedar Rapids, Iowa - Discover this picturesque city, boasting historic architecture and many unique museums, including the National Czech and Slovak Museum and Library.
Pictograph Cave State Park - This state park is home to caves displaying prehistoric pictographs that are said to be more than 2,000 years old.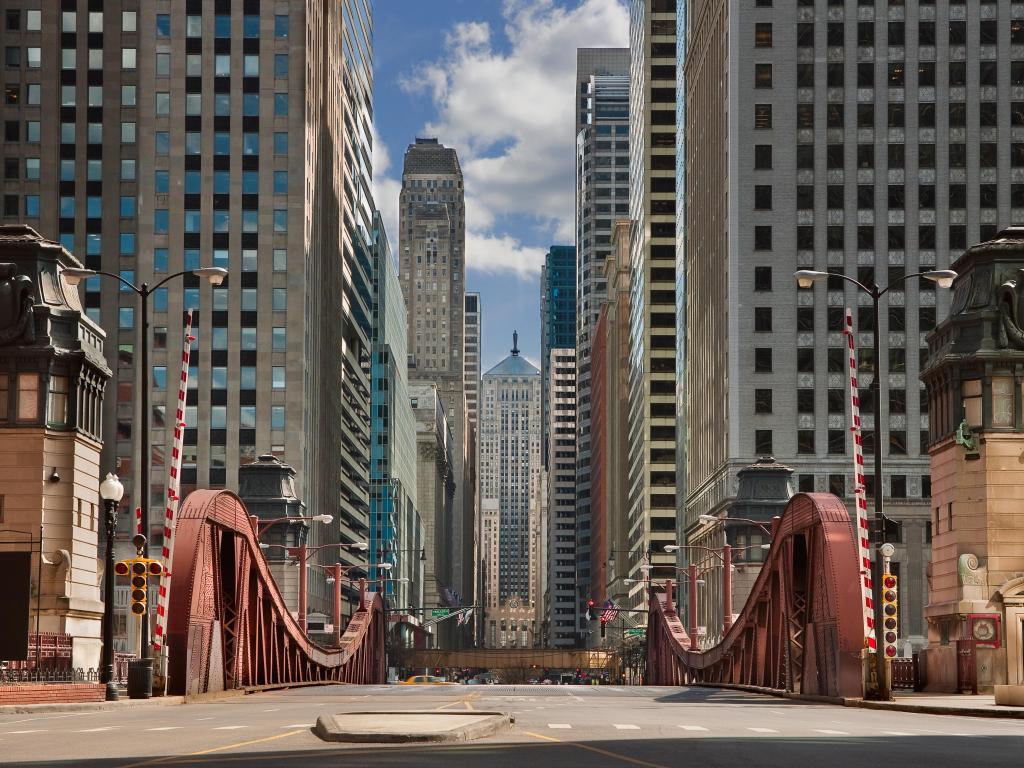 Best time to go on a road trip from Columbus, Ohio to Yellowstone National Park
You can visit Yellowstone at any time of year, but your experience will vary with the seasons. It's beautiful in the summer, but the hotter months can come with high tourism and crows.
If you're happy to brave the cold, then the winter months transform the park into a snowy wonderland with fewer visitors. However, it's worth keeping in mind that some of the roads on your route may be affected by winter weather conditions.
In the summer, temperatures can range from 38 to 76 degrees Fahrenheit, so the weather is pleasant for hiking and you can expect clear skies. Peak season tends to occur between June and September when you'll find more visitors on the trails. Typical activities on offer at this time of year include biking, fishing and horseback riding.
During the winter season, temperatures tend to range from 4 to 30 degrees , though be prepared that they can fall as low as -15 degrees Fahrenheit in some cases and snow is likely.
While you'll see fewer visitors on the grounds, parts of the park are closed, so check ahead to see where you'll be able to roam. Activities on offer at this time of year include cross-country skiing, ice fishing and sled dog tours.
Spring and fall can be lovely times to visit, as tourism numbers are likely to be lower and nature is blooming. You may also be able to find cheaper accommodation at these times.
Temperatures range between 15 and 65 degrees in spring, and 20 and 65 degrees in fall. Keep in mind that spring is also the rainiest season.
There are some days of the year when the entrance to the park is fee-free. Check the Yellowstone National Park's website and time your visit on one of these days if you want to explore for free!