Road Trip from Denver to Colorado Springs
It's time to shake the cobwebs off and journey into the stunning heart of the Colorado Rockies. On a road trip from Denver to Colorado Springs, you'll get to see infinite mountain vistas, historic mining towns, ancient ruins, world-class hiking and skiing - plus some of the coolest towns in the country.
The 480-mile road trip from Denver to Colorado Springs will take 11 hours and 40 minutes to drive. The highlights en route include Boulder, Rocky Mountain National Park, Aspen, Buena Vista, Breckenridge, Vail, Pike's Peak and Manitou Cliff Dwellings.
With so much to see and do, we guarantee you'll have the time of your life on this epic road trip. Read on to learn about the best routes, top highlights to experience, places to stay, and best time to go.
How far is Colorado Springs from Denver, and how long will the road trip take?
Comparison of road trip routes between Denver and Colorado Springs

| Route | Distance | Driving Time |
| --- | --- | --- |
| The Direct Route | 70 miles | 1 hour 25 minutes |
| The Breckenridge Route | 320 miles | 7 hours 15 minutes |
| The Aspen Route | 480 miles | 11 hours 40 minutes |
The direct drive from Denver to Colorado Springs will take 1 hour and 10 minutes to complete, but this is more of a commute that will take you from one point to another instead of a road trip.
Instead, there are two equally scenic route alternatives that will take you from Denver to Colorado Springs. The Aspen Route will take you 480 miles with roughly 11 hours and 40 minutes of driving time without detours.
The alternative Breckenridge Route will cover 320 miles and take approximately 7 hours and 15 minutes before reaching Colorado Springs, and that is without accounting for any stops.
Trying to complete this beautiful drive quickly, no matter which route you choose, would mean missing out on many stunning sights that make Colorado so special. Instead, we recommend savoring this unforgettable journey and sparing at least 3 days for this road trip.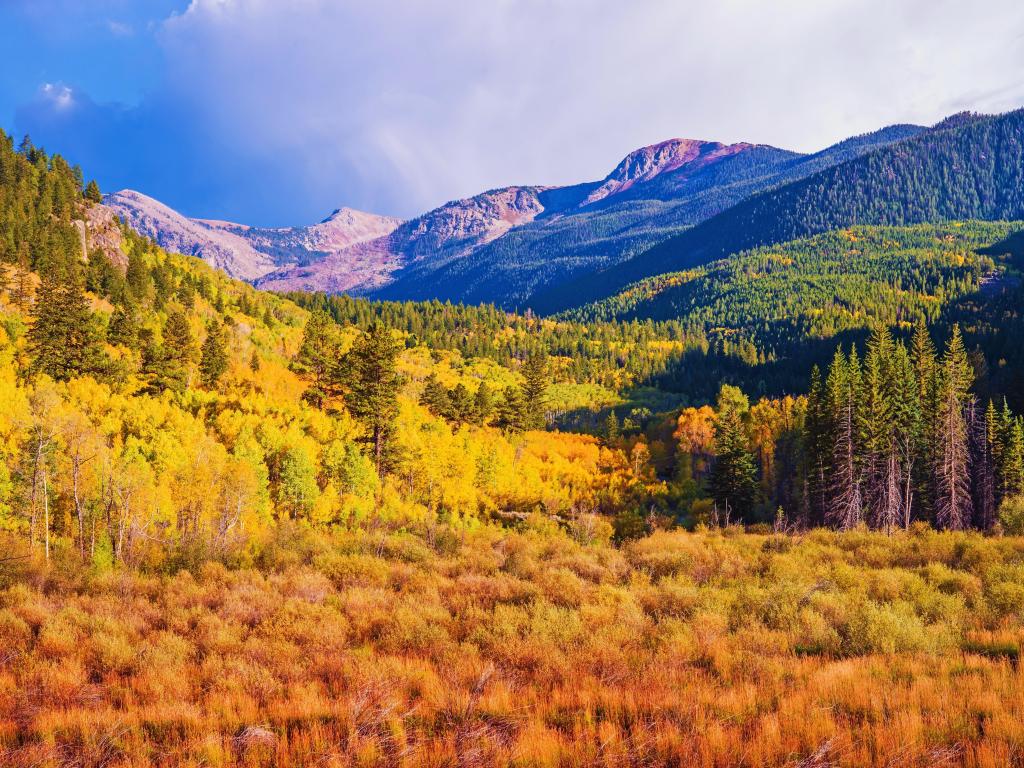 Best road trip route from Denver to Colorado Springs
While both routes on a road trip from Denver to Colorado Springs offer plenty of natural wonders and historical charm to experience, they are very different in terms of experiences. Which one you choose will depend on the kind of backdrop and attractions you want to see.
The longer Aspen Route will take you through the beautiful Arapaho & Roosevelt National Forest, rugged mountains, and wild alpine tundra. You'll get the chance to wander through the expansive Rocky Mountain National Park, and cruise along the world-renowned, picturesque Trail Ridge Road.
If you are following this route and wish to visit this beautiful national park, keep in mind that there is a reservation system in place, and make sure to book your time slot before you visit.
You'll also see quaint mountain towns and scenic cities like Boulder, Glenwood Springs, and Aspen. However, you might miss out on some of the high mountain towns located on the alternative Breckenridge Route.
If you're drawn to majestic peaks and historical sites, the Breckenridge Route is your pick. This route will let you see the soaring pinnacles of the Rocky Mountains and drive through the famous Continental Divide.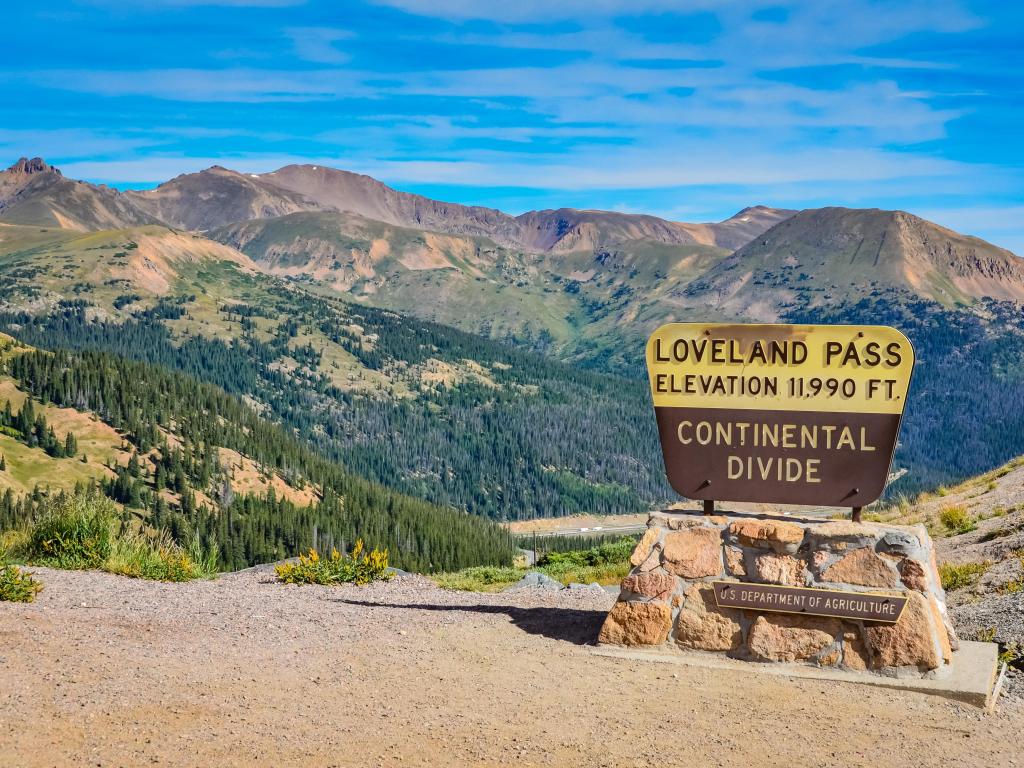 Dive into outdoor havens like Breckenridge, with its deep-seated Wild West history and countless recreational options, or check out the skiing paradise of Vail, with its array of upscale lodging, if you want to hit the slopes.
Before you reach Colorado Springs, you can also drive up Pikes Peak to take in the stunning views on both routes or make a detour to visit Pike-San Isabel National Forest.
How to drive from Denver to Colorado Springs
The map above shows the Direct Route and the Breckenridge Route options between Denver and Colorado Springs. Keep reading for detailed descriptions of both routes, where to stay on either, and the best things to do on the way.
The Aspen Route
Depart from Denver, and drive towards Boulder on US-36, where you'll experience the hip college town nestled against the backdrop of mountains.
Continue further northwest and make your way to Estes Park, the gateway to Rocky Mountain National Park. As you venture into the park, take a moment to drive along the iconic Trail Ridge Road (closed in winter).
Next, follow US-34 West towards Lake Granby and the serene beauty of Arapaho National Recreation Area. From there, continue southwestward until you reach Glenwood Springs.
Keeping the green, dense expanses of the White River National Forest to your left, you will soon reach Aspen. Take your time to explore here and once you are ready, head past Twin Lakes to Granite.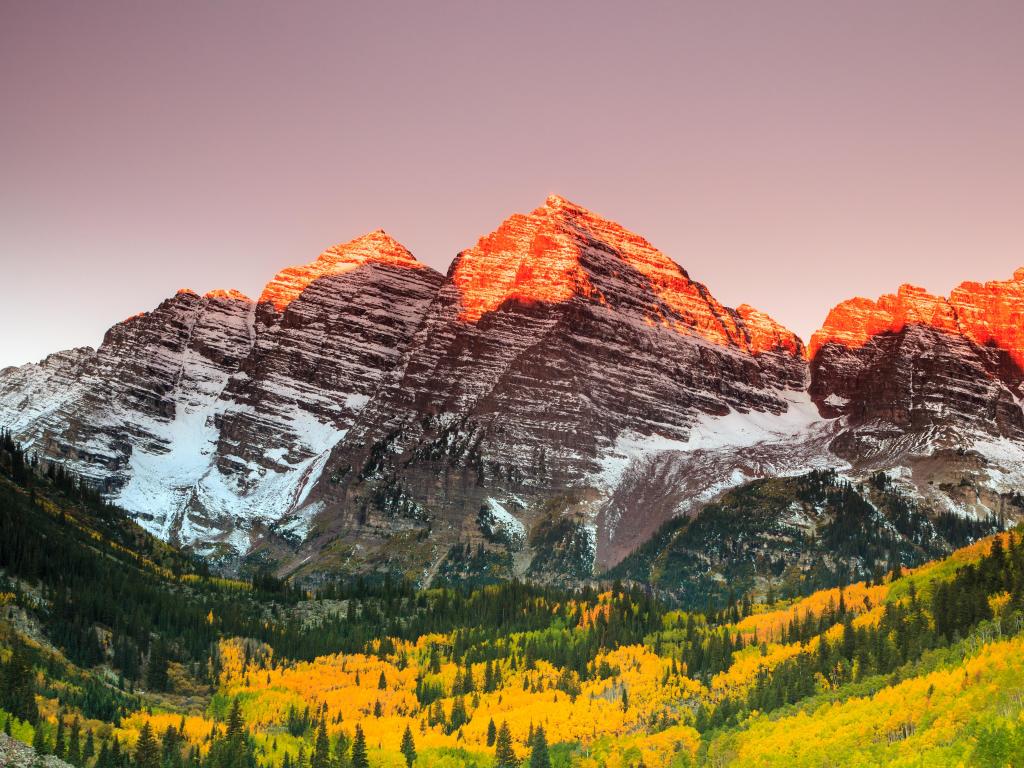 Make a brief stop in the scenic town of Buena Vista before driving towards Antero Junction and continue on to Lake George and then Florissant. Here, don't miss out on the prehistoric wonders at Florissant Fossil Beds National Monument.
Your final stretch takes you eastward to Pikes Peak, one of Colorado's most iconic mountains. Lastly, descend into Manitou Springs before reaching your destination in Colorado Springs.
The Breckenridge Route
Beginning in Denver, head west on Interstate 70 (I-70). As you continue westward, take a brief detour off the interstate to the historic Idaho Springs, a testament to the Colorado Gold Rush era. A little further along, don't miss the captivating experience of the Georgetown Loop Railroad.
From here, continue on the interstate, ascending to the Continental Divide via the Loveland Pass. As you descend, you'll drive past Dillon Reservoir, the perfect place for a lakeside picnic or a short hike.
Soon, you'll find yourself in the heart of Breckenridge, a town known for its rich Wild West history and world-class skiing. Proceeding west, your next major destination is Vail, another destination for skiing and snowboarding worth spending time in.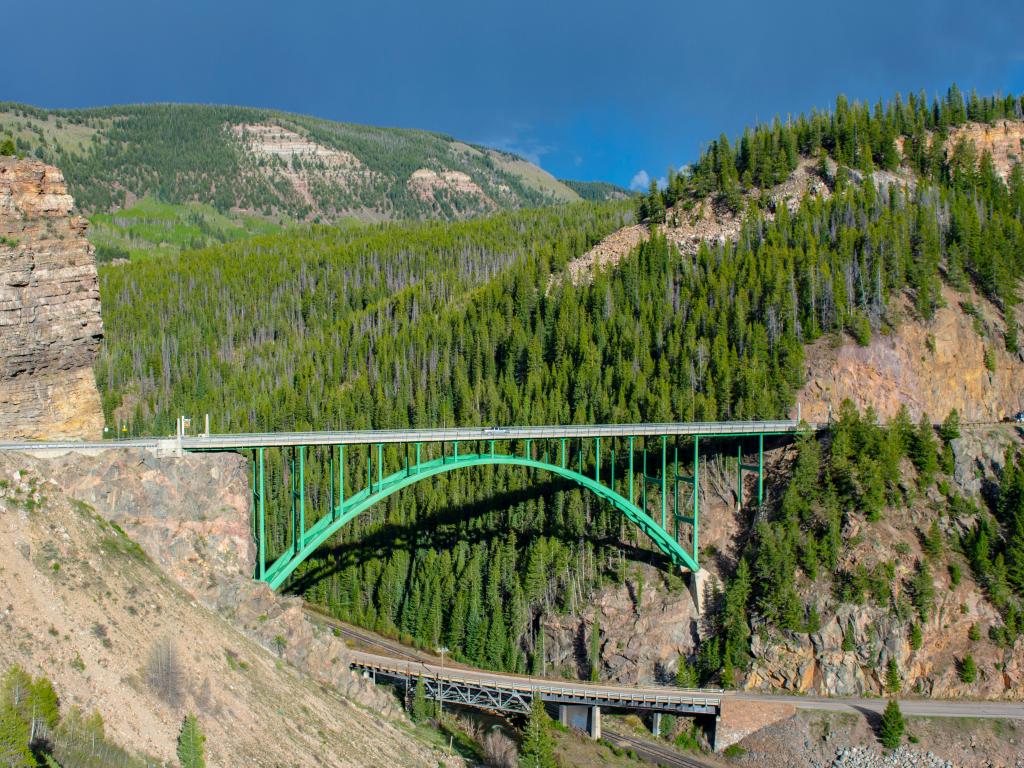 From Vail, head south on US-24, stopping by the charming town of Minturn. Then make your way to Leadville, which not only boasts a rich mining history but is also North America's highest incorporated city. Continuing south, you will reach Granite, where our suggested routes converge.
From here, follow the same directions as the Aspen Route to reach Colorado Springs.
Best places to stop between Denver and Colorado Springs
Although you're driving in only one state, there are many sights and experiences along the way. To really get the most out of this incredible journey, we recommend staying at one of the following stops.
Rugged mountain views in Aspen
Aspen is an ideal overnight stop on the Aspen Route, at 6 hours and 30 minutes into the journey. Surrounded by the towering peaks of the Colorado Rockies, Aspen's snow-covered landscapes and vibrant town vibe will be sure to impress.
One of the jewels of this route is undoubtedly Aspen itself, recognized globally for its world-class skiing areas. Here, you can carve your way down pristine slopes or indulge in the ski culture that the town is known for.
If you cannot wait to get your skis on, then the first place to visit is the Aspen Mountain Ski Resort. Its glistening slopes beckon both novice and expert skiers alike.
If you prefer to have a less adrenaline-driven adventure, a must-see is the historic Wheeler Opera House. Steeped in culture and history since the 19th century, it hosts many performances ranging from concerts to theater, so make sure to check the program before visiting.
While visiting this beautiful town, we recommend staying at the luxurious Limelight Hotel Aspen. Located in the heart of town, this elegant hotel is near the nearest ski lifts and other quintessential Aspen attractions. You'll love its thoughtfully designed rooms, while amenities such as an outdoor pool, hot tub, and rooftop terrace add to its allure.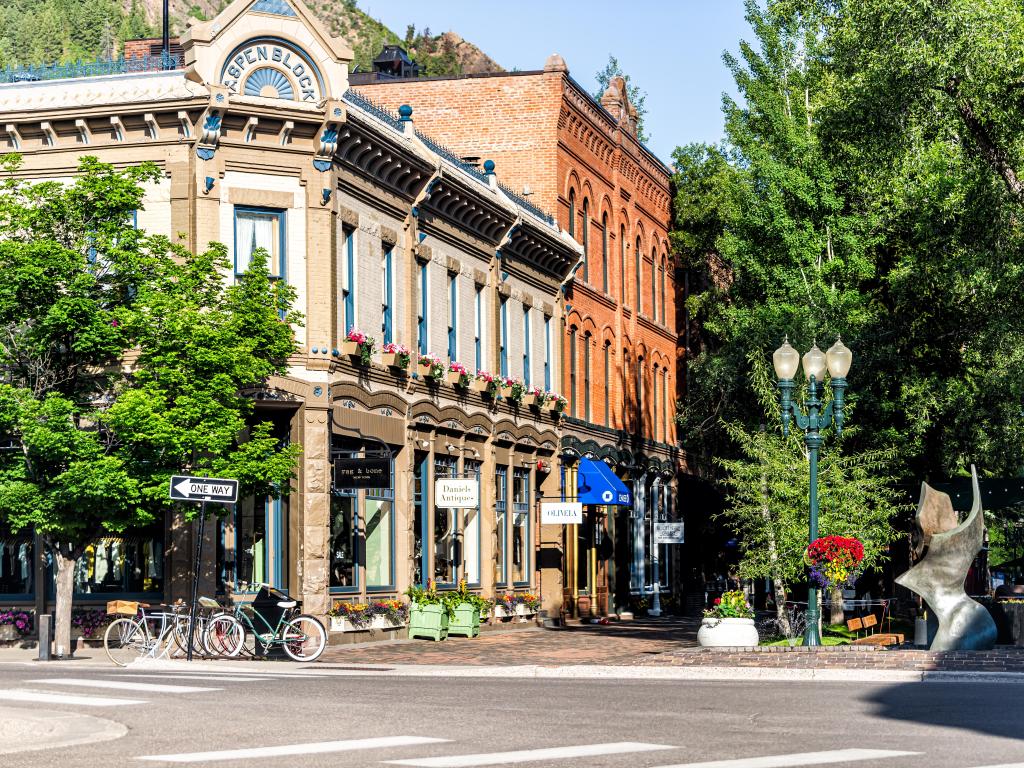 Destinations like the Aspen Art Museum and John Denver Sanctuary are within easy walking distance of the hotel. However, after an adventure-filled day, we suggest retreating to the Limelight Hotel's cozy restaurant for an evening out.
Hit the slopes in Breckenridge
Breckenridge, another amazing destination for outdoor enthusiasts, is situated nearly 1 hour and 40 minutes into your journey on the Breckenridge Route. Nestled in the heart of the Rockies, Breckenridge blends the charm of a ski haven with the its past as a mining town.
Breckenridge boasts an average of 300 days of sunshine with 300 inches of annual snowfall, making it an ideal winter holiday spot.
Beyond its reputation as a world-class ski destination, the town is full of history. You can see the town's mining past is beautifully preserved in its Victorian architecture on Historic Main Street.
For your stay in Breckenridge, we recommend choosing the Crystal Peak Lodge By Vail Resorts. Each room provides a terrace where you can revel in panoramic views, complemented by cozy seating areas equipped with fireplaces. The lodge also has two movie lounges and a game room for you to enjoy.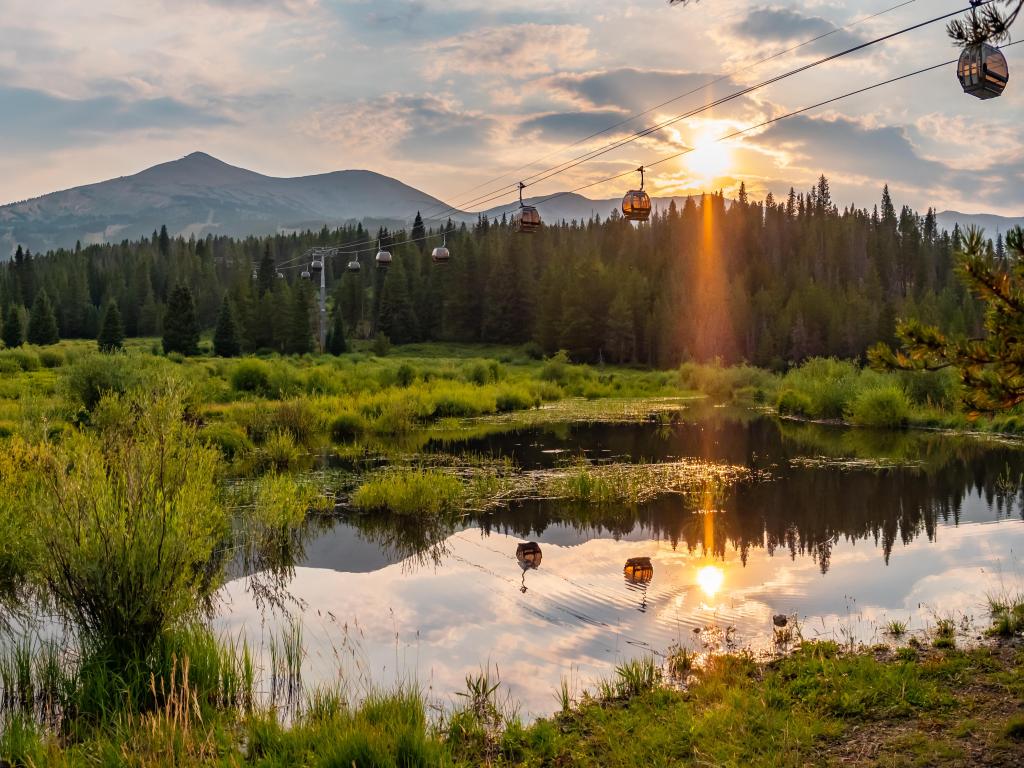 Nearby, the Cucumber Gulch Wildlife Preserve has scenic trails with educational signposts, located a short stroll from the lodge. And if you love skiing or snowboarding, the Independence Super Chair Gondola is located less than 100 meters away, giving you easy access to the incredible mountains.
Where to stay when you reach Colorado Springs
Colorado Springs is celebrated for its breathtaking backdrop of Pike's Peak and its endless opportunities for outdoor recreation. Once you arrive, explore the iconic Garden of the Gods, a geological marvel with magnificent red rock formations.
Navigating the city is an experience in itself. The diverse landscapes and outdoor activities available make every corner full of excitement. From challenging hikes to leisurely strolls in the historic town center, Colorado Springs is truly an unforgettable destination.
In Colorado Springs, we recommend staying at the luxurious and highly-rated Garden of the Gods Club & Resort. This resort is truly an experience. Spaciously designed and rustic in decor, the rooms will give you incredible vistas of the majestic mountains.
Imagine unwinding in the hotel's heated pool after a long day or indulging at their fine dining restaurant. There's also a full spa and a popular golf course for golf enthusiasts.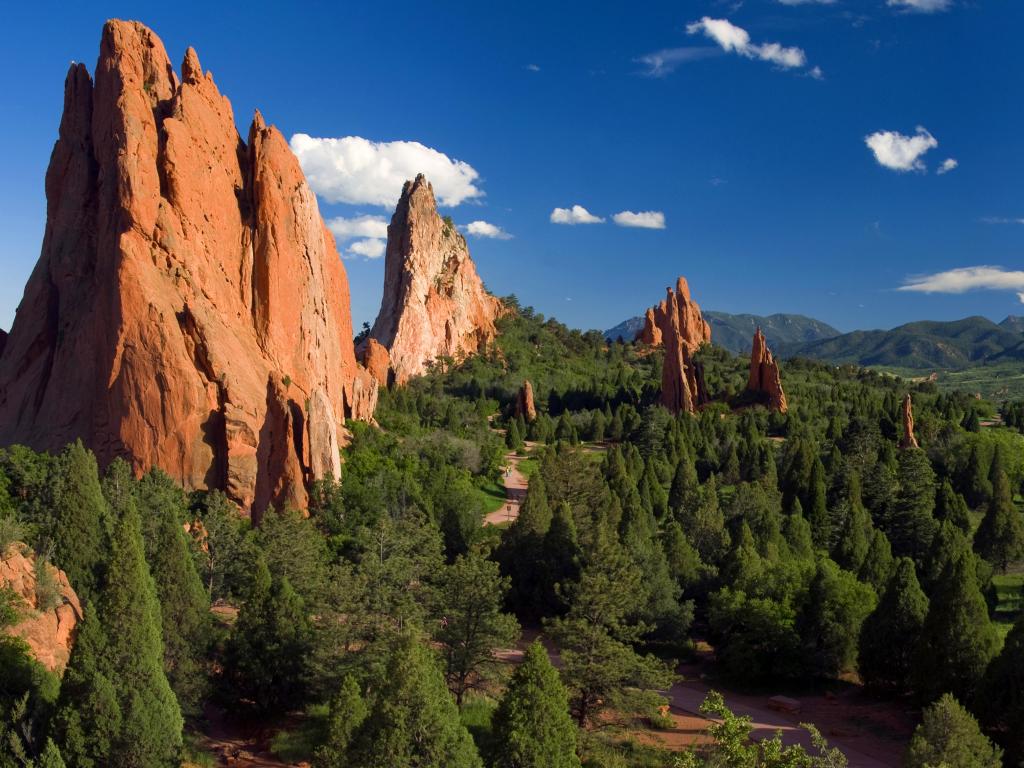 Things to see on a road trip from Denver to Colorado Springs
There's so much to do and see on your way from Denver to Colorado Springs. Below are our top highlights to help you plan the Colorado road trip of a lifetime.
Aspen Route
Boulder - Nestled at the foothills of the Rocky Mountains, Boulder has a vibrant arts scene, historic downtown, and plenty of outdoor opportunities.
Estes Park - A charming mountain resort town, Estes Park is the primary gateway to Rocky Mountain National Park and is famous for its picturesque landscapes and wildlife viewing.
Rocky Mountain National Park - This iconic national park offers majestic mountain views, diverse wildlife, and miles of hiking trails ranging from easy walks to challenging backcountry routes.
Arapaho National Recreation Area - Encompassing five major lakes, this recreation area is a hub for water-based activities, set against the backdrop of the scenic Continental Divide.
Hanging Lake - A geological wonder, Hanging Lake is a stunning, crystal-clear turquoise lake perched high within Glenwood Canyon, accessed via a short but challenging hike.
Glenwood Springs - Best known for its hot springs, Glenwood Springs is a historic town offering a mix of relaxation, adventure, and its iconic Hanging Lake.
White River National Forest - Spanning over 2.3 million acres, this national forest is home to numerous peaks, rivers, and alpine lakes, giving you plenty of opportunities for hiking, camping, and skiing.
Aspen - Synonymous with luxury skiing, Aspen is a high-end resort town set amidst the majestic Elk Mountains, offering year-round outdoor activities and a vibrant cultural scene.
Independence Pass - At over 12,000 feet, this scenic mountain pass connects the towns of Aspen and Twin Lakes, giving you panoramic views, especially during fall foliage.
Twin Lakes - Named for its two large glacial lakes, Twin Lakes is a serene village known for its outdoor recreation and stunning views of the surrounding peaks.
Breckenridge Route
Genesee Park, Golden - A prominent mountain park near Golden, Genesee is known for its buffalo herd, hiking trails, and panoramic views of the Front Range mountains.
Idaho Springs - A historic gold-mining town, Idaho Springs gives you a glimpse into the Old West with its heritage sites, hot springs, and quaint mountain charm.
Georgetown Loop Railroad - This historic narrow-gauge railroad has scenic rides through the mountainous terrain, connecting Georgetown and Silver Plume over a series of bridges and trestles.
Loveland Pass - Rising above 11,000 feet, Loveland Pass has breathtaking alpine vistas and is a popular spot for backcountry skiing and snowboarding.
Dillon Reservoir - Also known as Lake Dillon, this expansive reservoir serves as both a water storage facility and a recreational hub for sailing, fishing, and picturesque lakeside strolls.
Breckenridge - A world-renowned ski resort town, Breckenridge dazzles visitors year-round with its historic downtown, outdoor adventures, and vibrant arts scene.
Vail - Best known for its elite ski slopes, Vail is a luxurious mountain resort town offering a blend of European charm, outdoor recreation, and cultural events.
Minturn - Nestled between Vail and Beaver Creek, Minturn is a quaint town known for its history, artisan shops, and the scenic Minturn Mile ski run.
Leadville - At over 10,000 feet, Leadville is America's highest incorporated city, boasting rich mining history, Victorian architecture, and the scenic Leadville Colorado & Southern Railroad.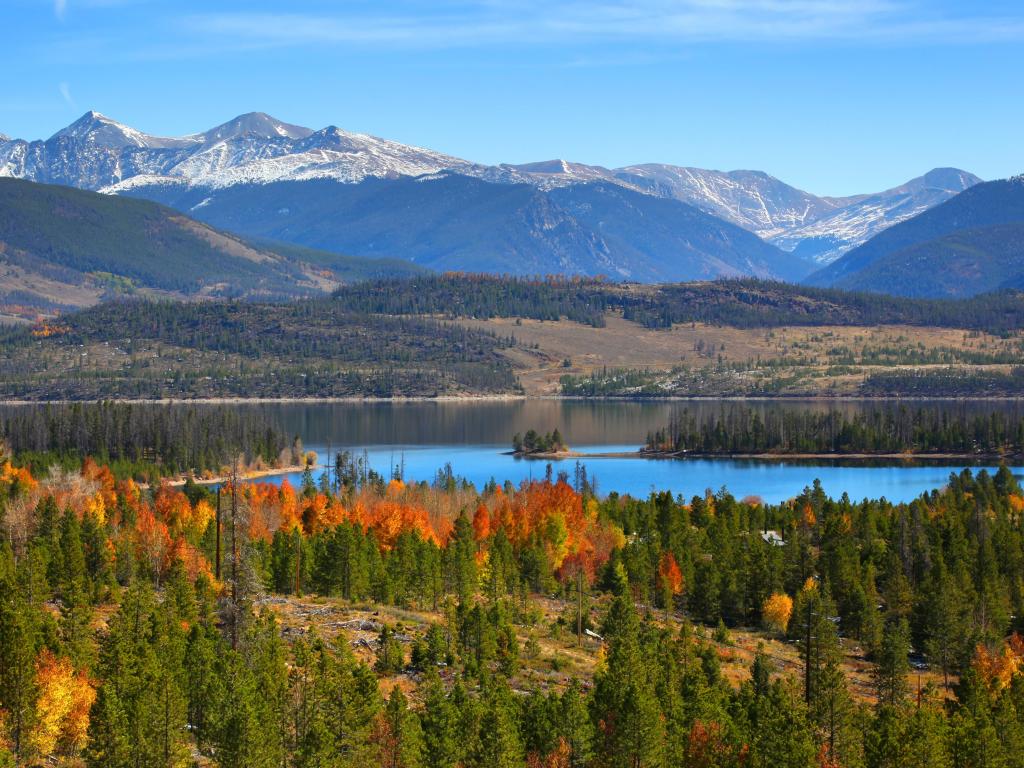 Both routes
Clear Creek Reservoir - A popular spot for boating and fishing, this reservoir offers picturesque views of the Sawatch Range, complemented by the surrounding natural beauty.
Buffalo Peaks Wilderness Area - A pristine wilderness area, it offers a unique blend of gentle meadows and rugged peaks, making it a paradise if you love hiking.
Buena Vista, Colorado - Set on the Arkansas River, Buena Vista is a hub for whitewater rafting, with stunning views of the Collegiate Peaks.
Antero Junction - A quiet intersection in Central Colorado, Antero Junction is surrounded by natural beauty, with Antero Reservoir being a key attraction for fishing and camping.
Florissant Fossil Beds National Monument - Preserving one of the richest fossil deposits in the world, this monument offers a glimpse into prehistoric life with its petrified redwood stumps and detailed fossils.
Pikes Peak - Towering over Colorado Springs, Pikes Peak is one of the most famous summits in the U.S., accessible via a scenic highway, cog railway, or a challenging hike.
Pike-San Isabel National Forest - Encompassing over a million acres, this national forest is adorned with rugged mountains, lush forests, and clear lakes, making it a haven for outdoor enthusiasts.
Manitou Cliff Dwellings - A cultural landmark near Colorado Springs, these preserved Anasazi cliff dwellings offer visitors an opportunity to explore and learn about the region's ancient indigenous history.
Miramont Castle Museum - Located in Manitou Springs, this Victorian-era castle is like a journey into the past with its 30 rooms filled with historic artifacts and period-appropriate furnishings.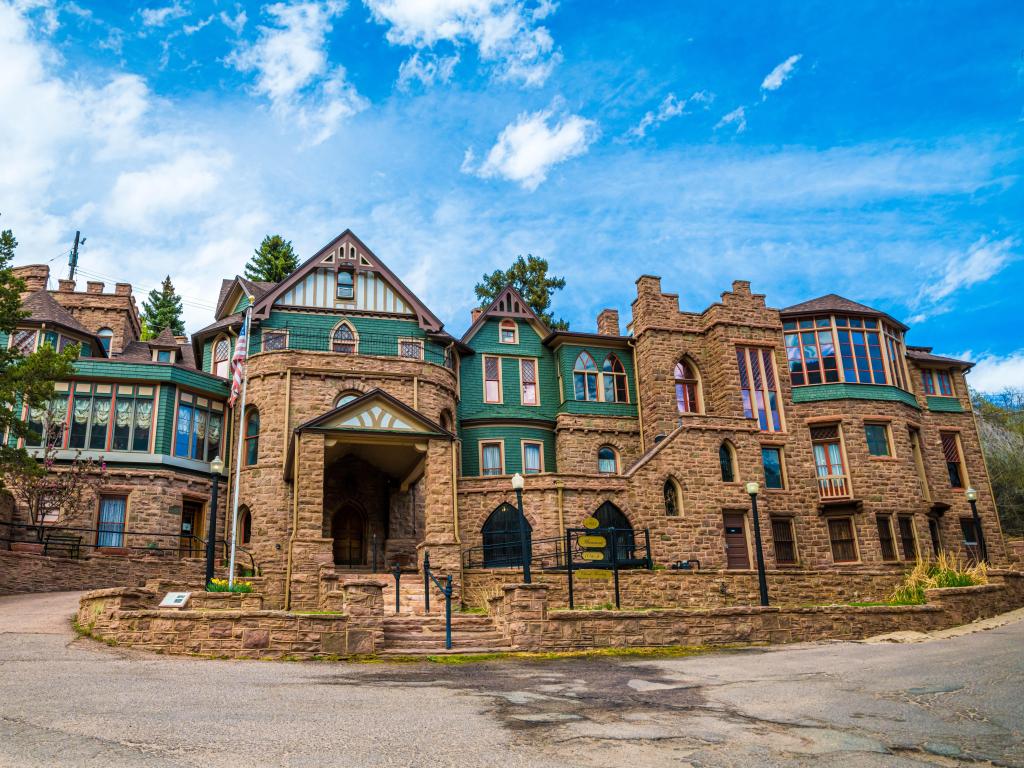 Best time to go on a road trip from Denver to Colorado Springs
Colorado Springs is a year-round destination full of recreational opportunities and beauty around every corner. However, the journey from Denver can vary immensely based on the season and the route you pick.
If you're choosing the Aspen Route, winter has its set of challenges. Keep in mind that famed Trail Ridge Road near Rocky Mountain National Park is closed in winter, with temperatures often plummeting between 10 to 30 degrees Fahrenheit with plenty of snow and ice.
Other passages, such as Independence Pass, might also become impassable in severe winter conditions. Always check the weather forecast before traveling in winter.
However, winter also brings its own charms in this area that is a true winter wonderland. Driving on the Breckenridge Route during the colder months will allow you to see the Breckenridge International Snow Sculpture Championships in January.
The summer months in Colorado Springs give you daytime temperatures between 70 to 90 degrees Fahrenheit. You can experience the Garden of the Gods Summer Concert Series during the summer.
If you prefer warmer months and travel on the Aspen Route in summer, you can see events like the Glenwood Springs Strawberry Days Festival in June. On the Breckenridge Route, you can enjoy the Vail Dance Festival in July.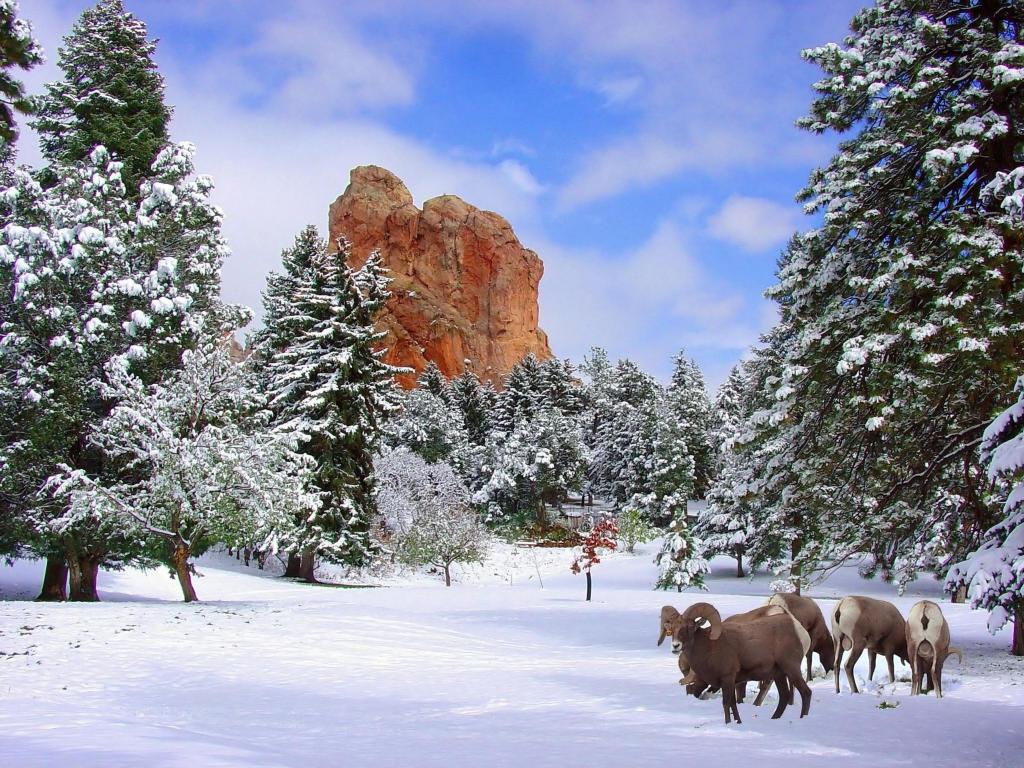 Spring and fall are beautiful times of year in Colorado. Temperatures are mild, and in spring, there's still plenty of snow on the peaks.
Fall and spring temperatures in Colorado Springs will be around 45-75 degrees Fahrenheit. With this perfect weather, you can explore the stunning Garden of the Gods or grab a perfect pint downtown. If traveling in September, make sure to check out the screening schedule Aspen Filmfest.