Road Trip From Denver To Los Angeles
Looking at a map, you may think that driving all the way to LA from Denver is a mad idea given there are plenty of flights and the distance between them, but you'd be very wrong.
If you love exploring some of America's best scenery, enjoy seeing places along the way and have time on your hands, then it's time to head west until you reach the Pacific Ocean.
The road trip from Denver to Los Angeles will take around 15 hours of pure driving. Allowing for stops along the route, you'll want to take at least 2 days and spend time in the Rockies, explore Arches and Zion National Parks and a night in Las Vegas.
Read on to discover the best things to see on the way, amazing places to stop and top tips for the route to take.
How far is Denver from Los Angeles and how long will the road trip take?
The fastest and most scenic route from Denver to Los Angeles is around 1,020 miles on way. Even with short stops to refuel and eat, you'll likely take around 18 hours to get there so do yourself a favor and take the slow lane.
| Route | Distance | Driving Time |
| --- | --- | --- |
| Interstate Route | 1,020 miles | 17 hours 20 minutes |
| Alternative Route[/td-subtext] | 1,140 miles | 17 hours 50 minutes |
If getting there as fast as possible is the objective, hop on the plane and you'll be there in a few hours. Road trips are for those who enjoy the journey as much as the destination.
Having said that. if you share the driving and set off early from Denver, you could get to Los Angeles at around midnight. I sure hope your car has comfortable seats or your back won't be your friend the next day.
If you want to do the road trip justice, you'll want to take a good 4-5 days each way. If you don't want to track back, you can take an alternative route through Arizona on the way back to Denver.
It'll cost you an extra 3 hours of driving and almost 200 miles of asphalt, but you'll get to drive a section of Route 66, see the red rocks of Sedona, Grand Canyon and drive through Monument Valley before rejoining the I-70 near Moab.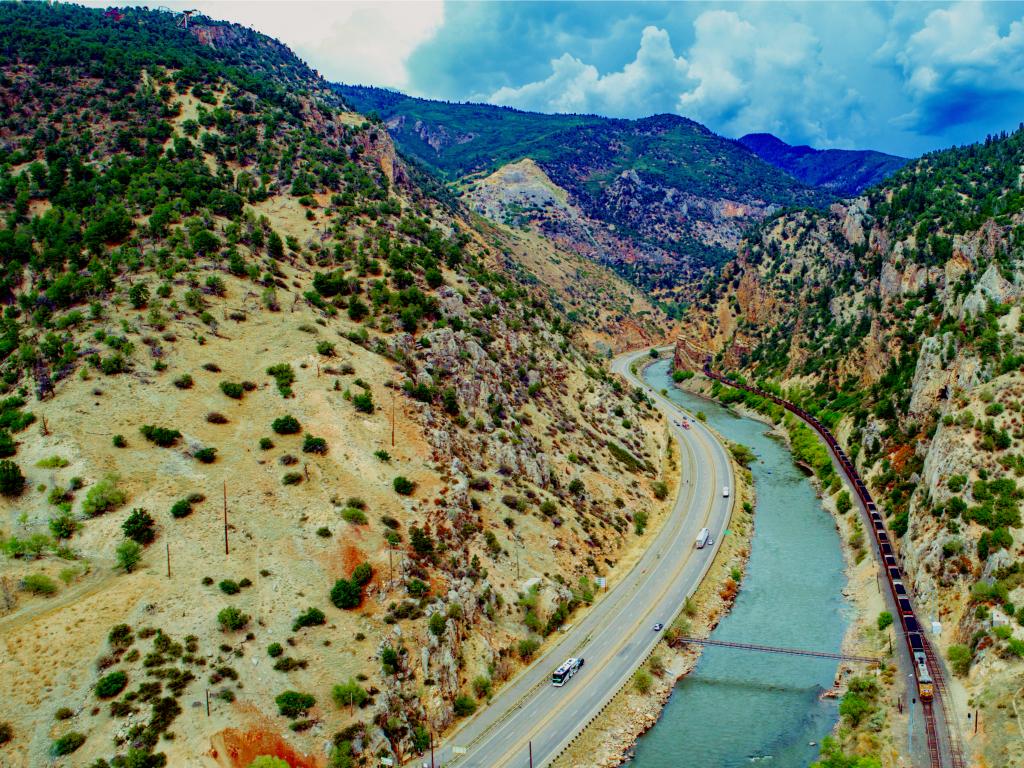 Best road trip route from Denver to Los Angeles
Although Google Maps will give you a few alternatives, the best road trip route from Denver to Los Angeles is also the fastest following the I-70 and I-15 the entire way between the largest cities of Colorado and California.
For those wanting to come back a different way, we've added the alternative route passing through Arizona – if you're a lover of hiking through desert national parks and not much of a Vegas fan, this route could be perfect.
How to drive from Denver to Los Angeles
The map above shows our suggestions for the best road trip routes between Denver and Los Angeles. Keep reading for detailed descriptions of both routes, where to stay on either, and the best things to do on the way.
Interstate Route
Head west out of Denver and follow the I-70 up into the Rocky Mountains. As you climb higher towards the snow-capped peaks, you'll pass through the famous ski resort of Vail with Aspen only a short detour away.
Further along the interstate will take you through the White River National Forest as you descend from the mountains down to Glenwood Springs, past the stunning Hanging Lake.
After passing the vineyards of Palisade and Grand Junction, you'll cross over into Utah with Moab and Arches National Park to your left.
Stay on the I-70 all the way through to Fishlake National Forest where you'll join onto the I-15 South.
After passing Zion National Park (which incidentally is my favorite in the United States) and cutting through a tiny corner of Arizona, the I-15 passes through Las Vegas before taking you through the Mojave desert towards the northern reaches of Los Angeles.
Alternative Route (via Monument Valley and Arizona)
If you don't want to stop over in Vegas, want to see more amazing desert scenery or want to go and come back from Denver via different routes, you can take a detour through Arizona.
You will add a solid 3 hours onto the drive by following US-191 south past Arches and Canyonlands National Parks and through Moab all the way to the lands of the Navajo Nation.
4 states meet here (New Mexico, Arizona, Utah and Colorado) and you can spend time exploring amazing sights such as Monument Valley or the Canyons of the Ancients.
US-160 will take you right across the reservation to Flagstaff before following the I-40 past Lake Havasu all the way to Barstow, California before rejoining the faster route along the I-15 into Los Angeles.
Best places to stop between Denver and Los Angeles
If you are looking to explore the beautiful destinations on the way, there are some amazing places to stay overnight along the way. You can divide your trip into two days or more, depending on what you plan to explore. Combine things to do on the way and plan your trip accordingly.
Explore Arches and Canyonlands National Parks in Moab, Utah
If you plan to take it easy and divide the journey into three days or do a longer drive on the second day, Moab is a perfect spot for your first stop.
After covering about a third of the total distance from Denver, you will enter the stunning Utah desert with scenery so stunning there's two national parks in the area.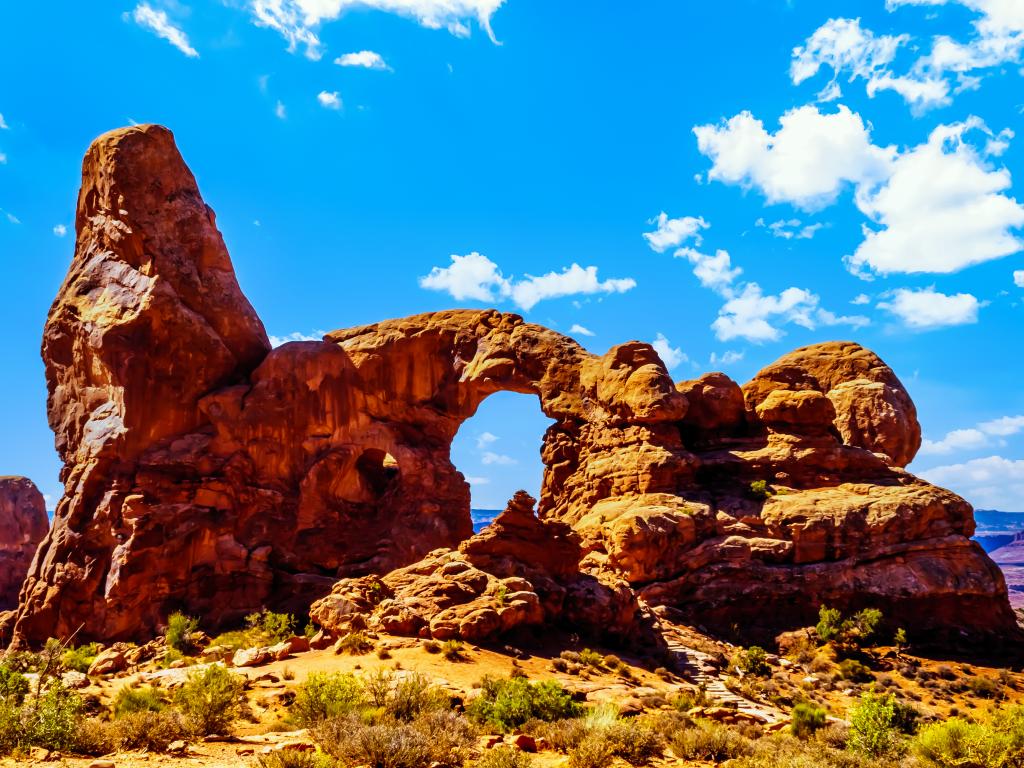 Moab is a great small town in a perfect setting, even if it can feel a little on the touristy side. It does serve as a great base for exploring both Canyonlands and Arches National Parks
Full of unique rock formations including… you guessed it – Arches and amazing hiking trails, this is a perfect getaway if you want to explore more of this region in less time.
Although there's a few decent options in the town of Moab, the best places to stay are just outside to make the most of the scenery and nature.
Located on the banks of the Colorado River and overlooking the amazing rocks it's named after, Red Cliffs Lodge comes with a great rustic touch. It may be a little more pricey than some of the chain options in Moab, but you're definitely getting your money's worth.
If you are looking for something even more luxurious, the Sorrel River Ranch Resort and Spa right around the corner is what you're after. Spectacular views, thoughtfully designed rooms, a luscious interior, and a serene vibe are all part of the experience but do come with a hefty price tag.
Spend a night in Las Vegas
If you want to cover as much ground as possible on day one or have other stops earlier on in the journey, Las Vegas is about 700 miles along the road trip from Denver to LA.
Whether you want to relax with a flutter at the casino tables, catch an evening show or go to one of the amazing restaurants up and down the Strip, you could stop for the night or spend a couple of days in the Sin City.
Although many people opt for the classic hotels at the old end of the strip or the opulence of the Bellagio, I prefer the more modern comforts of newer hotels instead.
Aria combines that unique Vegas feel of having a huge ground floor casino with great modern rooms with really nice décor at a very reasonable rate and you benefit from having the casino-less Cosmopolitan right next door with some amazing restaurants.
Things to see on a road trip from Denver to Los Angeles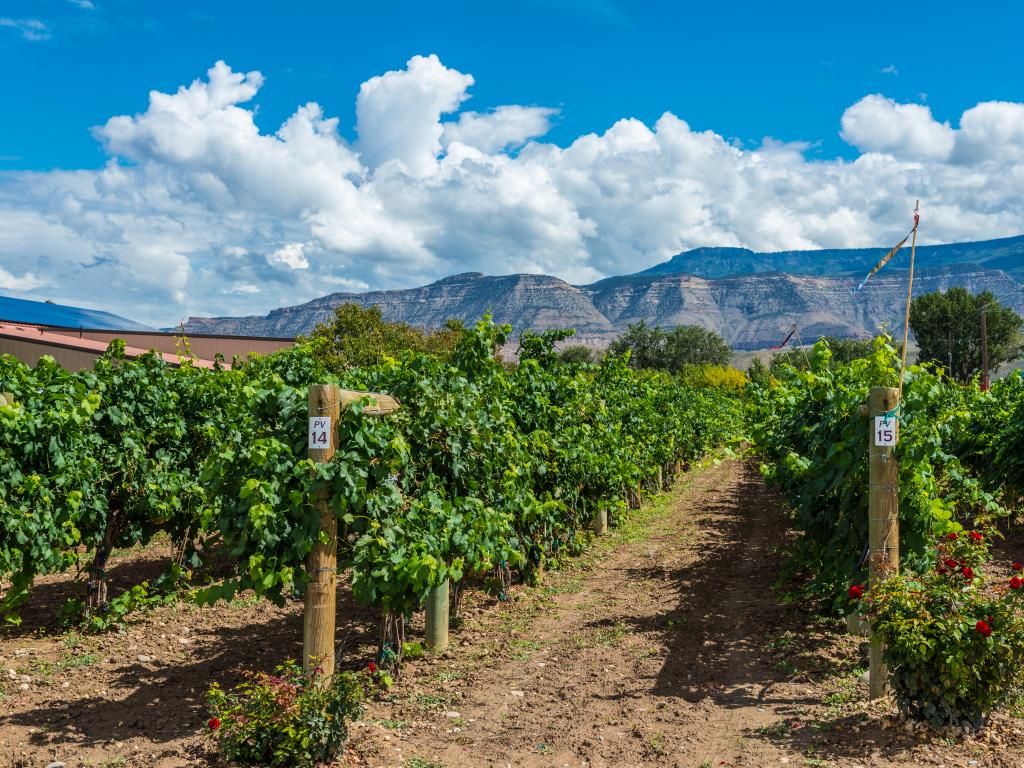 Rocky Mountains - Unending gorges, snow-capped mountain, hiking trails, and crisp air plus world-famous resorts such as Vail and Aspen
White River National Forest - A paradise for adventure seekers with skiing, hiking, and camping activities in pure wilderness.
Hanging Lake - A pristine lake in the forest just before you get to Glenwood Springs.
Glenwood Springs - World-famous for its natural hot springs and spas.
Grand Mesa Scenic Byway - Runs south from the I-70, this a route through twisty mountain roads with incredibly beautiful views.
Palisade wineries - Find some great local wine on the way from Denver to Vegas – you will be surprised by what Colorado has to offer.
Arches National Park - One of the most spectacular red rock national parks with unique arch formations. You might need to make a reservation for a timed-entry permit while visiting Arches National Park. Please check the national park's website for up-to-date information.
Canyonlands National Park - A larger park with more established hiking tours but a longer detour as compared to other options.
Mystic Hot Springs in Monroe - Hot water spring surrounded by beautiful scenery.
Bryce Canyon National Park - A series of natural amphitheaters carved into the edge of a high plateau.
Zion National Park - Easily accessible by car with some of the best views and hikes of anywhere in the United States. If you'd like to hike up to Angels Landing, you will need a permit and will need to make a reservation. Check the Zion National Park's website for more details.
Grand Staircase-Escalante - Incessant land of utter wilderness with some otherworldly terrains to explore
Grand Canyon - Hike through the massive gorges and ridges or just sit and take in the view from the North Rim.
Valley of Fire State Park - On your route as you approach Las Vegas, the park is known for its vibrant red rock formations that look like fire under the sun.
Seven Magic Mountains - Drive a few miles from Vegas through the twisting roads of the desert valley to the famous neon-painted boulders.
Mojave National Preserve - Drive through the rugged trails to see cinder cones and the Kelso Dunes. If you're taking the longer route through Arizona, there's more sights to discover.
Monument Valley - Perhaps the most famous red rocks towering above the desert landscape.
Canyons of the Ancients National Monument - Fascinating remnants of ancient civilizations.
Red Rocks of Sedona - Endless hiking routes and unbelievable rocks in the Sonoran Desert.
Route 66 - Drive along the world's most famous road west from Flagstaff.
Lake Havasu - A unique place along Colorado River that even has the old London Bridge transported all the way from London.
Best time to go on a road trip from Denver to Los Angeles
The best time to take the road trip from Denver to Los Angeles is in spring or fall. The weather is perfect, there's less people in the various National Parks and other locations along the way and the prices are also better than over the summer months.
Going in the summer will make for very hot and dry conditions if you plan on stopping in the national parks along the way with hiking during the day becoming unbearable. Moreover, once you get to LA, you'll discover what May Gray and June Gloom are all about as the clouds envelop the coastline every morning.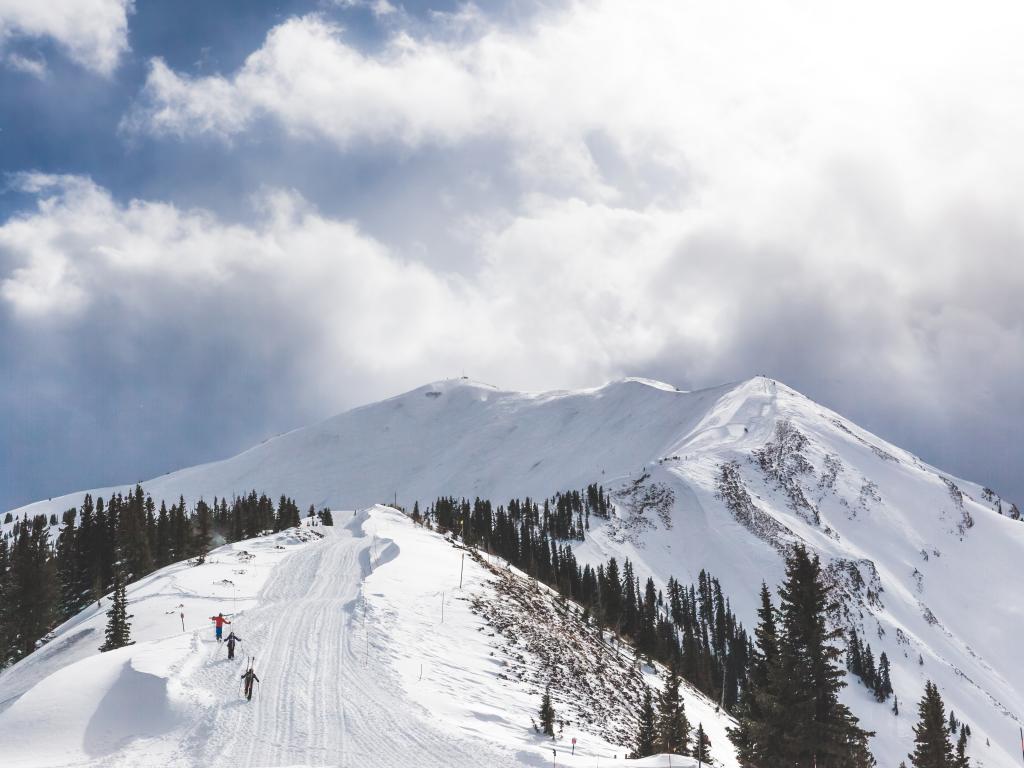 The I-70 over the Rockies is open throughout the year, but if you are planning your trip in winter, it is best to check the weather conditions beforehand. Snow storms can force some highways to close due to heavy snowfall and some routes are permanently closed throughout winter (for example the quickest route from Denver to Aspen).
The winter may not be the best time to hike through the harsh desert parks, but you can take advantage of the some of world's best ski resorts are on your way - Vail is right along the I-70 and Aspen is only a short detour away.
Given this route passes through a huge mix of terrains and some very remote locations, make sure you plan ahead – you'll want to make sure you have food, water and blankets in the car whatever time of year you go and you'll want snow chains in the winter as insurance against getting stuck high up in the mountains.