Road Trip from Denver to Zion National Park
Ready to leave the views of the Colorado's Rocky Mountains behind and travel to enchanting landscapes of steep red cliffs, narrow canyons, and lush river valleys? The road trip from Denver to Zion National Park will take you through beautiful hot spring towns, ski resorts and stunning red rock scenery.
The 740-mile road trip from Denver to Zion will take 11 hours to drive. The highlights en route are Aspen, Glenwood Springs, Moab, Arches and Canyonlands National Parks in the south or Steamboat Springs, Vernal and Salt Lake City further north.
This amazing drive from Denver to Zion National Park will be full of unforgettable highlights and experiences around every corner. Read on below to learn more about our top routes, best highlights, places to stay, and the best seasons to travel.
How far is Zion National Park from Denver, and how long will the road trip take?
Comparison of road trip routes between Denver and Zion National Park

| Route | Distance | Driving Time |
| --- | --- | --- |
| The Southern Route | 740 miles | 11 hours |
| The Northern Route | 760 miles | 12 hours and 30 minutes |
The Southern Route from Denver to Zion National Park covers 740 miles with a total drive time of around 11 hours without accounting for any detours or stops.
Alternatively, the Northern Route covers a slightly longer distance of 760 miles and takes about 12 hours and 30 minutes.
While it's possible to complete these routes in a single day, we recommend taking 4-5 days. This way, you'll be able to experience all the incredible highlights while getting time to rest after your long drive.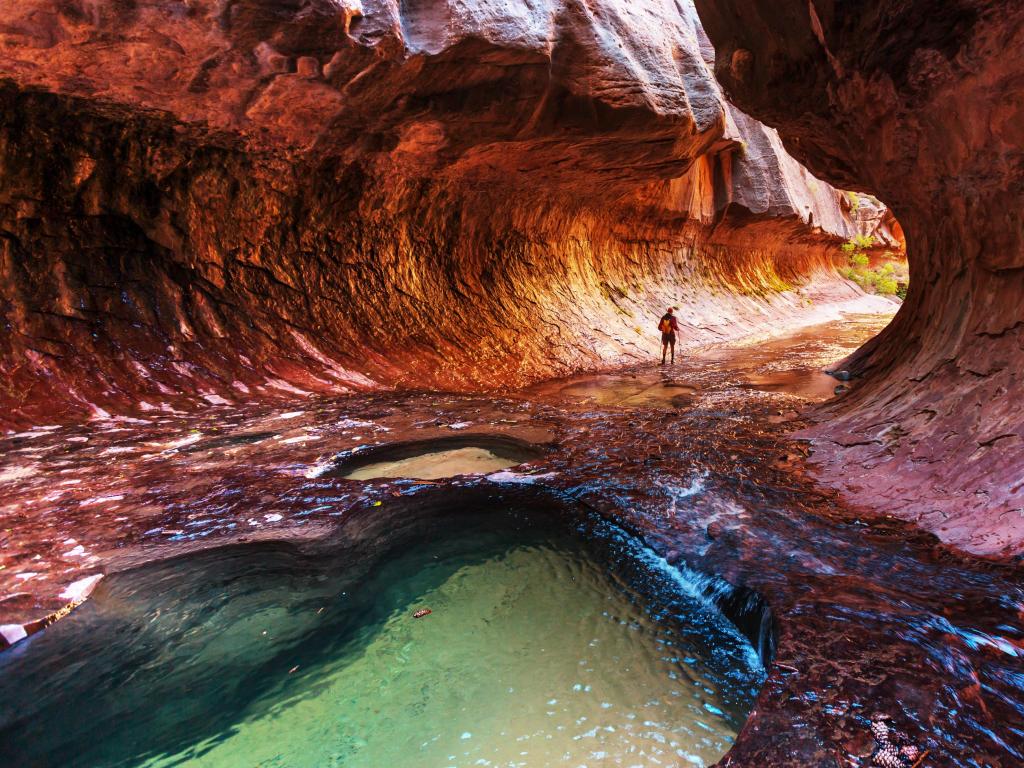 Best road trip route from Denver to Zion National Park
While both the Southern and Northern Routes from Denver to Zion National Park offer incredible experiences filled with natural beauty, they are quite different.
The Southern Route is a blend of long stretches on the Interstate and diverse scenic beauty. The drive becomes extra scenic around Aspen, especially in fall with its colorful foliage. In winter, it's a haven for skiers.
Entering Utah, the landscape transforms dramatically. You'll suddenly enter a land with spectacular rock arches and panoramic vistas.
A highlight is Moab, the gateway to the stunning Arches and Canyonlands national parks. This amazing destination is one of the most beautiful places in the USA.
The alternative Northern Route offers plenty of diverse landscapes to drive through. Beginning with a mountainous ascent from Denver to Steamboat Springs via Silverthorne, the route stays relatively flat but eventually takes you up the challenging and picturesque Rabbit Ears Pass.
In Steamboat Springs, a relaxing soak in the hot springs awaits you, perfect for unwinding after the drive. This route also has plenty of historical wonders, like the Dinosaur National Monument.
It also has plenty of detours, including lush national forests like Ashley National Forest and Uinta-Wasatch-Cache National Forest. Afterwards, you'll make it to Salt Lake City. If you have time, you can add a visit to Dixie National Forest before reaching Zion.
How to drive from Denver to Zion National Park
The map above shows our suggestions for the best road trip routes between Denver and Zion National Park. Keep reading for detailed descriptions of both routes, where to stay on either, and the best things to do on the way.
Southern Route
Starting in Denver, merge onto Interstate 70 (I-70) west. You'll drive up the mountains to Vail and other incredible ski destinations. After hitting the slopes, continue on the interstate to Glenwood Springs. From here, you can take a detour south by taking CO-82 to Aspen.
After experiencing this beautiful mountain city, head back north to Glenwood Springs and get back on the interstate to drive west. Continue on to Grand Junction.
After Grand Junction, continue on route west through the beautiful valleys around the Colorado River. You'll cross into Utah and continue on to Crescent Junction. Here, you can take another amazing detour by driving south to Moab.
After taking in Moab and visiting Arches and Canyonlands National Parks, drive back to Crescent Junction and get back on the interstate. Drive further west and merge onto I-15 south. Continue on to your destination, Zion National Park.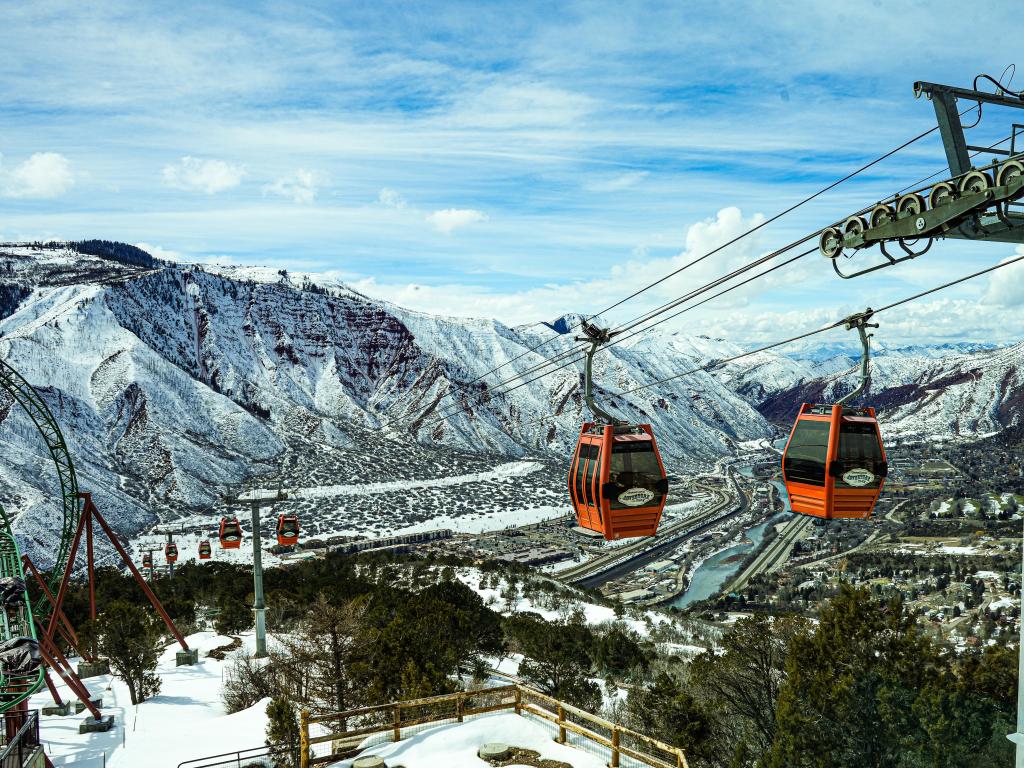 Northern Route
Starting in Denver, head west on I-70 to the beautiful town of Silverthorne. From here, merge onto CO-9 north through the beautiful lakes and mountainsides.
Continue on north to Kremmling and merge onto US-40 north. Soon, you'll make it to the mountains around Rabbit Ears Pass. After making a stop for hiking and enjoying the wilderness, continue on to Steamboat Springs.
After your visit, get back on the highway and drive through northern Colorado to Dinosaur National Monument.
Past Dinosaur, you will drive into Utah, and cross the Green River to the town of Vernal. From here, make your way northwest through the mountains of Utah to Salt Lake City.
After experiencing this fun and historical city, head south on I-15 through Provo. Continue south and soon, you'll make it to your destination of Zion National Park.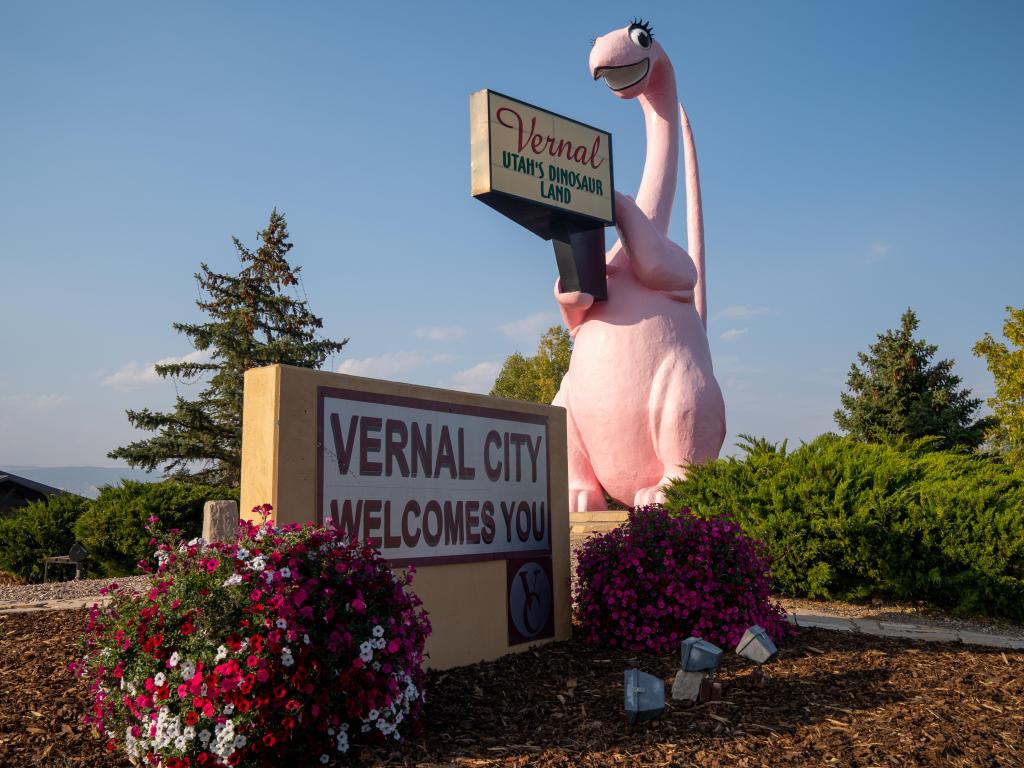 Best places to stop between Denver and Zion National Park
With so much to see and do along the way, you'll want to stop at one of our recommended destinations below. This way, you'll have plenty of time and energy to go explore this fantastic region of the USA.
Stunning mountain views in Aspen
Aspen is the ideal overnight stop on the Southern Route from Denver to Zion National Park, about 3 hours and 30 minutes into the drive. This picturesque mountain town, nestled in the heart of the Rockies, has a blend of high-end shops, gourmet restaurants, and luxurious lodges.
While in Aspen, a visit to the John Denver Sanctuary is a must. This peaceful retreat is a tribute to the beloved singer-songwriter. On the other hand, if you enjoy outdoor activities, the Rio Grande Trail provides a scenic route for walking or cycling.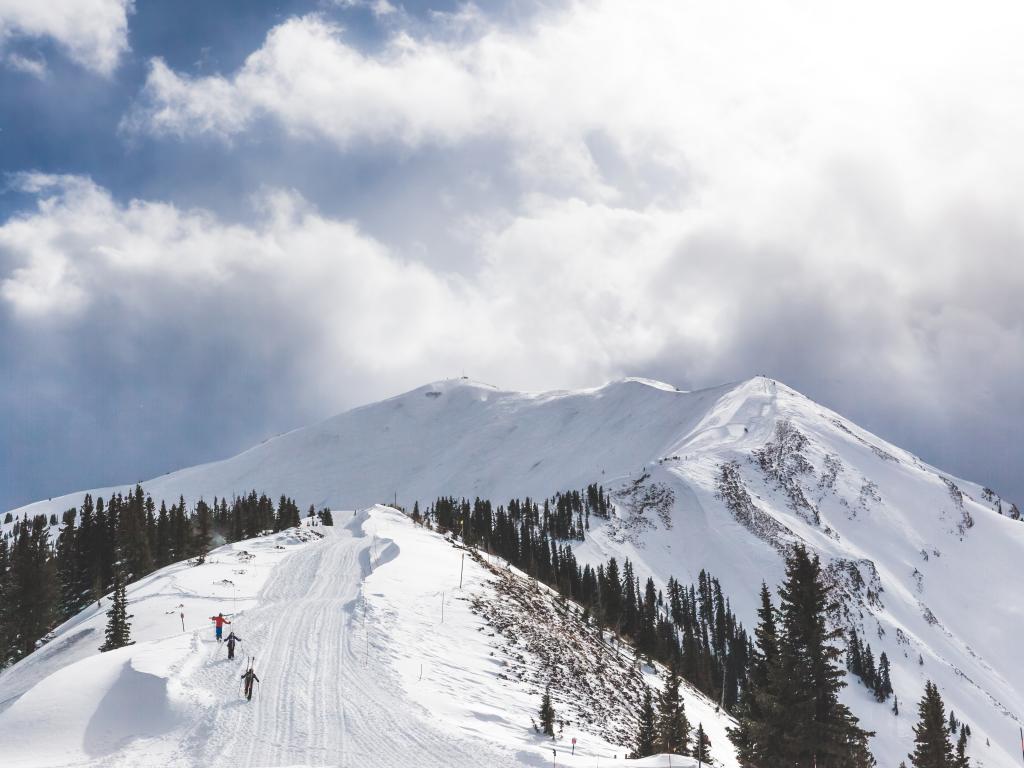 Did you know that in Aspen, there are hidden "shrines" dedicated to cultural icons like John Denver, Elvis Presley, Marilyn Monroe, and The Grateful Dead's Jerry Garcia? Locals created these monuments and tucked them away among the trees.
For your stay, we highly recommend the luxurious Limelight Hotel Aspen. This hotel embodies the essence of Aspen with its modern, chalet-chic design and comfortable, community-centric atmosphere.
Then hotel features two rooftop terraces that offer spectacular views of the Rocky Mountains, complete with plush lounge chairs, wrap-around sofas, and dining tables, perfect for relaxation. The hotel also has an outdoor pool, two hot tubs, a fitness center, ski valet and lockers.
In terms of nearby attractions, the Aspen Art Museum is just a 5-minute walk from the hotel, offering contemporary art exhibitions in a striking architectural setting. The John Denver Sanctuary, a serene spot celebrating the musician's legacy, is only a 10-minute walk away.
Take in the history and architecture of Salt Lake City
Salt Lake City is a wonderful stopover on the Northern Route from Denver to Zion National Park. The city is located 8 hours and 40 minutes into your drive. This beautiful city, nestled against a backdrop of mountains, offers a mix of urban comforts and breathtaking outdoor adventures.
The city is famous for its world-class attractions, including the Salt Lake Utah Temple with its stunning architecture and the Red Butte Garden, a peaceful oasis featuring diverse plant collections and themed gardens.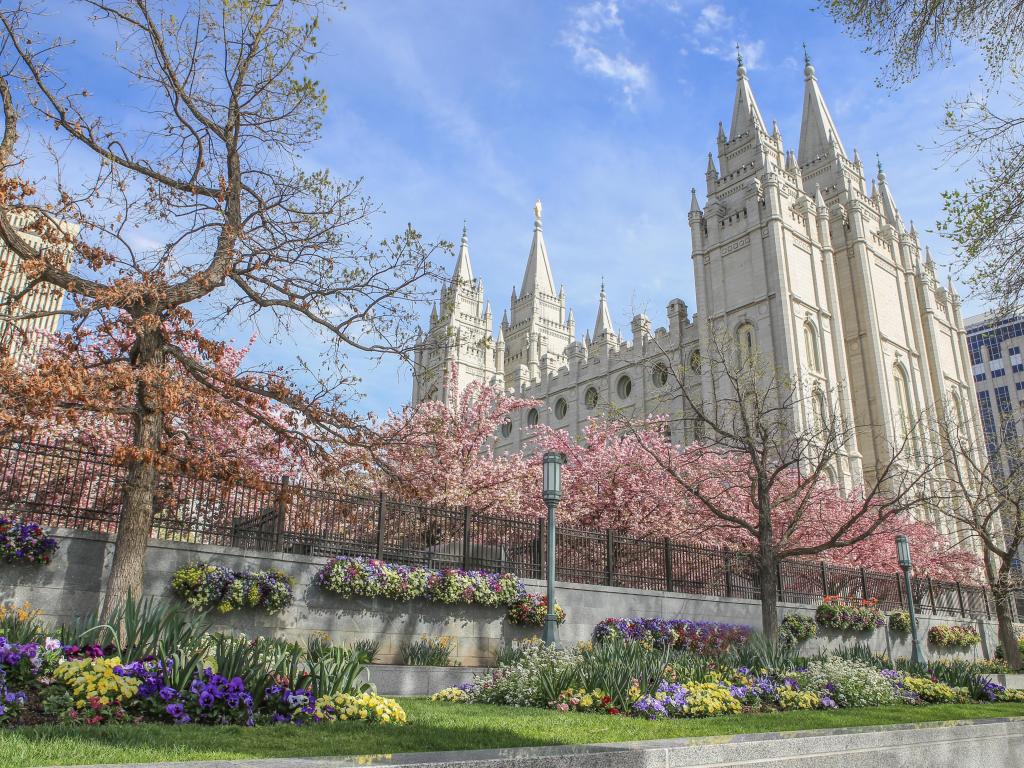 For your stay, the Grand America Hotel is an exceptional choice. This luxurious European-style hotel is located conveniently within an hour's drive of several ski resorts. The hotel is also close to numerous outdoor activities, such as biking, hiking, golfing, rock climbing, and fishing.
The Grand America Hotel has a full-service spa, an indoor pool, a spa tub, and a sauna, offering you the ultimate relaxation and rejuvenation after your adventure in the great outdoors.
Dining at the hotel is also an experience, with the Garden Café serving American cuisine and the Lobby Lounge providing a sophisticated setting for drinks and conversation.
The Leonardo, a contemporary museum blending science, technology, and art, is just a 10-minute walk from the hotel. Additionally, the Clark Planetarium, ideal for those interested in astronomy and space exploration, is a mere 5-minute drive away.
Where to stay when you reach Zion National Park
Zion National Park is renowned for its majestic mountains and the unique experience of seeing a roaming herd of buffalo. When visiting, you'll immerse yourself in the park's natural wonders, like The Narrows and the Temple of Sinawava, each offering awe-inspiring experiences.
Adding to the area's charm is its rich history; the first Anglo-European settlers, Mormon pioneers, named it Zion in the late 1800s, a Hebrew word meaning a sanctuary or refuge.
Located near this natural paradise is the Red Mountain Resort, a haven that blends the beauty of nature with wellness-focused amenities. Here, you can experience both the tranquility and adventure that Zion offers.
The resort's location allows you to enjoy stunning views of the surrounding red rock mountains, enhancing your stay with a backdrop of natural beauty.
Furthermore, the resort features four seasonal outdoor pools at the base of Snow Canyon State Park plus a wellness spa to relax in. The resort's proximity to Zion National Park means you're never far from exploring its iconic landscapes.
Things to see on a road trip from Denver to Zion National Park
There is so much to experience and explore on your way from Denver to Zion. To help you plan your trip perfectly, we've included our top highlights below.
Southern Route
Tabor Opera House - Situated in Leadville, Colorado, the Tabor Opera House is a historic venue known for its rich cultural history and beautifully preserved Victorian-era architecture.
Twin Lakes Boat Town - In the scenic town of Twin Lakes, Colorado, visitors can enjoy boating and fishing in the serene lakes surrounded by breathtaking mountain views.
Independence Ghost Town - Near Aspen, Independence Ghost Town is a well-preserved mining village that offers a glimpse into the life and times of Colorado's early settlers.
Aspen - A renowned ski resort and year-round destination, Aspen, Colorado, is known for its world-class skiing, vibrant arts scene, and stunning mountain scenery.
Hot Springs Pool, Glenwood Springs - The Hot Springs Pool in Glenwood Springs is one of the largest mineral hot springs pools in the world, providing a relaxing and therapeutic experience.
Museum of Western Colorado - Located in Grand Junction, this museum offers exhibits on the natural and cultural history of Colorado's Western Slope, including dinosaur fossils and Native American artifacts.
Arches National Park - Famous for its stunning natural red rock arches and unique geological formations, Arches National Park is a must-visit for nature lovers and photographers.
Canyonlands National Park - This expansive national park in Utah features dramatic desert landscapes, canyons, mesas, and buttes carved by the Colorado River, offering spectacular hiking and breathtaking views.
Giant Soda Cans, Salina - In Salina, Utah, travelers can find a quirky roadside attraction of giant soda can sculptures, offering a fun and unique photo opportunity.
Mystic Hot Springs, Monroe - Located in Monroe, Utah, Mystic Hot Springs is known for its natural hot springs and rustic, hippie vibe, with soaking pools set in a beautiful, tranquil setting.
Fremont Indian State Park and Museum - This state park and museum in Utah showcase the history and culture of the Fremont Indians, with ancient rock art and artifacts on display.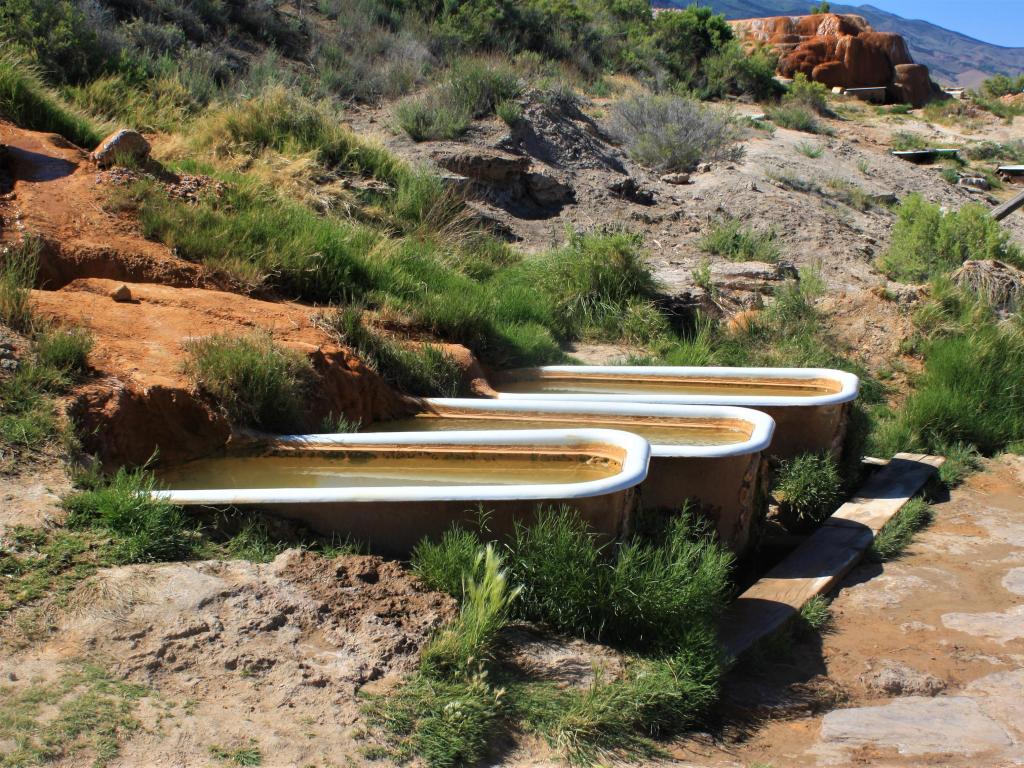 Northern Route
Strawberry Park Hot Springs - Located just outside Steamboat Springs, these natural hot springs are a tranquil retreat set in a rustic, forested area, offering a range of soaking pools with varying temperatures.
Dinosaur National Monument - Spanning across Colorado and Utah, this monument is renowned for its preserved dinosaur fossils, petroglyphs, and dramatic river canyons, offering a unique journey through prehistoric times.
Vernal - Known as the 'Dinosaurland' gateway, Vernal is a charming town that serves as a base for exploring the surrounding natural wonders, including the Dinosaur National Monument and Flaming Gorge.
Museum of Northwest Colorado - Located in Craig, this museum features extensive exhibits on the history and culture of Northwestern Colorado, including cowboy gear, pioneer artifacts, and local history displays.
Homestead Crater, Midway - A geothermal spring within a 55-foot tall, beehive-shaped limestone rock, offering visitors the chance to swim, snorkel, or scuba dive in its warm, mineral-rich waters.
Big Cottonwood Canyon - Just outside Salt Lake City, this canyon is a haven for outdoor enthusiasts, offering hiking, skiing, and breathtaking scenic views, characterized by its rugged terrain and serene alpine lakes.
Museum of Natural Curiosity - Located in Lehi, Utah, this interactive museum provides an engaging, hands-on learning experience for children and adults, featuring over 400 science and nature exhibits.
Temple Square - Situated in the heart of Salt Lake City, Temple Square is a historic center and headquarters of The Church of Jesus Christ of Latter-day Saints, featuring stunning architecture and beautifully landscaped gardens.
Provo Pioneer Village - This living history museum in Provo, Utah, vividly recreates the early settlement life of the 1840s, featuring original buildings, artifacts, and demonstrations that offer a glimpse into the pioneer era.
Young Living Mona Lavender Farm and Distillery - Located in Mona, Utah, this aromatic lavender farm and distillery offers tours showcasing the process of essential oil distillation, set amidst picturesque fields of lavender and other herbs.
Meadow Hot Springs - Nestled in a tranquil rural setting near Meadow, Utah, these natural hot springs are a series of geothermal pools known for their clear, warm waters, ideal for a relaxing soak in a serene environment.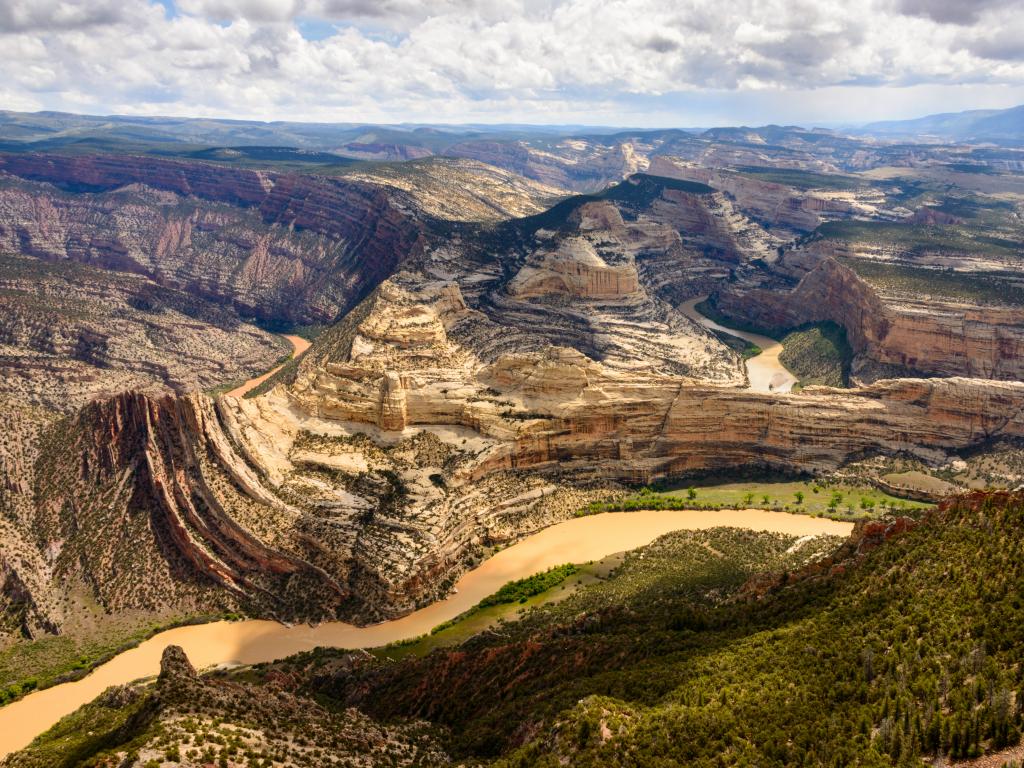 Both Routes
Dinosaur Ridge - Located near Denver, Dinosaur Ridge is a famous natural landmark featuring well-preserved dinosaur footprints and fossils, offering a unique glimpse into the prehistoric world.
Argo Mill and Tunnel - This historic gold mill and tunnel provide a unique look into Colorado's mining history, with tours offering insights into the gold-processing methods and mining lifestyle of the early 1900s.
Hotel de Paris Museum, Georgetown - This museum in Georgetown, Colorado, showcases the history of the Hotel de Paris during the silver mining era, with its original furnishings and artifacts.
Blue River Trail, Silverthorne - A picturesque trail in Silverthorne, Colorado, the Blue River Trail offers scenic views and opportunities for hiking, biking, and fishing along the Blue River.
Parowan Gap Petroglyphs - This ancient site showcases a collection of petroglyphs carved into rock walls, offering a glimpse into the lives of early Native American inhabitants. It's an outdoor gallery filled with intriguing symbols and drawings that remain a subject of study and admiration.
Panguitch Lake - Nestled in a scenic mountain setting, Panguitch Lake is a popular destination for fishing, boating, and camping, known for its abundant trout population and serene natural beauty.
Best time to go on a road trip from Denver to Zion National Park
Zion National Park is a spectacular year-round destination. No matter what season you travel from Denver, you'll get distinct experiences and lifelong memories.
Spring in Zion brings average daytime temperatures ranging from 50-70 degrees Fahrenheit, making it ideal for outdoor activities. Spring travelers can also enjoy the famous spring wildflower blooms in the deserts and the mountains of Colorado.
Be aware that some parts of Zion may be closed because of high water, especially since it's a busy season.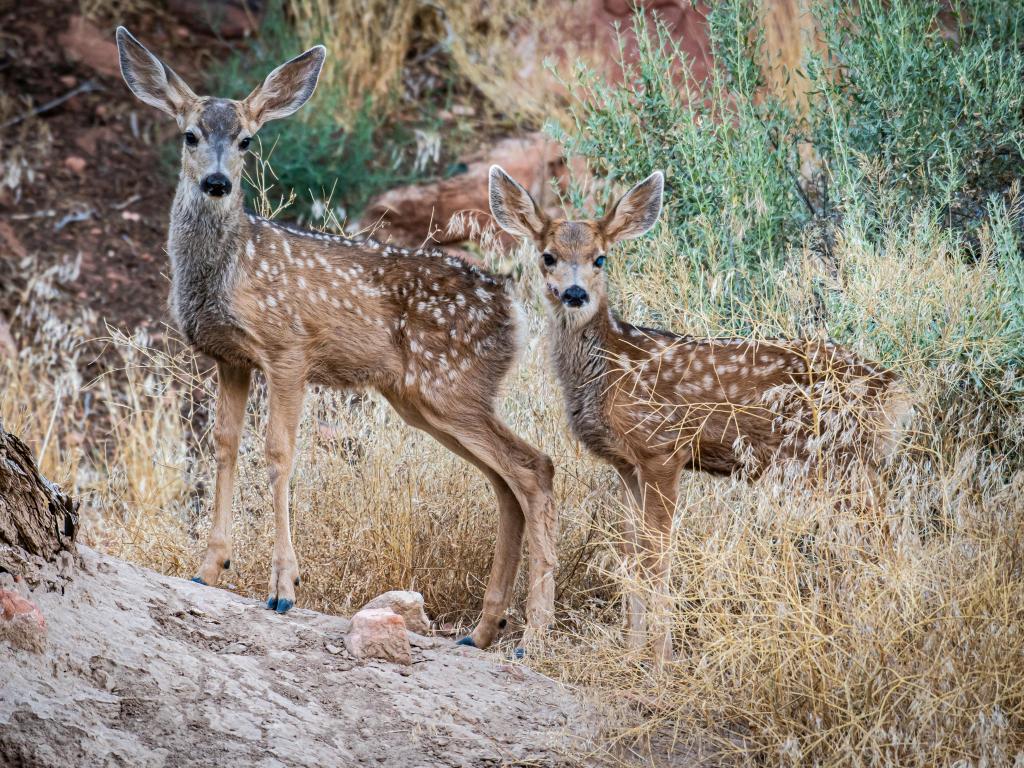 Summer sees Zion's temperatures rise to an average of 70-100 degrees Fahrenheit. This season is perfect for exploring the park's trails and taking in the breathtaking scenery.
Summer events include the Hot Air Balloon Rodeo on the Northern Route in July. You'll also get to enjoy the 4th of July celebrations in the towns and cities on both routes.
In winter, Zion's temperatures range from 30 to 50 degrees Fahrenheit. This season offers a serene experience in the park, though the Northern Route requires caution because of potential snowy conditions.
The Southern Route might have heavy traffic near ski resorts. However, events like the Breckenridge International Snow Sculpture Championships in January make it well worth it. On the Northern Route, winter travelers can enjoy the Sundance Film Festival in January.
Fall also has pleasant temperatures of around 50 to 70 degrees Fahrenheit and many events. If you're taking the Southern Route, you'll get to participate in the Aspen Filmfest in September and the Jubilee of Trees on the Northern Route in November.