Road Trip from Jacksonville to Key West
From its West Coast hugging the Gulf of Mexico to its East Coast on the Atlantic shore Florida is jam-packed with attractions for all ages, from stunning beaches to world-famous amusement parks. For the ultimate drive, you don't even need to leave the state; this road trip from Jacksonville to Key West is just the adventure you have been looking for!
The 420-mile road trip from Jacksonville to Key West will take 6 hours and 40 minutes to drive. On the way, you can visit Daytona Beach, Cape Canaveral, Vero Beach, West Palm Beach, Miami, Orlando, Tampa, St Petersburg, Fort Myers and Marco Island.
With so much to see and do, you'll have the road trip of a lifetime. Read on below to learn more about our recommended routes, the best places to stop along the way, top highlights, and the best seasons to travel.
How far is Key West from Jacksonville, and how long will the road trip take?
Comparison of road trip routes between Jacksonville to Key West

| Route | Distance | Driving Time |
| --- | --- | --- |
| The Gulf of Mexico Route | 420 miles | 6 hours 40 minutes |
| The Atlantic Coast Route | 540 miles | 10 hours 50 minutes |
The Atlantic Coast Route covers approximately 540 miles and takes around 10 hours and 50 minutes of continuous driving without accounting for any detours or extra stops you might want to make.
The slightly shorter Gulf of Mexico Route spans about 420 miles and takes roughly 6 hours and 40 minutes.
While you could complete both trips in a day, there's so much to see and explore along the way that we recommend stretching the journey over 3-4 days.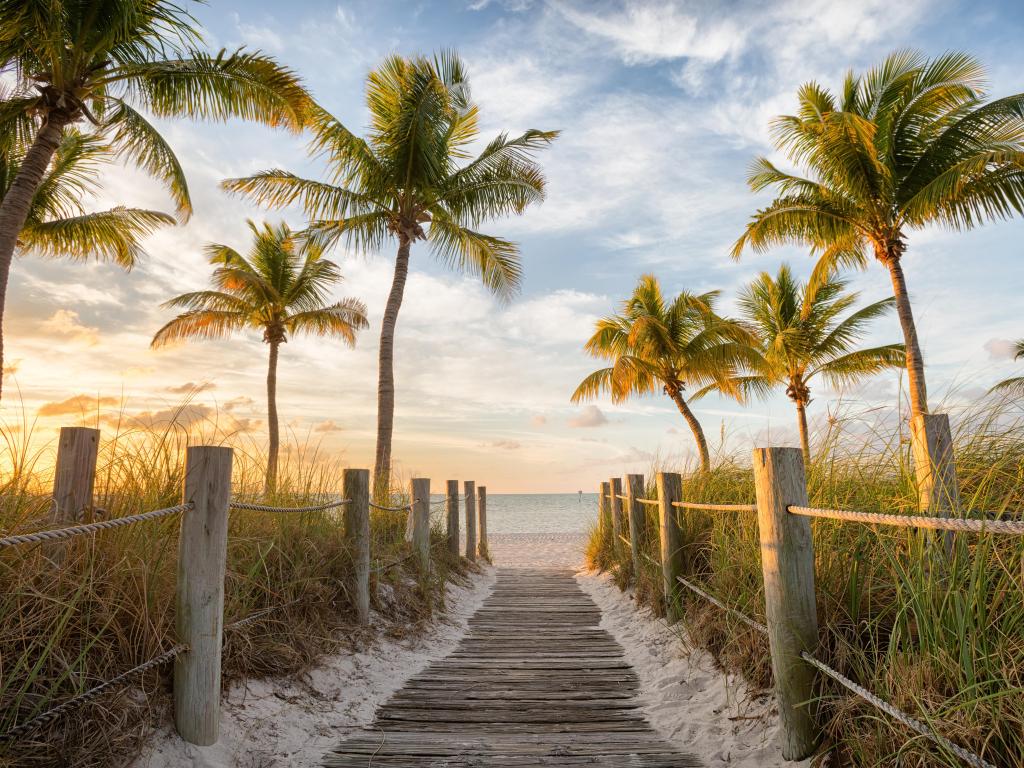 Best road trip route from Jacksonville to Key West
While both routes offer plenty of attractions and sights, they are very different from each other. Which one you choose will depend on what you want to see and do the most and which coast you want to experience the most.
The Atlantic Coast Route takes you from Jacksonville to Key West, along Florida's captivating Atlantic coastline. Post Cape Canaveral, you will get to visit Kennedy Space Center and afterwards, you'll see unparalleled views of the vast ocean.
This route also takes you through Miami, the iconic city known for its culture and nightlife, which is certainly a bucket-list destination when in Florida.
As you leave Miami, you'll see turquoise waters on both sides of you as you enter the Florida Keys. If timed perfectly, you can find yourself surrounded by the golden hues of the Florida sunset.
In contrast, the Gulf of Mexico Route promises a fresh set of highlights and experiences. Setting out from Jacksonville, it takes you through Orlando, one of Florida's bustling urban hubs which is home to Universal Orlando and Walt Disney World Resort.
The journey from Tampa to Fort Myers is truly memorable, as you cross the majestic Howard Frankland Bridge over Old Tampa Bay and the famous Sunshine Skyway Bridge across Tampa Bay.
Finally, the route culminates in Marco Island, famed for its pristine beaches and azure waters. Here, you can embark on a ferry that sails towards the enchanting Key West. For more information about this ferry, you can click here for our ultimate guide.
How to drive from Jacksonville to Key West
The map above shows our suggestions for the best road trip routes between Jacksonville and Key West. Keep reading for detailed descriptions of both routes, where to stay on either, and the best things to do on the way.
The Atlantic Coast Route
Starting in Jacksonville, make your way south on Interstate 95 (I-95) and take a turn to St Augustine. After soaking up the rays in this coastal and historic city, head south en route through Palm Coast and past Daytona Beach.
From here, head further south to pass the Canaveral National Seashore to Cape Canaveral. You can visit the famous Kennedy Space Center here.
Get back on route and drive south to Vero Beach and then to West Palm Beach through many beautiful coastal towns. Here, you can visit the famous mansions in Palm Beach or explore the city's famous downtown restaurants and bars.
Continue on route and drive south to Fort Lauderdale. Then, continue your drive to Miami. After getting your fill of beaches and nightlife in Miami, head south and cross the bridge into the Florida Keys. From here, it's a short drive to your destination of Key West.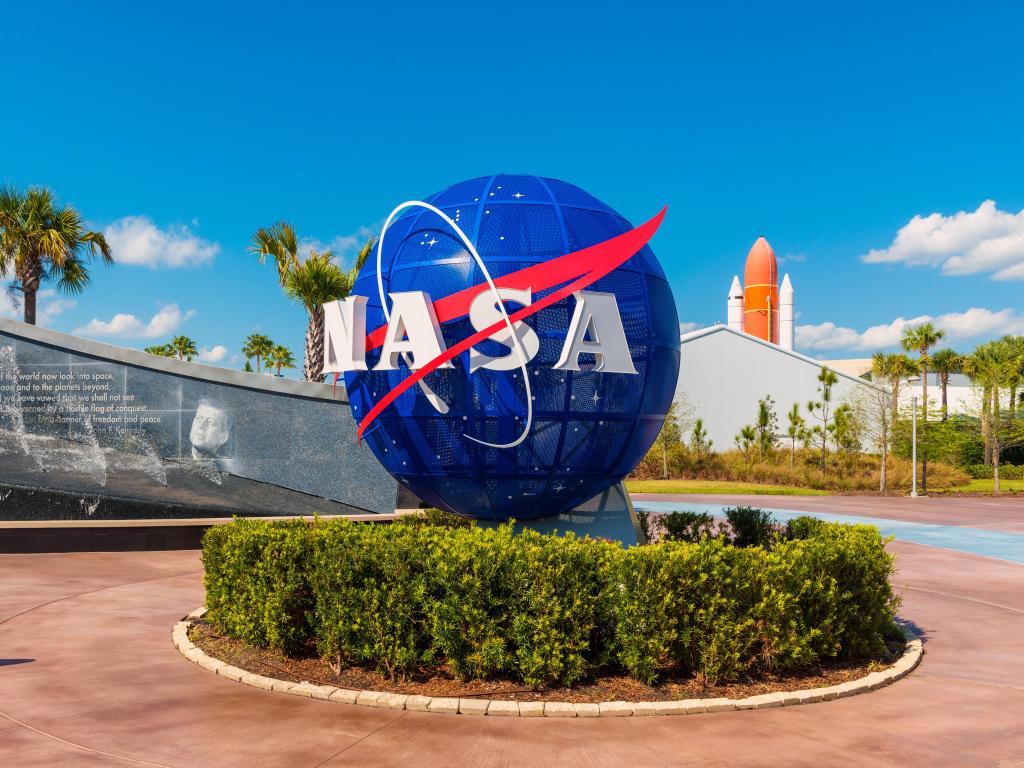 The Gulf of Mexico Route
Starting from Jacksonville, head south on I-95, past St. Augustine. From here, continue on to Daytona Beach, famous for its annual car and motorcycle shows.
From here, head southwest on I-4 to Orlando. Here, you'll get incredible nightlife and some of the world's largest theme parks. Continue on route to Lakeland, where several natural lakes offer plenty of fishing opportunities.
From here, drive west to Tampa. After exploring one of Florida's largest cities, make your way south to St Petersburg. Continue on route across the Sunshine Skyway Bridge and continue on to Fort Myers. After enjoying this fantastic city, make your way on I-75 to Marco Island.
From Marco Island, you can enjoy the wildlife of the Florida Everglades and then grab a ferry to your destination of Key West.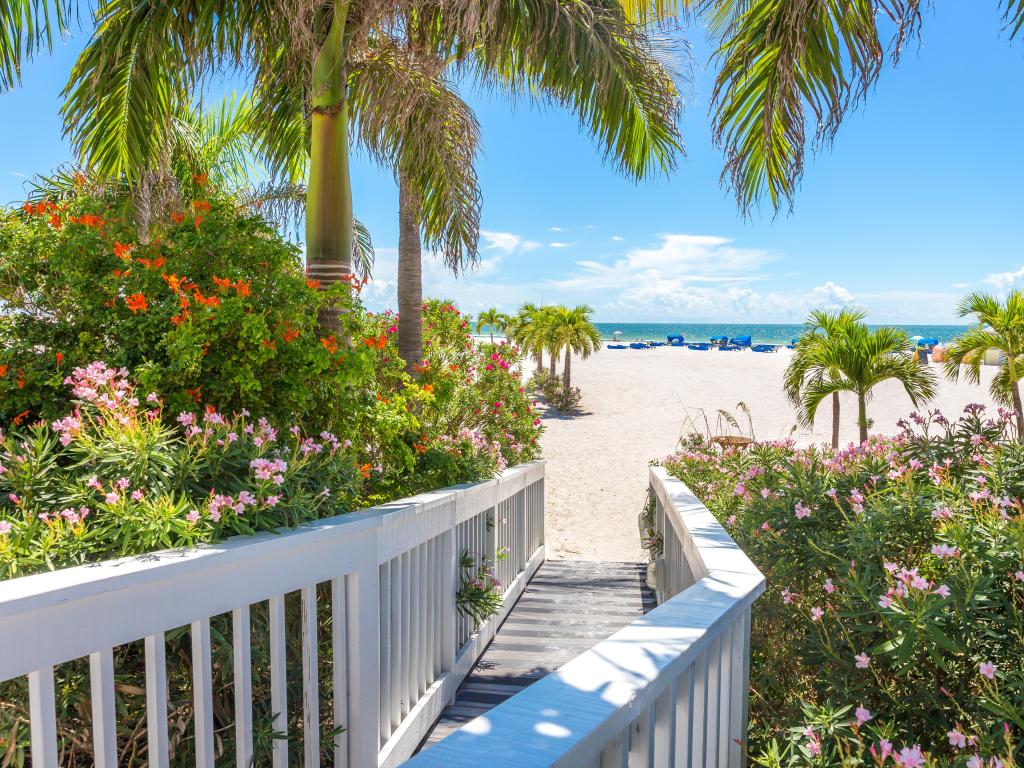 Best places to stop between Jacksonville and Key West
With so many beaches and world-famous cities along the way, you'll want to stop in one of the top destinations below. This way, you'll get the most out of this wonderful Florida journey.
Paint the town red in Miami
Miami is the perfect place to take a break on the Atlantic Coast Route from Jacksonville to the Florida Keys, situated about 7 hours and 20 minutes into the drive. The city's pulsating Latin beats and the aroma of Cuban cuisine at every turn will captivate your senses.
Another major highlight is the Art Deco Historic District, distinguished for its pastel-hued buildings and nostalgic charm from the 1930s. Take a leisurely stroll, letting the area transport you back in time.
For food aficionados, The Big Pink offers a delicious journey into Miami's culinary landscape. Its expansive menu and vintage vibe make it a delightful pit stop.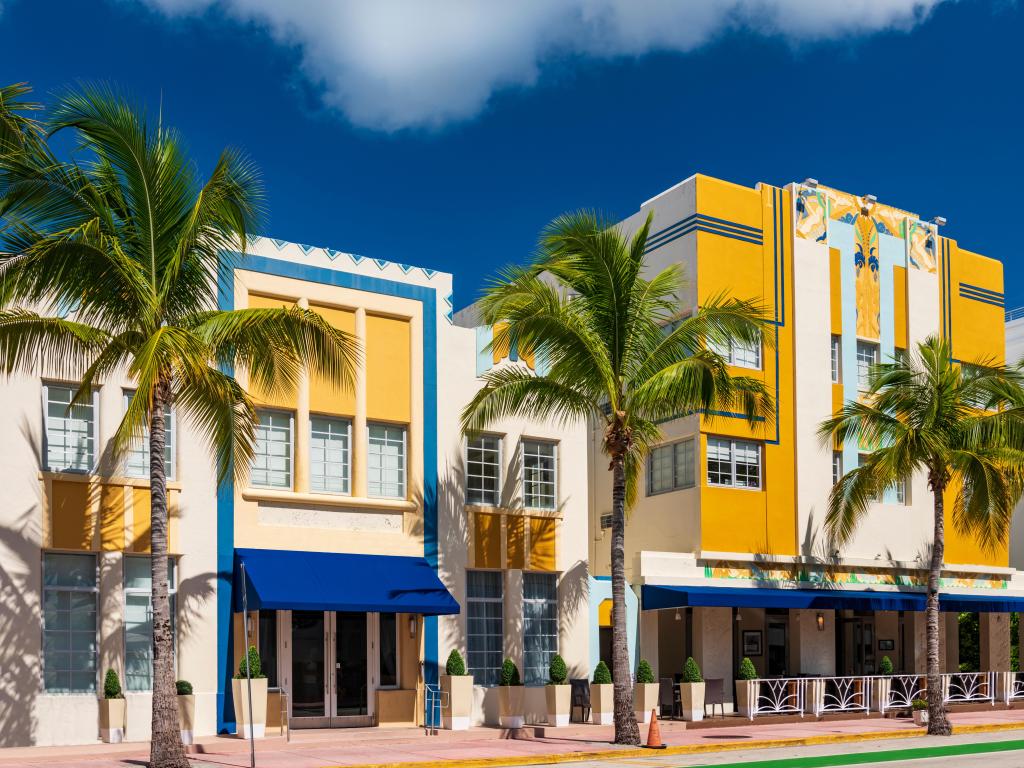 While wandering the streets of Miami, we suggest resting at the chic citizenM Miami Worldcenter. This contemporary hotel is conveniently located, granting you easy access to the city's attractions.
It boasts a futuristic ambiance with app-controlled rooms. The rooftop pool, offering a panorama of Biscayne Bay, is a special treat.
Bayfront Park and Skyviews Miami Observation Wheel are both within a short walking distance from the property if you're eager to explore the vicinity. However, consider returning to the hotel for evening refreshments. The rooftop bar, with its beautiful views, serves cocktails that are nothing short of spectacular.
Thrilling rides and fairytale characters in Orlando
Orlando is the ideal place to take a break on the Gulf of Mexico Route from Jacksonville to the Florida Keys, being just over 2 hours into the journey.
Orlando is considered the "Theme Park Capital of the World." Yet, there's plenty more to explore, from its world-class golf courses and expansive shopping districts to the pristine lakes that surround it.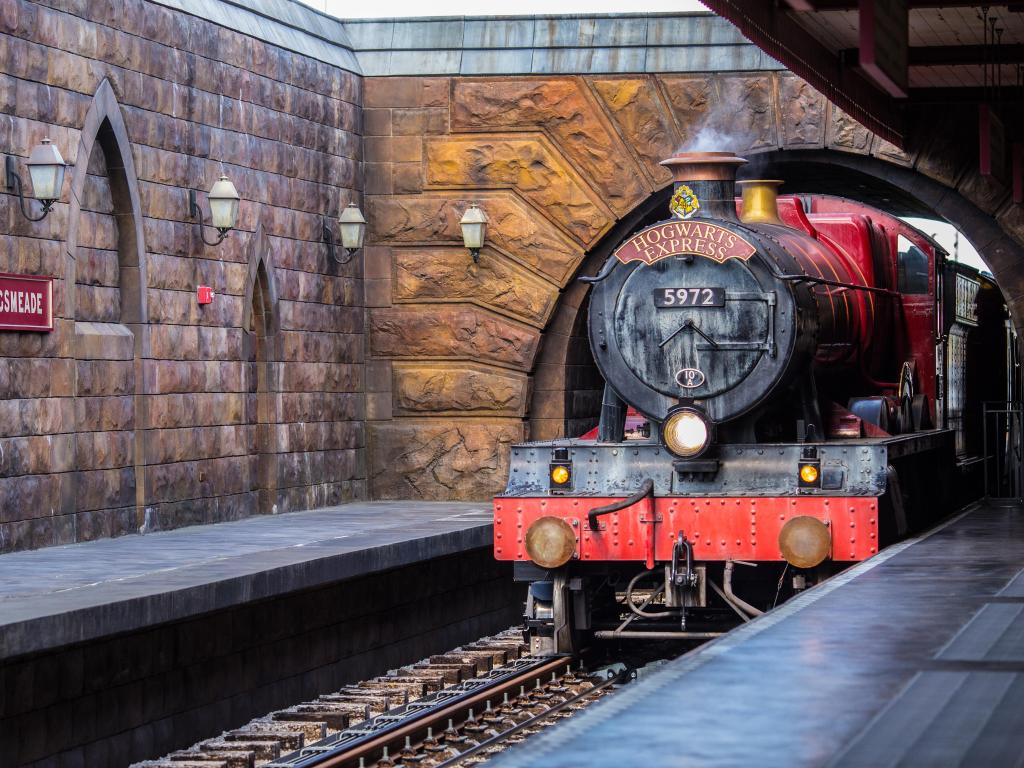 Once you have had your fill of the amazing rides at Universal Orlando and Walt Disney World Resort, you might want to get away from the hustle and bustle of the city. Tibet Butler Nature Preserve is an urban oasis right in the heart of the city.
A standout attraction is the Tibet Butler Nature Preserve, an oasis that offers a slice of natural beauty. Just as amazing is The Wheel at ICON Park, a soaring observation wheel that gives you panoramic views of the cityscape.
For your stay in Orlando, we recommend the plush Parc Soleil by Hilton Grand Vacations. Spanning 52 acres, this expansive resort is an embodiment of a grand family vacation.
You'll be able to relax in style in its central swimming pool and enjoy a workout in the state-of-the-art fitness center. The resort elevates the experience with live poolside music on Fridays, immersing you in that quintessential vacation feel.
If theme parks are on your agenda, the Wizarding World of Harry Potter is a mere 17-minute drive away, plunging you into a magical realm. If you need a morning pick-me-up before you head to Hogwarts, the popular on-site café is the perfect place to jumpstart your day.
Where to stay when you reach Key West
Key West is the pride and joy of the tropical Florida Keys. This historic town is famous for its art scene, tropical landscapes, and all-night fun.
When in Key West, make sure to visit the Mel Fisher's Treasures Museum. This museum showcases plenty of underwater treasures discovered by legendary treasure hunter Mel Fisher.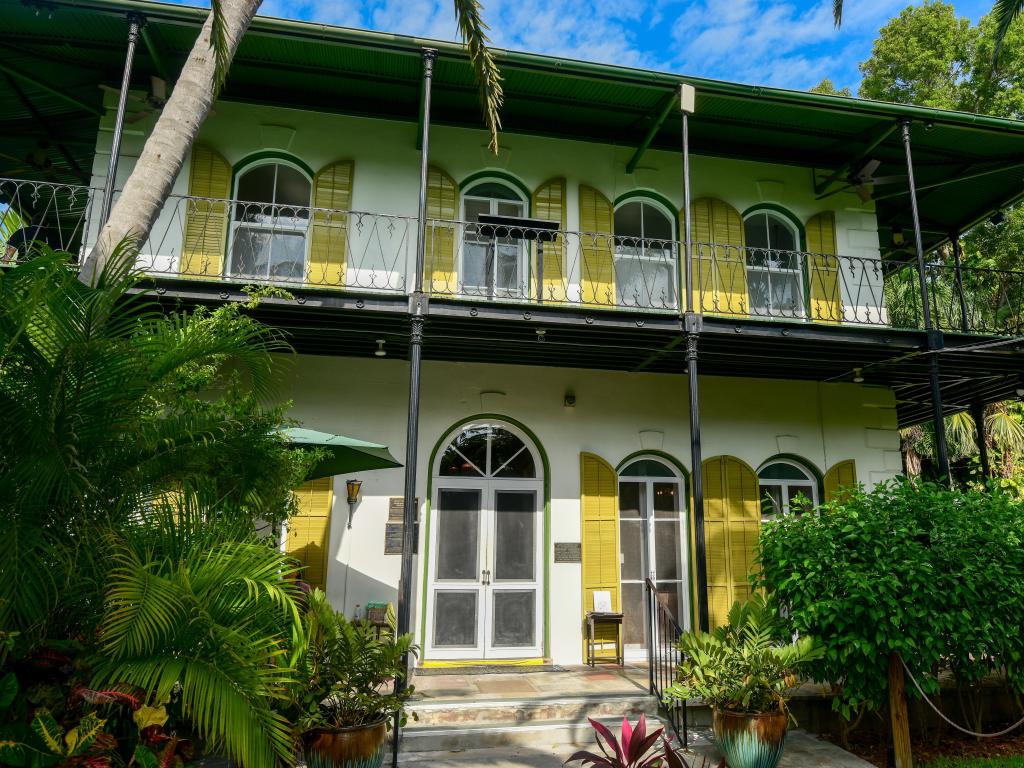 Other must-see places in Key West are the southernmost point in the USA landmark and the Hemmingway home and museum, dedicated to the famous author Ernest Hemingway.
When you arrive in Key West, we recommend staying at the luxurious Simonton Court Historic Inn & Cottages. These beautiful rooms are the highlight of Key West luxury. The rooms are beautifully decorated with views of the town and surrounding garden.
In the morning, you'll enjoy the beautiful golf course and indoor and outdoor pools on the grounds. Then, head out on the town to enjoy Key West's incredible nightlife.
Things to see on a road trip from Jacksonville to Key West
With so much to see and do on the way, you'll have endless fun and excitement around every corner. To help you plan the ultimate vacation, we've listed our favorite stops and highlights below.
Atlantic Coast Route
Castillo de San Marcos National Monument - This 17th-century stone fortress stands as the oldest masonry fort in the continental U.S., offering visitors a deep dive into Florida's colonial history and spectacular views from its gun deck.
Daytona International Speedway - Known as the "World Center of Racing," this iconic speedway hosts various motor racing events throughout the year, including the world-famous Daytona 500.
Tiger Bay State Forest - Encompassing over 27,000 acres, this forest offers diverse recreational opportunities, including hiking and horseback riding, amidst its rich ecosystem of swamps and pine islands.
Manatee Sanctuary Park - This peaceful 10-acre park promises visitors the chance to spot manatees while enjoying scenic boardwalks, fitness trails, and a beautiful river view.
Jetty Park Pier - This favorite spot in Cape Canaveral provides fishing opportunities, beach access, and a vantage point for watching ships cruise by.
Turkey Creek Sanctuary - This natural oasis in Palm Bay boasts boardwalks and nature trails that weave through hammocks, pine woods, and along Turkey Creek, providing opportunities for wildlife spotting.
McKee Botanical Garden - A garden paradise that features a collection of water lilies, tropical plants, and historic structures, providing a serene environment for nature lovers.
Norton Museum of Art - This renowned art museum showcases a diverse collection of works from American, European, and Chinese artists, coupled with traveling exhibits from around the world.
Palm Beach Zoo - Home to over 550 animals across 190 species, this zoological park lets visitors explore a lush tropical habitat with various interactive experiences.
Uncle Bernie's Amusement Park - A classic amusement park offering a variety of rides and games, providing a day of fun for families and children of all ages.
Museum of Discovery and Science - This interactive museum engages visitors with hands-on exhibits related to science, space, and Florida's unique ecosystems, coupled with an impressive IMAX theater.
Little Havana - This Miami neighborhood pulsates with Cuban culture, featuring colorful streets, traditional cafes, and the famous Calle Ocho, where Latin music fills the air.
Jungle Island - An eco-adventure park situated between downtown Miami and South Beach, offering interactive experiences with animals, bird shows, and thrilling zip lines.
Seven Mile Bridge - Connecting the Middle and Lower Keys, this iconic bridge offers breathtaking ocean views and serves as a scenic drive above the turquoise waters of the Florida Keys.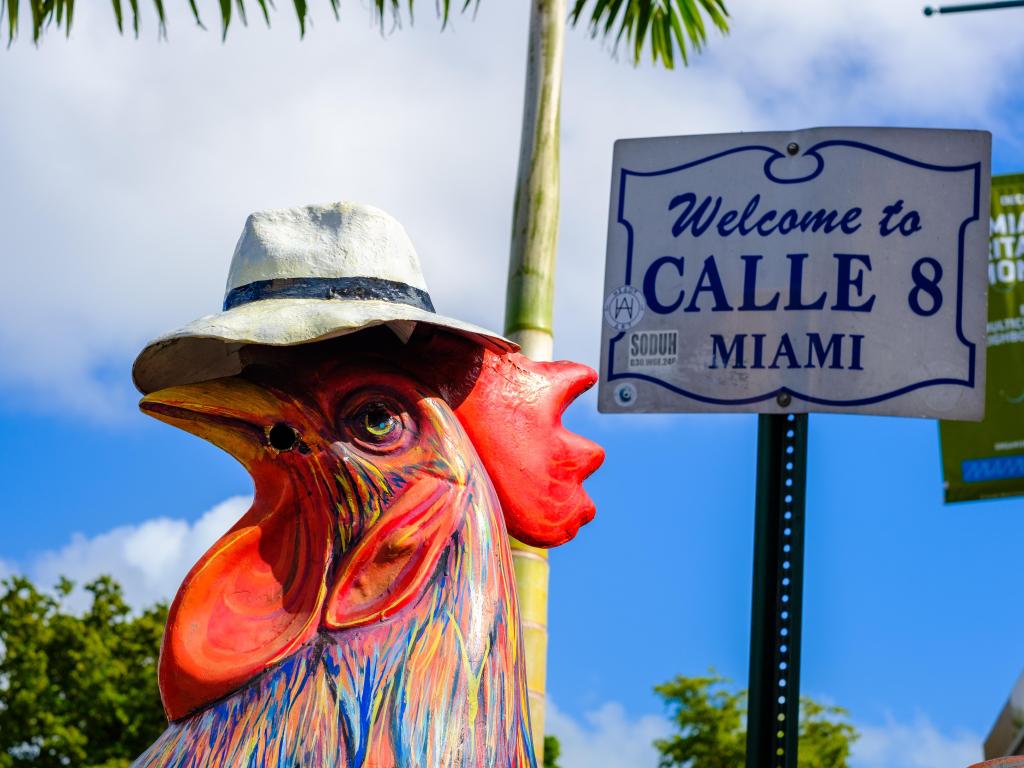 Gulf of Mexico Route
Blue Spring State Park - Known as a winter haven for West Indian manatees, this state park boasts crystal-clear springs, nature trails, and the opportunity for water activities.
Orlando Science Center - An interactive science museum that offers numerous hands-on exhibits, live science demonstrations, and a planetarium to spark curiosity in minds of all ages.
Universal Orlando - This expansive entertainment complex features two theme parks, multiple resorts, and CityWalk, bringing to life the worlds of Harry Potter, Jurassic Park, and more.
Ybor City - Tampa's historic neighborhood brimming with rich Cuban heritage, featuring old cigar factories, eclectic shops, and a vibrant nightlife.
Curtis Hixon Waterfront Park - Nestled in downtown Tampa, this urban park offers scenic views of the Hillsborough River, public art installations, and a variety of events throughout the year.
Sawgrass Lake Park - A 400-acre park allowing visitors to experience the largest maple swamp on the Gulf Coast through boardwalks and an observation tower.
Morean Arts Center - Located in St Petersburg, this center celebrates visual arts through galleries, working artists' studios, and the Chihuly Collection.
Sunshine Skyway Bridge - An iconic cable-stayed bridge spanning Tampa Bay, known for its architectural elegance and the panoramic views it offers.
Centennial Park - This downtown Fort Myers park features a playground, interactive fountain, and scenic views of the Caloosahatchee River.
Edison and Ford Winter Estates - Explore the winter homes of Thomas Edison and Henry Ford, set amidst lush gardens, along with a museum and a botanical laboratory.
IMAG History and Science Center - A dynamic destination in Fort Myers combining history and science through interactive exhibits, aquariums, and a touch tank.
Marco Island Historical Museum - This museum recounts the history of Marco Island, from its Native American roots to its development as a tourist destination.
Tigertail Beach - A picturesque beach known for its tidal lagoon, bird-watching opportunities, and a variety of water activities.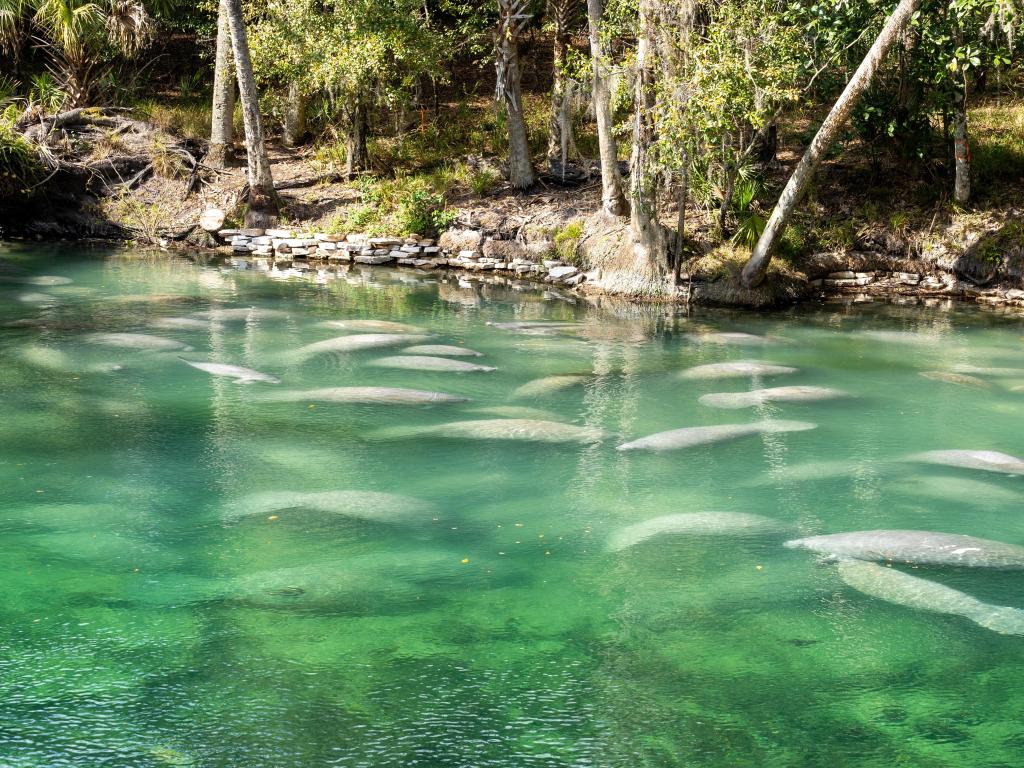 Best time to go on a road trip from Jacksonville to Key West
Key West, with its Caribbean vibes and iconic Key Lime Pie, is the perfect road trip destination year-round. However, you'll have vastly different experiences depending on the season you travel.
During spring, Key West boasts a pleasant range of 75-85 degrees Fahrenheit, perfect for enjoying the island's natural beauty and activities. However, summers are hotter and more humid, with temperatures typically soaring between 85-95 degrees Fahrenheit.
This can be paired with the sudden downpours of the tropical summer. However, just jump in the sea or spend some time indoors at the Ernest Hemingway Home or Sloppy Joe's Bar to get some relief.
Fall is warm and still somewhat humid, with temperatures ranging between 80-88 degrees Fahrenheit. It's essential to be cautious during this season, as it coincides with the peak of the hurricane season, especially between August and October.
If you're traveling during the fall, make sure to try to attend the Key West's Fantasy Fest in October. This spectacle is truly a one-of-a-kind experience. It's worth noting that the Fort Lauderdale International Boat Show is also in October.
If you're thinking of a winter adventure, the island has temperatures of 65-75 degrees Fahrenheit, which is still perfect for enjoying the outdoor attractions.
If you opt for the Atlantic Coast Route, you can see the Art Deco Weekend in Miami during January. The Gulf of Mexico Route showcases events such as Tampa's Gasparilla Pirate Festival that same month plus incredible New Years displays throughout both routes.
Aside from the weather, be aware of traffic in places like Orlando and Miami. During peak tourism times, these destinations are flooded with vacationers, which can slow down each of these routes.