Road Trip from Monterey to Yosemite National Park
We know that California is full of celebrities, but the real star for us is Yosemite National Park. It's impossible not to fall in love with those rugged mountains, lush green forests, beautiful waterfalls, and lakes. And with this road trip from Monterey to Yosemite, you can see it live and up close.
The road trip from Monterey to Yosemite National Park is about 280 miles and takes about 5 hours and 40 minutes. Drive through San Francisco, Napa Valley, Sonoma, Fresno and make stops at the Sierra, Inyo, Sequoia, and Stanislaus National Forests.
Driving along the West Coast is a road-tripper's dream, as there is so much natural beauty and big city sights to enjoy. Here's a look at what to do, where to go, and how to get started on this wine-country adventure.
How far is Yosemite National Park from Monterey, and how long will the road trip take?
Comparison of road trip routes between Monterey and Yosemite National Park

| Route | Distance | Driving Time |
| --- | --- | --- |
| The Fresno Route | 280 miles | 5 hours 40 minutes |
| The San Francisco Route | 370 miles | 7 hours 35 minutes |
The Fresno Route is about 280 miles, which will take 5 hours and 40 minutes to drive. It's a direct drive up to Yosemite National Park through the countryside, but you will have to double back to see all the parks and forests on this route.
On the San Francisco Route, the drive is about 7 hours and 35 minutes and around 370 miles.
You can drive both routes in a day, but we suggest four to five days for this road trip from Monterey to Yosemite to take in every gorgeous sight en route and avoid being stressed for time.
Best road trip route from Monterey to Yosemite National Park
The drive from Monterey to Yosemite National Park is smooth, with scenic views of the forests and coastline. The big city attractions and natural landmarks are as exciting as the food and wine on this road trip.
On the Fresno Route, visit some of California's famous natural wonders. Sierra, Inyo, and Sequoia National Forests have spectacular mountain views. Stanislaus National Forest has over 800 miles of streams and rivers to explore.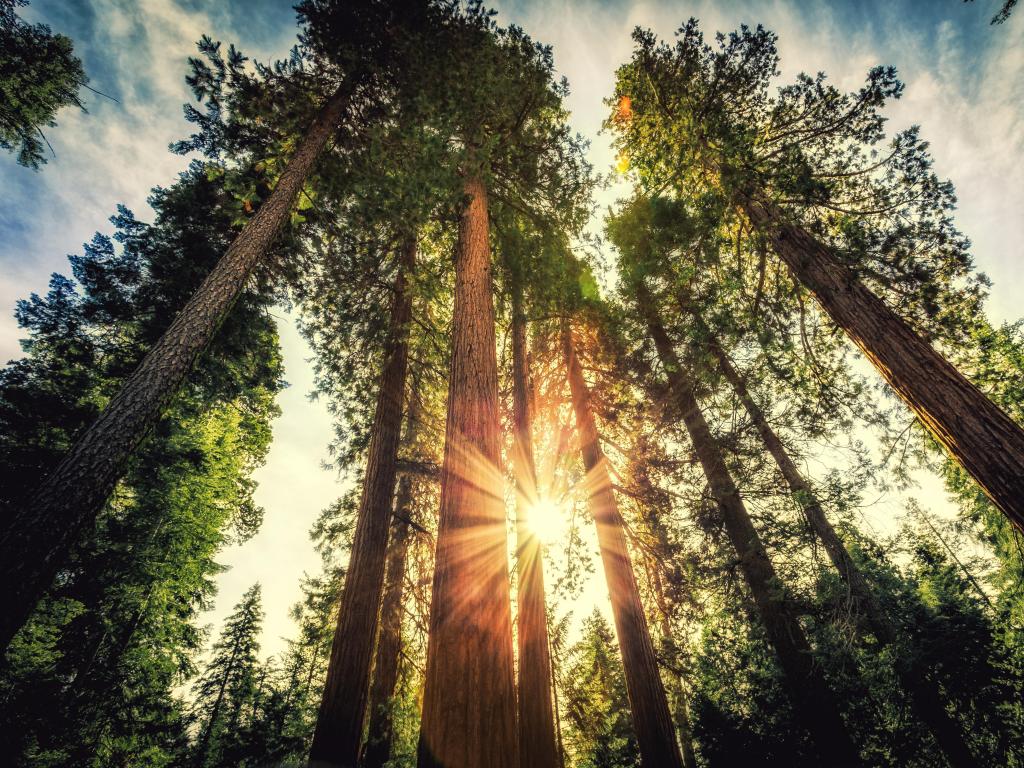 On the San Francisco Route, you drive through luxurious wine country with scenic mountain views. Sonoma and Napa Valley have beautiful vineyards and are perfect places to pop in. Explore a melting pot of history, culture, and some of the best food on the West Coast in San Francisco.
The Fresno Route is more direct, and you may want to take it if you visit Yosemite out of season. The San Francisco Route is a great way to see and taste the best of California's food scene. Both routes show off the gorgeous Californian countryside.
If you choose to travel on the Fresno Route, you will use the South Entrance to the park, whereas the San Francisco Route will take you to the Big Oak Flat Entrance. If you prefer to use another entrance, you can use our detailed guide to help you decide.
How to drive from Monterey to Yosemite National Park
The map above shows our suggestions for the best road trip routes between Monterey and Yosemite National Park. Keep reading for detailed descriptions of both routes, where to stay on either, and the best things to do on the way.
The Fresno Route
From Monterey, get on CA-1 N/Cabrillo Highway. It's about a two-and-a-half-hour drive to Fresno. Stay here overnight and explore this vibrant city.
Take CA-168 to Sierra National Forest. The beautiful mountains are snow-capped in winter, with spectacular views over the lake.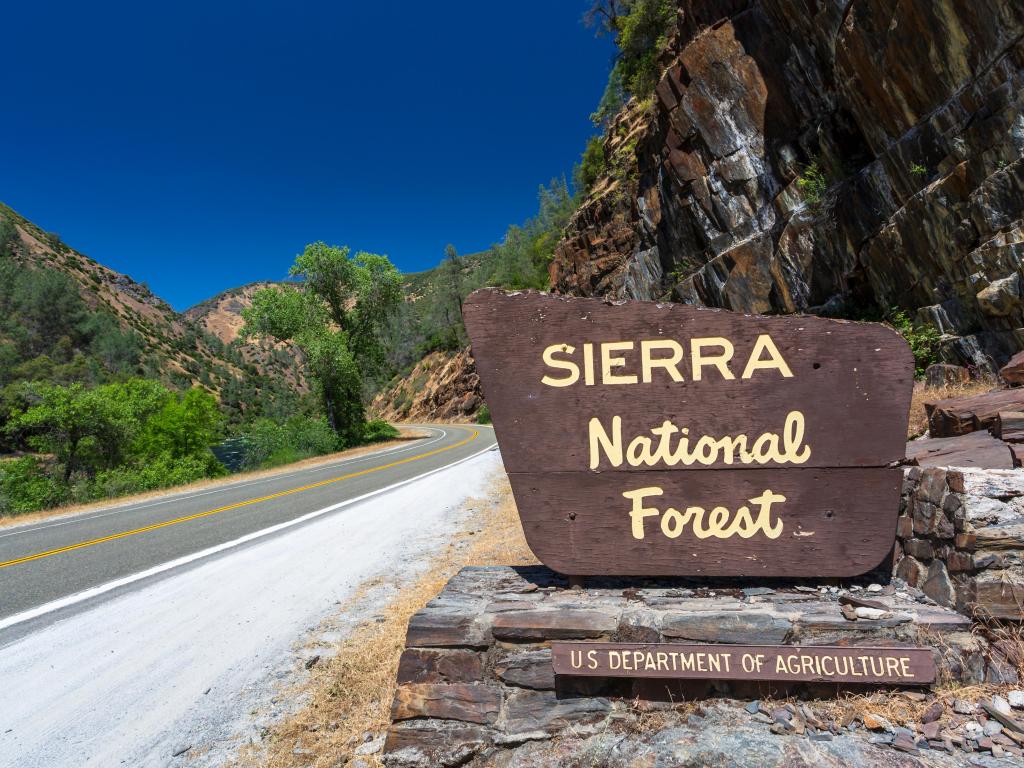 Soak up the natural beauty and head to the famous Sequoia National Park and Forest onCA-168. This stunning wonderland of Sequoia Groves is a perfect place to get lost.
When ready, head to Inyo National Forest on US-395 S. It's a bit of a drive, but the views are worth it: open grasslands and fresh pine forests over the hills.
Enjoy the fresh air, then head to Yosemite National Forest by doubling back on US-395 S. Stay here and explore the gorgeous mountains, valleys, and waterfalls. Make a day trip to Stanislaus National Park, two hours away on CA-120 W, to enjoy more forest trails and lake views.
You will use the South Entrance of the national park on this route.
The San Francisco Route
Get on CA-1 N/Cabrillo Highway from Monterey and head to San Francisco. It's a beautiful drive along the highway, with beautiful ocean views. Stay overnight in San Francisco and enjoy the eclectic sights, culture, history, and delicious food.
When ready, head to Sonoma on US-101 – driving over the iconic Golden Gate Bridge. Sonoma is a small countryside town with beautiful mountain views.
There are some lovely vineyards to see, but save space for the wine in Napa Valley, your next stop on this route. About 30 minutes from Sonoma, this is the heart of wine country, with rolling green hills and scenic views.
Rest and enjoy before heading to your final stop, Yosemite National Park, on CA-12 E. This route will take you to the Big Oak Flat Entrance.
Best places to stop between Monterey and Yosemite National Park
Whether you drive along the Pacific Coast or head inland through forest roads, the views are picture-perfect. From Monterey to Yosemite, you can literally taste California in the wine, produce, and diverse cuisine.
Give yourself time to explore and make pit stops along the way. Here are our suggestions for overnight stops on each route.
Admire the colorful gardens of Fresno
About halfway on the Fresno Route, make an overnight stop in Fresno. It's a great central city, with the Sierra, Sequoia, and Inoya National Parks nearby.
Fresno county has a diverse landscape with gorgeous parks, farmlands, and orchards. It's California's agricultural capital, and the produce is fresh– so be sure to try the grapes, peaches, plums, nectarines, apricots, and raisins.
Visit the Forestiere Underground Gardens, an intricate series of tunnels filled with gardens. The Fresno Chaffee Zoo is a great place to spend the afternoon, with a nice collection of animals.
Check out the Shinzen Japanese Garden and take a stroll. Fresno's Tower District is a historic neighborhood with shopping, dining, and nightlife. This area has a lively up-and-coming art deco and theatre scene, with some great museums to visit.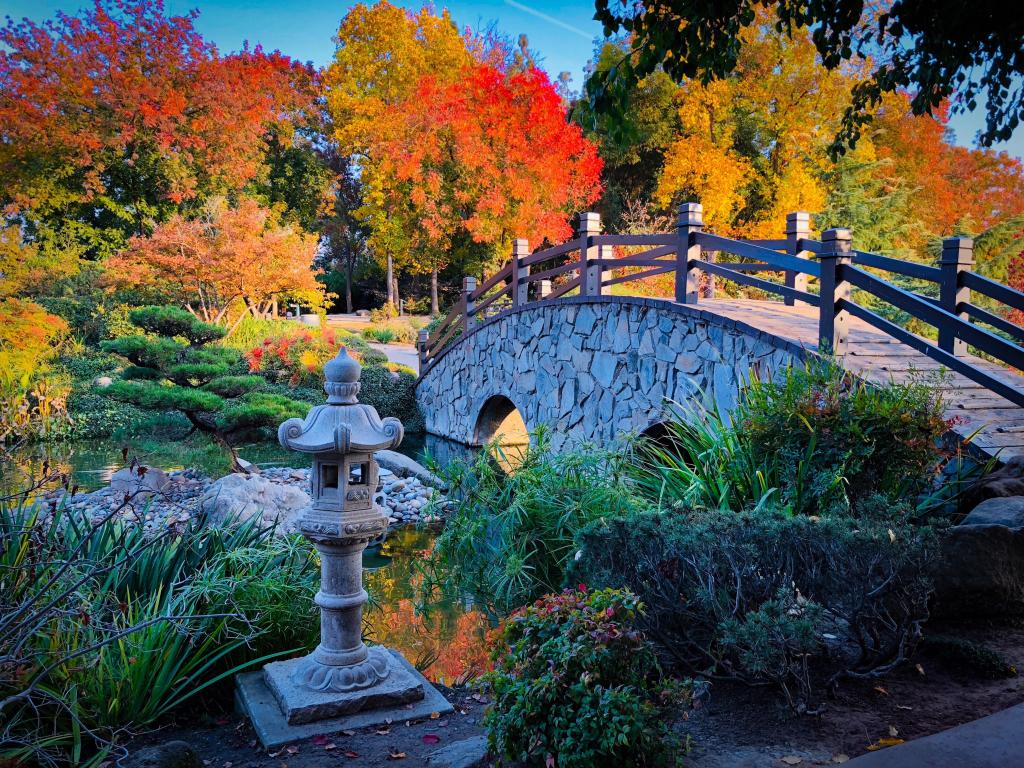 Fresno is a popular city and has some great hotels. We recommend staying at the Sonesta ES Suites Fresno. This place is perfect for road trippers and has free parking.
The suites are comfortable, spacious, and fully equipped with a kitchenette. Relax in your room or lounge around the outdoor swimming pool or hot tub. There's a fitness center on-site, and the hotel has beautifully landscaped gardens.
Sonesta ES Suites is centrally located and is only a short drive from Fresno Chaffee Zoo and the Tower District.
Explore "The Golden Gate City", San Francisco
San Francisco is exciting for several reasons - one of which is crossing the Golden Gate Bridge! It's about halfway along the San Francisco Route.
Visit iconic landmarks like Alcatraz Island, Fisherman's Wharf, Pier 39, and Golden Gate Park. The Bridge is an architectural marvel, so walk or drive across it. Visit Union Square and explore the Ferry Building Marketplace for shopping and dining.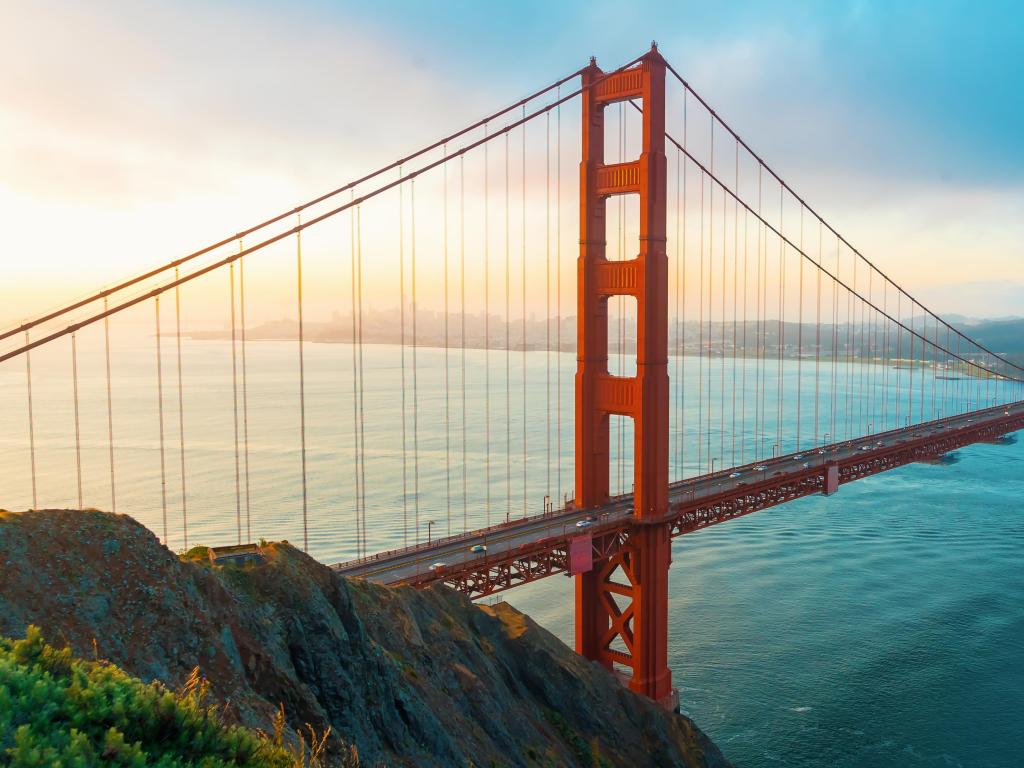 San Fran has a tasty, diverse food scene. Start your culinary adventure in Chinatown, considered the birthplace of American Chinese food. To get around town, ride a cable car on the signature Cable Car Line.
San Francisco is popular year-round and has a good variety of hotels. We recommend staying at Hotel Nikko San Francisco. It's located downtown and has private parking available for guests.
This modern hotel has a business feel, but the rooms are comfortable and homey. Enjoy stunning city views while drinking on the terrace and try Japanese and American cuisine at the hotel restaurant.
Hotel Nikko has a fitness center and sauna for guests. There is also a fabulous indoor swimming pool. The hotel has an in-house venue that hosts concerts and shows.
It is close to many attractions, including Union Square, and is near the Cable Car Line. It's within walking distance of the Ferry Building Marketplace and the San Francisco Museum of Modern Art.
Where to stay when you reach Yosemite National Park
Yosemite National Park is a legendary natural landmark in California. With overflowing waterfalls, towering cliffs, and deep valleys, this beautiful preserve has visitors year-round.
Sunrise or sunset, the views of the mountains are stunning and are a climber's dream. Go hiking, cycling, or rock climbing here. The Merced River and Tenaya Lake are great places to kayak in spring, summer, and fall. In winter, the rivers and streams turn to slush, but the snow-covered forests are just as pristine and beautiful.
Yosemite gets tons of visitors throughout the year, and our top recommendation for lodging in the area is Tenaya Lodge at Yosemite. This gorgeous resort has free private parking on site and is a great place to end your road trip.
Rooms have a cabin feel but with a modern design. They come with a kitchenette. Enjoy stunning mountain views from the patio or balcony. The Lodge has an excellent spa and wellness center, with two swimming pools, a hot tub, a casual pub, and a restaurant.
Tenaya is about 2 miles from the south entrance of Yosemite National Park. You can find outdoor activities around the hotel, including skiing, hiking, and rock climbing. The Lodge offers bike rentals and naturalist tour guides. Yosemite Ski and Snowboard Area are about an hour away.
Things to see on a road trip from Monterey to Yosemite National Park
The Californian coast is an urban and natural playground. Nature lovers will have their fill of sprawling forest landscapes and cool streams and lakes. The cities on both routes also have plenty of good food, fun, and sites to enjoy.
We've compiled a list of attractions to help you plot this west coast adventure from Monterey to Yosemite National Park.
The Fresno Route
San Juan Bautista State Historic Park – This historic Spanish mission town has picturesque streets and museums.
Pinnacles National Park – A stunning mountainous area with hiking trails and striking rock formations. Take advantage of the birdwatching and stargazing here.
Casa de Fruta – This quaint roadside attraction has a gift shop, restaurant and orchards selling fresh produce – ideal for a pit stop and snack!
Talbott Vineyards – A scenic vineyard and winery. There's a lovely outdoor seating area, where you can sample some of California's best grape juice.
Moss Landing State Beach – This beach and nature reserve has beautiful ocean views, where visitors can enjoy birdwatching and kayaking.
Steinbeck House – The home of author John Steinbeck is now a restaurant and museum and is a must-see for literature fans.
Fresno Art Museum – A modern and contemporary art museum with works from regional and international artists.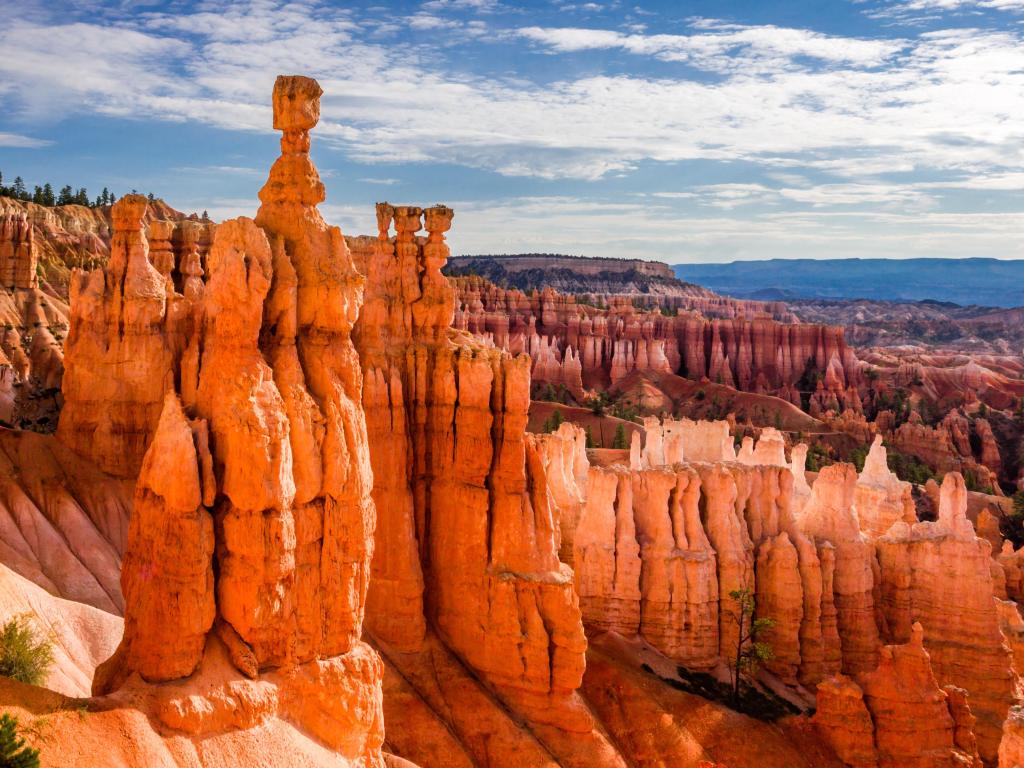 The San Francisco Route
Golden Gate Park – This urban park has museums, gardens, lakes, and historic landmarks.
Fisherman's Wharf – San Francisco's vibrant waterfront district has seafood restaurants, souvenir shops, and bay views. Learn more about the city's maritime history here too.
Sonoma Plaza – This charming town square has boutique shops, tasting rooms, and a museum dedicated to Californian history.
Jack London State Historic Park – A neat dedication to author Jack London, this state park has historic buildings, hiking trails, and a museum.
Safari West – There are African-style safaris and exotic animals such as giraffes, zebras, and rhinos in this wildlife preserve.
Francis Ford Coppola Winery – Owned by filmmaker Francis Ford Coppola, you can indulge in wine tasting, fine dining, and movie memorabilia at this winery.
Old Faithful Geyser – Make a detour to the famous natural wonder and explore this beautiful area.
Napa Valley Wine Train – Take a scenic train ride and savor the beauty of Napa Valley. Dine in style on gourmet meals and try wine tasting on board.
Oxbow Public Market – Located along the Napa River, enjoy artisanal foods and wines from local vendors at this vibrant public market. There are lovely views from the rooftop deck.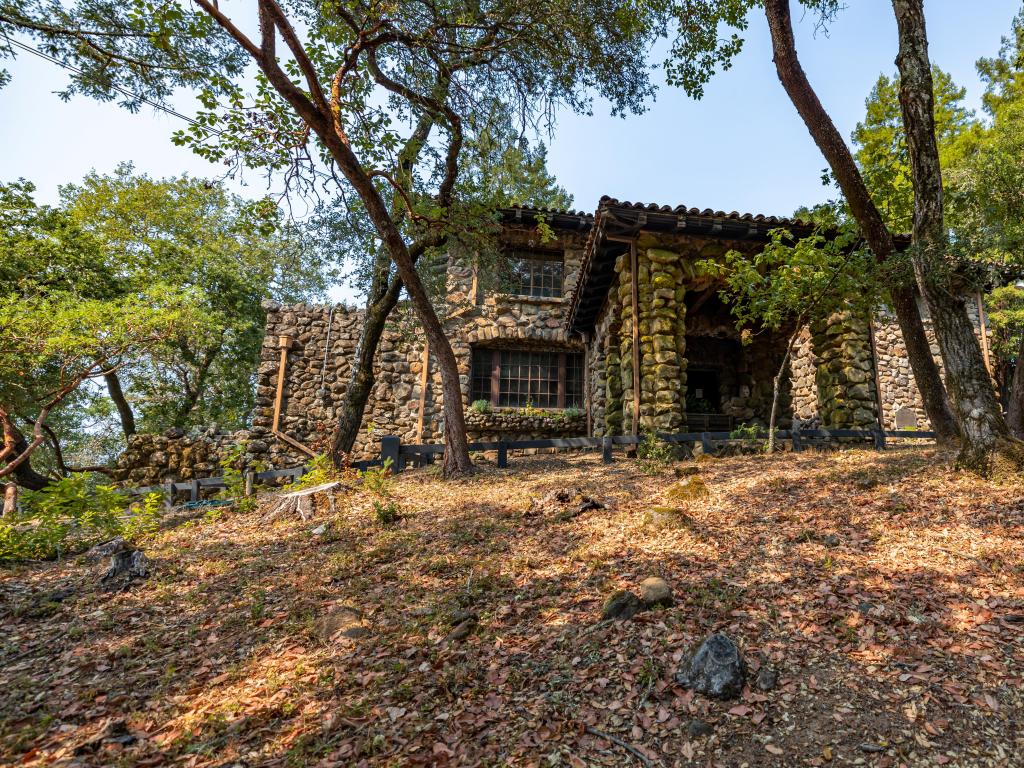 Both Routes
Mariposa Grove – This beautiful grove of giant sequoia trees has hiking trails and stunning views.
Best time to go on a road trip from Monterey to Yosemite National Park
You can trip to Yosemite National Park year-round, but winter months often have road and park closures. It's best to visit during summer, spring, or fall.
Summer is a popular season for visitors, with peak crowds from June to August. Temperatures are warm between 50-90 degrees Fahrenheit. The Park opens fully in summer, so expect many tourists and higher accommodation and attraction rates.
Parts of the Park close during winter because of heavy snowfall, and it's not a popular time for visitors. For winter sports lovers, there is still skiing and snowshoeing to enjoy. Temperatures are icy and low, between 20-50 degrees Fahrenheit.
Spring and fall are great times to visit Yosemite as the weather is milder and there are fewer crowds. Expect temperatures between 30-70 degrees Fahrenheit and beautiful changing landscapes. You may get more affordable rates for accommodations and attractions in spring and fall.
Yosemite National Park has several festivals and events throughout the year, though summer is the peak season for outdoor events.
The Park hosts the Yosemite Facelift in September, an annual volunteer event to clean up litter. The Bracebridge Dinner in December is a unique Christmas tradition that transforms a 17th-century manor for a feast with songs and dance.
The Horsetail Firefall viewing is a magical natural phenomenon and occurs between October to mid-to-late February.