Road Trip from Oklahoma City to California
Has an adventurous trip from the Midwest to the US West Coast always been on your mind? Then this incredible road trip from Oklahoma to California through the epically diverse landscapes, vibrant cities of Texas and New Mexico, roadside attractions on the famous Route 66, and a drive along the edge of the Pacific Coastal Highway overlooking gorgeous sandy beaches will leave you awestruck.
The 1,870-mile road trip from Oklahoma to California takes about 31 hours to drive via Palo Duro Canyon State Park, Amarillo, Santa Fe, Mojave National Preserve, and Los Angeles. From there, head North toward San Francisco or South toward San Diego.
This epic road trip offers plenty of opportunities for detours and stopovers at popular amusement parks, spectacular natural wonders, and scenic forests. Read on to discover the best routes, stopover suggestions, things to see, and time to plan this fantastic trip.
How far is California from Oklahoma City, and how long will the road trip take?
Comparison of road trip routes between Oklahoma City and California

| Route | Distance | Driving Time |
| --- | --- | --- |
| The San Diego Route | 1,530 miles | 24 hours |
| The San Francisco Route | 1,870 miles | 31 hours |
The two routes to California from Oklahoma City are identical until you arrive in Los Angeles. From there, they diverge depending on the direction you take on the Pacific Coastal Highway.
The road trip to California from Oklahoma City via The San Francisco Route takes about 31 hours to complete and covers 1,870 miles, not considering food and gas breaks.
Or you could veer South on San Diego Route and cover 1,530 miles over 24 hours of driving without any stopovers and detours.
To make the most of this incredible experience and create awesome lifelong memories, split your trip over 5-9 days to enjoy leisurely.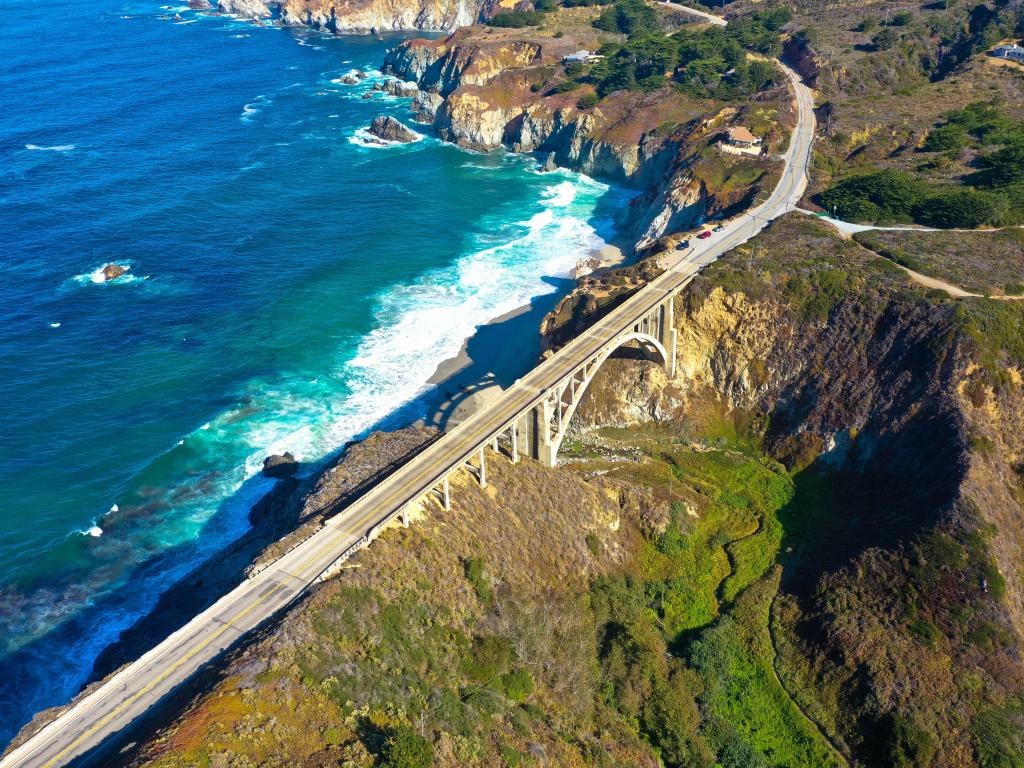 Best road trip route from Oklahoma City to California
Whichever route you choose, there will be ample interesting things and adventures. Also, because LA is one of the busiest cities in the US, you may experience heavy traffic during the morning and evening rush hours.
Either way, you'll drive west from Oklahoma City to arrive at Los Angeles through the Midwest's rocky landscapes, massive plains, and quirky cities.
Then go North via The San Francisco Route to pass through the glamorous beach cities of Malibu, Santa Barbara, Big Sur, Santa Cruz, and San Francisco. Marvel at the dramatic Pacific coast and the glistening sandy beaches. Don't forget to enjoy fresh seafood and amazing wine as you drive through California's hotspot area.
To take the San Diego Route, head South from Los Angeles on the Pacific Coast Highway toward South California. This lovely road has stunning beaches with nightlife and unforgettable sunset views.
Some highlights along the way include the beach towns of Anaheim, Huntington Beach, Laguna Beach, Torrey Pines State Natural Reserve, and San Diego.
If you'd like to combine the routes and visit both San Diego and San Francisco on your journey, you can follow the scenic Pacific Coast Highway. You can find our detailed guide on this drive here, as well as the best places to stay on this road trip on the Pacific Coast Highway.
San Francisco Route
Exit Oklahoma City on I-40 to begin your westward journey. Pass the exciting city of Amarillo, take a detour for the vibrant Santa Fe, head back on I-25 for Albuquerque, and join back on I-40.
Pass by the Petrified Forest National Park, Flagstaff, and cross the Colorado River to enter California. Notice Dead Mountains Wilderness Area and Mojave National Preserve on the right side before merging into I-15 for Los Angeles.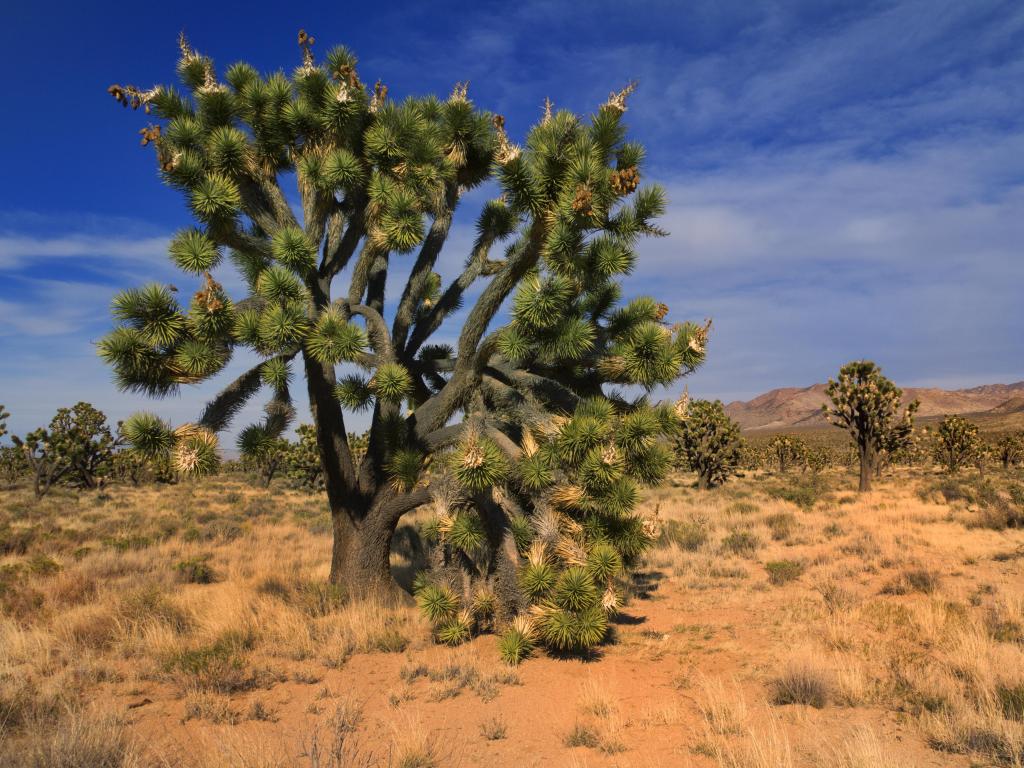 Drive through the lush greenery and observe the mountains passing by. Follow CA-210 and head South toward Los Angeles. I-10 will take you through the city until it merges into CA-1 before Santa Monica Pier.
Drive North on the Pacific Coast Highway, hugging mountains on one side and overlooking the beautiful beaches on the other. Pass by Topanga State Park, Malibu, Santa Monica Mountains National Recreation Area, and Point Mugu State Park.
As you exit Santa Barbara, detour CA-154 to drive through the gorgeous mountains. Enjoy the elevated landscape as you pass by Chumash Painted Cave State Historic Park, Santa Barbara County Parks, and Lake Cachuma to merge into US-101.
Border the lush green Prisma Preserve and drive-up North through the inland way. Following the road toward Hunter Liggett, drive through the mountains to join back the CA-1. Continue moving along the string of the Pfeiffer Big Sur, Julia Pfeiffer Burns, Andrew Molera, and Garrapata State Parks before reaching Santa Cruz.
Exit Santa Cruz by taking CA-17 toward San Jose via lush green preserves and Lexington Reservoir County Park. Bypass San Jose by taking CA-85 and drive along the San Francisco Bay as it merges into US-101 to finally arrive at San Francisco.
The San Diego Route
Follow the exact directions as the previous route to reach Los Angeles from Oklahoma City.
Take US-101 to commence your southward journey toward San Diego and merge into I-5. Take a slight detour for Anaheim city before joining back on I-5.
Follow the directions for Newport Beach, and after a short detour for Huntington beach, merge on the magnificent Pacific Coast Highway. Drive along the Newport Bay, Crystal Cove State Park, and Laguna Beach.
After crossing Dana Cove, merge into I-5 toward San Diego. Enjoy the small beach towns, happening beaches, a detour to Legoland, and beautiful viewpoints.
Stop at the famous Torrey Pines State Natural Reserve and explore the Mission Bay area before finally entering San Diego.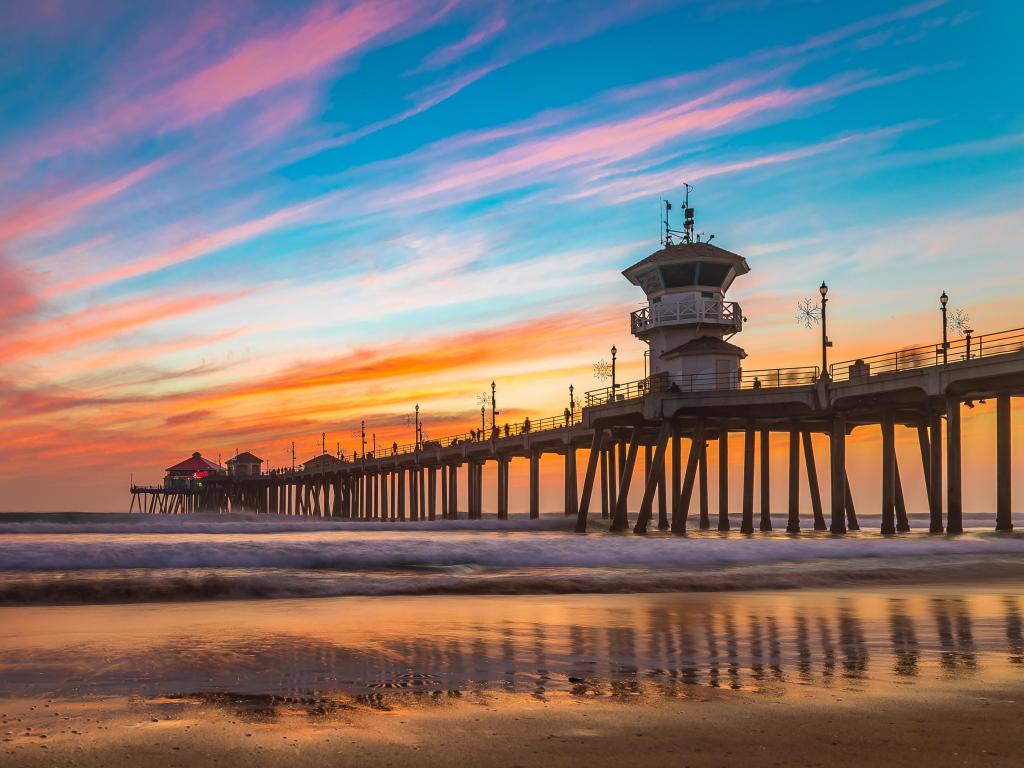 Best places to stop between Oklahoma City and California
From the incredible natural scenery across the US, including stunning landscapes, beautiful beaches, gorgeous bays, diverse state parks, and iconic cities, this trip has you covered for an adventure of a lifetime.
Scroll down to find our favorite places and top hotel recommendations for this exciting road trip.
A cultural stay in the colorful city of Santa Fe
You'll encounter the rustic city of Santa Fe about 540 miles into your journey on the San Diego and San Francisco Routes. Experience the abundance of art and history in this city that is home to over 250 art galleries.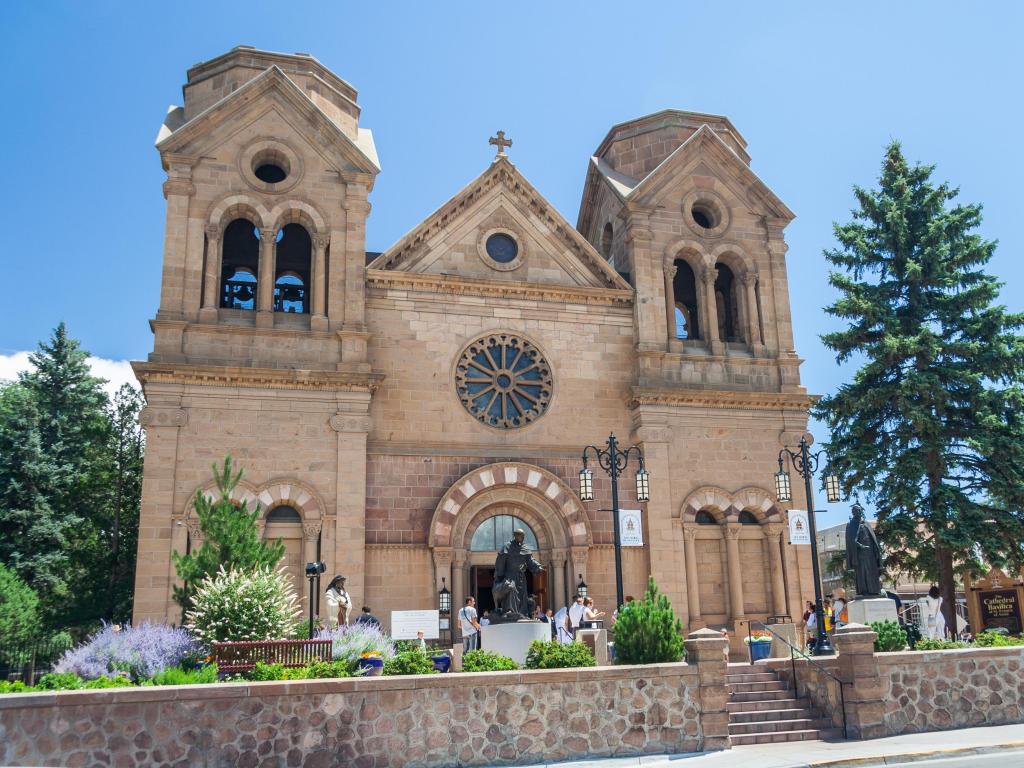 The state capital of New Mexico, Santa Fe, is perfect for exploring on foot. Start with the charming Santa Fe Plaza at the city's heart and follow it up with a visit to the popular Georgia O' Keefe Museum dedicated to the artist.
Explore outdoor activities like river rafting on the Rio Grande and a quiet walk around the Saint Francis Cathedral. Admire the beautiful Romanesque architecture of this historical landmark.
Located on the Old Santa Fe Trail and at walking distance from New Mexico History Museum and other attractions mentioned above, our top lodging choice is Inn & Spa at Loretto for your overnight stay. The hotel offers private on-site parking and has unique New Mexico architecture.
After a hectic day's driving, book a well-deserved relaxing spa treatment at their wellness center. Appreciate the view of the Sangre de Cristo mountains from the site as you enjoy an outdoor poolside cocktail.
A bedazzling evening in the iconic Los Angeles
After completing roughly two-thirds of your journey on either route, you'll arrive at the trendy Los Angeles. Because it is the diverging point for your San Diego and San Francisco Routes, it makes for an ideal stopover point.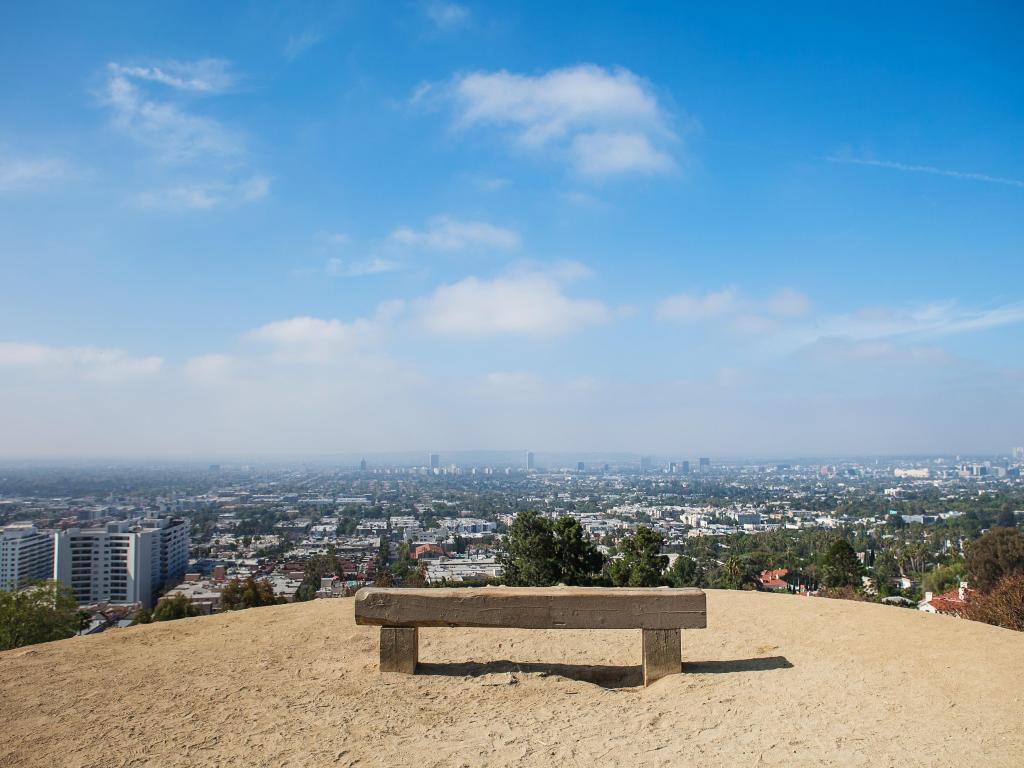 Get a breathtaking view of the 'City of Angels' and the Hollywood sign from the Griffith Observatory. Head over to Universal Studios for a thrilling experience of the amusement park, and then stroll around the Hollywood Walk of Fame.
For an out-of-city experience, explore the outdoors of the Santa Monica Mountains at Runyon Canyon Park. Make sure to take your camera with you to immortalize the beautiful landscape.
Located close to all the attractions listed above and offering an excellent view of the Hollywood sign, Dream Hollywood is perfect for a night's stay. With a fabulous rooftop pool and a sun terrace to enjoy a stunning sunset view on, you won't be short of magical experiences here.
You'll love their modern décor, stylish interiors, state-of-the-art fitness center, and a high-class on-site bar and several restaurant options you will have at your doorstep.
Where to stay when you reach San Francisco
If you pick the San Francisco Route for your road trip, we recommend Hotel Nikko San Francisco for your comfortable stay after reaching San Francisco. Centrally located, it is ideal for exploring the bay area at leisure.
This posh hotel boasts glamorous décor with marble floors, a heated indoor swimming pool, a fitness center, and fantastic city views. You can visit the San Francisco Museum of Modern Art and stroll the iconic Golden Gate Bridge.
After a day of exploration, enjoy the delicious food at the on-site restaurant at this five-star property.
Things to see on a road trip from Oklahoma City to California
There are several must-see destinations along both routes from Oklahoma City to California. Below is a list of top attractions to make the most of this road trip.
The San Francisco Route
Malibu, California – Besides the celebrity homes, Malibu has several unexplored beautiful beaches like El Matador State Beach, famous for the 300-foot-high arch you can walk through.
Santa Barbara, California – After chilling at the gorgeous beaches, enjoy the culinary specialties like fresh oysters and exotic sea urchins at the Santa Barbara beach.
Paso Robles, California – Paso Robles has a long history of wine, and it only makes sense that you stop by to taste some of the finest wines in the region.
Big Sur, California – Situated on the cliffs, Big Sur offers excellent viewpoints overlooking the sea. Get an unparalleled view of the deep blue Pacific Ocean from Ragged Point.
Monterey, California – Should you visit between March and November, you may spot humpback whales in Monterey. Improve your odds by booking a tour with Monterey Whale Watching.
Santa Cruz, California– Santa Cruz is a surfer's paradise. But if surfing is not your thing, enjoy long walks along the boardwalk and indulge in some shopping.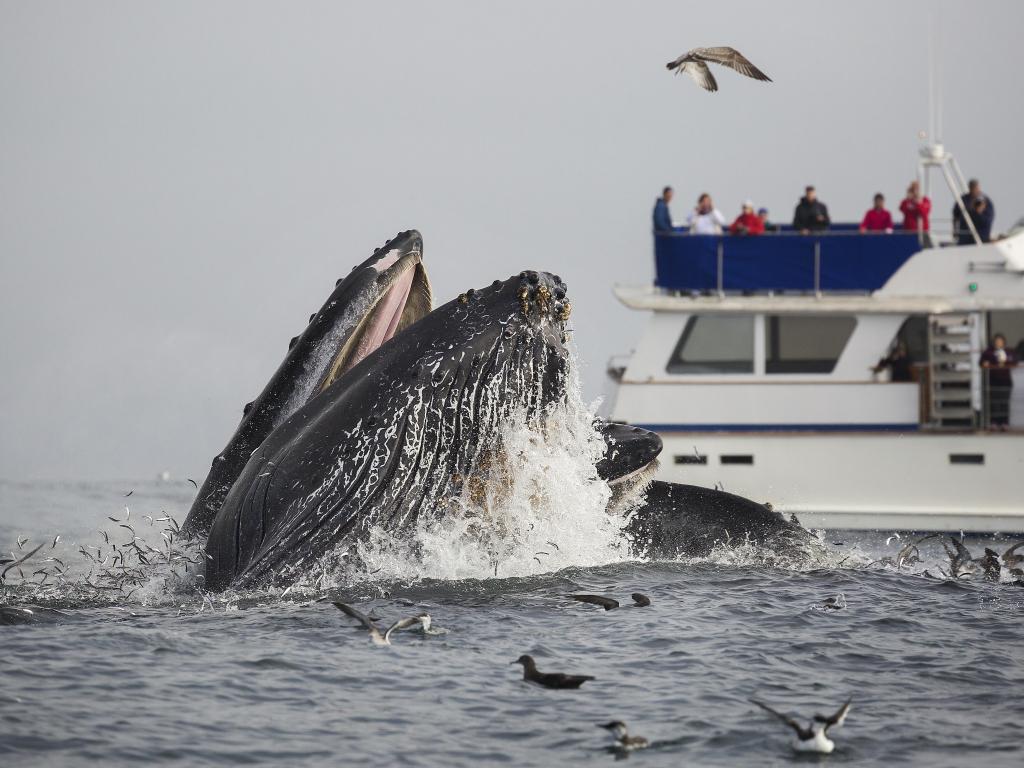 The San Diego Route
Anaheim, California – Young or old, you must visit Disneyland Resort at Anaheim at least once in your life. Make your trip memorable by visiting Avengers Headquarters and meeting Jack Sparrow on the pirate ship.
Huntington Beach, California – Lounge at the beachside during the day and let your hair down at night as you experience the vibrant nightlife of Huntington.
Laguna Beach, California – Soak in the Bohemian culture and explore the vibrant art scene at Laguna Beach.
Encinitas, California – This lovely coastal city is known as the 'Flower Capital of the World,' thanks to the 4-mile-long trails in the San Diego Botanic Garden.
Mission Bay, California – It is one of the happening places buzzing with surf shops, beach bars, and nightclubs. Watch the sun going down at the Sunset Cliffs for a relaxing getaway.
Torrey Pines State Natural Reserve, California – This South California region is renowned for taking guided hikes in the wilderness on weekends.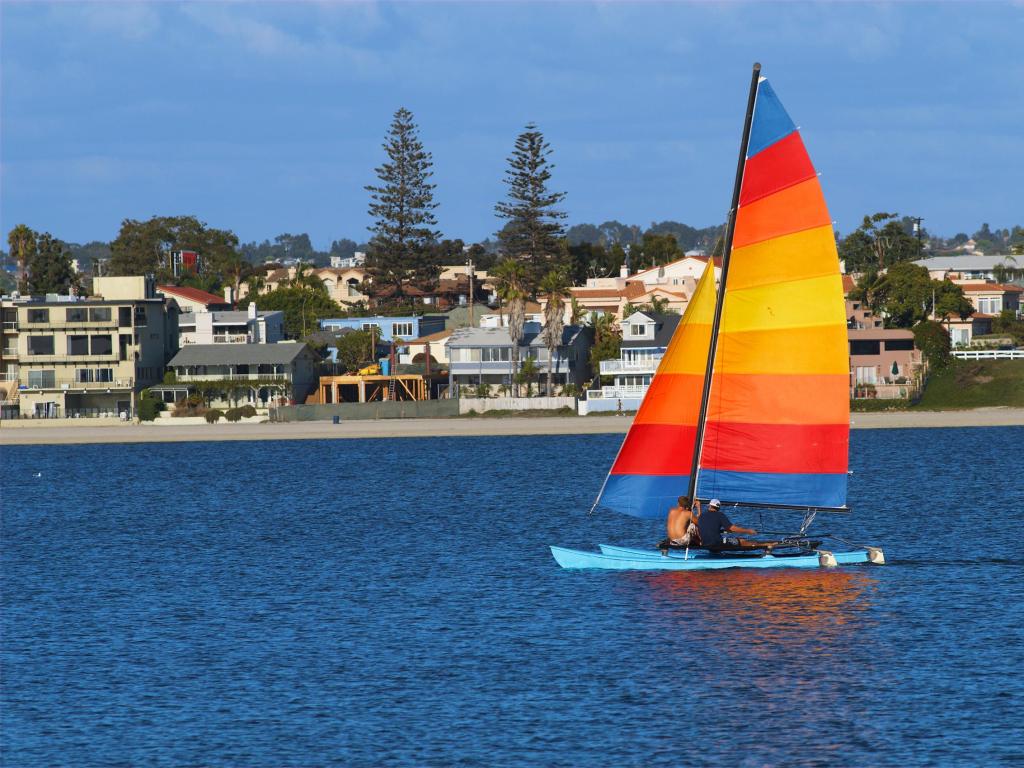 Both Routes
Palo Duro Canyon State Park, Texas – Did you know this is the second-largest canyon in the US? Drive, hike, bike, or take a horse to get there.
Amarillo, Texas – This city on the famous Route 66 is renowned for its iconic road signage. Stop and take pictures for some retro-themed memories.
Albuquerque, New Mexico – Unlike any other US city, the Old Town has a super exotic vibe. Fans of Breaking Bad often recreate iconic scenes from the series in this city.
Winslow, Arizona – Famous for the "take it easy" reference, you'll love the efforts the tow has put in to make it memorable. Take pics at the cool spots and visit the Meteor Crater for a unique experience.
Flagstaff, Arizona – One of the many stops on the famous Route 66, you can dance to the live music at the Museum Club in Flagstaff.
Grand Canyon, Arizona (Optional detour) – Take this opportunity to explore the Grand Canyon. Enter from the South Rim entrance and let nature sweep you off your feet.
Mojave National Preserve, California – Hike through the rugged Mojave landscape. Also, visit the Boulders Viewpoint for a glimpse of the granite mountains.
Mount San Antonio, California – Drive the Mount Baldy Road to drive up this mountain for high altitude vantage points.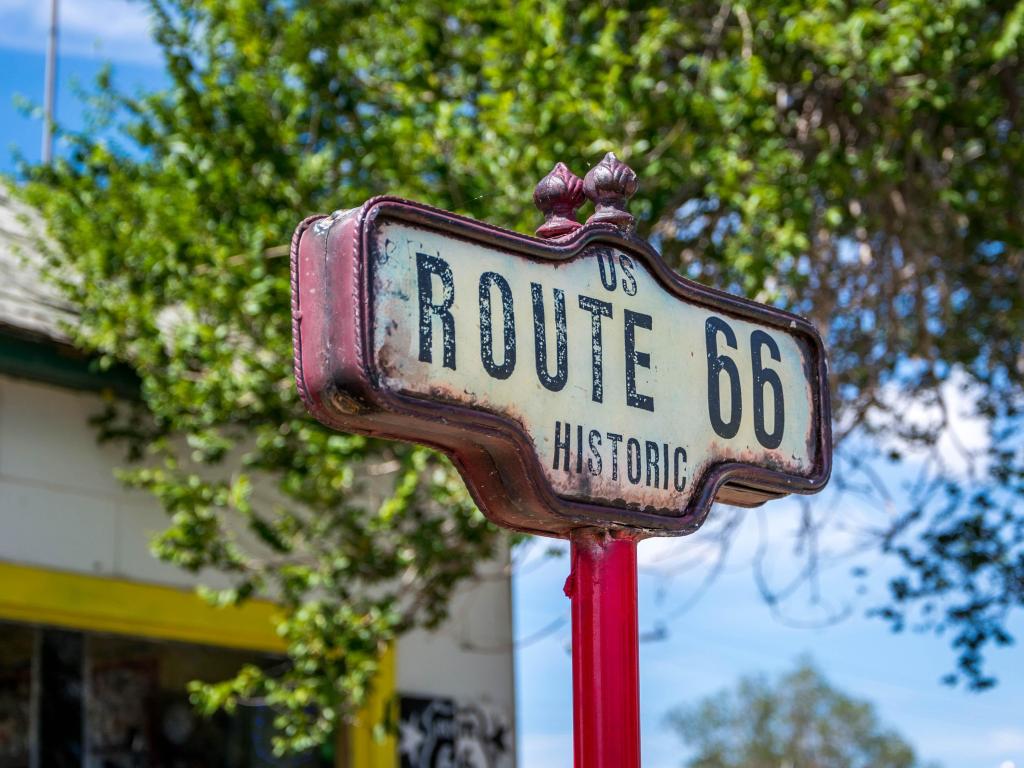 Best time to go on a road trip from Oklahoma City to California
California is a year-round destination because of the ambient weather conditions. Having said that, the months from June to August see maximum footfall in San Francisco and San Diego. So, plan your trip during winter and fall for budget-friendly hotel deals.
It gets pretty hot during summer in San Diego, with temperatures averaging between 70-71 degrees Fahrenheit during the peak summer months of July through September.
San Francisco is relatively cooler, and the temperature varies between 62 and 63 degrees Fahrenheit from July to October. Rain-wise, June is the driest month in San Diego, whereas July and August are the driest in San Francisco.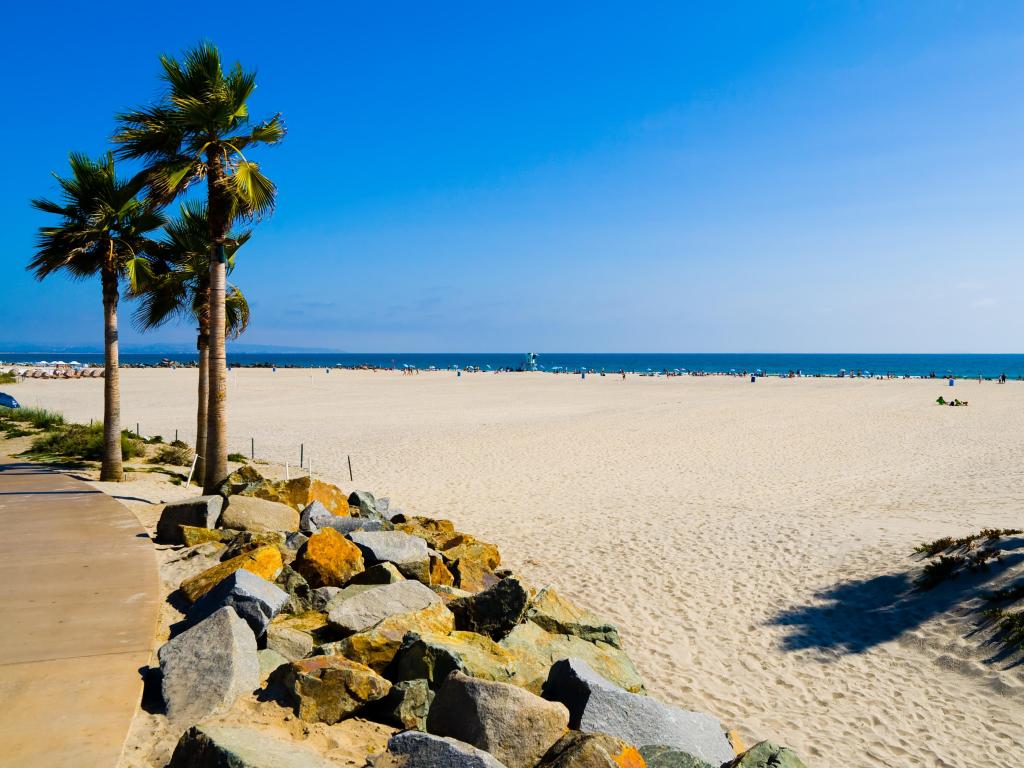 San Diego and San Francisco experience peak winter during December and January, with temperatures averaging 57- and 51 degrees Fahrenheit, respectively. If you don't mind overcast skies, winters are great for planning this budget trip, except for the holiday season, when the cities see many tourists.
April and May in spring and September and October during fall offer pleasant windows for this road trip. The temperatures are favorable, and there are fewer tourists. May onward, the clouds disperse, promising a clear view of the skies.
During summer, San Francisco hosts several interesting festivals like Union Street Festival in the first week of June, San Francisco Pride during the last week of June, San Francisco Marathon in July, and the Outside Lands Music Festival in the second week of August.
San Diego is famous for hosting the exciting San Diego Comic-Con in July. Other than that, there's a San Diego County Fair in June - July, the San Diego International Film Festival in the third week of October, the Wonderfront Music Festival in November, and the CRSSD Festival in March.