Road Trip from Phoenix to Yosemite National Park
A road trip from Phoenix to Yosemite National Park is one of sweeping deserts, canyons, and awesome mountain landscapes. You'll drive through dusty roads and stop at National Parks full of vibrant natural scenery. What's more, halfway along the route are major cities where you can let your hair down and enjoy the nightlife. It's a perfectly balanced trip, full of variety.
The 670-mile road trip from Phoenix to Yosemite takes at least 11 hours and 20 minutes to drive. Highlights on the way can include Joshua Tree National Park, Palm Springs, Los Angeles, Coconino National Forest, Mammoth Lakes, Grand Canyon and Las Vegas.
If you have joie de vivre, a lust for energetic atmospheres, and a love for awe-inspiring scenery, this is the road trip for you. Read on to see what this journey in the southwest of the United States holds.
How far is Yosemite National Park from Phoenix, and how long will the road trip take?
Comparison of road trip routes between Phoenix and Yosemite National Park

| Route | Distance | Driving Time |
| --- | --- | --- |
| Quick Route | 670 miles | 11 hours 20 minutes |
| Scenic Route | 870 miles | 16 hours 40 minutes |
Driving from Phoenix to Yosemite National Park will take you through the best of the southwest if you choose the 870-mile Scenic Route, which will take about 16 hours and 40 minutes (not accounting for stops). See the Grand Canyon, lively Flagstaff, rich history, and more.
However, if time isn't on your side, the Quick Route also offers phenomenal sights. Shaving off 5 hours of drive time at 11 hours and 20 minutes (translating to 670 miles), you'll see natural wonders and a bit of the glamorous California Coastline.Whichever route you take, we recommend spending at least four days on this incredible trip. And if you can spare a few extra days on the road exploring, all the better!
Best road trip route from Phoenix to Yosemite National Park
Although naming one route "best" is difficult and highly dependent on time available to you, The Scenic Route really takes the cake when it comes to making the most of your experience.
The Grand Canyon is a bucket list stop. Few cities bear the reputation for unforgettable nightlife like Las Vegas. If you're looking to check legendary places off your travel list, this is the route for you.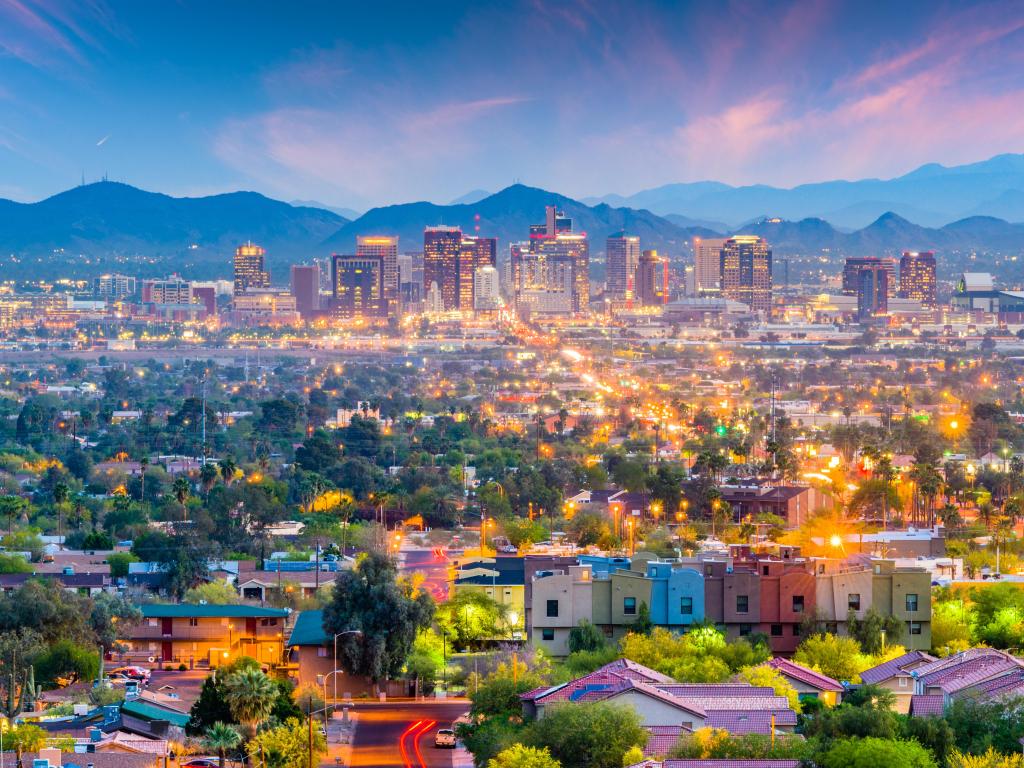 The Scenic Route will take about 16 hours and 40 minutes at 870 miles, showing off the best of the journey with canyons, fun nightlife, and more.
That said, you'll still get fantastic experiences along The Quick Route. There's Joshua Tree National Park, Palm Springs with its own canyon, and more. See how the rich and famous live as you pass through Los Angeles. Plus, plenty of fun is to be found at Six Flags or Disneyland.
The Quick Route
The Quick Route consistently curves west to north, setting you off on I-10 towards Joshua Tree National Park, your first scenic stop. Not long after, you'll be passing through Palm Springs and San Bernardino, which have their own accolades to enjoy.
Los Angeles right on the beautiful California Coast awaits not long after, where you'll shift your direction northwest on I-5 to quickly find yourself at Six Flags Magic Mountain.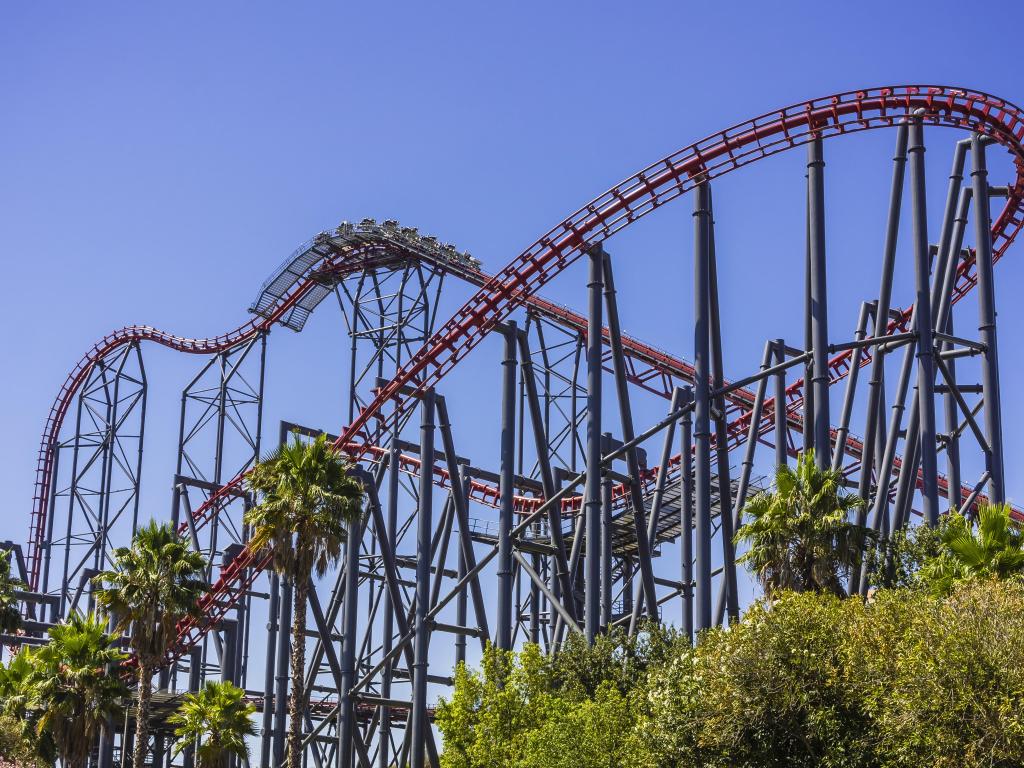 The next stretch of your drive takes you to Bakersfield. From there, you'll follow CA-99 to Fresno, the last milestone before taking CA-41 to Yosemite National Park from the south.
Whichever route you take, as you arrive at Yosemite National Park, you'll marvel at standout natural attractions such as Half Dome, Yosemite Falls and Glacier Point.
The Scenic Route
On our Scenic Route, you'll hit the road going north on I-17 for about an hour and a half before you reach your first destination, Montezuma Castle National Monument.
Less than half an hour north from this is Sedona, where you'll break off onto the Historic Route 66 to get to The Grand Canyon. En route, enjoy the rugged terrain and lush greenery of beautiful Coconino National Forest.
Once you're done there, the route will take you south again to get back onto your westbound route on I-40. Curving northwest, you'll find yourself at the Hoover Dam Bypass, and soon after, Las Vegas, also known as Sin City itself, entered via I-11.
Leaving Sin City via US-95, you'll journey northwest until Amargosa Valley, where you'll take a sharp turn south on NV-373. Soon enough you'll turn onto CA-190, where Death Valley awaits you.
Continuing on a winding road northwest through the desert, you'll eventually begin to see the topography become dynamic again with trees, lakes, and mountains. US-395 will carry you the rest of your journey to enter Yosemite from the north on Highway 120.
Best places to stop between Phoenix and Yosemite National Park
No matter where you stop, you won't forget the excitement, bright lights, and tourist attractions. We've selected two spots that stand out for a stop in the middle of your trip.
Learn the true meaning of "nightlife" in Las Vegas
Las Vegas is close to halfway along your Scenic Route drive. The location makes it an ideal last overnight stop. What's more, as one of the most prominent entertainment cities in the world, Sin City has a whole range of entertainment on offer if you choose to stay the night.
When you think of Las Vegas, you think of entertainment, casinos, and neon lights. See the Las Vegas Strip, historical Fremont Street via zip line (yes, zip line!), take a ride on The High Roller ferris wheel, get some selfies at The Eiffel Tower at the Paris Hotel, and explore the antics of classic American gangsters at the Mob Museum.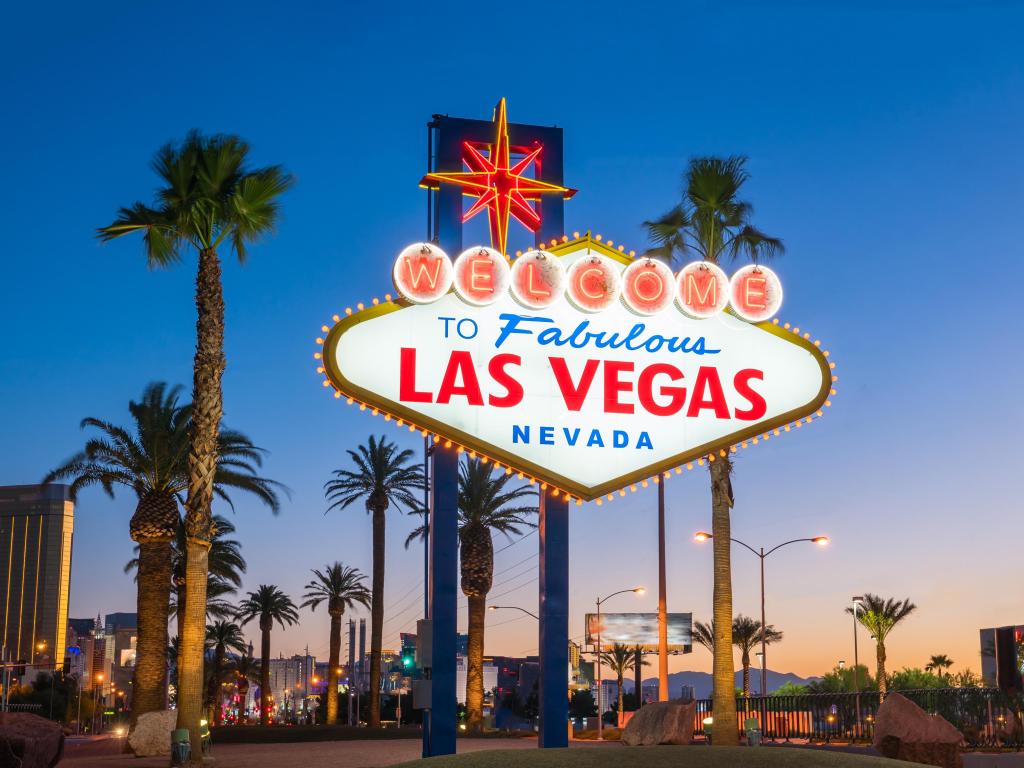 As for hotels, we highly recommend the Bellagio. At this iconic hotel - with its fabulous fountains - you'll be in the center of the action while still being able to relax in one of their five (yes, 5!) pools. The hotel also offers full spa amenities.
You also have plenty of options for where you lay your head, from their luxurious Penthouse Suites to their more affordable King and Queen rooms. Just keep in mind with your budget planning that when in Vegas, you'll have to pay a resort fee.
Taste the high life In Los Angeles
On The Quick Route, Los Angeles rests about halfway to your destination. Staying the night in LA means you get to cram in some of the best tourist attractions the city offers, whether that's sampling the nightlife, or joining a tour to see how the rich and famous live.
Being famous for TV, music, and media, it's common for the rich and famous to live in LA. Not to mention it boasts the iconic Hollywood Sign and famous beaches. For the best overall view, visit the Griffith observatory. Stroll Hollywood Boulevard and find your favorite actor's star. What's more, you can find some of the world's most famous music venues on a stroll down Sunset Strip.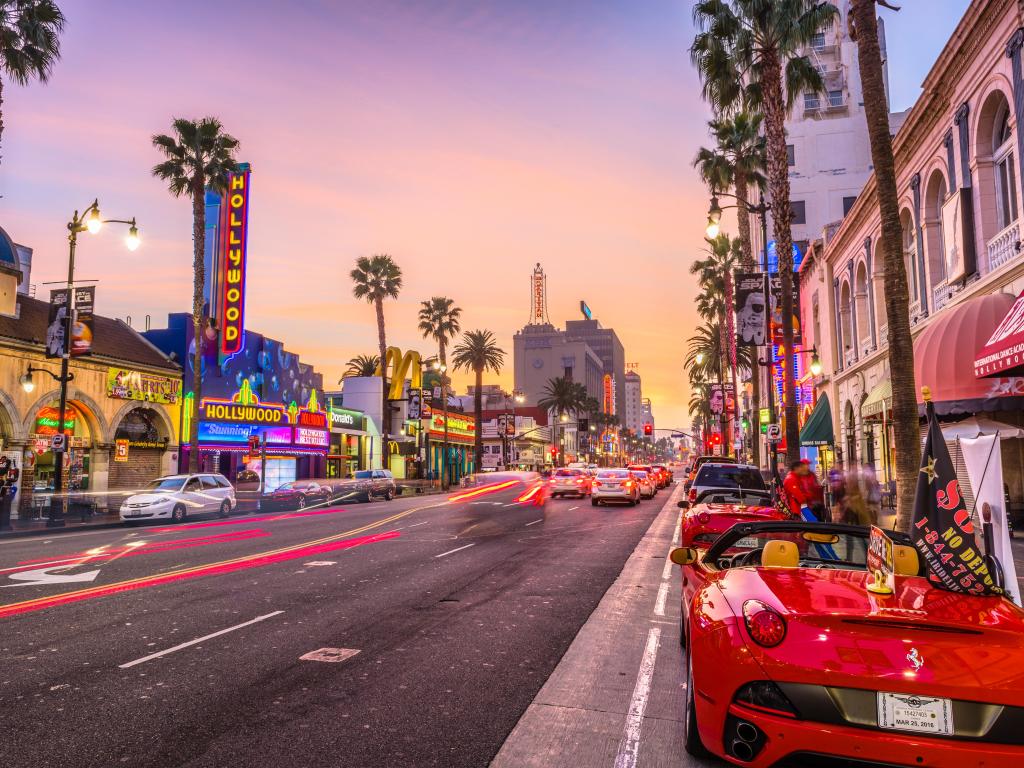 LA not only has much to see, but much to do. Of course, we can't forget the famous theme parks: Universal Studios and Disneyland! And although this city isn't primarily known for its galleries, the Los Angeles County Museum of Art is a contemporary museum with pieces to entertain everyone.
Feel like a true superstar with a stay at The London West Hollywood at Beverly Hills. This boutique hotel has pristine rooms, many with incredible views of the city.
Soak up the LA sun and take a break on one of the sumptuous cabanas at the hotel's rooftop pool. And when you've relaxed and are feeling regenerated, you'll be conveniently located close to many of the sights we've already mentioned, plus some others like the Rainbow Bar & Grill and the Greystone Mansion.
Where to stay when you reach Yosemite National Park
Yosemite National Park is 1,189 square miles of simply amazing nature. Hotels are rare in the park itself. The Ahwahnee is our top choice hotel - a mere 750 yards from Yosemite Valley and 13 miles from the Arch Rock Entrance to Yosemite National Park, it's in a great location.
Hiking and biking trails are next to the hotel, so you're well placed for an excursion as soon as you wake up in the morning. Don't have a bike with you? Fret not, you can rent bikes on site.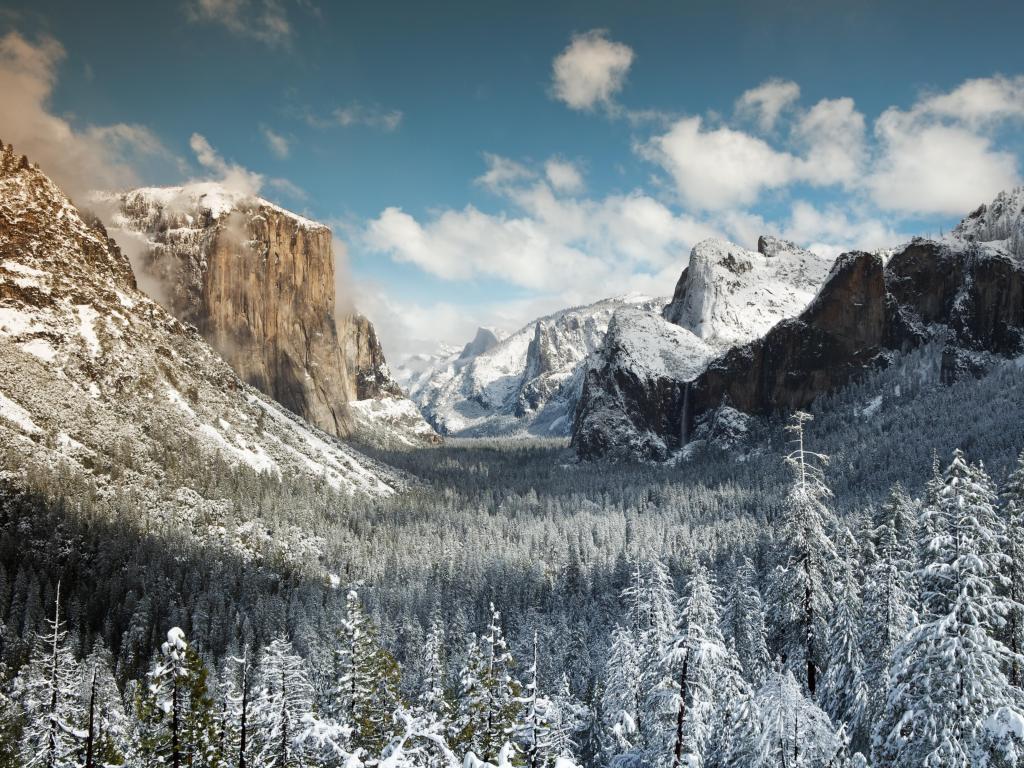 The Ahwahnee also offers free parking and electric vehicle charging. The outdoor pool has a dramatic backdrop of the mountains while the rooms have a mountain vibe with once-in-a-lifetime views.
Things to see on a road trip from Phoenix to Yosemite National Park
Whichever route you take, you'll be amazed by majestic views and given plenty of opportunity to make memories brimming with fun and entertainment.
The Quick Route
Tonopah - Take a detour onto the Lunar Crater Country Byway to see the geological formation caused by lava coming into contact with groundwater.
Blythe - See the Blythe Intaglios. - A mysterious collection of figures etched into the ground.
Joshua Tree National Park - You'll enter from the south entrance with the Bajada Nature Trail nearby. Hike through desert terrain and spot Joshua trees, cacti and other fauna.
Palm Springs - The Palm Springs Aerial Tramway is a magnificent canyon experience. Carriages swivel for unobstructed vistas as they go from the Coachella Valley to the top of San Jacinto Peak.
San Bernardino National Forest - Visit Wildwood Canyon State Park, one of the most popular areas in this forest. Bike and hike through old range land where the desert meets mountains.
San Bernardino - See the first-ever McDonald's opened in 1948. It's now a museum with plenty of quirky photo opportunities.
Six Flags Magic Mountain - Six Flags Magic Mountain is jam-packed with thrill rides for adrenaline junkies. You can also meet Justice League characters.
Pyramid Lake - Vaquero Beach is a short drive off I-5. There are tables for a scenic picnic overlooking the turquoise waters and mountains.
Bakersfield - For country music fans, go to Buck Owens Crystal Palace. The multi-purpose venue is a restaurant, theater with live music and a museum showcasing Buck Owens memorabilia.
Fresno - A hidden gem, go to the Forestiere Underground Gardens. An underground network of courtyards, walkways, and rooms.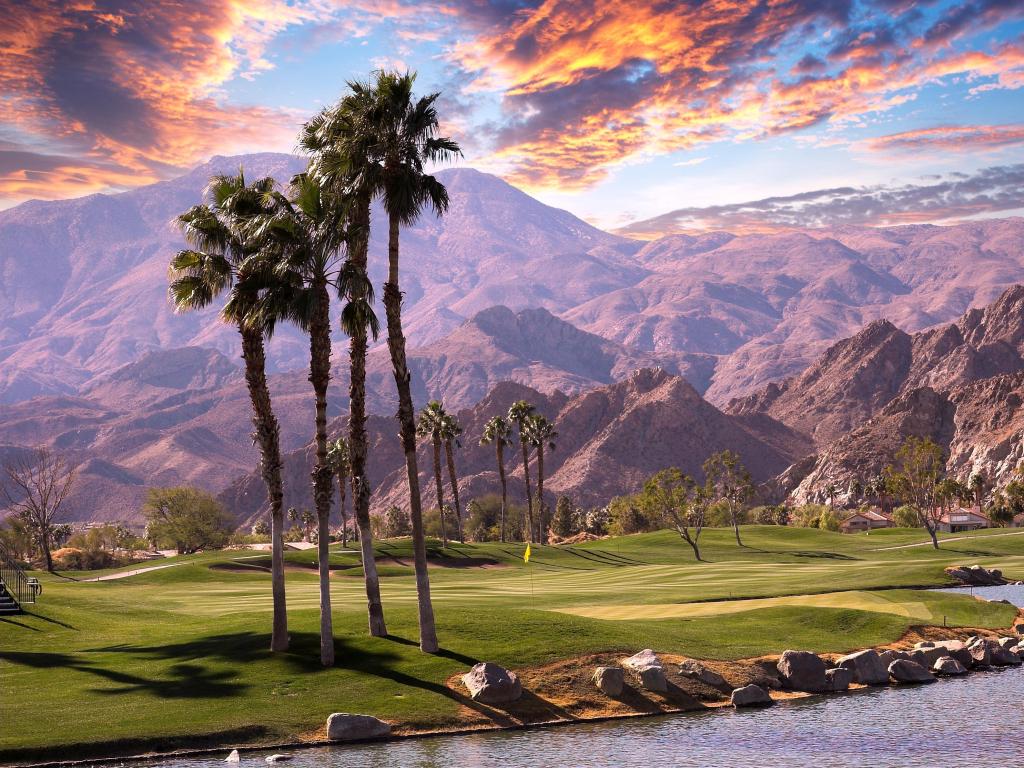 The Scenic Route
Montezuma Castle National Monument - Well-preserved, the Montezuma Castle National Monument is a cliff dwelling thought to date back as anywhere between 1100 to 1425.
Sedona - Sedona has some outstanding outdoor scenery. Try the Devil's Bridge Trail, leading to a huge sandstone arch.
Flagstaff - A section of Route 66 still exists in Flagstaff. Photograph the famous signpost before enjoying the culture and nightlife of the 7,000-foot-high city.
Grand Canyon - Peer over the mile-deep canyon. You'll enter the Grand Canyon by the South Rim, where the natural wonder is bound to blow your mind.
Hoover Dam - The Hoover Dam is a modern engineering wonder. You can park then walk over the dam and peer over the edge if you dare.
Ash Meadows National Wildlife Refuge - A quiet stop, the Ash Meadows National Wildlife Refuge has a comfortable hike over a boardwalk through desert and wetlands.
Death Valley National Park - The Scenic Route drives you through Death Valley. Stop at Zabriskie Point for remarkable badland vistas.
Inyo National Park - Inyo National Park has views of snow-capped peaks. Druid Loop is near to your route so you can hike this to admire the views.
Mammoth Lakes - Mammoth Lakes is a small town in the Sierra Nevada mountains. When in town, a visit to the Devil's Postpile National Monument is a must.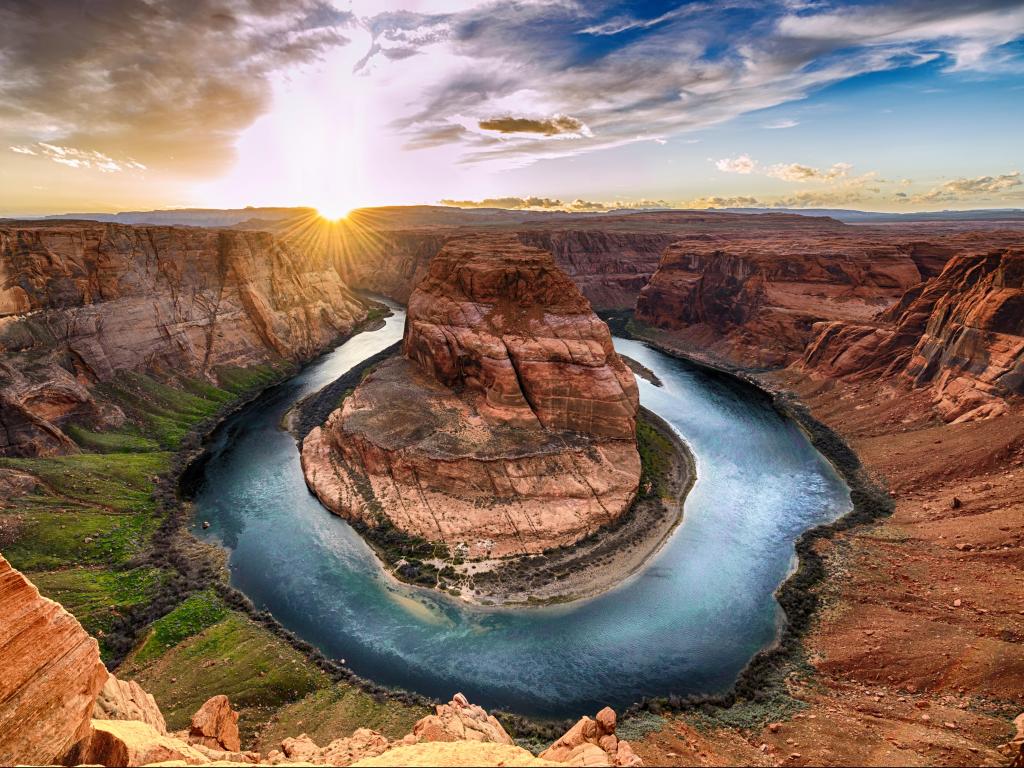 Best time to go on a road trip from Phoenix to Yosemite National Park
The busiest time of the year is in the summer months, and it's easy to see why. Yosemite has a dry heat that ranges from no lower than 57 degrees Fahrenheit to 91 at its hottest.
If crowds are a concern, consider September, when the crowds dissipate but the temperature remains warm. May is also a viable time, with spring temperatures of 67 degrees Fahrenheit, bringing waterfalls to full flow while still keeping snowcaps at higher altitudes.
That said, if you enjoy some winter fun, Yosemite winters are relatively mild. December and January are the coldest, averaging around 46 degrees Fahrenheit, and skiing is popular all winter long from November to May.
There aren't any major festivals or other events that happen in the area, at least not enough to affect hotel pricing. However, keep in mind national and school holidays such as Memorial Day when planning your visit!