Road Trip from Phoenix to Zion National Park
If you're looking for an American desert adventure, this road trip is perfect for you! Experience open roads and beautiful, rugged scenery on this surprisingly short trip from Phoenix, Arizona, to Zion National Park in Utah. It's a perfect spring break or fall season getaway.
A road trip from Phoenix to Zion National Park takes about 10 hours and is about 550 miles. Key stops are Sedona, Flagstaff, Las Vegas, Lake Havasu City, Meteor Crater, Wupatki National Monument, Lake Mead, Hoover Dam and Grand Canyon National Park.
This road trip offers travelers a sweet mix of urban and rural. Take in the gorgeous mountain and forest landscapes while exploring the charms of the southwest. Read on to find out where to go and what to do.
How far is Zion National Park from Phoenix, and how long will the road trip take?
Comparison of road trip routes between Phoenix and Zion National Park

| Route | Distance | Driving Time |
| --- | --- | --- |
| The Grand Canyon Route | 550 miles | 10 hours |
| The Las Vegas Route | 600 miles | 10 hours 29 minutes |
The Grand Canyon Route is about a 10-hour drive and about 550 miles without accounting for any stops or detours that we highly recommend you make on this beautiful route.
On the Las Vegas Route, the drive is about 10 hours and 30 minutes and around 600 miles. It's a slightly longer route with scenic detour options.
Even though it's possible to drive both routes in a day, set aside at least two to four days to enjoy the ride and make the most of this road trip.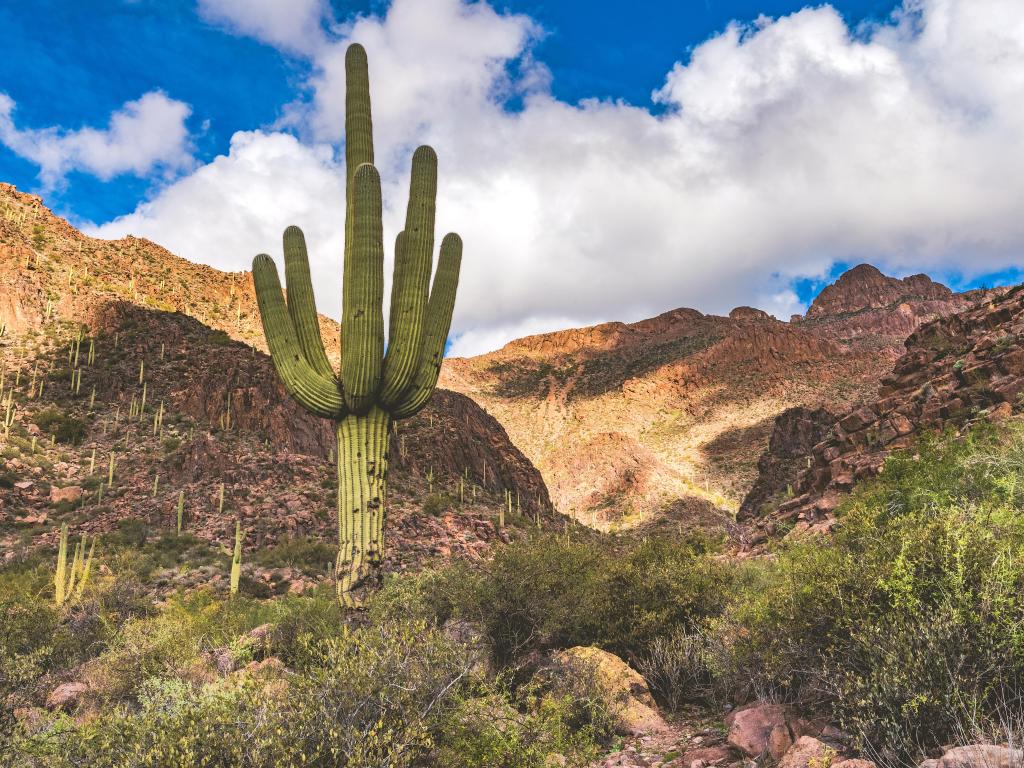 Best road trip route from Phoenix to Zion National Park
The road trip between Phoenix and Zion is about exploring the untamed wilderness of the southwest. There are sprawling natural landscapes and colorful urban cities to enjoy before getting to one of North America's most popular national parks.
On the Grand Canyon Route, drive through beautiful Arizona. The stunning Tonto and Coconino National Forests have crystal clear lakes, lush green trees, and plenty of spaces to commune with nature.
Stop in charming Flagstaff and enjoy the city's many outdoor activities before heading to the Grand Canyon. It's a great preview of what you can expect at Zion.
Lake Havasu City and Lake Mead are serene attractions on the Las Vegas Route. Enjoy the views of the water, before heading to the Mojave National Preserve, where sweeping dunes and Joshua Trees look like mirages.
Las Vegas is a neon-lit oasis on this route and a wicked place to have fun before going to Zion.
If you are keen on visiting Vegas and have always wanted to see the Mojave, the Las Vegas Route is for you. Arizona has some beautiful landscapes and small-town charms for road trippers, so the Grand Canyon Route is perfect if you're looking for a tranquil, scenic drive.
You will also travel on the legendary Route 66 on this route. Here is our guide on Route 66 if you'd like to learn more.
If you'd like to hike up to Angels Landing, you will need a permit and will need to make a reservation. Check the Zion National Park's website for more details.
The Grand Canyon Route
From Phoenix, get on Interstate 10 (I-10) E for a short drive to Tonto National Forest. No matter which direction you come from, the cactus desert and pine forest mountains are postcard perfect.
From Tonto, head to Coconino National Forest on the AZ-87 N. The famous Sedona red rocks and Ponderosa pine forests will have you feeling like a true pioneer. Explore this area, then get back on the road to Flagstaff on I-40 E.
Make an overnight stop in this charming city, surrounded by mountains and forests. Take a short drive to the beautiful San Francisco Peaks and visit the intriguing Walnut Canyon. Both sites are less than an hour away from Flagstaff.
When you've explored the city, get onto Route 66 and enjoy the drive and views from this historic US road as you head to the Grand Canyon. There is plenty to see and do at the UNESCO World Heritage Site.
When ready, get onto the AZ-64 E and drive to your final stop, Zion National Park.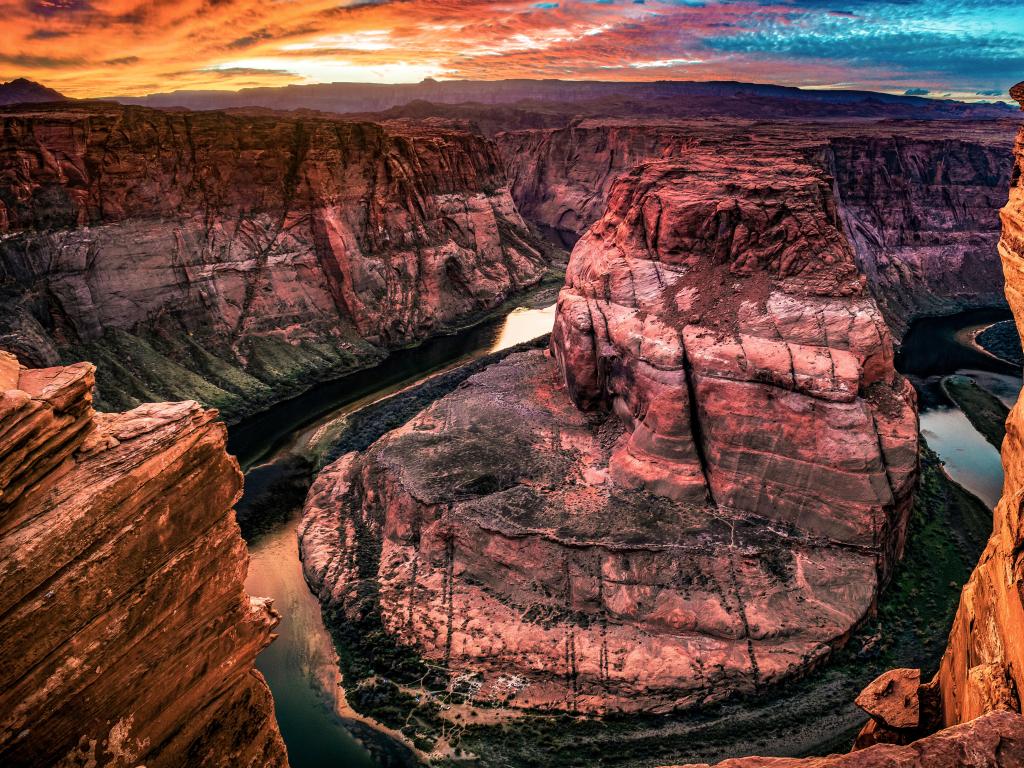 The Las Vegas Route
Get onto the I-10 W from Phoenix and head to your first stop, Lake Havasu City. Check out the famous London Bridge and explore the gorgeous beaches at Lake Havasu State Park.
Go to Mojave National Preserve on I-40 W from here. It's a serene place where the desert stretches out for miles, and the Joshua Trees are natural wonders. Soak in the views and explore before getting back on the road.
Take the I-15 N to Las Vegas, aka Sin City. Stop here overnight, rest, and of course, have fun. Check out the famous Las Vegas Strip, pop into any casino, and catch a show or two. There is much to enjoy in the capital city of entertainment, so take your time here.
When you've had enough fun, get out of the city to Lake Mead, about 30 minutes out of Las Vegas. The beautiful reservoir is just what you need after a night out.
When ready, head onto I-15 N to your final stop, Zion National Park.
Best places to stop between Phoenix and Zion National Park
From Phoenix to Zion, expect a smooth drive surrounded by mountains, forests, lakes, and canyons. This trip is a natural wonder if you enjoy the outdoors, with stunning scenery to keep you company.
It's possible to complete both routes in a day, but you need a break from driving through the desert. We've put together some ideal overnight stops to help you do that.
Enjoy the 'Dark Sky City', Flagstaff
Flagstaff is a perfect city to visit in any season. About 80 miles out of Phoenix, this city is near the base of the San Francisco Peaks, so expect stunning mountain views and cooler weather.
Outdoor activities are popular in this mountain town, so take your pick of hiking, biking, climbing, and, in winter, skiing. Nicknamed the 'Dark Sky City', Flagstaff has clear night skies with a perfect view of the stars.
Take a trip to the San Francisco Peaks and visit the Walnut Canyon National Monument – a curious rock formation in the desert. Flagstaff has a vibrant downtown district full of shops, restaurants, and cultural attractions. The city has some laid-back nightlife that is perfect after a long drive.
Flagstaff has a good variety of hotels. We recommend staying at the Little America Hotel, which has free parking available for guests. This lovely hideaway is inside 500 acres of Ponderosa Pine Forest.
With its modern mountain lodge interior, this is the perfect place for a rest stop. The rooms are spacious and cozy, with beautiful views of the forests and mountains.
There's an outdoor pool and fitness center, and the grounds around the hotel are great for an early morning or evening stroll. Try the on-site restaurant and relax around the beautifully decorated lounge area.
Little America Hotel is very close to I-40, making it easy to find. It's also near the downtown district, so you won't have to travel too far to enjoy Flagstaff's shopping and dining.
Viva Las Vegas
You've heard the songs and seen the movies, but nothing compares to being there yourself. Las Vegas is a famous entertainment retreat in the desert, about 4 hours away from Zion National Park.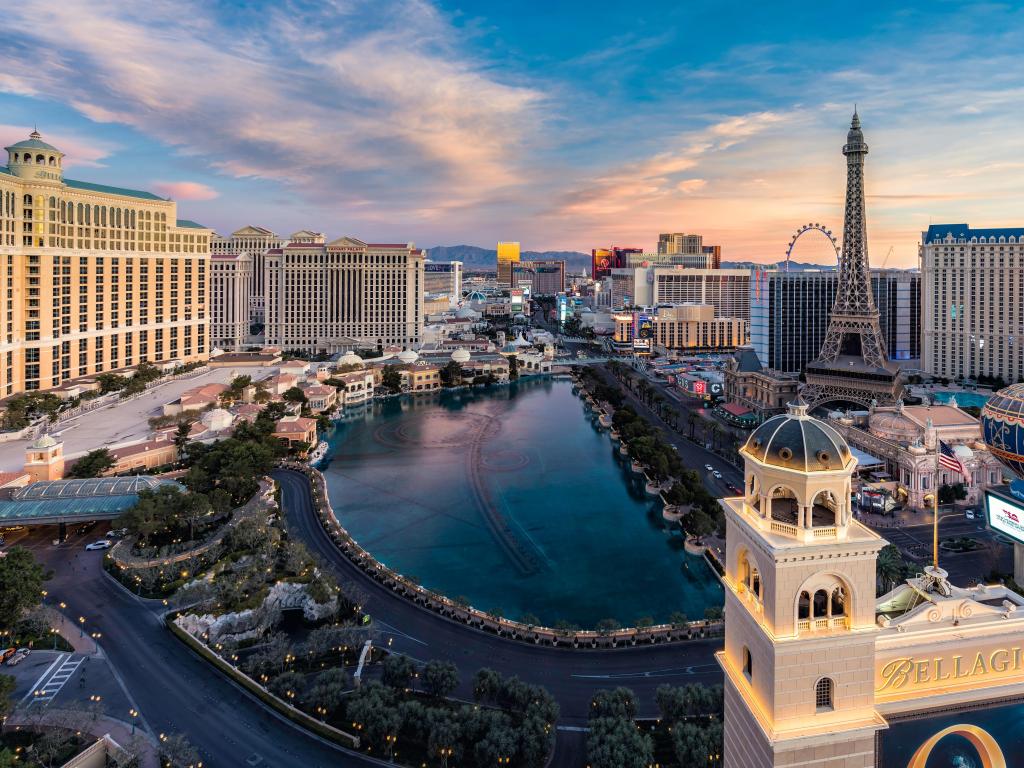 Start your tour on the Las Vegas Strip, the heart of this city. Try your luck at the iconic casinos in the Venetian, Bellagio, and Caesar's Palace. When you've made enough at the tables, head out and enjoy the colorful Bellagio fountains.
Vegas is known for its lively, energetic, and non-stop nightlife, so visit Fremont Street, a boulevard of bars, restaurants, and shopping. The quirky Mob Museum is here, with some neat interactive exhibits. The High Roller is a great way to see the city from a 550-foot-tall Ferris Wheel.
If what happens in Vegas stays in Vegas, it only makes sense to get the best accommodation and that's Bellagio. This world-class hotel is more than just a movie trope, it's a real taste of Vegas.
The luxury rooms are modern, spacious, and comfortable. It's the perfect place for a group, but solo travelers can enjoy the elegant design and gorgeous city views. There are multiple dining options and high-end boutique shops in and around the hotel.
The hotel has five beautiful courtyards for guests to enjoy, so when you need a break from the slots, take a stroll in one of these gorgeous botanical gardens. The Bellagio is located right on the Strip, so you're not too far from the pulse of the city.
Where to stay when you reach Zion National Park
Zion National Park is a highlight of the picturesque southwest. It's a beautiful, lush, rugged oasis in the desert and the perfect place to finish the drive.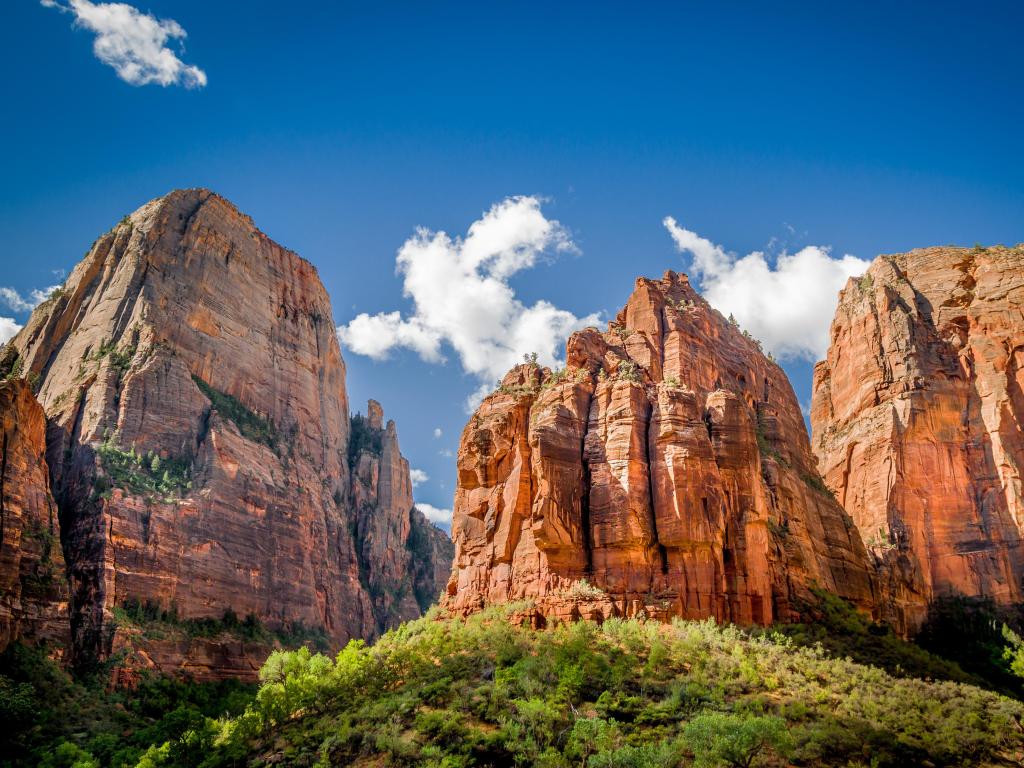 There are events throughout the year, but there is so much natural beauty to enjoy no matter when you choose to visit. The adventurous will find rock climbing, canoeing, and horseback riding here. Visit the Zion Human History Museum to learn more about the park.
Take a hike around the area's many trails, including the Weeping Rock Trail, the Zion-Mount Caramel Highway, and Angels Landing. If you like a challenge, climb to The Narrows, a difficult but serene trail. Reward yourself with a cool swim in the Virgin River, a stream that snakes through the canyon around the signature red rocks.
Zion is a popular site for tourists and locals. There is plenty of accommodation, and we recommend staying at the Cable Mountain Lodge. Located in Springdale, this rustic hotel has free parking and gorgeous mountain views.
The rooms are decorated lodge cabins that give you the feel of camping with the comfort of a hotel. The grounds are beautiful and open and you will be located only a short distance from the national park's entrance.
Things to see on a road trip from Phoenix to Zion National Park
Driving from Phoenix to Zion is a grand desert adventure. Canyons, forests, eclectic cities, and attractions are just a road away. Whether you take the Grand Canyon Route or the Las Vegas Route, this trip has a full itinerary of things to see and do.
Here are some great places to visit on each route.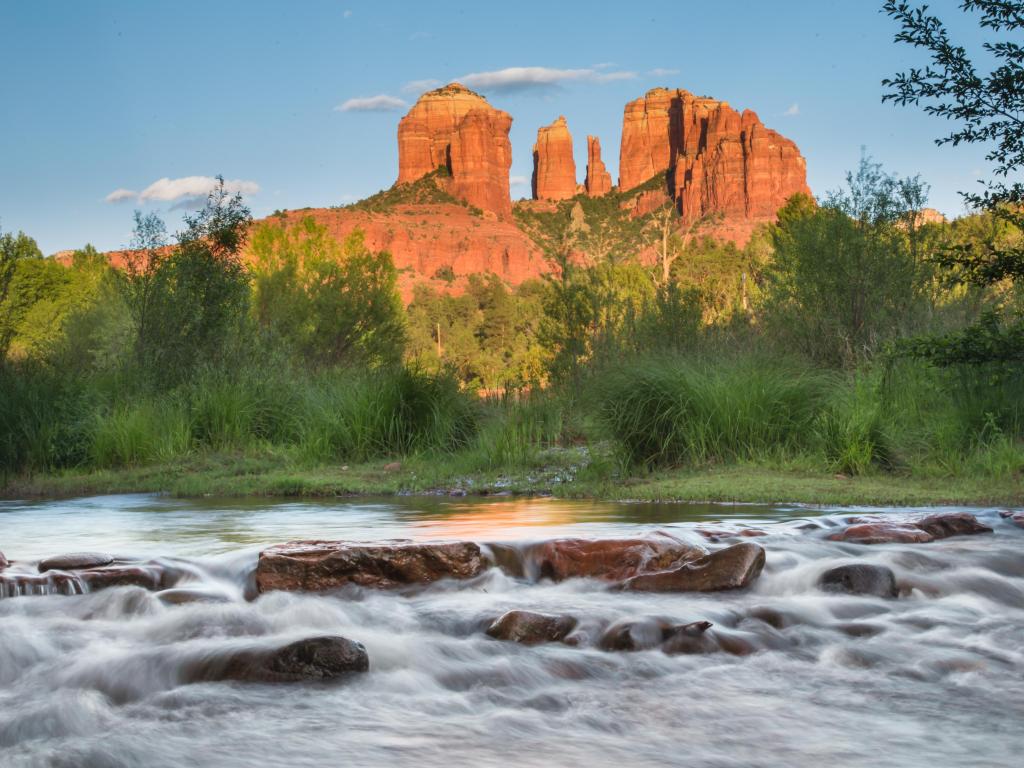 The Grand Canyon Route
Tonto Natural Bridge State Park – This park has scenic hiking trails, picnic areas, and a lovely little gift shop. It's also got one of the world's largest natural travertine bridges.
Sedona – An artsy town famous for its gorgeous red rock formations. Explore this city's art galleries, shops, and restaurants.
Oak Creek Canyon – Get stunning views of the red rock formations on this scenic drive-through. Take advantage of the hiking, picnicking, and swimming opportunities.
Walnut Canyon National Monument - A popular hiking area, this monument has ancient cliff dwellings of early inhabitants.
Sunset Crater Volcano National Monument – This unique volcanic field has lava fields and cinder cones. There are hiking trails with ranger-led programs available for visitors.
Wupatki National Monument – A prehistoric Puebloan site, these well-preserved ruins have historical and cultural significance.
Meteor Crater – A cool attraction in the middle of the desert, this massive meteor impact site is near Winslow, Arizona. There is a museum with guided tours available.
Cameron Trading Post – Near the east entrance of the Grand Canyon, this curious and historic trading post has shopping, dining, and cultural experiences for tourists.
Desert View Watchtower – On the South Rim of the Grand Canyon, you get stunning canyon views from this historic stone tower.
Navajo Bridge – Crossing over the Colorado River, this historic bridge has scenic views of the surrounding landscape.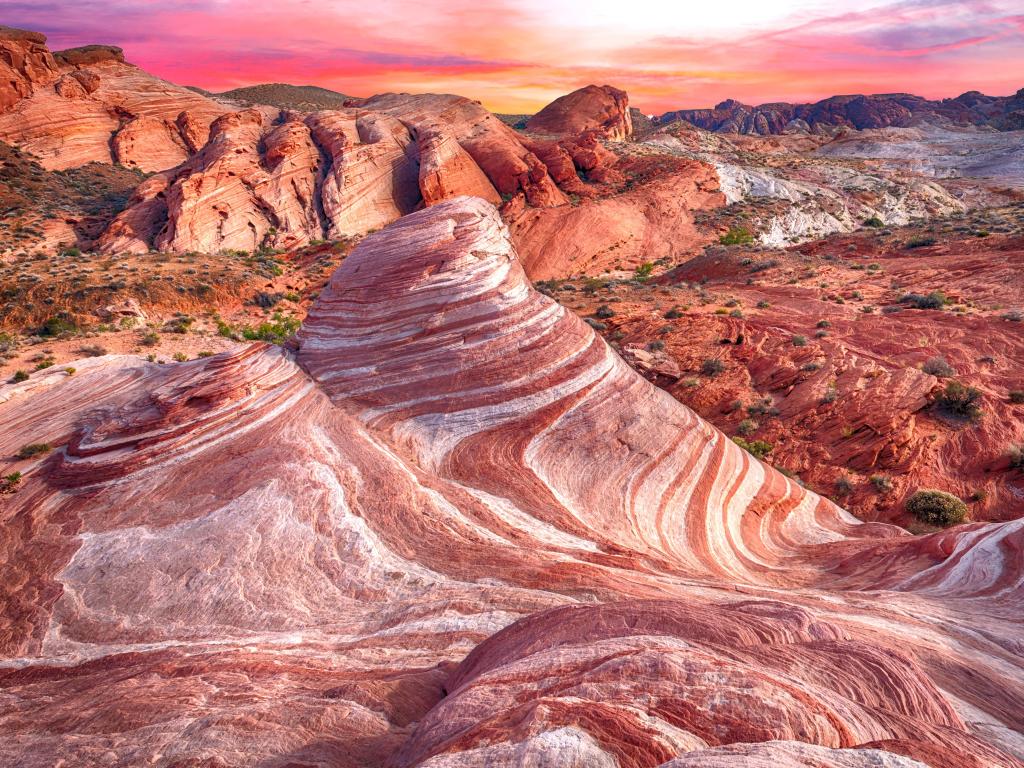 The Las Vegas Route
London Bridge, Lake Havasu City – Stroll over this historic bridge, which was relocated from London, England in 1968.
Mitchell Caverns, Mojave National Preserve – The beautiful and mysterious limestone caves are great for exploring, and you can learn more about the ecosystem inside the caves.
Hoover Dam – One of the most impressive engineering feats in American history, the iconic dam sits on the Colorado River and is worth a visit.
The Las Vegas Strip – Visit world-renowned casinos, hotels, restaurants, and entertainment in the heart of the city on the Strip.
Red Rock Canyon National Conservation Area – Colorful red rock formations and striking canyons make this a scenic drive-through. You might need to make a reservation for a timed-entry slot, so check the official website before traveling.
Valley of Fire State Park – See some neat ancient petroglyphs and dramatic red rock formations in this beautiful park.
Lake Mead National Recreation Area – A perfect place to stop and enjoy the view. There is plenty of boating, fishing, and hiking too.
St. Thomas Ghost Town – A mysterious and creepy little attraction, this abandoned town was flooded by Lake Mead.
Checkerboard Mesa – This unique rock formation is a perfect photo-op and selfie spot because of its distinctive checkerboard pattern.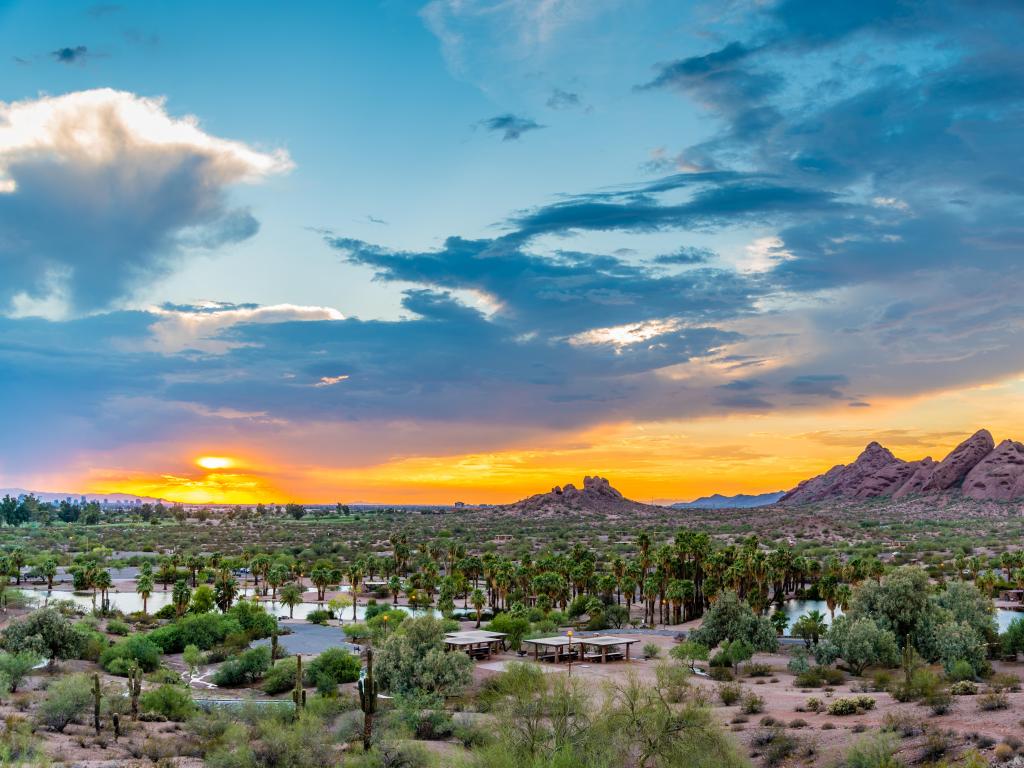 Both Routes
Camelback Mountain – Located in the heart of Phoenix, this popular hiking spot has beautiful views of the city and surrounding desert.
Papago Park – Before you leave Phoenix, visit this desert park, and enjoy the hiking trails, scenic drives, and the iconic Hole-in-the-Rock formation.
Lake Powell – This man-made reservoir is in northern Arizona and southern Utah. Visitors can take scenic boat tours, enjoy water sports, and hike here.
Best time to go on a road trip from Phoenix to Zion National Park
A road trip from Phoenix to Zion is best during spring and fall when the weather is mild with more comfortable temperatures. There are fewer crowds and rates are also more reasonable during this season, making it the ideal time to visit.
Summer is a scorcher, with temperatures often exceeding 100 degrees Fahrenheit – especially around Lake Havasu and Las Vegas. It's a popular season for tourists, so expect crowds and higher rates. Outdoor activities may be uncomfortable if you're not used to higher temperatures.
Zion National Park is cold, with harsh temperatures in winter. Expect snowstorms and road closures during this season. It is an unpopular time for visitors and locals.
Zion National Park hosts many events and festivals year-round. Check out the Zion Earth Day Celebration, an outdoor event with live music and activities in April. The Zion Canyon Treasure of the Gods Star Party is a stargazing event in September, with telescopes and presentations.
Also in September is the Zion Canyon Music Festival, which features live music performances from local and regional artists. The Zion Canyon Fall Festival is in October, where guests can enjoy live music, delicious fall food, and a pumpkin patch. The Plein Air Invitational is in November and hosts En plein air artists and exhibitions in the park.