Road Trip from San Diego to Los Angeles
For a memorable adventure that's both short and action-packed to the brim, consider doing a road trip from San Diego to Los Angeles. This amazing trip proves you don't have to drive all day to have a good time, as the itinerary features gorgeous scenery and amazing cities alike.
The road trip from San Diego to Los Angeles covers 120 miles and takes 2 hours 20 minutes. The route passes by Disneyland Park and Crystal Cove State Park, as well as Huntington and Laguna Beaches, and the cities of Escondido and Santa Monica.
This legendary road trip is one of the definitive California drives, so read on to get familiarized with the route.
How far is Los Angeles from San Diego and how long will the road trip take?
The road trip from Los Angeles to San Diego spans 120 miles, which you can drive in about 2 hours 20 minutes, minus the inevitable food and sightseeing stops along the way.
Depending on when you leave San Diego, you might also experience some traffic delays - rush hour starts at around 6 am and again at around 4 pm. Things get especially congested on Fridays when heaps of locals and tourists drive out to the nearby beaches.
As great as Los Angeles is, resist the temptation of rushing this road trip. You might want to consider splitting the drive up into at least two days to see everything the rugged California coastline has to offer.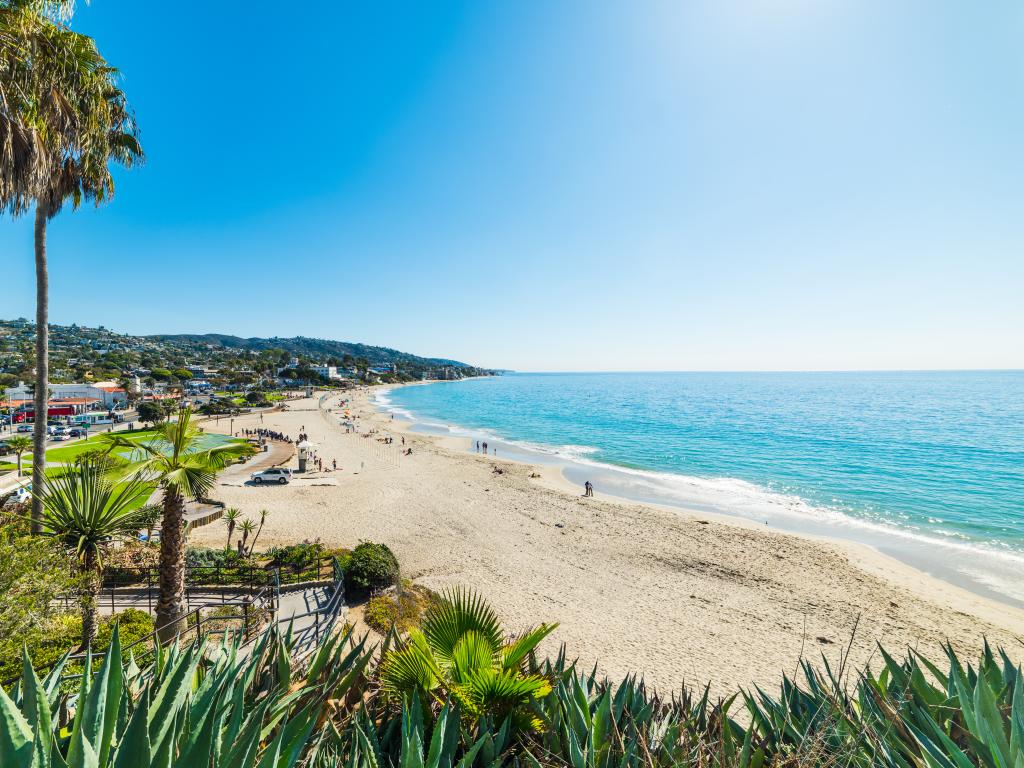 Orange County is arguably the highlight of the journey, housing both the Disneyland Resort and some of the region's finest beaches, so you'd be wise to spend as much time there as you can.
To make the most of the trip, stick to Interstate 5 for the majority of the drive and off-road to the 'greener' attractions if you're interested. You'll go a bit inland once you reach Orange County, so both the coastal attractions and the east-side parks and forests will be a quick detour away.
Best road trip route from San Diego to Los Angeles
The best route to get from San Diego to Los Angeles will keep you close to the coast for much of the drive, although it features plenty of non-coastal attractions too.
This is the ultimate detour road trip since it takes very little time to reach Los Angeles - if you have enough free time on your hands, you can easily see everything South California has to offer.
Road trip route from San Diego to Los Angeles
Leave San Diego via Interstate 5, passing Mission Bay Park and Torrey Pines State Reserve. Past San Onofre State Beach, drop by Crystal Cove State Park and Whiting Ranch Wilderness Park, then cut through Irvine.
Next up is Santa Ana, followed by Anaheim's Disneyland Park. Detour to Huntington or Long Beach if you want, or continue along the interstate until you've reached Los Angeles.
Best places to stop between San Diego and Los Angeles
The road trip from San Diego to Los Angeles is best enjoyed over the course of a couple of days. If you can, you should book a room at these spectacular hotels:
Enjoy the beautiful beaches at Carlsbad
Carlsbad is a dream come true for families and groups of friends alike, courtesy of its child-friendly attractions and spectacular beaches. With that in mind, it should come as no surprise that there are some amazing hotels here.
If you'd like to explore one of the swankiest courtyards of any resort in all of California, book yourself a room in Park Hyatt Aviara.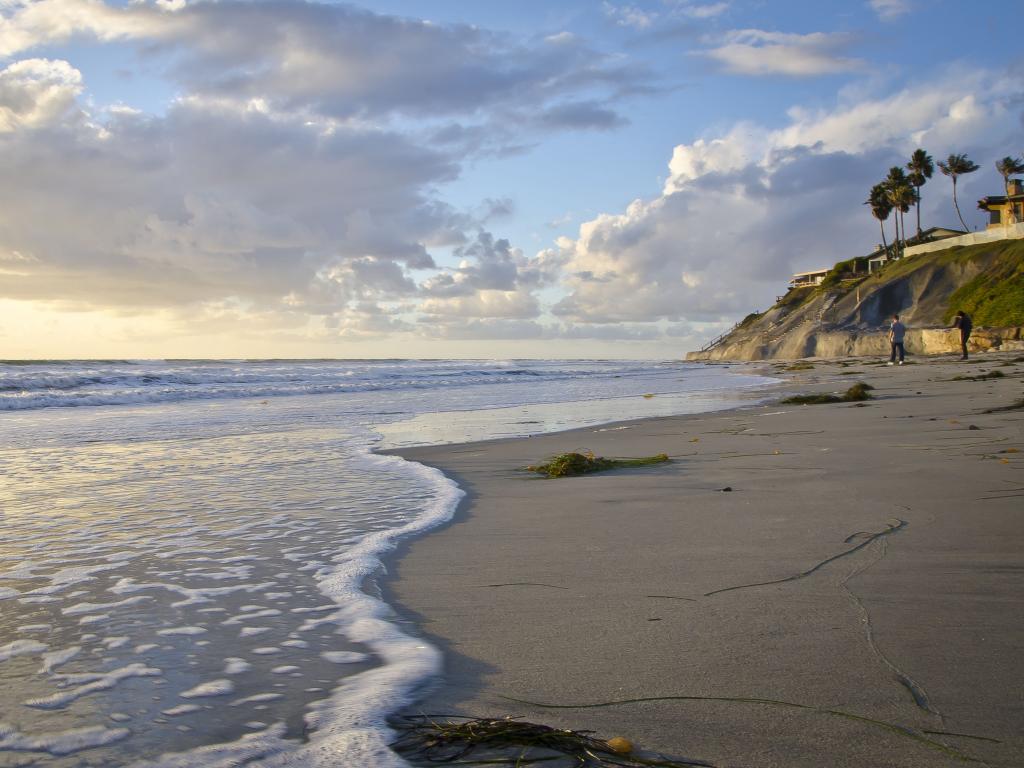 The gorgeous fountain, gigantic swimming pool, and beautifully lit walkways will leave you in awe as soon as you set foot in this hotel. As amazing as everything looks from the outside, though, the balcony view of the hotel premises is something else.
On that note, the interior is every bit as impressive - with 5 amazing restaurants to choose from and rooms that couldn't possibly get any better, it's hard to imagine a hotel with more style and elegance.
This is one of the more expensive hotels in the region (and that's saying something since you're in South California), but if you can afford the stay, it's worth every penny.
Live it up in style in Los Angeles
The City of Angels is so deeply ingrained in American culture that it genuinely needs no introduction. There are too many amazing hotels here to count, but for the most spectacular window view of LA money can buy, spend a few days at the iconic Ritz-Carlton.
The spectacular Los Angeles skyline is made all the better by the jaw-dropping rooms - most of the stunning furniture and decor is a soothing white color, so you'll be drifting off to sleep in minutes flat after a long day of exploring.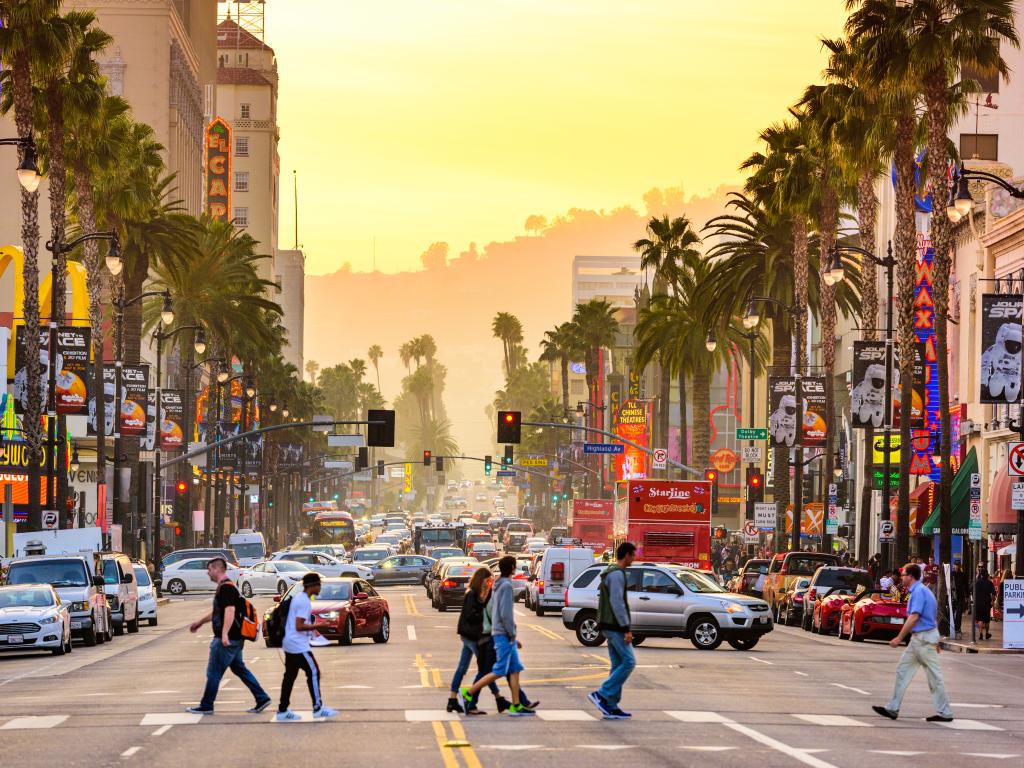 Whether you're stargazing from the comfort of the rooftop jacuzzi or enjoying a relaxing massage at the spa center, you're guaranteed an amazing time here. Add to that a world-class on-site restaurant, and you have yourself the vacation of a lifetime.
The Ritz-Carlton brand is synonymous with luxury, so your stay will definitely be pricy, but if any hotel deserves to charge a sizable amount, it's definitely this one.
Things to see on a road trip from San Diego to Los Angeles
Let's get into the reason why you're taking this road trip in the first place! Here are some amazing sights and detours you won't want to miss on your way to and from Los Angeles.
Mission Trails Regional Park - On your way out of San Diego, hike along one of this park's several trails, or spend a few hours fishing on Lake Murray.
Escondido - Primarily known as a city of wineries, Escondido is also home to the iconic San Diego Zoo Safari Park, among other attractions.
Cleveland National Forest - A large forest featuring countless scenic vistas and the Mount Laguna Observatory.
Hellhole Canyon Preserve - You'll have to take another significant detour to reach the Hellhole Canyon Preserve, but the spectacular hike and unforgettable views will make it all worthwhile.
Ronald W.Caspers Wilderness Park - This 8,000-acre park is the perfect place to stop in if you're interested in getting some camping in during your road trip; if you visit this park on a Sunday, you'll be able to enjoy a ranger-guided tour.
Crystal Cove State Park - If you really want to appreciate the coast on this road trip, head up to Crystal Cove State Park. Hike along one of the trails, and spend some time at the beach checking out the tidepools.
Limestone Canyon Regional Park - Close to Irvine and Lake Forest, you'll find this stunning park. Pack your mountain bike and spend some time exploring the trails. Make sure to pay a visit to The Sinks, which are considered by many to be a miniature Grand Canyon.
Laguna Beach - A stunning coastal city renowned for its art galleries and amazing views of the ocean.
Huntington State Beach - An impossibly scenic beach and the definitive surfing spot in the area
Long Beach - You'll be passing through many cities on your way up to Los Angeles, but Long Beach is one you should definitely check out. Enjoy some more coastal views if you haven't had enough of them yet, and visit some of the historic sites like the RMS Queen Mary, or the Rancho Los Cerritos.
Disneyland - This iconic, fairytale-come-true theme park is one of the most popular tourist destinations in all of California.
Santa Monica Mountains National Recreation Area - Several hundred miles of scenic terrain practically begging you to go hiking or set up a picnic.
Malibu - Once you're done with Los Angeles, consider checking out another one of California's prized beach cities.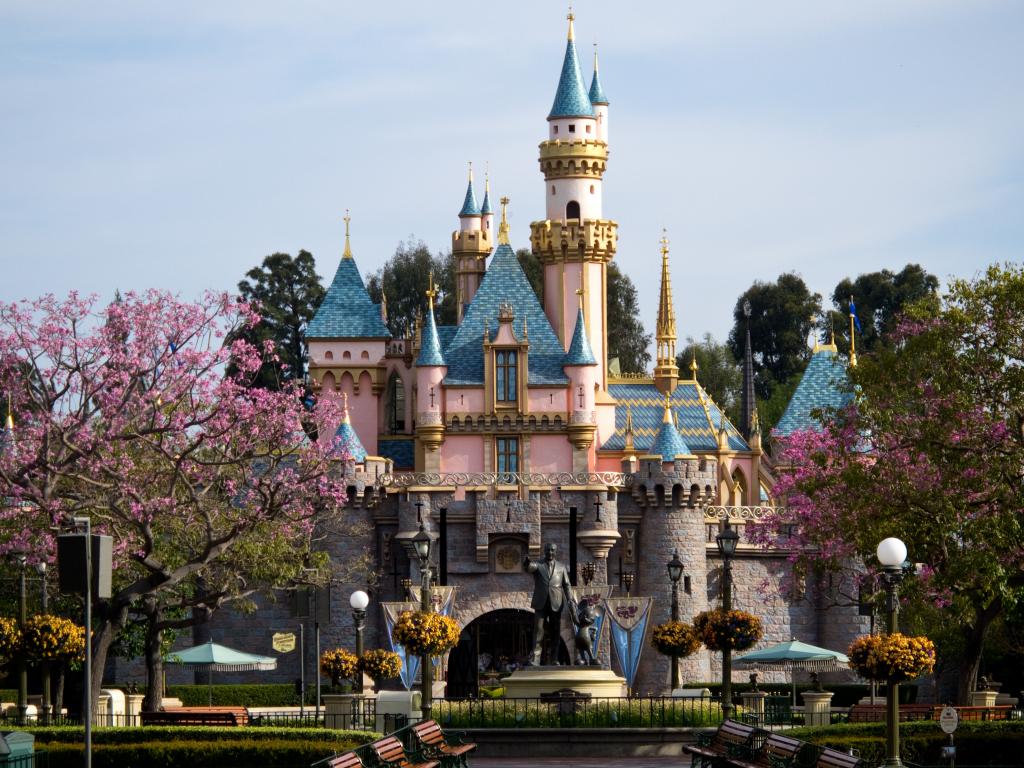 Best time to go on a road trip from San Diego to Los Angeles
The weather should be your main consideration when planning the road trip from San Diego to Los Angeles. Summers in California (especially southern California) can be oppressively hot, but on the other hand, that's what all the beaches are for.
June and August's temperatures usually sit in the 80s to 90s, so things might get uncomfortable if you plan on spending most of your time hiking around the parks in the area.
Coastal temperatures are a little more forgiving, but keep in mind that a lot of tourists will also be taking advantage of all the beaches in the summer.
If you opt to do the drive in the winter, you can expect a pleasant 65-or-so degrees on most days. With that said, you can also expect a lot of rainfall, so remember to pack an umbrella if you decide to go between December and February.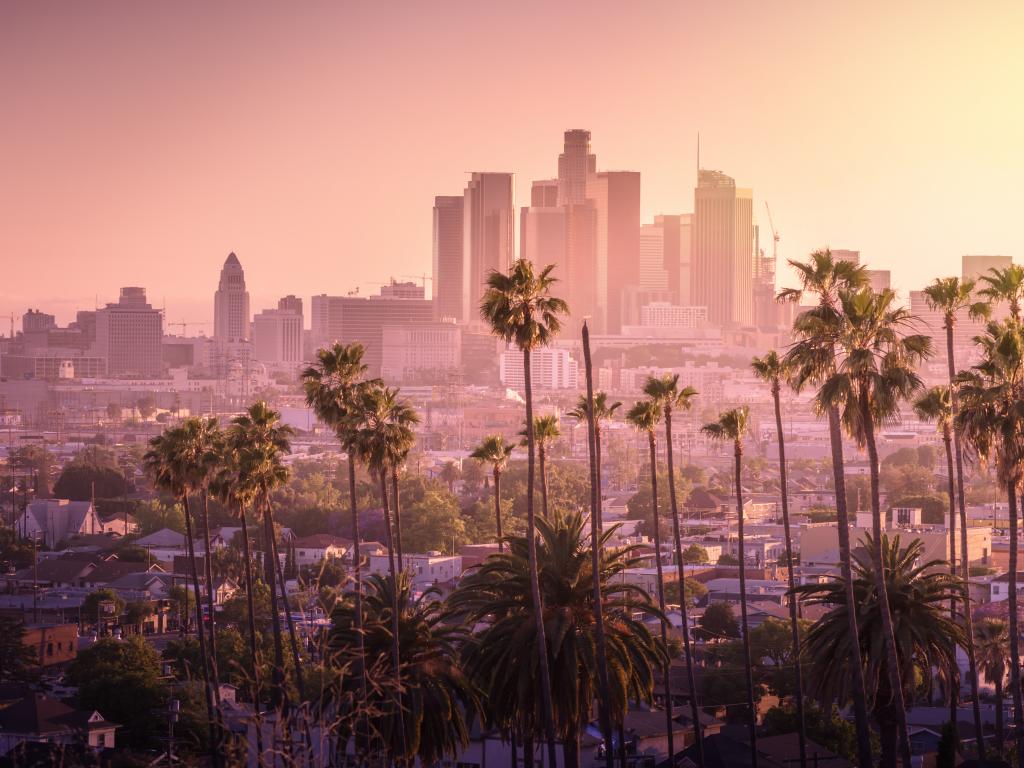 If you're looking for the optimal mix of good weather and low crowds, your best bet is to go either during the spring or the fall, with spring being the slightly safer option.
In the spring, you'll enjoy temperatures in the low-to-mid-70s, plus some of LA's key events like the Jazz Reggae Festival or the Los Angeles Times Festival of Books.
Fall in LA is similar to spring in a lot of ways, but the summer heat will often linger well into October. Between September to November, you can check out the LA County Fair, be in town for the Emmy Awards, and take part in the Día de Los Muertos festival.