Road Trip from San Diego to Palm Springs
The glitzy resort city of Palm Springs is a fabulous standalone destination but hop off the highway and you can turn the drive from San Diego into an unforgettable short road trip. Packed full of charming small towns, stunning wine country and endless views of unspoilt forests and mountains, this route is a real visual feast.
The 140-mile road trip from San Diego to Palm Springs takes you through Escondido, Temecula and Cabazon with an optional detour to Walt Disney World Resort. Or connect with nature on the Sunrise Highway through Pine Valley and Cleveland National Forest.
A road trip to Palm Springs from San Diego is the perfect choice for a relaxing long weekend. Connect with nature and immerse yourself in the stunning, sun-drenched landscapes of Southern California before hitting the pool in Palm Springs.
How far is Palm Springs from San Diego, and how long will the road trip take?
Comparison of road trip routes between San Diego and Palm Springs

| Route | Distance | Driving Time |
| --- | --- | --- |
| The Direct Route | 140 miles | 2 hours 10 minutes |
| The Scenic Route | 180 miles | 3 hours 50 minutes |
The road trip from San Diego to Palm Springs is short but sweet. At just 140 miles on the most direct route, you could even set out on the 2 hour and 10 minute drive after work on a Friday and reach Palm Springs in time for dinner.
A road trip is as much about the journey as the destination though, so why not take the time to stop and enjoy a couple of days in the places you'll pass through along the way? There are some real treats in store along this route.
If you'd prefer to spend less time on the interstate you can take a more scenic route to Palm Springs from San Diego. Unsurprisingly, this slower road through Cleveland National Forest will take your driving time up to 3 hours and 50 minutes.
You might also want to add a day or two onto your road trip if you plan to hike, bike or fish on your way through this stunning natural landscape.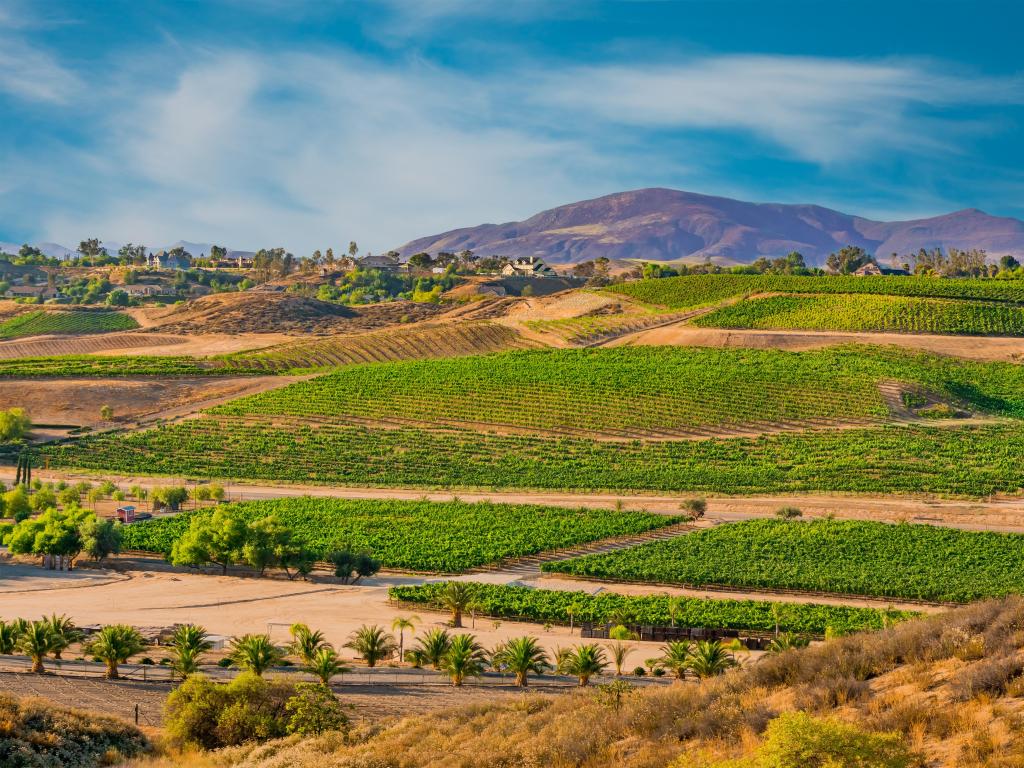 Best road trip route from San Diego to Palm Springs
The quickest route from San Diego to Palm Springs is ideal if you only have a couple of days to escape the city. Along the way you can stop at wineries and small backcountry towns as you start to unwind after leaving San Diego.
If you want your Palm Springs road trip to feel like more of an adventure, why not opt for the Scenic Route? This route takes you off the interstate and up into the mountains.
This longer route lets you take in amazing views from the Sunrise Scenic Byway which looks out across Cleveland National Forest and Anza-Borrego Desert State Park, and you'll finish your route along the Pines to Palm Highway.
Driving along the smaller, winding highways you'll meet on the Scenic Route might not be the first choice for nervous drivers, and you should also check for travel advisories in winter.
With two very different road trips to choose from, you might have already made up your mind about your route from San Diego to Palm Springs. Keep on reading through to find out what's waiting for you along the way.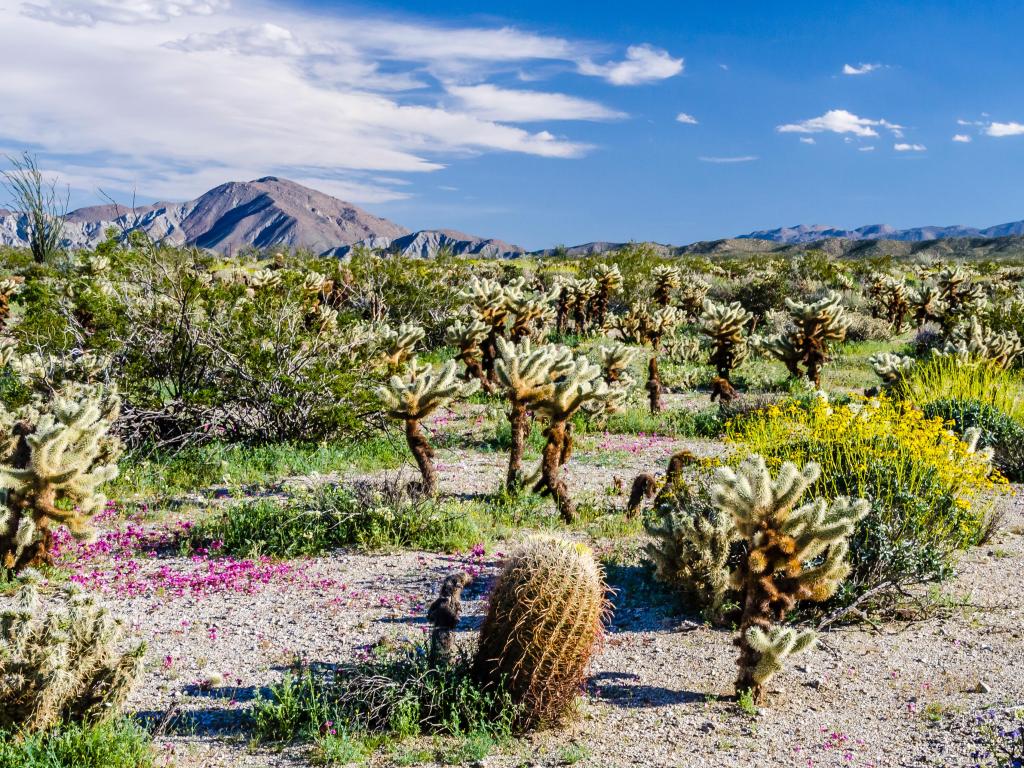 The Direct Route
This route is really simple to navigate as it follows the interstate nearly all the way from San Diego to Palm Springs.
You'll start off on I-15 heading north through Escondido and Rainbow. To carry on straight toward Palm Springs, you'll turn off onto I-215 where the road divides just after Temecula, and follow this all the way to Edgemont.
Alternatively, stick on I-15 as far as Corona then head west on the highway to visit Walt Disney World Resort in Anaheim. This detour will add just over an hour to your driving time and you'll probably want to allow at least a couple of days to enjoy the many attractions of the theme parks here.
When you're ready to return to real life, head back along the highway towards Riverside then join up with the more direct route on Route 60 through Moreno Valley.
At Beaumont you'll merge with the interstate again, heading east past Mount San Jacinto. Then turn off onto CA-111 to drive the final few miles to your destination, Palm Springs.
The Scenic Route
From your starting point in San Diego, pick up I-8 and follow it east out of the city. It won't be long before you're driving past Alpine as you start to make your way through the hills.
Leave the interstate at Pine Valley to join the Sunrise Highway through Cleveland National Forest. You'll pass countless trailheads as you wind through this constantly changing landscape, including Sunset, Big Lacuna and Penny Pines Trails.
Stop at Kwaaymii Point for an unforgettable view out across Anza-Borrego Desert State Park before continuing on towards the charming small town of Julian.
From here, CA-79 takes you through more of Cleveland National Forest, running around the base of Palomar Mountain before you reach Aguanga.
Next, take the road through Anza to join the Pines to Palms Highway. If you have time for one final hike before the end of your trip, check out the trails through Santa Rosa Mountain.
Then enjoy the view across the Coachella Valley as you descend a series of switchbacks to reach Palm Desert and then Palm Springs.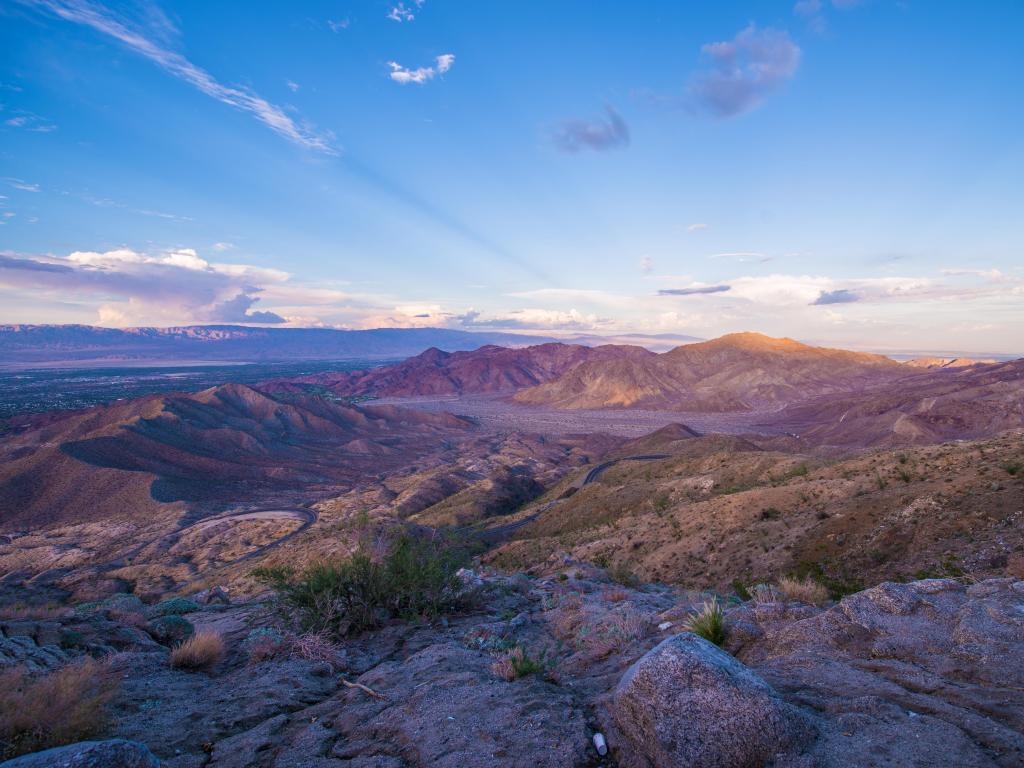 Best places to stop between San Diego and Palm Springs
It's possible to drive this route non-stop if you want to spend all your vacation time in Palm Springs, but for travelers who want to slow things down and enjoy the ride, here are a few of our top picks for places to stay:
Treat yourself in Temecula Valley
Around an hour from San Diego, close to the halfway point of the Direct Route, you'll reach Temecula Valley. With its wineries and historic old town, this is a great place to pause and relax.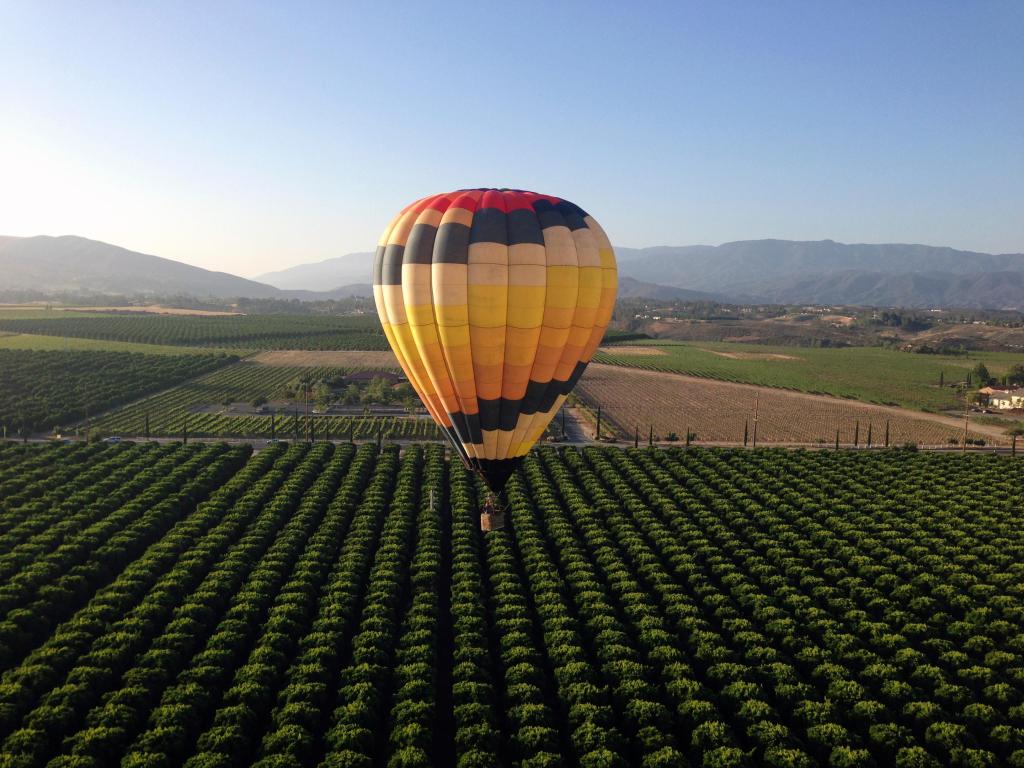 The white-board houses of Old Town Temecula give a nod to its gold rush history but these days they mostly house independent boutiques and craft breweries.
Heading past the town, most visitors take the opportunity to visit some of the 40+ wineries that are dotted along the valley. You can drive out to any that take your fancy, or book a tour to take care of the drive home.
If you're staying for longer, you also have the option to take a tour of the beautiful Temecula Valley on horseback or even a hot air balloon to admire the rolling, vineyard-covered landscapes.
If you're feeling active follow one of the cycle routes through the valley – stopping to cool down at a winery or two along the way of course.
With beautiful views across South California's wine country, South Coast Winery Resort & Spa is the ideal place to spend a night or two while you're in the area. Some of the spacious rooms even look out over rolling vineyards.
Relax by the sparkling outdoor pool, surrounded by palm trees, book a spa treatment, or simply enjoy the facilities with a complimentary glass of wine.
South Coast Winery Resort & Spa is just a couple of miles off I-15 and has free parking. It's great for exploring the valley's other attractions too, making it an all-around top choice when you travel along the Direct Route.
Enjoy small town charm in Julian
On the edge of the Cleveland National Forest, the small town of Julian is a great place to stay if you want to spend longer exploring the area. This gold rush town, around 1 hour and 30 minutes out of San Diego is full of historic charm.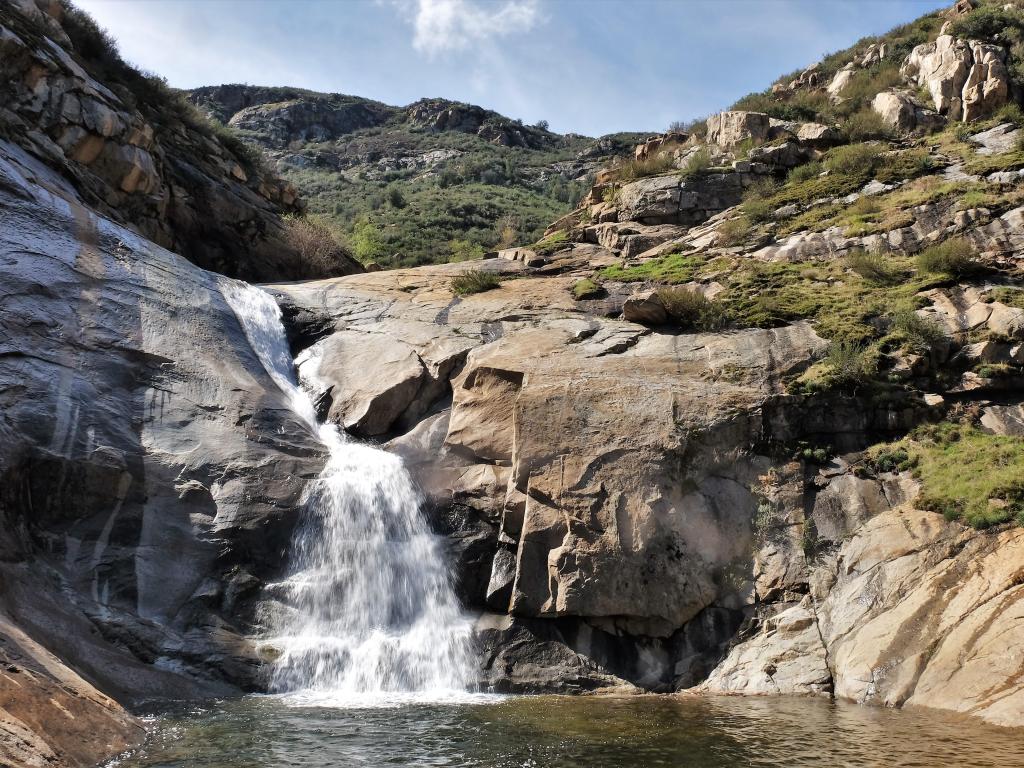 Many travelers will choose to head back out to explore more of Cuyamaca Rancho State Park or Cleveland National Forest. Within a short drive of the town, you'll find another trail to explore.
You can also take a trip into Anza-Borrego Desert State Park to explore more of California's natural wonders – offroad tours are available if you want to get deeper into the park.
Closer to town, head to the Eagle Mining Co to find out about life here for the original prospectors and tour the underground tunnels. You can even try your hand at panning for gold.
Listed on the National Register of Historic Places, the vintage décor of Julian Gold Rush Hotel is designed to reflect the building's heritage. From the moment you step through the door you'll feel like you've stepped back in time, with a warm and charming welcome to match.
The hotel provides a highly rated breakfast, with a choice of other restaurants just a short walk away on Main Street
You'll drive right past the hotel on the route to Palm Springs so it couldn't get more convenient. It's in the center of this compact small town so all the amenities are on your doorstep, and there's plenty of free on-street parking.
As Julian is an International Dark Sky Community, make sure you don't miss the opportunity to go stargazing at the end of the evening too!
Where to stay when you reach Palm Springs
Once you arrive at the veritable oasis that is Palm Springs, we suggest you check into Alcazar Palm Springs. Crisp white décor gives this hotel a calm, luxury feel – but with a reasonable price tag, compared to many similar options in high-end Palm Springs.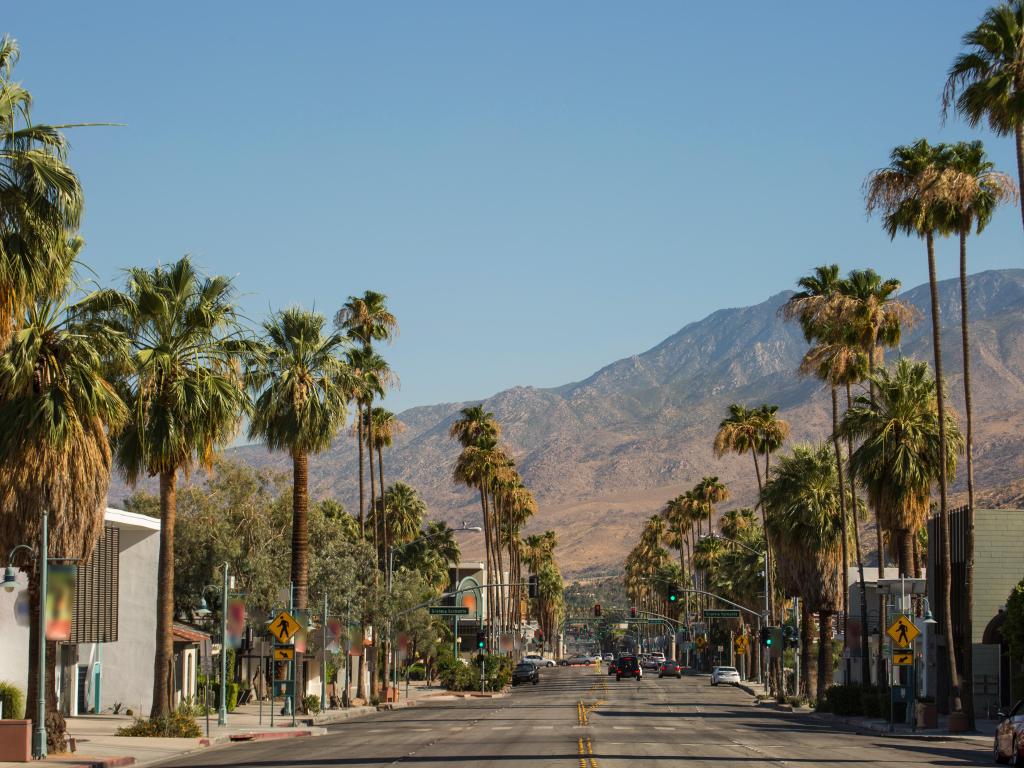 There's plenty of space around the sparkling outdoor pool to relax and enjoy the view of the mountains while you sip a freshly mixed cocktail, and it's within walking distance of the center of Palm Springs to take advantage of your choice of restaurants and bars.
Things to see on a road trip from San Diego to Palm Springs
This might only be a short road trip but there's plenty to keep you busy as you drive from San Diego to Palm Springs.
The Direct Route:
Los Peñasquitos Canyon - Hike to the scenic waterfall via a 6.8-mile trail at this popular preserve on the outskirts of San Diego.
San Diego Zoo Safari Park - Get up close to some of the park's residents on a safari truck ride through the huge enclosures where they roam.
Poway - Stop for refreshments at the Saturday morning farmers' market which you can enjoy in the beautiful surroundings of Old Poway Park.
Bernardo Winery - Sit down to a wine tasting in the sunshine at this family-run estate.
Escondido - After exploring Escondido's historic downtown district, look back in time at San Diego Archaeological Center or enjoy a cultural interlude with a visit to the concert hall or theater at California Center for the Arts.
Walt Disney World Resort - Make a detour to Anaheim to visit this world famous theme park.
Cabazon - With two impressive outlet malls, stop in at Desert Hills or Cabazon to refresh your summer wardrobe ahead of some stylish poolside relaxation in Palm Springs.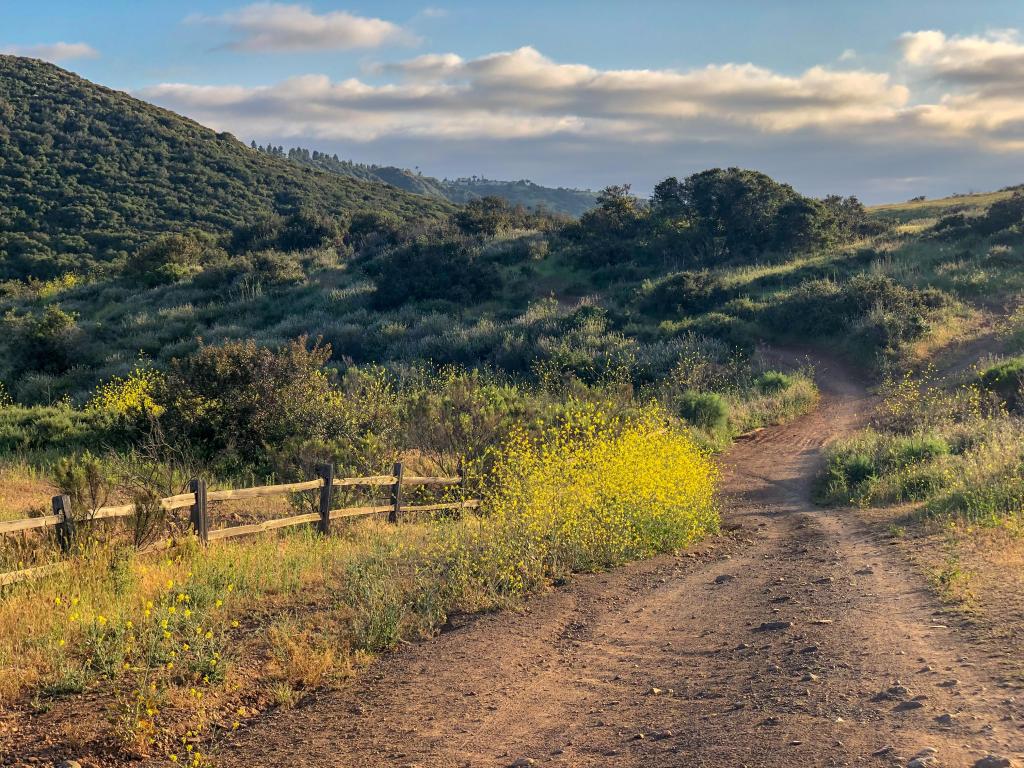 The Scenic Route:
Lions Tigers and Bears - This sanctuary rescues abandoned and mistreated exotic animals – book ahead to take a tour of the huge site and learn about their mission.
Cleveland National Forest - Dozens of trails run through this stunning natural area, including some which are open to mountain bikes. Alternatively, head to Laguna Meadow to spend a peaceful hour or two watching the wildlife that flocks to the lakes.
Sunrise Scenic Byway - As well as enjoying the view from this scenic route you can stop and follow sections of the Pacific Crest Trail on foot too.
Anza-Borrego Desert State Park - A short detour will take you into the biggest state park in California, where spring flowers, surprising sculptures and natural rock formations are all waiting to be discovered.
Palomar Observatory - Look up at the stars from this informative detour off the route. Mount Palomar itself is another part of Cleveland National Forest so it's a super scenic add-on to your drive.
Santa Rosa Wilderness - Another opportunity to hike through these stunning mountains – visit the Santa Rosa and San Jacinto Mountains Visitor Center for trail information and to find out more about the history of the area.
Living Desert Zoo and Gardens - As well as admiring the zoo's large collection of animals, take a walk through the desert-themed botanical garden here to see a diverse range of native plants up close.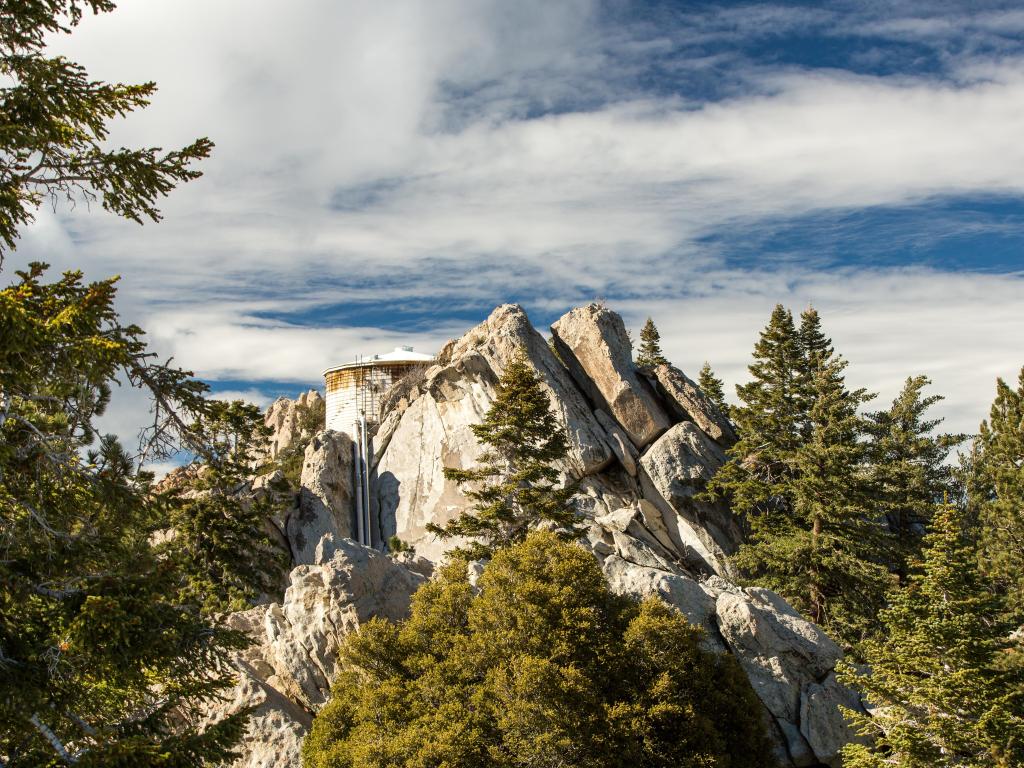 Both Routes:
San Jacinto Mountains - Detour up into the mountains just outside Palm Springs for some cooler air, spectacular hike and stunning views.
Joshua Tree National Park - A few more miles of driving will take you into Joshua Tree National Park – follow the scenic drive across the park or stop to hike and admire the stunning desert landscape.
Best time to go on a road trip from San Diego to Palm Springs
You can visit sunny Palm Springs all year round, but it's most popular as a winter getaway due to the warm weather.
Winter is mild, dry and sunny in Palm Springs and many think this is the best time to visit. Daytime temperatures sit around 70 degrees Fahrenheit - warm enough to enjoy the pool without needing to take cover from the sun.
Palm Springs International Film Festival also brings crowds to the city in January. Both this and the fabulous weather mean that hotels can get booked up and prices are high in winter.
In contrast, Palm Springs regularly sees temperatures topping 100 degrees in summer. The heat will make it hard to appreciate the many outdoor attractions in the area – make an early start if you're planning on hiking so that you can be back in town before the hottest part of the day.
Spring (which only really lasts until May, when the summer temperatures start to hit) is also a popular time to visit. Coachella Music Festival in April can bring crowds to the area.
Fall is another great time to visit as the temperatures drop to below 80 degrees F but the winter crowds won't have arrived in their huge numbers yet. Check out Props and Hops Craft Beer Festival if you're in town in November.
Whatever time of year you take your road trip from San Diego to Palm Springs, be sure to pack your sunscreen, your swimsuit and your shades. You'll almost certainly need them when you reach your destination!