Road Trip from Sedona to San Diego
Taking in awesome scenery, national parks and buzzing southwestern cities, a road trip from Sedona, Arizona to San Diego is packed full of things to see and do. And to top it off, you'll finish your journey on the sparkling Pacific coast.
A 600-mile road trip from Sedona to San Diego takes 10 hours to drive. Along the way you can visit Phoenix, Salton Sea and Joshua Tree National Park, or check out the bright lights of Las Vegas and Los Angeles on your way towards the Pacific coast.
Outdoor activities, stunning desert landscapes and sparkling coastal scenery contrast with the buzzing city sights of Phoenix, Las Vegas and Los Angeles, so there will be something to entertain nearly every traveller on this short road trip. Keep on reading to find out what's in store once you hit the road.
How far is San Diego from Sedona, and how long will the road trip take?
Comparison of road trip routes between Sedona and San Diego

| Route | Distance | Driving Time |
| --- | --- | --- |
| The Phoenix Route | 600 miles | 10 hours |
| The Los Angeles Route | 675 miles | 10 hours 45 minutes |
The road trip from Sedona to San Diego isn't the longest trip you could take in the US, but there's plenty to see and do on the way which makes it the ideal route for a short and sunny break.
Travelling via Phoenix you'll spend around 10 hours on the road, and this route comes in at almost exactly 600 miles. You could make the whole drive in a day but then you'd be driving straight past places like Palm Springs and Joshua Tree National Park so we'd suggest taking your time and allowing around 5 days for your road trip to San Diego.
If you'd prefer to visit the bright lights of Las Vegas and Los Angeles as you travel from Sedona to San Diego, then the slightly longer of our routes will be right up your street. It will take around 10 hours 45 minutes to drive the Los Angeles Route, which is 75 miles longer than the Phoenix Route.
Given the chances of congestion around the busy cities of Las Vegas and LA, we'd suggest allowing some extra driving time on this route in case you hit traffic.
We've put together all the information you need to help choose between these two fabulous road trip routes, so keep on reading to find out more about the routes, including our top picks of places to stay and things to do along the way.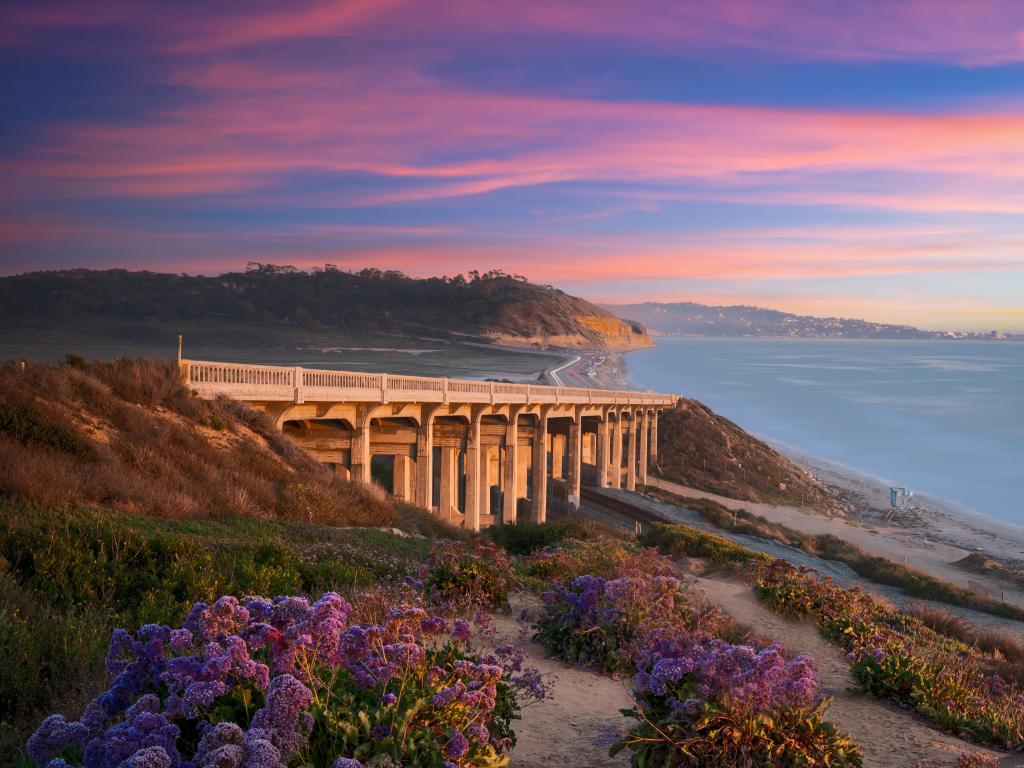 Best road trip route from Sedona to San Diego
The quickest way to travel between Sedona and San Diego would be to pick up the interstate at Flagstaff and then simply head west, but we've put together two fabulous road trips that will turn this simple drive into an unforgettable adventure.
Travelling via Phoenix you'll enjoy the red rock formations of Sedona, the unique desert landscape of Joshua Tree National Park and the resort town of Palm Springs as you make your way towards San Diego.
This laid-back route majors on natural beauty and outdoor attractions, but there are some quaint, historic towns along the way too.
If you take the Los Angeles Route you'll also get to experience the wide open landscapes of Arizona and the Nevada and California deserts - just the kind of scenery that springs to mind the moment you mention the words "road trip"!
You'll also get to spend time in Las Vegas as well as Los Angeles - the perfect urban contrast to long stretches of driving.
As you can see, there are two really different routes to take between Sedona and San Diego. The Phoenix route is focused more on natural scenery and outdoor activities, while the LA route is focused more on urban exploration and entertainment.
Even if you've already decided on one of the routes as the natural choice for your trip, keep on reading to find out more about what you can discover along the way.
The Phoenix Route
Head south from Sedona to join the interstate, which takes you across the striking desert landscape towards Phoenix. Spend some time in the city then pick up I-10 heading west towards California to continue your journey.
After passing Centennial and Quartzsite you'll cross the Colorado River to enter California. Then continue across the desert until you reach the southern entrance to Joshua Tree National Park.
When you're ready to move on, leave the national park at the southern entrance but instead of rejoining the interstate, follow Box Canyon Road across the desert to Mecca then turn south onto CA-86 to visit Salton Sea Beach.
Make your way back to the interstate passing Thermal and Coachella. Then, after just a few miles on I-10 you'll reach the turn off for the famous desert oasis of Palm Springs.
Continue west along the interstate for a few more miles then follow CA-60 where the road divides. This will take you towards Riverside, where you'll join I-215 to begin the final stretch of your road trip.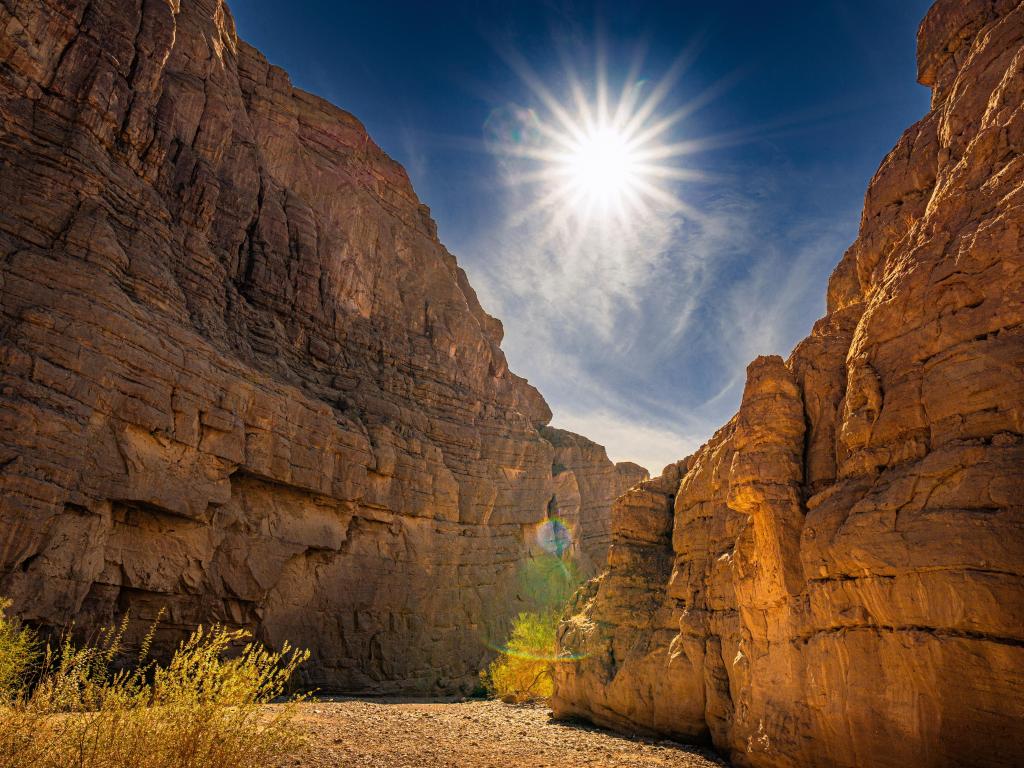 Follow the interstate south as far as Murrieta, where it merges with I-15 to make its way through the hilly landscape of southern California en route to your destination, San Diego.
The Los Angeles Route
Head north through Coconino National Forest to reach Flagstaff, where you'll join I-40 and start to head west, following the interstate as far as Kingman.
From here, US-93 takes you north towards Hoover Dam and Lake Mead, then you can pick up the interstate in Boulder City which takes you into Las Vegas.
Whether you win big or not in Vegas, when it's time to carry on with your drive simply follow I-15 south. You'll skirt the northern edge of the stunning Mojave National Preserve then as you approach Los Angeles you can choose to detour to Mt San Antonio or take a scenic drive through San Bernardino National Forest towards Big Bear Lake.
If you're continuing directly into LA, change onto I-10 to reach the city's downtown district, then join I-5 through Anaheim to continue south towards San Diego. If you've never visited Disneyland then this is your chance, as the interstate takes you right past the gates.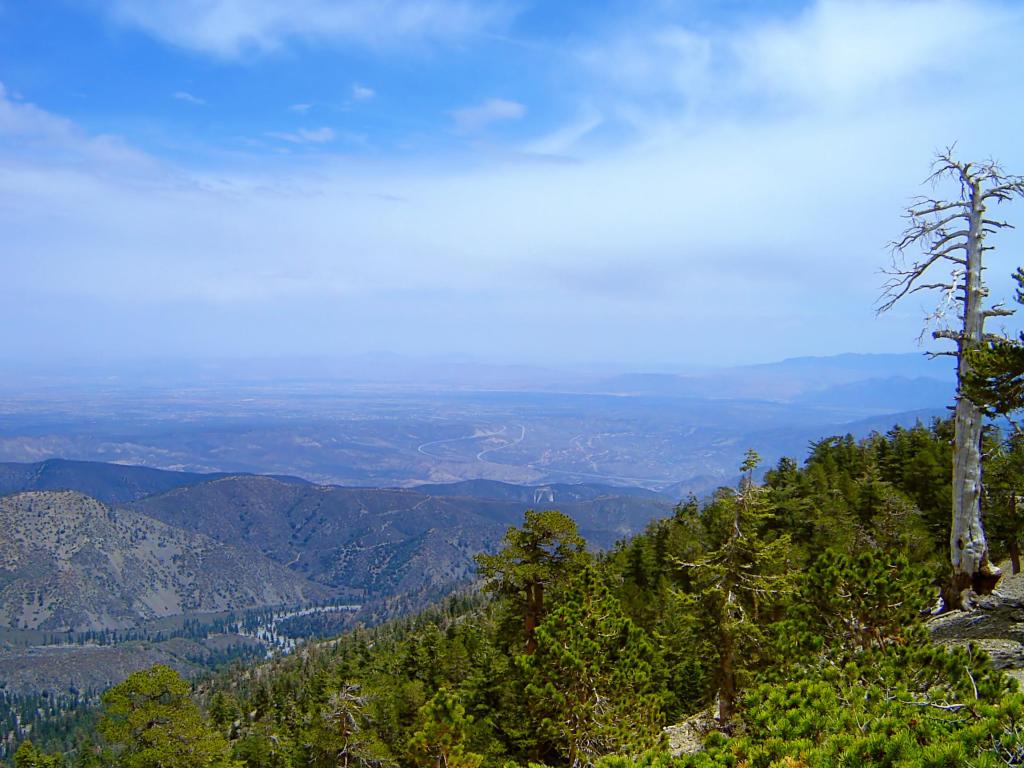 The last part of the drive takes you right along the Pacific. Simply stick to the interstate and you'll find yourself in San Diego in just a couple of hours.
Best places to stop between Sedona and San Diego
Although you could drive straight from Sedona to San Diego in a day, adding on a few overnight stops will give you the time to really explore the amazing places you'll pass along the way.
Here are some of our top picks:
Stop off in glitzy Palm Springs
Palm Springs, California is located on the Phoenix Route, just after Joshua Tree National Park and Salton Sea. Known for its warm weather and great golfing, swimming and hiking opportunities, it's also home to a range of hotels which makes it easy to find a place to stay that fits your needs and budget.
With its distinctive Sonoran desert landscape and stunning mountain views, Palm Springs is a scenic and relaxing place for an overnight stay on this route.
Known for its midcentury modern architecture, which features clean lines, open spaces and a focus on indoor-outdoor living, you can explore several iconic buildings and homes during your stay.
Palm Springs Art Museum contains an expansive world-class collection of modern and contemporary art, as well as Native American, Western American, and Mesoamerican art. It's a cultural institution showcasing the region's heritage and habitats.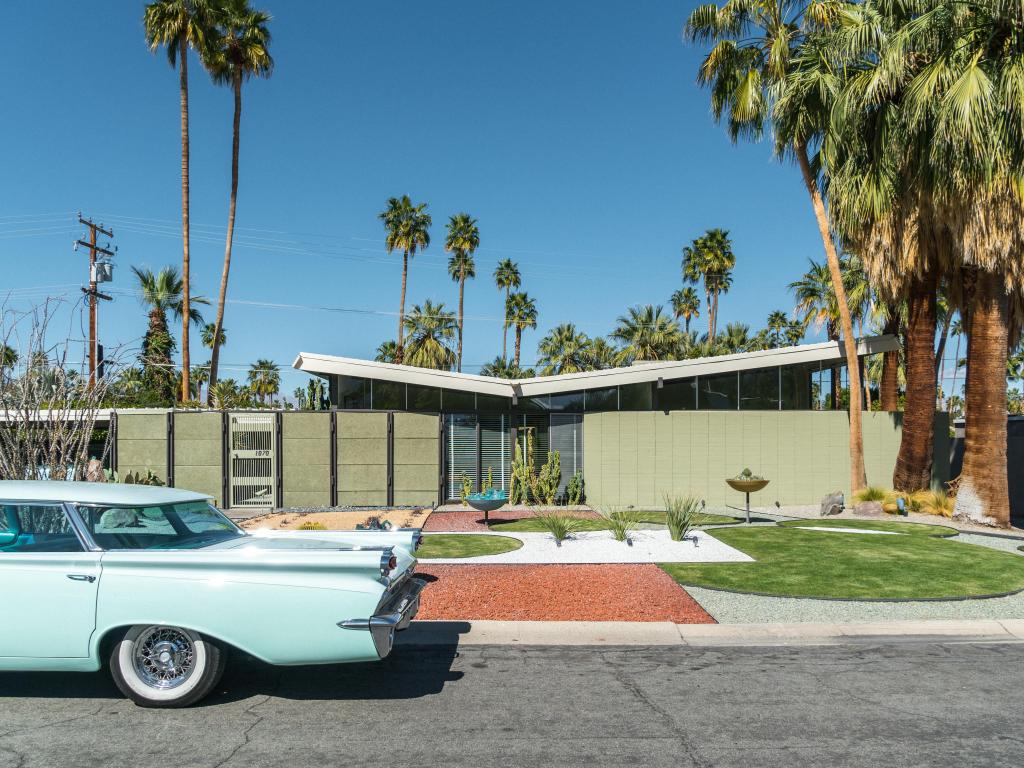 If you're ready for some relaxation, head to Desert Springs Living Waters Spa, which features mineral-rich spring waters along with a variety of treatments. It provides an oasis of rejuvenation in the heart of the desert.
For an amazing view out across the desert and mountains, ride the Palm Springs Aerial Tramway. A rotating tram car takes you up 8,516 feet to the mountain station with stunning views of the desert landscape below. It's a unique way to experience the stark contrast between the desert floor and alpine wilderness.
The Palm Springs Hotel offers a relaxing and rejuvenating oasis in the middle of a long journey. Unwind in the hotel's state-of-the-art spa, which includes hot mineral pools and therapeutic treatments.
The hotel is within walking distance of restaurants, shops and entertainment options, so you explore the city without adding to your driving time.
Additionally, this hotel is conveniently located close to the interstate, making it a convenient stopover for travelers and a great way to spend longer exploring Joshua Tree National Park and nearby Indian Canyons. The hotel also offers complimentary continental breakfast and free parking, which makes it an excellent value for the price.
Walk in the steps of legends in Los Angeles
Conveniently located along the route, Los Angeles is home to many world-famous landmarks and attractions, such as Universal Studios Hollywood, the Hollywood Walk of Fame, and the Griffith Observatory, which can provide an exciting and memorable stop for travelers.
While the city is known for its urban atmosphere, it's also surrounded by scenic areas, such as the Santa Monica Mountains and the Pacific coastline, which can provide a beautiful backdrop for a stopover.
With its world-famous entertainment industry, most visitors to LA will include a trip to the iconic neighbourhood of Hollywood. Tour movie studios here or catch a live taping of a TV show - it's a must-visit destination for movie buffs and pop culture enthusiasts.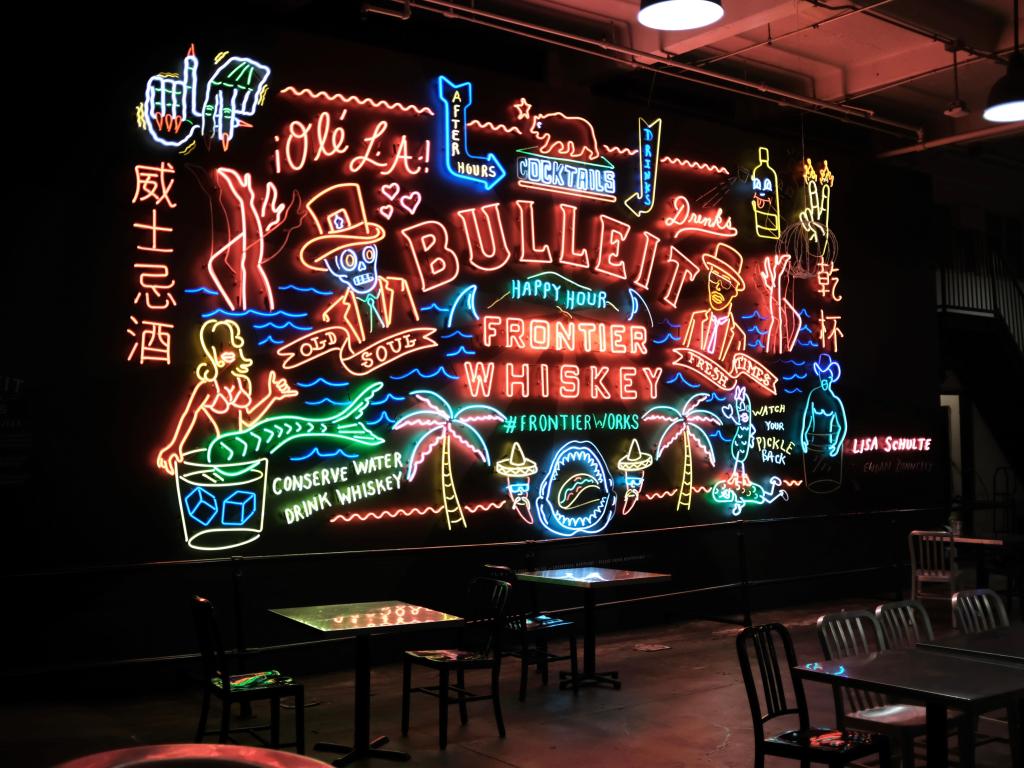 Los Angeles also has several beautiful beaches, including Santa Monica Beach, Venice Beach, and Malibu Beach, which offer a range of outdoor activities, including surfing, swimming, and sunbathing. The beaches are known for their laid-back atmosphere and stunning views of the Pacific Ocean, making them a great place to relax and unwind.
Los Angeles has a diverse culinary scene that includes everything from street tacos to high-end restaurants, making it a foodie's paradise. The city is especially known for its Asian and Mexican cuisine and has several popular food destinations, such as Grand Central Market and the Original Farmers Market. These food destinations are a must-visit for those looking to sample the diverse flavors of Los Angeles.
The Ritz-Carlton, Los Angeles can be a great choice for road-trippers looking for a taste of luxury. Its rooftop pool and lounge offer stunning views of the city skyline, providing a relaxing oasis unwind and refresh.
Additionally, the hotel is conveniently located in downtown Los Angeles, making it an ideal stop for those looking to break up a long drive. It is also near popular attractions, such as the Staples Center and the Los Angeles Convention Center, which can provide a fun and exciting evening activity
While there are few bargains when it comes to comfortable hotels in Los Angeles, citizenM Los Angeles Downtown does offer a more budget-friendly option. Packed full of quirky and contemporary design features, you can enjoy a comfortable stay here.
In walking distance of sites like Los Angeles Museum of Contemporary Art and the Japanese American National Museum, you'll be well located to explore the city once you've checked in.
Where to stay when you reach San Diego
When you reach the end of this fabulous road trip in San Diego, Fairmont Grand Del Mar is a great choice if you're looking for a luxurious and tranquil escape.
The hotel is in the scenic Carmel Valley and offers stunning views of the surrounding canyons and hillsides. The hotel features spacious rooms with elegant decor, world-class dining options, and a range of activities, including a golf course, a spa, and several pools.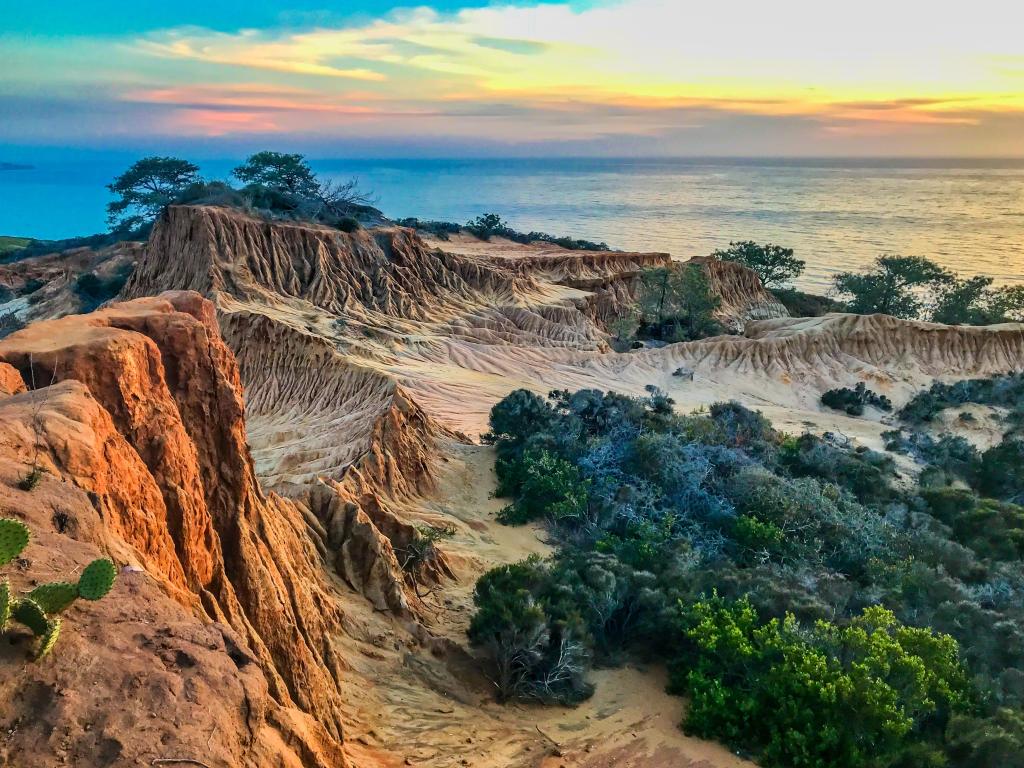 The hotel is also located near several popular attractions, such as the Del Mar Racetrack and the Torrey Pines State Natural Reserve, providing plenty of opportunities for travelers to explore the natural beauty of San Diego.
In Oceanside, which is around 40 minutes north of San Diego, The Brick Boutique is a stylish option at a more affordable price point. It offers ocean views, a rooftop bar and its own oyster restaurant. The rooms are compact yet comfortable and you'll be able to park up and explore San Diego on foot seeing as many of the city's attractions are nearby.
Things to see on a road trip from Sedona to San Diego
Here are our top picks of places to visit when you're taking a road trip from Sedona to San Diego:
The Phoenix Route
Camelback Mountain - A popular hiking destination in Phoenix with stunning views of the city and the surrounding desert.
Old Town Scottsdale - Explore this vibrant and historic district in Scottsdale, which is known for its art galleries, shops, and dining options.
Salton Sea Beach - A unique and eerie attraction located near the Salton Sea, a saltwater lake in the middle of the desert.
Joshua Tree National Park - This stunning national park renowned for its otherworldly rock formations, unique flora and fauna, and stunning desert landscapes.
Palm Springs Aerial Tramway - This unique attraction takes visitors on a scenic ride up the San Jacinto Mountains, offering stunning views of the surrounding desert and valley.
Indian Canyons - Near to Palm Springs you'll find this beautiful natural attraction featuring several hiking trails, waterfalls, and stunning desert landscapes.
Anza-Borrego Desert State Park - Hike, take a scenic drive, or book a 4WD tour to explore this vast and beautiful state park featuring stunning desert landscapes, wildflowers, and unique rock formations.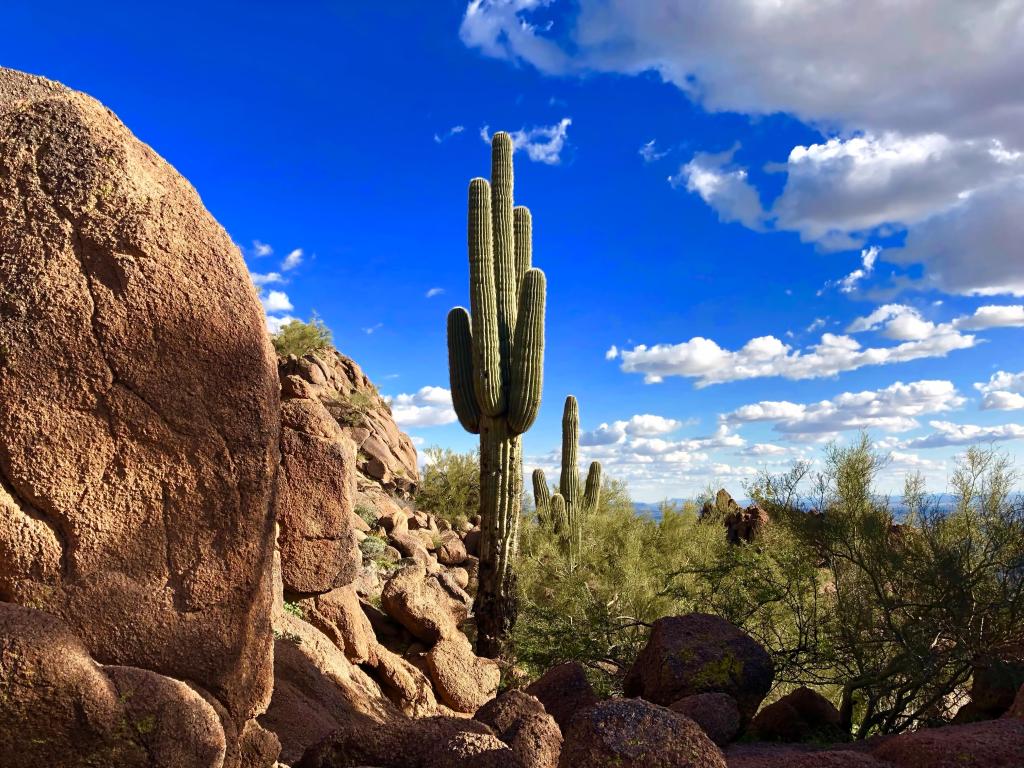 The Los Angeles Route
Hoover Dam - Take a tour of this historic dam to admire the impressive feat of engineering - it's a must-visit for those interested in history and architecture.
Red Rock Canyon National Conservation Area - A stunning natural attraction located just outside of Las Vegas, featuring unique rock formations and scenic hiking trails.
The Strip, Las Vegas - This vibrant and iconic destination is known for its world-class casinos, hotels, and entertainment options.
The Getty Center, Los Angeles - A world-renowned art museum featuring a vast collection of Western art, architecture, and beautiful gardens.
Hollywood Walk of Fame, Los Angeles - Follow this historic landmark, which features the stars of famous actors, musicians, and other celebrities in Hollywood.
Santa Monica Pier - A classic and iconic pier with a range of attractions, including an amusement park, an aquarium, and beautiful ocean views.
Griffith Observatory, Los Angeles - Look up at the heavens at this beautiful and historic observatory, featuring stunning views of the city and the stars above.
La Brea Tar Pits and Museum, Los Angeles - A fascinating natural history museum featuring preserved fossils, including those of saber-toothed cats and mammoths.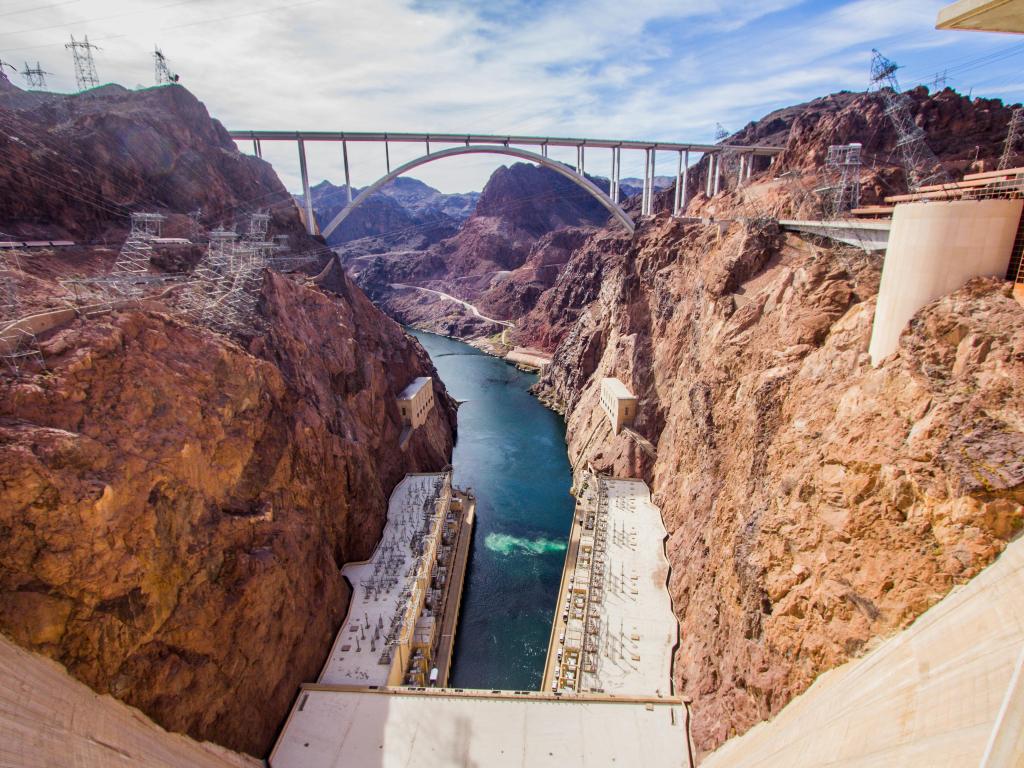 Best time to go on a road trip from Sedona to San Diego
With its mild climate - average temperatures range from the high-60s to the low-80s Fahrenheit from fall through to spring - San Diego is a great place to visit all year round. Its numerous outdoor attractions, including beaches, parks, and gardens, can be enjoyed in any season.
San Diego is a popular destination in the summer due to its warm and sunny weather, making it the ideal time to enjoy the city's beaches, outdoor attractions, and activities. Temperatures during summer months sit in the high-80s Fahrenheit, so make sure you take some time to cool off at the beach or with a refreshing drink at a bar or cafe.
You can also time a summer road trip to fit with Comic-Con International, a fabulous pop culture convention that attracts thousands of visitors from around the world every July.
The city does get crowded during the summer months, especially in popular tourist areas such as the beaches and theme parks. Expect longer wait times at attractions and restaurants, and higher prices for accommodations and transportation.
You should also factor in higher temperatures on the inland part of your road trip - 100 degrees plus is not uncommon in Phoenix and Las Vegas.
As we've already mentioned, winter in San Diego is mild so it's a pleasant place to spend time in the colder months, and you'll be able to enjoy popular areas like Balboa Park and the Gaslamp Quarter without the summer crowds.
Winter can be much wetter than other times of the year, but many of San Diego's top attractions, such as the USS Midway Museum, the San Diego Zoo, and the Balboa Park museums, are indoors and can be enjoyed regardless of the weather.
You can also still enjoy outdoor attractions and activities such as hiking, biking, and whale watching. However, check ahead for opening times as some outdoor attractions operate reduced hours during the winter months, and winter storms can result in road closures.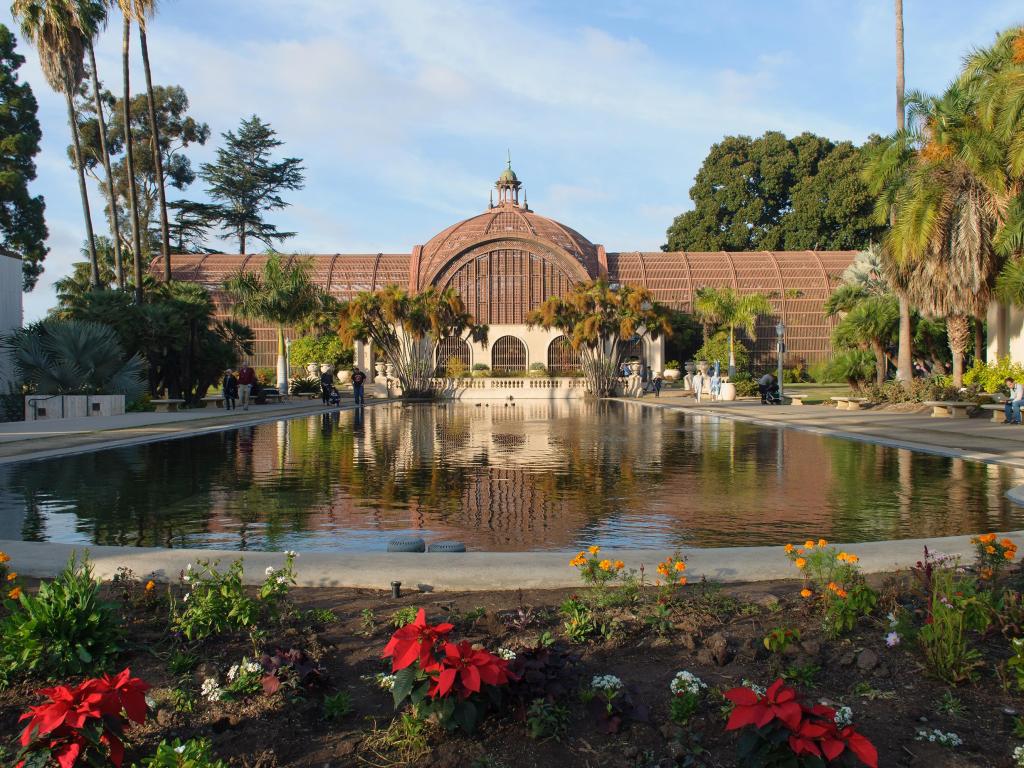 Spring and fall are also great seasons to visit San Diego, with average temperatures ranging from the high-60s to high-70s Fahrenheit through both seasons.
In spring you can admire the blooming flowers and greenery in the city's parks and gardens, or enjoy events like the San Diego County Fair and the Coronado Flower Show.
Fall is the perfect time for outdoor activities like hiking, biking and surfing. Foodies might consider visiting in November to catch the San Diego Bay Wine and Food Festival which features food and wine tastings, cookery classes and talks from celebrity chefs and winemakers. Alternatively, La Jolla Art and Wine Festival runs earlier in the fall.
As for affordability, hotels and attractions may offer lower rates during the spring and fall months compared to the summer months when they are in high demand. You can also enjoy special discounted menus at many of San Diego's fabulous restaurants if you time your visit for San Diego Restaurant Week, which takes place in January and September.
Whatever time of year you visit, this short but sweet road trip is sure to leave a lasting impression!