Road Trip from Sydney to Byron Bay
A road trip from Sydney to Bryon Bay is a classic Aussie drive. Showcasing some of the best national parks and most beautiful stretches of coastline in the whole of Australia, this journey is a must for those who love extraordinary scenery, vibrant cities, and rural towns that ooze with historic and cultural significance.
The 765-km road trip from Sydney to Byron Bay is an 8 hour drive, passing Palm Beach, Coffs Harbour Terrigal, Crowdy Bay National Park, Yamba and Ballina. Alternatively, go inland to see Hunter Valley, New England National Park, Armidale and Grafton.
These are just a handful of the numerous places of interest you can visit on this fantastic road trip. So keep reading all the way to the end, to discover what other wonderful things you can see and do.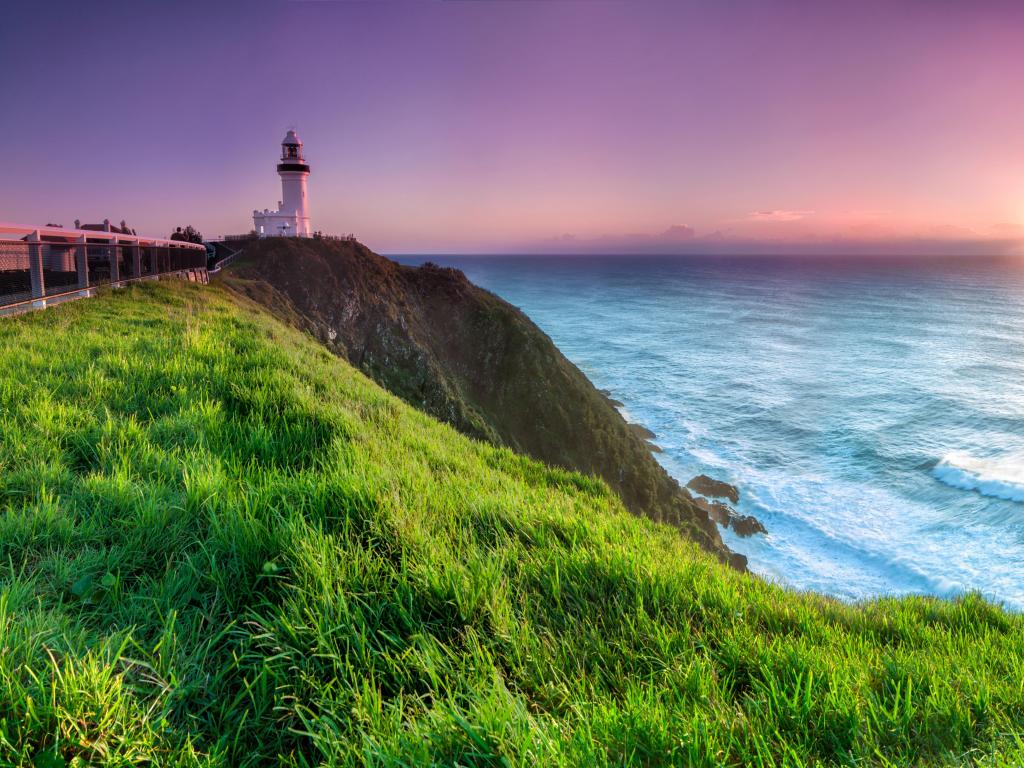 How far is Byron Bay from Sydney and how long will the road trip take?
Most people take either one of two main routes when driving from Sydney to Byron Bay.
The most popular and direct route is via the Pacific Highway, which flanks the coastline from the Central Coast to Northern New South Wales.
If you have a passion for beaches then this route is perfect for you, as it showcases some of the best surf breaks, and most pristine expanses of sand in the whole of the state.
Typically it takes around 8 hours of pure driving to cover the 765km distance, so this is a journey you can easily do in a day. However with so many great places, landmarks and tourist sites to visit you would be better advised to break up the journey over a few days.
Comparison of the Pacific Highway and New England Highway Routes from Sydney to Byron Bay

| Route | Distance | Driving Time |
| --- | --- | --- |
| Pacific Highway Route | 765 km | 8 hours |
| New England Highway Route | 870 km | 10 hours 20 minutes |
The second route involves detouring through the magnificent rural landscape of the New England Highway.
Taking 10 hours to complete an 830km distance, this is a longer drive and takes in some much quieter roads. The extra journey time is worthwhile though, to see some of the best wineries in the whole of Australia, as well as rural towns that boast massive cultural and historical significance.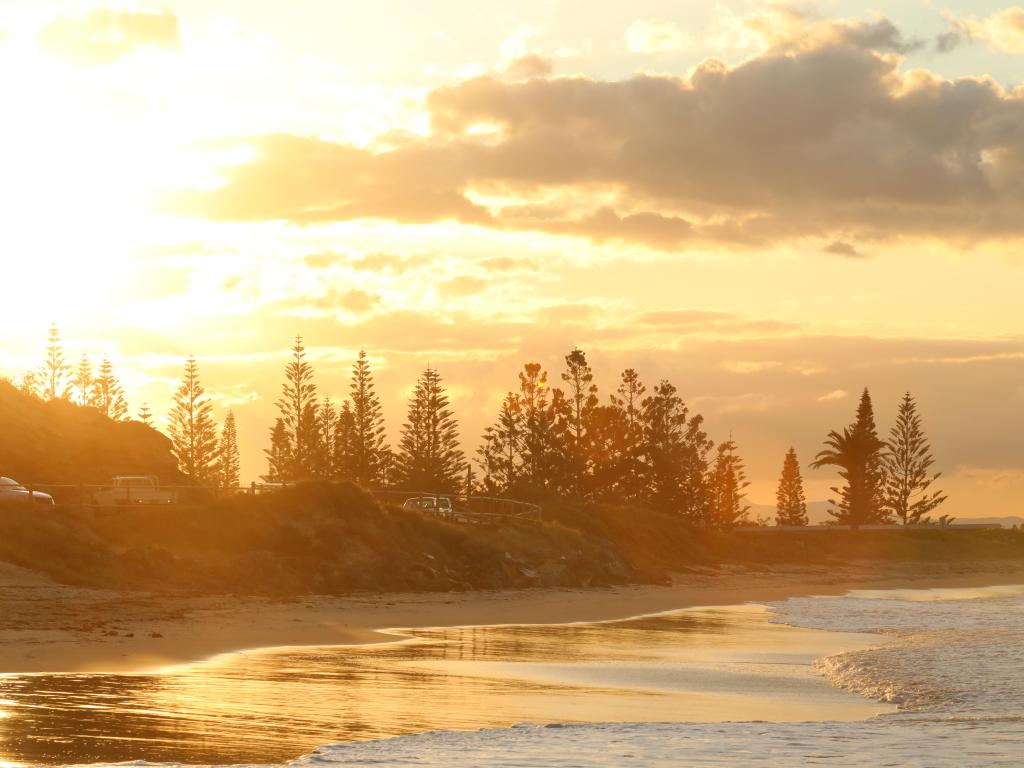 Best road trip route from Sydney to Byron Bay
A road trip from Sydney to Byron Bay is a truly wonderful drive that presents fantastic scenic views and numerous points of interest.
By and large it is a pretty straight forward drive to undertake too, as the quality of the tarmac is good and there is plenty of clear signposts to direct you.
Along the way you will have many opportunities to stop for a bathroom break, get something to eat, or refuel your vehicle, at the many small towns and regional centres you will pass.
Just be aware that the New England Highway Route there are some longer, quieter stretches of the journey so keep an eye on your fuel tank if you're taking this option.
The Pacific Highway Route
The Pacific Highway is the route most people take when they travel from Sydney to Byron Bay. This is a beautiful drive that takes you past a series of magnificent beachside locations, including Palm Beach, the fictional setting for Summer Bay in hit TV show Home & Away.
Accessed via the M1, which starts just north of the Harbour Bridge, you'll leave the city via the M2 and A28 before merging back onto the M1.
Once you're out of the city, the route is extremely straightforward. Although the name of the road switches between the A1 and the M1 at points, you'll stay on this road - the Pacific Highway - for another 750km before turning off onto Ewingsdale Road which leads you right into Byron Bay.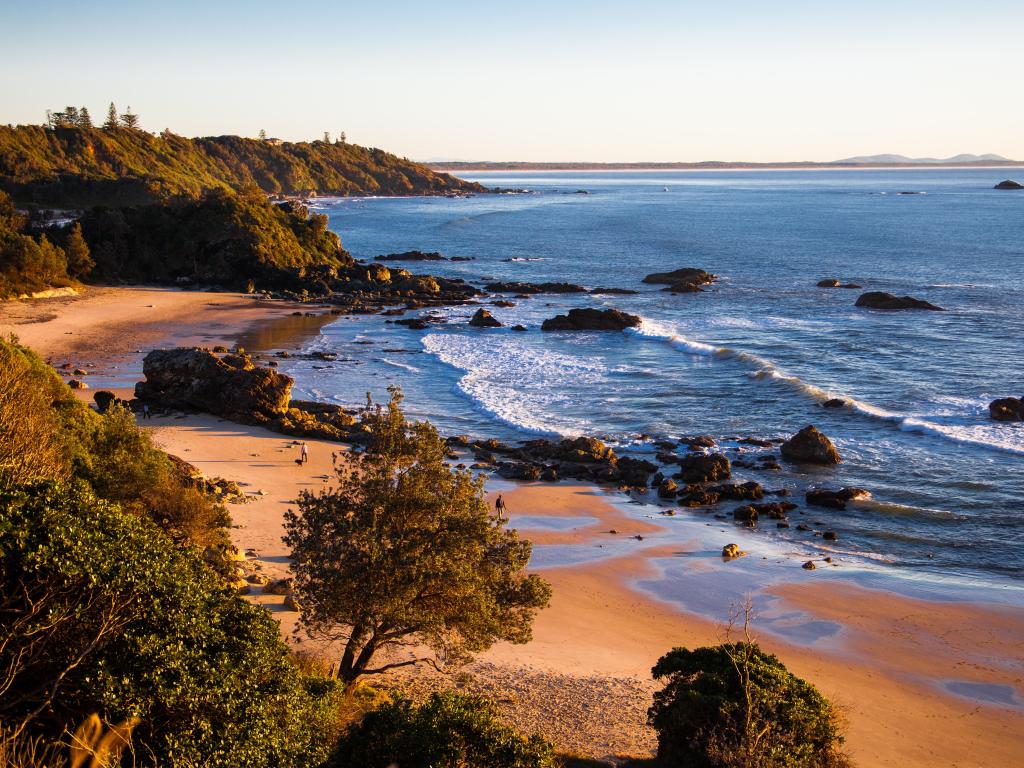 You'll pass by some great beaches along the way, including Terrigal, which is loved by locals on account of its elongated stretch of immaculate golden sand.
Coffs Harbour is another favourite stopping point. Don't miss the chance to have a photo taken at the iconic Big Banana!
In addition, you will also be able to see the kangaroos that swim on the surf every morning at sunrise at the Crowdy Bay National Park, as well as enjoy the sleepy seaside town of Yamba, and the relaxed vibes of Ballina too.
At all of these beach locations you will be able to partake in a range of watersport activities including surfing, swimming, kayaking, paddle boarding and wakeboarding. At many of them you will also be able to play beach cricket, football, rugby or volleyball as well.
The New England Highway Route
Within Australia, The Hunter Valley is lauded for its incredible wineries, excellent food produce and champion racing stud farms. It also showcases some of the most stunning natural landscapes you could ever hope to see.
Leave the M1 from Sydney as with the Pacific Highway Route, but divert onto the M15 just past the hamlet of Seahampton. This will lead you onto the A15 and into the heart of the Hunter Valley.
Along the way you will pass towns like Pokolbin and Muswellbrook, which feature a range of outstanding wineries, all of which offer the most delightful of tastings and cellar tours.
Continuing on past Willow Tree you will reach Tamworth, 'The Country Music Capital of Australia', where you turn right onto the B56/A15. At Bendemeer the roads separate - stick on the A15 through Uralla to Armidale, 'the Cathedral City', which is replete with magnificent architecture.
From here the B78 Waterfall Way will lead you past the magnificent New England National Park, as well as Ebor Falls, which are a great place for a walk and a picnic.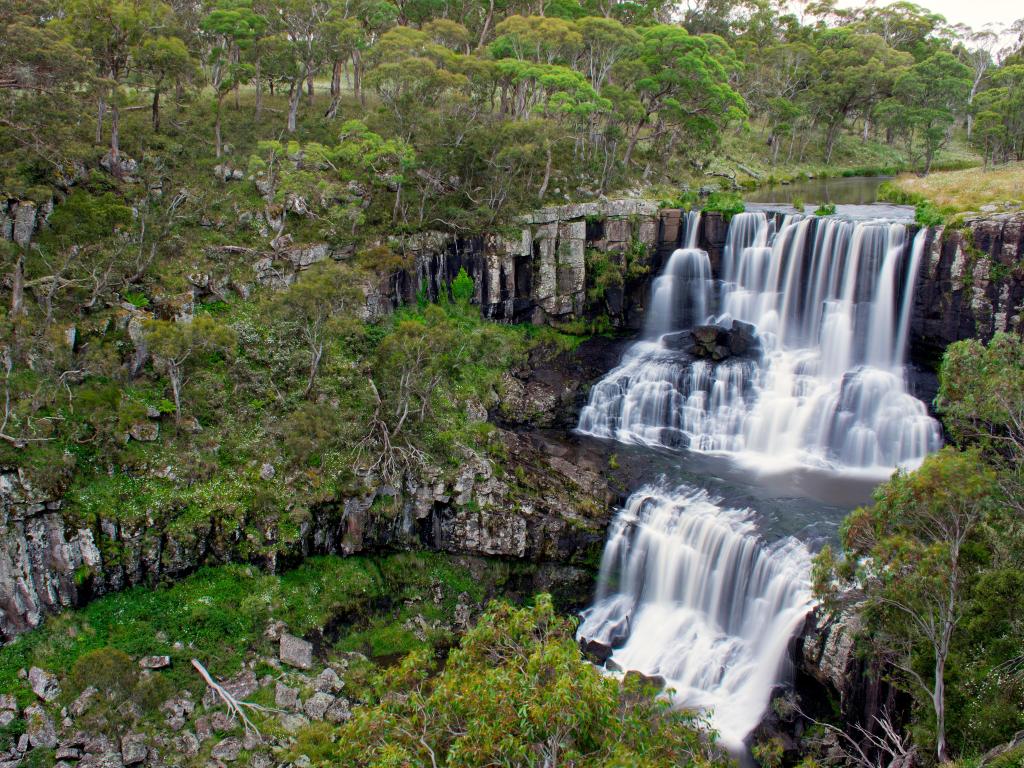 Follow the B78 for another 10km until you reach a junction where you'll take Armidale Road towards Grafton. You'll follow this road for some time as it winds through Billys Creek and Clouds Creek, a beautiful and quiet stretch of the NSW countryside.
Carry on straight ahead as you pass through the villages of Nymboida and Coutts Crossing. The road then brings you to Grafton, which features the most beautiful purple Jacaranda trees throughout its town limits.
To leave Grafton, cross back over the Clarence River on the B91 to pick up Big River Way which follows the southern side of the river to lead you back on the Pacific Highway. Then all you have to do is follow the A1 all the way up to Byron Bay.
Best places to stop between Sydney and Byron Bay
There are pros and cons for going on either route, but whichever one you choose to take, we recommend scheduling at least one, if not two or more overnight stays.
There are plenty of places you can stop at, but here are some of our favourites to consider.
Cuddle Koalas in Port Macquarie
Located at the mouth of the Hastings River around 4 hours out of Sydney, Port Macquarie is a great place to stop off on the first evening of your drive if you're taking the Pacific Highway Route.
Widely known for its great beaches, varied wildlife and historic penal colony past, this seaside town also has the highest koala population on the east coast of Australia. Visit the nearby Billabong Zoo for a chance to cuddle one.
The Ana Mandara Luxury Bed & Breakfast is a fantastic place to stay while you're in town. Set on two beautiful acres that overlook the Hastings River, the property is within a five minute drive to five different beaches.
The town centre is also just a short drive away in case you want to check out the local bars and restaurants. However if you would prefer to just chill out and relax, then the onsite hot tub provides the perfect opportunity to do this.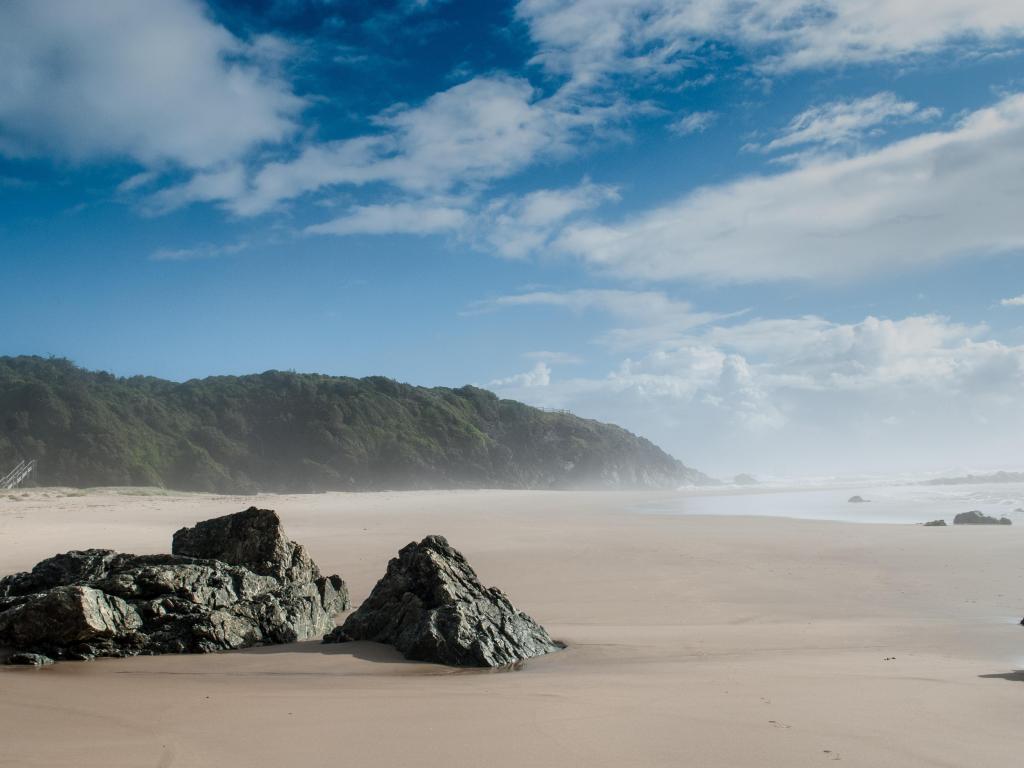 Explore the Wineries of the Hunter Valley
The Hunter Valley - on our New England Highway Route - is home to some of Australia's most decorated wineries.
Whether your choice of tipple is red, white or rose, there are many world class cellar doors and tastings you can enjoy in this region, including the likes of Tyrell's, Keith Tulloch and Hope Estate.
Quite a few of these wineries are located near Pokolbin, which also features the fabulous Harrigan's Irish Pub & Accommodation.
Framed by stunning vineyards, and the gorgeous Hunter Valley Gardens, with craggy mountains shimmering in the distance, this property is an excellent place to stay all year round.
In the summer you will love its outdoor swimming pool, which is a great spot to take in these views. In contrast, the fireplace and spa bath that come with every room, will be very much welcomed in the winter, when temperatures drop in the evenings.
The accommodation also presents a wonderful restaurant and terrific Irish pub, which serve up hearty comfort food and an enjoyable night out respectively.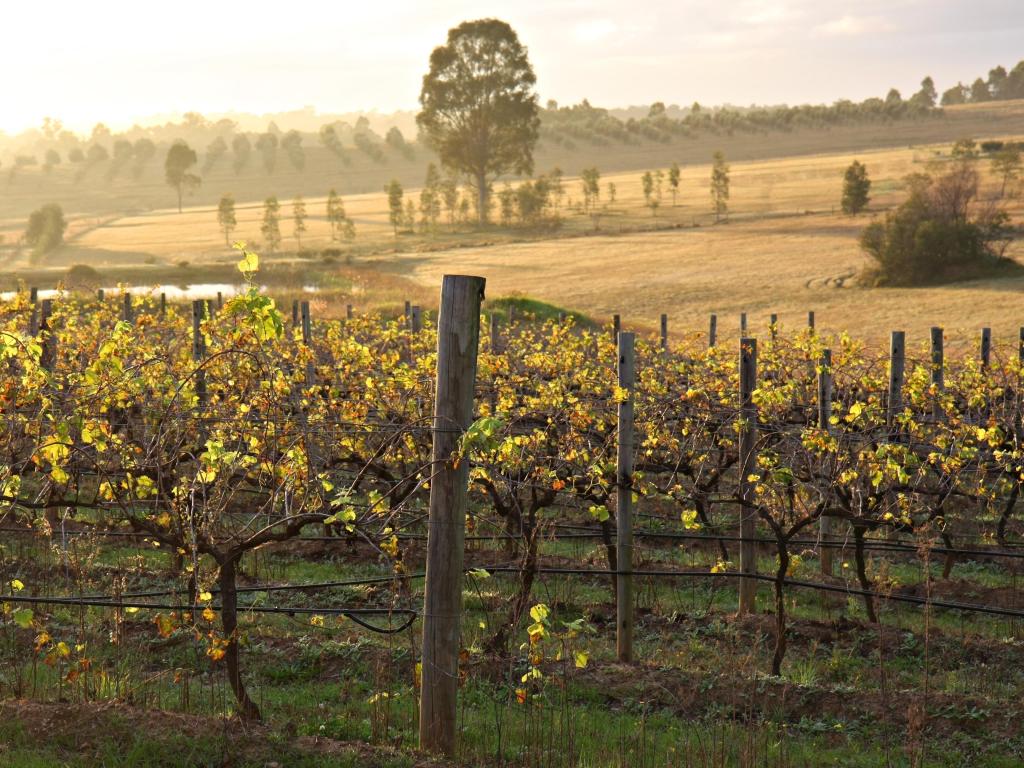 See the Big Banana at Coffs Harbour
Coffs Harbour is an excellent stop off point between Sydney and Byron Bay (on the Pacific Highway Route).
Situated 500km from Sydney, at the point where the mountains dramatically tumble to the sea, it's famous for the Big Banana - the biggest theme park on this stretch of coast. Don't miss the chance to get a photo of this iconic landmark.
There are also options here for diving, or if you're passing through between June and October whales can sometimes be seen from a viewing platform on Muttonbird Island.
If you're after a great place to stay in town, we would recommend The Tahitian. After a long day of driving, the hotel's comfortable one and two bedroom apartments will provide welcome respite. You'll definitely want to kick back and relax in its excellent swimming pool, hot tub and sauna.
The Tahitian isn't far from the Big Banana, and if you fancy visiting the main shopping plaza and restaurants, they're just a short walk away. Alternatively, There's also a full kitchen and outdoor barbeque area here in case you want to self-cater.
Things to see on a road trip from Sydney to Byron Bay
During a road trip from Sydney to Byron Bay there are so many things to see and do.
Here are some of the main highlights you should make a point of checking out.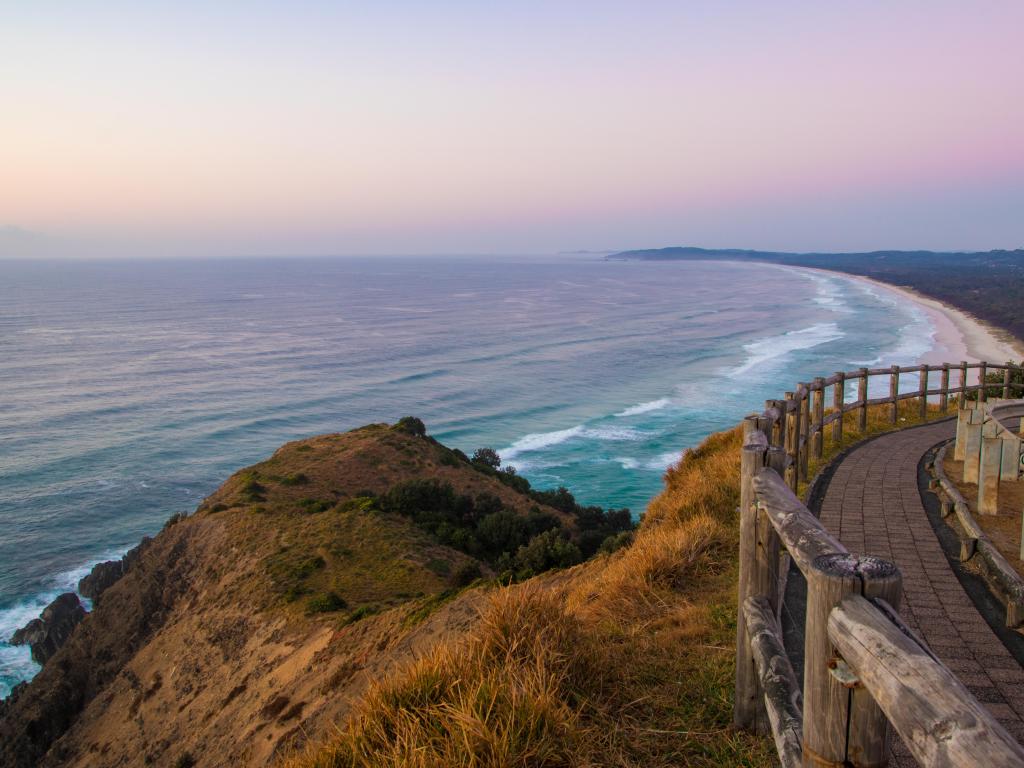 Pacific Highway Route:
Palm Beach - Check out the famous twin beaches that double up as Summer Bay in the popular Aussie soap opera Home and Away.
Terrigal - Enjoy Terrigal's wonderful, elongated stretch of golden beach which is perfect for swimming, and surfing. Lunch on fish and chips under a stately Norfolk Pine tree on its gorgeous esplanade.
Port Macquarie - Sit back and relax at one of the town's wineries or micro-breweries. Or take a walk along the coast and enjoy the changing views across the Tasman Sea.
Nambucca Heads -A lovely small town set at the mouth of the Nambucca River. Kayak in the estuary, take a hike through the rainforest, or simply enjoy the stunning sandy beaches.
Coffs Harbour - Visit the iconic Big Banana and enjoy a dolphin encounter at the Dolphin Marine Conservation Park.
Crowdy Bay National Park - See the fantastic kangaroos that swim and hop around the shore at sunrise every morning.
Yamba - Quaint beach town renowned for being a fantastic surf spot.
Ballina - Revel in 32km of golden sands, sheltered coves, spectacular surfing breaks and beautiful beaches.
New England Highway Route:
Pokolbin - Marvel at the fabulous range of wines available at some of Australia's best loved wineries.
Tamworth - Get your boot scootin' on, in the country music capital of Australia.
Armidale - Prepare to be impressed by the stunning architecture of 'Cathedral City'.
Wollombi Falls - Part of the Oxley Wild Rivers National Park, this rugged area is only 1km off the route. Stop for a picnic while you hike to see NSW's highest waterfall.
Ebor Falls - It's a relatively easy walk to the viewpoints on this tiered waterfall where the Guy Falkes River rapidly drops 100m in spectacular style.
New England National Park - Hike through this wonderful World Heritage listed national park, that features the magnificent Gondwana rainforest.
Grafton - Visit 'The Jacaranda City' to see these stunning purple trees in bloom.
Best time to go on a road trip from Sydney to Byron Bay
A road trip from Sydney to Byron Bay is one that can be undertaken throughout the year, but there are a couple of sweet spots that help you avoid the crowds and get the most out of the beautiful beaches you'll pass along the way.
The best time to drive the Pacific Highway Route is between February and April, or September and November, when the temperatures should be perfect to enjoy the outdoors, but not at the mid-30s peaks you might find if you travel in the height of summer.
You're also in with a chance of spotting whales from vantage points on land if you travel from June to October.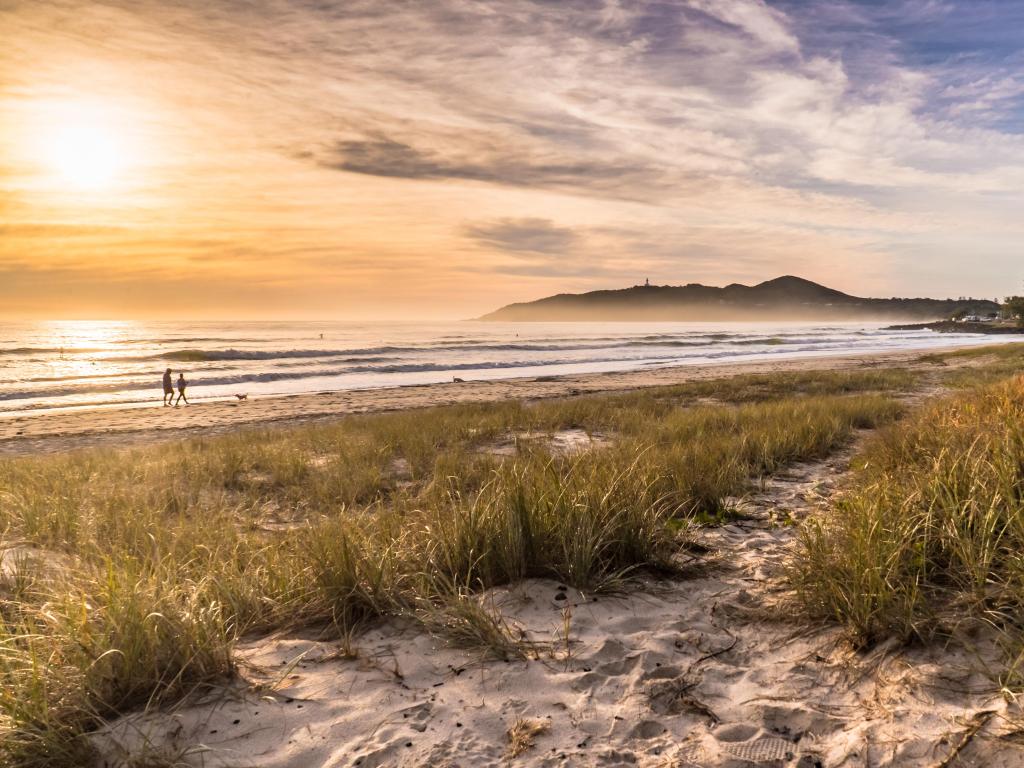 If you're taking the New England Highway Route the other benefit of travelling in spring (September to November) is that you'll see the area blooming into life after winter. The area is known for its wildflowers. Or brave the heat and visit during summer (December to February) to see the harvest - a real experience and the culmination of the season for wine growers.
Traffic levels and hotel rates tend to increase in the summer, school holidays and at weekends, so be mindful that most schools take a break in January, early April and early October.
But apart from that you can start your drive whenever you feel like it. Though its probably a good idea to get your vehicle fully serviced before you head off, especially if you're taking the quieter New England Highway Route.