Road Trip from Wisconsin to Portland, Maine
Take the ultimate drive through the magnificent Great Lakes region to the beautiful seaside community of Portland, Maine. On this stunning road trip, you'll see the best of America and Canada's midwest and Great Lakes region before making your way to the northeast, famous for its seafood, maple syrup, and unbeatable natural scenery.
This incredible road trip will take you 1,000 miles with 17 hours of driving time. You'll get to see American and Canadian highlights like Milwaukee, Muskegon, Detroit, Niagara Falls, Buffalo, Rochester, Seneca Falls, Boston, Milwaukee, Chicago, Cleveland, Pittsburg, Callicoon, Catskill, Boston, and beautiful Portland, Maine.
If you love natural scenery, history-rich big cities, and tons of charming twins with plenty of character, then this road trip is for you. Read on to learn more about the best routes, where to stay, and what to see and do when you arrive.
How far is Portland, Maine from Wisconsin, and how long will the road trip take?
Comparison of road trip routes between Wisconsin and Portland, Maine

| Route | Distance | Driving Time |
| --- | --- | --- |
| The Canada Route | 1,315 miles | 21 hours 40 minutes |
| The USA Route | 1,070 miles | 17 hours 15 minutes |
There are two wonderful routes that will take you safely from Wisconsin to Portland, Maine. One route stays entirely within the United States and hugs the American side of the Great Lakes while the other dips into Canada and lets you see some famous Canadian cities before coming back across the border.
The Canada Route covers 1,315 miles, with 21 hours and 40 minutes driving time. You'll take a ferry, cross into Canada, and into top cities on the East Coast.
The USA Route will bring you from Milwaukee through cities like Chicago and Pittsburgh and into natural wonderlands like the Catskills in New York. This route will cover 1,070 miles and 17 hours and 15 minutes of driving time.
No matter which route you choose, we recommend taking five to six days for your journey so you can make the most out of this wonderful region and its incredible sights. Read on below to learn more about these routes, where to stay, and what to see and do on your way from Wisconsin to Portland, Maine.
If you are looking to extend your trip in Maine, here is our ultimate road trip itinerary:
READ MORE - Ultimate Maine Road Trip Itinerary
Best road trip route from Wisconsin to Portland, Maine
The Canadian Route starts with a ferry from Milwaukee to Muskegon, Michigan. The ferry is about 2.5 hours long and travels up to four times daily during its spring and summer schedules.
This beautiful route takes you through several beautiful Canadian cities, including Hamilton and Niagara Falls (with an optional detour to Toronto, Canada's largest city.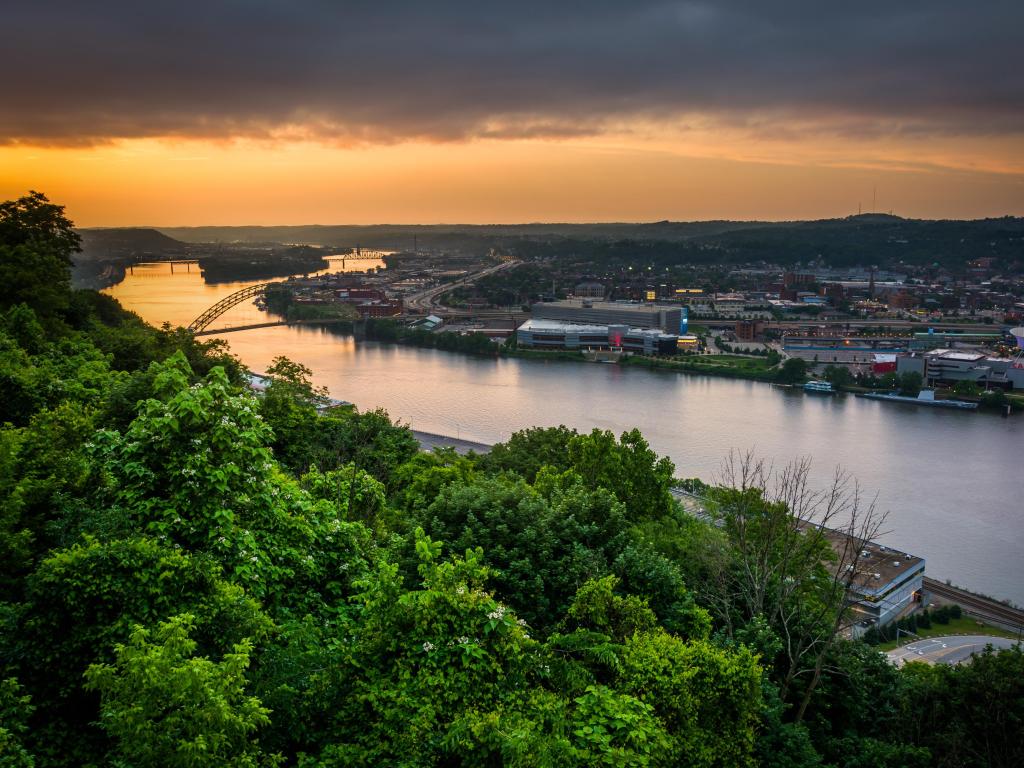 In addition, you'll also stop in cities like Ann Arbor, Detroit, Seneca Falls, Boston and Rochester and three of the five great lakes including Michigan, Erie and Ontario, with an option to extend to Huron as well!
The USA Route is shorter and doesn't involve any ferry rides, but it does cross several major rivers, including the Ohio, Allegheny, and Susquehanna. If you love nature and exciting urban destinations, this route is for you.
On top of cities, you'll see a lot of landscapes, from the Great Lakes to the Appalachian Mountains to the Atlantic coast. Each region has plenty of natural wonders to explore and even hiking opportunities for those who want to take on the great outdoors.
Some potential side trips along the route could include visiting Amish country in Ohio or exploring the Finger Lakes region of New York. You'll also get to see famous cities like Chicago, Boston and Pittsburgh on the way.
The Canada Route
Take a ferry from Wisconsin to Muskegon, Michigan. Drive through Grand Rapids and into Ann Arbor. Then, continue on to Detroit, also known as Mo-town.
After spending time in one of the Midwest's most famous and up-and-coming cities, make your way into Windsor Canada. Drive through Ontario and the northern coast of Lake Erie.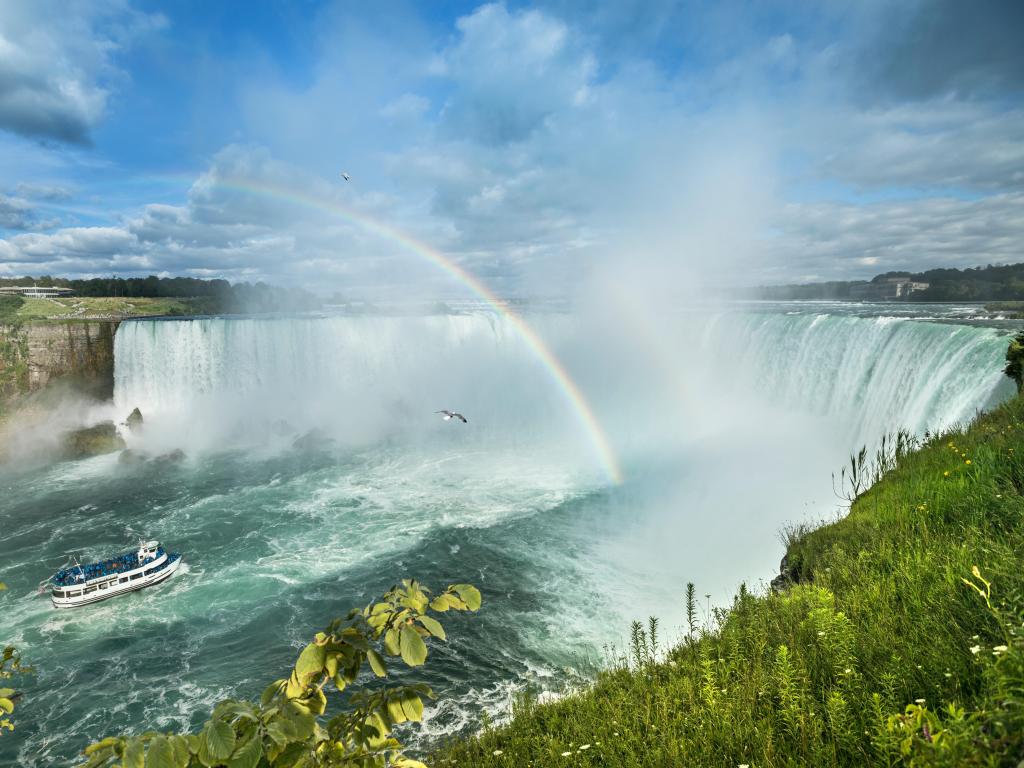 Continue on into the city of Hamilton. From here, drive to the famous natural wonder of Niagara Falls.
Drive into New York State and make your way through the beautiful Finger Lakes and into the city of Albany. From here, continue on into Boston and then to your destination of Portland, Maine.
If you have more time on your hands though, we recommend extending your trip and staying longer in Maine. Here is our road trip itinerary for the ultimate Maine experience!
The USA Route
From Milwaukee, drive south into the great city of Chicago. After exploring the Midwest's largest city continue on route to Toledo, Ohio.
After enjoying Toledo, drive into the fun city of Cleveland. Continue on into the great city of Pittsburg, PA.
Make your way from Pittsburg into the Catskill Mountains of New York State, one of the most popular natural areas on the east coast. Head on I-90 to Boston and take your time in one of the most historic areas of the United States.
From Boston, make your way up the eastern seaboard. Continue on I-96 north into your destination of Portland, Maine.
Staying longer? Check out our ultimate Maine road trip itinerary.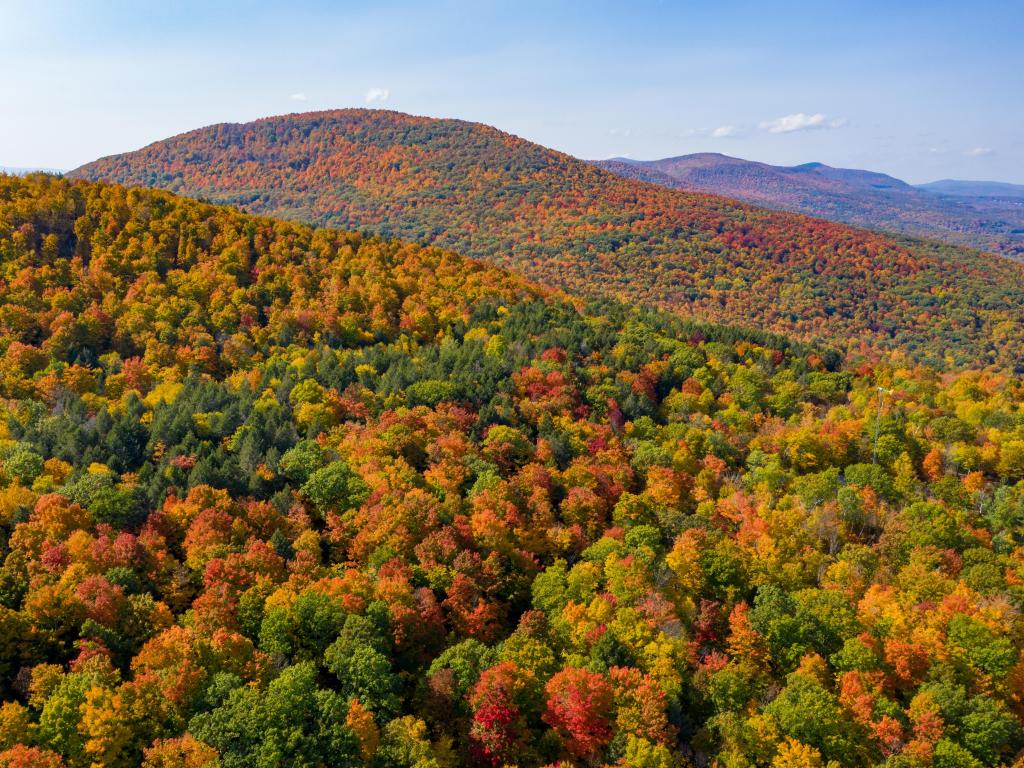 Best places to stop between Wisconsin and Portland, Maine
With so much to see and do, you'll want to break up the trip and stay in a fun location. Below are our top recommendations for places to stay and what to do when you're there.
Step into history in Boston
Towards the end of both routes is the city of Boston, MA. This city is one of the few stops along the Atlantic Coast before reaching Maine.
This famous city has rich historical significance as one of the oldest cities in the USA. It's home to prestigious universities such as Harvard and MIT as well as beautiful architecture and landmarks such as the Boston Common and the Freedom Trail.
If you love rich cultural landmarks with museums, theaters, and music venues, then Boston will make the perfect stopover for you. There's a ton to see, but a few destinations stand out from the rest.
Once in Boston, one of the first landmarks to see will be the Freedom Trail. This 2.5-mile-long path through downtown Boston passes by 16 historical sites, including the Massachusetts State House and Paul Revere's House.
Next, make your way to Fenway Park. Home of the Boston Red Sox baseball team since 1912, Fenway Park offers tours to explore the historic stadium and learn about the team's history.
If you love museums, then make your way to the Museum of Fine Arts. A world-class art museum with a collection of over 500,000 works, including pieces by Monet, Rembrandt, and Van Gogh.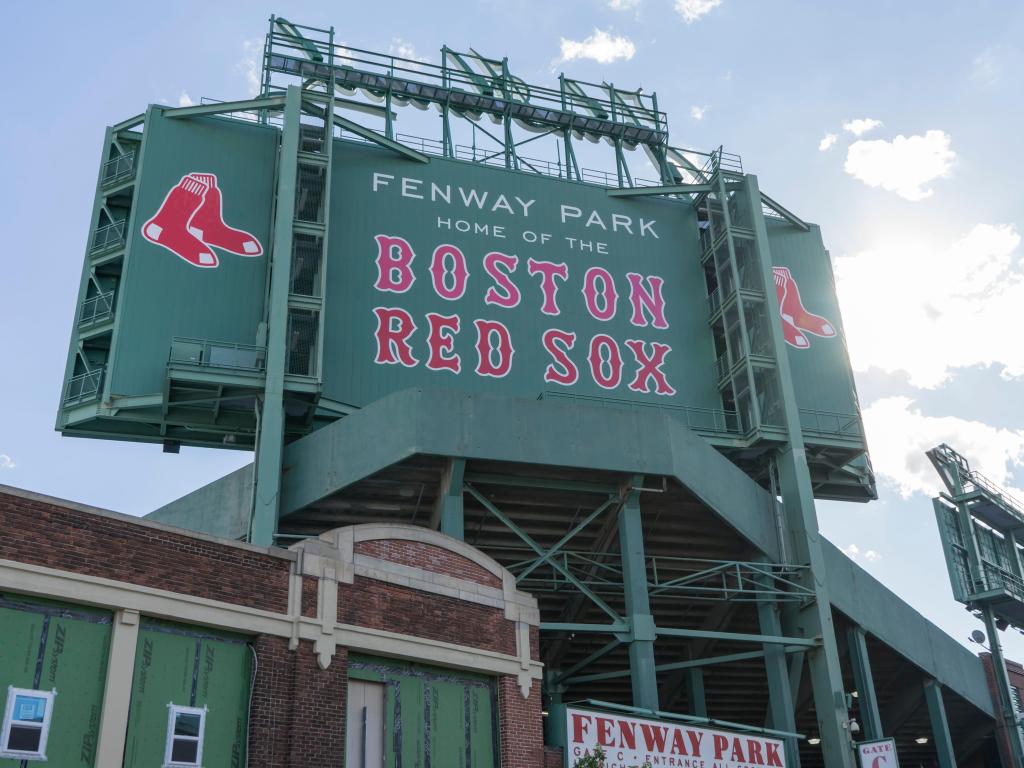 Once you reach your destination, we'd recommend you choose The Seaport Hotel Boston. This centrally located hotel sits along South Boston's waterfront. You're only a short walk away from some of the city's main attractions, including the New England Aquarium and the Institute of Contemporary Art.
Once you reach the hotel, you can relax, with the beautiful amenities and friendly staff. There's also a health club which offers an indoor pool, cardio machines, and group exercise classes.
After exploring the city, dine in luxury at Tamo Restaurant and Bar, open for breakfast, lunch, and dinner and situated right on Boston's iconic waterfront. There's also a cafe that has delicious baked goods and grab-n-go meals so you can get right back to sightseeing or relaxing.
Enjoy the steel city of Pittsburgh
Just over halfway on the USA Route is the beautiful riverside city of Pittsburgh, PA. One of the largest cities along this route, Pittsburgh, has it all from fun museums, excellent restaurants and bars, and some incredible natural scenery just a short drive away.
Pittsburgh sits at the junction of the Ohio, Allegheny, and Monongahela Rivers. It's famous for its towering Gilded Age architecture, museums, and cultural institutions.
You'll be sure to have an amazing time exploring Pittsburgh's many offerings, such as the Carnegie Museum of Natural History and the Andy Warhol Museum.
The famous Carnegie Museum of Art and Carnegie Museum of Natural History should be the first sights you see when visiting the city. These museums offer a variety of exhibits, including dinosaurs and works by Eugene W. Smith and Samuel Rosenberg.
Next, make your way to the Phipps Conservatory and Botanical Gardens. This is a natural oasis in the heart of Pittsburgh, housing a giant glasshouse and 23 stunning gardens that are perfect for walking through.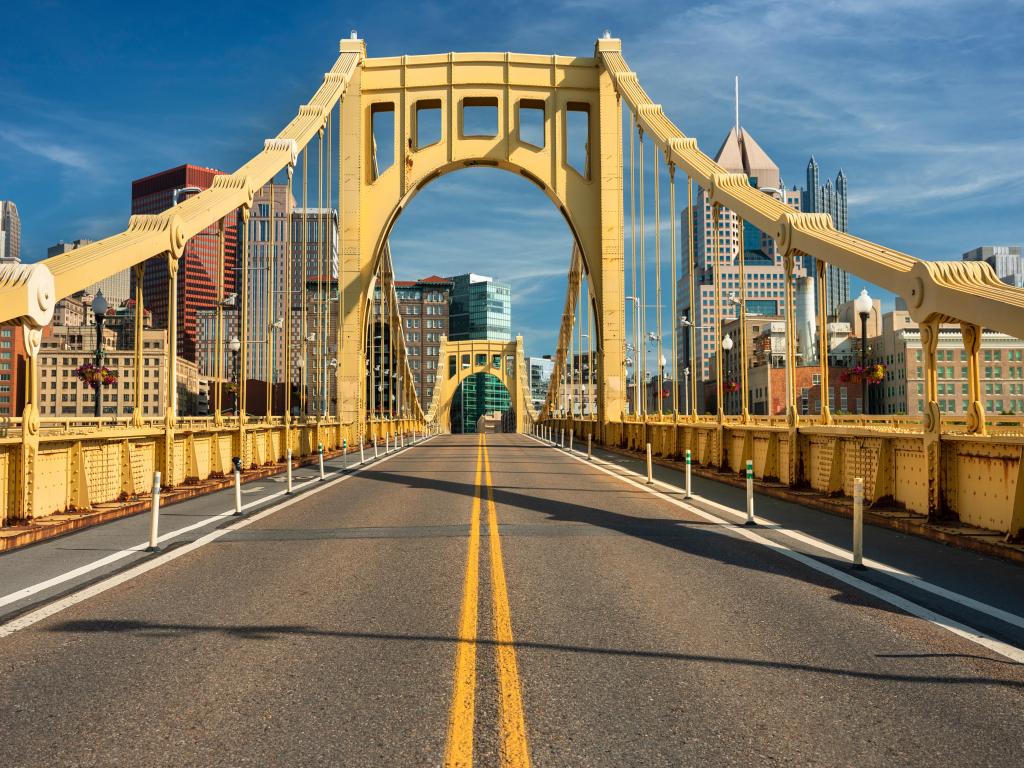 No visit to Pittsburgh is complete without seeing the Andy Warhol Museum. This incredible iconic destination sits on the banks of the Allegheny River and is entirely dedicated to this American icon.
Once you reach Pittsburgh, we recommend staying at the luxurious and highly rated Fairmont Pittsburgh. This unique 4-star hotel is just minutes from Point State Park and the Andy Warhol Museum in downtown Pittsburgh.
You can easily park your car and walk across the street to the Heinz Hall for the Performing Arts, and Market Square, a historic pedestrian square where visitors can enjoy a farmers' market, food trucks and shopping.
You'll get to enjoy the unbeatable river and city views. There's a wonderful spa where you can enjoy a range of services including massage, facial, body treatments and manicure/pedicures.
Once you reach your hotel, take advantage of the hotel restaurant featuring delicious dinners, breakfast, and weekend brunch, inside a stylish dining room overlooking the city.
Where to stay when you reach Portland, Maine
Once you reach Portland, we recommend staying at The Press Hotel. This luxurious hotel is full of wonderful amenities and friendly staff who will make you feel right at home in Portland.
After your long drive, take advantage of the hotel's fitness center. There's also a popular restaurant and bar which serves delicious East Coast cuisine.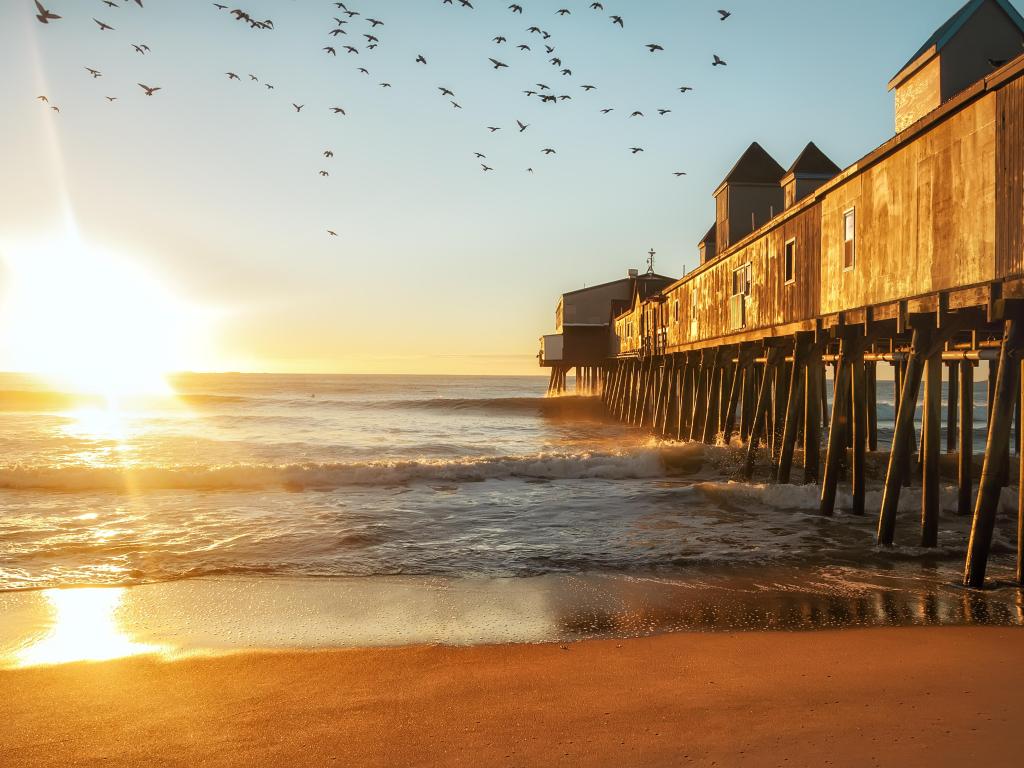 Each room is stylish and comfortable, featuring city views and plenty of luxurious items in every room. You're only a short walk away from downtown Portland's historic district and other sights, including the Victoria Mansion and the Wadsworth Longfellow House.
Things to see on a road trip from Wisconsin to Portland, Maine
This road trip is jam-packed with culture, natural beauty, and adventure around every corner. Below is a list of must-see destinations along the way to help you plan your epic road trip from Wisconsin to Portland, Maine.
The Canada Route
The Cascades - Come visit the artificial waterfalls that empty out into fountains and pools. This landmark was built in the 1930s and best viewed at night.
Detroit Zoo - The Detroit Zoo is one of the most famous zoos in America. It houses a polar bear exhibit and a popular mini railroad which takes you through an expansive animal habitat.
Historic Fort Wayne - This landmark is on the banks of the Detroit River and has a 19th century military fort with guided tours and military reenactments suitable for all ages.
Stratford, ON - This town is known for its world-renowned theater festival, charming downtown, scenic parks, and delicious culinary scene.
Niagara Falls - A world-renowned tourist destination known for its breathtaking waterfalls, boat tours, casinos, and scenic views, Niagara Falls is a must-see on this route.
Harriet Tubman Home - This is the historic home and residence of Harriet Tubman. Here, you can learn about her great legacy as one of the most important figures in American history.
WonderWorks Destiny - This beautiful amusement park has plenty of interactive 6D exhibitions and hands-on exhibits, ropes courses, and laser tag. Make sure to book online to get a discounted rate.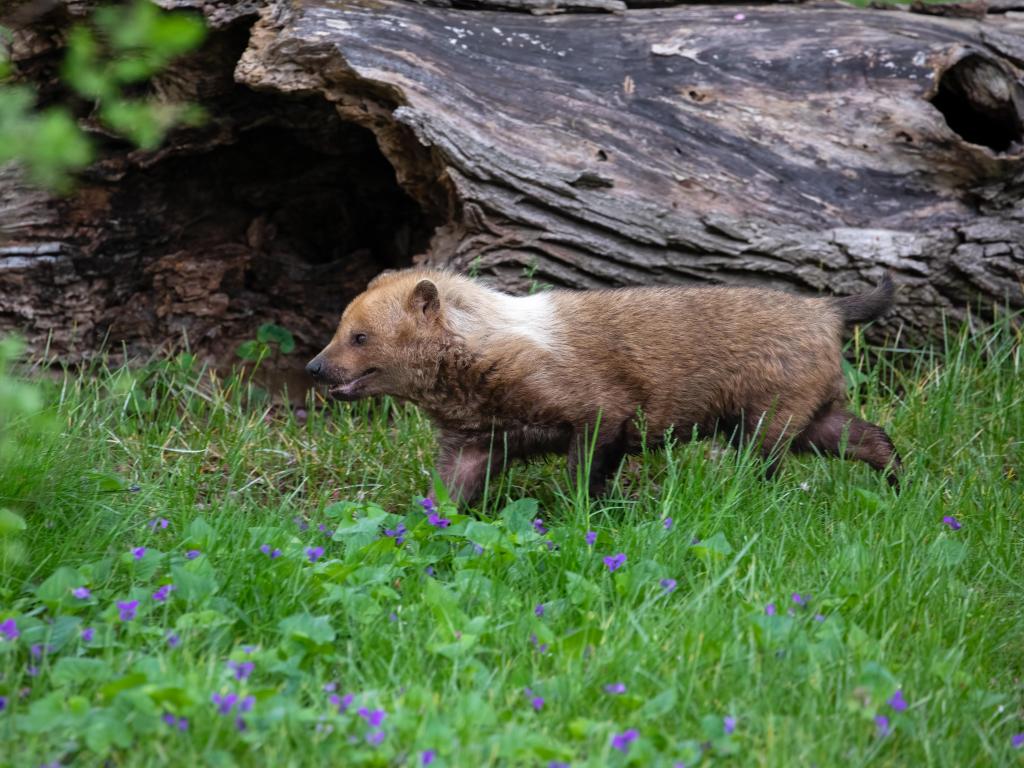 The USA Route
Chicago - The Windy City offers a stunning skyline, deep-dish pizza, world-class museums, Lake Michigan beaches, architecture tours, and vibrant music, theater, and comedy scenes.
Toledo - Known for its glass production, art museums, and historic architecture, as well as its location on the Maumee River and Lake Erie, Toledo is a must-see.
Cleveland - This city offers visitors an array of experiences, from the iconic Rock & Roll Hall of Fame to a thriving culinary scene, diverse neighborhoods, and Lake Erie beaches.
Randyland - Check out the remarkable work of folk artist Randy Gilson at this tribute art museum filled with kitschy objects and murals.
Pioneer Tunnel Coal Mine & Steam Train - Come tour this 1800 ft coal mine and mountainside ride on a classic steam train. Come early to avoid the crowds because this place is popular.
Both Routes
Old Sturbridge Village - This recreated New England town represents what life was like back in the 1830s. Historians guide you through the grounds in full costumes from the era and take you through historic buildings and over two hundred acres of land. There are a bunch of dining options and events all year round.
Louisa May Alcott - This is the former home of Louisa May Alcott, one of America's most famous writers. Her celebrated book "Little Women" was written here and you can take a tour of her life.
Minute Man National Historic Park - Come visit this National Historic Park, which was the site of the first Revolutionary War battle in 1775. Take a guided tour or enjoy one of the special events that mark key moments.
Salem, MA - Explore Salem's rich history and witchcraft trials at the Salem Witch Museum. Stroll through the charming downtown and waterfront, and visit the House of the Seven Gables.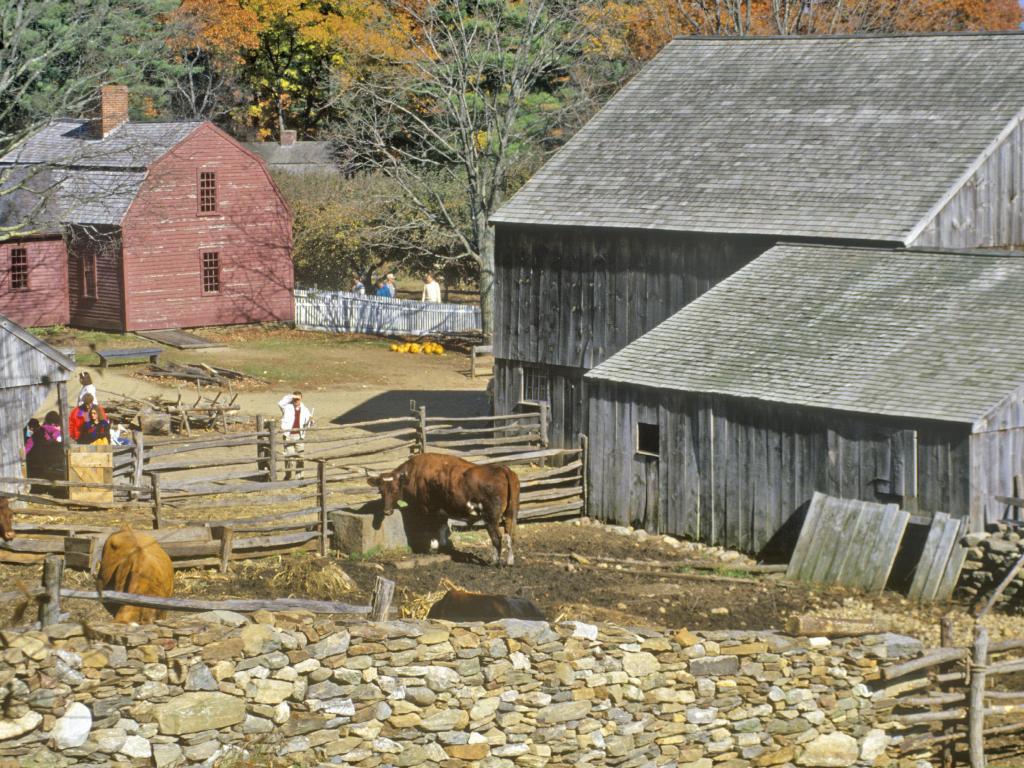 Best time to go on a road trip from Wisconsin to Portland, Maine
This area makes for a great visit any time of year, with lots of options for both indoor and outdoor activities year-round. For cheapest accommodations, visit during the shoulder seasons, where you'll also get fine weather.
This region is famous for its four seasons. Summers are mild, with occasional heat waves and low humidity. Temperatures range between 60 and 80-degrees Fahrenheit.
Summer is the high tourist season, with busy coastal towns, beaches and outdoor activities. It's also a popular time for festivals, including the Maine Lobster Festival, in August.
Other summer festivals include the PortFringe Theatre Festival and Old Port Festival in June. July sees the Maine Brewers' Guild Summer Session Beer Festival and the popular Moxie Festival, while in August, you can enjoy the Maine Highland Games & Scottish Festival.
Winters are cold and snowy, with temps ranging between 10 and 40-degrees Fahrenheit. Aside from the gorgeous snowy landscapes, there're plenty of winter sports activities, including skiing and snowboarding in nearby mountains. Winter is a good time for indoor activities, such as visiting museums and attending events and concerts.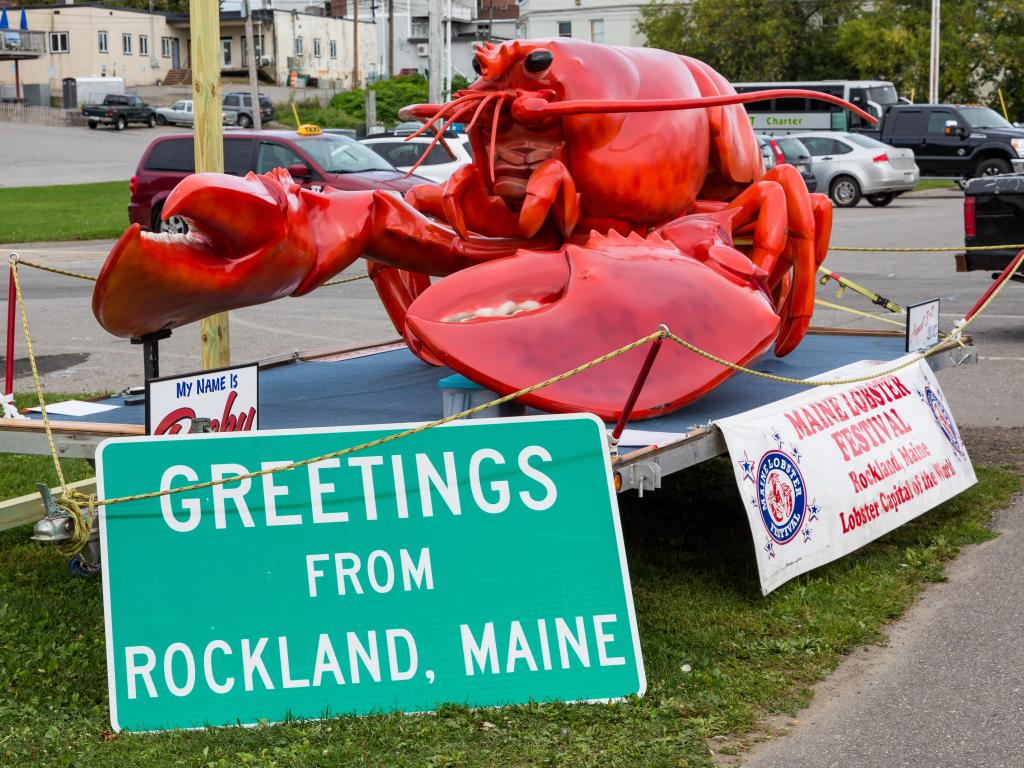 Spring and fall are comfortable times to visit, with temperatures ranging between 40 and 60-degrees Fahrenheit. Spring offers the chance to see blooming flowers and gardens, while fall offers beautiful foliage colors.
Fall is a great time for outdoor activities, such as hiking, biking, and exploring the coastline. Spring and fall are also great for foodies, with the Maine Restaurant Week held in March and October.