Road trip from Yosemite to Las Vegas
If you are planning your next stop after visiting Yosemite National Park, then look no further than Sin City - the perfect place to end an epic journey. On the road trip from Yosemite to Las Vegas, you can admire national parks that are home to majestic sequoias or visit the hottest and driest geography in the entire country!
The 640-mile road trip from Yosemite to Las Vegas will take 12 hours to drive nonstop. Highlights are Fresno, Bakersfield, Lone Pine, Sequoia National Park, Kings Canyon National Park, Calico Ghost Town, Mojave National Preserve and Death Valley.
Few adventures will be as exciting and beautiful as this drive from Yosemite to Las Vegas. Read on to learn more about our recommended routes, top destinations along the way, places to stay, and the best seasons to make the journey.
How far is Las Vegas to Yosemite, and how long will the road trip take?
Comparison of road trip routes between Yosemite and Las Vegas

| Route | Distance | Driving Time |
| --- | --- | --- |
| Death Valley Route | 380 miles | 6 hours and 20 minutes |
| Sequoia National Park Route | 640 miles | 12 hours |
The road trip from Yosemite to Las Vegas offers two stunning routes that will take you through the natural beauty and exciting vibes of the American West.
The Sequoia National Park Route covers a distance of 640 miles and demands roughly 12 hours of drive time without accounting for any detours.
The Death Valley Route begins at Tioga Lake and stretches over 380 miles, and can be covered in about 6 hours and 20 minutes if you were to drive nonstop.
Though both routes can be covered in a day, the sheer magnitude of attractions and natural wonders en route deserve at least 3-4 days for the trip.
Best road trip route from Yosemite to Las Vegas
Both routes have their unique charms. Which one you choose will depend on what you want to see and experience the most.
If you're a fan of towering trees, stunning national parks and historic sites, the Sequoia National Park Route is your pick. On the other hand, if vast deserts, monumental mountains, and history rooted in the Wild West call out to you, the Death Valley Route awaits.
The Sequoia National Park Route, winding through the heart of California, unveils the majesty of Kings Canyon National Park and Sequoia National Park, home to some of the planet's most gigantic trees. These parks not only present panoramic views but also amazing hiking experiences and wildlife viewing.
The journey then takes you to the Mojave National Preserve, an expansive wilderness known for its Kelso Dunes, mesas, mountains, and canyons, teeming with a plethora of wildlife, from bighorn sheep to mountain lions.
If you're inclined towards the allure of vast deserts and towering peaks, the Death Valley Route is the perfect option. Starting from the serene Tioga Lake, it brings you through the White Mountains, showcasing some of California's highest peaks, and into the Inyo National Forest.
The crown jewel of this route, Death Valley National Park, is a dramatic landscape that varies from salt flats to sand dunes. However, keep in mind that Death Valley's remote nature demands pre-travel planning, especially regarding the weather.
If you choose the Death Valley Route, please keep in mind that currently some of the roads that leads to the national park are closed and check before you travel so that you can plan accordingly.
Also, keep in mind that the Tioga Pass Entrance of Yosemite National Park, which this route uses as an exit, is closed during winter, so use one of the other entrances if you are traveling during the colder months.
How to drive from Yosemite to Las Vegas
The map above shows our suggestions for the best road trip routes between Yosemite National Park and Las Vegas. Keep reading for detailed descriptions of both routes, where to stay on either, and the best things to do on the way.
The Sequoia National Park Route
Use the South Entrance to leave Yosemite National Park. This exit will take you past Mariposa Grove of Giant Sequoias, if you'd like to get a last-second hike before leaving the national park.
From here, drive down the beautiful forested mountain and hop on CA-41. Continue on route into Fresno. After visiting the museums of Fresno, get back on route and drive up CA-180 to Kings Canyon National Park.
After your visit, continue back en route a little further to Tulare and Visalia. From here, you're only a short drive away from Sequoia National Park.
Once you get your fill of amazing forests and hiking, get back on route and make your way to Bakersfield. Here, you can visit historic theaters and museums.
Head en route from Bakersfield to the Mojave National Preserve to experience some of the most beautiful desert landscapes in the USA. Afterwards, jump back on route and continue your drive to Las Vegas.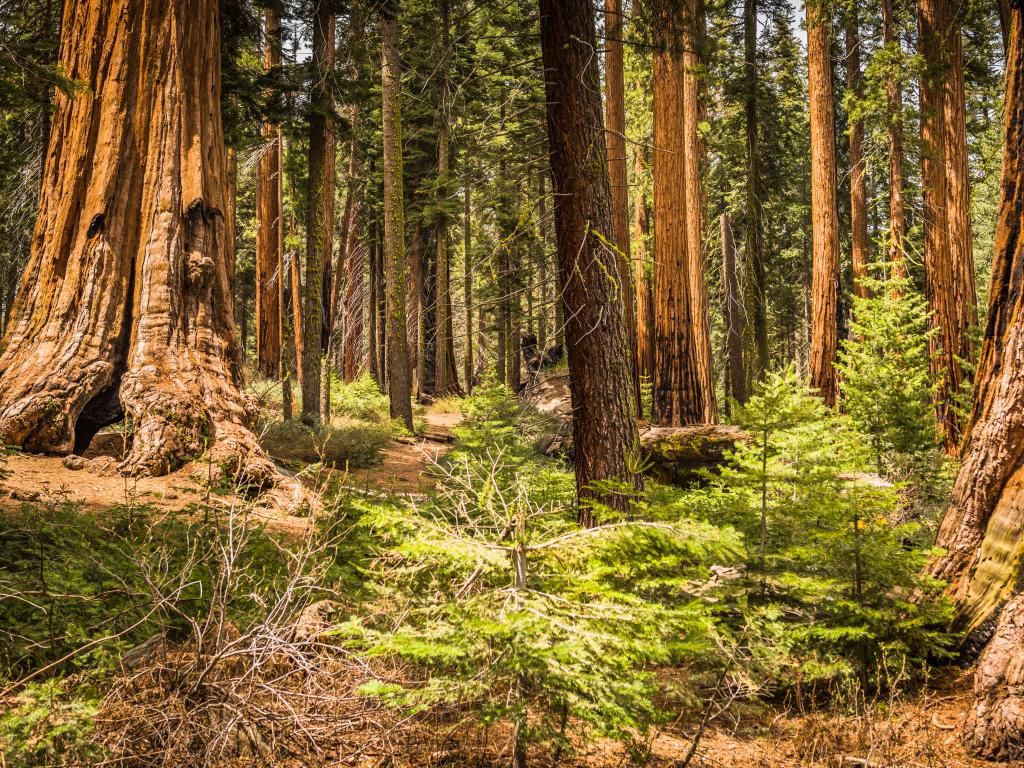 The Death Valley Route
Use the Tioga Pass Entrance as an exit as you leave Yosemite, jump on CA-120 to Mono Lake. From here, head south and drive through Inyo National Forest and past Mammoth Lakes.
During this part of the route, you can admire the views of the towering Sierra Nevada Mountains. You can take a pit stop at Lake Crowley and enjoy the natural wonders around the lake.
Continue on to the town of Lone Pine. Here, Mt Whitney, the tallest mountain in the Lower 48 will be a sight to marvel at.
After Lone Pine, continue through Death Valley National Park. You can stay overnight in the national park, and then head back en route and drive to your neon-lit destination of Las Vegas.
Best places to stop between Yosemite and Las Vegas
With so much to experience along the way on a road trip from Yosemite to Las Vegas, we recommend staying the night in one of the destinations below. This way, you'll be able to enjoy the wonderful highlights around the area.
Gateway to majestic sequoias in Tulare
Located approximately five hours into your drive along the Sequoia National Park Route, Tulare is an ideal place to take a break on this Yosemite to Las Vegas drive. Tulare is an amazing place to base yourself while exploring the breathtaking Sequoia and Kings Canyon National Parks.
These adjacent parks, with their awe-inspiring giant sequoias, deep canyons, and craggy peaks, will bring you deep into nature's wonders. Whether hiking among ancient trees or simply enjoying the panoramic views, the experience is nothing short of magical.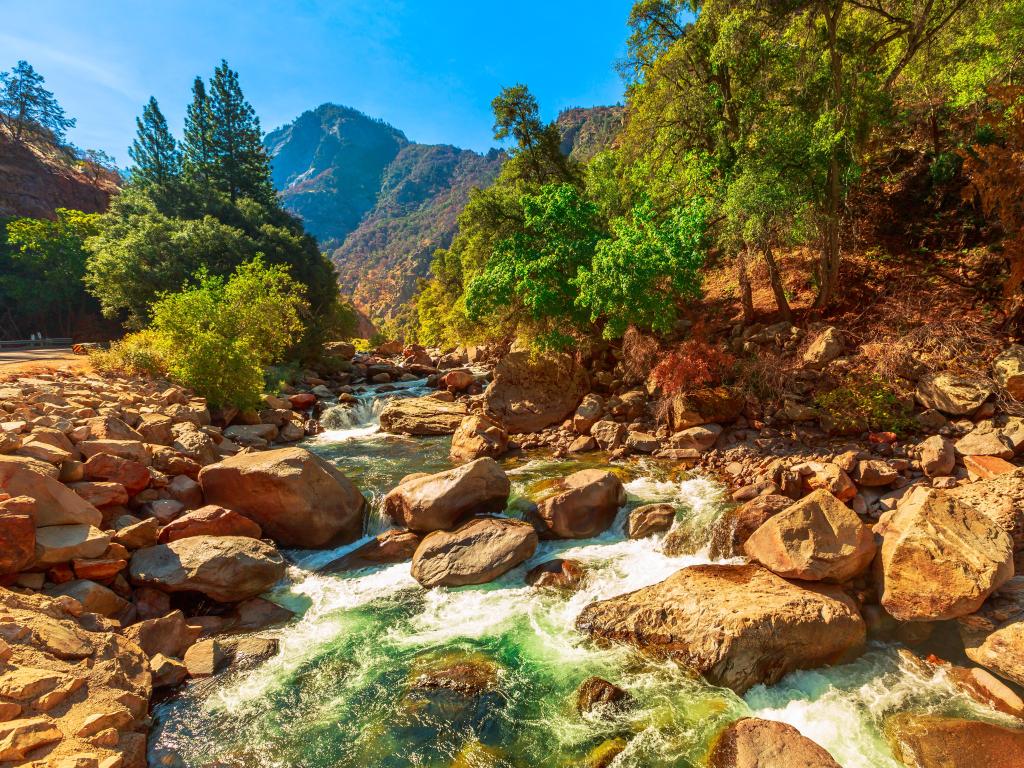 While in Tulare, don't miss a visit to the Tulare Historical Museum. This gem showcases the town's agricultural past, offering insights into its growth and transformation over the years.
If you're looking to unwind after a day of exploration, the Hillstone Inn Tulare, Ascend Hotel Collection is the perfect stay. This cozy, modern lodge boasts beautifully decorated rooms and convenient perks such as free parking.
You might want to relax and unwind after your drive, and taking a dip in the seasonal outdoor pool is the perfect way to do this! You can also keep up with your fitness regimen at the hotel's well-equipped fitness center.
For a breath of fresh air and a dose of local culture, Del Lago Park is conveniently located a little over a mile from the Hillstone Inn, perfect for a morning or evening stroll. Don't forget to enjoy the delicious breakfast offered at the inn before heading out!
Dramatic landscapes in Death Valley National Park
Approximately seven hours into your journey on the Death Valley Route, you'll arrive at the unique and arid landscape of Death Valley National Park. This national park features an array of diverse desert terrains, from the sprawling salt flats to majestic sand dunes and deep canyons.
Badwater Basin, the lowest point in North America, offers a surreal landscape of salt flats. Mesquite Flat Sand Dunes, on the other hand, will make you feel like you're in an adventure movie. As you can imagine, this national park is home to some stunning photo spots.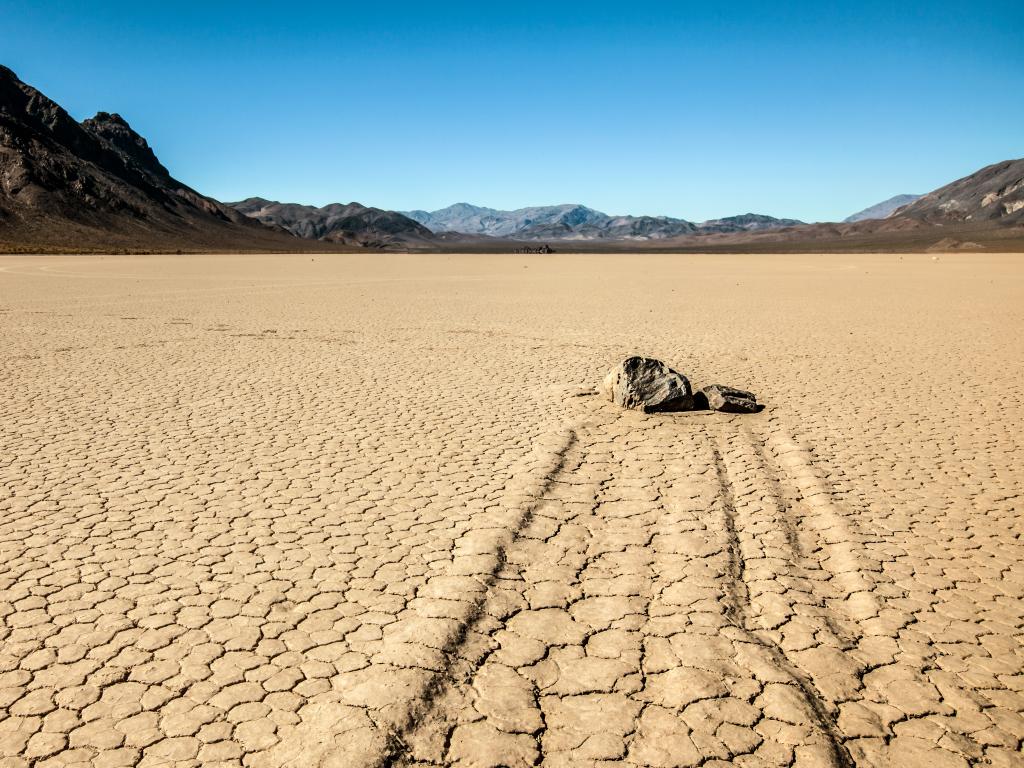 The national park holds the title of being the driest, lowest, and hottest place in the US. Yet, its usually arid conditions can occasionally be disrupted by flash floods, dramatically reshaping the landscape in their wake and rarely creating a superbloom of flowers in the spring.
After a day of exploration, there's no better place to retreat than The Inn at Death Valley. Set within the vast expanses of Death Valley National Park, this luxurious hotel is an unexpected oasis in the desert.
You can enjoy a walk in the lush gardens and admire the overall stunning atmosphere that the inn has. Why not indulge in the sauna or take a refreshing dip in the outdoor pool and treat yourself after your drive?
If you're eager to delve deeper into the mysteries of Death Valley, the Furnace Creek Visitor Center, located just a mile away from the hotel, is an excellent starting point. Here, you can gather insights about the park's history, geology, and ecology.
A little further, just under four miles from the hotel, lies Zabriskie Point – a popular vista known for its surreal landscapes and breathtaking sunrise and sunset views.
Where to stay when you reach Las Vegas
Sin City is renowned across the globe for its iconic casinos, high-energy performances, and nightlife that truly never stops. But beyond the neon lights and poker tables, the city has plenty of cultural activities to experience.
When in Vegas, visit the mesmerizing dance of waters at the Bellagio Fountain. This choreographed water performance, set against the bustling Las Vegas Strip, is something to remember.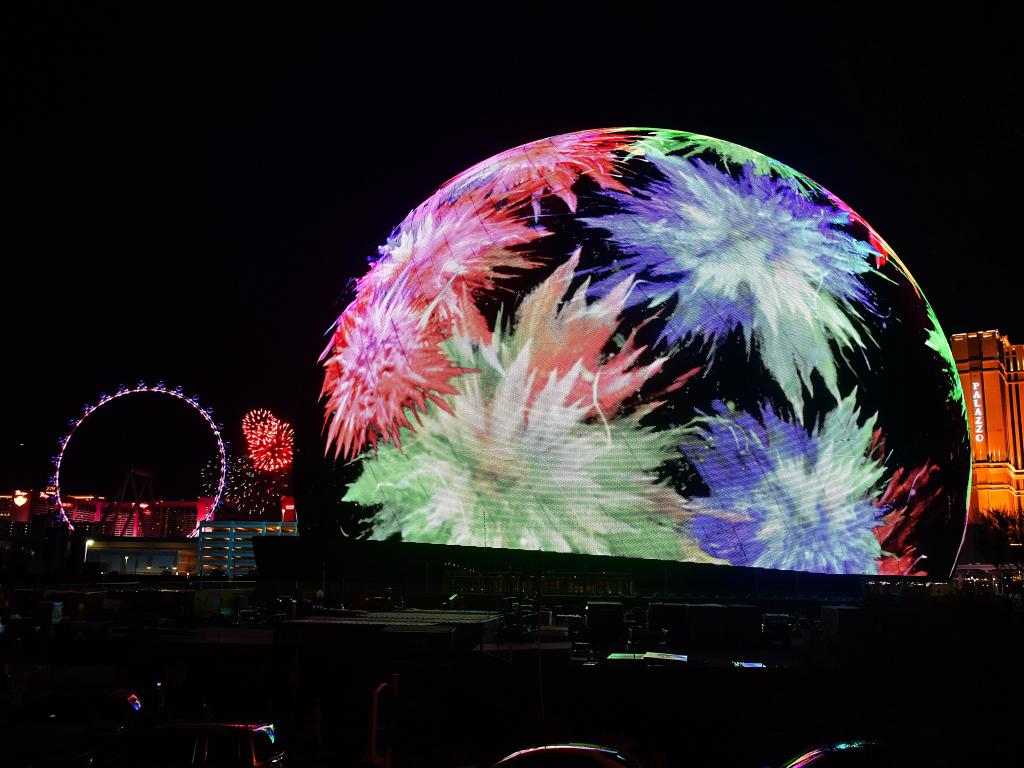 A few blocks down, the Fremont Street Experience is a nostalgic trip back in time, showcasing the historic heart of Vegas with its vibrant LED canopy and street performers.
Nestled just a stone's throw away from the pulsating energy of the Strip, Marriott's Grand Chateau offers the perfect retreat from the city's chaos. This non-gaming resort is full of relaxation yet close to the city's action.
The elegant rooms, complete with cozy seating areas, are the perfect blend of comfort and luxury. Some rooms even have panoramic vistas of the glittering Strip. If you're looking to indulge in amazing cuisine, the hotel's restaurant is highly rated.
The Sky Bar, poised against the city's skyline, is perfect for a relaxing evening drink. And when the desert sun heats up, the outdoor swimming pool is perfect for a refreshing dip. Once you can peel yourself from the hotel's luxury, you don't have to go far to experience Vegas' nightlife and casinos.
Things to see on a road trip from Yosemite to Las Vegas
This beautiful journey will take you through some of the most stunning landscapes in America. To help you plan your ultimate road trip through the mountains and deserts of California and Nevada, we've listed our top highlights below.
Sequoia National Park Route
Pioneer Yosemite History Center - Located in Yosemite, this center offers a glimpse into the past with historic buildings and exhibits showcasing early Yosemite life. You can explore authentic cabins, stagecoaches, and bridges from the park's early days.
Yosemite Mountain Sugar Pine Railroad - This vintage steam train offers scenic rides through the Sierra National Forest, providing passengers with breathtaking views and a taste of California's logging railroad history.
Lewis Creek Trail Middle Trailhead - This trail offers hikers a delightful trek through the forested Sierra, featuring cascading waterfalls and stunning vistas, ideal for nature enthusiasts and photographers alike.
Fresno Flats Historic Village and Park - Preserving the historical essence of the San Joaquin Valley, visitors can explore restored buildings from the 19th century and learn about the region's pioneering past.
Millerton Lake, California - Nestled in the Sierra Nevada foothills, Millerton Lake is a reservoir that offers recreational activities like boating, fishing, and hiking, with panoramic views of the surrounding landscape.
Fresno Art Museum - This museum is a haven for art lovers, showcasing a diverse collection ranging from contemporary pieces to pre-Columbian artifacts, reflecting Fresno's rich cultural heritage.
Kings Canyon National Park - Known for its dramatic landscapes, the park boasts deep canyons, towering mountain peaks, and lush meadows, offering visitors unparalleled scenic beauty and outdoor activities.
Tulare County Museum - Situated in Visalia, the museum houses collections that portray the rich history and culture of Tulare County, from Native American artifacts to agricultural exhibits.
Sequoia National Park - Famous for its massive sequoia trees, including the renowned General Sherman Tree, this park offers visitors a chance to walk among ancient giants and experience the grandeur of nature.
Historic Bakersfield Fox Theater - A historic entertainment venue in Bakersfield, the theater boasts ornate art deco architecture and hosts an array of performances, from music concerts to theatrical plays.
Lake Isabella - This reservoir in the Sierra Nevada mountains, a short detour from the route, is a popular spot for boating, fishing, and camping, surrounded by picturesque views and recreational trails.
Tehachapi Heritage League Museum - Chronicles the history and heritage of the Tehachapi area, offering exhibits that range from Native American artifacts to displays on the region's railroad and farming past.
Air Force Flight Test Museum - Located in Edwards AFB, this museum showcases the history of flight testing, featuring aircraft exhibits, historic artifacts, and interactive displays.
Calico Ghost Town - Once a bustling mining town in the 1880s, Calico now stands as a historic landmark, offering visitors a glimpse into California's silver mining past with its preserved buildings and mines.
Mojave National Preserve - Encompassing vast sand dunes, canyons, and mountains, this preserve is a testament to the Mojave Desert's natural beauty and is home to a diverse range of flora and fauna.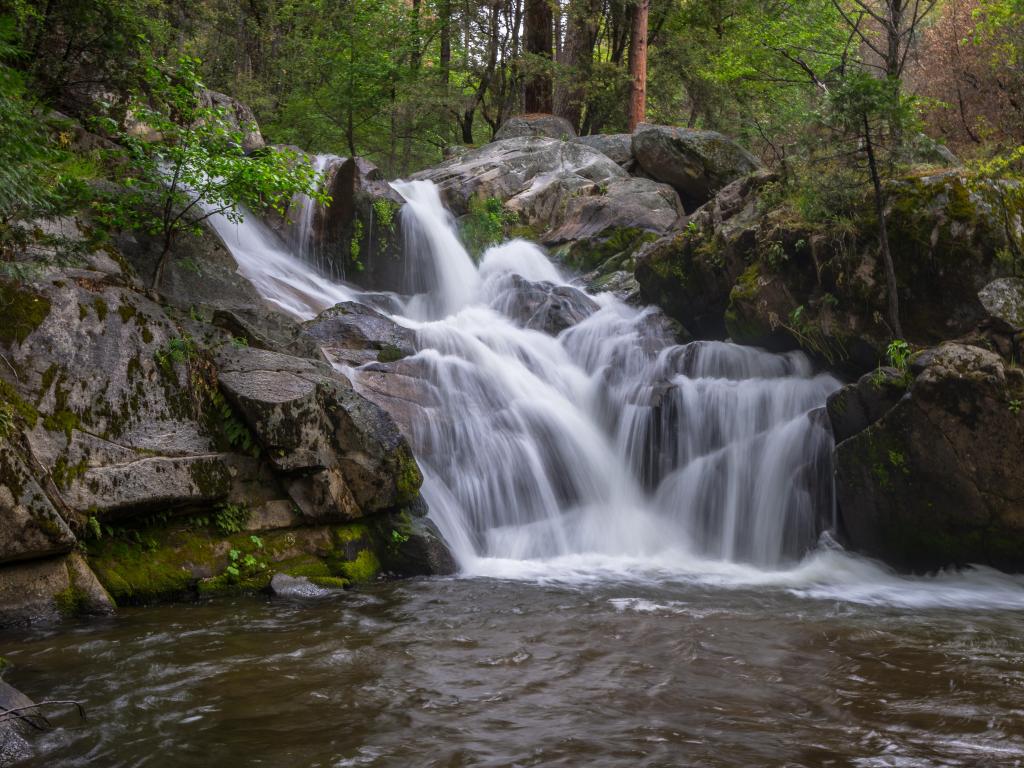 Death Valley Route
Mono Lake Vista Point - This viewpoint provides panoramic vistas of the ancient Mono Lake, renowned for its unique limestone tufa formations rising from the water.
Rush Creek Trailhead - An entry point for hikers and nature enthusiasts, this trail winds through serene forests, passing by alpine lakes and offering majestic mountain views.
Devils Postpile National Monument - This geologic wonder features impressive columnar basalt formations, a result of volcanic activity, and is also home to the stunning Rainbow Falls.
Crowley Lake, California - A picturesque reservoir in the Eastern Sierra, it's popular for trout fishing, water sports, and camping, set against a backdrop of rugged mountain peaks.
White Mountain Peak - One of California's highest peaks, it offers trekkers challenging hikes and unmatched panoramic views of the surrounding Sierra landscape.
Ancient Bristlecone Pine Forest - Home to some of the world's oldest living trees, this forest is a testament to resilience, with gnarled pines that have withstood the test of time.
Inyo National Forest - A vast expanse of wilderness that encompasses mountains, lakes, and forests, offering a plethora of outdoor activities from hiking to skiing.
Manzanar National Historic Site - A former WWII internment camp, this site stands as a somber reminder of a challenging chapter in American history, educating visitors through its well-preserved structures and exhibits.
Museum of Western Film History - Celebrating the region's cinematic contributions, this museum houses memorabilia, posters, and exhibits from iconic Western films shot in the area.
Olancha Sculpture Garden - A detour from the route, this is an outdoor art oasis in the desert, featuring eclectic and thought-provoking sculptures set against the stark beauty of the surrounding landscape.
Death Valley National Park - One of the hottest places on Earth, this vast desert landscape boasts sand dunes, salt flats, and rugged mountains, offering stark beauty and diverse geology.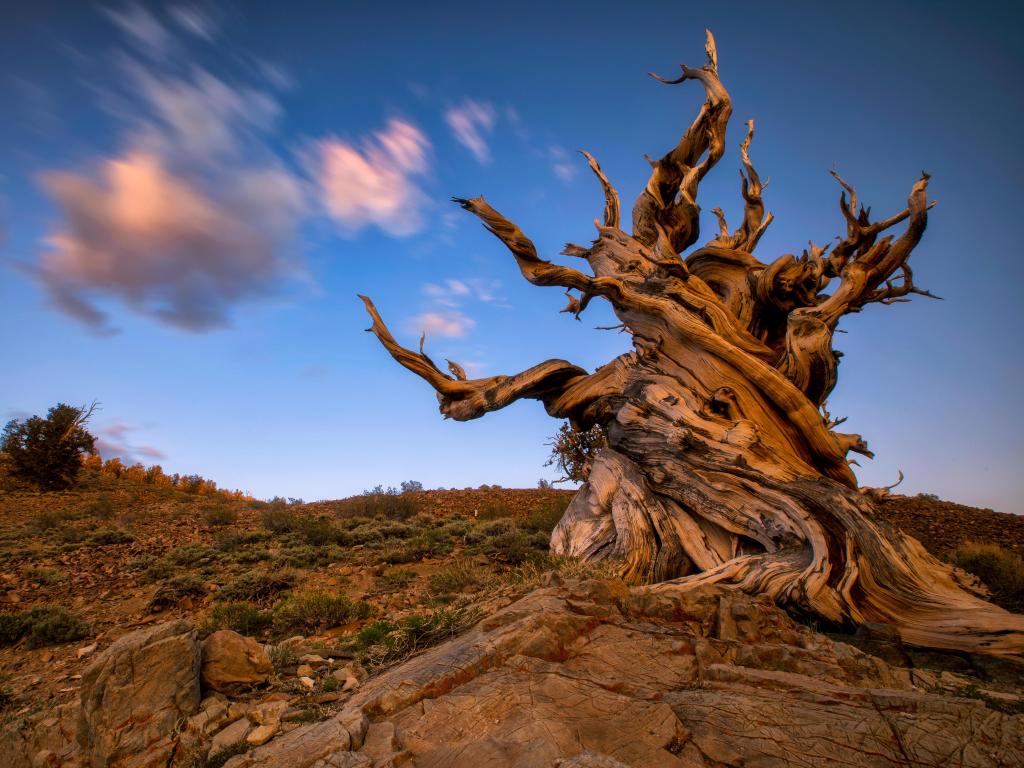 Best time to go on a road trip from Yosemite to Las Vegas
Setting out on a road trip from Yosemite to Las Vegas is an all-year adventure. Yet, depending on the season, you'll get different types of adventures and experiences.
Venturing through Sequoia National Park in the winter months can be a magical experience with snow-capped mountains and plenty of water in the rivers. However, it's essential to watch out for snow storms.
With average daytime temperatures dipping to 40 degrees Fahrenheit in the region, it can be chilly, especially in higher altitudes. The beauty of Sequoia and Kings Canyon National Parks is accessible 365 days a year, but it's always wise to check the national parks' websites for any weather warnings.
If you are traveling from Yosemite to Las Vegas in winter, keep in mind that Tioga Pass Entrance will be closed and you will need to use another exit to leave Yosemite National Park.
With temperatures ranging from a comfortable 60 to 85 degrees Fahrenheit in spring and fall, these times offer the best temperatures to enjoy the action.
Spring is a lovely time to make the drive, with warmer weather and the chance to see the famous California superbloom, especially in Death Valley. If you're traveling in April, don't miss the allure of the Tulare County Renaissance Fair.
Summer is also a great time to travel, but be aware of crowded roads and other travelers with the same idea. Summer temperatures can get well into the 90s Fahrenheit or higher, so be prepared with plenty of water.
There are plenty of events to attend this season, including the Dark Sky Festival and the Mammoth Festival of Beers & Bluesapalooza in August.
Other must-see summer festivals include the World Series of Poker between May and July. September brings the vibrant energy of the Life is Beautiful Festival.