18 Best Lakes Near Fresno
Fresno is the cultural hub of the Central Valley. Beyond a diverse downtown, you can find some places of outstanding natural beauty near this buzzing city. When the temperatures start to rise, everyone in Fresno has their go-to lakes to cool down and enjoy time with friends and family.
On our list of the best lakes near Fresno you will discover nearby lakes for recreation from picnics to speed boating, weekend escapes in the Sierra where the water is as clear as the sky, and some of the choicest fishing spots west of the Rockies.
Read on below to find the lake trip which speaks to you. As usual, we've laid out the easiest route, the main activities each lake is known for, and some of our personal lake highlights. Regardless of how you prefer to live it up at a lake, there's a lake for you on this list!
1. Lost Lake
Please note that even though San Joaquin River is currently open for recreational activities, the parks along the rivers are closed at the moment due to high levels of water and the need for maintenance.
30 minutes from Fresno (20 miles)
Why you should visit: The rushing waters of the San Joaquin River irrigate this fertile stretch of land and feed the pond-sized Lost Lake. Located just a few miles downstream from the Friant Dam and Millerton Lake, this refreshing area is conveniently close to Fresno, making it perfect for a spur-of-the-moment trip.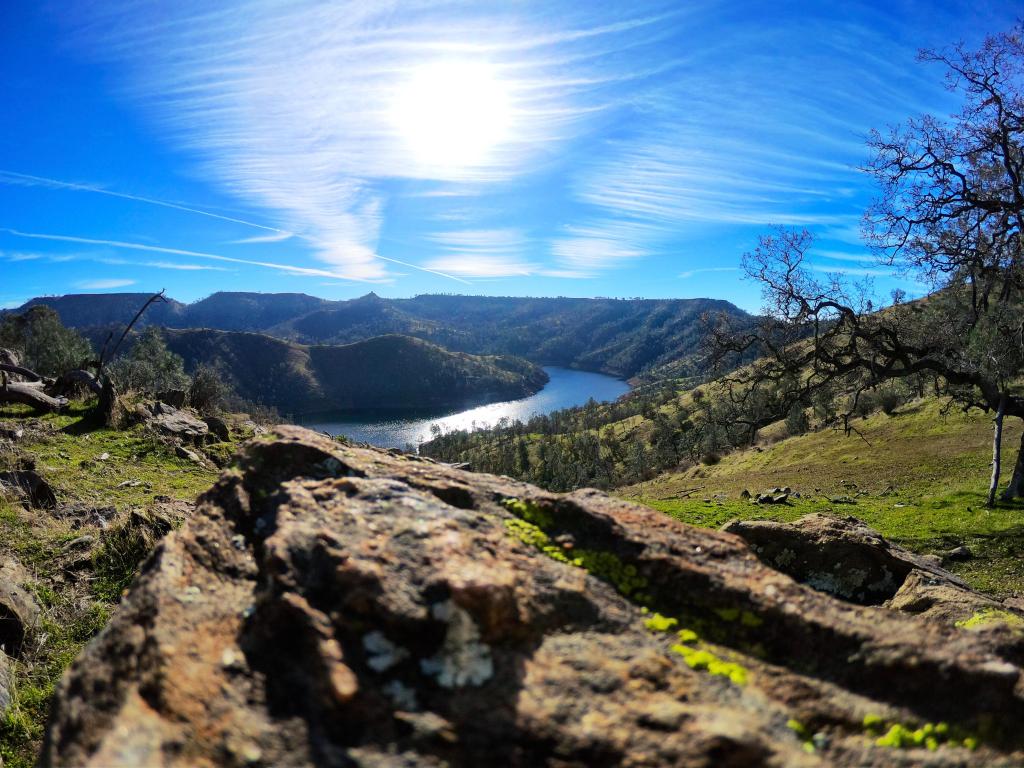 Main activities you can do there:
Fly Fishing
Swimming
Camping
Wine Tasting
How to get there: From Fresno, start driving north along CA Route 41. When you're at the edge of the greater Fresno area, exit to the right onto North Friant Road, which takes you straight to Lost Lake.
Our highlights: The Lost Lake Recreation Area is a go-to place for many Fresno families and couples looking for a day in refreshing natural surroundings. With a designated nature study area, this is also a fun place for budding biologists.
There are picnic areas as well as developed campsites, some with RV hookups, on the long stretch of land bordering the river in case you are interested in an extended stay here.
The shallow, tree-lined stream of the San Joaquin River is ideal for fly fishing for trout. The slightly deeper waters of Lost Lake are home to northern pike, largemouth bass, and white crappie. Popular fishing times are in the hours before sunrise and around sunset.
Just South of Lost Lake along N Friant Road sits the charming Solitary Cellars Wine Company. Consisting of a large, modern tasting room with ample arches and set in a surprisingly lush garden, an afternoon here sampling their Chardonnay and Old Vine Zinfandel will be time well spent.
Sometimes they even have live music on Sundays, making this a truly irresistible stop.
Opening hours: During the summer the Lost Lake Recreation Area is open from 7am to 10p, and in the winter, from October through March, the park's hours are from 7am to 7pm.
Other things to know: There's a $5 entrance fee per vehicle or you can pay $40 for a year-long pass (Calculated at the time of writing).
2. Millerton Lake
30 minutes from Fresno (22 miles)
Why you should visit: Also a stone's throw from Fresno and a few miles from Lost Lake, Millerton Lake is large enough for boating, watersports, and swimming without ever feeling crowded.
Surrounded by rolling hills, sparse oak trees, and boulders, there are plenty of adventures on land to be had during the cooler months.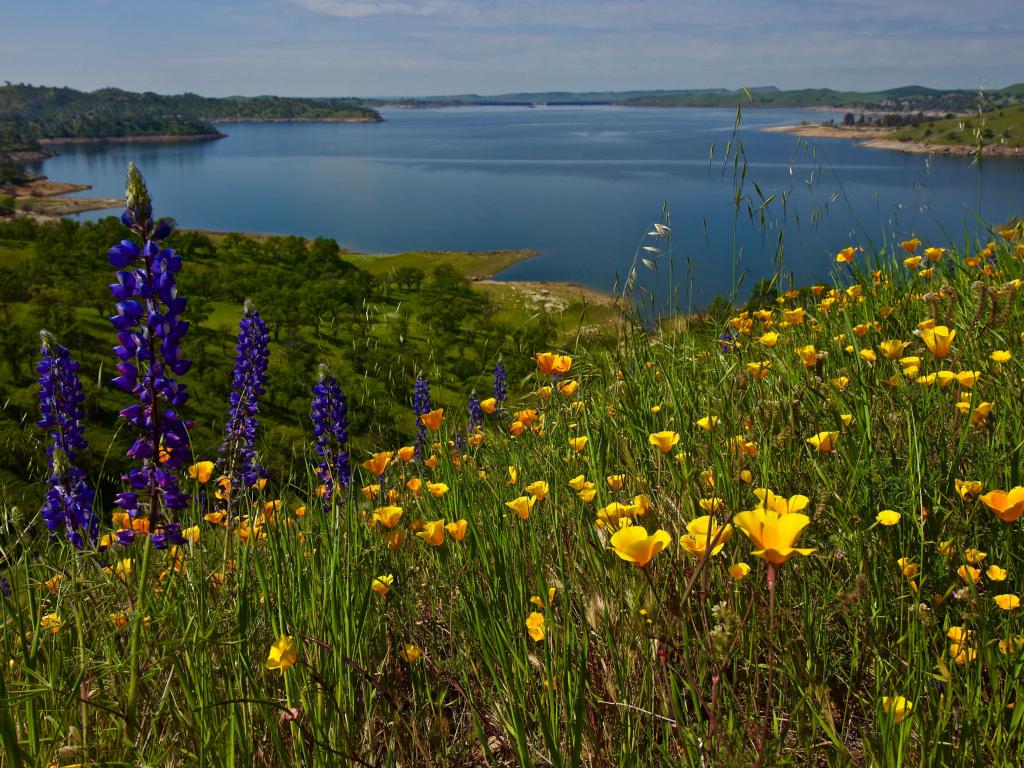 Main activities you can do there:
Swimming
Fishing
Boating
Hiking
Camping
Casino
How to get there: Follow the same route along CA-41 North and N Friant Road but drive past Lost Lake and the town of Friant on the edge of Millerton Lake. Take CA Route 145 to the recreation area and campgrounds.
Our highlights: Millerton Lake State Recreation Area is a great place to start your exploration of the closest lake to Fresno. There's a surprising variety of activities here, like fishing, swimming, hiking, camping, and barbequing.
There are beaches and rocks near the water for people young at heart who still like to make a big splash. The surface water of the lake can reach 80 degrees Fahrenheit in the summer.
Across the lake at Millerton Marina, there's an extensive dock and boat launch point. Whether you have your own boat or jet ski or plan on renting, there's enough space on the water to really let loose and try out some new tricks or find a spot where the rainbow trout are biting.
Due to changing water levels, check ahead of your visit to make sure the dock is in use.
When the weather isn't too hot, this is a wonderful place for hiking with moderate elevation gain and pretty lake views. On the north side of the lake, more ambitious hikers can try Buzzard's Roost Trail. On the other side of the lake, Pincushion Peak Trail is popular and especially inviting in the early spring when the hills briefly flush green.
For those high rollers, after a day of enjoying everything, Millerton Lake has to offer you can try your luck at Table Mountain Casino. It's a nice adult perk near the lake with hundreds of slot machines and an extensive buffet.
Bonus: At the bottom of Millerton Lake are the remains of a Gold Rush Era town. Though the town was largely abandoned by the time the Friant Dan was built in the late 1930s, the lake kept the name of the town – Millerton.
Opening hours: The Millerton Lake State Recreation Area is open from 6am to 10pm between April and September with reduced hours in the winter. Some of the campgrounds are also open year-round.
3. Hensley Lake
43 minutes from Fresno (40 miles)
Why you should visit: This isolated lake in the foothills of the Sierra Nevada is only 50 miles from the Wawona area of Yosemite, but you could hardly believe it. With few crowds and low entrance fees, Hensley Lake is a hidden gem less than an hour's drive from Fresno.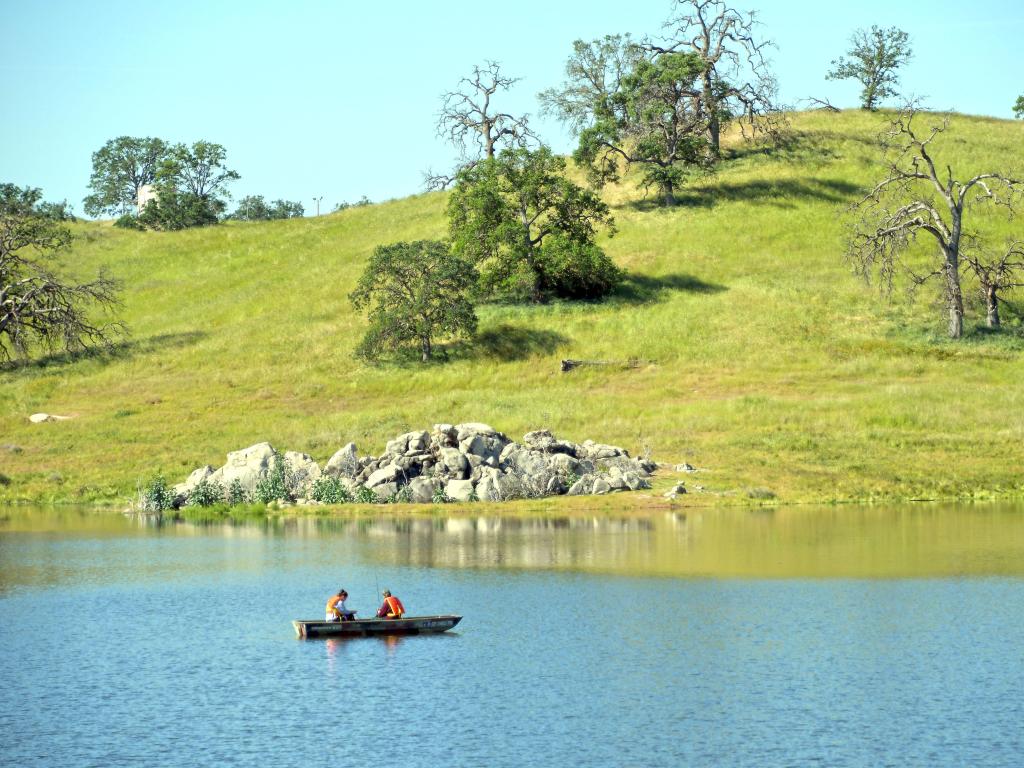 Main activities you can do there:
Swimming
Water skiing
Fishing
Hiking
Horseback riding
Camping
How to get there: Once again you'll start driving north on CA-41 for about 20 miles, then you'll take a left onto CA Route 145 after Rolling Hills. Before you reach River Roads Estates, take a right onto Country Road 33 which will link up with Road 400 which will take you to Hensley Lake.
Our highlights: Anyone who knows this part of California knows that the summers can sizzle. At Hensley Lake, you could come to hike the hills in the morning to get your cardio in and then jump in the water to cool off as the temperatures climb. Buck Ridge Trail is one of the most popular hikes here.
There's a public boat launch at the edge of the Hensley Lake Recreation Area. There aren't any nearby rental places so either plan on renting in Fresno or convincing a friend with a boat to come along on your trip.
Hensley has something in store for the anglers as well. In the many coves along the edge of the lake, you can catch largemouth black bass, crappie, bluegill and catfish. In the winter the US Army Corp of Engineers, which manages the area, also supplies the lake with rainbow trout.
In case you are enchanted with the rolling Sierra hills and want to spend a bit more time here, consider pitching a tent at Hidden View Campground. As the name suggests, the campsites here offer serene views of the lake and surrounding area which are particularly eye-catching around sunrise and sunset.
Bonus: The earthen dam which creates Hensley Lake is called the Hidden Dam, and when you see it, or rather don't see it, you'll know why.
Opening hours: The day-use area and campground are open year-round. The gates open at 6am year-round. From mid-February through September the gates close at 10 p.m. and during the low season they close at 8pm.
4. Pine Flat Lake
45 minutes from Fresno (37 miles)
Why you should visit: This expansive lake has many twists and turns through a canyon formed by the Kings River as it makes its way through the Sierra. Especially when the water levels are high after the winter rain, the lake's surface area can reach almost 6,000 acres making it a fun place to explore by boat.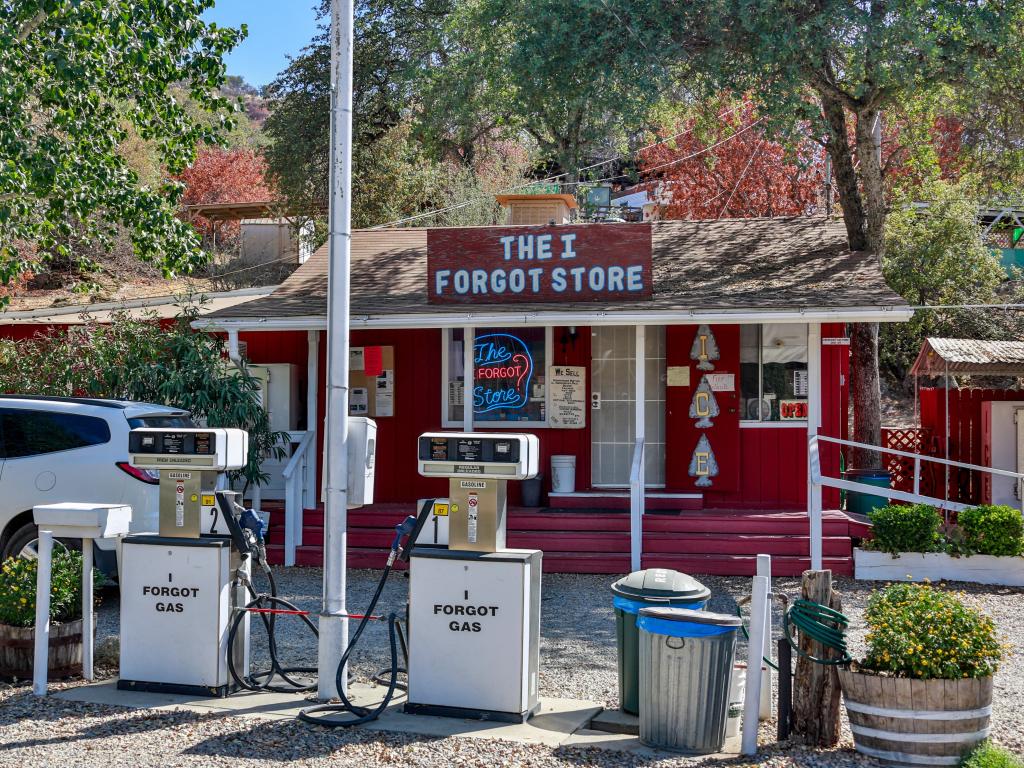 Main activities you can do there:
Boating
Swimming
Camping
Hiking
Fishing
How to get there: From Fresno, take CA Route 180 East towards Minkler, where you'll take a left onto N Piedra Road. Once you reach the small town of Piedra, take E Trimmer Springs Road to Pine Flat Lake.
Our highlights: For leisure boating and jet skiing, head to the Pine Flat Lake Marina. The extensive facilities include a well-stocked sort, overnight accommodation, and boat rentals. With the 360-degree Sierra views you can get from the lake, boating is one of the most popular activities here.
Especially in the spring and early summer, its coves are popular places to fish for bass, trout, bluegill, and even kokanee salmon. Some record catches here include a 10-pound spotted bass and 22-pound largemouth bass.
In addition to the hours of fun and refreshment the lake offers, there are wonderful places to hike dotted around the lake. The main trail of the Edison Point Wildlife Area starts out wide and slowly narrows as it traverses some hills to the lakeside.
In the spring perky wildflowers dot the hillsides and at the end of the trail there's a bench for you to sit peacefully and savor the vista.
There are several campgrounds on the lake shore. Two that you can book ahead of time are Island Park and Trimmer Campground, both on the north side of the lake.
The Island Park campground has a boat launch in case you bring your own vessel. Keep in mind that these sites can fill up quickly on long weekends and during the summer, so be sure to make your reservations early.
If you're staying for a few days and have more time to explore the surrounding area, the North Riverside Access Park is a pretty area along the Kings River, downstream from the dam. In addition to a change of scenery with views of the dam and places to wade in the water, it can also be a good place for trout fishing.
Bonus: If you're lucky you might spot a bobcat while you hike in the wildlife area or on a hillside from afar as you cruise the lake.
Opening hours: Most of the public areas around the lake are open from 6am to 10pm The local park rangers take the quiet hours after 10 p.m. seriously, so start the party early if you've brought some instruments or a speaker along.
5. Shaver Lake
1 hour from Fresno (50 miles)
Why you should visit: Set in the Sierra yet surrounded by amenities, marinas, and rental places, Shaver Lake is a lake that is equally scenic and exciting.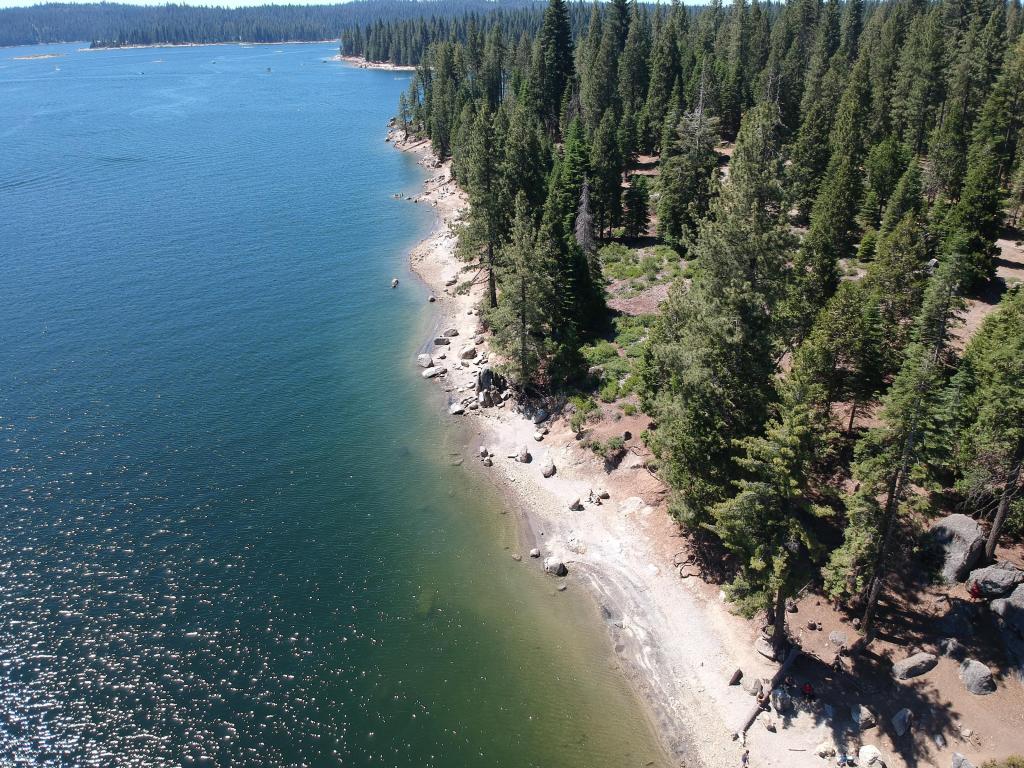 Main activities you can do there:
Watersports
Camping
Hiking
Horseback riding
Museum
Fishing
How to get there: From Fresno, take CA-41 N to Auberry Rd in Gordon. This links up with CA Route 168 which will take you the rest of the way to Shaver Lake.
Our highlights: It's hard not to have fun on a jet ski, but being surrounded by dense fir forests and the rounded mountains of the lower Sierra adds another layer of delight.
There are two major privately-run marinas on Shaver Lake: the Shaver Lake Marina and Sierra Marina. Both are full-service marinas and offer a wide variety of rentals from pontoons and fishing boats to kayaks and wakeboards.
There's some decent fishing in the rocky coves of Shaver Lake. Common catches include smallmouth bass, brown and rainbow trout, and Kokanee salmon. Spring and fall are good seasons to catch all kinds of fish and in the summer, anglers concentrate on trout.
At Shaver Stable you can channel your inner cowboy or cowgirl and saddle up to explore the trails surrounding the lake on horseback. The friendly and professional staff lead standard and specialty rides that last from 1 to 3 hours. You need to book your ride at least 24 hours ahead of time.
The largest and most popular campground on the edge of Shaver Lake is Camp Edison, with 253 campsites. All of them are within walking distance of the lake and there's a beautiful sandy beach with a volleyball court here which is perfect for lounging and swimming.
A nearby alternative with similar amenities as well as a small general store is Dorabelle Campground.
A labor of love founded in 1991 by the Central Sierra Historical Society the Museum of the Sierra packs a lot of industrial, natural, and native history into its 19-acre site, with both indoor and outdoor exhibits.
While it is definitely a family-friendly museum, even for a solo adult or couple, there's a lot to take in here, including an operational hydroelectric powerhouse and a surprisingly interesting replica log flume.
Bonus: Shaver Lake was the filming location of the HBO Max kids competition show "Karma."
Opening hours: Camp Edison is open year-round while Dorabelle Campground is open from mid-May to Mid-October.
Both marinas are open between 8:00am - 6:00pm from mid-April to mid-October.
6. Bass Lake
1 hour from Fresno (51 miles)
Why you should visit: Deemed one of "The West's Best Lakes" by Sunset Magazine, it is no surprise that the pine-lined shores are attracting a steady stream of vacationers year-round.
It is only 14 miles from the entrance to Yosemite National Park, making it a more accessible alternative or a possible pit stop on a Yosemite trip.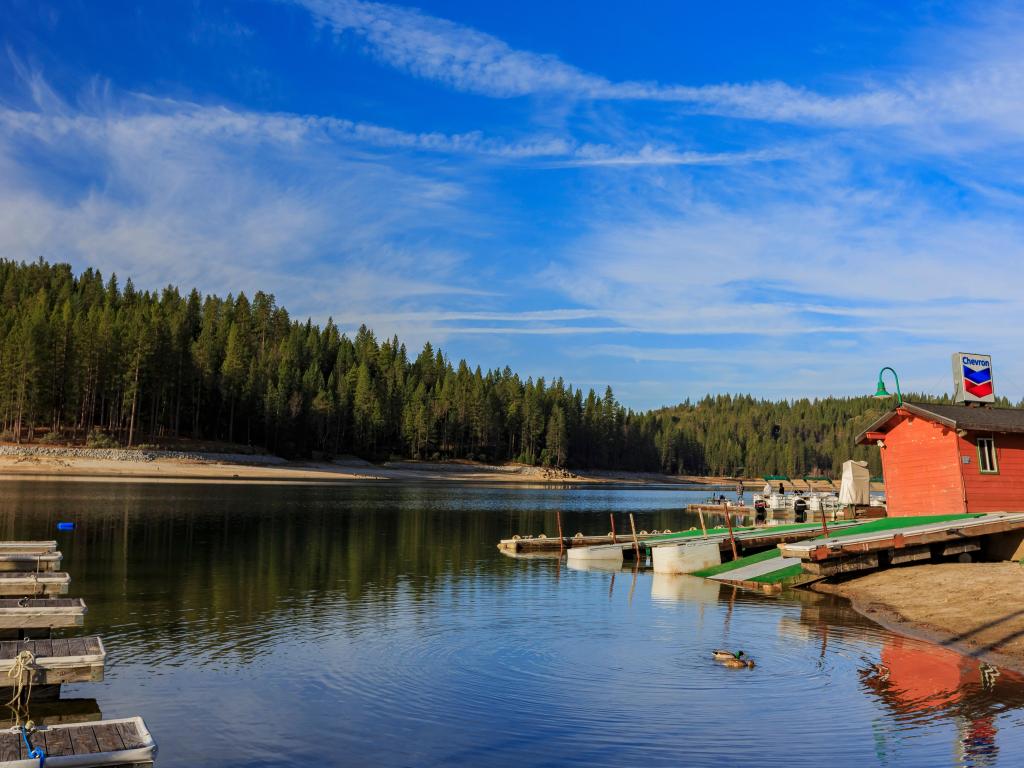 Main activities you can do there:
Fishing
Hiking
Swimming
Biking
Canoeing
How to get there: Once again head north on CA-41 and then take North Fork Road through the rural town of O'Neals. After 14 miles or so, take a left after the Bass Fork Mini Mart onto Road 221 and shortly after taking another left onto Teaford Saddle Road. Finally, take a right onto Crane Valley Road to reach Bass Lake.
Our highlights: In the summers, the waters of Bass Lake can reach over 70 degrees Fahrenheit, making them equal measures refreshing and inviting. Around the lake you'll find protected areas for swimming at Recreation Point, Pines Resort, Forks Cove, and Falls Beach.
There are three different marinas around the lake where you can dock your own boat or rent one. Tugging an inner tube or wakeboard behind a pontoon is an exhilarating way to spend time on the water. If you'd like a more low-key mode of lake exploration, consider a tranquil canoe or kayak trip along the dozens of tree-lines coves.
Hiking is another way to take in the stunning Sierra surroundings of Bass Lake. There's a wonderfully curated trail that details the intertwined lives of the Mono Native Americans and the surrounding ecosystem called the Way-of-the-Mono Trail.
If you're up for a more ambitious hike, take the Willow Creek Trail to Angel Falls and marvel at the graceful cascades carved into pure granite.
At Bass Lake there's a whole range of accommodation on offer. Like the other lakes on this list, there are developed campgrounds, Forks and Wishon, around Bass Lake, but here you can also opt to pamper yourself at a three-star resort.
Enjoy a delicious meal with a perfect wine pairing on the water without worrying about pitching a tent before dark.
Bonus: The dam which formed Bass Lake was built in 1868 and this body of water is also known as Crane Valley Reservoir.
Opening hours: Being a popular lake for anglers, Bass Lake is open for fishing year-round. Several resorts are also open year-round and each season offers its perks, like farmers markets and concerts in the summer and holiday decorations in the winter.
Campgrounds are only open seasonally from 5 April to 9 September and sites can be booked ahead of time.
7. San Luis Reservoir
1 hour 25 minutes from Fresno (86 miles)
Why you should visit: San Luis Reservoir is located in the west of the San Joaquin Valley and surrounded by rolling, golden hills. It's the fifth largest reservoir in California with a surface area of 12,700 acres and a maximum depth of 270 feet, making it a prime location for fishing and boating.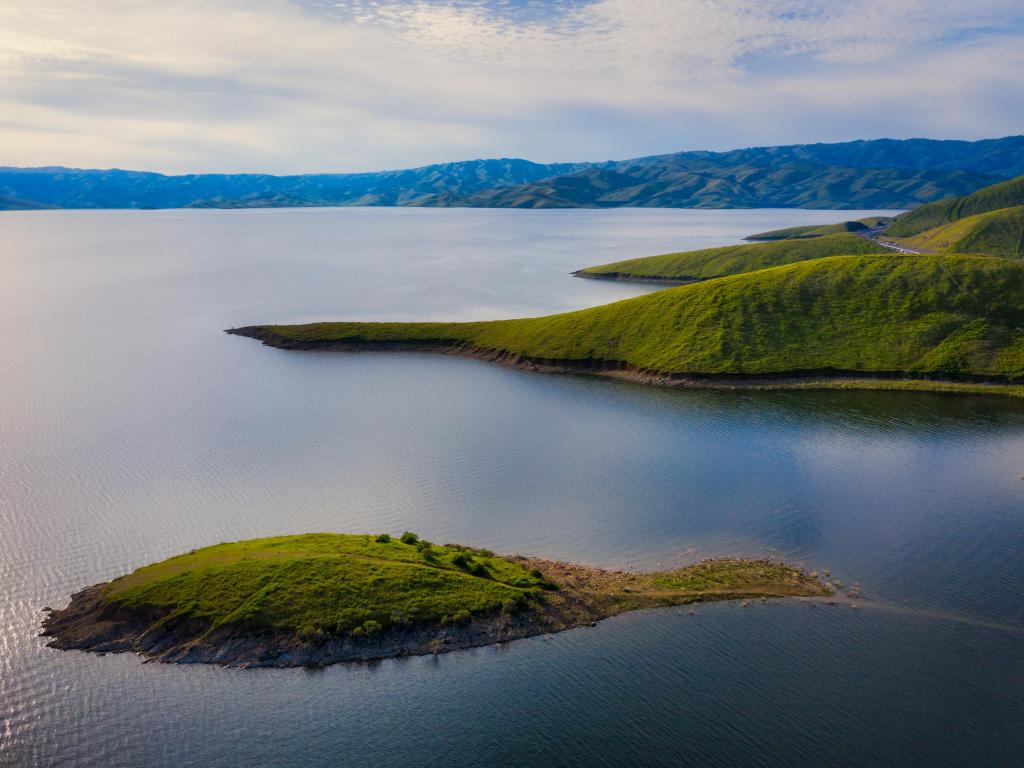 Main activities you can do there:
Fishing
Swimming
Boating
Camping
How to get there: Take CA Route 99 North from Fresno to Fairmead, where you'll hop on CA Route 152, which becomes CA Route 33 after a few miles. Continue driving through Los Banos and over Interstate 5 (I-5) until you reach the San Luis Reservoir State Recreation Area.
Our highlights: Whether for fishing or just general recreation, many people enjoy boating on San Luis Reservoir. There are two boat launch points on the reservoir, one just off of CA-152 in the State Recreation Area and the other on the western side of the lake at Dinosaur Point.
On the O'Neill Forebay, across CA-152 from the San Luis Reservoir, there's also a boat launch point at San Luis Creek.
Honker Bay, on the northwest of the reservoir, is regarded as one of the best places to fish, particularly in the spring when water levels are high. In the spring, this is a great place to fish for largemouth and striped bass.
Later in the season as the weather warms, crappies and catfish are common catches. During the temperate winter months, anglers come here for trout and the occasional salmon.
Given its central location, many families and groups of friends come here to camp on the weekends. The beloved Basalt Campground within the State Recreation Area has been closed since 2022 due to a Dam Safety Project.
There's another developed campground on the northern end of O'Neill Forebay. The San Luis Creek Campground has water and electric hook-ups for RVs and several campsites are right on the water with easy places to launch kayaks and canoes.
There's also a primitive campground along the O'Neil Forebay, with drinking water and limited bathroom facilities. This campground might be a better option if you want a quieter location without electricity.
Bonus: Just a few miles from the lake is a Scandinavian treat that has been delighting road trippers between northern and southern California for almost 100 years. Andersen's Pea Soup is a Danish-American old-school diner in Santa Nella along I-­5.
If you have somehow managed to never eat here, consider stopping for a meal on your way to or from San Luis Reservoir.
Opening hours: San Luis Reservoir State Recreation Area is open from 6am to sunset year-round.
Boating hours on the lake are also from 6am to sunset.
8. Hume Lake
1 hour 30 minutes from Fresno (66 miles)
Why you should visit: Neighboring Kings Canyon and Sequoia National Parks, Hume Lake has postcard-perfect surroundings. Though it is a relatively small lake, there's no shortage of things to do once you get here and there's a lively vibe during the peak summer months.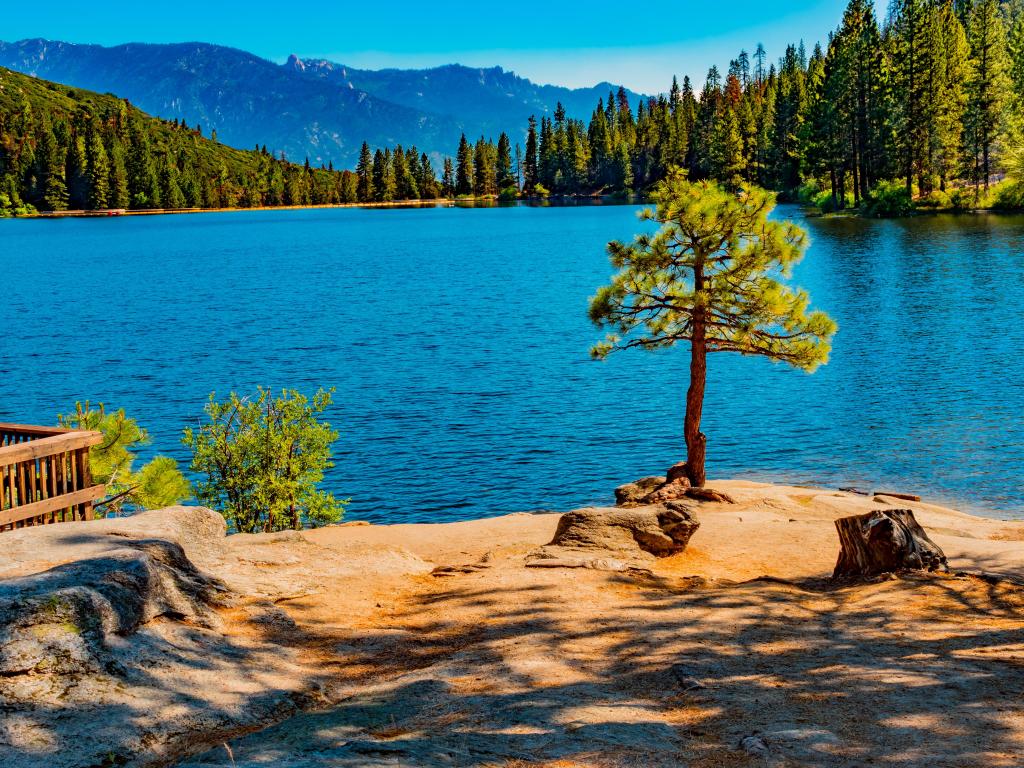 Main activities you can do there:
Swimming
Hiking
Camping
Kayaking and Canoeing
Fishing
Sequoias
How to get there: Follow CA Route 180 East for the majority of the route. Once you pass Grant Grove Village, look out for Hume Lake Road on your right. This will take you the last few miles to the lake.
Our highlights: On your way to Hume Lake, take the time to stop by Grant Grove within Kings Canyon National Park. Here you can walk among some of the most majestic trees on the planet, giant sequoias. This grove includes the General Grant Tree, the second-largest tree in the world by volume.
Once you arrive at Hume Lake, you'll instantly be struck by its charm that makes it seem right out of a fairy tale. One of the best trails to admire the lake from all angles is the Hume Lake Trail.
This 2.8-mile loop trail takes you through a breathtaking natural environment, complete with wildflowers and of course unparalleled lake views.
The most popular place for swimming is the small beach at Sandy Cove area of Hume Lake. The water here is warmer than in other glacier fed lakes in the region, making it perfect for swimming on a hot day. Sometimes it is a little too popular, as parking at Sandy Cove can be a bit challenging in the summer.
Motorized boats are not allowed on Hume Lake, which makes it extra peaceful once you get away from the parking lots and main day-use areas. In case you're itching to get out on the water, kayaks, stand-up paddle boards, and row boats are all allowed and make for a superb way to take in the gorgeous surroundings.
Hume Lake Campground is surrounded by Jeffrey pines and sequoias on one side and the shimmering waters of the lake on the other, giving every campsite wonderful views. The campground is well-maintained with clean bathrooms, so be sure to make your online reservations as early as possible to get a campsite here.
Bonus: At the turn of the 20th century, this area of the Sierra Nevada was the world's largest sequoia logging operation. In 1908, a creek was dammed to create Hume Lake which was originally a holding pond for logs until the 1930s and 40s when the lake was redeveloped for general recreation.
Opening hours: Hume Lake Campground is open from mid-May to mid-September.
Other things to know: Be aware that while Hume Lake is not technically part of Kings Canyon National Park, the route on CA-180 passes the Big Stump entrance station.
You will have to pay the $35 vehicle entrance fee if you do not have an annual pass or otherwise qualify for a discount. The park is open 24 hours a day, 365 days a year.
There's also a large kids' camp on Hume Lake during certain weeks in the summer. Aim for a fall or spring trip if you'd prefer a quieter experience here.
9. Huntington Lake
1 hours 40 minutes from Fresno (66 miles)
Why you should visit: Perched just under 7,000 feet above sea level, Huntington Lake is the first on this list to draw you into the higher reaches of the Sierra Nevada.
Surrounded by a dense forest of firs and pines and stocked with thousands of fish each year, this is an idyllic spot to spend the morning casting a line and waiting for the big one to bite.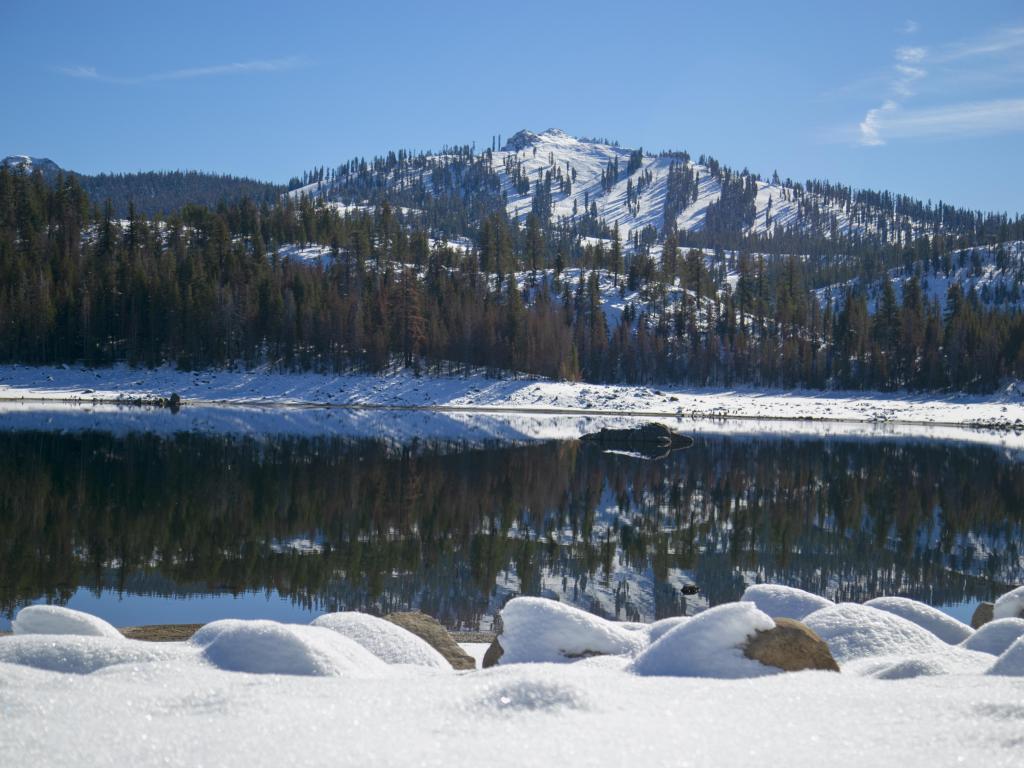 Main activities you can do there:
Boating
Fishing
Camping
Hiking
Waterfalls
How to get there: Huntington Lake is essentially behind Shaver Lake with regard to Fresno. Take CA-168 all the way past Shaver Lake then continue going straight on Huntington Lake Road as CA-168 veers to the right and take this all the way to the lake
Our highlights: Whether to fish or simply get out on the water, you will find boat access to the lake at the public boat ramp between College and Deer Creek Campgrounds.
Anglers can look forward to catching German brown trout, rainbow trout, and kokanee salmon. The latter two are restocked annually. On the northern shore of the lake, where creeks make their way in, fly fishing and angling from the shore can also be fruitful.
With such stunning natural surroundings, it is no surprise that camping is one of the most popular things to do around Huntington Lake.
There's a wide variety of campgrounds including Rancheria, College, Bear Creek, Catavee, and Lower Billy Creek. Deer Creek Campground is right on the water, which means it is in high demand during the warmer months.
A little ways from the lake there are some irresistible hiking spots. From the Indian Pools Trailhead, you can follow the Big Creek to the remote Ferda Falls. For a more established trail, you can hike the National Recreation Trail from Bear Butte Road to the gushing, 150-foot-high Rancheria Falls.
Bonus: Every summer, usually in July, you can witness the fanfare and great skill on display at the High Sierra Regatta, a boat race held on Huntington Lake. The lake really comes alive with the multi-colored sails drifting across its gentle waves.
Opening hours: Local fishermen note that the earlier you can get out on the lake, the better, and suggest making your trip before 10 a.m.
Most of the campgrounds are open from mid-May to mid-September.
Other things to know: While you can't camp in the winter, there's a ski area and several resorts near the lake in case you wanted to make a winter trip.
10. Don Pedro Reservoir
1 hour 50 minutes from Fresno (96 miles)
Why you should visit: Each spring as the snow melts, Don Pedro Reservoir in the Sierra foothills can swell to 13,000 acres, making it a fantastic place to explore by boat or rent a jet ski for an adrenaline-fueled day on the lake.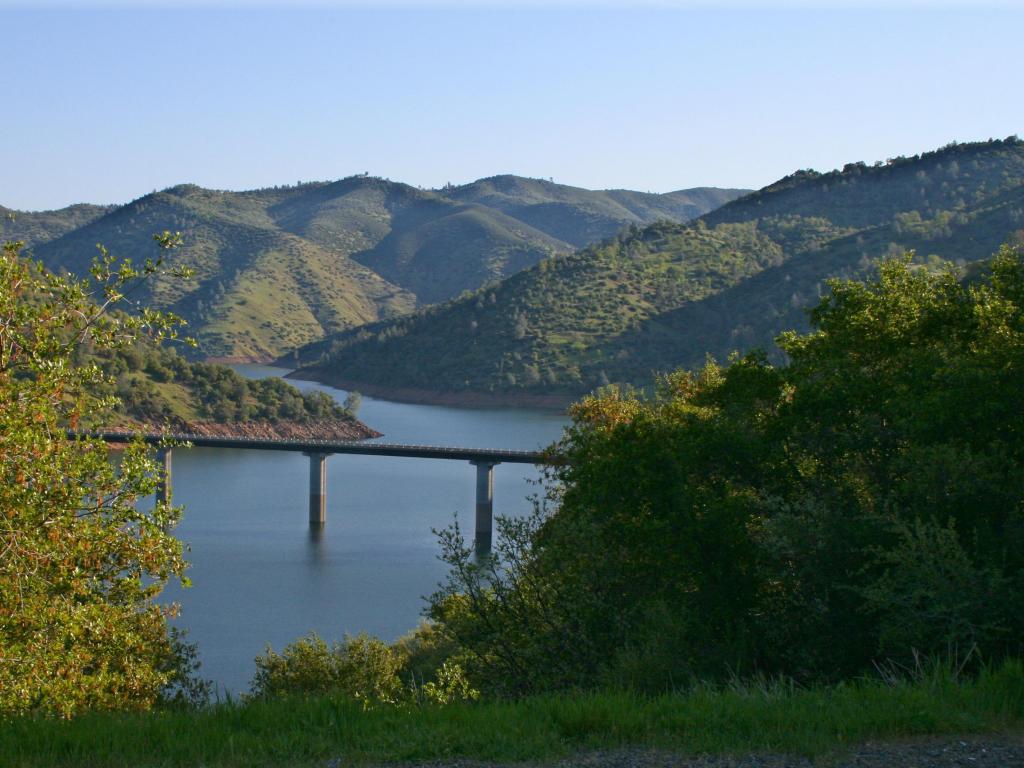 Main activities you can do there:
Boating
Fishing
Picnic
Water sports
River rafting
Swimming
Camping
How to get there: Follow CA-99 North to Merced, where you'll take the 16th Street exit before taking a right onto G Street. Take that all the way out of town and follow it as it becomes Snelling Road.
Drive through Snelling and Merced Falls and then take Merced Falls Road north towards Blanchard and the edge of Don Pedro Reservoir.
Our highlights: The Lake Don Pedro Marina is a large, full-service marina where you can dock your own boat or rent one. They also have wave runners, party boats, and houseboats for rent depending on what kind of trip you'd like to have.
This marina is built to accommodate the changing water levels of the reservoir, unlike the other marina at Moccasin Point which can experience seasonal closures.
There are several camping options along this lake as well. The family-friendly Flemming Meadows Campground near the Lake Don Pedro Marina has standard amenities like fire pits and showers, campsites with lake views, and even a nearby swimming lagoon.
Other camping options include the Blue Oaks Recreation Area and the Moccasin Campground on the eastern side of the reservoir.
Fishermen and women come from all over central California to fish for black bass and rainbow trout here, which are both stocked. Kokanee and Chinook salmon are native to the lake and make an exciting catch.
There are fish cleaning stations at the marina and at Blue Oaks. The people at the marina are also knowledgeable about which areas of the lake to try your luck in.
Don Pedro has another treat in store for those outdoor adventurers: river rafting. This Reservoir is formed on the Tuolumne River, a highly sought rafting destination with class IV and IV+ rapids.
The 18-mile-long Meral's Pool to Ward's Ferry route finishes in the northeastern corner of Don Pedro Reservoir near Moccasin. If you don't have your own raft and permit, there are agencies in the area that can support this trip.
Opening hours: The marinas are open from 8am to 4:40pm.
Camping is available year-round, campsite check-in time is 4pm and check-out time is 11 a.m. You can reserve a site online through the Don Pedro Recreation Area's website.
Other things to know: Fishing on the lake is permitted year-round, though some of the tributaries have seasonal closures to allow for fish populations to recover.
11. Courtright Reservoir
2 hours 5 minutes from Fresno (85 miles)
Why you should visit: If you liked the fresh alpine air of Huntington Lake, then Courtright Reservoir should be on your top list of weekend roundtrips. In addition to the crystal-clear water surrounded by evergreen forests and gracefully sloping granite domes, its remote location means fewer crowds, even in the height of summer.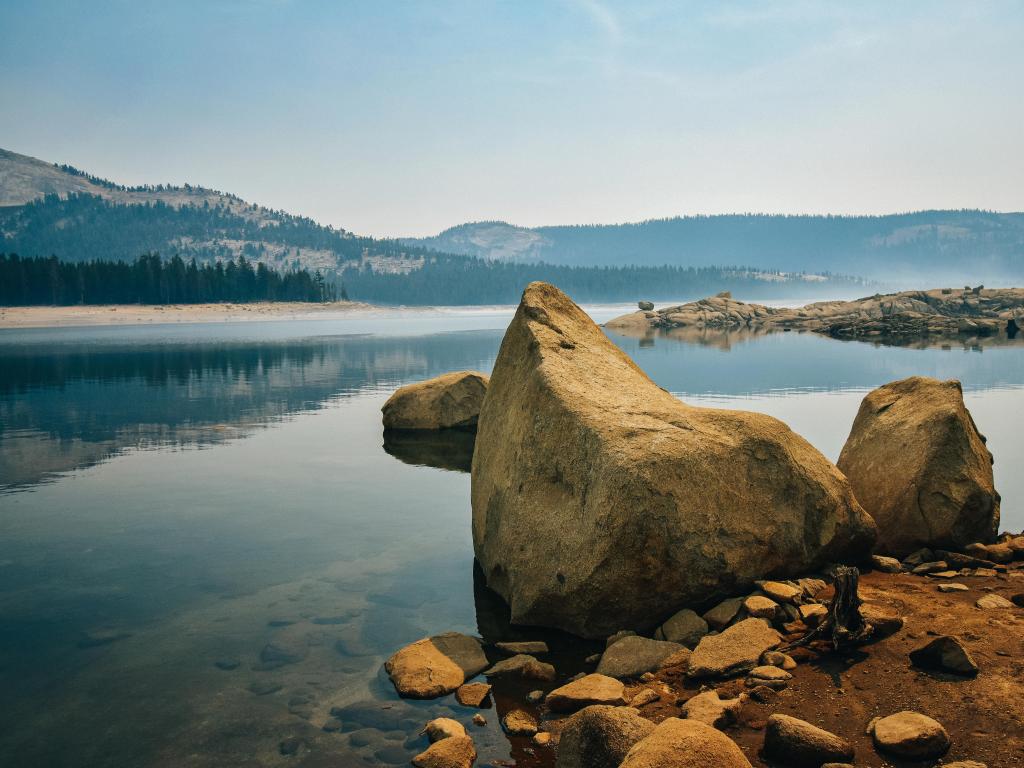 Main activities you can do there:
Swimming
Boating
Fishing
Rock climbing
Hiking
Backpacking
How to get there: This route also follows CA-168 East all the way until you get to the town of Shaver Lake. Here you'll take a right onto Dinkey Creek Road, which you'll follow until taking another right onto McKinley Grove Road.
Take this rural road further back into the mountains for about 15 miles and then turn left on Hall Meadow Lane, followed quickly by a right onto Courtright Way, which will take you the rest of the way to the Reservoir.
Our highlights: If you can handle slightly chilly water, then the first thing you'll want to do is swim in this unbelievably clean and inviting reservoir. With surroundings that can rival Tahoe and Yosemite, floating on the water here feels like a dream.
One of the features you'll notice right away when you arrive here is the aptly named Power Dome. Along with Trapper, Spring, Maxon, Penstemon and Dusy Domes, just to name a few, this area is a rock climbing hotspot with varying degrees of technical climbs.
Even though this is a manageable day trip from Fresno, it is really a treat to spend a night or two here under the stars. The first campground you'll pass is Marmot Rock which has breathtaking views, cozy fire pits, and basic facilities excluding running water.
In case this is full, a litter further on you'll find Trapper Springs Campground which is surrounded by smooth granite slopes.
You can even go fishing at Courtright Reservoir in case you felt like having something extra fresh for dinner. German brown, rainbow and eastern brook trout are common catches here.
This reservoir is next to three exceptional wilderness areas perfect for backpacking: Dinkey Lakes, John Muir, and Ansel Adams Wilderness. The Maxson Trailhead has its own first-come, first-serve parking lot and is a common jumping off point for heading into the backcountry.
You could also follow some the trails as part of a day hike to experience the peace and grandeur of the high Sierra.
Bonus: With a surface elevation of 8,170 feet Courtright Reservoir is an excellent place for star gazing. It's amazing that a lake formed by damming Helms Creek in the late 1950s could create a feeling of being immersed in timeless nature.
Opening hours: The reservoir is within the Sierra National Forest. While they say the quiet hours are between 10 p.m. and 6 a.m., on the weekends there are occasionally rowdy groups, so try to come in the middle of the week if you're seeking serenity.
Other things to know: The high-altitude weather is the only thing that limits accessibility here. Conditions are always changing, and you can usually drive up here without snow on the road by mid-May.
12. Florence Lake
2 hours 50 minutes from Fresno (94 miles)
Why you should visit: This trip will take you to yet another awe-inspiring lake in the Sierra. Perched at 7,300 feet above sea level, this lake is for nature lovers as it doesn't have any large marinas or crowds, providing a peaceful place to fish, hike, and enjoy the water.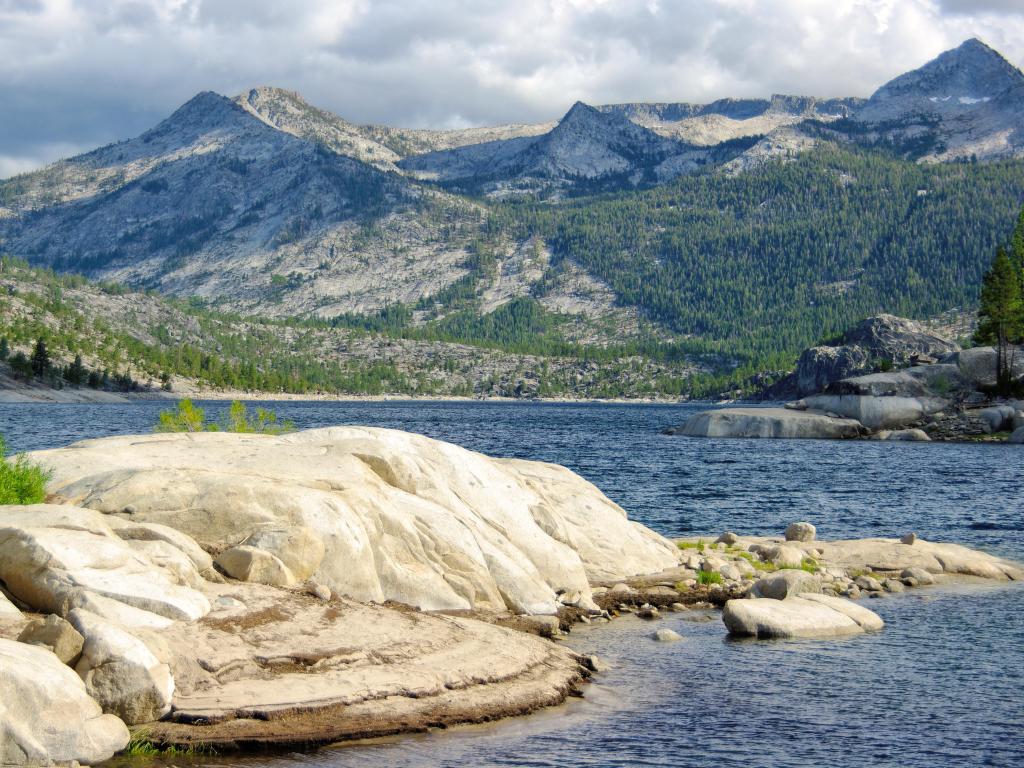 Main activities you can do there:
Hiking
Fishing
Swimming
Camping
Lounging on warm boulders
How to get there: This route also follows CA-168 north and east, past Shaver and Huntington Lakes. At the edge of the latter lake, hop on the winding Kaiser Pass Road and take it all the way to Florence Lake.
Our highlights: Despite the absence of a full-service marina, boats are allowed on the lake up to speeds of 15 MPH and there is a little store that has a few fishing boats to rent as well a ferry that goes on little tours of the lake. Still, don't expect to find much here and bring most of the food and gear you plan on using during your stay.
Along the lake's gorgeous shore you can fish for rainbow and brown trout at several coves and inlets. If the ferry is running when you visit, another great fishing spot can be found on the other side of the lake near the San Joaquin River inlet.
Hiking trails abound here; when you first arrive at the western edge of the lake, you'll see an informal trail that follows the shoreline over smooth granite inclines and boulders. Branching off from this trail is another small trail to the enticing hidden lake.
If you wanted something more extensive or were planning a backpacking trip from here, the John Muir Trail is about 3 miles east of the lake.
While there aren't any developed campgrounds nearby, you can still find a place to pitch a tent, both on the western side of the lake as well as at the other side of the lake near the San Joaquin River.
Not on Florence Lake itself, but nearby, you can camp at Ward Lake. It has a similar ambiance, but at a smaller scale.
Bonus: This Route also passes by the wonderfully remote Mono Hot Springs where you can camp or rent a cabin as you treat yourself to a soak in the natural hot springs.
Other things to know: Kaiser Pass Road is usually open from mid-May to November. It is best to check the road conditions before you go and carry chains if you make a spring or fall trip here.
13. Camanche Reservoir
2 hours 45 minutes from Fresno (155 miles)
Why you should visit: Well-known for bass fishing and trophy trout fishing, Camanche Reservoir is also a popular place for all kinds of watersports and has many beaches for swimming near the campgrounds.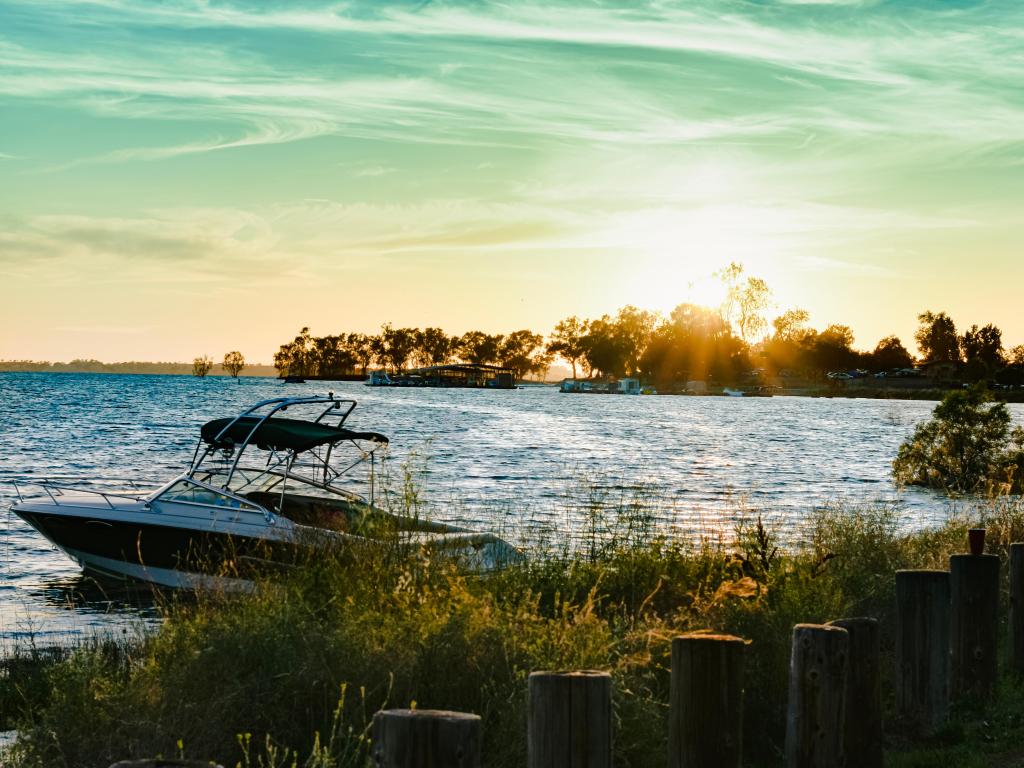 Main activities you can do there:
Fishing
Swimming
Boating
Watersports
Camping
Hunting
Horseback riding
How to get there: Drive north of Fresno on CA-99 until you reach Stockton, where you'll hop onto CA Route 88. Take this road through Clements, finally taking a right onto Liberty Road to reach the Camanche North Shore Recreation Area.
Our highlights: Especially on a hot summer day, you'll probably want to get in the water from the moment you get here. In addition to swimming along the shoreline, both recreation areas have boat access ramps for any water-faring vessels you've brought along.
Rentals are also available at the marinas in case you see people having all kinds of fun on the lake and want to join in.
Given the proximity to Stockton and Sacramento, the Camanche Reservoir is built and maintained to handle the crowds that flock here to escape the heat.
With more people come more amenities and both the North Shore and South Shore recreation areas have well-maintained camping grounds. The North Shore has a playground for any little ones and the South Shore has kid-friendly fishing areas.
The South Shore also has a stocked trout pond for anglers of any age. Especially if you're fishing on a boat, there are many coves to explore and cast a line for the many different species of trout, bass, Kokanee, and bluegill that can be caught here.
You can purchase a fishing permit at both recreation areas.
In addition to equine-friendly campgrounds, many of the trails surrounding the river are open to horseback riders. In the EBMUD Watershed area you'll find the wide and winding Cooks Mesa Trail that is simply delightful in the spring. This trail in the South Camanche area can also be hiked on foot.
Bonus: The South Shore Marina parking lot becomes an outdoor event space in the summers, with movie screenings and concerts. In October, they even make their own version of a "biergarten" for Oktoberfest.
Opening hours: The recreation areas around the reservoir are open year-round. The gates are open from 5 a.m. until 11 p.m., though day-use visitors are asked to leave by one hour after sunset.
14. Pyramid Lake
2 hours 35 minutes from Fresno (165 miles)
Why you should visit: On this trip you'll head deeper into sunny SoCal to a lake that tempts many a passerby along Interstate 5. Situated between Los Padres and Angeles National Forests, this man-made lake is surrounded by gorgeous chaparral-covered mountains just begging you to explore them.
Main activities you can do there:
Boating
Hiking
Picnics
Swimming
How to get there: From Fresno drive south on CA-99 for most of the journey and merge with I-5 after Bakersfield. After you wind your way through the Grapevine, you'll see Pyramid Lake on your right, take exit 191 to get to the lakeshore.
Our highlights: If you take a slightly earlier exit off I-5 via Smokey Bear Road to Pyramid Lake Road, you'll get to the main developed recreation area of Pyramid Lake. Here you can enjoy the views, rent a boat, or take your own boat out on the water using the boat ramp here.
When the water is clear and the sun high, Pyramid Lake is mighty inviting. You'll find several designated swimming areas, but there are also dozens of shallow coves you can boat to and enjoy swimming in a more private setting.
There are several walking and hiking trails around the lake. The most accessible is at Pinga Point. On the other side of the lake from I-5 you'll find a challenging, but rewarding hike to the Slide Mountain Fire Lookout Tower. The trail begins in Piru Gorge, along Piru Creek.
Have a private picnic at the hidden Yellow Bar Picnic Area. This secluded cove and beach can only be reached by boat or by foot, but once you get here you'll find a bathroom and BBQ areas, which make picnicking here more convenient than one would imagine.
Bonus: If you're curious how this lake got its name, it is from a pyramid-shaped cut into the hillside that engineers dug out when the dam was constructed in 1973. From the right angle, it bears a striking resemblance to a step pyramid, like the one in Djoser, Egypt.
Opening hours: During the high season the gates to the lake are open from 6am to 7pm and all boats must be off the water by 6pm.
Summer temperatures can reach over 90 degrees Fahrenheit, so if you were hoping to hike on your trip here, either come during the cooler months from September to April or aim to get here early in the morning during summer.
Other things to know: Occasionally the lake has algae blooms which release a mild toxin and turn the water green. The lake's website has updates on the algae conditions and if it is safe to swim and fish there.
Though there's no campground right on the lake, the nearby Los Alamos Campground is a good option if you'd like to spend a night here.
15. Lake Tahoe
5 hours from Fresno (240 miles)
Why you should visit: The timeless beauty of Lake Tahoe is known throughout the world. With the larger crowds and increased infrastructure, here you have options to explore nature or indulge in gourmet delights at the lake's edge.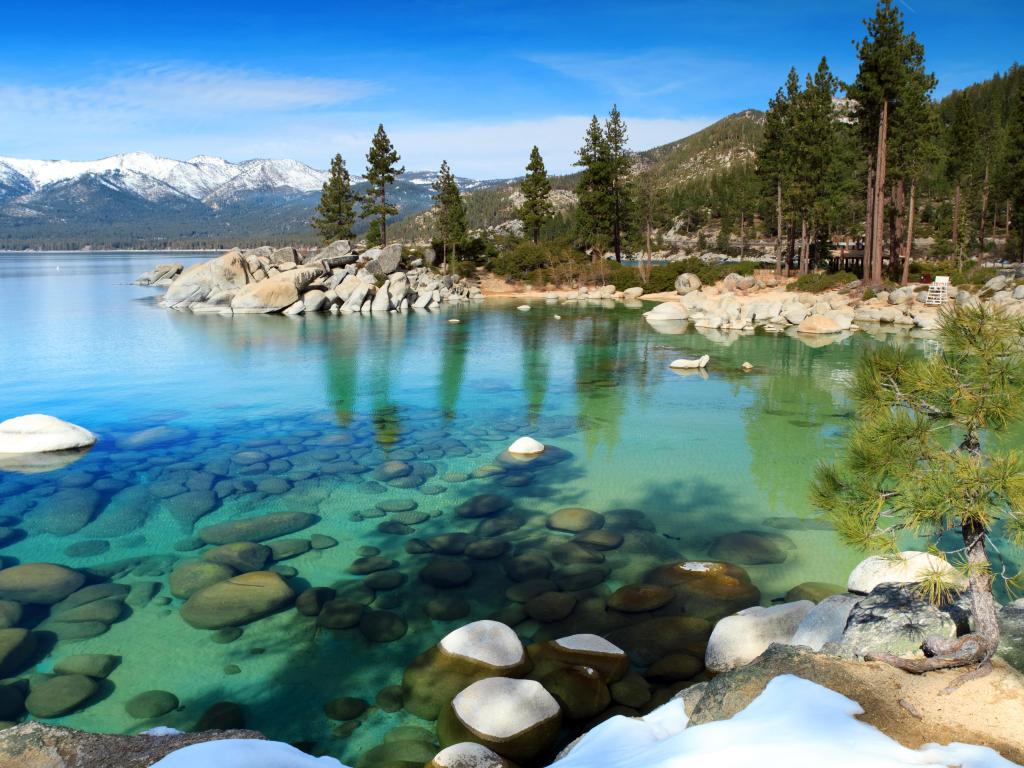 Main activities you can do there:
Swimming
Hiking
Horseback riding
Fishing
Skiing
Casinos
Microbreweries
How to get there: Follow the same route outlines above to get to Don Pedro Reservoir, starting off on CA-99 North. After passing La Grange, continue driving towards Keystone along La Grange Road, then take O'Byrnes Ferry Road past Copperopolis, then link up with scenic CA Route 49 North in San Andreas.
In Jackson, hop onto CA Route 88 East, through Hope Valley, then get to US Route 50, via CA route 89, which will take you to South Lake Tahoe.
Our highlights: From sapphire hues to bright turquoise, the enchanting blues of Lake Tahoe draw roughly 3 million people here each year. Tahoe has some stunning beaches and swimming is popular in the summer here, though the water always remains a bit crisp.
In South Lake Tahoe Baldwin Beach is wide and sandy with breathtaking views of the surrounding granite peaks. Lester Beach is a little quieter and more rugged. In addition to swimming here you can also launch kayaks and other smaller water vessels.
In addition to the myriad modes of fun on the water, the stunning surroundings of Lake Tahoe have hiking trails for all levels of hikers. The Rubicon Trailhead is close to Lester Beach and leads along the edge of the water to the rustic, wooden Rubicon Point Lighthouse.
The Emerald Bay State Park, in the southeast corner of Lake Tahoe, is another must-see area that has several well-marked trails, including the panoramic Bay View Trail and Cascade Falls Trail.
Fishing isn't usually the first thing that comes to mind when people think of a Tahoe trip, but any angler on board will be happy to know that Tahoe is a year-round fishing destination.
One of the most sought-after catches is the cold-water-loving Mackinaw trout, with a record 37-pound trout having been caught here in 1974. There's also a local population of Kokanee salmon which are biting from July until October.
So many microbreweries have begun popping up around Tahoe that there's a curated South Tahoe Beer Trail. Whether you want to commit to completing the whole trail or just want to sample a craft brew or two, Tahoe has hoppy refreshments in abundance.
Two local favorites are the Cold Water Brewery and the South of North Brewing Company.
Finally, the fun at Tahoe doesn't stop once the weather turns cold. It is a world-class snow sport destination with everything from bunny hills to double black diamond runs.
While the lake never freezes over for ice skating, Heavenly and a few other resorts maintain ice rinks for gliding amidst those grand Tahoe views.
Bonus: Tahoe isn't only the largest alpine lake in America, but it is also one of the deepest lakes in the country. With a maximum depth of 1,645 feet, it is second only to Crater Lake in Oregon.
Other things to know: The route we've given here isn't the shortest, but it is the most scenic. A more direct route would take CA-99 all the way to Sacramento, but there is always the chance of getting caught up in traffic around the city, which this more rural route avoids.
This is one of the few alpine lakes in this list that has greater lakeside accessibility for people with mobility restrictions.
If you are looking to learn about whether the drive to Lake Tahoe is dangerous, check out our detailed guide.
16. Mono Lake
4 hours 40 minutes from Fresno (231 miles)
Why you should visit: A saline remnant of an ancient inland ocean, Mono Lake creates a mystical ambiance in the high desert periphery of the Great Basin. This is a lake for lovers of solitude and wide-open spaces.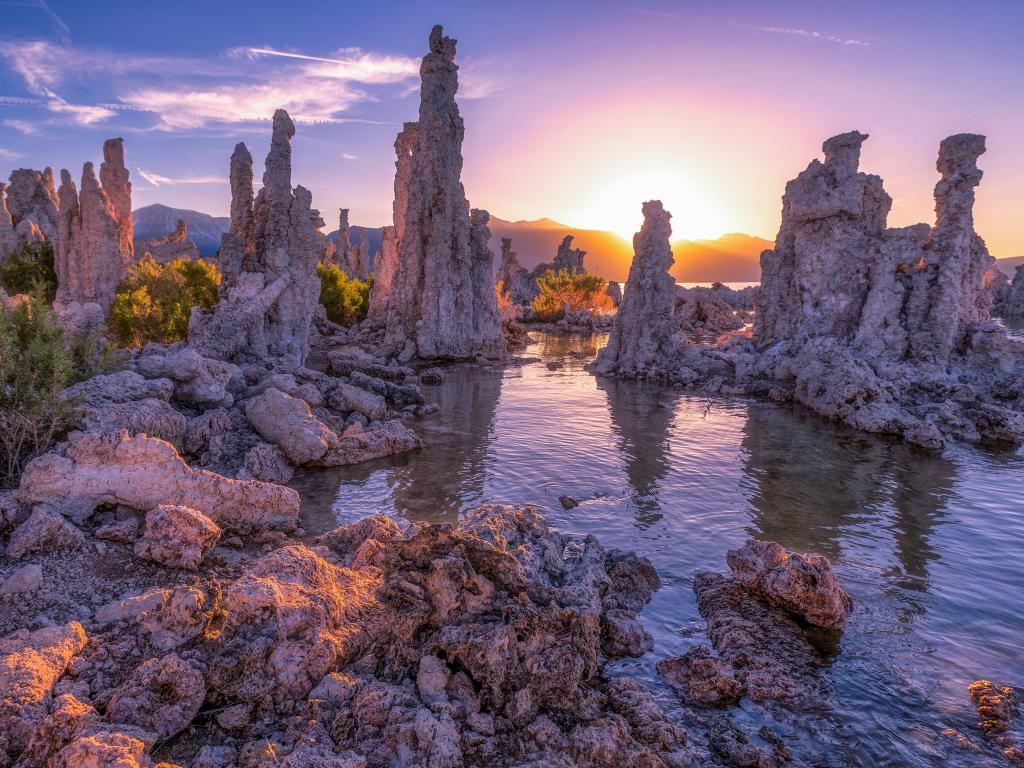 Main activities you can do there:
Bird Watching
Hiking
Boating
Kayaking
Natural History
How to get there: Take CA-99 North to Merced, then head to Jamestown via La Grange Road. In Jamestown, take the beautiful CA Route 108 East to Sonora Junction where you'll hop on US Route 395. Take this through Bridgeport all the way to Lee Vining, on the edge of Mono Lake.
Our highlights: The main attraction at Mono Lake is the Mono Lake Tufa State Natural Reserve. For general orientation and learning more about the natural forces which forged this haunting landscape, spend some time at the Mono Basin Scenic Area Visitor Center in Lee Vining.
There are usually several exhibits on unique wildlife and geological formations, including the eerie limestone tufa towers.
There's a mile or so trail that takes you from the visitor center to the edge of the lake, so you can see Dr. Seuss-esque tufa towers up close. Another nearby hiking option is the Boardwalk Trail in Mono Lake Park.
This marshy area is a great place to spot one of the 70 species of migratory birds that come through Mono Lake to feast on brine shrimp.
Speaking of brine, this lake is saltier than the ocean, making it super buoyant. Aside from the sting it might cause to your eyes, it is perfectly safe to swim in Mono Lake and a truly unique experience. Some people swear by its regenerative properties.
In case you'd prefer to be near the water but not necessarily covered in it, we highly recommend taking a kayak trip on Mono Lake. With a highly maneuverable kayak or canoe you can see the tufas from new angles and admire the high desert mountains all around.
There's a convenient launch point at Navy Beach on the south shore as well as nearby rental places in case you don't have your own kayak.
Bonus: Mono Lake has an incredibly interesting geological history. One factoid we learned was that the tufas formed underwater and only became exposed as the water level decreased.
Opening hours: The visitor center is open from 8:30 a.m. to 5 p.m. You can also get several kinds of backpacking and campfire permits here as well as rent bear canisters
Other things to know: The high-altitude highway CA-108 is usually closed between November and May due to snow. If you wanted to come here from Fresno in the winter, you'd have to go via Bakersfield and CA Route 178 then link up with US-395 North to Lee Vining.
Lee Vining is also very close to Tuolumne Meadows and the Tioga Pass entrance to Yosemite in case you have time to explore even more Sierra grandeur on this trip.
17. Crowley Lake
6 hours 15 minutes from Fresno (350 miles)
Why you should visit: To the south of Lake Mono there's another high desert lake with its own mineral magnificence and enough trout to draw anglers from all over the American West.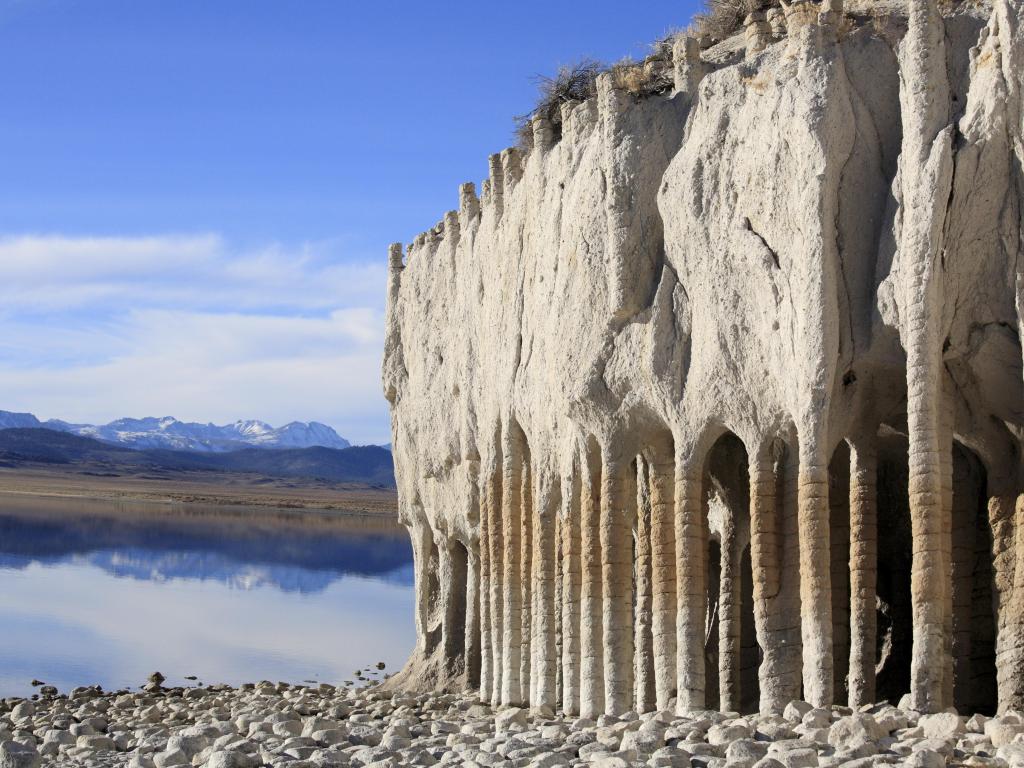 Main activities you can do there:
Boating
Fishing
Swimming
Hiking
Hot Springs
Geotourism
How to get there: You could either follow the route to Mono Lake described above and drive through Inyo National Forest on US-395 South. Alternatively, drive via CA-99 to Bakersfield, then hop on CA Route 178, past Lake Isabella, and link up with US-395 North in Bradys. Take US-395 for about 150 miles north to Lake Crowley.
Our highlights: There are some legendary fishing spots on this lake where you can catch a variety of trout. Near the South Landing, you'll find a bait and tackle shop as well as a boat launch.
Fly fishing is also an option at Hilton Creek. In the north of the lake, you'll find less developed but productive fishing areas like Layton Point and Sandy Springs.
Crowley Lake is also famous for a collection of stone columns that have a corkscrew-like pattern etched along their sides. Due to the way they are sandwiched between deposits of rock more resistant to erosion, they look like an ancient colonnade and are truly a wonder to explore.
Coming by land, you can hike or take an off-road vehicle along a 1.8-mile-long trail from the closest parking lot near the Long Valley Dam. You could also approach them via boat or kayak.
To the north of Crowley Lake, there are a few geothermal springs of varying intensity. Wild Willy's Hotspring is less than a mile from the edge of the lake and are a great place for a soak after a day of hiking.
A bit further north, the surreal landscape of the Hot Creek Geologic Site leaves many visitors speechless. Some ponds here are scalding hot here, so be very careful near the water.
Bonus: The stone columns of Crowley Lake formed following the eruption of a mega volcano 767,000 years ago. It is thought that columns of water rising through the ash formed the initial structure within which harder minerals like mordenite eventually formed.
Opening hours: The bait shop in South Landing is open from 7 a.m. to 5 p.m.
Other things to know: The stone columns are only visible when the water levels are low, from late fall until early spring, when the snow melt begins to flow in and conceal them.
There are several fishing restrictions on Crowley Lake. The main trout season is from late April through the end of July
18. Salton Sea
6 hours from Fresno (380 miles)
Why you should visit: This slightly pungent saline lake is a far cry from its glory days as a Hollywood resort town like Palm Springs, but the area's resilient art communities, intriguing ghost towns, and migratory bird population keep people coming here to experience what's left of a desert oasis.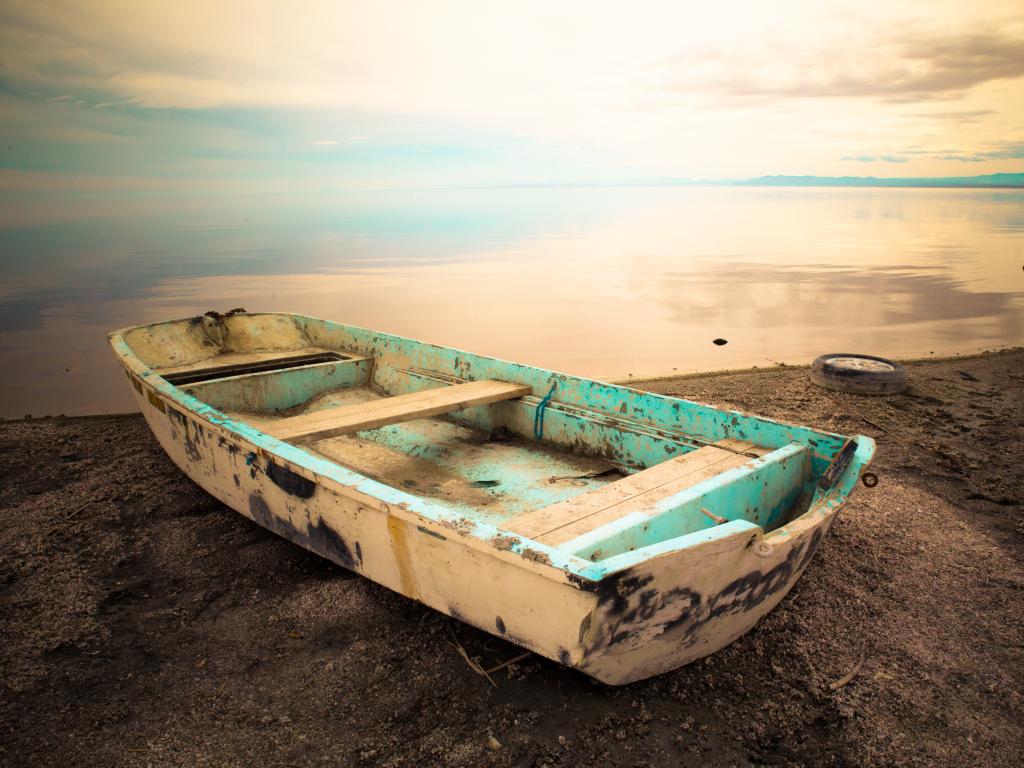 Main activities you can do there:
Camping
Hiking
Boating
Bird watching
Ghost towns
Geotourism
How to get there: From Fresno take CA-99 South through Bakersfield where it merges with I-5. Take this all the way to Pasadena then start driving east via Interstate 210 to Interstate 10. After passing Palm Springs and Coachella, take a right onto CA Route 86 South the rest of the way to the Salton Sea.
Our highlights: In the Salton Sea State Park you can hike trails around the receding lake shore or use their boat ramps to head out for a day on the water.
There's also a visitor center here with more information about the area's natural and human history as well as five spacious campgrounds. Camping here isn't your typical lakeside experience, but for some people, it is the perfect serene getaway at the edge of the desert.
The "living ghost town" of Bombay Beach is a favorite spot for photographers and budget filmmakers. It was a thriving resort town until the early 80s when the water receded.
Here you can find abandoned buildings and signs reflecting various stages of corrosion by the salty environs. In the 2010s artists and hipsters started to flock here, bringing a new breath of life to this formerly abandoned desert community.
Many people are unaware of the extent of volcanic activity throughout eastern California. Around the Salton Sea, you can witness a unique form of geothermal activity known as mud pots.
Small pools of murky, bubbling water are home to acid-loving bacteria that help break down the rock into fine mud particles. You can search for these mysterious, burbling mud pots in the Ocotillo Wells SVRA Area, Mullet Island, and the Davis-Schrimpf Seep Field.
Since you've schlepped all the way out here, consider visiting Palm Springs or Joshua Tree National Park, both just a few miles to the north of the Salton Sea and brimming with desert beauty.
If you'd like to learn more about what else you can do in the vicinity of Salton Sea, check our guide on the road trip from Los Angeles to Salton Sea for our tips and local gems nearby.
Bonus: During its heyday in the 1950s, the likes of Frank Sinatra, the Beach Boys, and Bing Crosby used to come to enjoy the luxury recreation opportunities that the Salton Sea offered.
Opening hours: The state park is open year-round for day use and camping, but beware that the summer heat is intense, making it a better spot for a winter or early spring trip.
The Salton Sea Visitor Center is open from 9am to 4pm and the high season is from October to June when the blazing desert sun is less intense.
Other things to know: The new bohemian community around the Salton Sea has started a free and eccentric festival of art, music, and philosophy called the Bombay Beach Biennale.
It is usually a series of events which takes place from January 1 to early spring; see their website for details on upcoming projects.