18 Best Lakes near Las Vegas
Las Vegas is a buzzing city full of bright lights and world-class hotels. It's the perfect place to visit if you're a fan of casinos, great nightlife and incredible restaurants. But if you're ready to escape the thrills of the city, then we've got you covered with eighteen incredible lakes just a short drive away.
Despite being in the desert, the Las Vegas area is home to a huge amount of stunning lakes and reservoirs, including Lake Tahoe, Lake Mohave, Topaz Lake and Lake Mead. As most of them are just a few hours from Sin City, they make ideal day trips.
The best lakes in the Las Vegas area
There is an impressive choice of incredible scenic lakes and reservoirs in the Nevada/California area, so you will have plenty of options when choosing the best one to visit. Here are a few of the most popular lakes within easy reach of Las Vegas.
To help you make the most of your time and choose the best lake for you, we've added more detail on each of these - plus thirteen more beautiful lakes to choose from.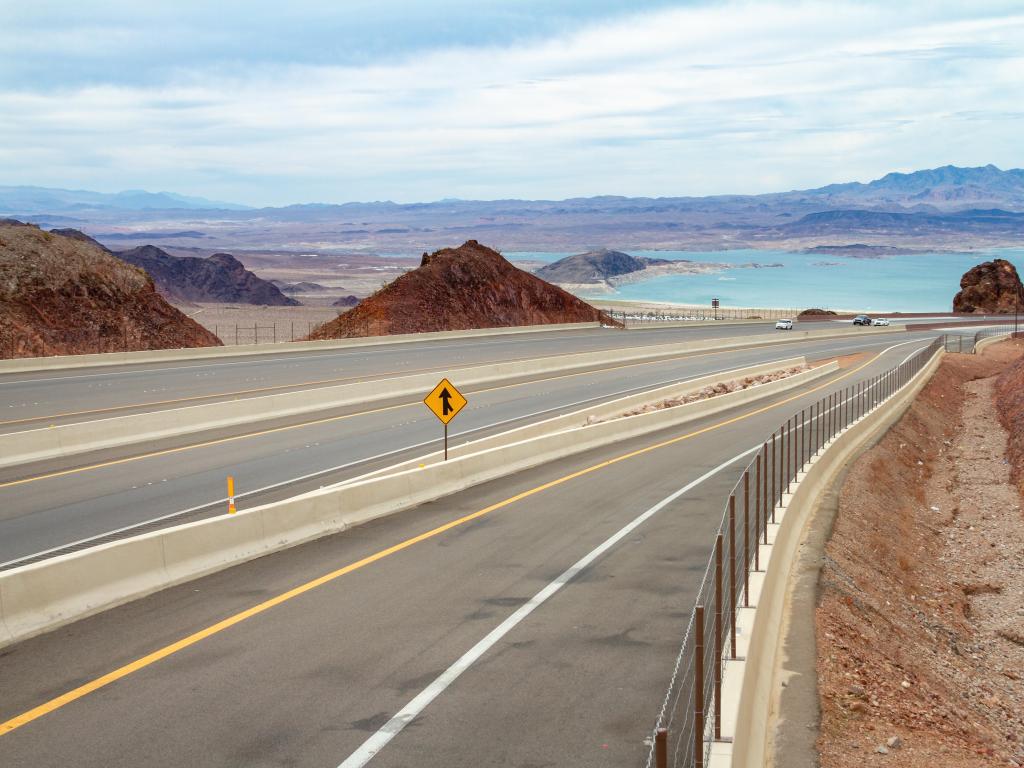 Please keep reading until the end for an overview of each lake; including our personal highlights, the best route to get there and everything you'll need to know to have the best day out.
Best lakes within 1 hour of Las Vegas
You might be surprised to discover that there are several incredible lakes within around an hour of Las Vegas, meaning you can take a dip in the cool, refreshing water and be back in Sin City for lunch!
1. Lake Las Vegas, Nevada
30 minutes from Las Vegas (19 miles)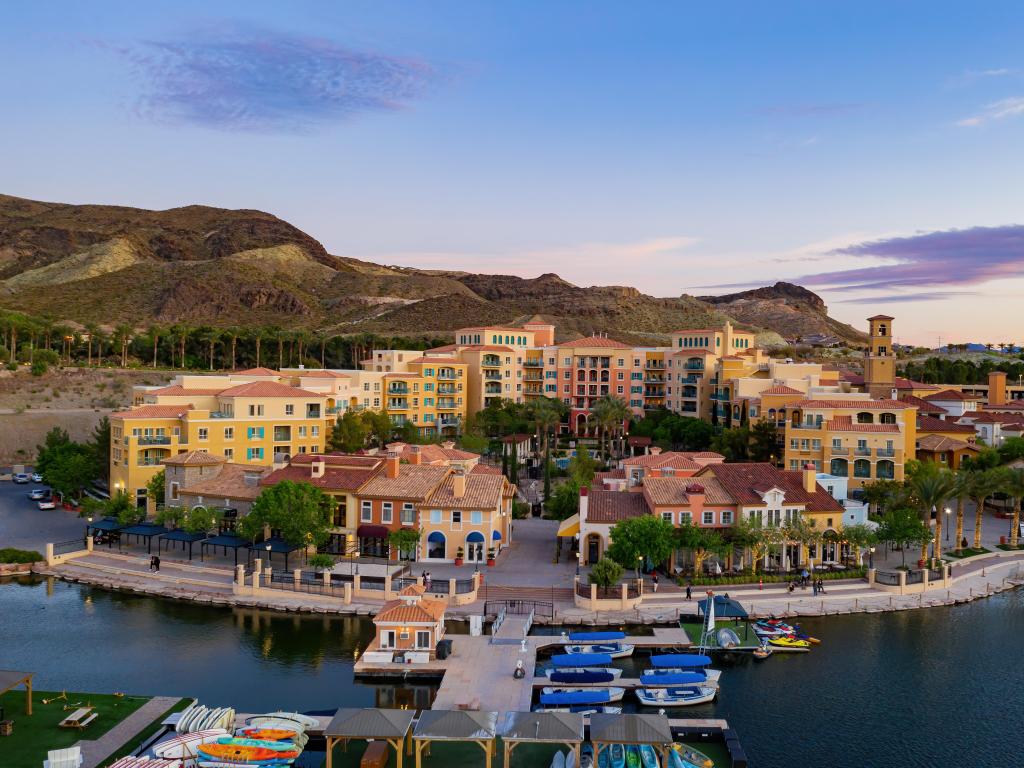 Why you should visit: Known for the vast variety of water sports on offer, including boating and flyboarding, Lake Las Vegas is the closest lake to Sin City.
Especially good for families, thanks to its inflatable waterpark and the great variety of facilities on offer, this lake is surrounded by great cafes offering stunning views, making Lake Las Vegas ideal if you're looking for somewhere within 30 minutes of Las Vegas.
How to get there: Lake Las Vegas is one of the closest lakes to the city and is therefore incredibly easy to get here. Simply follow Interstate 515 South to Exit 64B, before following Lake Las Vegas Parkway, past Clark Country Wetlands Park, the rest of the way.
Our highlights: A man-made lake, known as an "oasis in the desert", Lake Las Vegas is actually a 320-acre reservoir that was developed by several companies.
Nowadays it's incredibly popular with tourists who flock to the shores for water sports including paddleboards, wakeboarding and kayaks, as well as the many hotels, resorts and restaurants that line the shore. For a unique view of the lake, why not rent an electric boat and take in the beautiful views?
If you had a bit of time at your disposal and craved a quiet moment to yourself, you could take a short detour to Sunset View Scenic Overlook. Just a twenty minute drive from Lake Las Vegas, this spot is the perfect place to enjoy a stunning sunset over Lake Mead.
Operating Hours: While the lake is open year-round, the various water sports activities, such as the water park and hire facilities, have various opening times.
Note: We have included operating hours for each of the lakes in this article (where relevant), but you might want to call ahead to double-check any daily changes to these.
2. Floyd Lamb Park, Nevada
20 minutes from Las Vegas (17 miles)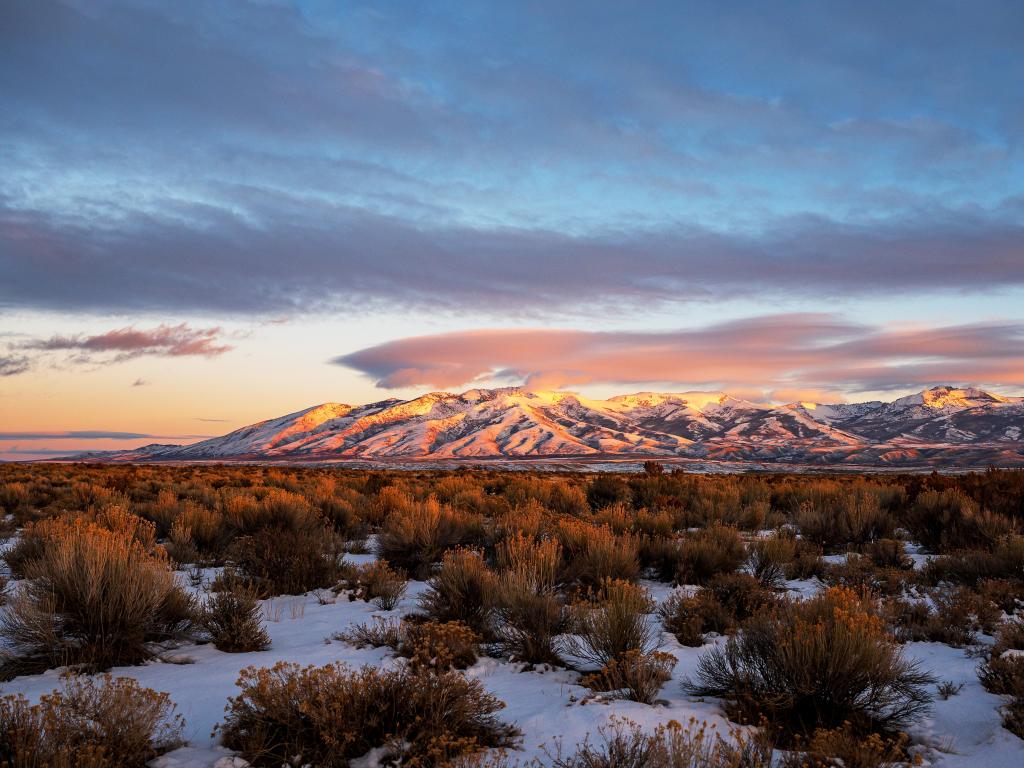 Why you should visit: Surrounded by a series of small lakes in part of the Mojave Desert, Floyd Lake is ideal if you love hiking, mountain views or just fancy a quiet moment surrounded by nature. Just 20 minutes from Las Vegas, Floyd Lamb Park will transport you from the bustling city to a natural retreat.
Part of Tule Springs, formerly Floyd Lamb State Park, Floyd Lamb Park is spread across 680 acres. This is an area known for its prehistoric discoveries; you can even take a hike to Tule Springs Fossil Beds which covers a period of time from 200,000 to 3,000 years ago.
How to get there: Technically the closest lake to Las Vegas, you'll just need to follow US-95 past Centennial Hills and take Exit 93. Take Durango Drive to Brent Lane, before continuing on to Tule Springs Road.
Our highlights: Named after Nevada state senator Floyd Lamb, what this park lacks in amenities it certainly makes up for in beautiful views. Just north of the city, you'll be surrounded by wildlife, lush vegetation, lakes and stunning mountain views.
You can learn more about the surrounding area at the onsite historic Tule Springs Ranch, where you can even enjoy a guided tour and learn more about the mammoths that were present here and gave the area its nickname "the mammoth central".
Other ways you can enjoy visiting Floyd Lamb Park are by following its many hiking trails, enjoying a picnic at the well-designated sites or trying your luck at the fishing ponds (though you'll need a license here).
Operating Hours: 8am-8pm (summer), 9am-5pm (winter)
3. Lake Mead, Nevada
40 minutes from Las Vegas (32 miles)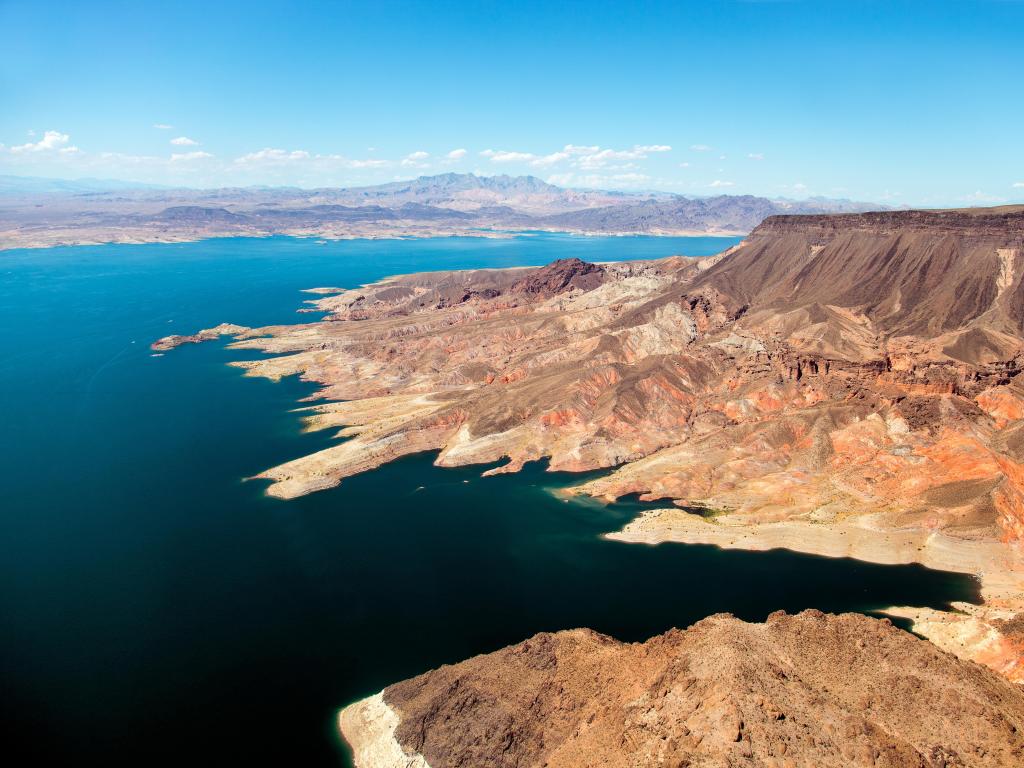 Why you should visit: America's first National Recreation Area, Lake Mead is part of the vast landscape that also includes Lake Mohave and the mountains, canyons and valleys between them. This striking lake is just 40 minutes from the city and is ideal for hiking enthusiasts or those just looking to relax by the shore or take a swim.
How to get there: The quickest route to Lake Mead takes you on Interstate 515 South from Las Vegas, through Henderson where you'll join I-11 south through Boulder City to Hemenway Harbor Road.
Our highlights: This stunning reservoir is formed by the Hoover Dam, and there's plenty of fun to be had at Lake Mead. The 750 miles of shoreline are ideal for enjoying a day at the beach, or for something more adventurous, you can hire a boat and discover the many coves only accessible from the water.
For a relaxing day head to Boulder Beach which stretches more than a mile along the shoreline of Boulder Basin of Lake Mead. This beach is a popular spot for swimming, sailing or just enjoying a picnic by the waterside.
Learn more about the rich history of the area at Lake Mead's Visitor Center or visit Hemenway or Lake Mead Harbor to see the boats coming and going.
There are also great hiking and biking trails that make the most of the mountainous landscape, plus camping opportunities if you'd like to spend the night and catch a stunning sunset.
Bonus: As the water level drops, Lake Mead has been revealing more of its many secrets, including lost boats.
4. Upper Pahranagat Lake, Nevada
1 hour 25 minutes from Las Vegas (93 miles)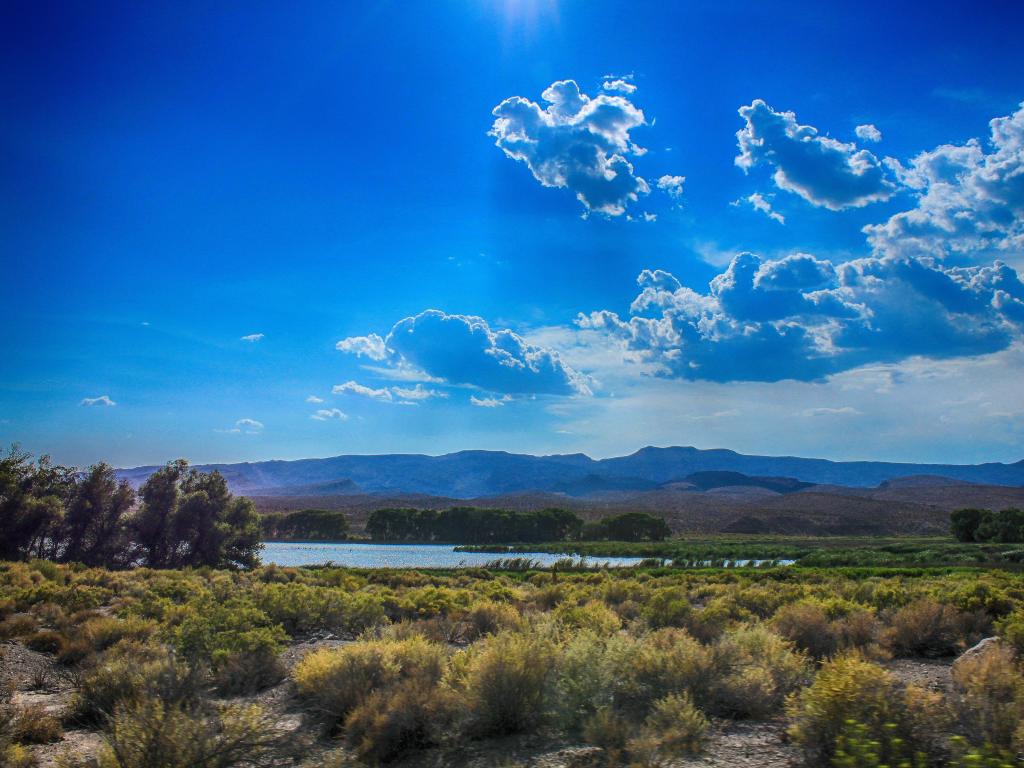 Why you should visit: This lesser-known lake in Nevada is a great destination for fishing enthusiasts or those looking to get lost in nature and discover the local wildlife. Surrounded by desert, Upper Pahranagat Lake is an oasis of green with fantastic trails, which make the best of its beautiful scenery.
How to get there: Take Interstate 15 North from Las Vegas to Exit 64. You'll pass Desert National Wildlife Range, which you could stop at en route, or simply continue on US-93 North past Coyote Springs to Upper Lake Access Road where you'll reach Upper Pahranagat Lake.
Our highlights: Upper Pahranagat Lake is managed by the Pahranagat National Wildlife Refuge which protects the waterfowl species found here. As such, it's a mecca for those who are looking for a nature-inspired day trip away from the city.
The 4.8-mile trail is the perfect way to explore the lake and surrounding natural beautiful scenery along the way. With fewer tourists flocking to this lake, you're much more likely to get closer to wildlife here.
During the spring and fall, you can expect thousands of waterfowl to descend to the lake and nearby habitat. There's a helpful Visitor Center where you can learn more about the work that is being done here, or you can enjoy free camping at the Upper Lake.
It's worth noting that as you are a little more remote in this part of Nevada, and given that the area is surrounded by desert, it can get very cold in winter and extremely hot in summer. So, make sure you come prepared with layers or supplies.
Bonus: With over 260 species of birds found here, you might even catch sight of the critically endangered Southwestern Willow Flycatcher!
5. Lake Mohave, Arizona
1hour 50 minutes from Las Vegas (100 miles)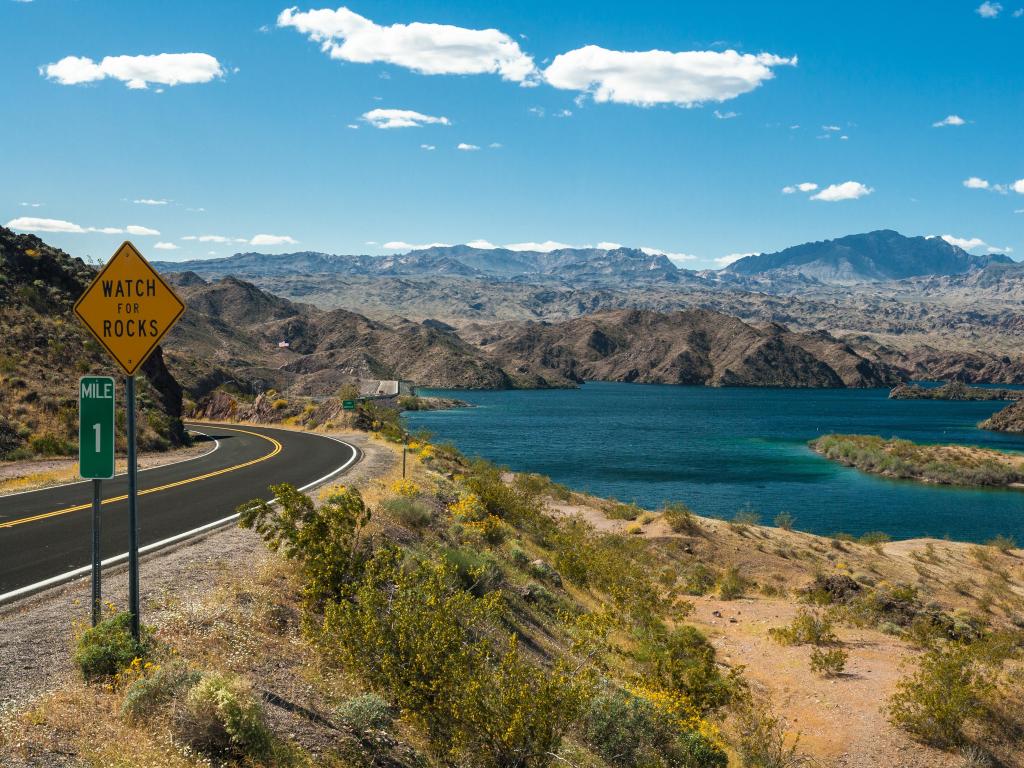 Why you should visit: This stunning lake is surrounded by a desert landscape with clear, turquoise water. It's a stunning setting for a hike or simply to enjoy relaxing by the beach, located less than 2 hours from Las Vegas.
In comparison to Lake Mead, Lake Mohave lies within the steep, narrow walls of Black Eldorado, giving it one of the most striking lakeside landscapes on our list. It's also a fantastic location if you love swimming, water sports, beautiful hiking trails or just want to enjoy a stunning view.
How to get there: This popular lake is south of Las Vegas. Simply follow Interstate 11 past Boulder City and the incredible Sloan Canyon National Conservation Area, before joining US-93. Take Cottonwood Road for the final stretch to Lake Mohave.
Our highlights: Like Lake Mead, Lake Mohave is a reservoir on the Colorado River and is part of the Lake Mead Recreation Area. The bright waters of this lake make it an ideal place to go swimming (though be aware that there aren't any lifeguards).
As well as swimming, some of the most popular activities to be enjoyed on Lake Mohave are water sports such as water skiing, wakeboarding or tubing. It's also a popular fishing and camping destination.
Beyond the incredible waterside activities, Lake Mohave is an ideal place to go hiking where you can explore more of the surrounding mountains. Explore steep canyons or look up and see the petroglyphs on the rock and cliff walls, which date back to over 3,000 years ago when the Mohave American Indians inhabited this area.
Best lakes within around 5 hours of Las Vegas
If you have a little extra time at your disposal and are up for a longer excursion, then the lakes listed below are all within five hours of Las Vegas.
These beautiful lakes and reservoirs are still within easy reach and make the ideal spots for relaxing by the water's edge, especially if you are looking to get away from the hustle and bustle of the city for a couple of days.
6. Goose Lake, Arizona
2 hours from Las Vegas (118 miles)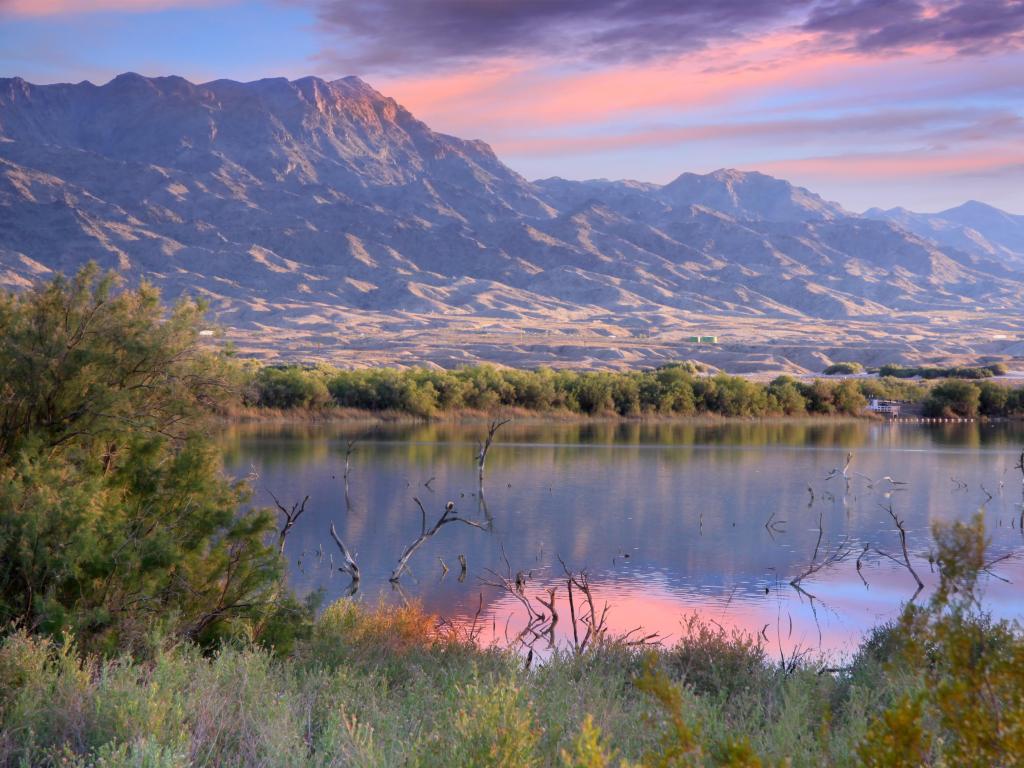 Why you should visit: Goose Lake is an ideal fishing destination that is worth the trip for the stunning views alone. If you're up for a hike while visiting, there's an 8-mile trail with unparalleled views of the lake and surrounding natural landscape. If you're an outdoors fan, then this is the lake for you.
How to get there: Just two hours by road from Las Vegas, to get to Goose Lake, take Interstate 515 until you reach Henderson. From here switch to I-11 before joining US-95 as you cross into Arizona. Merge with I-40 and then join Needles Highway to your destination in Mohave Country.
Our highlights: A popular fishing destination, Goose Lake is teeming with bream, bluegill, carp and perch. Fishing aside, the water is also ideal for swimming or taking a boat out to explore the surroundings.
There aren't as many water sports options available at this lake, so it isn't ideal if you're looking for a thrill-seeker's adventure but if you crave quiet, peaceful nature then this is an ideal spot for you.
Close to Havasu National Wildlife Refuge and just a short drive from Dead Mountains Wilderness Area, Goose Lake is also located just 9.8 miles from Mohave Valley, which means you can discover these incredible places when you are in the area.
Why not take a picnic and enjoy a tranquil spot in the middle of Arizona, or for some nearby amenities, you can visit Catfish Paradise and Topock, two small towns on the shore of the lake that offer great eateries and shops.
You can also explore Havasu National Wildlife Refuge or Dead Mountains Wilderness Area, which is a 47,150-acre landscape in the Mojave Desert of California. As well as great hiking trails and mountain views, you can even discover rare tortoises among other local wildlife.
7. Lake Havasu, Arizona
2 hours 30 minutes from Las Vegas (150 miles)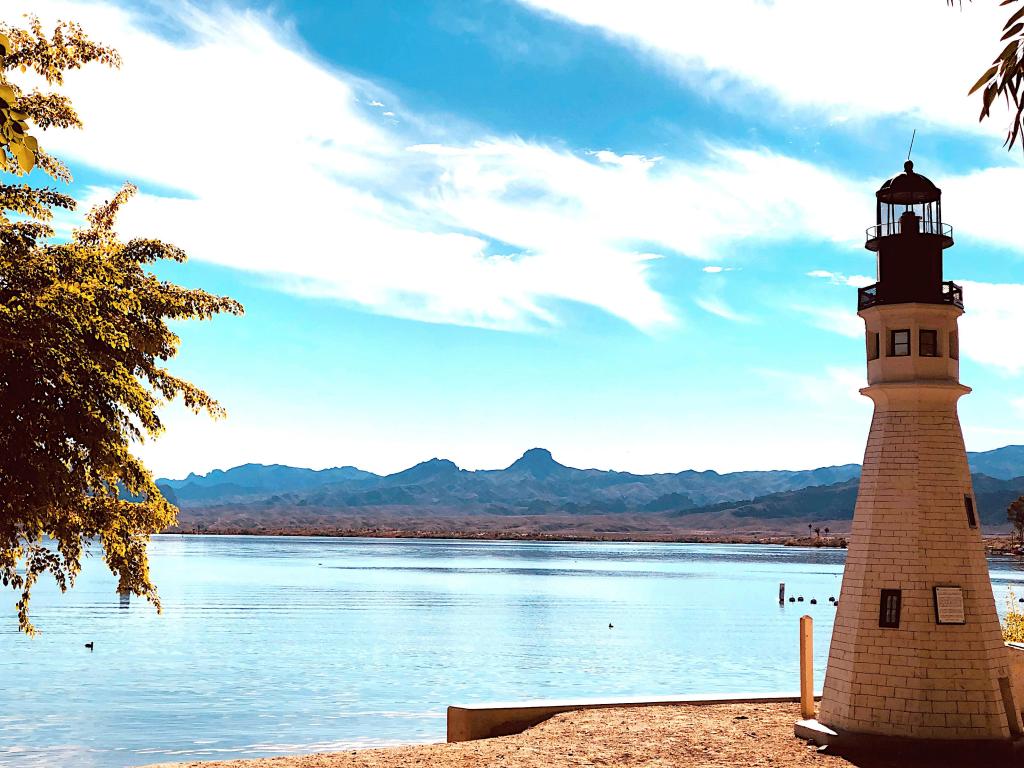 Why you should visit: Less than three hours from Las Vegas and sitting in the middle of a quiet part of Arizona, Lake Havasu is a popular spring break destination thanks to the unique landscape of water and desert in one place. A fishing gem, this lake is further south than Goose Lake but offers more amenities and attractions - making it perfect for families or adventure-seeking road trippers.
How to get there: Just like the route to Goose Lake, you'll need to follow Interstate 11 from Las Vegas and take US-95 from Nevada into Arizona. Merge with Interstate 40 East before taking AZ-95 South to Lake Havasu.
Our highlights: Another reservoir on the Colorado River, Lake Havasu holds annual fishing tournaments bringing in around 750,000 visitors a year to the lake.
If fishing isn't your thing, Lake Havasu State Park has a designated swimming area with beautiful white sand where you can swim or simply relax along its shoreline.
Nearby Lake Havasu City, which sits on the eastern side, is a great base for trails into the nearby desert or for water sports on the lake itself. There's also an interesting museum which documents the local steamboat history, and great restaurants and shops to explore.
Open year-round, whether you enjoy hiking, paddling, swimming or catching a stunning view on your camera, Lake Havasu is an outdoor lover's area.
Bonus: Discover the actual London Bridge, which was relocated from England, in Lake Havasu City.
8. Searles Lake, California
4 hours from Las Vegas (250 miles)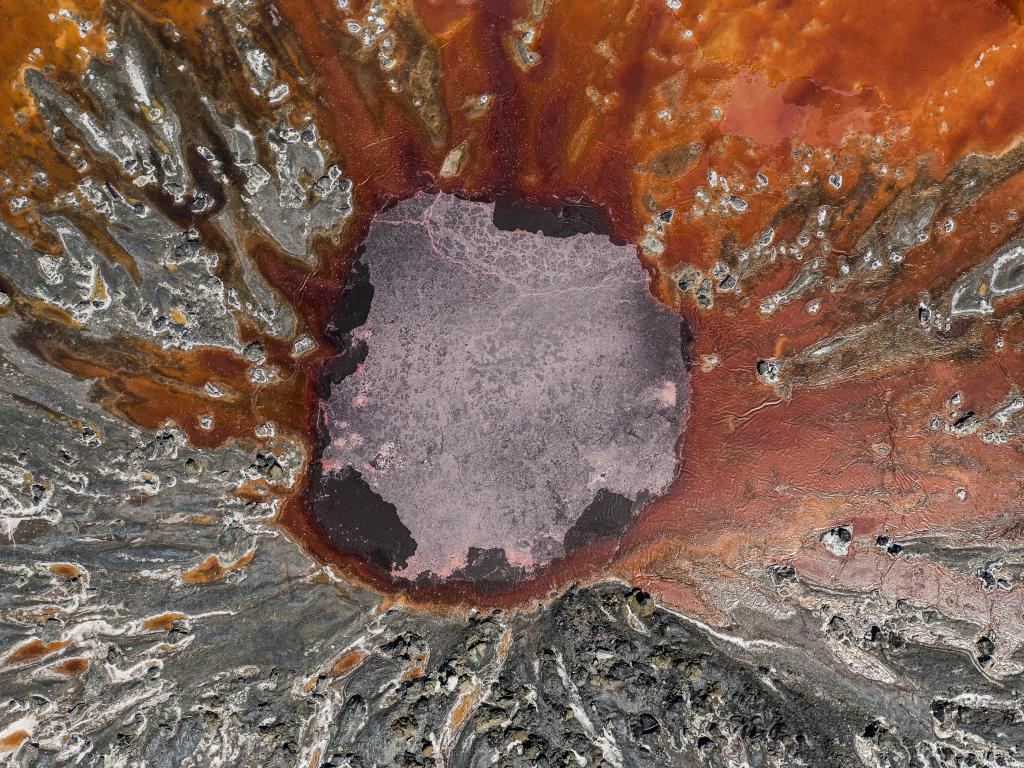 Why you should visit: The first of our lakes in California, Searles Lake is a unique landscape with a dry lake at its center, which is dyed red in parts by minerals. Lying to the west of the iconic Death Valley National Park, this lake has a lunar landscape that's unique.
Surrounded by the Searles Valley of the Mojave Desert, this 40-square mile site contains half the natural elements known to man making it a great destination if you're a fan of history, science or are just curious to see what wonders you'll find at the bottom of a lake.
How to get there: Heading west of Las Vegas, join Interstate 15 into California, passing the stunning Mojave National Preserve. Take CA-58 west and US-395 north before changing to CA-178 on the final stretch to Searles Lake.
Our highlights: An endorheic dry lake, meaning it isn't connected to a river or ocean, Searles Lake was once full of brackish water. At 12 miles long and 8 miles wide, it's now an important source yielding over 1.7 million tons of industrial minerals every year.
While you won't get the chance to swim in beautiful turquoise waters here, the unique landscape does make for an exciting trip. If you time your visit in October, you can join in with the annual free Gem-O-Rama geological event that occurs every second weekend. You might even get the chance to discover your own crystals.
While Searles Lake is worth a visit in its own right, Death Valley National Park is only an hour away. You could spend some time here visiting its popular Badwater Basin or Zabriskie Point, and still be back in Las Vegas by nightfall.
Bonus: The best time to visit Searles Lake is October, at other times the area is either flooded or scorching hot at temperatures of over 115 degrees Fahrenheit.
9. Mono Lake, California
5 hours 10 minutes from Las Vegas (320 miles)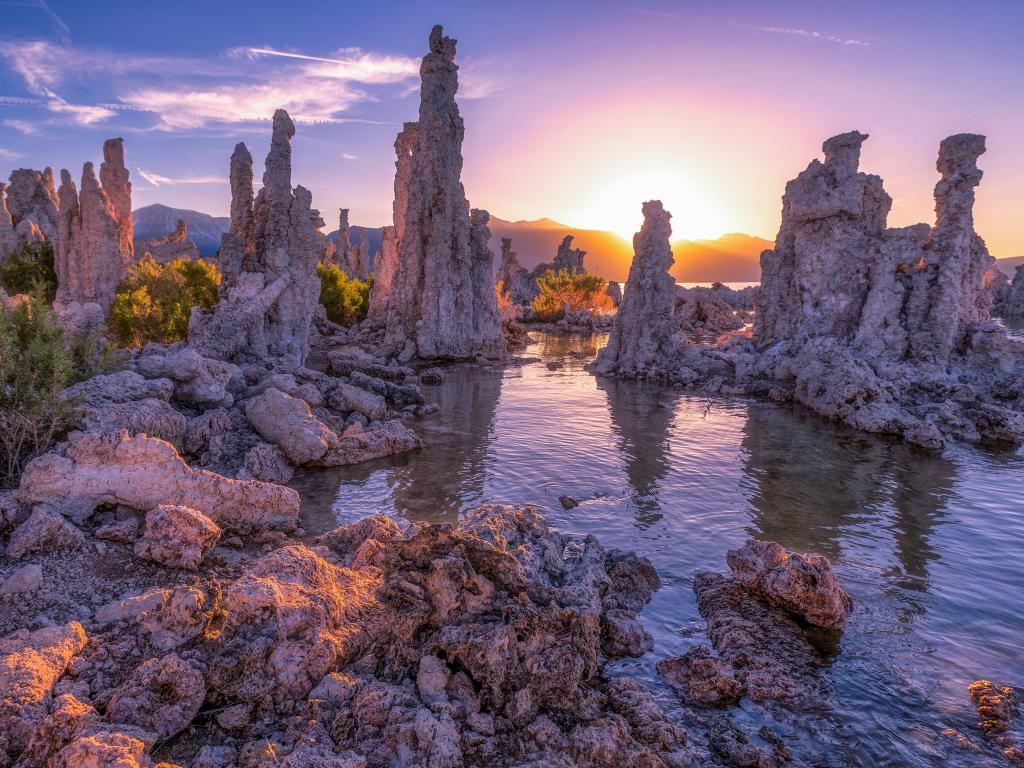 Why you should visit: Famous for its unusual limestone columns called tufa towers and its close location to Yosemite National Park, Mono Lake has very high salinity, which means that you can enjoy a unique buoyant swimming experience while visiting. You can also go boating, kayaking or simply sit back and watch the local wildlife pass by.
How to get there: Leave the city on US-95 before joining NV-266 west, passing close to Inyo National Forest. Join US-6 to Benton, before taking CA-120 to Mono Lake.
Our highlights: Despite the very high levels of salt, Mono Lake is popular with swimmers as the salty water (denser than the ocean) gives you a buoyant swim. If you don't fancy a swim, you can enjoy a boat or kayak around the lake. It's also a great spot to catch a sunset and popular among photographers thanks to the striking tufa towers casting beautiful reflections in the lake.
For the outdoor enthusiasts, you can take a hike around the Mono Lake South Tufa loop trail and enjoy great views of the surrounding landscape. Being so close to Yosemite National Park (less than a 20-minute drive), you can easily visit the beautiful park after exploring Mono Lake.
If you would like to learn more about the road trip from Las Vegas to Yosemite National Park, check out our comprehensive guide. At Yosemite, you'll find ancient sequoia trees, granite cliffs, waterfalls and incredible hiking trails.
Bonus: Would you like to spot marine life you cannot see anywhere else? Mono Lake is home to trillions of artemia monica, a species of brine shrimp that cannot be found anywhere else in the world!
Operating Hours: 7am-8pm
10. Walker Lake, Nevada
5 hours 30 minutes from Las Vegas (340 miles)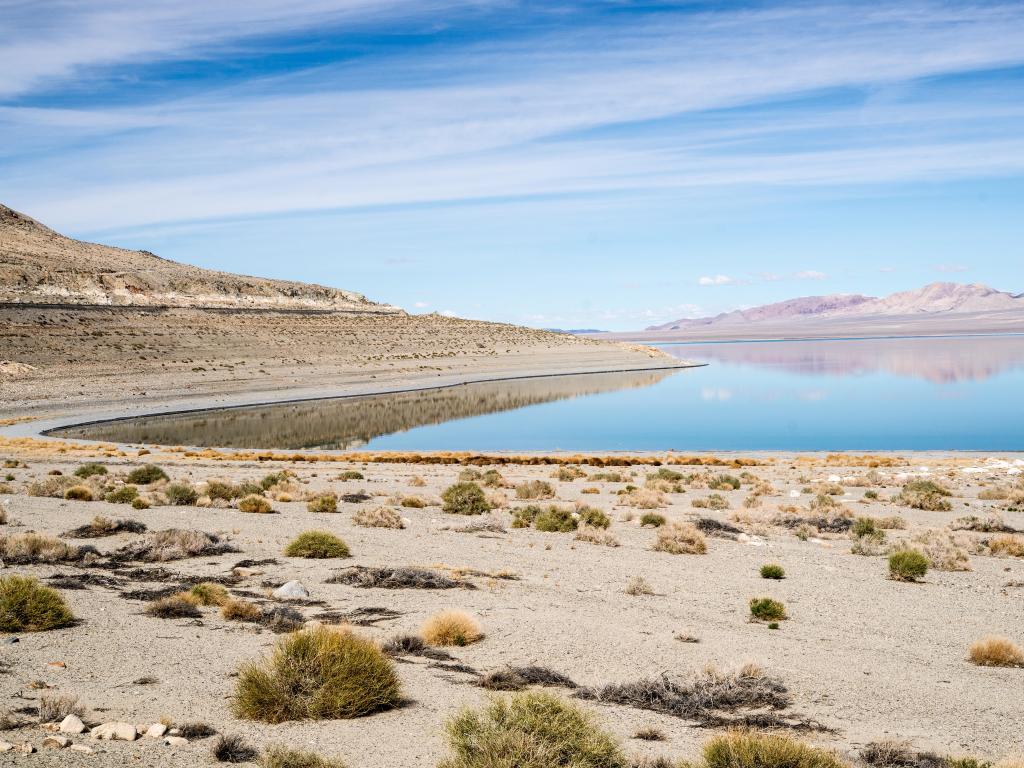 Why you should visit: If you're looking for a number of waterside recreational opportunities, including swimming, boating fishing or bird watching, then Walker Lake in Nevada is an excellent option.
This natural lake is close to the towns of Hawthrone and Walker River Reservations with fantastic opportunities for camping.
How to get there: Head north from Las Vegas on US-95 for the majority of the journey to Walker Lake, passing through Hawthorne and by Mt Grant en route.
Our highlights: The 11-mile long and 5-mile wide lake in the Great Basin in Nevada is one of only 10 waters in Nevada that are managed with a seasonal fishing closure, which makes Walker Lake an ideal destination if you love to fish. Just some of the prize catches could include a Rainbow Trout or Largemouth Bass.
Walker Lake has a varied shoreline, with a steep and rocky western side to beautiful sandy beaches on the east. So, whether you're looking for a challenging hike or simply to relax by the shore, there's something for everyone at this lake.
Inhabited by many wildlife species who come to flock here, including Desert Bighorn Sheep who flock to the west cliffs in the summer months, if you're lucky, you may even catch a glimpse of a wild horse or two!
The addition of vault toilets, picnic tables and a public boat ramp area means that you could easily spend the day here and catch a stunning sunset before driving back to Las Vegas the following day.
For the really adventurous hikers, you could include a trip to Bald Mountain after your visit to Walker Lake. With good access and a roundtrip of 5.5 miles to the top, you'll get incredible views on the highest mountain in this part of Nevada.
11. Angel Lake, Nevada
6 hours 20 minutes from Las Vegas (390 miles)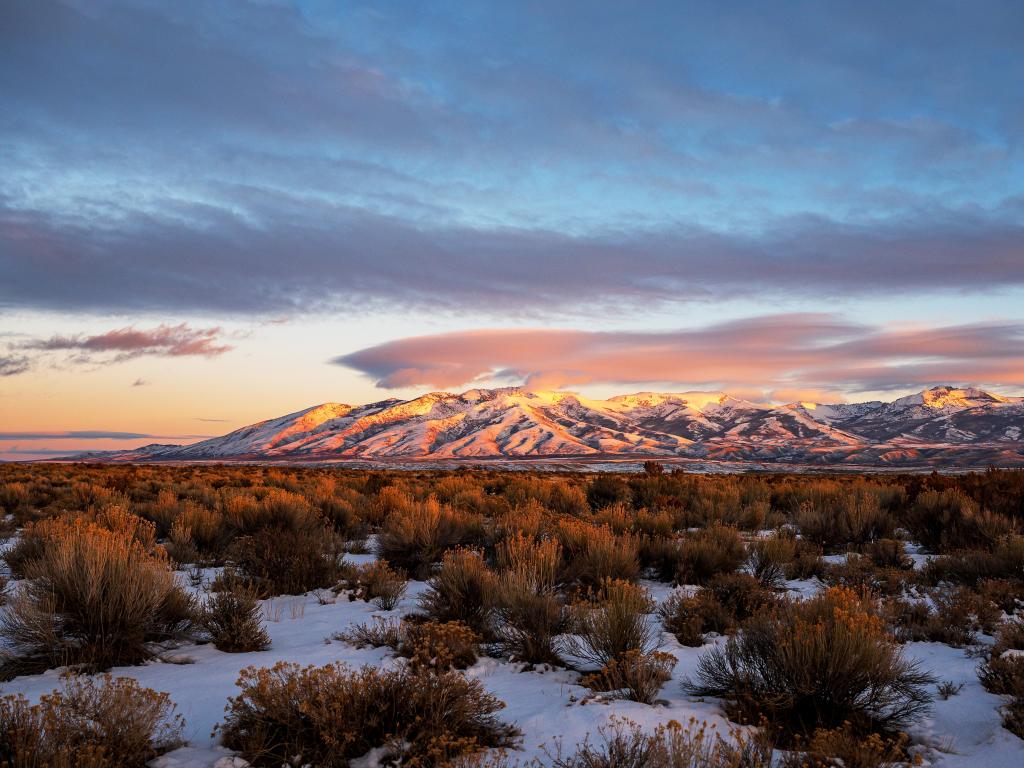 Why you should visit: Ideal for outdoor enthusiasts looking for a rewarding hike, Angel Lake is the perfect discovery to escape the bustle of city life and get back to nature. Here you can fish, swim, camp or just spend the evening stargazing.
Though not one of the biggest, Angel Lake is one of the most stunning elevated lakes on our list. Surrounded by rock walls on three sides, Angel Lake resembles a glacial lake in the East Humboldt Range.
How to get there: To reach Angel Lake, you'll need to leave the city on Interstate 93, passing Alamo, Ash Spring and Crystal Springs. Join NV-318 North for a long stretch before joining NV-232. To get to the lake, you'll then need to follow a good, paved road (though be aware it can close during the winter months).
Our highlights: Angle Lake is amongst the East Humboldt Range which is known for its dramatic and expansive views. The lake itself is perched at 8,500 feet and just 12 miles off the interstate, making it a paradise for hikers and photographers.
Surrounded by the mountains, visitors can take to the water on canoes or even catch a fish (rainbow and brook trout are known to be in the lake).
For a great hike, Greys Lake Trail, which begins at the campground entrance, is a 4.75-mile roundtrip path which will take you to a hidden alpine lake. While out walking you might even get to spot some of the many different types of wildlife that live here, including bighorn sheep and mountain goats.
Given the distance to Angel Lake from Las Vegas, you might want to consider stopping the night before travelling back the following day. The campground here offers single and double campsites, some overlooking the lake itself, and basic facilities.
Operating Hours: The Angel Lake Scenic Byway is open between June to October
12. Lake Tahoe, Nevada/California
7 hours 20 minutes from Las Vegas (450 miles)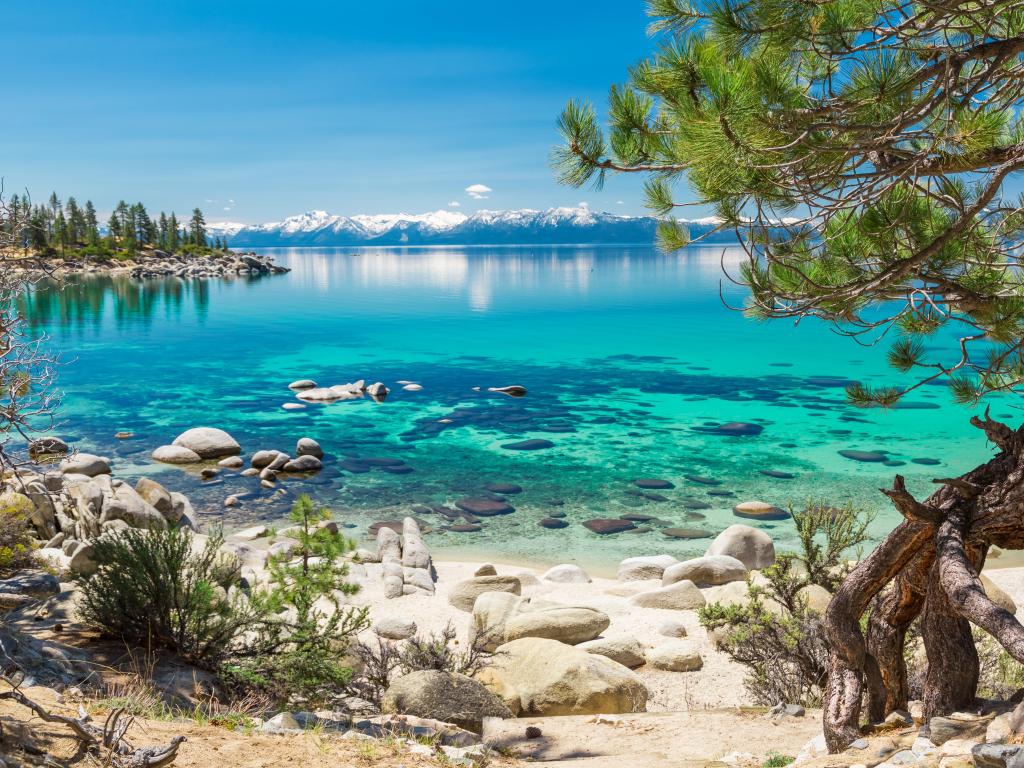 Why you should visit: Lake Tahoe is the most famous of the lakes on our list, and it's not hard to see why. Turquoise clear waters are set against the glacier Sierra Nevada Mountains, offering stunning hiking opportunities and sandy beaches.
How to get there: Leave Las Vegas on Interstate 515 North and join US-95. Follow this road the majority of the drive, past Walker Lake and several towns. Take a left onto US-50 at Silver Springs, heading west to Carson City. Merge onto I-580 South before continuing on US-50, following signs for Lake Tahoe.
Our highlights: Straddling the border of California and Nevada, its crystal-clear waters make Lake Tahoe popular with swimmers, photographers, watersport fans and even skiers.
If you're looking for a quiet spot, then your best bet is to head to the north edge. If crowds don't phase you then the best beaches can be found at Sand Harbor, which is located on the Nevada side.
The lake has numerous lodging and dining options around the shores, especially around South Lake Tahoe. If you'd rather spend a couple of days exploring the lake (which we recommend as it's a stunning oasis), then you'll find some fantastic resorts with lakeside views dotted around.
A year-round destination, Lake Tahoe has plenty of nearby ski resorts, taking full advantage of its 540 miles of slopes. Altogether there are 15 ski resorts around Lake Tahoe alone.
If you're visiting in the spring or fall, you'll still get stunning views and plenty of activities to keep the whole family entertained, including boat tours or a visit to Emerald Bay State Park. In fact, there's so much to see and do here, that you might never want to leave.
A road trip from Las Vegas to Lake Tahoe is perfect for any traveler, whether they're looking for a relaxing swim or an adventurous hike near the mountains.
Bonus: Lake Tahoe is 99.994% pure, making it one of the purest large lakes in the world.
Further afield: Best lakes within 8-10 hours of Las Vegas
While you might need more time at your disposal to visit these fantastic lakes, this list wouldn't be complete without including them. So, book an overnight stop and make a visit to these scenic and unforgettable lakes and reservoirs.
13. Washoe Lake, Nevada
7 hours 15 minutes from Las Vegas (440 miles)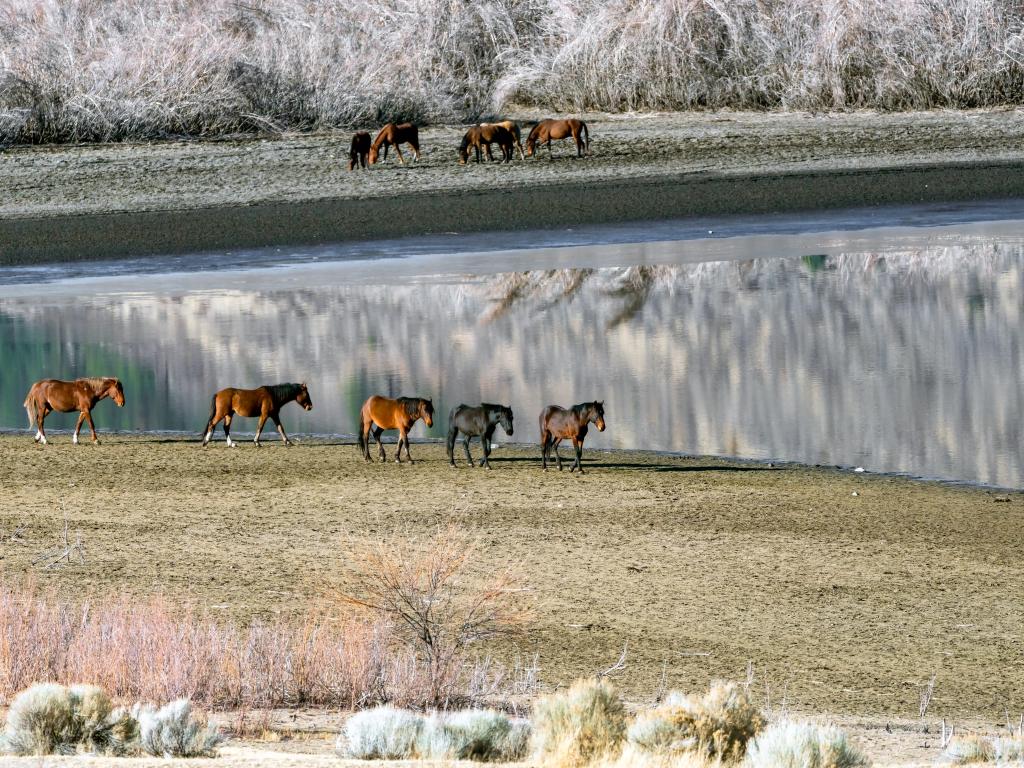 Why you should visit: Popular with those looking to go hiking, camping, water sports or picnicking, Washoe Lake is known as the Gem of Washoe Valley. As a lesser-known lake compared to Lake Tahoe, you'll also get stunning views without the busy crowds, making this arguably more tranquil than its sister lake.
How to get there: Though over 400 miles away from Las Vegas, the quickest way to Washoe Lake is via US-95 North, through the towns of Walker Lake and Silver Springs. Take US-50 West through Carson City, and Interstate 580 North to Exit 10, where you'll take Eastlake Boulevard to Washoe Lake.
Our highlights: Just a short drive from Lake Tahoe, Washoe Lake offers breathtaking views of the Sierra Nevada and Virginia mountain ranges.
For thousands of years the Washoe Valley and Washoe Lake have been home to a variety of cultures, including the original inhabitants, the Washoe Indians, where its name originates from.
More recently Washoe State Park was established in 1977 to protect the area and ensure the continued survival of the many important birds who visit it.
Popular activities at Washoe Lake and its nearby park include bird watching, horseback riding, fishing, windsurfing or hiking. There are also plenty of water sports activities including windsurfing, water skiing, catamaran sailing and fishing. You can also camp here.
If you're spending a couple of days here, you could also include a visit to Lake Tahoe or Tahoe National Forest where you can enjoy over 195 miles of trails through dense woodlands, sequoia trees and stunning views of the surrounding Sierra Nevada mountains.
If you would like to make a longer, extremely scenic road trip that features Washoe Lake, check out our guide about the best drive on the scenic Highway 395.
Bonus: Washoe Valley is home to a band of iconic wild horses who roam freely throughout the region.
14. Pyramid Lake, Nevada
7 hours from Las Vegas (430 miles)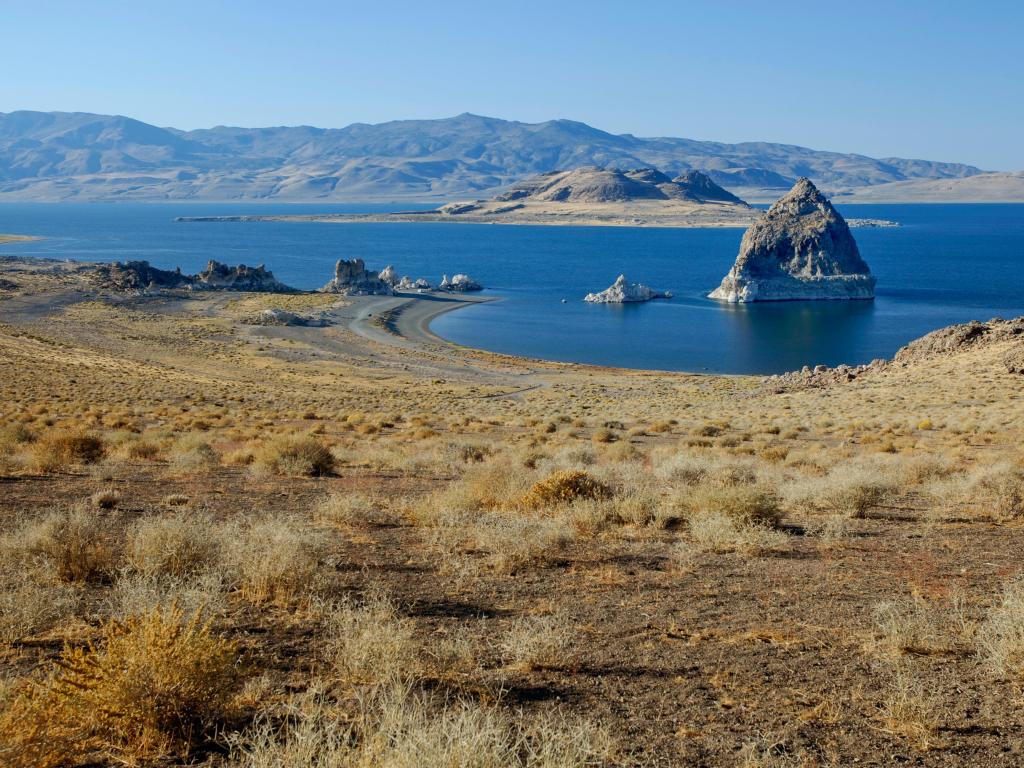 Why you should visit: The largest natural lake in Nevada, Pyramid Lake showcases rare species of fish, including the Lahontan cutthroat trout, making it a well-known popular fishing destination. A short drive from nearby Reno and Humboldt State Wildlife Management Area, Pyramid Lake is full of historical significance.
How to get there: The seven-hour drive from Las Vegas to Pyramid Lake will be mostly spent on US-95, NV-117 and US-50. The final stretch on NV-447 will take you past Nixon and to the shore of the lake.
Our highlights: Fed by the waters from Lake Tahoe and surrounded by mountains and tufa rock formations, Pyramid Lake is the last remnant of the ancient Lake Lahontan, which once covered much of Nevada. These spectacular rock formations make it a popular spot for photographers.
A visit to the nearby museum and visitors center is strongly recommended for those who wish to learn more about this fascinating and history-rich area.
As well as an important part of Nevada's history, Pyramid Lake is a special place for fishing enthusiasts. In fact, celebrities, foreign royalty and even a US President have fished at the lake hoping to catch a trophy fish.
Other great activities you can enjoy in this part of Nevada include hiking, kayaking or wildlife spotting.
An ideal spot to stop the night would be Reno, just 40 miles away. This city is located along the Nevada/California border and is well positioned to visit both Pyramid Lake and Lake Tahoe. Here, you can get enjoy the bright city lights before escaping civilisation to the quiet shores of Pyramid Lake.
Note: You will need a permit to fish or camp around the lake.
15. Topaz Lake, Nevada/California
6 hours 30 minutes from Las Vegas (400 miles)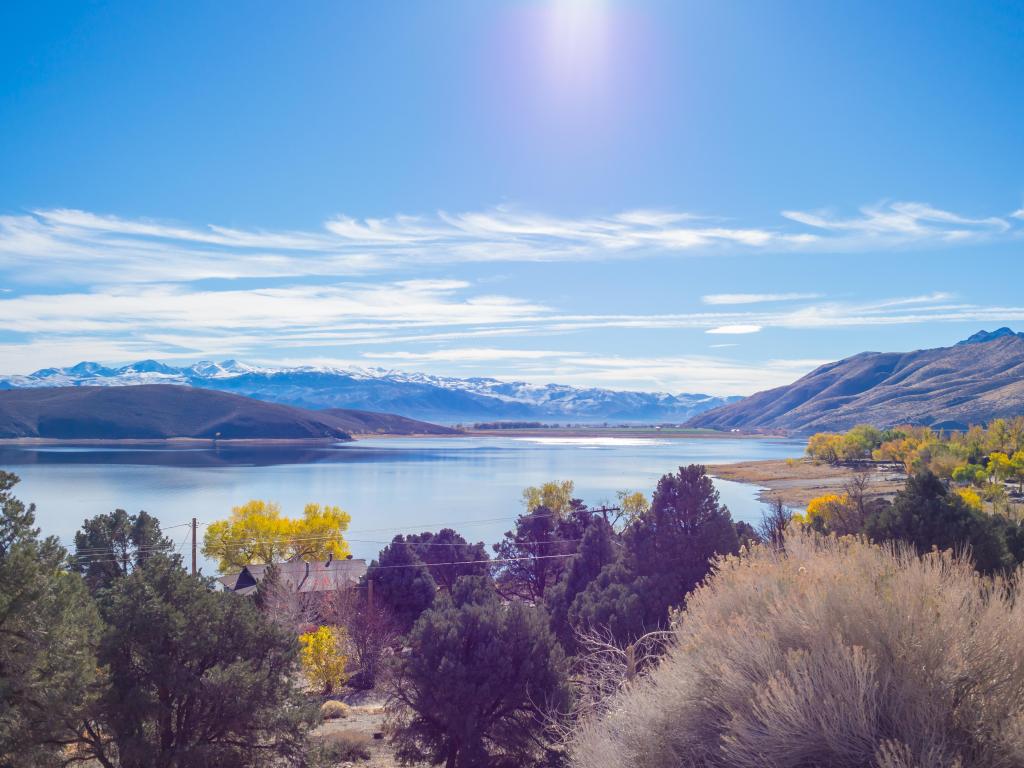 Why you should visit: Topaz Lake is known for its fishing, boating, camping and water sports activities, you can even enjoy swimming in this quiet and pretty lake. Situated at the northern end of the Antelope Valley, Topaz Lake is popular with fishing enthusiasts with lots of exploring, hiking or boating opportunities.
How to get there: Under seven hours from Las Vegas and on the edge of California and Nevada, the best way to get to Topaz Lake from the city is via US-95 North and NV-266 West. You'll pass by Yosemite National Park and Mt. Patterson en route, via US-395 before passing Coleville and arriving at the lake.
Our highlights: Whether you are looking for a quiet and pretty lake to escape the buzzing lights of the city, or somewhere to let loose on the water and try your hand at various water sports activities, Topaz Lake is a great option.
Bordering Nevada and California and featuring 25 miles of stunning shoreline, this beautiful destination is also a great starting point for exploring the nearby scenic mountains and forests.
This man-made lake is a great year-round destination, though it's particularly popular during winter and spring thanks to its mild temperatures, compared to many other nearby lakes.
For a memorable visit, you can even stop along its shore at the Topaz Lodge Resort and Casino, where you can enjoy stunning lake views. Or for the outdoor enthusiasts, you can spend the night camping at The Topaz Lake County Park.
After exploring Topaz Lake, you could easily add an extra day to your trip and visit nearby Stanislaus National Forest, hike up Mt. Patterson or take a short drive to Lake Tahoe. There's also the incredibly scenic hikers' paradise of Yosemite National Park that you can spend time exploring on your return leg to the city.
16. Wild Horse Reservoir, Nevada
7 hours 30 minutes from Las Vegas (490 miles)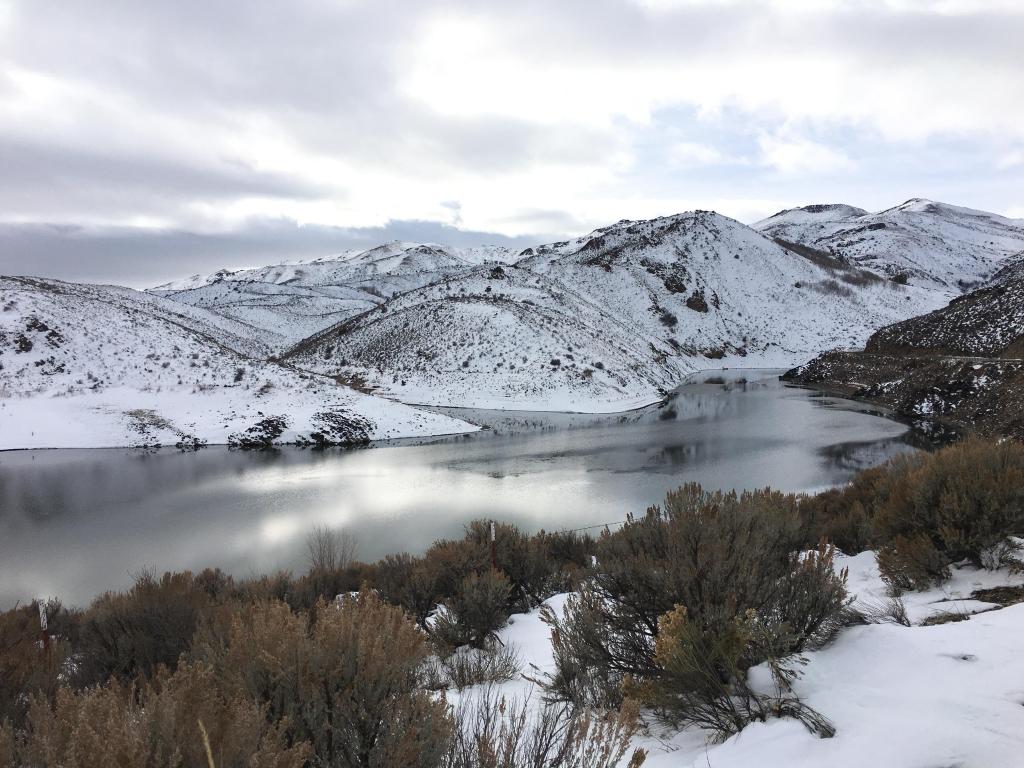 Why you should visit: As one of the few reservoirs in this part of the US, how could we not include Wild Horse Reservoir in the very north of Nevada? This man-made lake in Elko Country is both remote and remarkable.
Part of Wild Horse State Recreation Area, the lake itself is a popular fishing spot and a great place to skate in the winter months.
How to get there: Almost 500 miles from Las Vegas, Wild Horse Reservoir is one the furthest lakes from the city. The quickest way to get here is via US-93 past Desert National Wildlife Range and through Crystal Springs. Merge onto I-80 West to Elko where you'll take Exit 301 for NV-225 to your destination in remote Nevada.
Our highlights: Situated at 6,200 feet, the same elevation as popular Lake Tahoe, Wild Horse Reservoir was built in the late 1930s as part of the national flood control. Formerly known as the Owyhee Meadows, today it boasts some of Nevada's lowest winter temperatures, making it a super lake destination any season.
In the summer months, Wild Horse Reservoir is a great destination if you're looking for great hiking trails, boating or even swimming. There are several hiking trails leading down to the lake, plus routes for more adventurous hikers.
Meanwhile, in spring you can expect to see stunning wildflowers surrounding the park. Throughout the year you'll get to spot local wildlife including waterfowl and game birds.
Given the remote location of this lake, it's a great spot for stargazing. You can rent a cabin, situated at the south end of the park, and enjoy stunning views of the reservoir, both day and night. These are available to rent all year round. The campground also has basic facilities.
17. Lamoille Lake, Nevada
7 hours from Las Vegas (420 miles)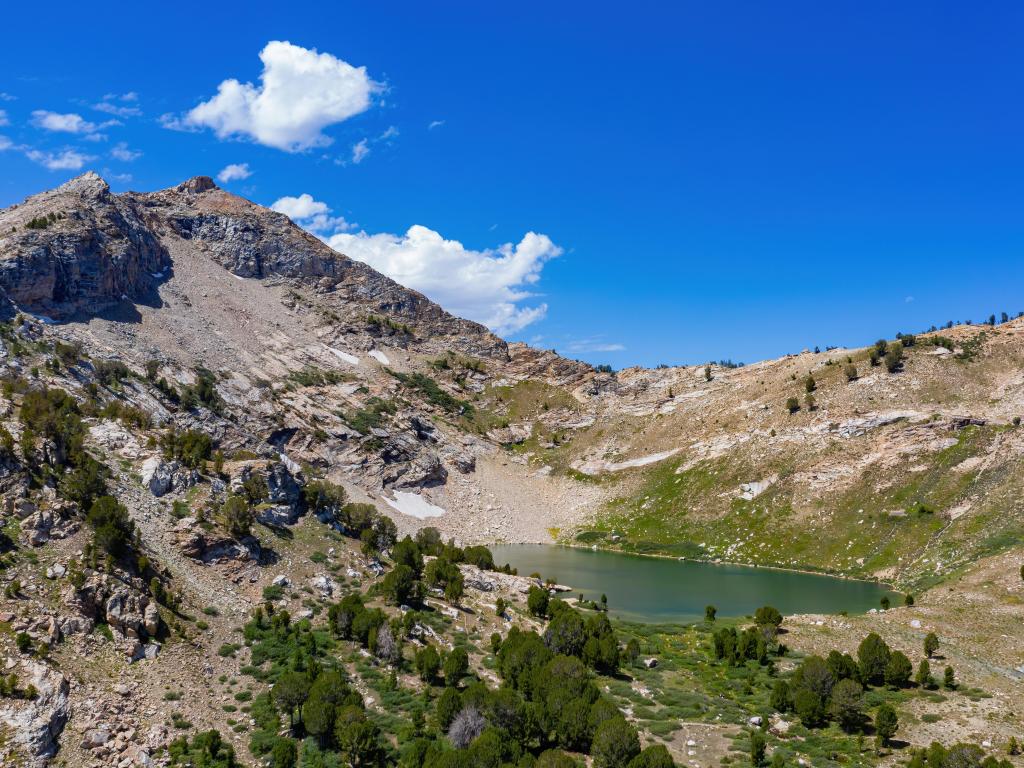 Why you should visit: If you aren't afraid of a bit of an adventure, then the hike to Lamoille Lake will be a fantastic reward. Surrounded by the Ruby Mountains in Nevada, Lamoille Lake is a stunning glacier-carved lake with incredible views all around. A popular spot for fishermen, Lamoille Lake is also a great introduction for families looking for an easy overnight hike.
How to get there: To reach Lamoille Lake you'll need to head north on US-93 to Crystal Springs and Lund. Continue on NV-229 west, following signs for Lamoille. Follow the road to its end where you'll be able to join the trailhead (there's a toilet here). Follow the main trail past stunning views of Lamoille Canyon. You'll pass a couple of smaller lakes, before reaching the junction for Lamoille Lake on the right.
Our highlights: Perfect for outdoor enthusiasts, the hike to Lamoille Lake might be short, but it offers a great introduction to the Ruby Mountains.
Part of Elko County, this region is packed full of incredible peaks, tree-lined canyons, desert valleys, mountains and Lamoille Canyon Scenic Byway. Though small, Lamoille Lake's tree-lined shore makes it a beautiful spot for reflecting or enjoying the local wildlife.
The area also has plenty of seasonal snow, making it ideal for winter sports fans. But for those looking for something more challenging, you can also walk the Ruby Crest Trail which takes you past several of the lakes in this part of the Ruby Mountains, including Favre Lake.
Given its location, Lamoille Lake really is best suited to those road trippers looking for a remote and tranquil spot. As an added bonus you can even camp at the surrounding campsites at Thomas Canyon Campground from May to November.
18. Liberty Lake, Nevada
7 hours from Las Vegas (420 miles)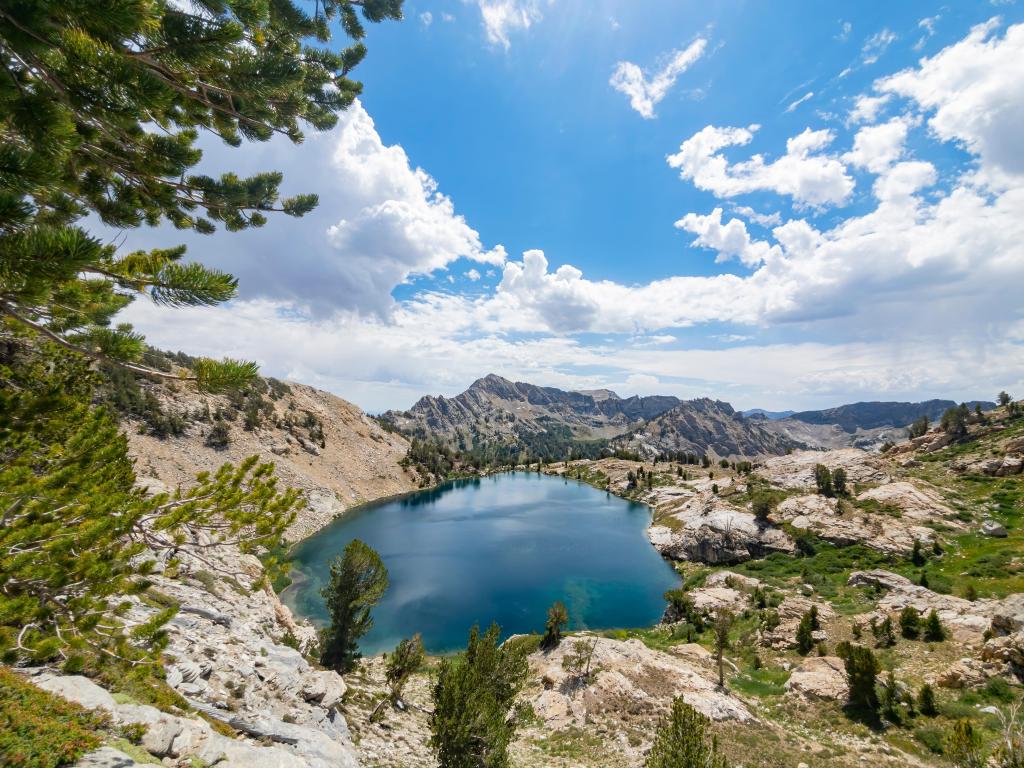 Why you should visit: Liberty Lake is something quite special with incredible mountain views and fewer tourists, allowing you to get unspoilt views and the opportunity to discover the great range of wildlife that makes this part of Nevada their home.
How to get there: Like Lamoille Lake above, to reach Liberty Lake you'll need to travel on foot for the final part of the trip. To begin, follow US-95 North to NV-229 west, following signs for Lamoille.
As a continuation of the Lamoille Lake hike, you'll need to pass this lake and then continue to climb to Liberty Pass where you'll get your first views of Liberty Lake. A further 20 minutes' walk down from the pass, and you'll reach the shore.
Our highlights: To reach Liberty Lake you'll first have to hike past Lamoille Lake. If you arrive between spring and summer, then you'll be treated to stunning wildflower blooms.
For hiking enthusiasts, there are few sights more rewarding than the iconic alpine scenes you'll catch among the Ruby Mountains. There are trails to enjoy, including the Ruby Crest Trail, meanwhile, the hike from Lamoille Canyon across Liberty Pass is known to be one of the very best day hikes in the US.
While the hike and lakes in this part of Nevada are popular, they don't get the crowds like those in California and Utah, so if you're looking for somewhere quiet and peaceful with unspoilt views, it doesn't get much better than Liberty Lake.
If you decide to stop and camp for the night, you'll be treated to a stunning sunset, though do bring essentials with you as its remote location means you'll have a bit of a walk back to civilisation. If you're feeling brave, you can even take a dip in the water!
Bonus: From Liberty Lake, you're also within reach of Favre Lake and Castle Lake, both are popular with fishing enthusiasts and make great day trips. If you're planning on camping overnight, these lakes are worth a visit.