How Long Does It Take To Drive Through Yellowstone?
Yellowstone National Park is a wild and beautiful corner of America, full of awe-inspiring natural beauty, free-roaming wildlife, and famous geysers. Driving through this world-famous national park is on many people's bucket lists and with a little planning is easy to do.
It takes roughly 6 to 7 hours to drive through Yellowstone National Park depending on the route. While you can drive the popular Grand Loop in warmer months, visiting in winter will mean some roads will be closed, and that the drive might take longer.
No matter how you do it, driving through Yellowstone National Park is an easy and memorable road trip opportunity for the whole family. Continue reading below to learn more about driving through Yellowstone, the best seasons to go, and tips on planning your drive.
Time to drive through Yellowstone
Travel times and distances through Yellowstone National Park
Route
Distance
Driving Time
The Grand Loop


Not accessible from early November to April/May

140 miles
7 hours
Winter Route
180 miles
3 hours 40 minutes
Yellowstone National Park is the USA's first national park and is in the state of Wyoming. However, it's not fully in Wyoming, in fact 95%, of the park is in the state's northwest, while the other 5% spreads into Idaho and Montana.
The main journey through Yellowstone National Park is the Grand Loop. The road is shaped like a figure eight and takes 6-7 hours to complete. Check out our guide on the drive through Yellowstone National Park to learn more about what awaits you on this epic journey.
However, you could easily assign a day for each section of the Grand Loop to enjoy the drive and the stops. A day in the Upper Loop and another full day on the Lower Loop would make the perfect Yellowstone Road drive.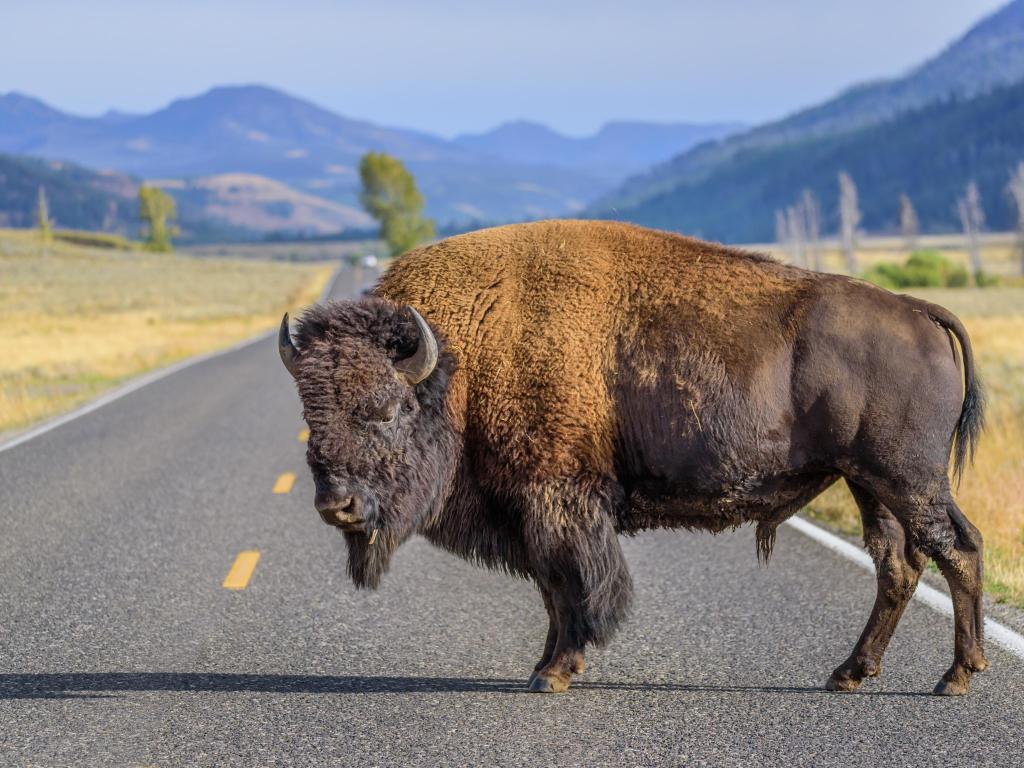 How long does it take to drive through Yellowstone
There are five entrances to Yellowstone National Park. The North Entrance is in Gardiner, Montana and the Northeast Entrance lies in Silvergate, Montana. Both these entrances are very popular amongst motorists.
In Wyoming, there's the East Entrance and the South Entrance, accessible from Jackson, Wyoming. The West Entrance is located in West Yellowstone, Montana.
You can enter the Grand Loop from any one of these entrances. The Grand Loop is open from April/May to early November and closed during winter. Fortunately, there's an alternative winter route that covers the only open stretch of the Grand Loop and takes 4 hours minutes without stops.
The drive to Yellowstone takes you through some of the most stunning landscapes in America. Yellowstone is 755 miles, or 11 hours and 40 minutes from Seattle, 320 miles from Salt Lake City, 1,000 miles and 16 hours from Los Angeles, and 1,360 miles and 21 hours from Chicago.
Driving through Yellowstone on the Grand Loop
From West Yellowstone, drive East on US-191 and turn left onto the Grand Loop at Madison. The first notable stop is Gibbon Falls, a towering 84-foot waterfall that often appears in nature magazines.
Continuing on the Grand Loop to Norris, you'll encounter the famous Norris Geyser. After that, the next popular stop is Mammoth Hot Springs.
Following the Grand Loop from Mammoth Hot Springs, you'll reach Tower Roosevelt. Here you can stop and see Tower Fall and an impressive overlook with views of Calcite Springs.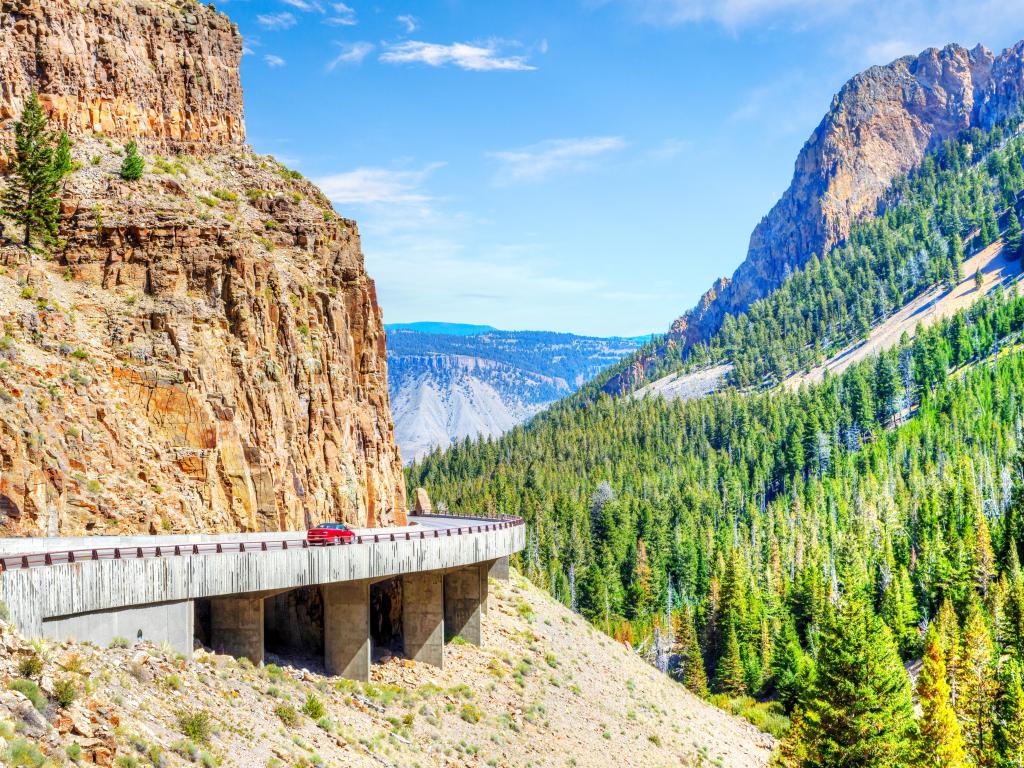 Continuing South, you'll reach Canyon Village. It's here where you can see the Grand Canyon of Yellowstone. If entering from West Yellowstone, the canyon is the end of the Upper Loop, so it's an ideal place to stop if driving through Yellowstone in a relaxing two days.
There's a beautiful campground called 'Canyon Campground' en route, which is a very popular spot.
Carry on heading South to the next stop of Lake Yellowstone. Just after the lake is the Natural Bridge. Then, you'll see the stunning West Thumb. This is near the South Entrance and is famous for the Thumb Geyser.
Continue on the Grand Loop and head west, crossing the Continental Divide. You'll see the famous Old Faithful Geyser here, which is one of the most famous and iconic natural landmarks in the USA. Then, drive north on the Grand Loop and you'll return to the entrance point of Madison near West Yellowstone.
Driving through Yellowstone on the Winter Route
During the winter, Yellowstone gets extreme snow and cold and most of the drive through Yellowstone is closed. However, you can still get a good drive in, and the landscape will be spectacular.
First, starting from Mammoth Springs, Montana, travel south on Highway 287, then join I-90 to Bozeman. Take Exit 333 to drive on Highway 89 south.
You'll meet Gardiner and the North Entrance of Yellowstone with its Roosevelt Arch. This is the only entrance open in winter.
After entering the park, you'll find Mammoth Hot Springs, which will be steaming in the winter. From Mammoth Hot Springs, you can drive east on the Grand Loop.
There are trails along this stretch leading to landmarks such as Undine Falls and the Petrified Tree. If you have snowshoes, you'll have a lot of fun.
At Tower Roosevelt, you'll have to leave the Grand Loop. The Northeast Entrance Road and follow along the Northeast Entrance Road. There are sites like Junction Butte and Lamar Canyon and Soda Butte which are stunning in the winter. Following Northeast Entrance Road, you'll meet Cooke City, Montana.
Things to know that can impact your driving time
Although you won't have to worry about congestion caused by major cities near Yellowstone, the area still has elements that may impact your driving time.
The first thing is, maybe unsurprisingly, traffic. The national park is very popular and can get very congested, especially in summer. It is also good to keep in mind that you might sometimes encounter long queues at the entrance.
Next to the traffic is the weather. Winter has a higher likelihood of closures due to blizzard conditions that leave the roads unsafe for visitors. That said, in spring and fall there's still a chance of snowfall that may cause closures.
Throughout the year, tailbacks occur when wildlife such as bison cross the road. This causes longer delays if there are more people driving the Grand Loop in the summer.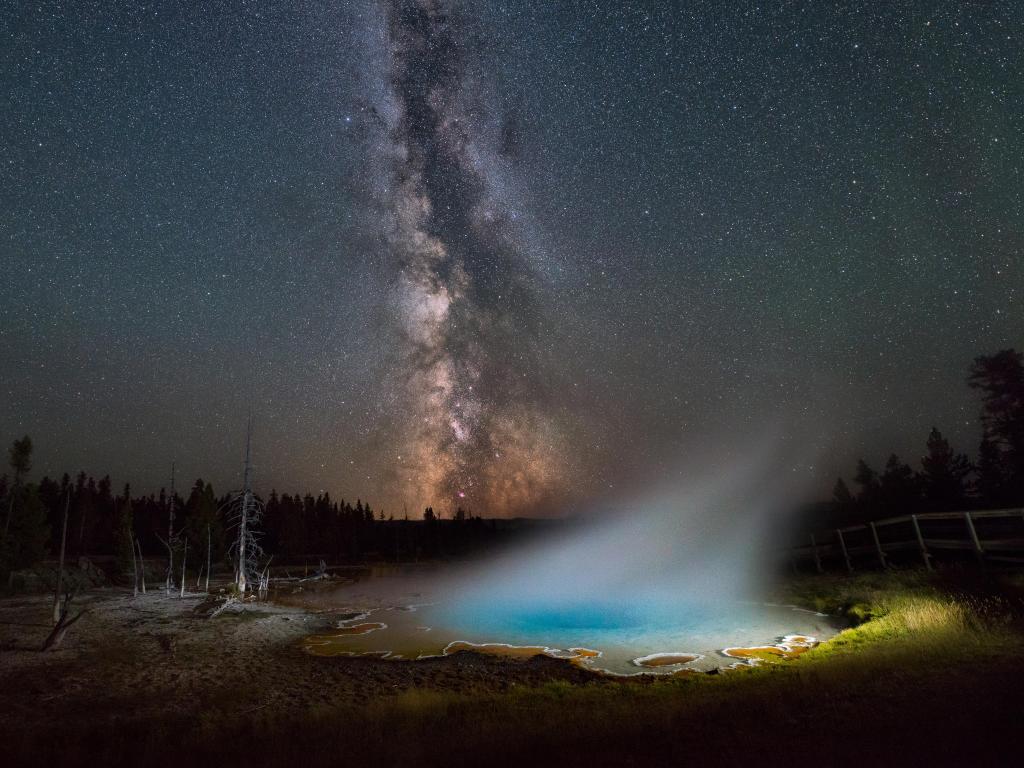 Tips to drive through Yellowstone in the shortest possible time
Although things happen that may increase your driving time, there are things to do to help shorten the time you're on the road waiting and get you into the park sooner and with less stress.
First, consider having two drivers available so you can alternate and stay fresh. Choose an economical car, rather than a gas-guzzler to minimize refueling stops.
You can drive at night when there is likely to be less traffic unless the state in question has reduced speed limits during overnight hours. Also, drive on Sundays, when there's likely to be less traffic. Stock up on snacks and in-car entertainment, to reduce the need for stops and detours.
Once you're in Yellowstone, pack a picnic. There are plenty of scenic picnic areas in Yellowstone.
Download the Yellowstone Application on your phone. Cell phone coverage in the park is limited, and the app has helpful information.
If arriving in peak season, pre-book your ticket. The pre-pay lane has shorter queues, so you'll enter the park faster.
April, May, September and October are quieter times and better for wildlife spotting due to the smaller crowds. You're more likely to catch a glimpse of a bear in March and April.