Sequoia vs Redwood National Park: which is better to visit?
This comparison is a literal battle of giants: Redwood National Park is home to the world's tallest tree (Sequoia sempervirens) and Sequoia is home to the world's largest trees (Sequoiadendron giganteum). Both trees get their generic name, "Sequoia," from a giant of the Cherokee Nation and inventor of a novel writing system for indigenous languages, Sequoyah.
Regarding which national park you want to visit, there are many things to consider. Do you want to go on various beautiful hikes and can't get enough of the High Sierra landscape? Or do you prefer to wander between coastal vistas and old-growth forests?
In this comprehensive comparison of Sequoia and Redwood National Parks you'll read about the best that each park has to offer, the choicest places to stay, when the ideal time to visit is, and which park makes the most sense based on where you're coming from.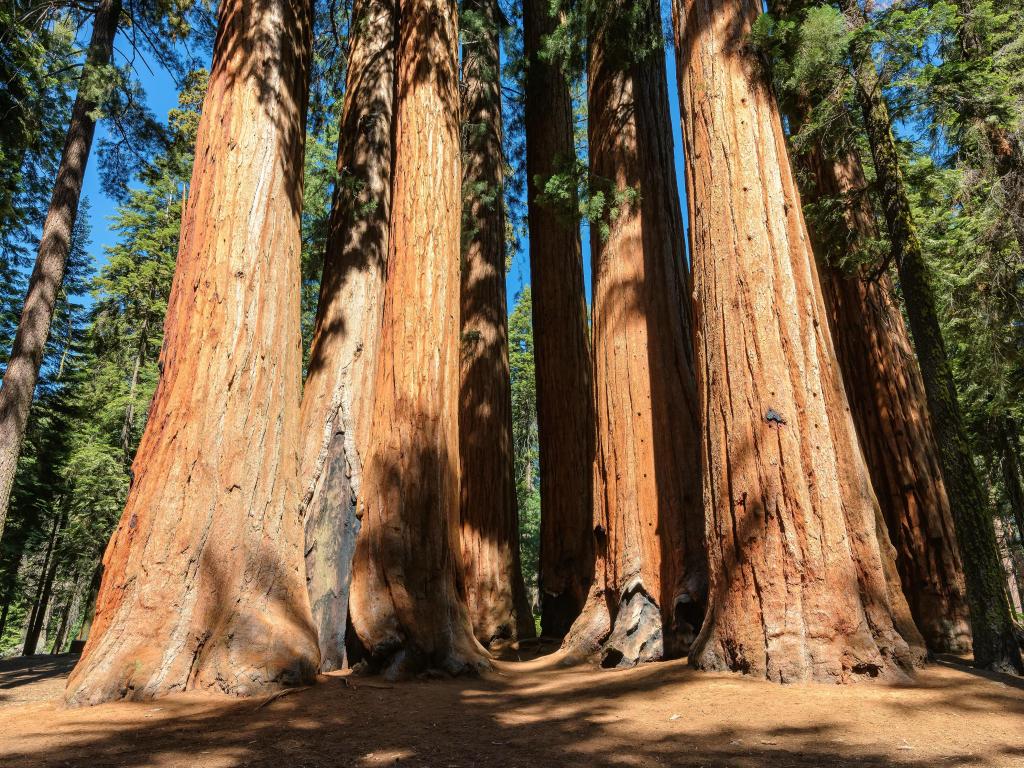 Sequoia vs Redwood National Park: which national park should you visit?
First things first: what exactly is the difference between sequoias and redwoods? They are both part of the cypress tree family and both used to be called "redwoods," but are now recognized as belonging to different, yet closely related, genii.
The taller, thinner, coastal trees with needle-like leaves kept the name "redwood," despite their bark being less distinctly red then the thicker, inland trees with more scaly leaves that we now call "sequoia."
Another thing that distinguishes these trees is their habitat. Both Sequoia and Redwood National Parks exist to preserve the exclusive ecosystems where each of these tree species can thrive.
So no matter which park you choose to visit, you will see a natural wonder that doesn't exist anywhere else in the world.
Sequoia and its trees are in south-eastern California, on the western slopes of the tail end of the Sierra Nevada Mountain Range. Giant sequoias grow in a narrow, 60-mile band between 3,000 and 8,500 feet above sea level.
Mt. Whitney, the Lower 48's tallest mountain at 14,494 feet, is near the eastern border of the park and to the north sits Kings Canyon National Park.
Sequoia National Park is characterized by its drier climate, which experiences more extremes in temperatures. Here you'll find winding trails between broad trees with broader spaces between them as if to bring their astounding size into even sharper relief.
Redwoods, on the other hand, grow much closer together and call the misty northwestern corner of California their home. They thrive in the wet, temperate climate of the Pacific Northwest, and their territory extends into southern Oregon.
The groves here are crisscrossed by streams and rivers on their way to the Pacific Ocean, which in turn sends fog and mist to nourish this cool and humid environment.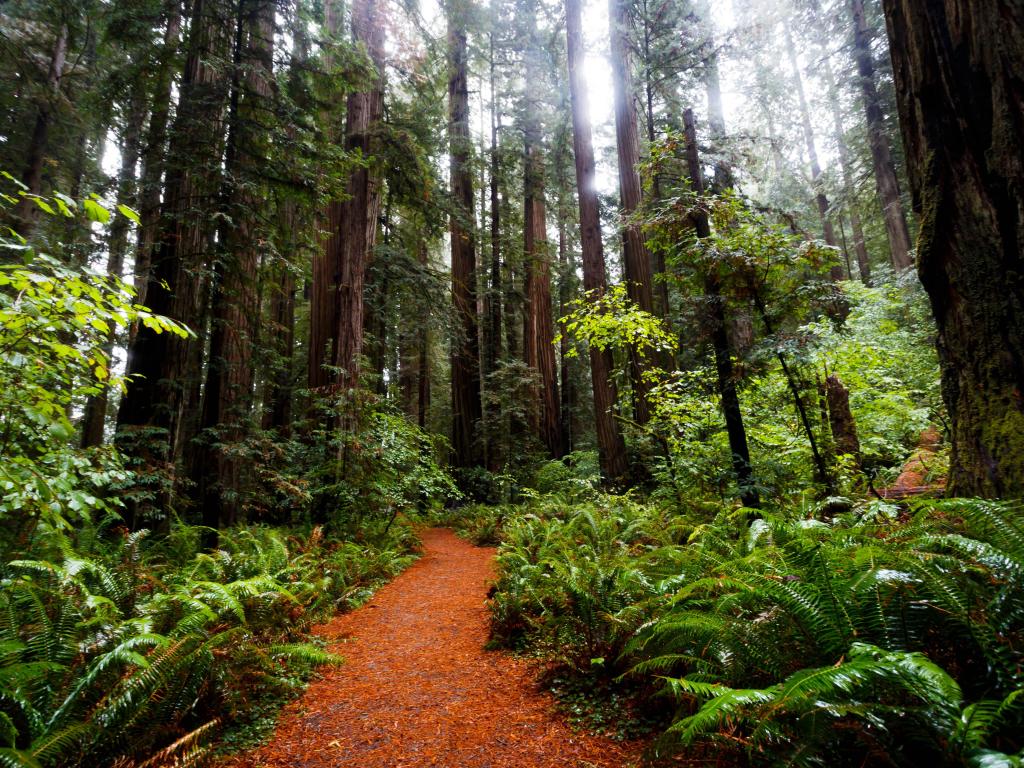 Maybe you've heard the term "old-growth forest." This means a forest where the trees count their age in centuries and millennia rather than decades.
Though the majority of old-growth coastal redwoods were cut down from the 1850s onwards, Redwood National and State Parks (we'll get to this longer title later) preserves the last 5% of old-growth redwoods where trees over 2,000 years old have been found.
Sequoia has even more ancient trees, with one tree named "The President" estimated to be over 3,000 years old. When you visit Sequoia, the distinguished old growth tree and record-holding trees like General Sherman are clearly marked, making for more brag-able photo ops.
The coastal redwoods feel more approachable than the behemoths of southern Sierra, but many of their record-holding trees are kept a secret to protect them.
Still, when you visit here, you are interacting with the living heritage of the Yurok and Tolowa Native American tribes who first lived in this bountiful Pacific Coastal area. Visiting here provides more opportunities to learn about these intersections of nature and culture.
Here's a useful side-to-side comparison of the national parks:
Comparison of Sequoia and Redwood National Parks
Sequoia National Park
Redwood National Park
Size
400,000 acres
40,000 acres
Landscapes
Giant sequoias, mountain ranges, rugged caves, rivers and meadows
Coastal redwood forests, prairies and open grasslands, Pacific Coastline
Wildlife
Black bears, mule deer, bobcats, gray foxes, pika, bighorn sheep, mountain lions
Roosevelt elk, black bears, black-tailed deer, mountain lions, gray foxes, river otters
Scenic views & overlooks

The General Sherman Tree
Tunnel Log
Moro Rock
Giant Forest
Tokopah Falls in Sequoia
Crescent Meadows
Crystal Cave

Stout Grove
Lady Bird Johnson Grove
Fern Canyon
Tall Trees Grove
Elk Meadow
Prairie Creek Trail

Value for money
Park entry is $35 per vehicle for 7 days


Including passengers

Free
Which national park is bigger, Sequoia or Redwood National Park?
Sequoia National Park is 400,000 acres, making it ten times the size of Redwood National Park, which is only 40,000 acres.
That said, Redwood National Park is officially Redwood National and State Parks, making it a 4-for-1 collection of three California State Parks and one federally administered National Park: Redwood National Park, Del Norte Coast Redwoods State Park, Jedediah Smith Redwoods State Park, Prairie Creek Redwoods State Park.
Taken together, these parks cover an area of 139,000 acres. While it is still about one-third the size of Sequoia National Park, both parks have distinct regions that would require a longer trip to get a complete feel for.
There are some incredible hikes in both parks. Redwood boasts about 200 miles of trails, but once again, Sequoia proves to be the more extensive park with 800 miles of trails, including much more varied and challenging routes, like the High Sierra Trail.
Still, there are some truly inspiring hikes through Redwood, like the Miner's Ridge Trail. This is a moderately challenging, 11.6-mile-long trail that connects the Prairie Creek and Gold Bluffs Beach areas of the park.
You could make an enjoyable day trip out of visiting Redwood's main attractions, but it is remote, and there are a plethora of pretty trails, so it would be best to take 2-3 days for this trip so you have plenty of time for hiking and enjoying the scenic drives.
If you are an avid hiker or backpacker, then you could probably spend more time in Sequoia National Park. In the less-visited Mineral King area of the park, you could complete the 26-mile-long Little Five and Big Five Lakes Loop, which takes you past a series of alpine lakes.
In addition to having more diverse trails and landscapes, Sequoia is jointly administered with the equally impressive Kings Canyon National Park, which is famous for its Yosemite-like granite valleys.
Is Sequoia better for the scenery than Redwood National Park?
Both Sequoia and Redwood have groves and vistas that will leave you speechless. Which park will really steal your heart once again comes down to personal taste.
There is nowhere on earth quite like Sequoia, where you feel like a Lilliputian walking amongst such massive trees. A walk through these woods is truly unforgettable. In addition to the sequoia groves, there are granite cliffs, rushing rivers, undergrown caverns, and miles of trails through the high Sierra.
Still, the giant sequoias are the park's signature attraction and are well worth the trip for anyone who loves to be awed by nature. The aptly named Giant Forest is home to over 8,000 trees and lies along the Generals Highway, one of the most scenic drives in the Sierra. A popular hike here is the Big Trees Trail.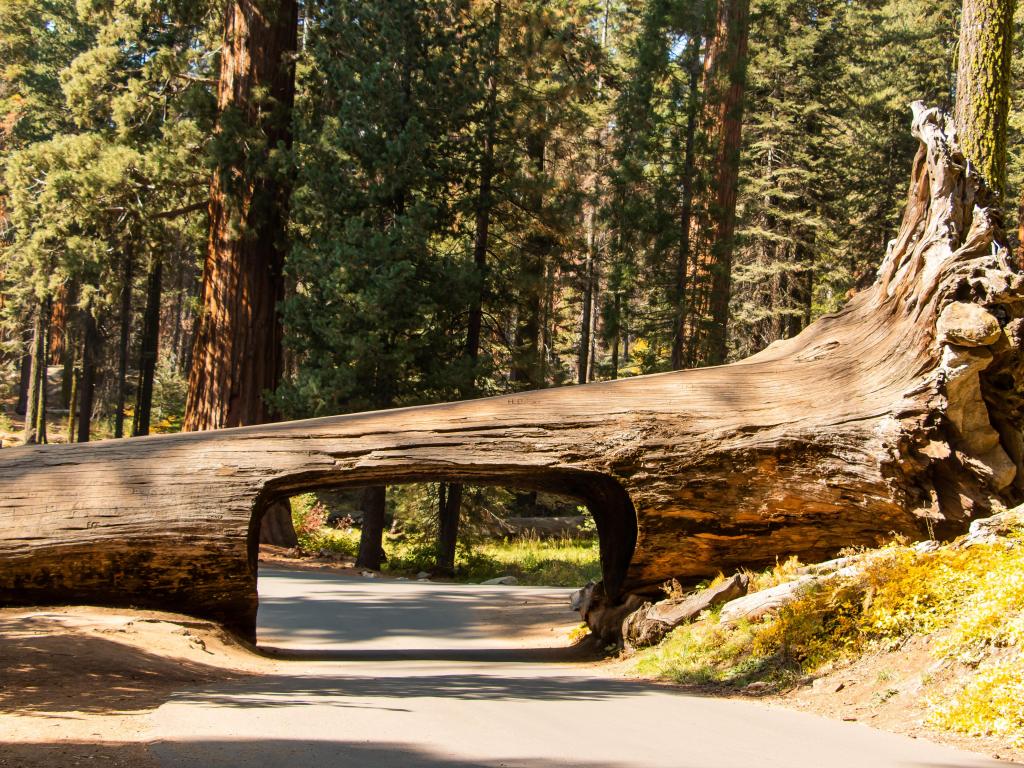 Another eye-catching prominence in Sequoia is Moro Rock. Reminiscent of Yosemite, this giant granite dome stands out like an island among the trees. As you can imagine, the top of this rock offers some breathtaking views, but you'll have to climb 400 carved stairs to get there.
In Sequoia, you also have the chance to see the Tunnel Log, constructed in the 1930s along Moro Rock Road. It has an 8-foot clearance, so make sure your vehicle will be able to fit before attempting to drive through it.
Crescent Meadows offers a great low-impact hike over flat terrain surrounded by the park's famously tall trees. This was one of naturalist John Muir's favorite areas in all of the Sierras.
Finally, Sequoia also has something in store for visitors underground. The Crystal Caves are as magical as their name suggests, with fairy pools and curtain-like ripples of limestone. This dazzling cave is worth the short hike from Generals Highway.
In contrast to this variety of scenery in Sequoia, Redwood offers a continuous, blissful, and uniquely serene vibe. Sun streams through innumerable layers of thin branches stretching hundreds of feet into the sky. The straight, slender trunks frame the lush, emerald foliage of ferns and smaller bushes which thrive between the redwoods.
When walking through Lady Bird Johnson Grove or Tall Trees Gove, you feel like you're walking through a cathedral crafted by nature. On many trails, you might find yourself along for long stretches of time, which adds to the deep sense of communion with something greater.
Meadows provide an unexpected break from the tree cover where you can see elk gracefully munching away. On the park's eastern edge is the Bald Hills area, where rolling golden hills are almost entirely devoid of trees.
From some of the higher elevations here, you can get great views of the entire Redwood watershed as well as explore the abandoned barn of Lyons Ranch.
Then there's the coastal side of Redwood, where you can see sea anemones and starfish in the tide pools, kayak along a misty lagoon, and gaze out over pale cliffs and outcrops surrounded by frothy waves.
Several trails here follow creeks and rivers to the ocean, providing incredible views of the redwood trees meeting the ocean.
Does Sequoia have better wildlife than Redwood National Park?
Sequoia National Park is home to a huge variety of terrestrial and avian wildlife – over 300 species. Especially in more active times like the spring, chances are good that you'll see a furry critter or two as you explore Sequoia.
From yellow-bellied marmots to the ever-cute pika, you'll be squealing with delight when you see your first four-legged friend scurry across your path.
On the Crescent Meadow and Log Meadow Loop, it's common to see larger mammals like mule deer and black bears rummaging for food. Despite how gentile and adorable they seem, be sure to maintain your distance and don't actively feed the bears.
One of the most iconic species here is the Sierra Nevada bighorn sheep. They roam the higher reaches of the park, and sightings are rare, but there's still a sliver of a chance to see one if you do a high-altitude backpacking trip.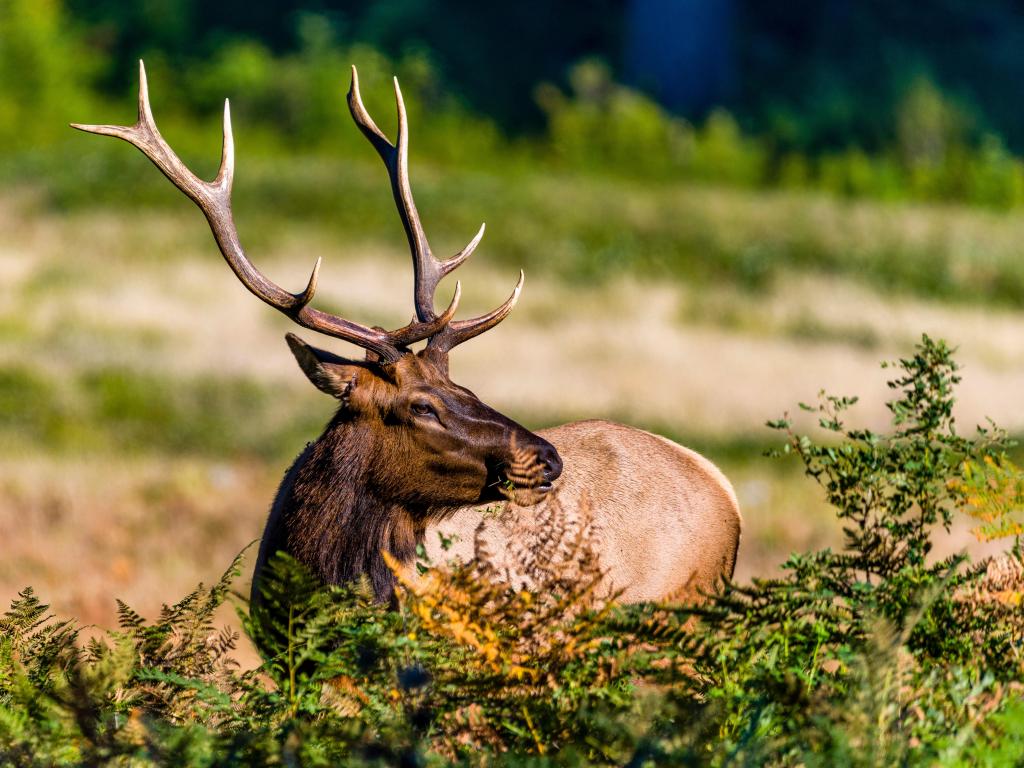 Redwood National Park is less well-known for wildlife viewing. Along Gold Buffs Beach and in the aptly named Elk Prairie, it is very common to see Roosevelt elk munching on grass and leaves, hardly bothered by all the people around. Aside from these herds of majestic elk, many visitors note the silence and seeming absence of animals in Redwood.
It's not that there isn't any wildlife in this bountiful environment, but rather that they prefer their own solitude and have plenty of places to find it throughout the redwood forest. Some inhabitants here include black bears, bobcats, river otters, and the northern spotted owl.
What Redwood might lack in terrestrial animal sightings, it makes up with the chance to see mesmerizing sea mammals like grey, humpback, and killer whales, as well as porpoises, seals, and sea lions along the coast.
There's also a host of colorful critters like sea anemones in the thousands of tide pools along the beaches. Birders might also be attracted to Redwood for its hundreds of bird species that particularly like to hang out around the lagoons.
Still, this might be one category where Sequoia is a better choice than Redwood if you're interested in a larger variety of terrestrial mammals and reptiles.
Where can I take the best photos, Sequoia or Redwood National Park?
As you can probably guess, both parks have some amazingly photogenic spots. The variety of scenery and elevation changes and the wide gap between the giant trees make for slightly more photo opportunities in Sequoia.
It's hard to leave here without getting a picture with General Sherman. While at first one gets the image of an eccentric old-timer on the porch of a provisions store, "General Sherman" is the name of the record-holding tree and is undoubtedly Sequoia's main attraction.
Standing at 275 feet tall, its trunk's volume is estimated at 52,500 cubic feet. People unfamiliar with the park will think you've used Photoshop to create a pic of a tree wider than some houses.
If you love to get out into the backcountry and take photos of the wilderness, then the 15-mile trek to Alta Peak is a must-do photo trip in Sequoia. This strenuous trek rewards you with stunning views and pics that could easily become your next desktop background.
For those not completely enamored with the coastal redwoods, the environment might prove a little monotonous for photographic purposes.
While these are streams and waterfalls which add some compositional variety, as well as the chances for coastal photography, there are only so many pictures of the densely packed, towering trees that you'll be tempted to take.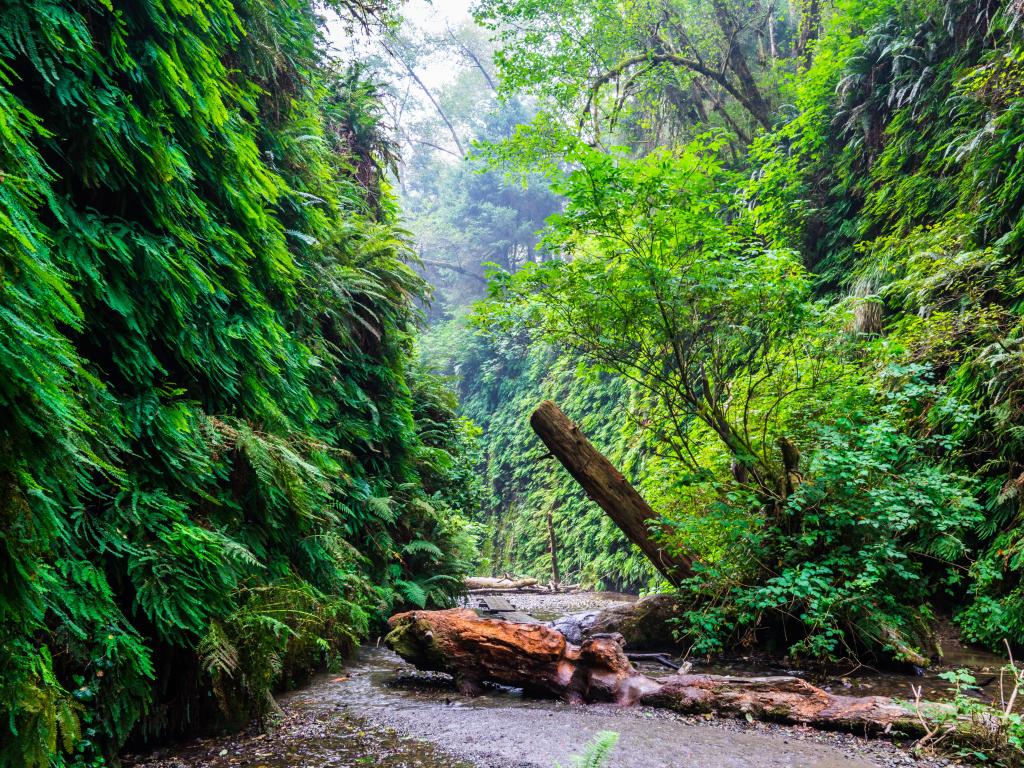 One exception to the scenic consistency of Redwood and one of the most photogenic areas in all of California is Fern Canyon. Just a short hike from Gold Bluffs Beach, or a longer hike from Elk Prairie, the walls of this narrow canyon are covered with thousands of ferns that resemble a vertical garden.
Fern Canyon is so pristine and prehistoric looking that it was used as a filming location for "The Lost World: Jurassic Park."
Still, nothing can make up for quality. Though you're presented with a more limited number of photographic subjects in Redwood, a quick image search online will show you that phenomenal photos can be taken here.
Which park is easier to drive around, Sequoia or Redwood National Park?
Though the roads into Sequoia National Park start out in the foothills, the park's most famous and scenic road CA Route 198, also known as the Generals Highway, climbs into some of the higher reaches of the park.
This can prove to be challenging driving for people not used to the mountains, but it is a gorgeous drive and, for some people the highlight of visiting Sequoia and Kings Canyon National Parks.
The other road into Sequoia is Mineral King Road. This out-and-back road takes you to some of the remotest parts of Sequoia, where there are fewer sequoia trees but a great variety of other conifers, high Sierra terrain, glacial lakes, and many places to go camping or backpacking without a crowd.
Generals Highway is not routinely closed during the winter, but it can be closed as needed due to heavy snow in the colder months. Check the latest road updates on the park's website when planning your trip.
Many smaller roads off Generals Highway and Mineral King Road are closed during the winter, limiting the number of months you can easily drive around the park.
There are several parking options throughout Sequoia. Parking at the Giant Forest Museum can get competitive during the high season, so look for alternatives at Wolverton and Lodgepole Campgrounds. You can catch the shuttle from these places to the General Sherman tree and other popular areas and trailheads throughout the park.
Redwood National Park is a more straightforward park to drive through, with the park directly alongside US Route 101 (US-101). This is the major road for access from the south and the north. Redwood is far less crowded, so there isn't a shuttle system here. There aren't even entrance stations!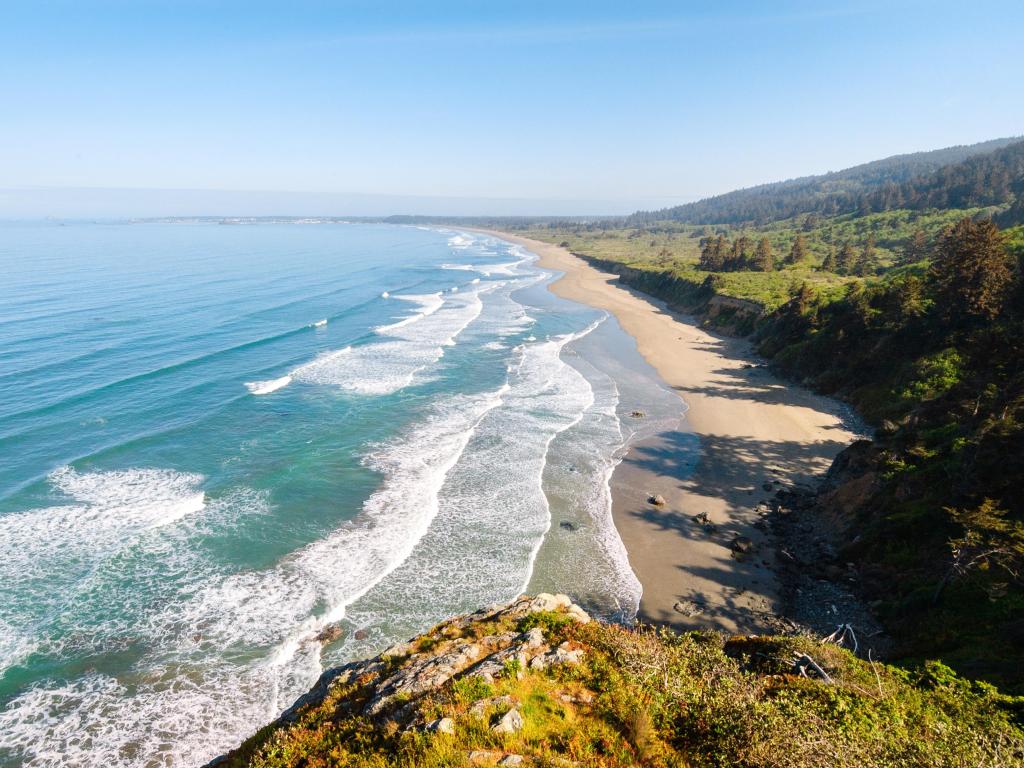 Redwood sits at a lower elevation and has a temperate coastal climate. This means less winding mountain roads, which are never closed due to ice and snow. In addition to being a more scenic drive, major trailheads are also more accessible, being closer to country roads that branch off from US-101.
Orick is centrally located between the state parks and national park areas. It is also the starting point for several trails, like the Orick Horse Trail to the back-country Elam and 44 Camps.
From here, you can also hop onto Bald Hills Road, which runs along the park's eastern edge. This takes you past Dolason Prairie, the Tall Trees Trail, and Lyons Ranch Trail.
Just to the north of Orick, there's a major parking lot at the Elk Prairie area, near the southern end of the Newton B. Drury Scenic Parkway, which is as scenic as its name suggests.
If you'd like to explore a bit of the coast, there is parking at the Redwood Creek Picnic Area, a few miles from Orick. While here, you can also pop in the Kuchel Visitor Center to learn more about the park and generally orientate yourself.
Given the spotty network coverage and few unpaved roads that go deeper into some sections of the park, be sure to download a map or purchase a paper map before your visit.
Also due to these smaller roads, many visitors feel that the trails of Redwoods are more accessible than those of Sequoia.
Which park is more expensive, Sequoia or Redwood National Park?
At Sequoia, you'll have to pay the standard $35 national park entry pass, which covers a vehicle and all its inhabitants for 7 days. With this park, there's an added bonus: the same pass also gives you access to Kings Canyon National Park next door.
You can check out our detailed guide on how best to visit both Sequoia and Kings Canyon National Parks in one day for more information.
Uniquely, there is no fee to enter Redwood National Park, hence the lack of entrance stations. In fact, the Park Headquarters is located at the northern extremity of the park in Crescent City. Many people don't even drive this far north, but if you do, you can visit the information center here.
Some of the nearby state parks will charge an entry or parking fee for specific areas, like the developed campgrounds, Gold Bluffs Beach, and Fern Canyon. These last two are in Prairie Creek Redwoods State Park and day-use fees are $12.
The backcountry campsites in Redwood are also free to stay in, you just have to apply for a pass beforehand. This means that you could potentially visit and stay overnight in the redwoods for the cost of gas and food, a rare budget option in a national park.
While Sequoia might be the more expensive park, both are in rural, remote locations in an otherwise expensive state. If you're visiting from out of state, prices might seem higher than you're used to, though the cost of meals and groceries will be less than if you were in cities like Los Angeles or more popular parks where demand drives up prices like Yosemite.
Which national park has better accommodation options, Sequoia or Redwood National Park?
With many days of adventure and activity planned on road trips like these, it's important to have a clear idea of how and where you'd like to rest and recharge.
Usually when you plan on visiting a national park, a genuine luxury stay option close to the park just isn't an option. Yet, only 35 miles from the entrance to Sequoia, The Darling knows just how to dote on you with the finer things in life.
In the heart of Visalia, this is a genuine 5-star hotel with a striking art deco design inside and out. When the temperature goes down in the evening, enjoy a drink or meal on the rooftop terrace and watch the sun set over this rural community.
For a more rustic option right on the doorstep of Sequoia, try the Buckeye Tree Lodge. There's a long shared balcony where you can take in the sounds of the river and the grandeur of the surrounding hills.
After a day of hiking, nothing is more refreshing than a dip in their pool. With comfortable rooms and nearby dining options, this hotel is usually in high demand, so make sure to book your room as soon as possible.
If you'd prefer to spend the night under the stars, then Sequoia is one of the best places in California to do it. The higher elevation and dry air make for great visibility in the night sky. Combined with the ambient scent of pine trees and aromatic shrubs, camping here is another wonderful option.
There are 7 campgrounds in Sequoia, most operating seasonally with winter closures. Potwisha Campground in the foothill area of the park is one of the few campgrounds open year-round, though it is a bit further away from all the tall trees. You can book a campsite there up to 4 months in advance.
One of the most popular camping areas is in the center of the park, near the giant forest. Lodgepole Campground has hundreds of campsites, amenities like a store and potable water, and is surrounded by trails that go into the heart of the forest.
Finally, if you're making a last-minute trip or wish to avoid the summer crowds, there are two campgrounds in the remote Mineral King portion of the park, Atwell Mill and Cold Springs. Being at a higher elevation, they are only open during the summer season and both have limited on-site facilities.
Up at Redwood National Park, there's no dearth of accommodation options. If you want to make the most of this park's coastal location and prefer to be pampered, then you will adore the Trinidad Bay Bed and Breakfast Hotel.
Several rooms have stunning views of the Trinidad Coast, one of the most scenic locations in Northern California. This hotel is only 20 miles south of Orick and within walking distance from Trinidad State Beach and trails.
For a more affordable option, try the Holiday Inn Express in Klamath, which is about 20 miles north of Orick. It is clean, comfortable, and right in the middle of the redwoods, being just across the Klamath River from the Prairie Creek Redwoods State Park.
Staying here is also a better option if you plan on visiting all the state parks and want to minimize the driving time between them – though very few people complain about driving around this spellbinding corner of California.
The four developed campgrounds in the Redwoods are all within the California State Parks. Two larger campgrounds surrounded by alder and young redwoods can be found in the north of the Redwood National Park area, closer to Crescent City.
These are Mill Creek and Jedidiah Smith Campground, both of which have a moderate amount of amenities and are open year-round.
Closer to Redwoods National Park and Orick, the Elk Prairie Campground is picturesque with its combination of open spaces surrounded by towering trees. It is also centrally located for an extensive network of trails, including the James Irvine Trail, which leads to Fern Canyon.
Gold Bluffs Beach Campground is another fantastic option because it gives you all the best of what Redwoods has to offer – the gentleness of the redwoods on the shores of the Pacific Ocean. Sometimes the elk also stop by here to graze, and you can spot their large footprints in the sand.
For those who prefer solitude and don't mind roughing it, there are free and low-fee backcountry campsites you can hike into within Redwoods National Park.
Elam and 44 Camp have food storage lockers, but you'll have to know how to make a bear hang or bring a bear-proof canister to pitch a tent along the gorgeous Redwood Creek Gravel Bar.
Since Sequoia is closer to larger towns in the Central Valley, there is a wider range of options for this park, but Redwood has the advantage of ocean views and the chance to camp on a beach.
Comparing Sequoia and Redwood National Parks by season
While parts of Sequoia are open and accessible year-round, many popular attractions are cut off due to road closures in the winter. The main window to visit without being caught off-guard by restricted access signs is from mid-May to mid-October.
With a cool and moist climate year-round, you can make a trip to Redwoods National Park any time that works for you. While there are warmer and cooler times of the year, the temperature never drops below freezing, and the yearly highs are in the low 70s.
One thing to plan for in Redwood is rain, which keeps the landscape lush and can happen at any time of the year. The cooler winter and spring months are when this enchanting forest gets most of its precipitation.
Sequoia vs Redwood National Park in spring
Animal activity in Sequoia tends to peak in the early spring, so plan a trip during this season if you want to see some wildlife. Also keep in mind that spring does not arrive in the higher reaches of the park until middle to late May and that the entirely of Generals Highway might not be open until then.
The spring in Redwood is typically warmer than the spring in Sequoia. Here you'll see wildflowers in the prairies and meadows which dot the park and the Bald Hills region will be bright green for a few weeks before the grasses dry out. This is also one of the best times to see migrating whales from the coastal areas of the Redwood Parks.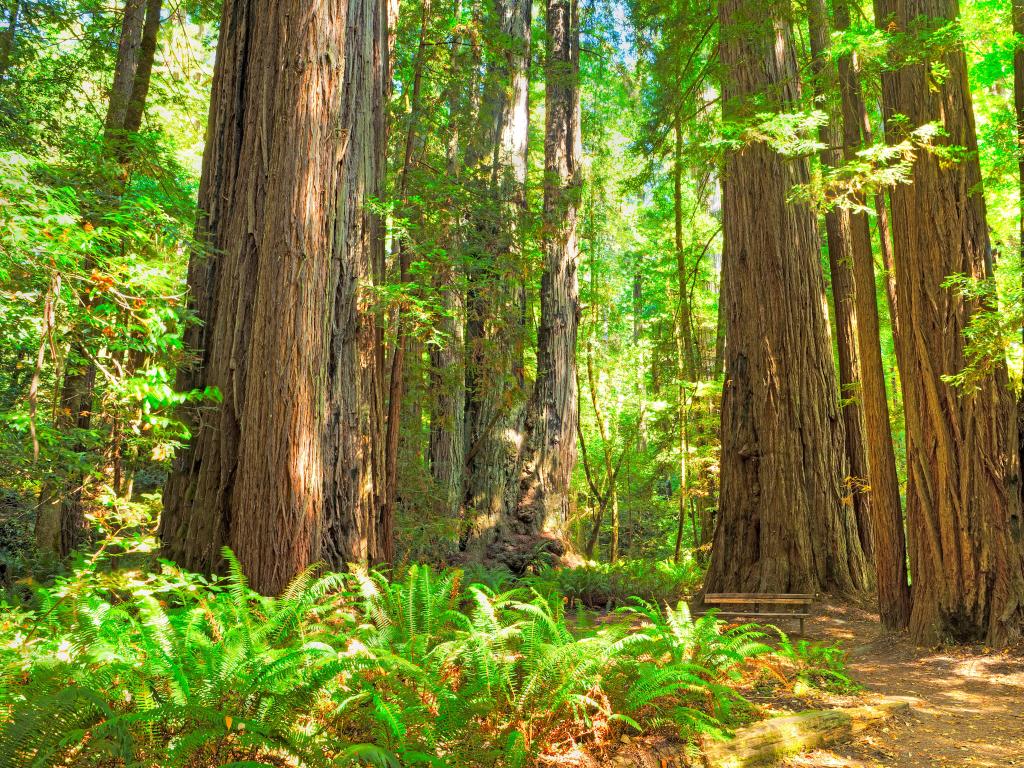 Sequoia vs Redwood National Park in summer
Summertime in Sequoia is filled with rushing streams, warm air that never climbs over 90 degrees Fahrenheit, and unrestricted access to every corner of the park.
This, of course, makes it a very popular time to visit the park. While Sequoia and Kings Canyon never become as congested as nearby Yosemite, you will typically see more people out on the trails and more cars in the parking lots than in Redwood.
Late May to early June is the best time to visit Sequoia before the summer crowd rolls in.
Summer in the Redwoods is abundantly pleasant and typically cooler than Sequoia. Even if the days might start out with a bit of fog, the sun usually warms things up to the 70s by midday.
Though this is also Redwood's most popular season and any campsite or room reservations should be booked in advance, it is nowhere near as crowded as Sequoia in the summer.
Once you start hiking away from the parking lots and campgrounds, you might not see anyone else on the trail for miles. For anyone who values this kind of solitude in the midst of overwhelming natural beauty, then Redwoods might be a better summer destination.
Sequoia vs Redwood National Park in the fall
Both "shoulder seasons" of spring and fall offer a good compromise between fewer crowds and manageable weather in Sequoia, though later in the fall, the nighttime temperatures can dip to well below the freezing point.
Sequoia's remote location makes it an ideal place to observe the night sky. The Dark Sky Festival is held over several days in September in both Sequoia and Kings Canyon. Come during this time to enjoy amateur star gazing as well as local music and family fun.
Due to the fact that Redwood is never overwhelmingly crowded, the main advantage of visiting in the fall is the charm of the season. Though redwoods are evergreen trees, there are a few deciduous trees like alder spread throughout, which add dabs of color to the landscape.
Temperatures will be consistently cool, but nowhere near as cold as the nighttime temperatures in Sequoia.
Fall is also a festive time to visit Redwoods as nearby Eureka holds its annual Redwood Coast Music Festival in October.
Sequoia vs Redwood National Park in the winter
If you can catch Sequoia at the very beginning of winter, when there have been a few inches of snowfall but the roads aren't closed yet, then you will be in for a truly magical treat.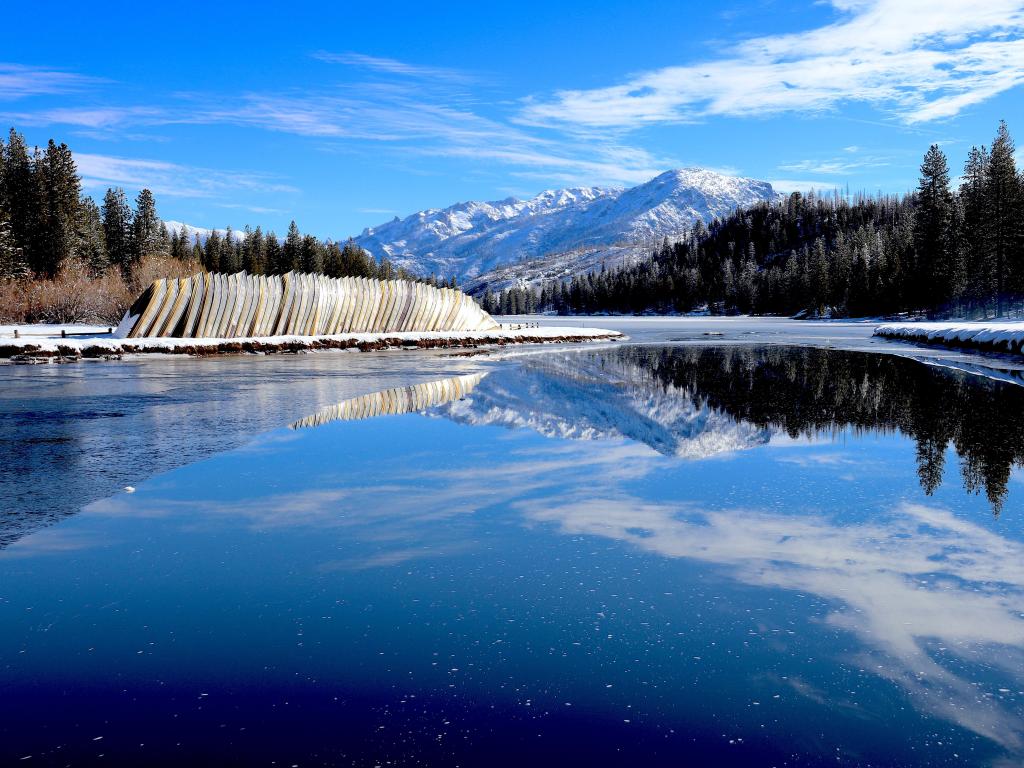 The sequoias seem like oversized Christmas trees when their thick trunks are surrounded by snow. The park is also quieter in the winter, allowing you a more reflective experience here.
Visiting Sequoia in the winter does entail some extra planning, as you might need to put snow chains on your tires and keep in mind that many area of the park don't have cell phone service.
February is the coldest month but all through the winter the temperature can dip below 20 degrees Fahrenheit, so be sure you packed enough layers.
The main advantage of Redwood in the winter is that the entire park is open and accessible year-round. It will get a bit chilly at night and there are increased chances of rain, but it never gets cold enough for snow. From October to January, there's another chance to spot some migrating whales.
With some tolerance for brisk air and waterproof gear, you can hike freely and see as much of the park as you like. Hence Redwoods is a less limiting winter destination when compared to Sequoia.
Planning a road trip to Sequoia or Redwood National Park
It's our aim to make planning your trip to Sequoia or Redwood as easy as possible. For any city in Southern California, the Central Valley, or the Southeast US, Sequoia will be the closer park to reach. For any city from San Francisco to the Pacific Northwest, Redwood will put less mileage on your car.
Sequoia offers more alternatives for routes and ways to approach the park, so we'll cover it first.
Sequoia National Park has three entrances. They are all on the western edge of the park. If you're coming from the northwest via CA Route 180, you'll enter the jointly administered parks through the Big Stump Entrance to Kings Canyon.
Shortly after passing this entrance, before you reach the popular Grant Grove Village, you'll take a right onto Generals Highway, which will take you south into Sequoia.
The main entrance into Sequoia is in the southwest of the park. Take Sierra Drive past Lake Kaweah and Three Rivers, where it becomes the Generals Highway.
Just after Three Rivers, you'll find the Ash Mountain Entrance and Foothills Visitor Center, slightly before Tunnel Rock. Some people colloquially call this the Three Rivers Entrance.
The Lookout Point Entrance to Sequoia is further south than this entrance, in the Mineral King area of the park. Mineral King Road branches off from Sierra Drive shortly before the Ash Mountain Entrance and follows the East Fork of the Kaweah River.
Here is a helpful table highlighting popular road trips to Sequoia National Park:
Popular road trips to Sequoia National Park

| Starting city | Recommended entrance | Distance (time) | Highlights |
| --- | --- | --- | --- |
| Yosemite National Park | Big Stump Entrance | 145 miles (3 hours 10 minutes) | Wawona, Mariposa Grove, Bass Lake, Millerton Lake, Fresno |
| Los Angeles | Ash Mountain Entrance | 205 miles (3 hours 45 minutes) | Pyramid Lake, Fort Tejon State Historic Park, Bakersfield |
| Sacramento | Big Stump Entrance | 225 miles (3 hours 45 minutes) | Camanche Reservoir, Stockton, Fresno |
| San Francisco | Big Stump Entrance | 240 miles (4 hours) | Livermore, Modesto, Fresno, Pine Flat Lake |
| San Diego | Ash Mountain Entrance | 360 miles (6 hours) | San Bernardino National Forest, Tehachapi, Bakersfield |
| Las Vegas | Ash Mountain Entrance | 380 miles (6 hours) | Red Rock Canyon National Conservation Area, Mojave National Preserve |
| Phoenix | Ash Mountain Entrance | 575 miles (9 hours 20 minutes) | Joshua Tree National Park, Palm Springs, San Bernardino National Forest |
| Portland | Big Stump Entrance | 800 miles (12 hours 45 minutes) | Salem, Eugene, Crater Lake National Park, Mount Shasta, Lassen National Forest |
| Albuquerque | Ash Mountain Entrance | 900 miles (13 hours 20 minutes) | Petrified Forest National Park, Havasu National Wildlife Refuge, Mojave National Preserve |
| Seattle | Big Stump Entrance | 975 miles (15 hours 40 minutes) | Olympia, Portland, Umpqua National Forest, Mount Shasta, Lassen National Forest |
Since Redwood National Park doesn't have entrance stations, we've just given the centrally located town of Orick as a reference point.
From south to north, the towns that lie along the edge of Redwood National and State Parks are Orick, Klamath, Crescent City, and Hiouchi. This last town is on US Route 199, along the northeast edge of Jedediah Smith Redwoods State Park. All these towns are spread out along 42 miles of US-101.
Check out this table if you are continuing on to Redwood National Park:
Popular road trips to Redwood National Park

| Starting city | Distance (time) | Highlights |
| --- | --- | --- |
| San Francisco | 315 miles (5 hours 40 minutes) | Santa Rosa, Ukiah, Leggett, Avenue of the Giants, Humboldt Redwoods State Park, Eureka, Arcata |
| Sacramento | 325 miles (5 hours 50 minutes) | Redding, Lake Shasta, Trinity National Forest, Arcata, Trinidad |
| Portland | 370 miles (6 hours 30 minutes) | Willamette National Forest, Eugene, Rogue River-Siskiyou National Forest, Crescent City |
| Yosemite National Park | 470 miles (8 hours 10 minutes) | Santa Rosa, Avenue of the Giants, Humboldt Redwoods State Park, Eureka, Arcata |
| Seattle | 540 miles (9 hours 10 minutes) | Olympia, Portland, Eugene, Rogue River-Siskiyou National Forest, Crescent City, Klamath |
| Los Angeles | 690 miles (12 hours) | Pyramid Lake, Livermore, Oakland, Berkeley, Santa Rosa, Cloverdale, Avenue of the Giants |
| San Diego | 800 miles (13 hours 20 minutes) | Carlsbad, Los Angeles, Pyramid Lake, Livermore, Oakland, Berkeley, Santa Rosa, Cloverdale |
| Las Vegas | 805 miles (14 hours) | Reno, Honey Lake, Lassen National Forest, Redding, Lake Shasta, Arcata |
| Phoenix | 1,115 miles (17 hours 40 minutes) | San Francisco, Santa Rosa, Avenue of the Giants, Humboldt Redwoods State Park, Eureka |
| Albuquerque | 1,390 miles (21 hours 30 minutes) | Kaibab National Forest, Hoover Dam, Las Vegas, Lassen National Forest, Redding, Lake Shasta |
Which national park is the best, Sequoia or Redwood National Park?
Don't make us choose! These parks are like two beautiful siblings; the core resemblance is there, most notably the exceptionally tall trees, but they differ greatly in their overall feel.
If you just can't get enough of rugged, mountainous landscapes, then you will probably like the more varied and expansive Sequoia National Park. On the other hand, if the ocean has always had a special place in your heart or you love lush, mossy forests, then the coastal redwoods will be simply irresistible.
Sequoia has more varied scenery, being next to one of the deepest valleys and tallest mountains in the contiguous US.
On the other hand, the emerald solitude of the coastal redwoods in Redwood National Park is a truly unique environment that has served as an inspirational background for iconic movies like "Jurassic Park" and "Star Wars Episode VI: Return of the Jedi."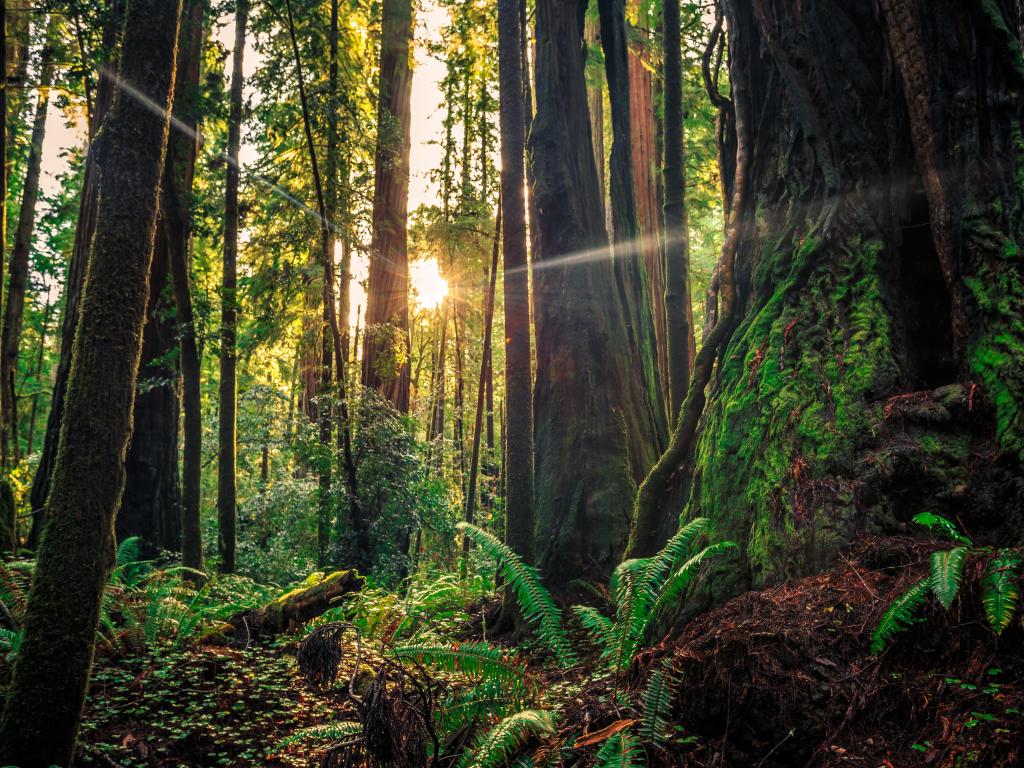 Which park is best might also depend on where you're coming from. These parks conveniently fit into the NorCal/SoCal divide, which organizes much of the state's geography. That said, Redwood is the more remote park, even further from San Francisco than Sequoia.
If you are on a shoestring budget and mostly plan on camping on your proposed trip, the Redwood is the cheaper park to visit, given that there is no entry fee and the chance to pitch a tent without paying a fee.
That said, Sequoia is much larger, and the $35 entry fee there also grants you access to Kings Canyon, so if you were planning on a longer trip and wanted to see some variety, then this park offers more value for your money.
We hope that this guide has been helpful. No matter which park you choose, you will be in for a treat.