Road Trip from Ohio to Portland, Maine
Are you looking for a road trip in the northeastern United States that takes you from buzzing modern cities to quaint, historic towns and beautiful river valleys, ending on the Atlantic Ocean? Then this epic road trip from Ohio to Portland, Maine is just right for you.
The 830-mile road trip from Ohio to Portland, Maine takes 14 hours to drive non-stop. You can travel from Cleveland to Niagara Falls, Rochester, Seneca Falls and Boston, or from Columbus to Pittsburgh, Callicoon, Kaaterskill Wild Forest and Hudson.
This road trip is made of beautiful hidden gems as well as vibrant cities of Pennsylvania, the heartlands of New York State, and Massachusetts. There are lots of fantastic places to stop at - read on to discover our recommendations.
How far is Portland, Maine from Ohio, and how long will the road trip take?
Comparison of road trip routes between Ohio and Portland, Maine
Route
Distance
Driving Time
The Cleveland Route


via Niagara Falls

830 miles
13 hours 30 minutes
The Columbus Route
930 miles
16 hours
The road trip from Ohio to Portland, Maine is 830 miles long and takes 14 hours to drive without stopping, when traveling via the Cleveland Route.
Alternatively, you can choose to travel via the southern Columbus Route, which is 930 miles long and takes 16 hours to drive without accounting for any stops or detours.
You could drive this road trip in two days without stopping, but with so many wonderful natural sights, cities and beautiful small towns to explore en route, we'd recommend you take at least 4-5 days to do this road trip.
Looking to extend your road trip in Maine? Check out our ultimate road trip itinerary.
READ MORE - Ultimate Maine Road Trip Itinerary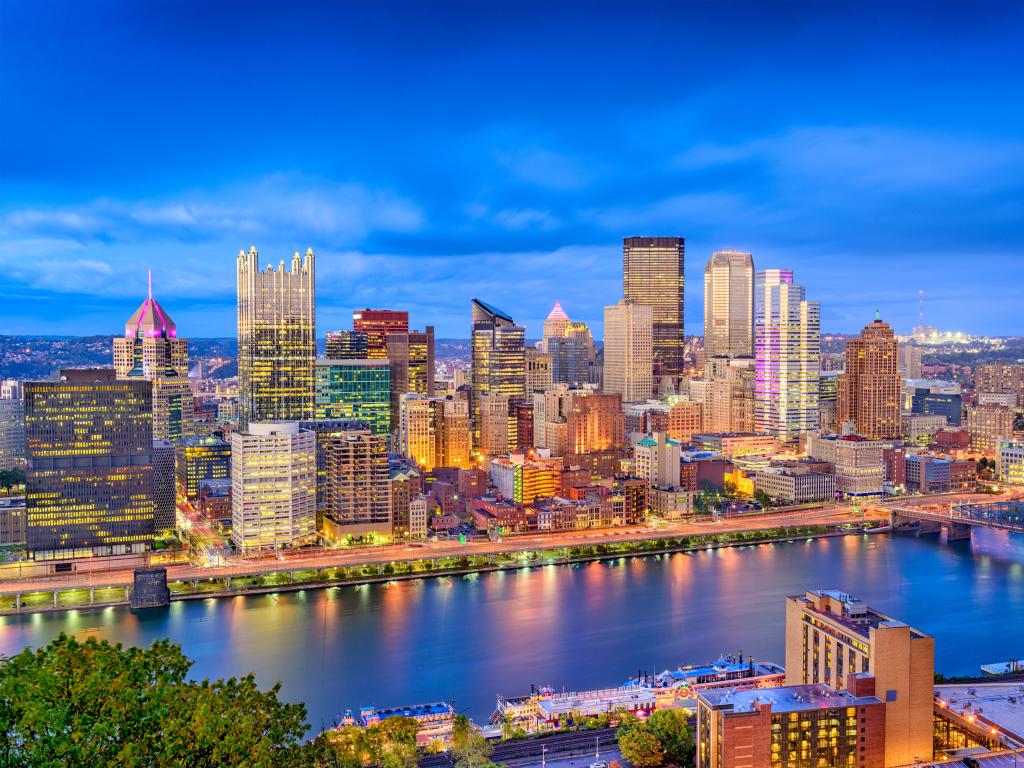 Best road trip route from Ohio to Portland, Maine
You can choose from two route options. They're both full of amazingly picturesque towns and cities as well as stunningly scenic areas to visit, and your choice of route depends entirely on which particular sights you wish to see, and which places you wish to explore.
The Cleveland Route (via Niagara Falls) starts in Cleveland and takes you past Lake Erie and Buffalo city to Niagara Falls, where you will get to admire the world-famous waterfalls.
You'll then travel via Rochester, Geneva and Seneca Falls, in the wine country of New York State, and visit the commercial and cultural hub Boston on your way to Maine.
Alternatively, the Columbus Route takes you from Columbus city to Pittsburgh, Pennsylvania, and then into the heartlands of New York and Massachusetts.
You'll get to visit quaint small towns such as Callicoon, Catskill, and Hudson, or visit beautiful nature areas such as Rothrock State Forest, Upper Delaware Scenic and Recreational River, or Kaaterskill Wild Forest. You'll then also get to visit Boston.
The Cleveland Route (via Niagara Falls)
This route option starts in Cleveland, Ohio. You'll first travel along Interstate 90 (I-90) past Erie and Buffalo to Niagara Falls.
After visiting this city with the stunning waterfalls, continue further east along I-90. Take a little detour via Rochester, and soon after via Geneva and Seneca Falls, but otherwise continue traveling eastward along I-90.
You'll drive past Albany, Springfield and Worcester, and will eventually reach vibrant Boston, a commercial and cultural center in Massachusetts. I-95 will lead you from Boston north to Portland, Maine.
If you cannot get enough of gorgeous Maine, here is our ultimate road trip itinerary in the state.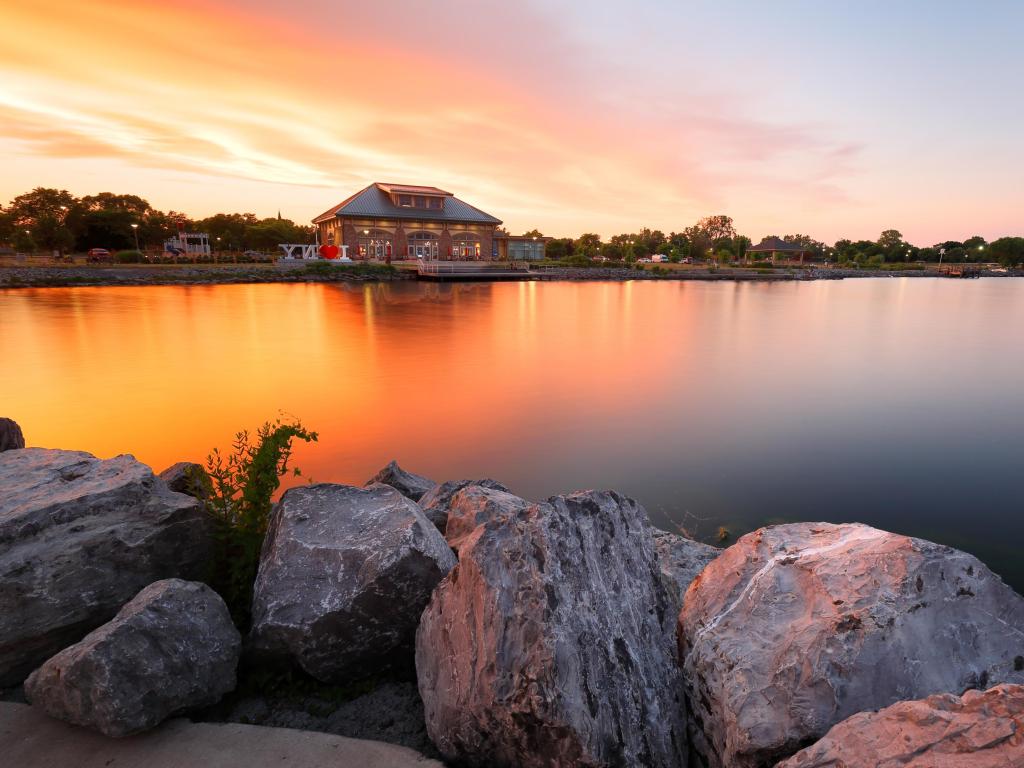 The Columbus Route
This route starts in Columbus, Ohio. Follow I-70 to Pittsburgh, where you can visit lovely museums and some 400 or so bridges.
From there, drive east toward Callicoon, on the border of Pennsylvania and New York. You'll briefly travel along I-99, I-80 and I-81 along the way.
From Callicoon, drive towards Wurtsboro, where you will take US Route 209 then I-87 northeast. Visit picturesque Catskill and the nearby mountains, or Hudson on the other side of the river, and continue along I-87 a little bit further, then turn east to cross the Hudson River via Castleton-on-Hudson Bridge.
You'll soon join I-90 heading east. As with the other route option, you'll drive past Springfield, Worcester and Boston on your way towards Portland, Maine.
Planning a longer trip? You might want to take a look at our ultimate Maine road trip itinerary.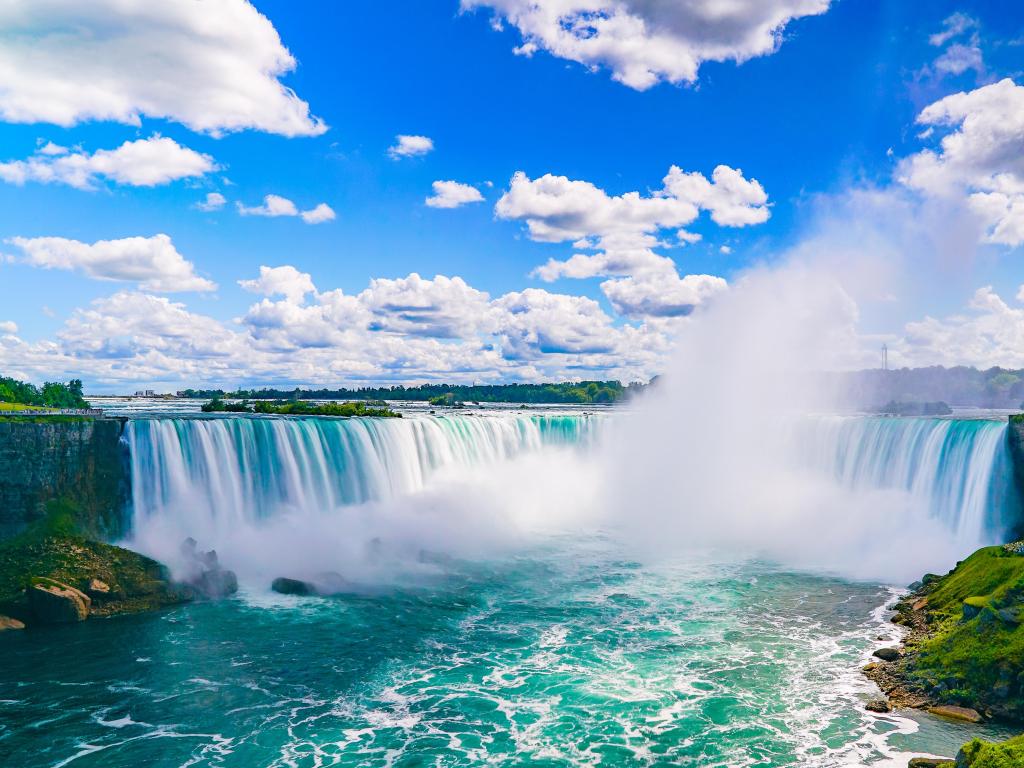 Best places to stop between Ohio and Portland, Maine
There are lots of wonderful activities to do and attractions to see along this road trip, from exciting museums in cities to historic old towns and picturesque river valleys.
Find below some of our recommendations for the best places to stay overnight during this road trip, what to do in these places and our top suggestions for hotels.
Visit beautiful Rochester on the shores of Lake Ontario
Rochester is found about one-thirds of the way along the Cleveland Route option. It is the next big city when you leave Niagara Falls traveling east. Rochester is a beautiful city, with many amazing parks and interesting historic districts.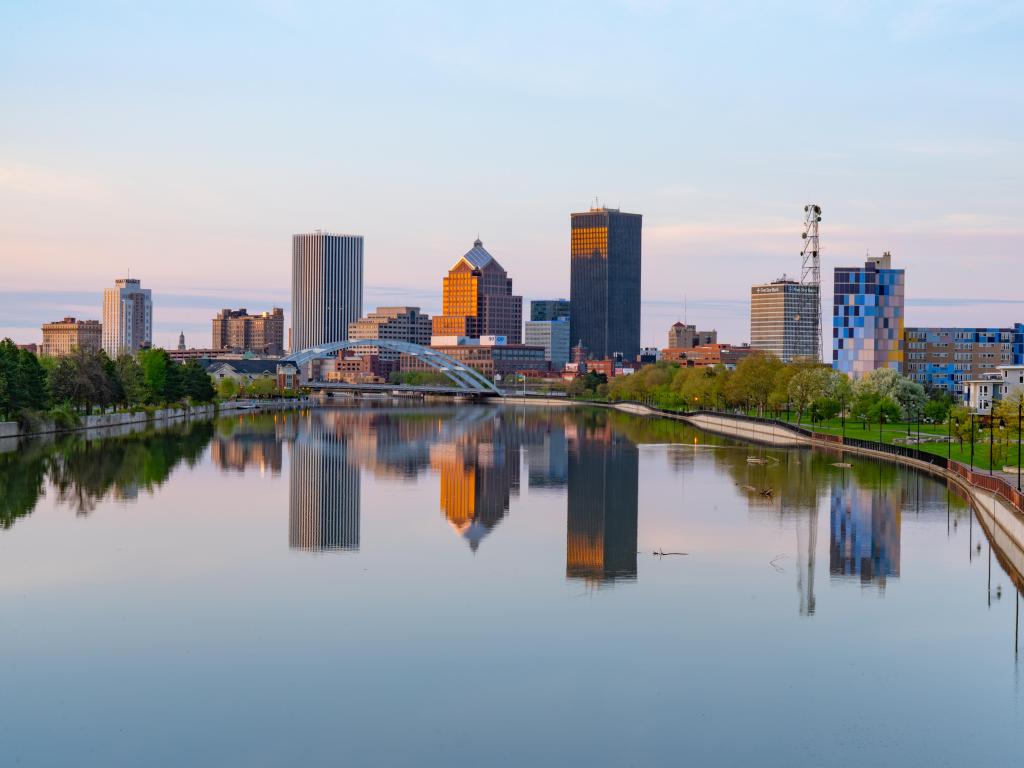 There are many interesting cultural attractions in the city. These include the Eastman School of Music which is known as one of the world's most prestigious conservatories, and the George Eastman Museum, which is the world's oldest museum dedicated to photography.
Alternatively, you can head to the shores of Lake Ontario and visit the stunning Ontario Beach Park and Charlotte Genesee Lighthouse if you are looking to spend some time outdoors.
It is hard to beat The Del Monte Lodge Renaissance Rochester Hotel & Spa as far as lodging goes. This fabulous hotel and spa overlooks the historic Erie Canal and is found a few miles outside of the city, right along the highway taking you further on your road trip from Rochester onwards.
The hotel's spa offers amazing treatments to help you relax after a day of adventures, and the on-site restaurant The Erie Grill has been awarded for its cuisine.
You'll find great restaurants in the vicinity of the hotel, and most of the popular attractions of Rochester are within a 10-15 minute drive away. These include the George Eastman Museum, the Strong National Museum of Play, and Genesee Valley Park along the Genesee River.
Stay over in Hudson to explore the Catskills mountains and the Hudson River
Hudson is a small, historic town about two-thirds of the way along the Columbus Route option. It is an attractive town, just a few miles from Catskill and the highway you'll be traveling along. It is a wonderful base for exploring the Catskills area and the Hudson River.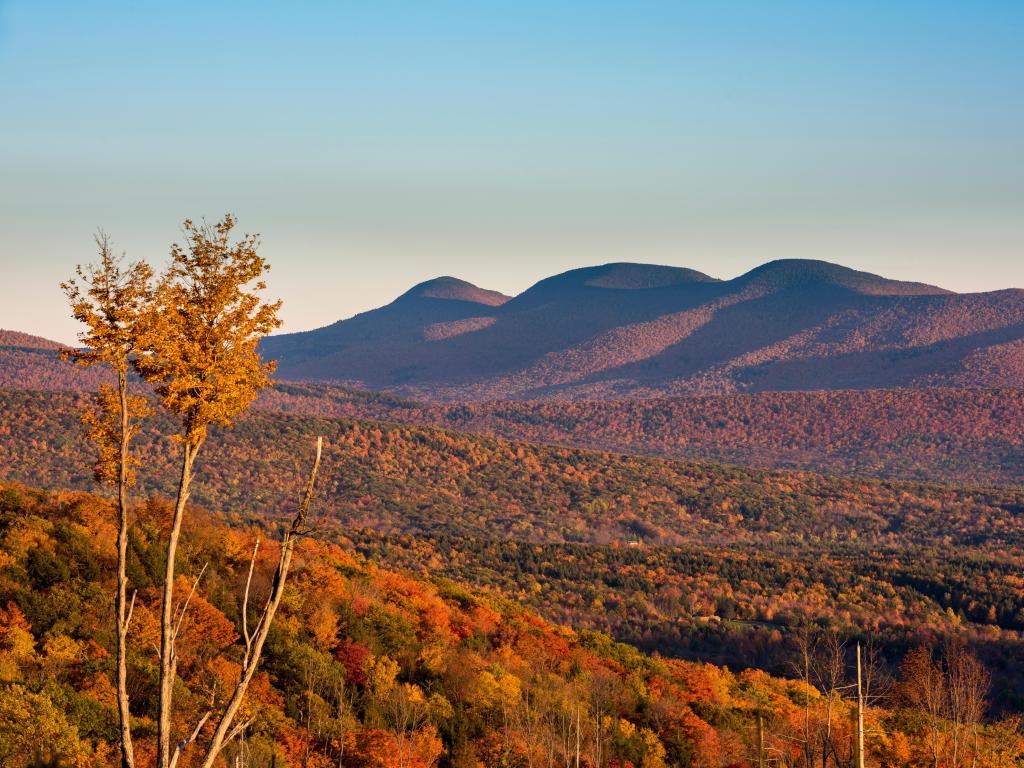 Hudson is known as the first official city of the US. It is also known for its friendly small-town atmosphere, lovely antique shops and restaurants.
The town is home to lots of culturally interesting sites. The Hudson Historic District has a high number of historically significant buildings, right in downtown Hudson. The Museum of Firefighting is one of the largest museums in the world dedicated to firefighting.
You can also visit Olde York Farm to learn about this woman-owned, family-led distillery that sources local products to produce seasonal batch spirits.
As a hotel suggestion, we highly recommend the Inn at 34. This hotel is set in a beautiful historic house, close to things to see and do in Hudson. It is just a few miles off the highway you'll be traveling on, and on the other side of the river from Catskill town.
The hotel has stunning interior decoration, a cozy atmosphere, and knowledgeable owners. Free parking, wellness services, free bicycles and board games and books are available for guests to make use of.
Inn at 34 is within walking distance from Hudson Athens Lighthouse found in the Hudson River, as well as Henry Hudson Riverfront Park and the Museum of Firefighting. You'll also find wonderful restaurants and cafés nearby, serving delicious local foods and dishes.
Where to stay when you reach Portland, Maine
In Portland, Maine, you'll find a lovely downtown area as well as fascinating port areas to explore. Of the many places to stay overnight in Portland, we can recommend The Press Hotel, Autograph Collection.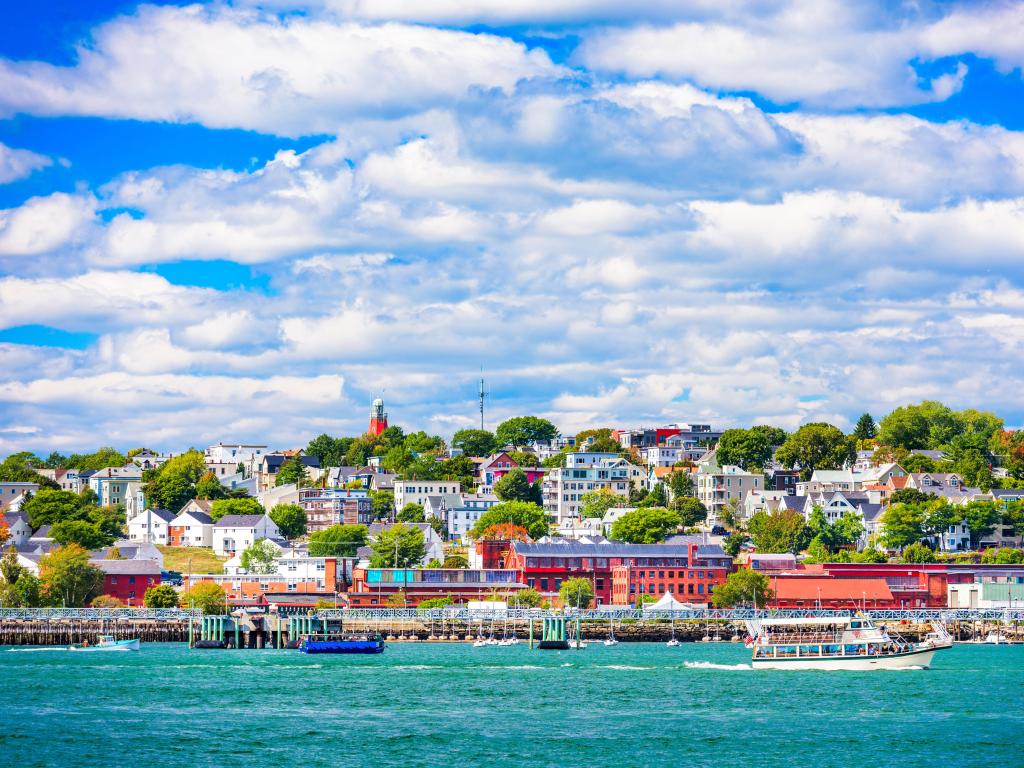 This hotel is in central Portland and close to the port, making it an ideal place to enjoy all that this city has to offer. It has beautiful decorations, helpful staff, and comfortable, spacious rooms.
The hotel is close to several of Portland's well-loved points of interest, including Portland Museum of Art and Fort Allen Park, a tranquil waterfront promenade by the Atlantic Ocean.
Things to see on a road trip from Ohio to Portland, Maine
There are lots of fascinating towns and cities, scenic nature areas, and world-famous landmarks to visit along this road trip.
Read on to discover some of our recommendations as to the best things to see and do during your road trip.
Cleveland Route (via Niagara Falls)
Erie, Pennsylvania - Erie is an interesting, pleasant city on the shores of Lake Erie. It has several universities and museums, such as the Erie Maritime Museum, and popular recreation areas such as the Presque Island State Park.
Buffalo, New York - Buffalo, also on Lake Erie, is a large city on the border of the US and Canada. Attractions well worth visiting in Buffalo include the historic Shea's Performing Arts Center, the Peace Bridge on the border of the two countries, and the city's urban parks system, one of the oldest in the US.
Niagara Falls, New York - Niagara Falls is home to the world-famous waterfalls on the border of the US and Canada. These stunning waterfalls can be best admired from the Observation Tower at Prospect Point. Or, visit the several other state parks of the area, or the wonderful Aquarium of Niagara.
Rochester, New York - Rochester on Lake Ontario is a historically important manufacturing center. It also has amazing historic districts, enchanting parks, and several cultural points of interest such as the famed Eastman School of music and the Strong National Museum of Play.
Geneva, New York - Geneva, at the northern end of Seneca Lake, is a city known as the "trout capital of the world". It is also famous for its winemaking.
Seneca Falls, New York - There are beautiful hikes and trails along the canal in Seneca Falls and the lake nearby. Seneca is historically important as the birthplace of women's rights - the 1848 women's right convention was held here.
Ferris Lake Wild Forest, New York - Explore old-growth spruce and pine forests and lovely lakes in this Wild Forest. There are tens of miles of walking trails and snowmobile trails in the area.
Great Sacandaga Lake, New York - Great Sacandaga Lake was first formed by damming the Sacandaga River. Nowadays, the lake provides not only flood protection but also tourism revenues to the area: people from nearby states as well come to enjoy the lake's public beaches, boating and fishing opportunities.
Albany, New York - Albany became New York's capital in 1797. It has since been the center for international trade and banking, and is home to wonderful cultural sights and attractions, such as the historic New York State Capitol and the Egg performing arts center.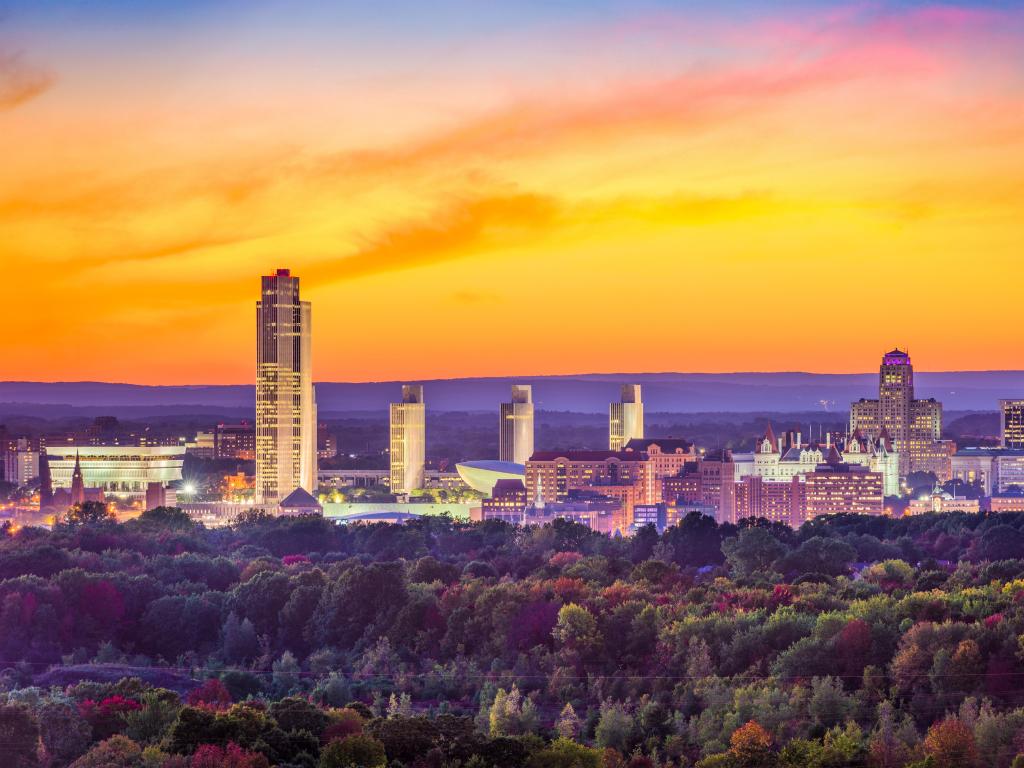 Columbus Route
Pittsburgh, Pennsylvania - Pennsylvania is a historically important industrial center. The city interestingly has over 400 bridges, 30 skyscrapers, and wonderful museums and parks, such as Andy Warhol museum and the Phipps Conservatory and Botanical Gardens.
Rothrock State Forest, Pennsylvania - Right on the route of your road trip, do stretch your legs at this state forest. You'll find lovely forest trails here, as well as opportunities for fishing and picnicking.
Callicoon, New York - Callicoon is an old, small town on the foothills of the Catskills Mountains. Set on the Delaware River, it offers wonderful recreational opportunities. You'll also find lovely historic buildings, restaurants and taverns here.
Upper Delaware Scenic and Recreational River, New York - Make a little detour to take a drive along the New York State Route 97 (Upper Delaware Scenic Byway), offering you chances to admire the stunning landscapes of rolling hills and meandering river views, along the Delaware River.
Kaaterskill Wild Forest, New York - Kaaterskill Wild Forest has beautiful hiking trails for everyone to enjoy. The area is especially known for its many flowing streams and waterfalls, especially the Kaaterskill Falls.
Catskill, New York - This beautiful town offers views of the Hudson River. Take a walk along the Hudson River Skywalk, a mile-long pedestrian bridge spanning the river, or visit the town's small art galleries or the Thomas Cole National Historic site to view artworks of well-known and upcoming artists.
Hudson, New York - On the other side of the river from Catskills, Hudson is an old, small town with a friendly atmosphere. It has an interesting historic district, and it is a wonderful base for exploring the Hudson river and the Catskills mountains.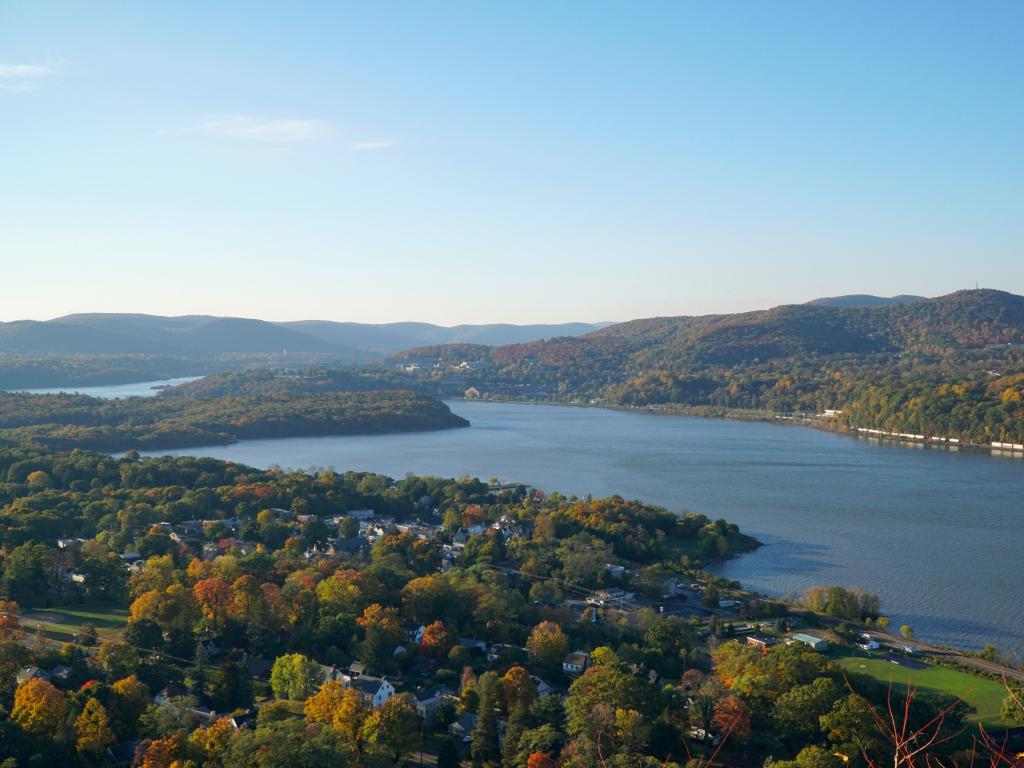 Both Routes
Springfield, Massachusetts - Springfield, the birthplace of basketball, also harbors the wonderful Springfield Museums, with collections of art and scientific exhibitions, as well as The World of Dr. Seuss, celebrating this beloved children's author.
Worcester, Massachusetts - Worcester is a diverse city, home to nationals of many countries. It has several higher education centers and is home to a host of historic buildings. Visit Worcester Art Museum, founded over a hundred years ago, the historic Elm Park, or Worcester Historical Museum.
Boston, Massachusetts - Boston is the capital of Massachusetts, and currently pioneering in entrepreneurship and sustainability. It is also home to fascinating attractions, such as the Beacon Hill historic neighborhood, Old Corner Bookstore, Symphony Hall and Freedom trail, passing by historically significant locations.
Rachel Carson National Wildlife Refuge, Maine - This nature area was founded to protect salt marshes and estuaries important to migratory birds. You can take a lovely one-mile walk in the area.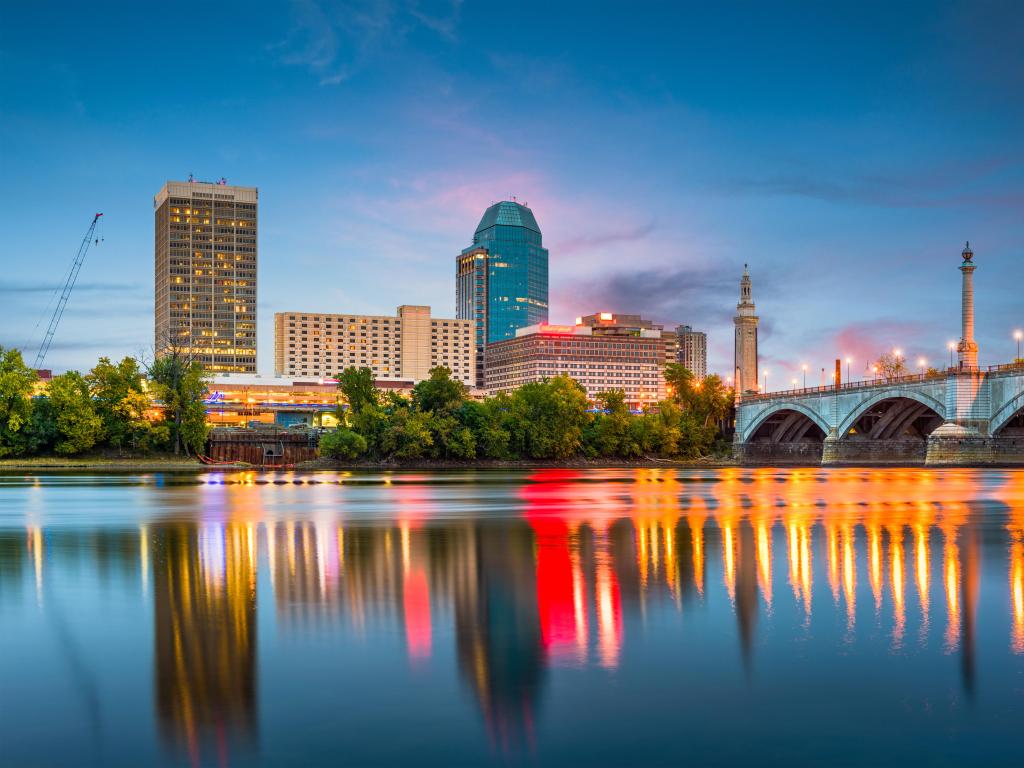 Best time to go on a road trip from Ohio to Portland, Maine
Portland, Maine is a wonderful year-round destination, for you can enjoy the summer weather and the beaches, or alternatively the cooler temperatures and occasional snowfall of the winter months.
Summer, June to October, is however considered the most favored season to visit Portland because of favorable temperatures and the possibility to enjoy all that the seaside destination has to offer. Temperatures average 70-80 degrees Fahrenheit, reaching 90 degrees for some weeks in the heat of summer.
Temperatures in winter average around 40 degrees Fahrenheit, though it can get as cold as 10-20 degrees in the coldest weeks. Despite the cold, winter can be a lovely time to visit Portland.
You'll find sites of interest less busy with tourists during the colder months, the area is beautiful in the times of snowfall, and you can well enjoy doing winter activities such as hiking, snowshoeing, skiing or even sleigh riding.
March to May are probably the cheapest months to visit Portland. Temperatures range between 40-60 degrees, so it can be a pleasant time to visit this area. Or, choose fall months, to admire the foliage in its fall colors.
You can also wish to consider some of the festivals and events taking place in Portland over the course of the year, when planning when to do this road trip.
For example, in the winter months, you can enjoy the Portland Folk Festival that takes place in January and the Portland Maine Winter Festival in February is well worth visiting. Here you can enjoy music, food and drinks, or spectate performances and ice sculpture demonstrations.
In March, SheBrew festival celebrates people of all kinds, sizes and genders, but also hosts a brewing competition for female participants.
In the summer, you could visit the Oregon Midsummer Festival in June. This is a Scandinavian-style midsummer celebration with Nordic tunes and bonfires. Or in July, you can catch the Cathedral Park Jazz Festival in action, with three days of jazz, blues and R&B music.
If you visit in the fall, you can observe the Portland Fashion Week taking place in September. This is the world's only comprehensively sustainable fashion event.
Finally, the Hood River Valley Harvest Fest in October, held at the scenic Hood River Waterfront, is a wonderful way to enjoy and celebrate the region's harvest bounty