Road Trip from Santa Barbara to San Francisco
Experience California like never before on this awe-inspiring road trip from Santa Barbara to San Francisco, soaking in rural landscapes and driving through rustic towns and charming cities.
The 680-mile road trip from Santa Barbara to San Francisco will take over 14 hours to drive, taking you through the Sequoia, Kings Canyon, and Yosemite National Parks; or along the Pacific, visiting Solvang, Big Sur, Monterey, and Santa Cruz.
As you embark on this unforgettable journey, get lost in the incredible nature amidst picturesque golden beaches, coastal cliffs, and towering forests. Filled with adventure, you'll have plenty of opportunities to hike, cycle, and picnic at some of the best scenic spots in the US.
How far is San Francisco from Santa Barbara, and how long will the road trip take?
Comparison of road trip routes between Santa Barbara and San Francisco

| Route | Distance | Driving Time |
| --- | --- | --- |
| The Yosemite Route | 680 miles | 14 hours 30 minutes |
| Pacific Coast Highway Route | 470 miles | 9 hours |
The drive to San Francisco from Santa Barbara via The Yosemite Route traveling through notable national parks, takes around 14 hours and 30 minutes to cover 680 miles through beautiful natural landscapes, not accounting for food breaks and overnight stays.
Alternatively, you can take the shorter and more direct Pacific Coast Highway Route, covering 470 miles over 9 hours of driving, without any detours and gas breaks.
Irrespective of your choice of routes, you can easily split the drive over 3-5 days to absorb the remarkable nature, relaxing beaches, breathtaking national parks, and quaint towns along the way.
Keep reading to find the best time to plan your trip, the exciting routes, places to stay, and our top recommendations for things to see along the way.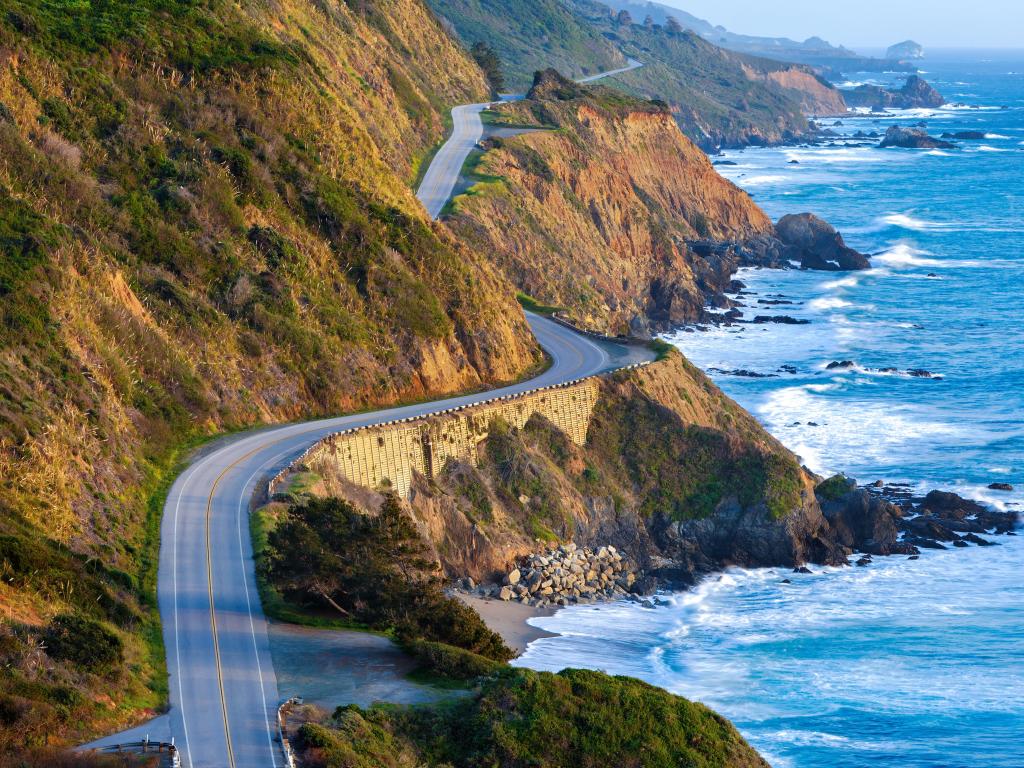 Best road trip route from Santa Barbara to San Francisco
The Yosemite Route from Santa Barbara to San Francisco is a nature lover's paradise. You'll experience the best of nature, including deep canyons, iconic waterfalls, and rocky landscapes, visiting Sequoia National Park, Kings Canyon National Park, and Yosemite National Park.
This journey through the inlands of California will also take you through rural landscapes and rustic cities of Bakersfield, Fresno, Mariposa, and Modesto. While scenic, the road is accident-prone, and the roads leading to the mountains can get super-windy.
For an escapade along the ocean, drive along arguably the most scenic road, The Pacific Coast Highway Route. This route overlooks the cliff edges of the highway and is perfect for experiencing the wonderful outdoors.
Along with notable bigger cities like Big Sur and Santa Cruz along this route, you can count on the golden sand beaches, the Redwood country, and the incredible sea life for a slice of beautiful nature.
The Yosemite Route
Exit Santa Barbara by taking US-101 southward along the beautiful coastline before heading East, driving parallel to the Santa Clara River on CA-126.
Merge into I-5 and take a detour to the exciting Six Flags Magic Mountain theme park. After your adventures there, head north on I-5, passing Castaic Lake.
Continue straight on CA-99 toward Bakersfield. After exploring the town, exit by taking CA-65 further north. After Porterville, jump right on CA-198 to head to Sequoia and Kings Canyon National Park via a detour on J-21.
Return to the highway briefly by taking CA-180 to Fresno and join CA-99 again to continue north. To continue your path through the forest, head east to join CA-140 shortly before hopping on CA-49 to Yosemite.
Following a road of twists and turns, you'll arrive at Coulterville. Take a right along J-132/J-20 to take the mountain route. Jump right on CA-120 and continue driving till you reach Yosemite.
After leisurely soaking in views from Yosemite National Park, head back on CA-120 to head west. Pass towns of Oakdale and Modesto before merging into I-580. Take a right on I-680 and detour to one of the prominent peaks of Cali, Mt Diablo.
Exit on I-24 to Oakland before taking I-80 to reach San Francisco finally.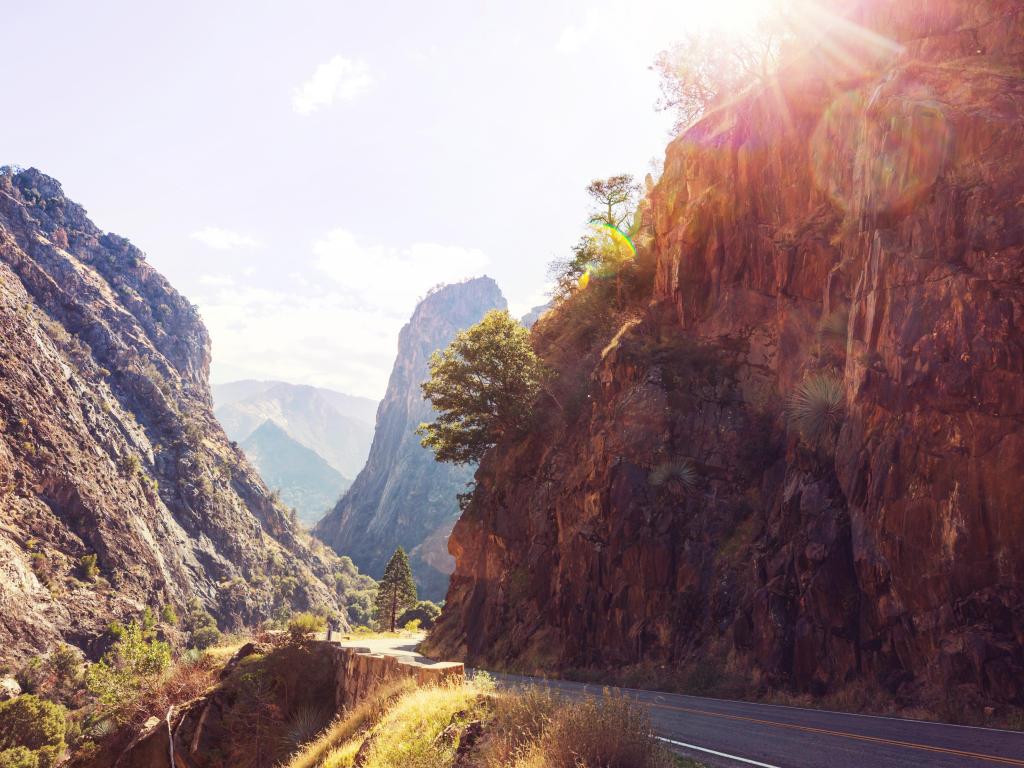 The Pacific Coast Highway Route
Take US-101 north out of Santa Barbara and continue on CA-154 passing rustic countryside and Cachuma Lake all the way to Solvang before rejoining US-101.
Follow US-101 to Pismo beach and explore the charming city of San Luis Obispo. Head on CA-1 to drive along the Pacific and soak in the beautiful beach views.
Take the road till Hearst Castle, then take a U-turn and head east to join US-101 again. Head north along the Salinas River and at Chualar, hop east towards the ocean.
Follow the curve of the road as you pass along Monterey and Del Monte Forest on CA-1 and follow it South to Big Sur. After the detour, head back North on the road and drive bordering Monterey Bay to arrive at Santa Cruz.
Continue your journey along the coast via Pescadero, Half Moon Bay, and Pacifica. Take I-280 briefly to meet I-101 and follow directions for San Francisco Bay Area.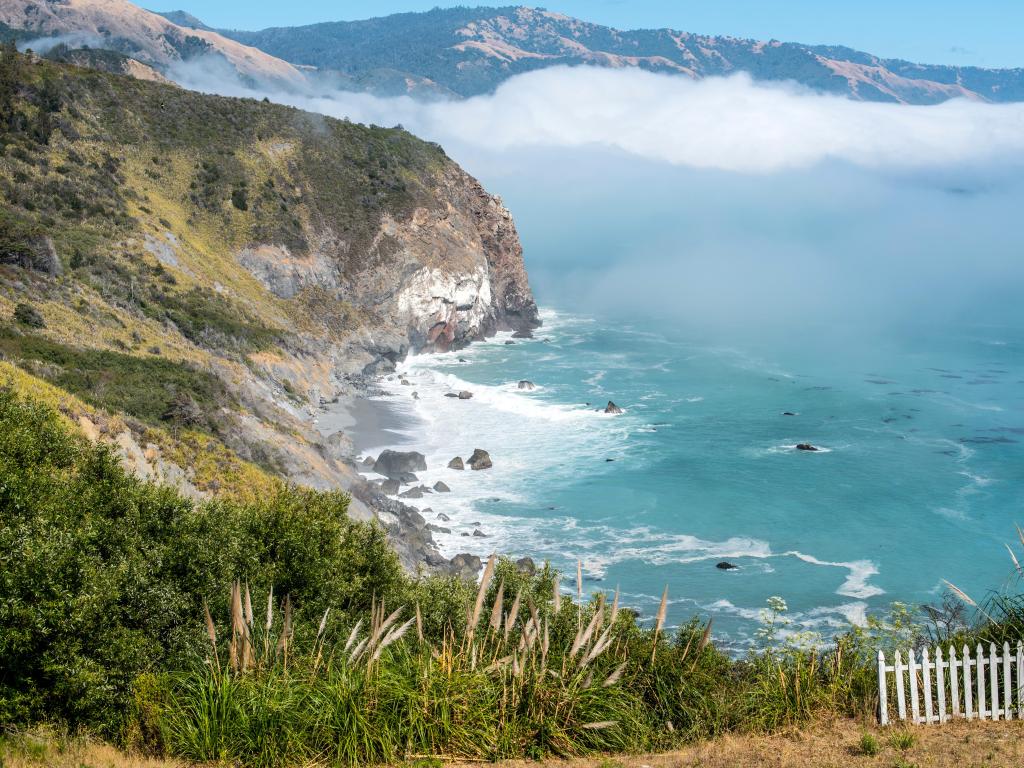 Best places to stop between Santa Barbara and San Francisco
With winding roads and spectacular scenery, both routes have excellent locations to rest and explore. We have highlighted some of our favorite hotels for your overnight stay at stunning places.
Enjoy the city life in Bakersfield
About one-fourth of the journey on The Yosemite Route, you'll come across the beautiful city of Bakersfield. This charming city is known for its lively culture of arts and history and is often referred to as Nashville West.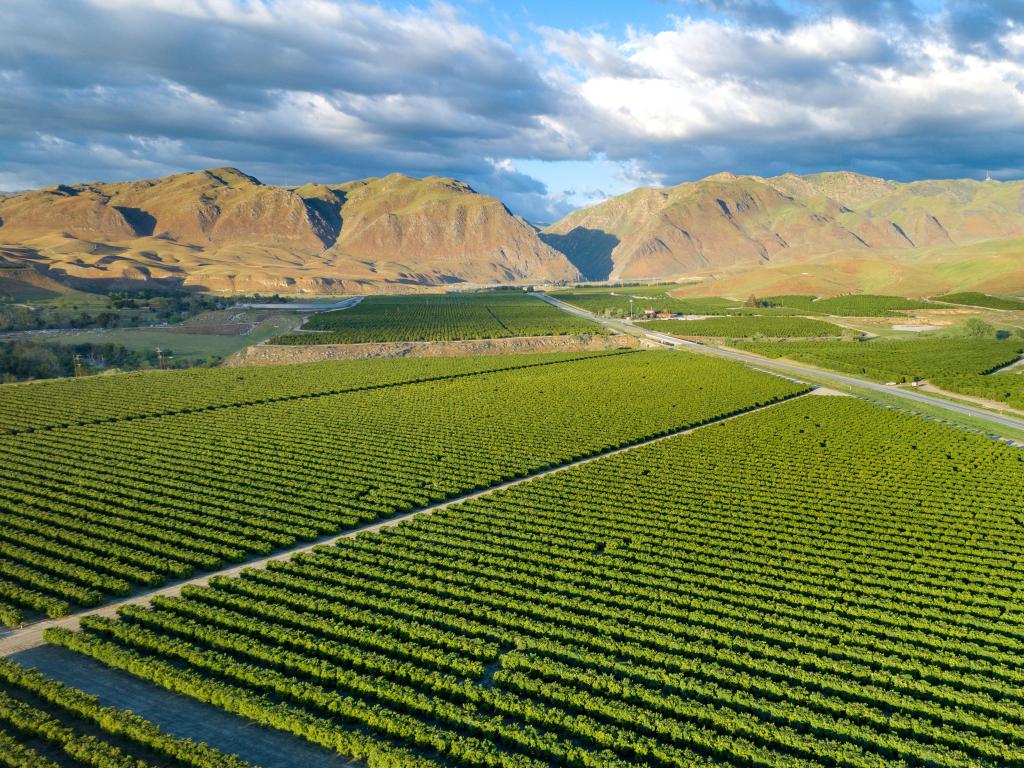 If you fancy an evening of good food and music, visit the Buck Owens' Crystal Palace. A sight to behold, the palace has hosted some of the best artists like Willie Nelson and Brad Paisley and continues to showcase musical instruments and stage outfits.
If you are a food enthusiast, we recommend you check out the Basque Block to experience Basque food from Spain. Bakersfield has something for everyone, including a vast collection of antique shops home to hidden treasures.
Located close to the major attractions and from the highway leading to Sequoia National Park, our top choice for your overnight stay in Bakersfield is the 4-star Padre Hotel.
This boutique hotel, built in 1928, is a famous landmark and boasts contemporary and comfy rooms. After a day of driving, you can enjoy on-site parking and explore the nearby tourist spots on foot.
There's an on-site café, bar, and a rooftop patio called Prairie Fire, where you can enjoy live music every Thursday. Chill at their Brimstone Bar from 3-6 pm daily to make the most of their 'Happiest Hours.'
Explore the beach vibes at Santa Cruz
After covering almost four-fifths of the distance on The Pacific Coast Highway Route, you'll arrive in the exciting beach city of Santa Cruz. It's the last big city before reaching San Fran and is perfect for a day's exploration.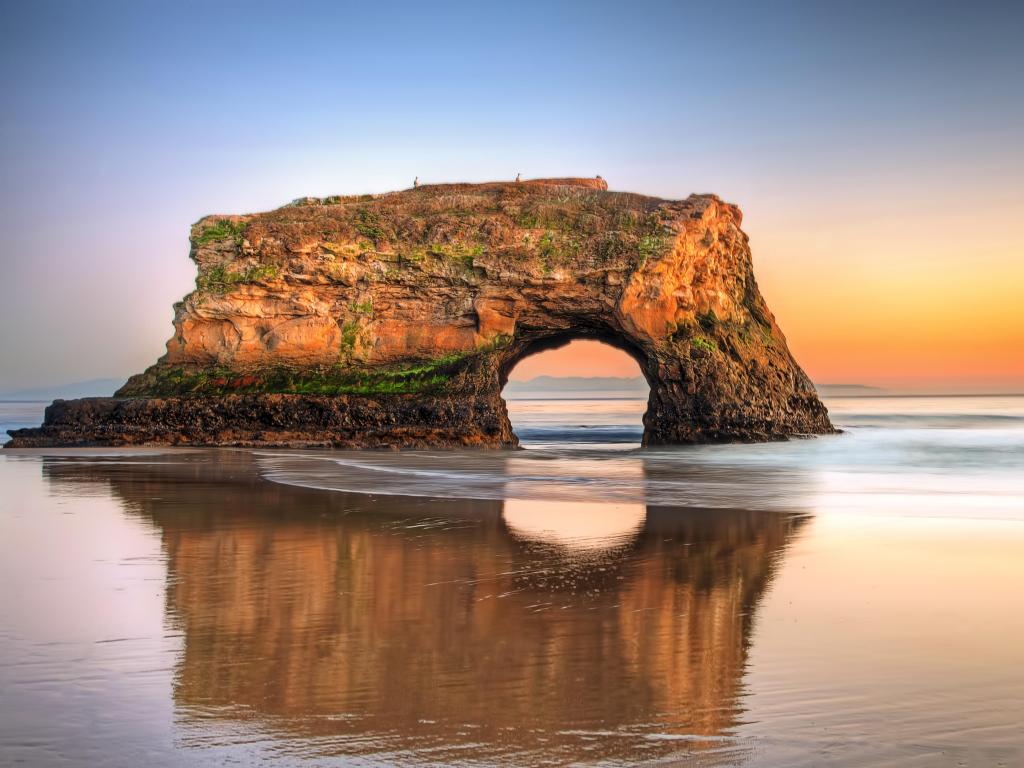 Known for the big waves, Santa Cruz is popular among the surfer community. Even if you don't surf, you can still enjoy a peaceful walk amidst nature and participate in indoor entertainment activities. Santa Cruz Boardwalk is perfect if you love thrill rides and mini golf.
If you love exploring the outdoors, hike the Natural Bridges Monarch Trail to reach the picturesque Natural Bridges State Beach. Follow it up with a seafood feast at Santa Cruz Wharf. Enjoy a little surf and turf with your favorite drinks overlooking the sea.
Look no further than the modern Hotel Paradox, Autograph Collection for a relaxing stopover in Santa Cruz. Located close to all the attractions mentioned above and also mere 1.5 miles from the CA-1 highway, it is one of our favorite hotels.
Enjoy on-site parking and access to excellent amenities like a functional fitness center, outdoor swimming pool, and a gorgeous sun terrace. You can also unwind at the fantastic bar and the on-site restaurant before retiring for the evening for a well-deserved rest.
Where to stay when you reach San Francisco
After reaching San Francisco, we suggest you check in at the lovely Club Quarters Hotel Embarcadero, San Francisco. It is located in Central San Francisco Financial District and is perfect for long stays.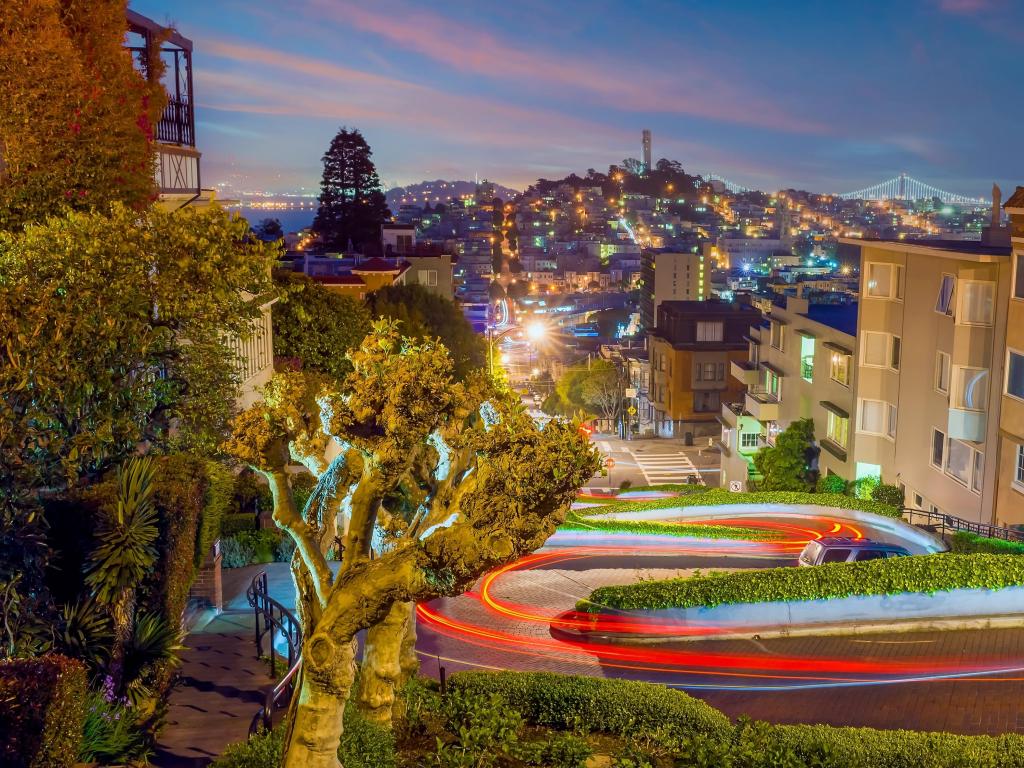 The hotel boasts modern décor; you can choose between rooms, suites, and apartments depending on your preference and the length of your stay. You can enjoy the paid private parking and keep up with your workout routine at their state-of-the-art fitness center.
Because of its prime location and easy metro access, you can explore the top attractions like Embarcadero Plaza, Rooftop Park, Union Square, Pier 39, Alcatraz, and the Golden Gate Bridge.
Things to see on a road trip from Santa Barbara to San Francisco
Whichever route you pick, California is blessed with mesmerizing landscapes, and there is a picture-worthy view around every corner; from lush greenery, sunny beaches, majestic mountains, and rolling hills to iconic national parks, you'll be spoilt for choice when it comes to deciding on things to see.
Below are some of our favorite recommendations for the best things to do on this road trip.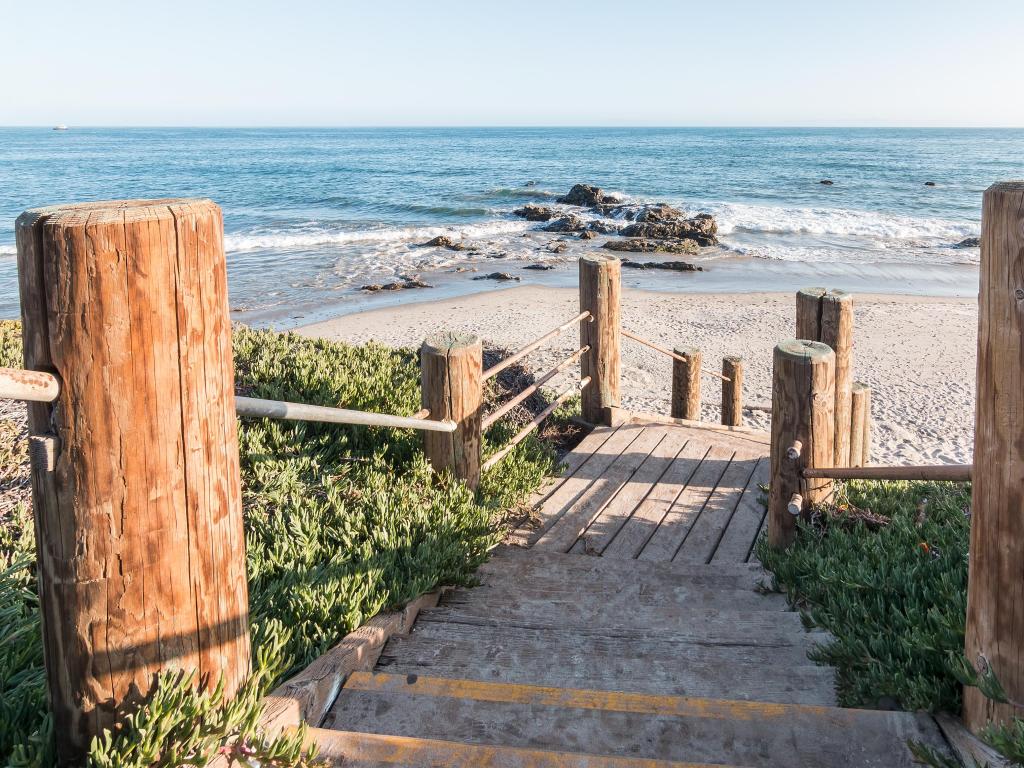 The Yosemite Route
Carpinteria State Beach, California – Spend a day on the protected mile-long beach and spend the night in one of the seven campsites.
Six Flags Magic Mountain, California – Pump up your adrenaline by opting for adventurous thrill rides at Six Flags Magic Mountain.
Castaic Lake, California – You can enjoy powered and non-powered water activities at this lake. Visit the upper lake for jet-ski and sailing and the lower lake for kayaking, canoeing, and swimming.
Sequoia National Park, California – Witness the largest tree in the World- General Sherman, standing at 275 feet. Another attraction is driving through a falling tree that has a tunnel for vehicles.
Kings Canyon National Park, California – Let nature take over you as you gaze at the deep valleys and rock formations at this National Park. For the best view of the canyon and Roaring River Falls, head over to Cedar Grove.
Fresno, California – Best known as 'The Best Little City in the USA,' Fresno has many hidden spots, including the Forestiere Underground Gardens, where you can explore the catacombs and passageways.
Mariposa, California – Small but charming, Mariposa is known as the gateway to Yosemite. Go to the Gold Rush Historic District for an authentic feel of a Gold Rush Town.
Yosemite National Park, California – Soak in breathtaking sunset views of the glowing granite rocks at Yosemite National Park. You can hike to Glacier Point and admire Yosemite Valley and the magnificent Yosemite Falls.
Modesto, California – Known for its agriculture, Modesto is home to the largest wine-producing company in the world, EJ Gallo. You can go winery hopping around town to taste the region's best wines.
Mount Diablo, California – For a bird's eye view of the Bay area, head to the Mount Diablo State Park Visitor Center.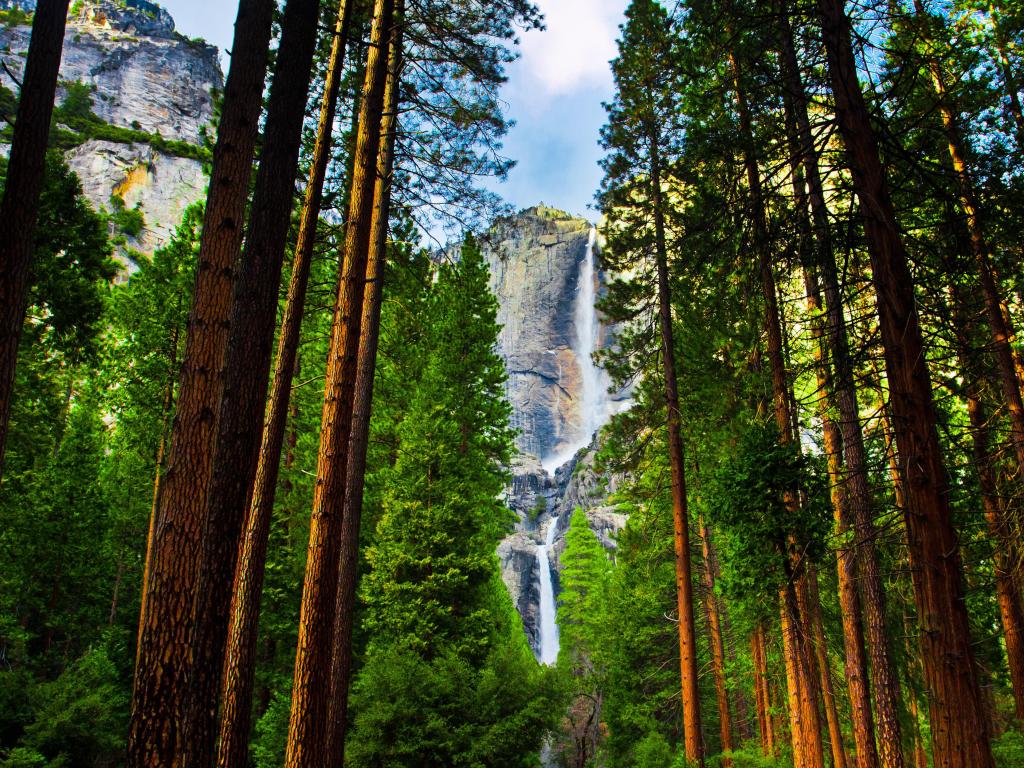 The Pacific Coast Highway Route
Solvang, California – Founded by Danish immigrants, Solvang has distinctive and striking architecture. Go to Solvang Village to see why it's called the 'Danish Capital of America.'
Morro Bay, California – Adventure into exciting coastal outdoor activities at Morro Rock Beach. Take this opportunity to grab a fantastic picture against the distinct background created by an extinct volcano.
Pismo Beach, California – Enjoy the quintessential Cali beachside at Pismo Beach. Enjoy the world renowned clam chowder at the 'Clam Capital of the World.'
Hearst Castle, California – Towering on top of a hilltop, a detour to Hearst castle will instantly transport you to Europe. Book a ticket for a shuttle up the hill to tour the castle.
Big Sur, California – Cruise across the stunning Bixby Bridge, which has become the iconic snapshot of the Coastal Pacific Highway. Stop at the Julia Pfeiffer Burns State Park and find the remote Partington Cove beach.
Monterey, California – The AZA-accredited Monterey Bay Aquarium is big on conservation. If looking at sea life excites you, you must visit the ocean-view decks to spot humpback whales.
Big Basin Redwoods State Park, California – Located deep in the Santa Cruz Mountains, it is California's oldest state park. Walk the tiny 0.6-mile-long Redwood Trail Loop for a breathtaking view of huge and old redwood trees.
Pescadero, California – If you love hikes, you must climb up the dunes to make your way to the coastline and marvel at the largest mainland seal colony in the world at the Ano Nuevo State Reserve.
Half Moon Bay, California – Yet another beach town on this route, you can enjoy the golden sandy coastlines of Venice Beach, Poplar Beach, and Cowell Ranch. Also, check out the downtown area for historic buildings, shops, and restaurants.
Pacifica, California – Easily one of the most scenic coastal towns in the San Fran Bay Area, you can enjoy long tranquil walks along the sandy beaches and hike the dramatic coastal rocky hills.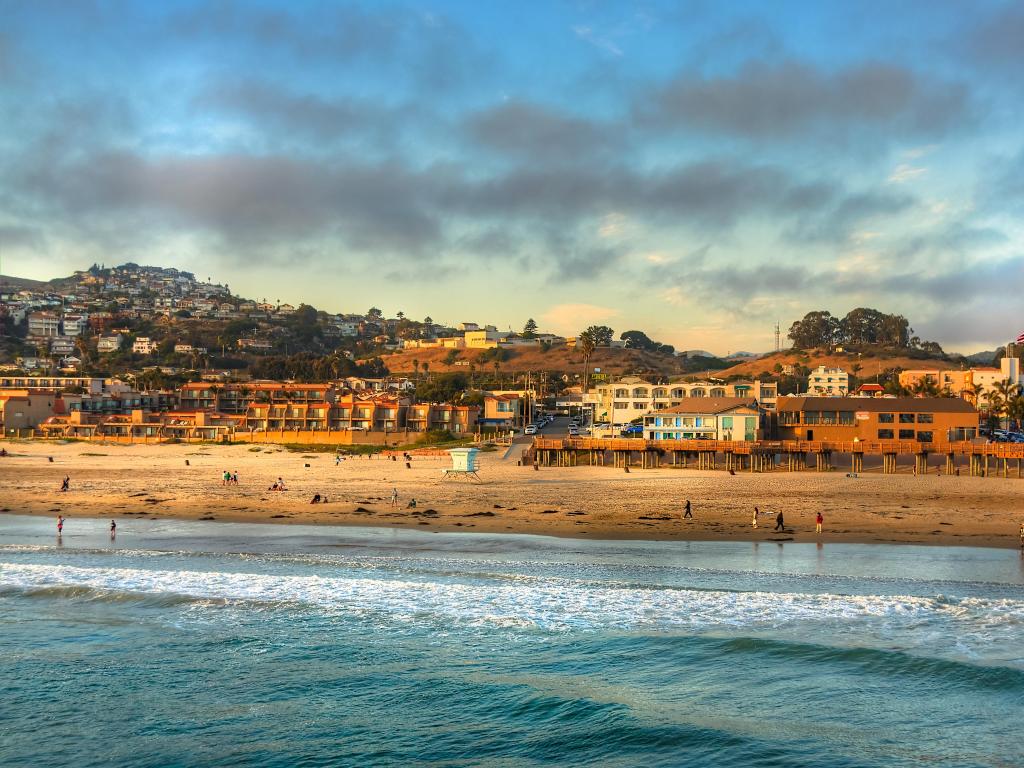 Best time to go on a road trip from Santa Barbara to San Francisco
San Francisco is truly a year-round destination. That said, you may find it a little busier during certain times of the year than others.
Tourism in San Francisco peaks during summer; although summers are long, they aren't as overwhelming. June, July, and August have average temperatures of 61, 62, and 62 degrees Fahrenheit, respectively.
Because of pleasing weather conditions, holidays, and tourist crowds, you can expect higher hotel prices, long queues, and busier attractions.
You can also plan this road trip during winter. It gets cold from November to February but is not freezing. The temperature averages 51, 54, 57, and 51 degrees Fahrenheit in January, February, November, and December, respectively.
It gets rainy and wet during these months, so if you prefer a drier climate, avoid the months from December to February.
September is the best season to enjoy the beautiful beaches and water activities. The water temperature is at its highest, and the average temperature is 63 degrees Fahrenheit, higher than in June, July, and August.
October is pretty comfortable, as are the spring months of April and May, with temperatures averaging 57 and 59 degrees Fahrenheit, respectively. You can expect fewer tourists and affordable hotels, but you might miss clear summer skies.
When deciding the best time to visit San Fran, you may want to know the key events and festivals that the city is known for. For instance, summers are filled with festivals starting with Stern Grover Festival in June, San Francisco Pride at the end of June, and Outside Lands Music Festival in August.
You can also wrap your holiday season with a bang by enjoying the New Year's fireworks on the 31st of December. Should you visit during February, catch the Chinese New Year Parade and the colorful Carnaval during the last week of March.