17 Best Winter Road Trips from Los Angeles
Filled with stars and sunshine, Los Angeles is one of California's most popular tourist destinations with bustling beaches, whimsical theme parks, and the tantalizing prospect of seeing a celebrity. Whether you're from SoCal or just visiting, more adventure awaits beyond the City of Angels.
On our list of the 17 best winter trips from Los Angeles you'll find snowy mountains, desert wilderness, small-town celebrations, sumptuous hot springs, and a chance to trade in your skis for a surfboard.
Read on below to find the best routes for the most exciting and festive winter road trips from L.A. as well as plenty of astounding sights and merry happenings to enjoy once you arrive.
Best winter road trips from Los Angeles: a quick overview
Single day trips (under 3 hours each way)
These are some of the closest places to check out, where you can play in the snow or surf the waves in less than a three-hour drive from Los Angeles.
1. Lake Arrowhead and Big Bear Lake, CA
2 hours 20 mins from Los Angeles (110 miles)
Why you should visit: Known as the "Alps of Southern California," these are the most accessible winter sport locations from Los Angeles, and both feature atmospheric lakeside communities.
Whether you've been waiting all year for that first dusting of powder, or you want to adventure somewhere new with familiar winter scenery, both Arrowhead and Big Bear make the best of the chilly months.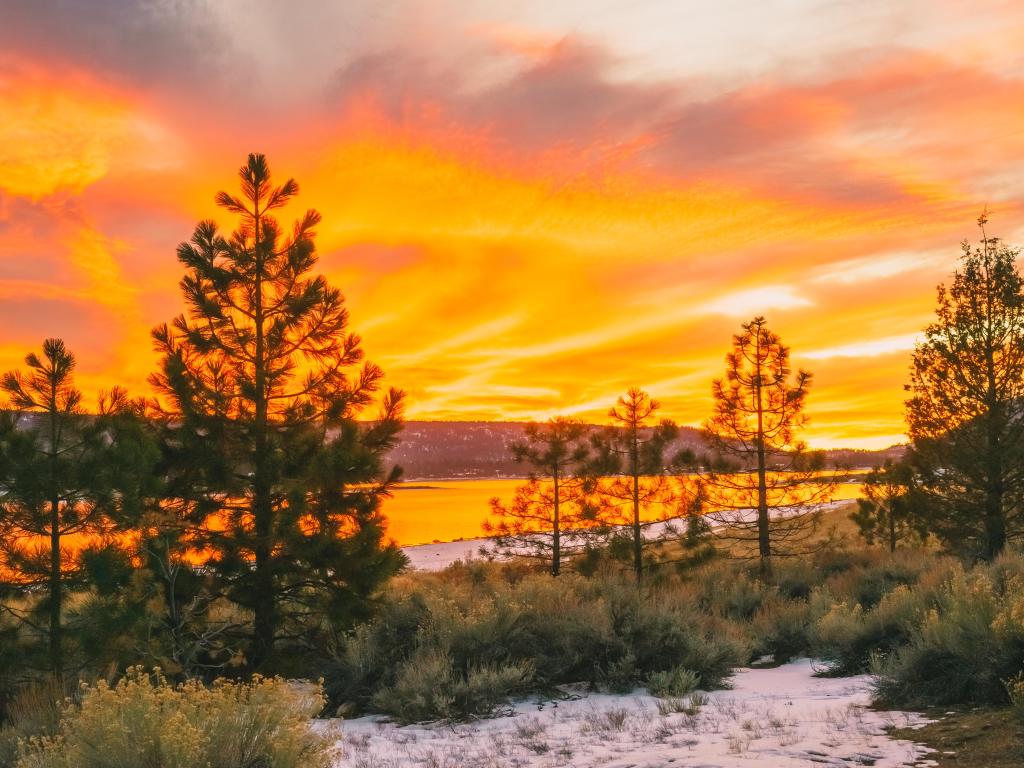 How to get there: Take Interstate 10 (I-10) to San Bernardino via California Route 210 East. North of downtown San Bernardino, follow CA Route 18 north to Lake Arrowhead. After seeing the sights there, continue along CA Route 18 towards Big Bear Lake.
Our highlights: Located at over 5,000 feet, there are plenty of places to ski around Lake Arrowhead, including Rim Nordic Ski Area and Snow Valley Mountain Resort.
Do you want to have fun on the snowy hills, but skiing and snowboarding don't appeal to you? At Arrowhead you can go snow tubing! Serviced by a lift, all that's left for you to do is get in a tube and whoosh down the hill, laughing all the way.
For great entertainment in a memorable venue, look no further than the Tudor House in Lake Arrowhead. Built in the prohibition era, this mansion houses an all-American restaurant and intimate stage where you can catch jazz performances, plays, and stand-up, and a ritzy New Year's Eve ballroom celebration.
Year-round, you can take a tour on Lake Arrowhead Queen Paddleboat. From here you can experience the lake scenery from a novel perspective and enjoy the humorous commentary of one of the friendly guides.
Venturing a little higher up to Big Bear, even more snowy slopes and fun await you. In addition to popular skiing and snowboarding spots that have recently been updated by new management, you can also see parts of the park via zipline or horseback.
Bonus: At Lake Arrowhead you can even see Santa! Though you might be too big to sit on Old Saint Nick's lap, Skypark's Santa's Village contains the area's only skating rink where you can take in all the festive decorations as you glide along the ice.
Our travel tips: Be prepared for your mountain journey. Due to the proximity to densely populated LA, it is best to book any accommodation well in advance, especially if you're traveling on the weekend.
By law, you also have to carry tire chains in your vehicle if you're going to drive these mountain roads in the winter.
READ MORE - Road Trip from Los Angeles to Lake Arrowhead and Big Bear Lake
2. Santa Barbara and Cachuma Lake Recreation Area, CA
2 hours 10 mins from Los Angeles (120 miles)
Why you should visit: Santa Barbara is simply one of the most pleasant places on earth. With mild weather, bright bougainvillea climbing over gates and walls, and an adorable downtown all caressed by a Pacific breeze, it's not hard to see why some call it "the American Riviera."
The rocky hills and chaparral of central California are great to explore during the temperate winter months, especially since many ponds and waterfalls might dry up during the searing summer heat.
How to get there: Head northwest towards Oxnard via US Route 101 until you reach Santa Barbara. To get to Cachuma Lake, continue north and hop on San Marcos Pass Road until you see the turn-off for the Lake.
Our highlights:As you approach Santa Barbara, make a pit stop in quiet Summerland. Here you will find the Buddha-filled labyrinth that is Sacred Space. This is a one-of-a-kind treasure and a great place to have a contemplative winter moment with a cup of tea by a quiet pond.
Even though there might not be any snow, Santa Barbara loves to celebrate the winter holidays. Take a trip to see all the most dazzling and decked-out houses on the Santa Barbara Trolley of Lights tour.
A popular day trip from Santa Barbara, Lake Cachuma is a great place to hike, fish for trout, or even camp in a yurt. If you can come on a Saturday, be sure to join the morning nature walk led by a naturalist along the Oak Canyon Trail to learn about the natural history and ecosystems of this central Californian environment.
Just an 18-mile drive from Cachuma Lake, you can explore Nojoqui Falls Park which features extensive trails and a distinctive waterfall you can reach after a 10-minute walk from the parking lot.
Bonus: There's a great winter market in the heart of Downtown Santa Barbara called the La Arcada Christmas Walk. Every December this premier shopping area transforms into a jovial celebration of Christmas with decorations, holiday snacks, and carolers. Check the town's website for the exact date of this year's walk.
Our travel tips: Even though some of our favorite special events take place on the weekend, be prepared for crowds and try to stay for at least one weekday to enjoy the beaches and ambience of Santa Barbara in a more relaxed way.
READ MORE - Road Trip from Los Angeles to Santa Barbara
3. San Diego and La Jolla, CA
1 hour 50 mins from Los Angeles (120 miles)
Why you should visit: For a perfect winter holiday by the beach, look no further than San Diego which has 17 miles of coastline and a downtown area much more defined by a coastal climate and beach culture than Los Angeles's.
La Jolla is home to some of the best that San Diego has to offer, including rugged coastal beaches with colorful tide pools, the world-famous Torrey Pines Golf Course, and the upscale La Jolla Village where you can shop and enjoy an exquisite seaside meal.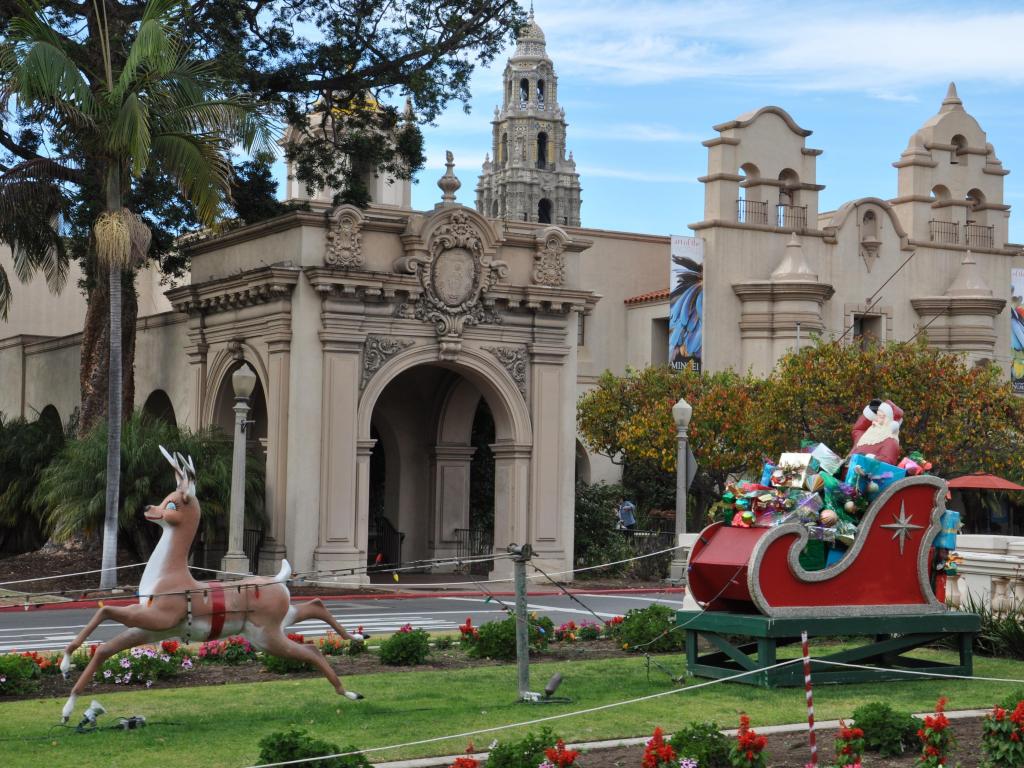 How to get there: Head South from LA towards Anaheim on I-5. Take that all the way to San Diego.
Our highlights: Here you won't have to brave a blizzard to get some of that holiday shopping in. San Diego is full of fancy outdoor malls from Westfield in La Jolla to Fashion Valley in Mission Valley. For those who prefer boutique shopping, La Jolla has plenty of options including the popular Hi Sweetheart.
Take in a spectacular winter sunset as you explore the 12-mile-long Mission Bay Bike Path on a classic cruiser. There are plenty of places to rent a bike in the Mission beach area.
Balboa Park December Nights is a beloved holiday event that's been held for over 40 years in San Diego. Balboa Park is already a must visit attraction here, with manicured gardens, trails, and 17 museums. Yet for three nights in December, areas of the park are transformed into a SoCal version of a winter wonderland, perfect for a romantic evening stroll in search of mistletoe.
Explore the unique coastline on a guided sea kayak tour of La Jolla Cave. In the winter you can also catch a glimpse of migrating whales, sea lions, and turtles.
In a season traditionally associated with skiing, why don't you try something new this winter with surf lessons? The mild weather and ample surfing breaks have long established San Diego as a great place to take up this relaxing ocean sport.
Bonus: We promise that you haven't seen a holiday parade like this before! The San Diego Bay Parade of Lights is a fantastic aquatic tribute to the season of lights that has been brining joy and smiles to San Diegans for over 50 years.
Dozens of boats decorated according to a yearly theme glide between Coronado Island and the Embarcadero Marina on two Sunday evenings in December.
Our travel tips: In case you're asking for directions or tips about the best restaurants in La Jolla, remember that it has retained its Spanish pronunciation of "la hoy-ya".
San Diego is only 25 miles from the Mexican border and locals and visitors alike enjoy the radical change of scenery that Tijuana, Mexico offers. You can even take a trolley all the way from San Diego to the San Ysidro border.
READ MORE - Road Trip from Los Angeles to San Diego
4. Mt. Baldy and Wrightwood, CA
2 hours 30 mins from Los Angeles (120 miles)
Why you should visit: A go-to winter excursion for many in SoCal, both Wrightwood and Mt. San Antonio are in the San Gabriel Mountains and offer picturesque snowy peaks and forests to traverse.
Mt. San Antonio, affectionately known as "Mt. Baldy" for the lack of trees near its summit, is the highest peak in Los Angeles County. From its 10,000 foot high vantage point, you can see a sweeping landscape of purple and blue hills with patches of snow, depending on when you visit.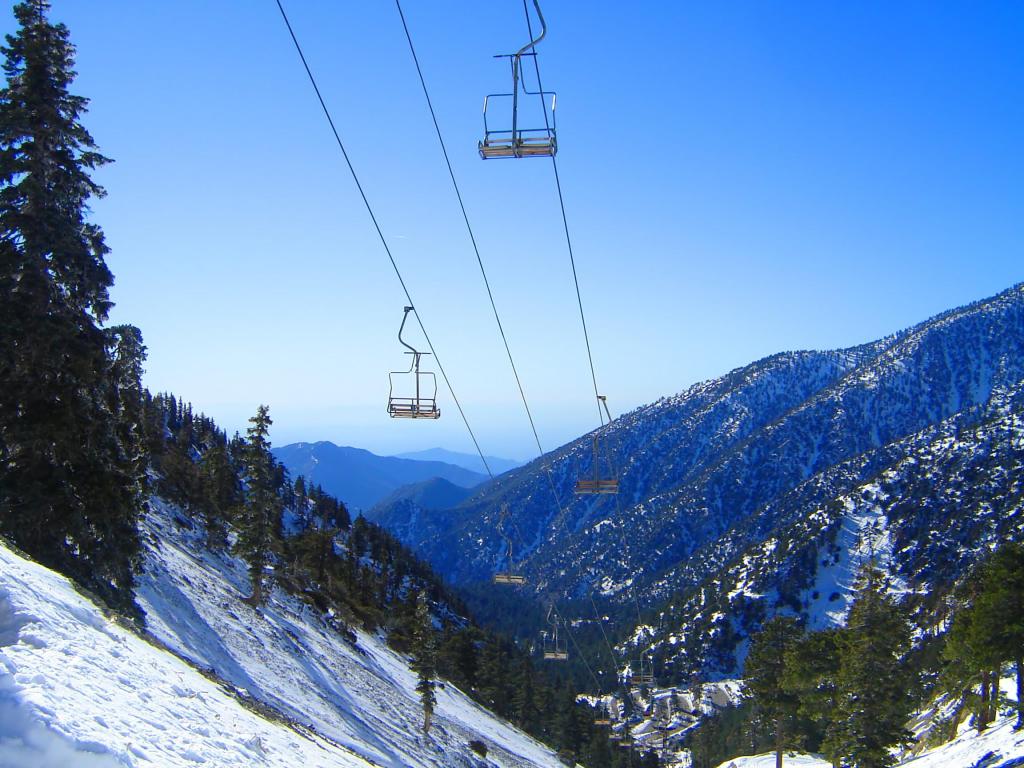 How to get there: Follow I-210 through Sierra Madre until you reach Claremont, then take Mt. Baldy Road to the trailhead. Coming back, follow Mt. Baldy Road and N. Mountain Avenue to CA Route 210. In Etiwanda, take I-5 N to Cajon Junction, from where you'll take state routes west to Wrightwood.
This route includes a stop by Mt. Baldy Resort and Trailhead. Alternatively, you could cut out an hour of driving time if you drive straight to Wrightwood and hike to a mountain viewpoint from there where you can see Mt. Baldy.
Our highlights: On the way to Mt. Baldy, consider stopping for breakfast or coffee in the rustic hillside community of Sierra Madre, just north of I-210. The Mt. Wilson Trail is also popular with local hikers and walking a section of it could get you in the mood for more demanding treks ahead.
Weather permitting, a moderately challenging hike along the 11-mile trail to summit Mt. Baldy can be just what the doctor ordered in terms of some winter adventure. When clear skies prevail, especially after rain, the view from the summit stretches from the desert to the Pacific Ocean.
At the Wrightwood Mountain High Resort, you can ski, snowboard, go tubing, or even just take a chair ride to a viewpoint for a picnic lunch. In case you've always wanted to learn how to ski, they also have great instructors and gentle slopes for beginners.
Enjoy a slower pace of life in Wrightwood village, which gets particularly festive around the holidays. To whet your whistle, stop by the beloved Raccoon Saloon, which is welcoming and cheerful around the holidays.
Wrightwood also sits along the 2,653- mile-long Pacific Coast Trail. There are plenty of opportunities for exploring the forest trails in any season.
Bonus: Wrightwood was home to acclaimed author and psychedelic experimenter Aldous Huxley from 1945-1950. Part of the home he lived in with his wife Maria still stands along Highway 2. Fortunately, the Wrightwood of today feels miles away from the "Brave New World" of high-paced modernity.
Our travel tips: The best times to see snow in the San Gabriel Mountains is from mid-December through February, a shorter window than in other mountainous regions.
Make sure to arrive in Wrightwood early in the morning and leave the area in the early afternoon if you're doing a weekend trip to avoid horrendous traffic.
Click here to skip back to the top.
Weekend trips (3-6 hours each way)
If you have more than a day to play, try venturing out a bit further on one of these weekend trips into the desert of southern California for the ultimate winter experience.
5. Palm Springs and Joshua Tree National Park, CA
2 hours 40 mins from Los Angeles (150 miles)
Why you should visit: This is a road trip with two contrasting destinations: the luxury of a celebrity resort town, brimming with spas, and the austerity of a vast desert filled with iconic trees and ancient rock formations.
Palm Springs' winter weather is what established it as a celebrity hideout in the 1930s. Now, it is well-known as an upbeat tourist destination, home to a thriving LBGTQ+ community as well as world-famous festivals like Coachella.
Barely an hour away, you can take in the majestic beauty of Joshua Tree as part of a day hike or longer camping trip.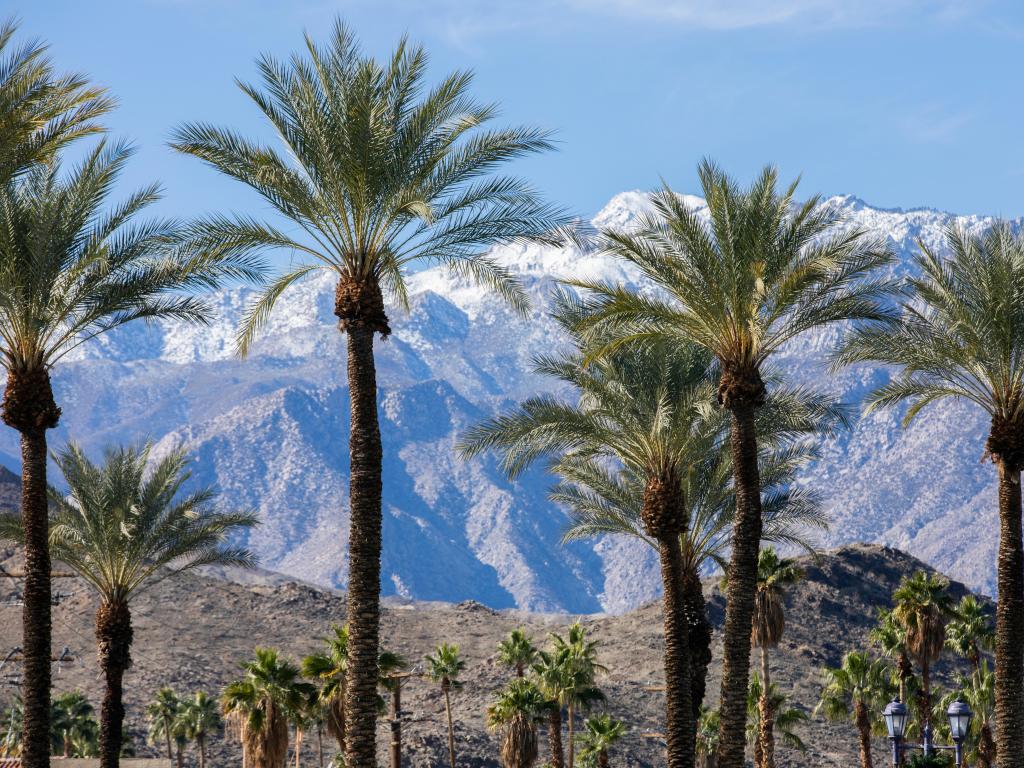 How to get there: Head east along I-10 until you come to Whitewater, from there head south for a few miles until you get to Palm Springs. After enjoying your time there, follow N Indian Canyon Drive to CA Route 62 E which will take you via Yucca Valley to Joshua Tree National Park.
Our highlights: To get a full sense of Palm Springs, cruise along Palm Canyon Drive in your car or on a bike. Against the mountain backdrop visible through the palms, you'll see all the great shops and restaurants that line this main drag.
On Thursday evenings, come for VillageFest which features an array of unique, local vendors and a lively community atmosphere.
In December there are multiple holiday events, such as the Festival of Lights Parade, the Parade of Lights & Holiday Festival, and the WildLights Holiday Festival at the Living Desert. So you'll have plenty of opportunities to get in the holiday spirit no matter when you visit.
Melt away any residual holiday stress at one of Palm Springs' acclaimed spas, many of which are fed by water from local natural springs. The Well Spa and the Spa at Desert Springs both feel like oases surrounded by calming desert scenes.
Once you get over to Joshua Tree, go for a sunrise or sunset hike through the winding trails and cacti to see a kaleidoscopic display of color across the desert landscape. It is truly breathtaking and one of the features that draw millions of people to this park every year. Try the trails at Cholla Cactus Garden or Hidden Valley Nature Trail.
If you want to fully experience the peace of the desert near the winter solstice, break out that parka and a thermos of your favorite hot beverage for an evening of stargazing. With clear skies far away from the city lights, you'll appreciate the stillness of nature and the season in a whole new way.
Bonus: In early January, you can do the other kind of star gazing at the Palm Springs International Film Festival which runs for over two weeks and features dozens of screenings, some with celebrities in attendance. Make sure to reserve your pass early.
Our travel tips: The high tourist season in Palm Springs is from December to April, so to avoid the most crowds and premium prices, aim to visit in November or early in December.
Be prepared for the remoteness and limited amenities of Joshua Tree by bringing more water than you think you'll need and plenty of food, for you'll find none in the park. Also, be sure to pack out what you bring in for a picnic hike.
There's also limited cell service in the park so send all those emails and texts before you escape into the beauty of nature.
READ MORE - Road Trip from Los Angeles to Palm Springs
Click here to skip back to the top.
Long weekend trips (5-8 hours each way)
Need to get away for a little longer? We got you covered! These trips are great for a few nights away from your routine in an exciting setting.
6. Sequoia National Park and Kings Canyon National Park
5 hours 10 mins from Los Angeles (260 miles)
Why you should visit: In addition to containing the largest Sequoia forests in the US and deep, dramatic canyons, both Sequoia and Kings Canyon abound with chances to explore wild landscapes and be humbled while walking among giants with snowy boughs.
These two outstanding National Parks in the Sierra range are often passed over as millions head towards Yosemite to the north, but those folks have no idea what they're missing! Take advantage of fewer crowds and Yosemite-like scenery at King's Canyon and Sequoia on your own winter adventure.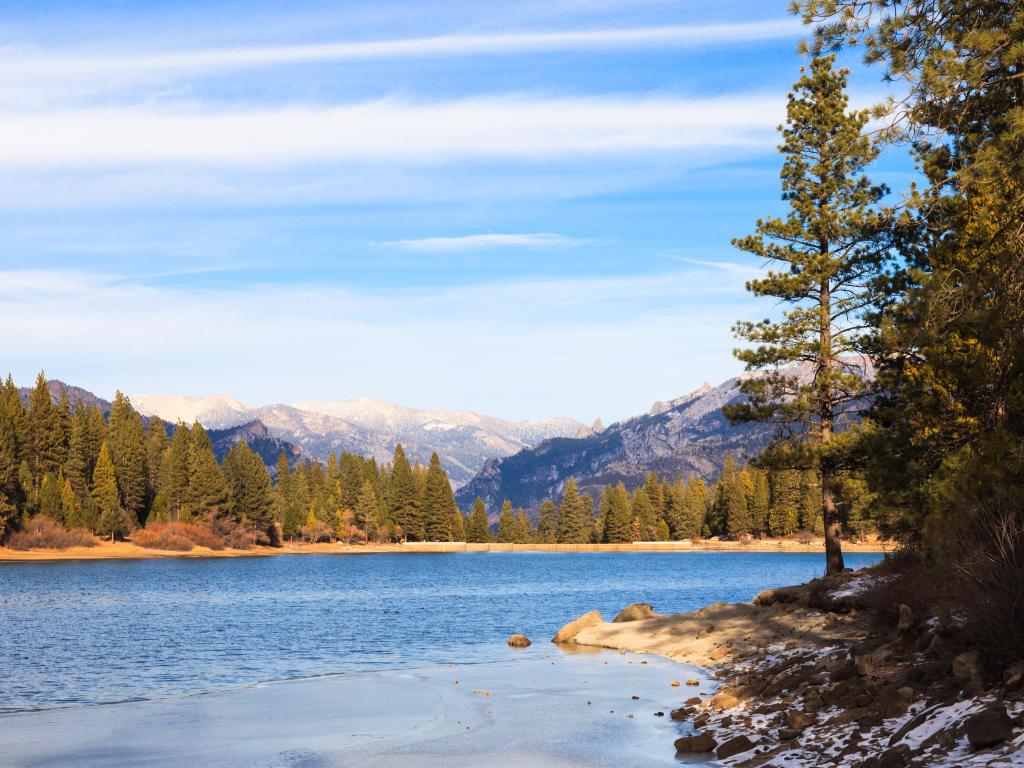 How to get there: From Los Angeles, take I-5 and head towards Bakersfield. After passing there, head northeast along CA Route 65 all the way to Exeter. Then take Sierra Drive through Three Rivers to Sequoia National Park.
From there, follow Sierra Drive back to the Junction with Highway 216/Lomitas Drive, across the river, and follow signs to Pinehurst, but stay on the highway until it links with CA Route 180 E which will take you close to the entrance of the Kings Canyon Park.
Note that this winter route is slightly longer due to road closures.
Our highlights: In addition to Sequoia's snow-filled meadows and cross-country skiing trails which you can explore at your leisure, on winter weekends the Park Services offer guided snowshoe walks led by a naturalist.
After a day's expedition, you can toast your toes around the fireplace in the Great Room Lobby.
In case you really want to get away from it all this winter, you can make reservations at the Pear Lake Winter Hut in Sequoia Park. A six-mile hike with moderate elevation gain will bring to this isolated lake enveloped in pin-drop silence and snow, perfect for a retreat or a romantic weekend getaway.
As you approach King's Canyon, walk around Grant's Grove to see the General Grant Tree, also known as "The Nation's Christmas Tree." It is fit for the living room of giants.
A few miles from Grant's Grove you will find the spectacular King's Canyon Panorama Point. This fantastic lookout point is all the more enchanting when the surrounding forest is blanketed with snow.
Also accessible in the winter is Hume Lake, on the way to Panorama Point. Hike the scenic 2.8-mile loop around the frosty lake and then get a nibble and a warm drink at the lakeside snack shop.
King's Canyon is home to over 2,000 giant sequoias and Sequoia National Park contains 24 redwood groves as well as the world's largest tree by mass, General Sherman. What an extra treat it is to see this gentle giant surrounded by powdery snow.
Our travel tips: If you come at the very beginning of winter in November, before heavy snowfall affects the area, take the scenic drive along Generals Highway between Sequoia National Park and Kings Canyon National Park
Extreme winter weather can also close down CA Route 180, so check ahead of your trip for current conditions. Try to take an AWD vehicle and carrying chains is a must.
Bring crampons or micro spikes for hiking frozen trails without slipping.
READ MORE - Road Trip from Los Angeles to Sequoia and Kings Canyon National Parks
7. Las Vegas and Hoover Dam, NV
4 hours 40 mins from Los Angeles (310 miles)
Why you should visit: In a city famed for glittering lights and top-notch shows, it seems that Las Vegas is always in a festive spirit and all the more so during the holidays.
In addition to countless Christmas-themed attractions in Las Vegas, the winter is a great time to check out nearby sights such as the Hoover Dam. The mild weather makes it easier to take long walks in the surrounding desert.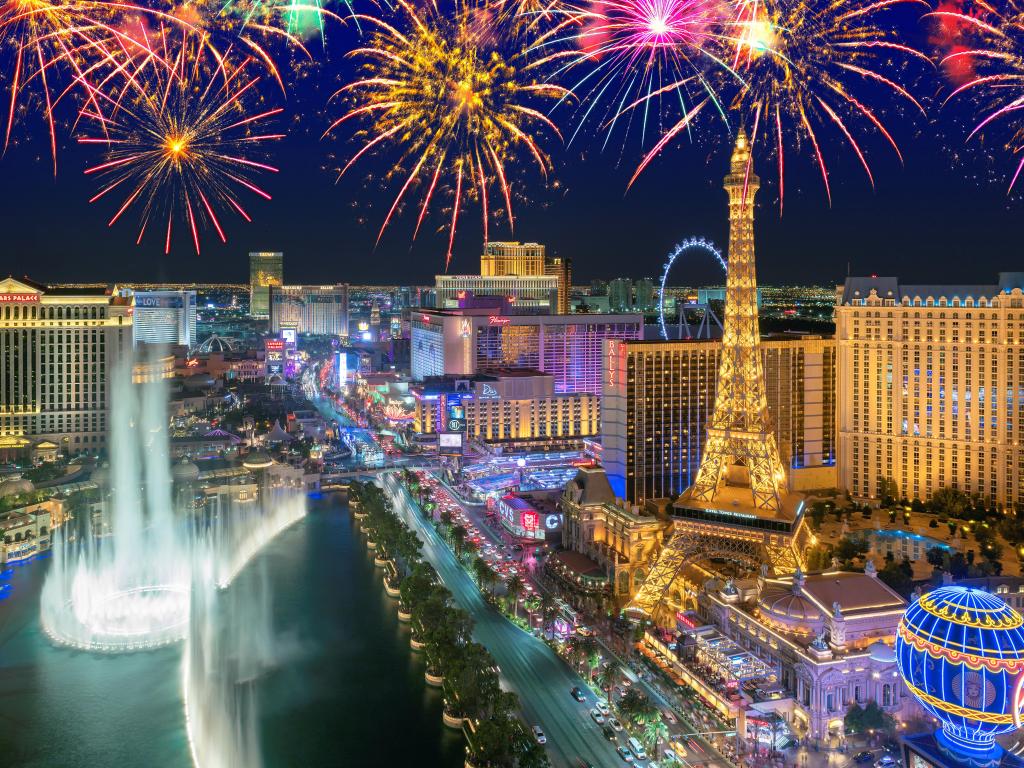 How to get there:This is a straightforward trip, mostly along I-15 which stretches all the way from Los Angeles to Las Vegas. From there take I-11 south from Las Vegas for 35 miles to reach Hoover Dam.
Our highlights: For ornate decorations and twinkling lights, take a walk through the Bellagio Conservatory, where you'll also find an elf or two and a 40-foot-tall Christmas tree glistening with 7,000 lights and 2,500 ornaments.
What could be more wintery and romantic than skating hand in hand along the ice? Every year the Cosmopolitan turns its pool into a very Las Vegas Christmas-themed ice rink, surrounded by toasty fire pits and s'more stations.
Many of Las Vegas' long-running shows like All Motown and Legends in Concert have a special program for December to make the season extra bright. Even if you have seen these shows before, be prepared for a whole new level of festive entertainment.
The Hoover Dam is a marvel of engineering that towers at 726 feet high and contains over 4 million cubic yards of concrete. No wonder it is a must-see tourist stop and if you visit during the winter, you'll find it much less crowded than other times of the year.
Another great day trip from Las Vegas to feel the magic of the season and even get some skiing in Lee Canyon. Try to visit during the week to avoid the weekend crowds, especially during school vacations.
Bonus: Las Vegas is a prime destination for champagne-fueled New Year's Eve celebrations. At the over-the-top fireworks display along the Strip you will see over 11,500 flares and fireworks expertly crafted by dozens of behind-the-scenes pyrotechnicians.
Our travel tips: Bring plenty of layers as the daytime temperatures can be above 70 degrees Fahrenheit - before dropping dramatically at night.
READ MORE - Road Trip from Los Angeles to Las Vegas
8. Mojave National Preserve and Death Valley, CA
5 hours 40 mins from Los Angeles (310 miles)
Why you should visit: The rugged expanses of desert wilderness you will experience in Mojave National Preserve and Death Valley National Park are almost unparalleled in the US and home to unique flora and fauna.
As you can imagine, this area experiences sweltering heat during the summer, making this preserve and park perfect for a winter road trip into hauntingly beautiful terrain.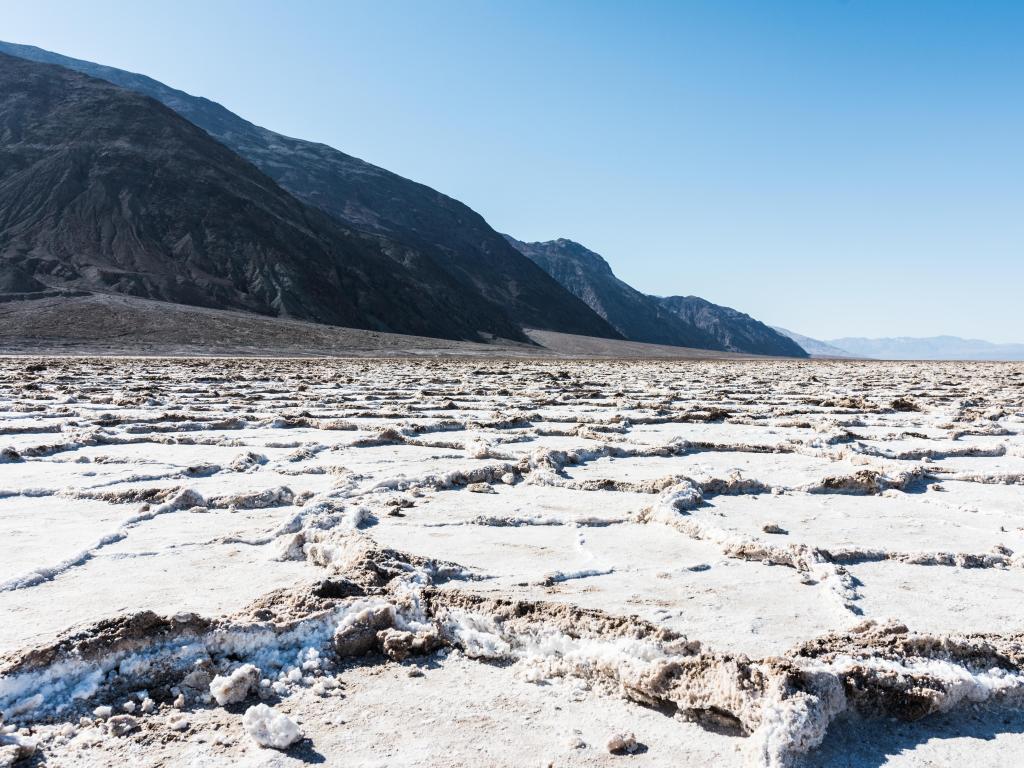 How to get there: From Los Angeles, take I-15 E to Baker, CA then follow smaller roads and signs to an entrance to Mojave. From Baker, take Death Valley Road/CA Route 127 to Death Valley Junction, then CA Route 190 west to Park Village where you'll see signs for the park entrance.
Our highlights: An outstanding feature of Mojave National Preserve and a must-see for any geology enthusiast is the extensive network of extinct volcanoes, called cinder cones, at the Cima Volcanic Field. A weathered set of iron wrought stairs leads into a lava tube, which can be reached via an unpaved road leading to Aiken Mine.
An accessible, and fun, part of the preserve to explore is the Kelso Dunes. They are also known as the singing dunes due to the unique sound produced by the sand.
Once you reach Death Valley, there are even more dunes to explore, some of the most visited being Eureka Dunes and Mesquite Dunes. Both places are great for setting up a tripod and trying your hand at long-exposure night photography to capture a canopy of stars over the desert dunes.
A wonderful introductory hike in Death Valley is Golden Canyon, an interpretive trail through the badlands which shows off striking rock formations. Be sure to grab a pamphlet near the trailhead to read more about the markers along the way.
Take your high spirits to the lowest point in the US. Badwater Basin sits 282 feet below sea level and is covered in shimmering salt flats. Not quite the white Christmas you expected!
Bonus: Death Valley has been the site of many filming locations. One of the most stunning locations on-screen or off is the Artist's Palette, a rainbow-colored patch of hills created by volcanic deposits. Part of the original Star Wars was filled here when R2-D2 crossed a lonely canyon.
Our travel tips: On your way from Mojave to Death Valley, make sure to stop at Zabriskie Point to take in the view and take a selfie with the striated rock formations that put this lookout on the map.
Both of these areas are extremely remote, arid, and vast. Unless traveling on an off-road vehicle, stay on maintained roads or compact dirt roads and make sure you have a full tank of gas and plenty of extra water in the car.
READ MORE - Road Trip from Los Angeles to Death Valley National Park
9. Big Sur and Carmel-by-the-Sea, CA
6 hours 40 mins from Los Angeles (340 miles)
Why you should visit: When you talk to anyone who has been to Big Sur their eyes immediately light up. Go see what they have seen and experience the magic of central California for yourself.
Ocean views abound along Highway 1, which is an iconic road trip in itself. Big Sur is a place where towering mountains and cliffs meet the sea, but there is still enough sunshine to give it a subtropical feel on a bright winter's day.
Continue this quintessential Californian trip up to the coastal village of Carmel-by-the-Sea to get in the holiday spirit!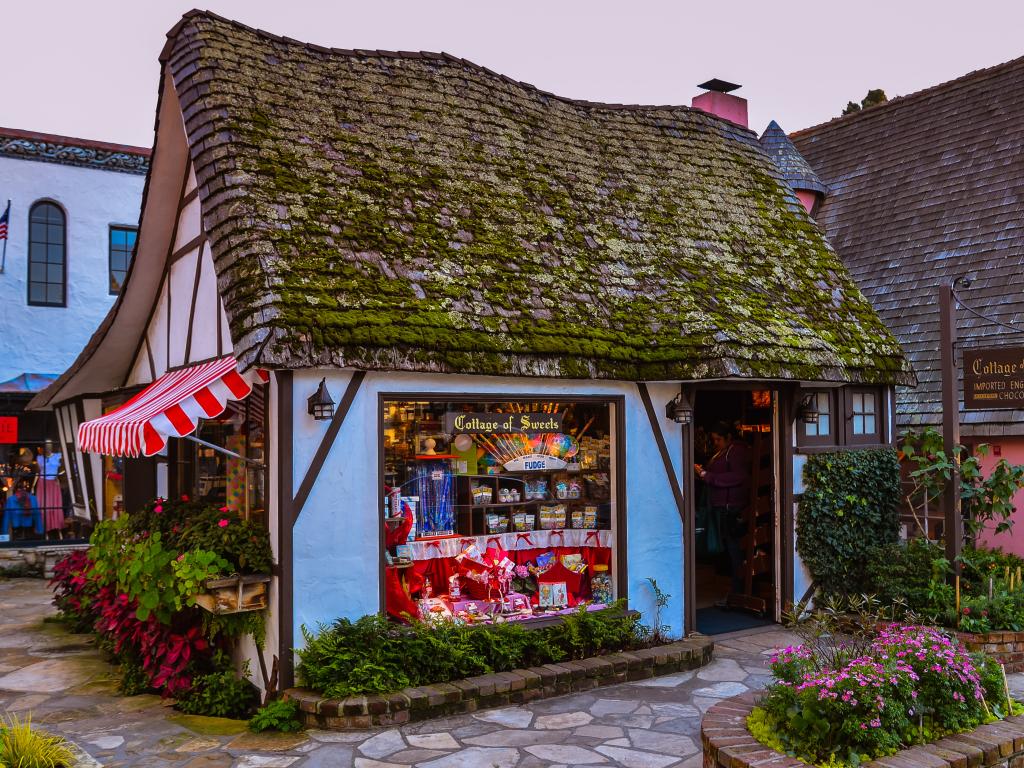 How to get there: From Los Angeles drive through Santa Monica and Malibu to get to US Route 101 north. This merges into California Highway 1 north along the coast and heads straight to Big Sur, passing many beautiful beaches and seaside communities like Santa Barbara and San Luis Obispo along the way.
After you've taken in the delight that is Big Sur, just continue on CA-1 N to get to Carmel-by-the-Sea from there.
Most of this route is right beside the Pacific Ocean, making it one of the most scenic coastal routes in America, but occasionally in there is thick fog, so drive carefully.
Our highlights: Dotted all along the Big Sur Coast are coves and hidden beaches. Some of our favorites are McWay Cove Beach, which also boasts a beautiful waterfall and Pfeiffer Beach with its highly photogenic keyhole rock.
The dramatic scenery of mountains meeting the ocean which defines Big Sur is best explored on foot and there are plenty of great trails. The Salmon Creek Trail takes you towards the rugged Silver Peak Wilderness, but there's also an easy hike to a 120-foot waterfall.
For a walk along the coast, try the San Carpoforo Creek Trail which winds through unique coastal flora to a quiet beach.
Every January, thousands of elephant seals come to the Piedras Blancas Rookery near San Simeon to give birth to their pups. This is one of the only places where the public has easy, hike-in, access to view these imposing sea mammals in their favorite breeding grounds.
Carmel-by-the-Sea is an adorable and affluent coastal community filled with almost fairytale-like architecture. All of its charms are accentuated during the holiday season, with decorations throughout the town, frequent performances in the square, wine tastings, and a particularly festive Holiday Tree Lighting ceremony at Devendorf Park which takes place in early December.
Bonus: In Carmel-by-the-Sea, you can stock up on plenty of seasonal confections at the Cottage of Sweets, named one of America's best sweet shops in 2019. While it had been in business for over 60 years, its picturesque building was built in 1922 and was formerly a weaving shop.
Our travel tips: Just north of Carmel, you can do the scenic 17-Mile Drive and explore Pebble Beach and Monterey, which is home to one of the best aquariums in the world and Monterey State Beach.
While the Big Sur prices tend to dip in the winter, prepare to pay a bit more in Carmel, which draws lots of holiday visitors from the nearby San Francisco Bay Area.
READ MORE - Road Trip from Los Angeles to Big Sur
10. Zion National Park and Dixie National Forest, UT
7 hours 50 mins from Los Angeles (480 miles)
Why you should visit: Zion Canyon National Park is one of America's most popular parks and for good reason: it can be explored from above, below, and everywhere in between. Visiting in winter means quieter and space to yourself in this enchanting landscape.
Not too far away from Zion, the red rocks throughout Dixie stand out in even more contrast when surrounded by bright, white snow.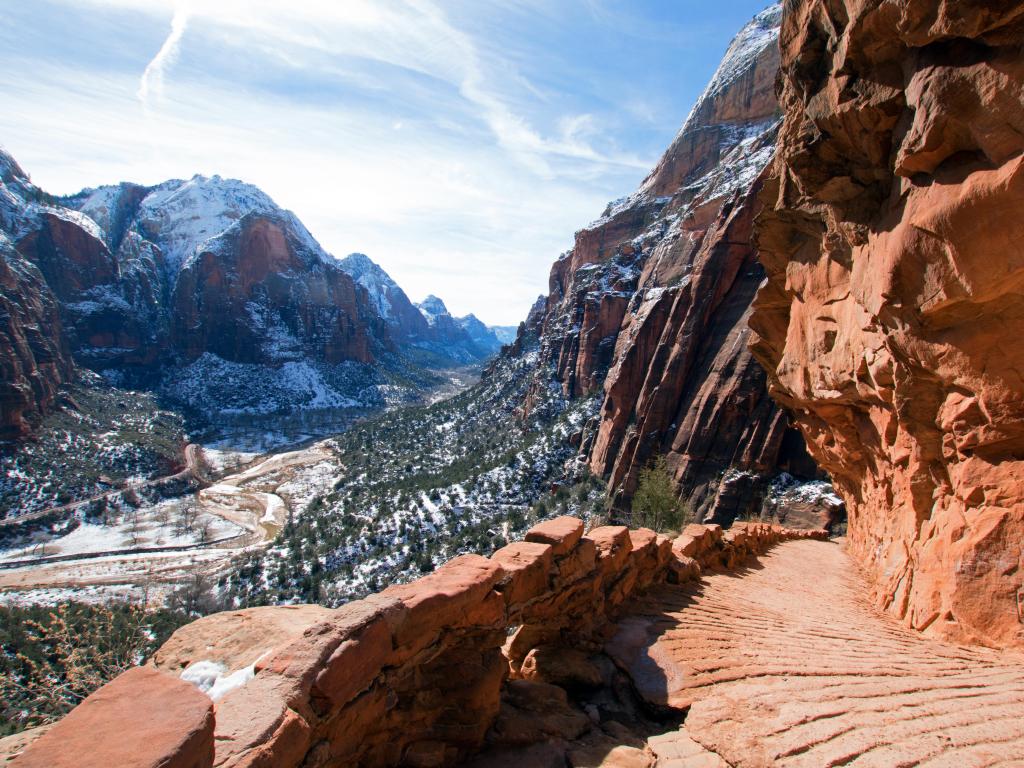 How to get there: Take I-15 from Los Angeles, past Las Vegas, all the way to Washington, UT where you'll see UT-9 E. Take that east for the last stretch of the journey into Zion National Park.
To get to Dixie, continue on UT-9 E until Mt. Carmel Junction, where Utah Route 89 will take you north into the forest.
Our highlights:For an exhilarating drive with breathtaking views of the park, cruise along the Zion Canyon Scenic Drive and have that camera ready.
The area of Zion Canyon was home to the Anasazi civilization that flourished around 1,500 BC. Pictographs and petroglyphs can be found around the park, including one site very close to the park's south entrance.
Even in the winter, you can still wade through the popular Narrows in Zion Canyon, though expect water in the 30-40 degree Fahrenheit range. To make your hike safer and more enjoyable during this time of year, consider renting a wetsuit.
Observation Point is an understated name for one of the most sweeping and magnificent vistas in Utah. You can get there via a 2-3 hour hike. No matter how strenuous the journey is, the rewarding view will more than make up for it.
With fewer crowds and the muffling effect of snow, winter is the perfect time to spot more elusive wildlife in Zion from bald eagles to elk and bighorn sheep.
Dixie National Forest is blanketed in snow and ice during the winter months, offering some unique ways to explore the park in addition to hiking. Try touring the park on cross-country skis to get that heart rate up or by snowmobile for a rush of adrenaline.
Go for a cave hike in Dixie National Forest. While extreme winter weather can cut off access to the Mammoth Cave, during a milder winter or close to the shoulder season we think a visit to this extensive cave system is a unique and eerie treat.
If you also wanted to hit the slopes on this trip, near Dixie you can ski and snowboard at Brian Head Ski Resort, which has excellent, low-humidity conditions and 71 ski trails.
Our travel tips: While the lower elevations of Zion only see occasional snow, be prepared for icy conditions if you're planning to drive in higher elevations. Good tires and a car with AWD would be helpful.
READ MORE - Road Trip from Los Angeles to Zion National Park
11. Phoenix, AZ
7 hours 20 mins from Los Angeles (480 miles)
Why you should visit: Located in the sunniest state in the country, Phoenix is rightly known as "The Valley of the Sun" and has long attracted "snowbirds" fleeing frigid conditions in the north.
Like the mythical bird rising from ashes, this vibrant city rises from the seemingly lifeless desert. No time of the year is Phoenix livelier and more inviting than the winter and early months of spring, with wildflowers, festivals, and temperate weather for plenty of outdoor fun.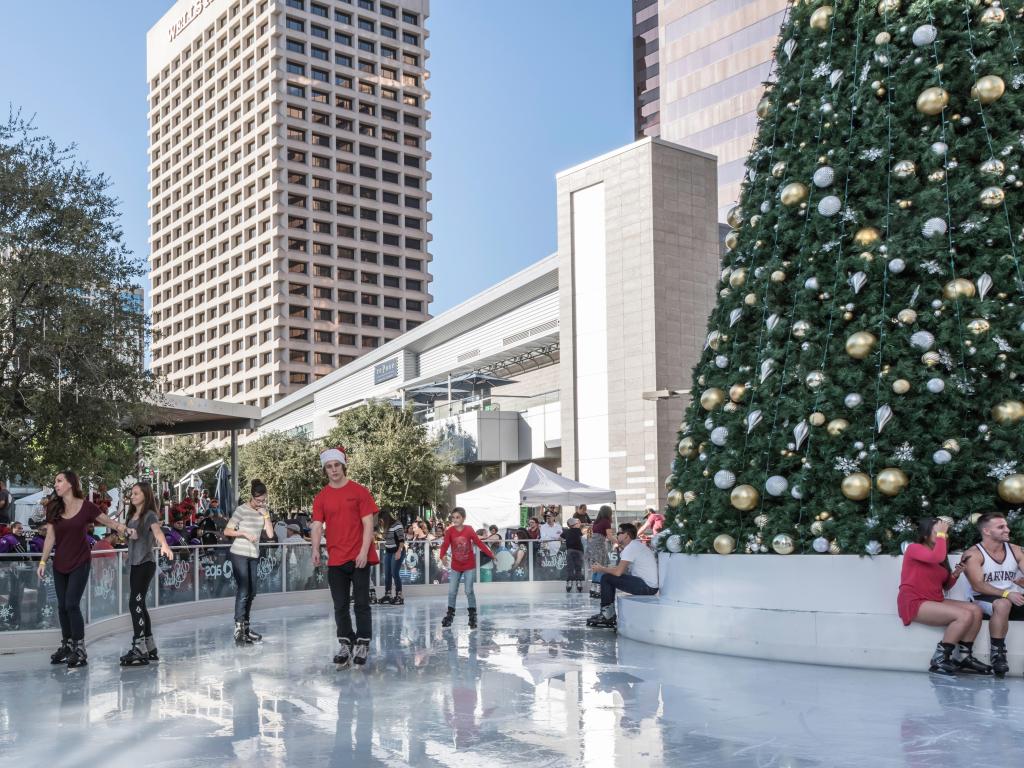 How to get there: Take I-5 to San Diego then start heading east on I-8 through Yuma, AZ until Glia Bend, where you'll take Arizona Route 85 towards Phoenix.
Our highlights: For a uniquely Southwestern take on the holidays and an unforgettably enchanting evening, see Las Noches de las Luminarias in the Desert Botanical Gardens.
On this special night, volunteers line the rails of the gardens with 8,000 luminaria bags and live music is played around the garden. Be sure to book your tickets early as it regularly sells out.
In any season the Heard Museum is one of Phoenix's top attractions, but in the week following Christmas, it is even more inviting. Every year during Holidays at the Heard, the cultures of Southwestern Native Americans are celebrated in their living forms.
From sampling some frybread to mesmerizing Hoop Dancing, this is an event you won't want to miss.
Have you ever seen a rock that looks a little like a Flintstones-themed spaceship? If not, then you'll understand the allure of Hole in the Rock, a local favorite for watching sunsets over the Sonoran Desert. As the name suggests, there is a hole in this very large rock, perfect for frame-in-frame photos.
Perhaps Phoenix's naturally low humidity plays a role in its housing the Musical Instrument Museum, a truly unique and highly interactive museum that will prove engrossing for trained musicians and novices alike.
Bonus: Did you know that for almost 20 years rock star Alice Cooper has had a holiday fundraiser in Phoenix? Deemed "Christmas Pudding," it usually happens in early December and previous guest acts have included Tom Morello of Rage Against the Machine and Johnny Depp.
Our travel tips: On this trip, you could also choose to stay a night in San Diego and enjoy some time around the marina.
READ MORE - Road Trip from Los Angeles to Phoenix
12. Lake Tahoe, CA
9 hours 10 mins from Los Angeles (490 miles)
Why you should visit: The deep, pristine waters of Lake Tahoe make it the largest alpine lake in the US, which attracts millions of visitors every year. Come December, when it is transformed into a winter wonderland surrounded by powdery slopes, the draw only intensifies.
Whether you like to ski, snowboard, or simply sip Cognac fireside at a lodge, Tahoe is one of the most enjoyable and magical places to visit in the cooler months.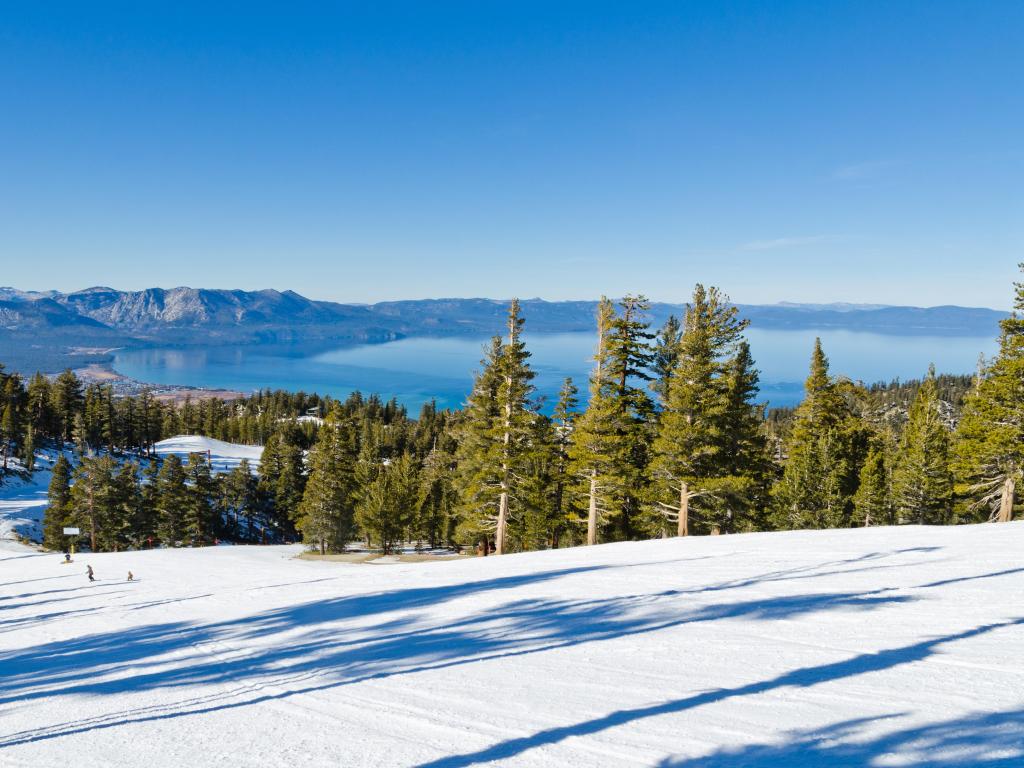 How to get there: Drive from Los Angeles along CA Route 14 towards Lancaster and continue for about 300 miles as the road changes to US Route 395 N. In Big Pine, take White Mountain Road to reach Inyo National Forest.
After getting back to US-395 N, take that all the way to Mammoth, where you'll see signs for the lakes. When you're ready to head to Tahoe, hop back on US-395, past Mono Lake, briefly over the Nevada border, and back into CA at South Lake Tahoe via Highway 50.
Our highlights: When most people mention a winter Tahoe trip, the first thing that comes to mind is a skiing paradise. In the south, you'll find Heavenly Ski Resort and on the north side of the lake, people flock to the newly renamed Palisades and Sugar Bowl, which sometimes sees 500 inches of snow in a year.
Whether you ski or not, one of the best ways to take in the full grandeur of Tahoe is with a Gondola ride up to Heavenly Resort. First, stop at the observation deck to see the lake and surrounding mountains in all their frozen glory, then continue your gondola ride up to the lodge to warm up with a drink in a cozy setting.
Tahoe never fully freezes over, due to its depth, so there are still plenty of beaches and lakeside trails to walk and enjoy the mesmerizing waters. Be sure to save some time to simply take it all in by the lake.
There are outdoor skating rinks in both north and South Lake Tahoe at Palisades and Heavenly. What could be merrier than gliding around the ice surrounded by the dazzling, snow-covered Sierras?
A short distance from South Lake Tahoe you'll find Emerald Bay, with its own hidden gem, the Vikingsholm Castle. While the short hike to the castle from the parking lot can get a bit icy in the winter, the careful trekker will be rewarded with a chance to explore the exterior of this snow-laden 1929 mansion inspired by Nordic architecture.
Bonus: The Tahoe Basin contains an estimated 17 million trees, many of them Jeffery Pines. The up-and-coming microbrewery scene has decided to incorporate the abundance of pine needles into their craft brews. You can taste the pine notes for yourself at one of these breweries.
Our travel tips: Both Mammoth Lakes and Inyo National Forests are full of possibilities for winter adventures, so consider spending some time in each of these areas as well.
Sudden snowstorms and icy conditions can shut down some of the Sierra roads, so check for closures before you head out and be sure to have chains in the trunk.
READ MORE - Road Trip from Los Angeles to Lake Tahoe
Click here to skip back to the top.
Longer trips (over 8 hours each way)
Now the adventure is really calling, and you have the perfect playlist to take you there. The trips below deserve to be savored over several days and several feature must-see holiday happenings.
13. San Francisco and Napa Valley, CA
9 hours 50 mins from Los Angeles (550 miles)
Why you should visit:This road trip offers two jewels of Northern California: the ever-beloved city of San Francisco and the Tuscan-like charms of Napa.
Each of these places is a destination in its own right and the fun of a road trip is being able to hop from one to the other, experiencing a huge amount of cultural and geographic variety over a few hours' drive as you head from the misty coast to the golden valley of Napa.
This trip also has a bonus stop a little north of Napa, but the adventurous at heart won't mind the extra mileage.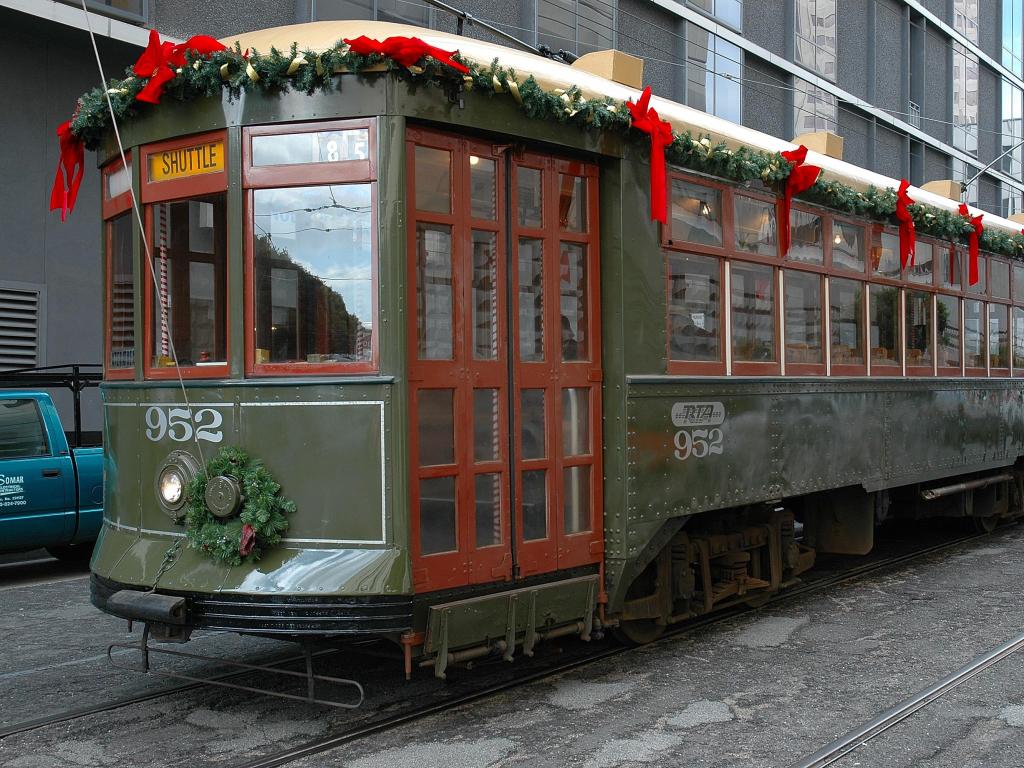 How to get there: From Los Angeles follow I-5 all the way north to Livermore, where you'll take I-580 W across the Bay Bridge and into San Francisco. From there, head north on US Route 101 and stop by the enchanting Muir Woods National Monument, north of Marin.
Get back on US-101 N and follow several smaller highways east to get to Napa. CA Highway 128 W takes you through the heart of Napa Valley, Navigate back to CA-101 N to get to Orr Springs Road.
Our highlights: Union Square is the epicenter of Christmas in San Francisco. You can ride on one of the city's iconic cable cars from Market Street to reach this urban take on a winter wonderland, complete with a towering tree and open-air ice skating rink. But for something truly decadent, head to the historic Westin St. Francis Hotel to marvel at the intricately decorated sugar castles in the lobby.
San Francisco is also home to the Great Dickens Fair over several weekends between November and December. See plenty of period costumes, performances, and games in a replica of 19th-century London.
Napa is one of the premier wine-producing regions in California, replete with historic and quaint towns nestled in the valley. In addition to traditional wine tasting and Michelin-star restaurants, all these small towns enjoy celebrating the festive season in their own ways.
Catch the Lighted Tractor Parade in Calistoga or take a wine train to Yountville where you can also learn how to make your own gourmet chocolates.
Further north, find some winter rejuvenation at the Orr Hot Springs Resort in the Mendocino mountains. This isn't your typical resort; with optional clothing and a communal kitchen, it is a deep dive into the more eclectic customs cultivated by the free spirits of Northern California.
Bonus: One of the most glamorous and magical ways to experience the holidays in San Francisco is by seeing the SF Ballet's production of the Nutcracker. Being the oldest ballet company in the US, they first premiered Tchaikovsky's whimsical masterpiece in 1944.
Our travel tips: The bridges in and out of San Francisco increasingly rely on electronic payments using FasTrak transponders and they no longer accept cash. You can still pay by card before or 48 hours after your trip to avoid any fines.
Also, beware of intense commuter traffic around San Francisco.
READ MORE - Road Trip from Los Angeles to San Francisco
14. Grand Canyon and Vermilion Cliffs
9 hours 40 mins from Los Angeles (590 miles)
Why you should visit:Visiting the Grand Canyon in winter is an exhilarating experience for those who have visited the canyon before as well as first-timers. The cooler temperatures allow you to dress in layers and hike without risking heat stroke.
In addition to the chance to gaze out over this natural wonder, occasionally dusted with snow, on this trip you can also spot the roosting site of the California condor. Once declared extinct in the wild in 1987 and successfully re-introduced at Vermillion Cliffs where their numbers continue to grow.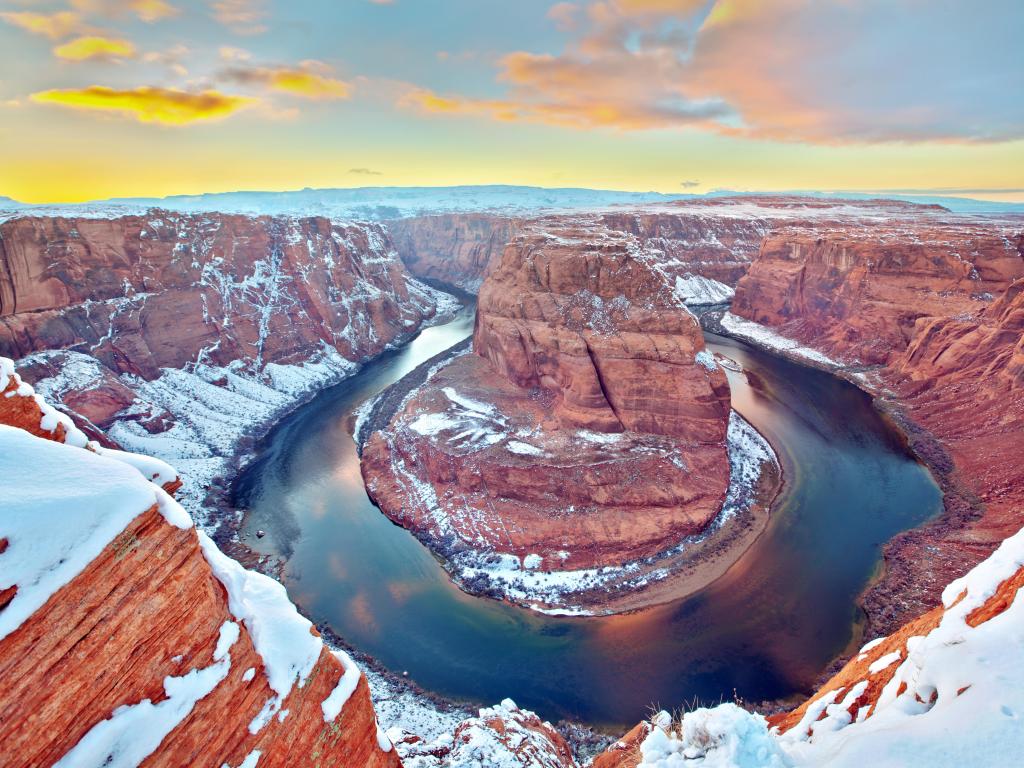 How to get there: Take I-10 east to Prescott, AZ then start heading north to connect with I-40 E in Ash Fork. Take that to Williams, AZ, then head towards Grand Canyon Junction and the South Rim entrance on Arizona Route 64.
Once you've explored the Grand Canyon, take the scenic Desert View Drive to AZ-89 N which will take you to Bitter Springs and the Vermillion Cliffs National Monument.
Our highlights: The South Rim has some of the most photogenic locations in the entire park, including Yavapai Point and Mather Point. You can learn about all the layers of geological history visible in the canyon at the Yavapai Geology Museum, which is open for limited hours during the winter.
Of course, one of the most popular things to do at the Grand Canyon is hike and there are plenty of options for a winter wander. Check out the dual-aspect views from the South Kaibab Trail along a ridge or trek all the way down to the Colorado River via the Bright Angel Trail. Just be careful of ice in portions of the trail that remain shaded.
Usually, Hermit Road to the Hermit Trailhead is closed to car traffic from March to November, so the winter is the only time you can make this scenic drive in your own car then explore the trail with all the energy you saved by driving.
On your way to Vermillion Cliffs, be sure to make a few pitstops along the scenic Desert View Drive. The breathtaking Grandview Point and the 800-year-old Tusayan Ruin are two stops you won't want to miss.
Talk about a comeback! The California condors are making a big one at the Vermillion Cliffs Nation Monument. Intensive conservation efforts since the 1980s have brought their numbers from 22 to over 200.
Now you can view these massive birds with wingspans up to four and a half feet roosting on the ruddy cliffs. Bring a good pair of binoculars.
Bonus: Just in case you thought you'd miss the winter on this trip, be prepared for occasional snow in January and February. Much like icing on the cake, waking up to the glistening snow on the iconic canyon would make this winter trip one to remember.
Our travel tips: In case you make this trip during December, consider an especially festive overnight stop in Prescott, AZ, known as Arizona's Christmas City. At the very beginning of December, they have a jovial parade and lighting of the County's Courthouse surrounded by community cheer.
The North Rim of the Grand Canyon is closed in the winter, which is why this slightly longer route comes via Prescott and the South Rim.
Mather Campground is the only one open during the winter and it would be best to make your reservations in advance.
The weather can change drastically from clear, sunny days to snowstorms, so bring plenty of layers. Some of the trails can get icy, so micro spikes for your boots could help you keep your rear end off the ice.
READ MORE - Road Trip from Los Angeles to Grand Canyon
15. Mendocino and Redwood National Park, CA
13 hours 20 mins from Los Angeles (760 miles)
Why you should visit: Coastal sequoias, also called redwoods, are only found between southern Oregon and Central California. They give rise to lush and cathedral-like habitats that envelop you in tranquility from your very first step inside.
The old-growth forests of northern California sometimes feel like a land before time. Come experience this sometimes misty and always enchanting part of the Golden State.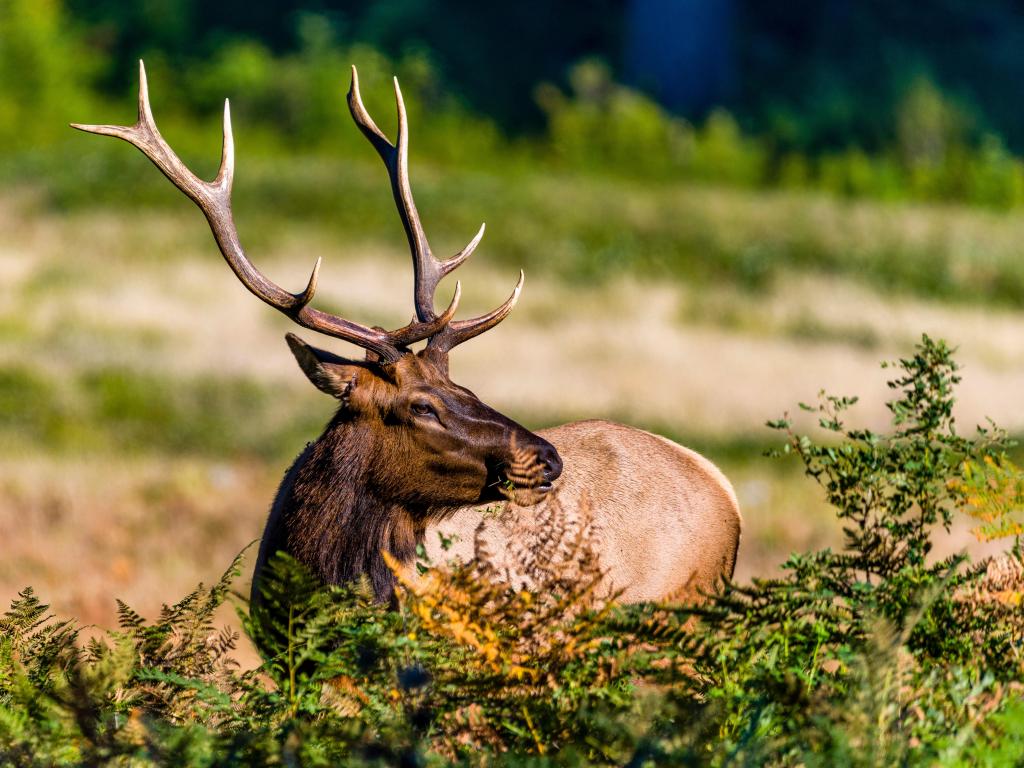 How to get there: Head north on US Route 101 from Los Angeles until you reach Santa Barbara. From there, take CA Highway 154 W to Solvang.
After feeling the Christmas cheer for yourself, navigate back to US-101 N until you reach San Jose, where you'll take I-880 to avoid traffic on the San Francisco Peninsula.
North of the S.F. Bay, you'll get back on US-1010 N in San Rafael. Once you reach Cloverdale, take the smaller Highway 128 to get to Mendocino. From there, follow CA-1 N to US-101 N all the way to Eureka and Redwood National and State Parks.
Our highlights: As you begin your journey from Los Angeles, stop by the Solvang Julefest, which takes place in this small town with proud Danish ancestry all December. Watch the parade or go on one of the holiday food tours.
As you make your way to the Mendocino coast, get on board the Holiday Skunk Train in Willits to enjoy holiday treats and revel in the surrounding redwoods. Look out for Santa's workshop along the way.
Once you make it to the town of Mendocino on the coast, explore the festive atmosphere of the cute downtown. The next day, head out to the sea on a whale-watching trip to see some humpbacks on their winter migration.
After a breathtaking drive along the coast and through the mountains, you will have ample opportunities to stretch your legs along one of the many trails in Redwood National Park and surrounding State Parks.
Over 200 miles of trails are spread across 110,000 acres in the Jedediah Smith Redwoods, Del Norte Coast Redwoods, and Prairie Creek Redwoods. Many trails also lead you through the redwood groves to the crashing waves of the pacific, making for an unforgettable hike.
One of the natural wonders of Redwood National Park is Fern Canyon, which will leave you feeling like there's bound to be a Jurassic beast around the corner. The best part about a winter visit to this part of the park is that you won't need a permit.
Consider making Eureka, CA your home base to explore the forests from. This town built upon milling and lumber trade in the wake of the Gold Rush has dozens of Victorian homes and a rustic Downtown.
During the holidays you can also catch the Trucker's Christmas Parade and see dozens of semis strung up with lights.
Bonus: Redwood National and State Park is home to the tallest tree in the world, Hyperion, which towers at 380 feet. While the area around that tree is off-limits to visitors, you can still walk the Tall Trees Trail which goes down to Redwood Creek and has many trees over 300 feet tall.
Our travel tips: It never snows, but this coast is known as a temperate rainforest, so some waterproof gear with help you stay dry and thoroughly enjoy your winter trip here.
This route passes through the San Francisco Bay Area which can have standstill traffic around commute time. Try to pass through here from 11am to 2pm to avoid the worst of it.
READ MORE - Road Trip from Los Angeles to Redwood National Park
16. Denver, CO
17 hours 30 mins from Los Angeles (1,080 miles)
Why you should visit: Nestled in the majestic Rockies, Denver combines outdoor adventure and metropolitan refinement for a great all-in-one trip where you can mix five-star dining with a romp through the woods.
While the Mile High City does see its fair share of snow, there are many sunny days in between and year-round attractions. Sometimes the temperature reaches 60 degrees Fahrenheit, so you can walk the parks comfortably and enjoy a drink at an outdoor café.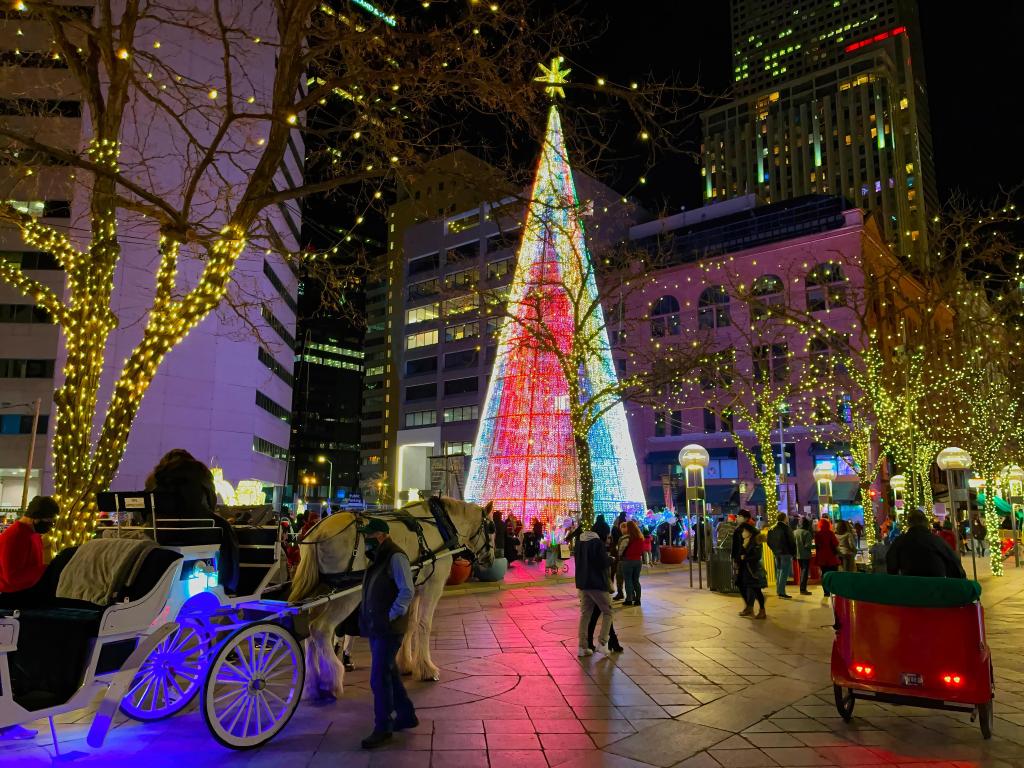 How to get there: Hop on I-15 N in LA and take that for about 500 miles, past Las Vegas, to the junction with I-70 E in Sulphurdale, UT. Follow that all the way to CO-82 E which will take you to Aspen.
From there, navigate back to I-70 E and take that to CO-9 in Frisco which will lead you to Breckenridge. From Breckenridge take CO-9 to I-70 E which will take you all the way to Denver.
Our highlights: On your way to Denver, consider a stop by Aspen or Breckenridge, two world-renowned skiing locations, to get a taste of Rocky Mountain magic during the winter.
There's nothing quite so nostalgic as a train station around the holidays and Denver's Union Train Station will surely delight. It is already lively all year round, so the holiday lights and flare are a natural complement to this bustling transit hub.
Denver has its own German-inspired Christkindlmarket where you can browse artisanal goods, sip on mulled wine, and snack on schnitzel in a festive atmosphere.
Walk around the historic Larimer Square which is decorated with lights and holds frequent musical performances around the holidays. It is also full of historic architecture and boutique shops.
The stunning Denver Botanic Gardens is already on the top of many people's must-see lists and while the outdoor gardens are covered with snow, the tropical conservatory serves as an oasis of warmth and color in the winter months.
Denver has a great theater scene, so if you're looking to get out of the cold or just get some culture, check out the Denver Center for the Performing Arts to see what's on offer this season.
Every January, Denver hosts the National Western Stock Show, one of the largest of its kind, which has been going on since 1906. Go see some real broncos at a world-class horse show then holler with the crowds at a rodeo.
Our travel tips: While there are many parks within Denver, the mountains proper are quite a distance away. So, if you want to do a more strenuous hike, bike ride, or ski, you'll need to drive a bit outside the city. Rocky Mountain National Park is 66 miles from Denver.
Given that Denver is situated at over 5,000 feet you can feel the effects of the altitude and dehydrate easily. So, drink plenty of water and dress in layers to stay comfortable.
17. Grand Tetons, WY and Goldbug Hot Springs, ID
19 hours from Los Angeles (1,230 miles)
Why you should visit: From snow-covered peaks to sultry hot springs, this trip offers a unique and indulgent way to experience the wilderness in winter.
Grand Teton National Park has endless trails and rugged mountain vistas which are awe-inspiring any time of the year, but the chance to see them dusted with snow and surrounded by far fewer visitors is a winter bonus.
At your second stop near Elk Bend, ID, you will have a chance to venture off the beaten track to a true Idaho gem where you can relax in natural hot springs surrounded by the pristine nature of the Salmon-Challis National Forest.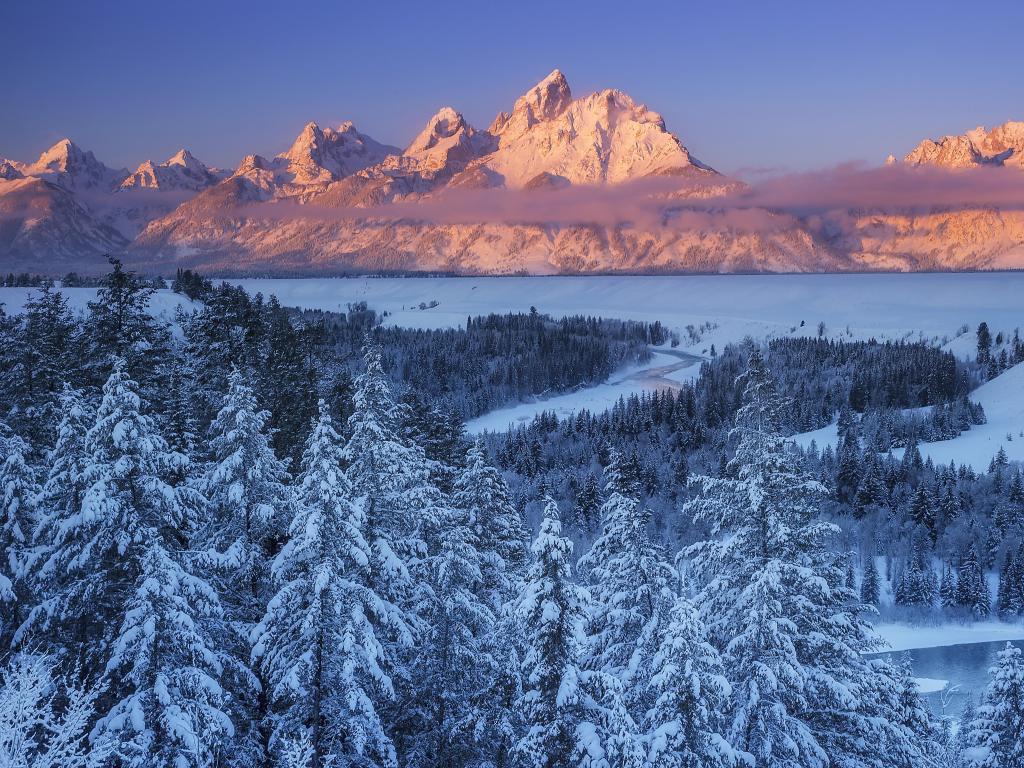 How to get there: Take I-15 N through Las Vegas and Salt Lake City for 824 miles. In McCammon take US Highway 30 East to Soda Springs, then continue north on US Highways 34 and 89 to Jackson, WY. From there take US Route 191 N to Grant Tetons.
To get to GoldBug Hot Springs, navigate to Highway 33 from Jackson, following that all the way to Mud Lake where you'll get on US Route 28 N to Salmon. From there, take US Route 93 S to Warm Springs, where the trailhead to Goldbug begins.
Our highlights: A wonderful winter offering by the park service in Grand Teton is a guided snowshoeing tour led by a park Ranger who can point out various animal tracks and natural features of the park. These guided treks need to be booked in advance.
In case you like the invigoration of a cross-country ski expedition, there are miles of well-maintained tracks in Grand Teton to explore. A very accessible one is along Teton Park Road beginning at the Taggart Lake Trailhead. Some of them are amongst the most spectacular in the world.
One of Idaho's best-kept secrets is an impressive offering of natural hot springs in spectacular backcountry locations. Goldbug is one such spring loved by many outdoor enthusiasts.
The 3.6-mile hike to Goldbug is moderately challenging, but the payoff is huge, with a chance to soak in pools above 100 degrees Fahrenheit and take in the magnificent hill views.
If you would love to have a relaxing soak without the hike, Challis Hot Springs is less than an hour's drive from Elk Bend, ID and has plenty of hill views to enjoy from their warm pools.
Bonus: With the way that Goldbug springs emerge from the V-shaped valley they are essentially natural infinity pools! Get ready to feel like a million bucks at this priceless backcountry refuge.
Our travel tips: On your way to the Grand Tetons, consider overnight stops in Las Vegas, NV or Salt Lake City, UT which are both conveniently along I-15.
There's no winter camping in Grand Teton National Park, but there are plenty of cozy places to stay in nearby Jackson, WY just a few miles from the park entrance.
The depths of winter in Grand Teton can be daunting, with temperatures dropping to 25 degrees Fahrenheit or even lower. It might be a good idea to do this trip towards the very beginning or end of winter in November or the last half of February, to avoid the most extreme weather.
The trail to Goldbug can get icy, so hiking poles with spikes or ice cleats for boots are recommended. Still, the icy weather significantly reduces the crowds, so you will have quieter and space to yourself if you visit the hot springs at this time of the year.