Road Trip from Seattle to Disneyland
If you're looking to explore the diverse landscapes of California, then this road trip from Seattle to Disneyland has your wishes covered. See the natural wonders of the west coast, from glacier-capped volcanoes to towering ancient trees as you make your way to the happiest place on earth!
The 1,300-mile road trip from Seattle to Disneyland will take about 22 hours to drive. Highlights include Portland, Siuslaw National Forest, Klamath Falls, Reno, Lake Tahoe, Yosemite National Park, Napa, San Francisco, Monterey and Santa Monica.
Whether you're looking for sun-filled beaches or towering mountains, there are plenty of amazing sights and experiences along the way. Read on to discover the best routes, the best places to stay, and the top things to do and see on your way.
How far is Disneyland from Seattle, and how long will the road trip take?
Comparison of road trip routes between Seattle and Disneyland

| Route | Distance | Driving Time |
| --- | --- | --- |
| The Coastal Route | 1,400 miles | 27 hours |
| The Lake Tahoe Route | 1,300 miles | 22 hours 20 minutes |
The driving time between Seattle and Disneyland for the Coastal Route is 27 hours non-stop. You'll cover 1,400 miles of some of America's most scenic coastlines.
If you choose to take the mountainous Lake Tahoe Route, you'll cover 1,300 miles. This trip is more direct and will take you 22 hours and 20 minutes.
We recommend taking six to seven days for this road trip. This will give you enough time to enjoy all the amazing sights and experiences along the way.
Best road trip route from Seattle to Disneyland
We've selected two routes, each containing plenty of magnificent stops. Whether you want to soak up the sun on the beaches and see the famous redwood forests or hike the grand landscapes of the Sierra Mountains, is up to you.
On the Coastal Route, you'll experience the diverse landscapes of the West coast of America. From the mountains of Washington and Oregon, you'll pass through the forests of Northern California and the towering Redwood trees.
You'll stop at idyllic beaches and walk along rugged coastal paths for an adventurous road trip. This route is longer on paper and takes you through many small coastal towns and on fewer major roads. Some of the roads are windy, with slower speed limits.
If you choose our Lake Tahoe Route, you'll explore the unique national parks and forests of California, explore forests of towering redwoods and ancient sequoias, climb extinct volcanoes and bathe in alpine lakes overlooking dramatic mountain ranges.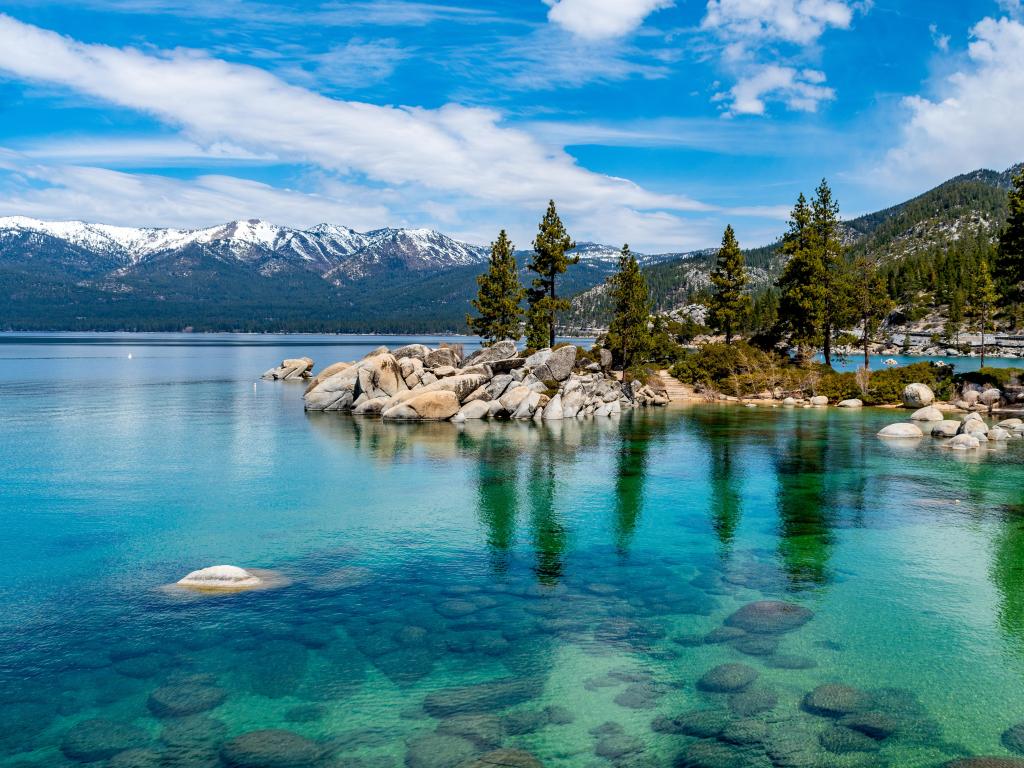 You can also your luck in a casino in Reno and take a detour to see iconic American landmarks in Yosemite and Death Valley on the Lake Tahoe Route.
This route has so many detour options that it may take you longer than you initially planned. However, it will be worth your time not to miss out on the spectacular national parks and forests.
The Coastal Route
Take Interstate 5 (I-5) south through the volcanos and green mountain vistas of Washington and northern Oregon. Make a stop in Portland, one of America's hippest cities.
Continue south to the Siuslaw National Forest to enjoy the old-growth trees and deep forests. From here, continue along Oregon's rugged coast on the iconic Highway 101.
When you reach the Californian border and Crescent city, you'll pass the mammoth Klamath River. Drive down to the Prairie Creek Redwoods State Park to experience some of the tallest trees in the world.
Continue south into Eureka and the famous Humboldt Redwoods State Park. Drive down through vineyards and rolling hills into Napa Valley, one of the world's most famous wine destinations.
From Napa, head south to San Francisco. Discover the endless culture and fun of the Bay Area before continuing south to Monterey and the dramatic Big Sur Coast, one of the most beautiful coastlines in the world.
From here you'll continue through timeless Central California, home to surfing towns, vineyards, and striking coastal scenery.
From historical Santa Barbara, continue south into Los Angeles, America's second-largest city. From here, you'll drive into Orange County and reach your final destination, Disneyland.
The Lake Tahoe Route
Get on I-5 and head south through the magnificent landscapes of Washington and northern Oregon. Continue on into Portland and drive southeast past Mt. Hood into Bend, Oregon.
From the extreme sports destination of Bend, continue south into Klamath Falls, Oregon. From here, you'll drive into California along the eastern side of the Sierra Nevada Mountains.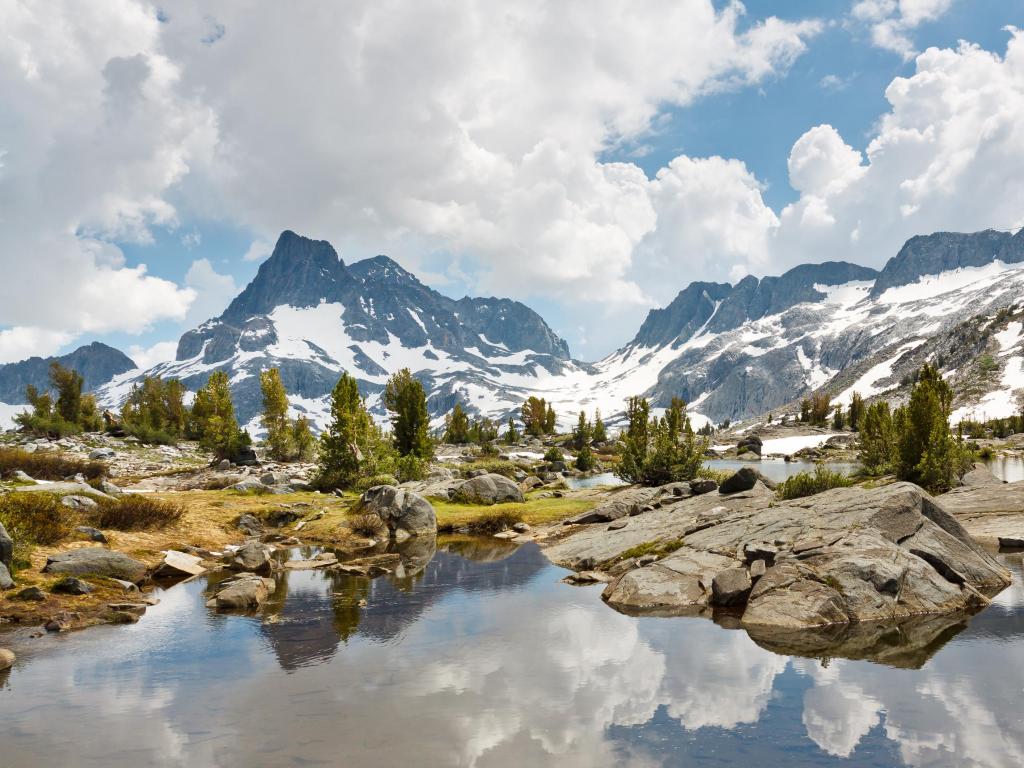 From here, drive into Reno, Nevada and try your luck in the Casinos. Once you've had your fill of gambling and fun continue on into beautiful Lake Tahoe.
After exploring the lake and its quintessential mountain life, head west into Sacramento, the capital of California. From here you'll drive through the central valley of California, known as the state's breadbasket.
On your way into Los Angeles, take a detour to see the Sequoia National Forest and experience some of the largest trees on the planet.
From here drive into Los Angeles. Continue south through the massive city and into Orange County where you'll reach magical Disneyland.
Best places to stop between Seattle and Disneyland
To take advantage of all the amazing sights and experiences along the way, we recommend making a few stops along the way. Below are our favorite stops along each route.
Explore the hilly streets of San Francisco
Located about 9 hours from the destination, San Francisco is the perfect place to rest and explore on the Coastal Route. The city is the cultural center of Northern California and full of amazing cultural landmarks like Fisherman's Wharf and postcard-worthy cable cars.
While in San Francisco, visit the Golden Gate Bridge, one of the modern wonders of the world. This bridge was the longest bridge when it was first built and is the most photographed bridge anywhere in the world.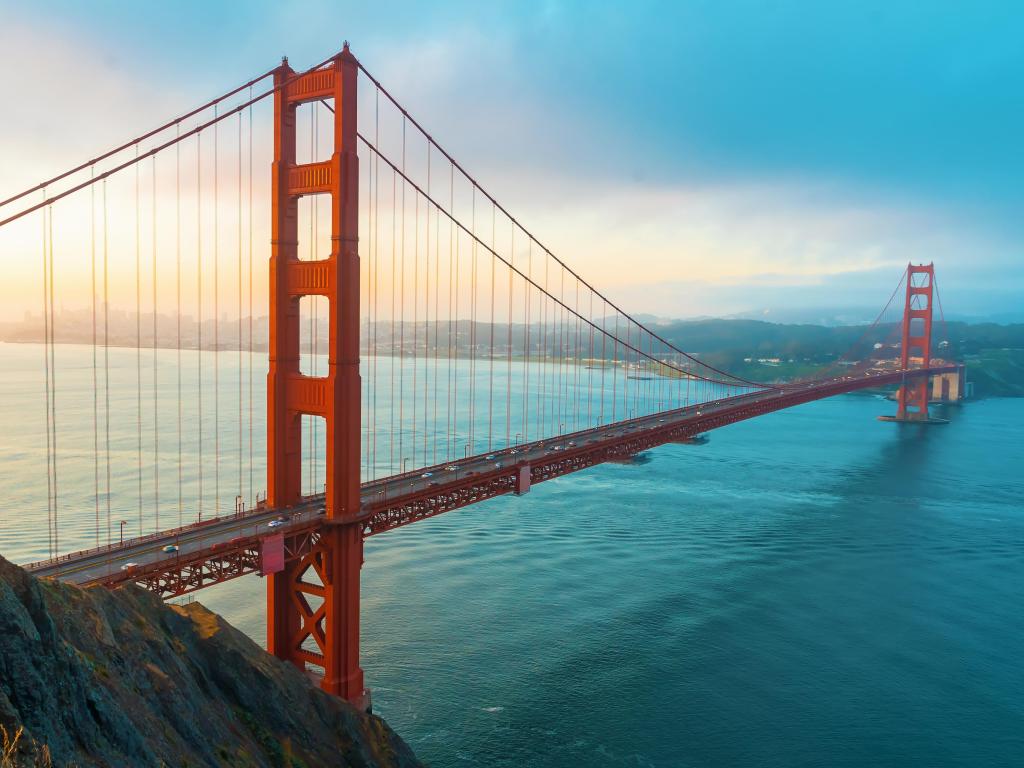 For history buffs, nothing could be more inspiring than a visit to Alcatraz Island. The infamous island, developed as a military fortification, was once a military prison, and then a federal prison. Two of the prison's most famous inhabitants were Al Capone and Robert Franklin Stroud.
We recommend staying at the Hotel Nikko San Francisco during your visit to Golden City. Relax in this stylish 5-star hotel, and take advantage of the stunning hotel swimming pool, perfect for unwinding after a day of sightseeing.
This luxurious hotel is reasonably priced compared to its competitors. It also boasts a fantastic on-site restaurant, a bar and a terrace.
Located just a short walk away from Union Square, this hotel boasts a stellar location. Moscone Center and Oracle Park are nearby, and Fisherman's Wharf is a short drive away.
Experience the mountain life in Lake Tahoe
Awe-inspiring Lake Tahoe is just 8 hours and 30 mins away from Disneyland and makes the perfect stopover for the Lake Tahoe Route. The area boasts breathtaking natural scenery, world-class skiing and golf courses, and many water sports like kayaking and boating in the summer.
Lake Tahoe is famous for its beautiful namesake lake, a huge turquoise fresh-water lake set amongst the Sierra Nevada mountains. The lake is split into North and South, and attractions will vary depending on the season.
While in Lake Tahoe, Visit the grand Vikingsholm Castle. This estate dates back to the 1920s and is the perfect place to learn about the lake's past.
While setting off on adventures in Lake Tahoe, we recommend staying at the Hotel Azure. Here after a long day of driving, you can refresh in the luxury pool and soak up the sun and the views. Most rooms have a private balcony with unbeatable lake views, as does the on-site restaurant.
Close by are Lake Tahoe's major attractions, including ski resorts, golf courses, and beaches. El Dorado Beach is a short walk from the hotel, and both Lakeside and Nevada Beach are a brief drive away.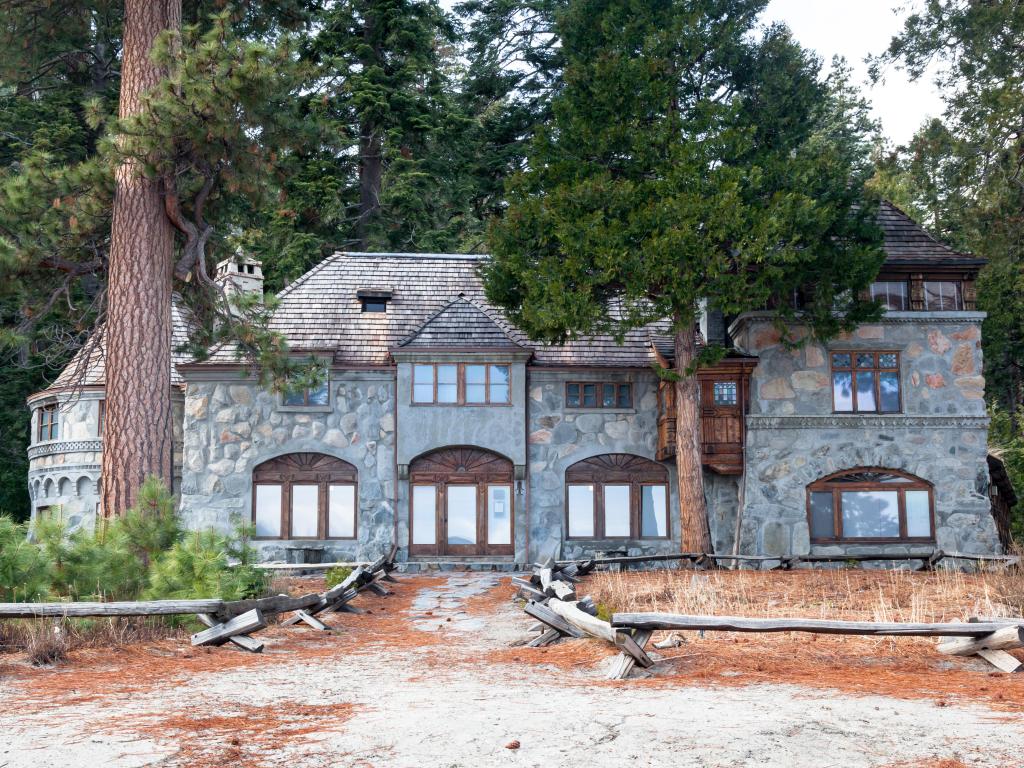 Where to stay when you reach Disneyland
Once you reach your destination, the best place to unwind and then use as a base for exploration is the Anaheim Marriott. This upscale luxury four-star hotel is a 15-minute walk away from Disneyland and offers a free Disney shuttle.
Relax your queue-weary legs in the refreshing swimming pool or take some time out for yourself in the hot tub and jacuzzi. The hotel has three on-site restaurants, and a well-stocked and stylish bar.
Things to see on a road trip from Seattle to Disneyland
This is an epic road trip with so many things to see and do, no matter what route you choose. We have highlighted some of our favorite attractions and landmarks below to make your decision easier.
The Coastal Route
Siuslaw National Forest - Sitting on the Oregon Coast Range, Siuslaw Forest is home to four major rivers, and a huge diversity of trees, including Sitka Spruce, Douglas fir, and Western Hemlock. Visitors looking for untouched wilderness should head to Drift Creek, Cummins Creek, and Rock Creek.
Crescent City - Famous for historic lighthouses, rugged coastline, and the dramatic landscapes of Redwood National Park, Crescent City gets its name from the shape of the coastal beachfront.
Six Rivers National Forest - Where mountainous landscapes and iconic rivers meet the California coast. This forest is renowned for fantastic fishing, and whitewater rafting and kayaking opportunities.
Redwood National Park - Hike this immense woodland park to see towering redwood trees, iconic around the world. Get lost in this beautiful national park of immense proportions.
Eureka - Home to old-growth redwood trees, this city is known for its unique Victorian architecture, unique shops, and artisanal businesses, and is home to a community of creative artists.
Mendocino National Forest - Stretching across one million acres of dense forest areas, and open meadows that spring to life with wildflowers in the summer months. Hike the peaks for panoramic views of the stunning North Coast mountains.
Napa Valley - Famous for hillsides filled with vineyards, this is one of the world's premier wine regions. With over 400 wineries to choose from, visitors can pair award winning wine with delicious food in one of the many fine dining restaurants on offer here.
San Francisco - Take a ride on the iconic San Francisco cable cars, cross the iconic Golden Gate bridge, and visit the infamous Alcatraz Island.
San Jose - Sat in the rolling hills of California's Silicon Valley, San Jose is notable for its Spanish Colonial architecture that makes up the downtown district, which is also home to the Tech Museum of Innovation.
Monterey - Sitting on a stunning rugged and wild coastline, novelist John Steinbeck immortalized Monterey's Cannery Row. Monterey is home to a fantastic aquarium, displaying thousands of marine animals and plants.
Carmel-by-the-Sea - A unique small beach city with a quaint European feel, walking around Carmel-by-the-Sea is like stepping into a fairytale. Walk the coastal Scenic Bluff Path, taking you from surf spot Carmel Beach to bird-rich Carmel River State Beach.
San Simeon - A prime beach spot, San Simeon is home to imposing Hearst Castle. Known for its towering terraces, lush gardens, and opulent art collections.
Morro Bay - Boasting unspoiled beaches, exciting nature trails with great bird and wildlife spotting, and fantastically fresh food and wine.
Pismo Beach - Home to wineries and beautiful beaches, Pismo Beach also shelters thousands of monarch butterflies that migrate in the winter.
Santa Barbara - Set against the dramatic Santa Ynez Mountains, Santa Barbara is a unique coastal city. Picturesque white buildings with red-tile roofs reflect the Spanish Colonial heritage of the city and make this stop extremely photogenic.
Malibu - Brush shoulders with LA's famous residents on the sandy shores of Malibu beach. Enjoying a Mediterranean climate, this is the perfect place to spend a day or two on the beach worshiping the sun and looking out for stars.
Santa Monica - Outside of downtown LA, Santa Monica is famed for the Pacific Park amusement park, home to the historic Looff Hippodrome and Santa Monica Pier Aquarium.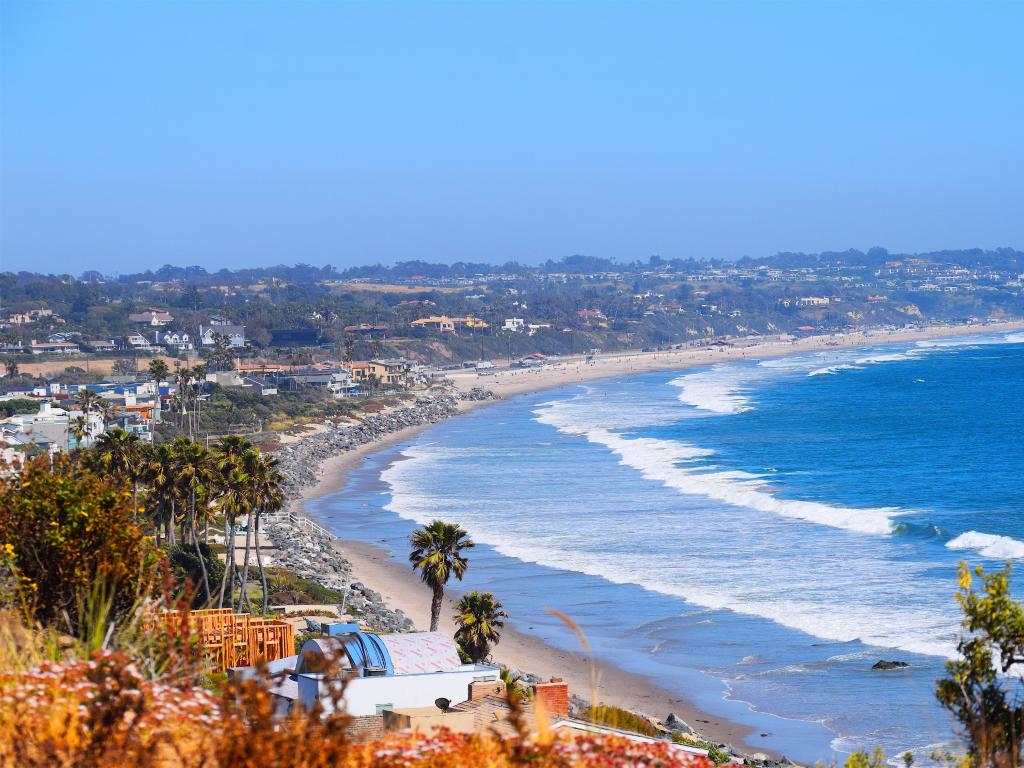 The Lake Tahoe Route
Mount Hood National Forest - Hike the glacier-capped dormant volcano, home to ski trails and alpine lakes. Take the scenic Timberline Trail to hike to the summit, passing cascading waterfalls, glacial creeks, and wildflower meadows.
Bend - Surrounded by mountains, extinct volcanoes, and lakes, the city of Bend has lots to offer intrepid travelers. Walk the trail up Pilot Butte, the city center extinct volcano, or explore the Lava River Cave at the Newberry National Volcanic Monument.
Crater Lake National Park - This immense National Park has America's deepest lake, with striking geological features, and breathtaking views that will stay with you for a lifetime.
Klamath Falls - Known as the gateway to the Crater Lake National Park, this city offers endless outdoor adventures like hiking, mountain biking, golfing, and the longest zip-line in Oregon.
Shasta-Trinity National Forest - Discover the wilderness of this Northern California national forest, exploring towering granite spires, deep canyons, alpine lakes, meadows, and conifer forests.
Lassen Volcanic National Park - Time to explore something totally different. Rich in hypothermal sites, Lassen Volcanic National Park has volcanoes, bubbling mud pots, lava rocks, forests, and lakes on the Pacific Crest Trail.
Reno - Try your luck in one of the many casinos and drink under the bright neon lights of Reno. River rafting, and mountain hiking is also an option for those who don't fancy pub crawls and casinos.
Lake Tahoe - Soak up incredible views of the turquoise alpine lake set against dramatic mountains. Filled with skiing resorts in the winter, summer activities include hiking, paddle boarding, kayaking, swimming, and golfing.
Eldorado National Forest - 400 miles of hiking are on offer here; rivers, lakes, and streams filled with fish, mountains and meadows, alpine lakes, and the chance to spot elusive mountain lions, coyotes, badgers, and bobcats.
Sacramento - This city holds its Gold Rush era close to its heart, with wooden sidewalks and wagon rides in the Old Sacramento district. Known for its farm-to-fork restaurant culture, stop here for incredible food, and to experience the ever-increasing brewery culture.
Stockton - Sitting along the San Joaquin River, Stockton has fine art museums, and beautiful national parks with lakes filled with catfish, and formal Japanese gardens.
Stanislaus National Forest - Popular with outdoor enthusiasts, this national park is less busy than nearby Yosemite but offers unparalleled natural beauty. Dense forests, meadows, canyons, lakes, and streams are just some of the wonders on offer here.
Yosemite National Park - Famed for its waterfalls and giant ancient sequoia trees, Yosemite is a natural wonderland. This Californian icon is well worth a detour to see the famous vista of Bridalveil Fall, and the granite cliffs of El Capitan and Half Dome.
Inyo National Forest - A park filled with the tallest mountains, oldest trees, stunning picturesque lakes set against dramatic peaks. This national forest offers yet another chance to get lost in the California wilderness.
Fresno - Visit Forestiere Underground Gardens to see Roman-catacombs-inspired underground passages and courtyards, and Fresno Chaffee Zoo to see Sea Lions and Stingrays.
Death Valley National Park - Bored with lush forests and alpine mountains? Take a detour to the hottest, driest, and lowest national park. Situated below sea level, the steady drought makes Death Valley an eerie landscape with out of this world scenery. Visit Titus Canyon to see an abandoned ghost town and colorful rocks, and Badwater Basin's salt flats.
Bakersfield - Get to grips with palaeontology and geology at the Buena Vista Museum of Natural History, or learn about California's plants and wildlife at the California Living Museum.
Angeles National Forest - Offering recreational activities to the residents of LA, and the many international visitors it draws, this park gives visitors the chance to explore the San Gabriel Mountains and Sierra Pelona Mountains.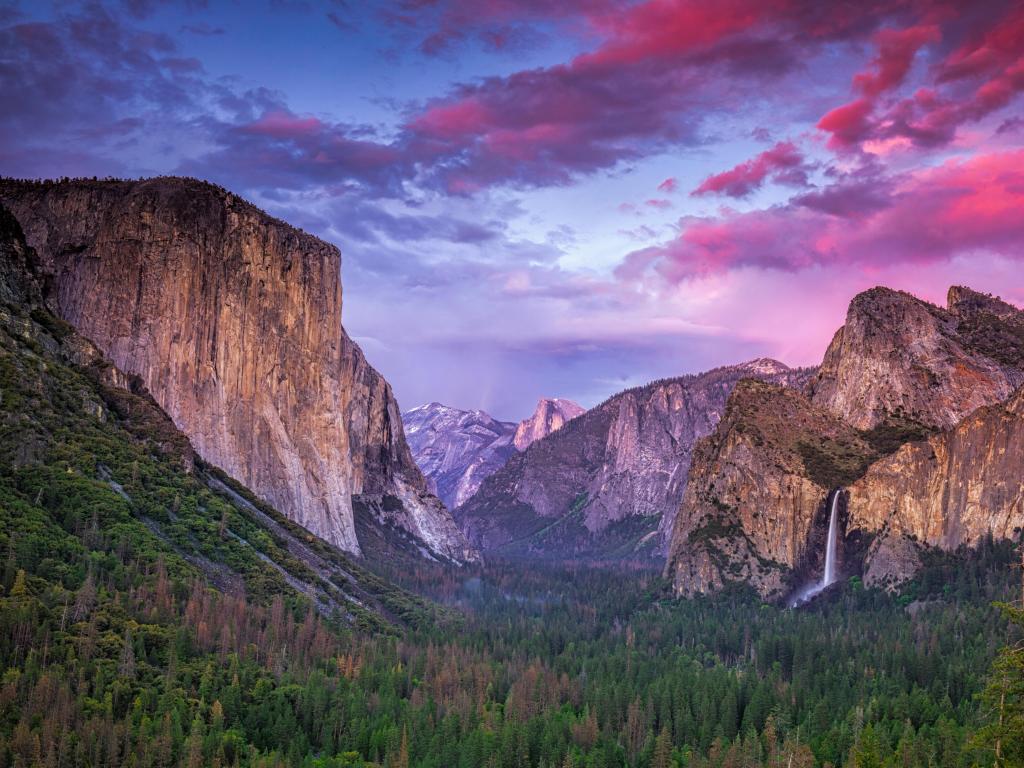 Both Routes
Tacoma - Known for its museum of glass, Tacoma is a thriving city of art and culture. Stop here for striking views of Mt Rainier rising in the distance.
Capitol State Forest - This beautiful state forest is a short drive from Olympia, and offers 110,000 acres of stunning forest, where hikers and horseback riders can seek waterfalls and the unusual Mima Mounds geological feature.
Mount Rainier National Park - Hike 14,410 ft to the glacier-capped summit of Mount Rainier for sensational mountain views, summer meadows of wildflowers, and nearby volcanoes. For the non-hikers, the 6,400ft high Sunrise is reachable by car and boasts impressive views.
Portland - Known for its parks and cycle paths, this is an eco-friendly city filled with coffeehouses and microbreweries. Enormous Washington Park is home to the serene Japanese Garden, and the exciting Oregon Zoo.
Los Angeles - Driving to Disneyland will take you through the center of this sprawling city, home to the TV and film industry, and known worldwide. Explore this exciting city and visit the iconic Hollywood sign before heading to Disneyland, another giant in the film industry.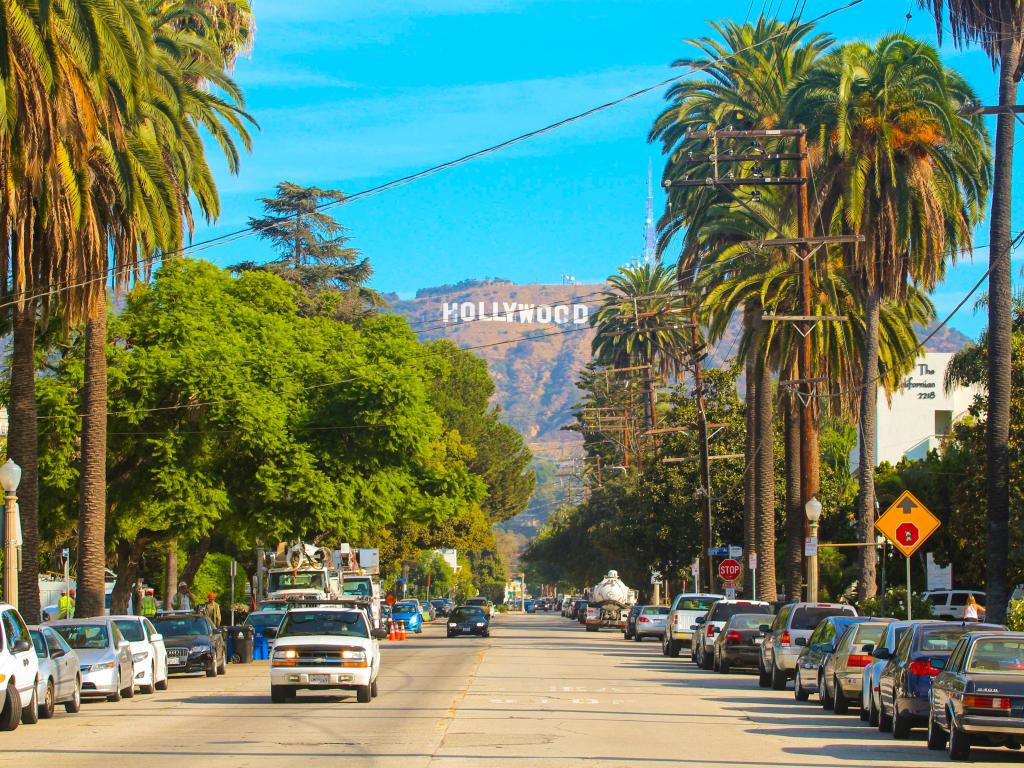 Best time to go on a road trip from Seattle to Disneyland
Disneyland is a year-round destination. In addition to the fact that the world-famous entertainment complex has indoor attractions, Anaheim's weather is sunny, warm, and perfect for entertainment at any time of the year.
Disneyland is likely to be very crowded in the summer months. The hot season runs from July to late September, with average daily temperatures sitting above 82 degrees Fahrenheit. August is the hottest month, with daily temperatures regularly averaging 85 degrees.
The cool season runs from November to March, with average temperatures rarely rising above 70 degrees. Bright summer days are perfect for spending the day at Disneyland, and the cooler temperatures can make for a more pleasant theme park experience.
Anaheim spring sees average temperatures of 75 degrees Fahrenheit, with slightly overcast days that are usually clear in the afternoon to spill out bright sunshine. Fall is a little cooler than spring, averaging around 55 degrees. The shoulder seasons have pleasant temperate weather and fewer crowds in Disneyland.
Disneyland is spectacular all year round, with daily parades and firework displays. However, Christmas at Disneyland is arguably the most incredible time of the year because of its festive displays that will get you in the most cheerful mood!