Santa Fe vs Taos: Which is Better to Visit?
Known for its high desert and soaring mountains, northern New Mexico is a visual feast for visitors and lovers of the great outdoors. The region has more than its fair share of history to reveal too, taking in 1000-year-old Taos Pueblo and some of the oldest European traditions in the country.
With their adobe buildings, Hispanic heritage, Pueblo roots, art scenes and mountain views, Santa Fe and Taos have unique features, and they're both fabulous places to visit. Keep reading to find which is the best choice for your trip to New Mexico.
Tucked at the southern end of the mighty Rocky Mountains, Santa Fe and Taos are two very different cities that have a whole host of indoor and outdoor activities on offer. You can see them both on a New Mexico road trip, but we've put together all the information you need in case you have to choose between the two.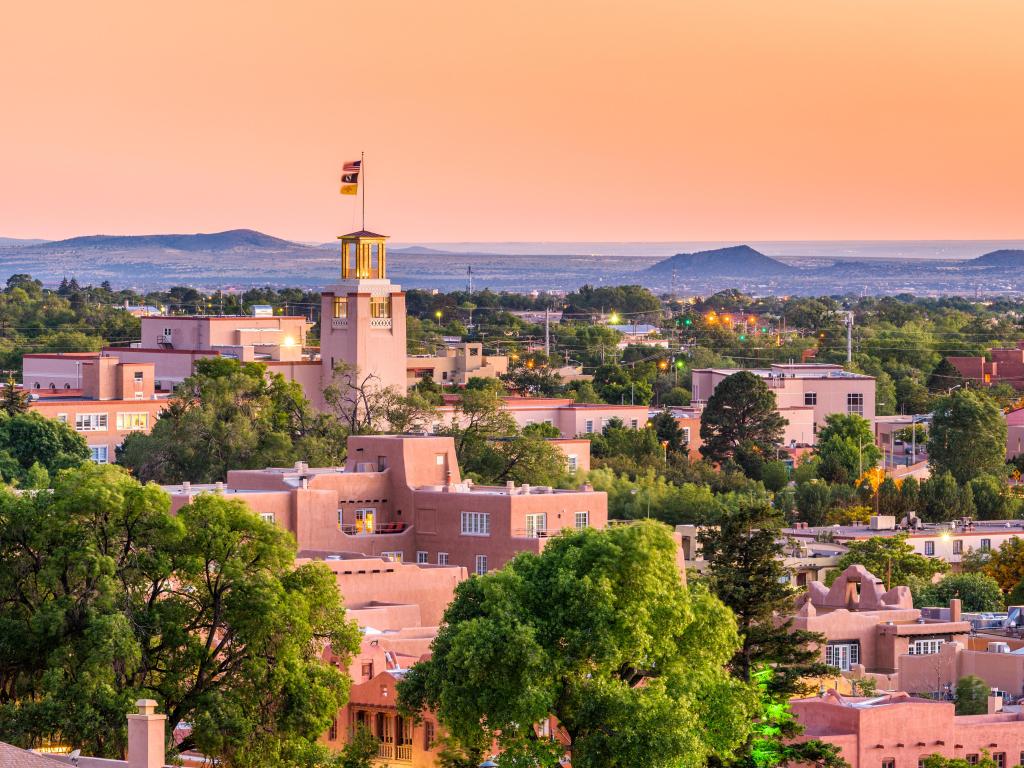 Santa Fe vs Taos: which place should you visit?
State capital Santa Fe and quirky, historic Taos are near neighbors but each has its own unique quality that will appeal to different travelers.
We've put together all the information you need to help decide which of the two is the best place to visit when you're in New Mexico - if you don't have time to visit them both!
Here's a useful side-to-side comparison of the cities:
Comparison of Santa Fe and Taos
Santa Fe
Taos
Time to explore
3 days
2 days
Historic places

Santa Fe Plaza
San Miguel Chapel
Santuario de Guadalupe
Cathedral Basilica of St Frances of Assisi
Loretto Chapel

Taos Pueblo
Taos Plaza
Our Lady of Guadalupe Church
Governor Charles Bent House

Museums

New Mexico Museum of Art
Museum of Indian Arts and Culture
IAIA Museum of Contemporary Native Arts
Georgia O'Keeffe Museum
New Mexico Military Museum
Museum of International Folk Art
Wheelwright Museum of the American Indian

Hacienda de los Martinez Museum
Taos Art Museum
Millicent Rogers Museum
Kit Carson Home and Museum
Harwood Museum of Art

Other things to do

Meow Wolf
Santa Fe Railyard
Santa Fe Farmers Market

The Earthships
Hot air balloon rides
Hot springs
Taos Ski Valley
Where are Santa Fe and Taos located?
Santa Fe and Taos are both located in north-central New Mexico, in the southwest of the United States.
Santa Fe, which is close to the southern end of the Sangre de Cristo mountain range, has the highest altitude of any US state capital (over 7000 feet). It's about 60 miles northeast of Albuquerque and 300 miles north of the US/Mexico border at El Paso.
70 miles northeast of Santa Fe, the town of Taos also nestles in the foothills of the Sangre de Cristo mountains. Established in the 18th century, it's built close to the much older Native American settlement of Taos Pueblo, which dates back around 1,000 years and is still inhabited today.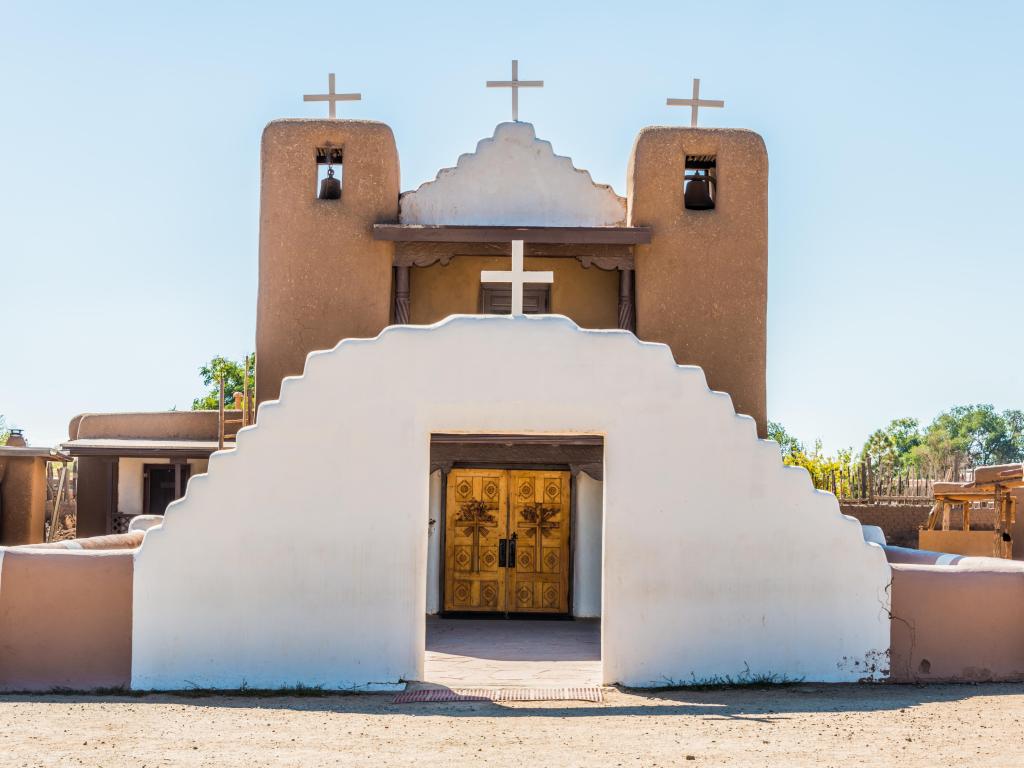 Which place is bigger, Santa Fe or Taos?
With a population of nearly 90,000, Santa Fe is much larger than Taos. The city stretches out for around 10 miles between historic Santa Fe Plaza and Santa Fe Regional Airport to the west, so you'll need a car if you want to explore outside the main downtown district.
Despite being New Mexico's state capital, Santa Fe is only the state's 4th-largest city, so it will still feel like a great contrast to some of the country's much bigger cities.
Three days gives time to visit a number of Santa Fe's museums, sample several great restaurants and take your time exploring the city's historic streets. Add a little extra time, though, if you want to head out hiking or to enjoy other nearby outdoor activities like white water rafting or skiing in winter.
Tiny Taos is at the other end of the scale when it comes to size. There are just under 7,000 permanent residents in Taos, which stretches out for around 5 miles along Highway 64.
Although it's only small, it's worth spending at least 2 days in Taos to give time to tour some of the museums and galleries and visit Taos Pueblo, the Rio Grande Gorge Bridge, and perhaps take a balloon ride over the mountains.
There's great hiking along with many other outdoor attractions, so allow extra time if you want to fit these in too.
Is Santa Fe more interesting than Taos?
Santa Fe is the country's oldest state capital, and its historic buildings and attractions trace the history of the southwestern United States from Native American Pueblo inhabitants through Spanish settlement en route to New Mexico, becoming a part of the USA in 1848.
That means it looks and feels very different from other parts of the country – it even has the nickname the City Different. Take a walking tour around the city, and you'll see its varied architecture, ranging from Adobe buildings to Spanish colonial buildings and the revitalized Railroad District.
If you are looking for unique attractions, Santa Fe has a few as well, including the immersive installation experience of Meow Wolf.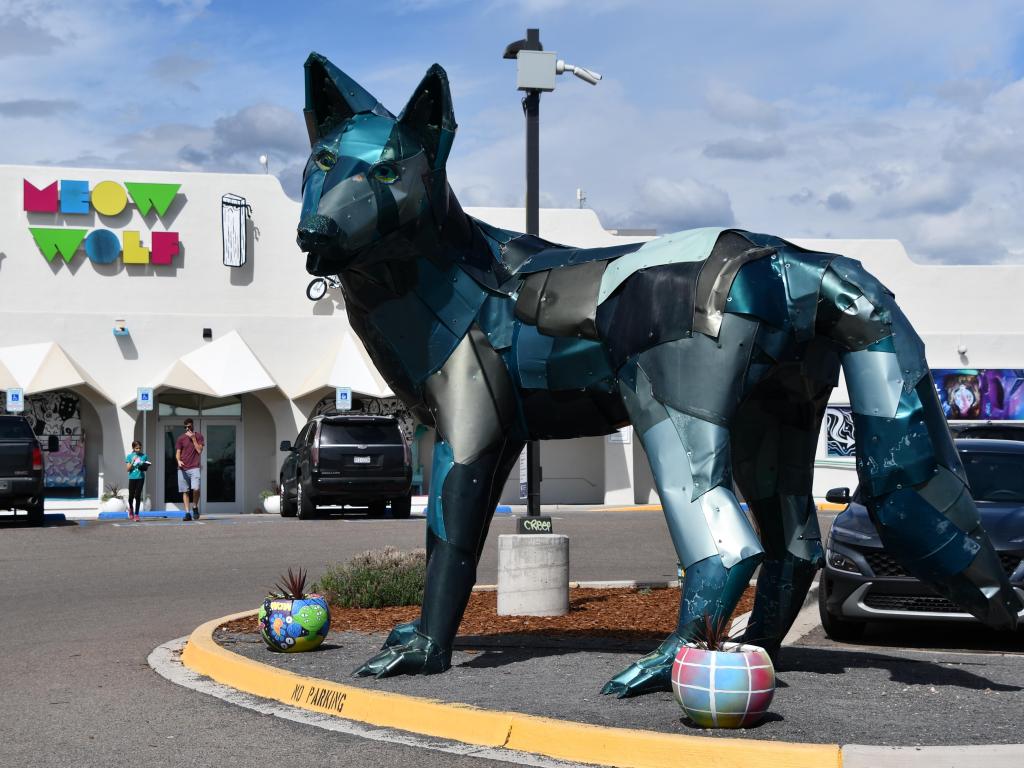 There are dozens of museums, galleries and cultural attractions to explore, including traditional European styles, native American art and modern artists.
It's not just about the art scene, though. The city is known as a destination for foodies, families and historians as well as art lovers, and there are also plenty of outdoor activities to enjoy just outside the city.
That makes it a destination where almost every traveler can find something to enjoy, and as it's a bigger city than Taos you'll find a little more variety in terms of things to see and do.
Drive 90 minutes north and you'll reach Taos, a small city that punches well above its weight in terms of its cultural heritage and contemporary arts scene. Nearby Taos Pueblo is a 1000-year-old settlement listed as a UNESCO World Heritage Site and National Historic Landmark.
The historic downtown of Taos, centered on Taos Plaza, is packed full of heritage dating back to the 18th century. The oldest remaining church is San Francisco de Asis, to the south of the town, which features in the work of artists including Ansel Adams and Georgia O'Keeffe.
Artists flocked to Taos in the early 20th century, and their legacy has established the town as a destination for art lovers. You can browse the homes and galleries of these early arrivals, or tour present-day studios.
The landscape surrounding Taos is stunning too. Head out to explore the Rio Grande Gorge, the Sangre de Cristo mountains or Taos Ski Valley.
Is Taos more historic than Santa Fe?
Taos and Santa Fe both have centuries of history to share with visitors, so fans of museums, galleries and cultural sites won't be disappointed with a visit to either city. Given its size, there's more to see in Santa Fe, including some of the country's oldest surviving buildings, but Taos has its own cultural legacy to explore.
Few people leave Taos without spending some time at Taos Pueblo. This UNESCO World Heritage Site is thought to be the oldest continuously inhabited settlement in the United States - a truly unique piece of the country's history.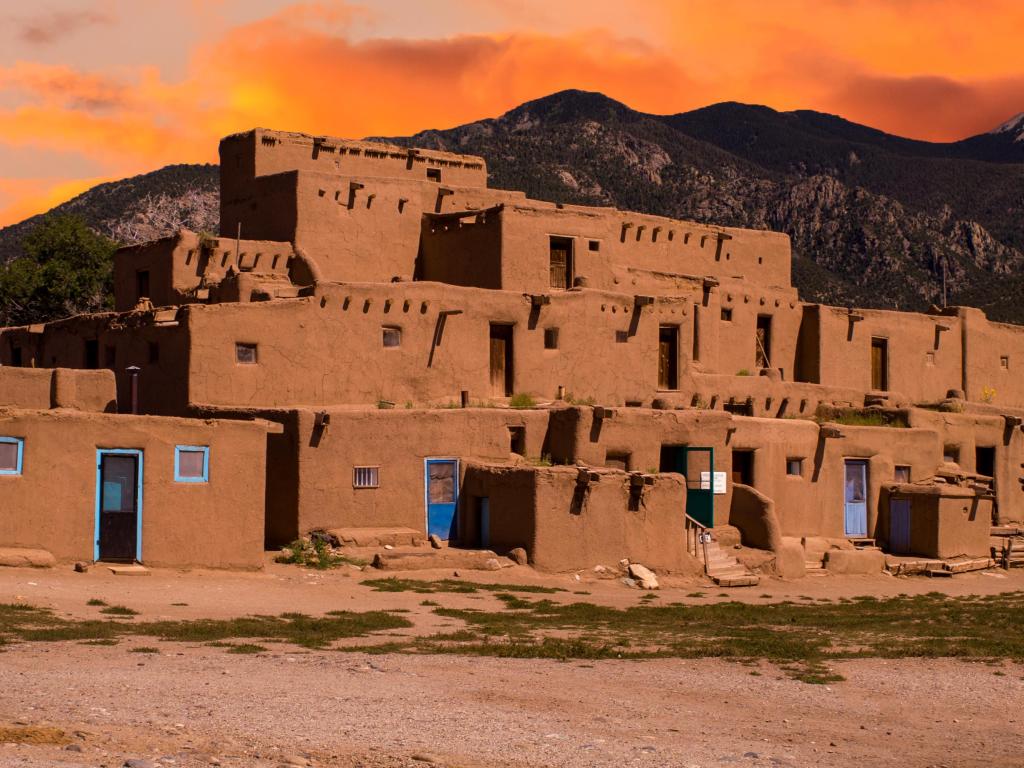 Back in town, you can also visit Taos Plaza and historic buildings, including Our Lady of Guadalupe Church or Governor Charles Bent House. It's also a great place to connect with 20th-century history - Taos was known for its hippie communities in the 1960s and 70s and you can still get a feel for that counterculture today.
Of course, Santa Fe is the country's oldest state capital, founded before the pilgrims had even landed at Plymouth Rock, so it's no surprise that you'll find plenty of history to discover in the city. Pueblo tribes are also thought to have lived in the area before that, but unlike Taos Pueblo, there are no remaining settlements to visit.
Santa Fe Plaza and the Palace of the Governors form the heart of the city's historic downtown, and you can visit San Miguel Chapel (said to be the oldest church in America), the Santuario de Guadalupe and Loretto Chapel. Even the celebrations in Santa Fe are historic, with Santa Fe Fiesta dating back to 1712.
Although many of the original buildings in Santa Fe haven't survived the centuries, even their "new" replacements pre-date many heritage buildings in other parts of the country. The Cathedral Basilica of St Frances of Assisi was built on the site of two much earlier churches, and was completed in 1886.
Does Santa Fe have more attractions than Taos?
If you head to Santa Fe and you can spend time at the New Mexico Museum of Art, Museum of Indian Arts and Culture, IAIA Museum of Contemporary Native Arts, Georgia O'Keeffe Museum or the Museum of International Folk Art.
Branching out from the many art forms on offer, you might also like to head to the Wheelwright Museum of the American Indian or the New Mexico Military Museum.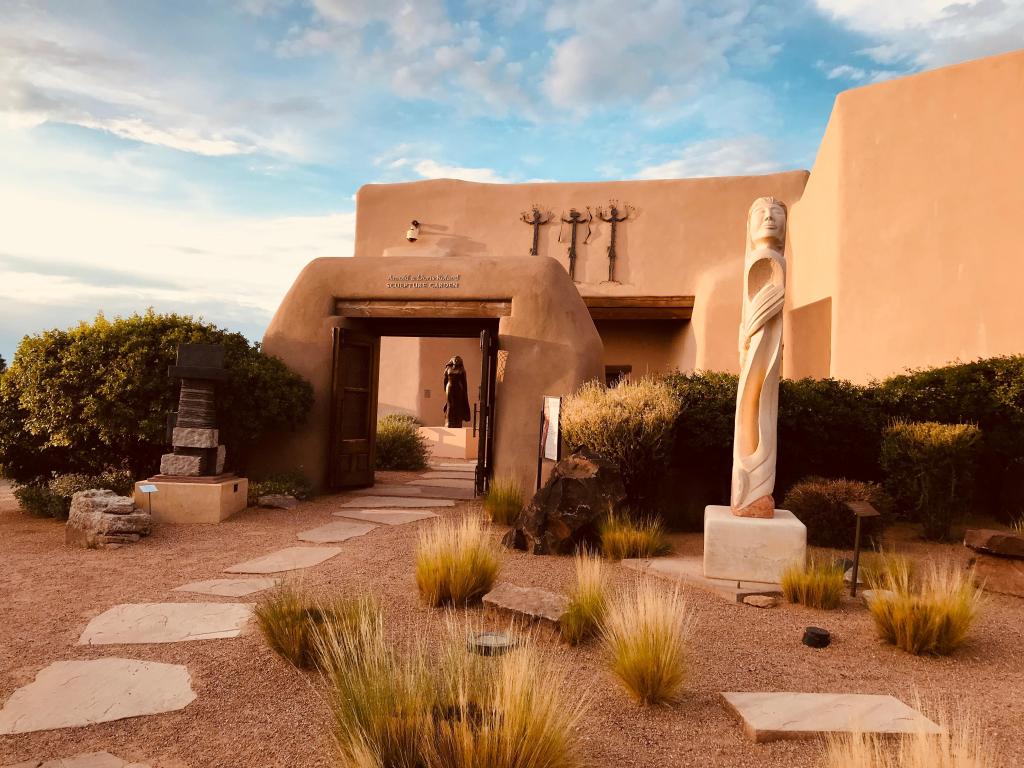 The city also has many contemporary attractions to enjoy. Santa Fe Railyard district is a buzzing new part of the city that's a great place to explore, as is the Santa Fe Farmers Market (held every Saturday).
You'll still be able to enjoy art and culture on a trip to Taos, just in smaller quantities, which some travelers might find appealing. Taos Art Museum, Harwood Museum of Art and the Millicent Rogers Museum all contain interesting art collections, and the Kit Carson Home and Museum lets you step back into the town's history.
The area around Taos is fascinating to explore, too. Take a hot air balloon ride over the mesa and mountain landscapes, or seek out the town's famous hot springs (be warned that many visitors still bathe nude).
For an unforgettable experience, book a tour of the Earthships, an off-grid community dating back to the 1970s that takes an increasingly popular approach to sustainability.
Is Santa Fe more family-friendly than Taos?
If you're traveling with kids then you'll probably want to break up the cultural highlights with some more family-friendly activities. You'll find plenty to choose from in Santa Fe.
To start with, there's the Santa Fe Children's Museum, and the Reptile and Bug Museum is likely to appeal too. Burn off some energy on the Santa Fe Rail Trail, which makes a great hike or bike ride, or ride the Sky Railway between Santa Fe and Lamy, NM.
Round off the day with a movie. Santa Fe's Violet Crown Cinema or Jean Cocteau Cinema are both great places to check out.
Taos doesn't have the same breadth of attractions designed specifically with children in mind, but it's still a great place to visit with kids. The unique sight of Taos Pueblo appeals to visitors of all ages for a start.
Part of the appeal of Taos is its laid-back, alternative vibe, and some families will enjoy sitting back and watching the world go by in Taos Plaza. For more active youngsters, head out to the hills to go llama trekking or ride a zip line.
Does Santa Fe have better dining options than Taos?
As you might expect from a city of its size, you'll find more dining options to choose from in Santa Fe compared to Taos.
Our top picks include the award-winning Sazón if you're looking for elegant but locally-inspired cuisine, or sit out and watch the world go by at Coyote Café and Cantina.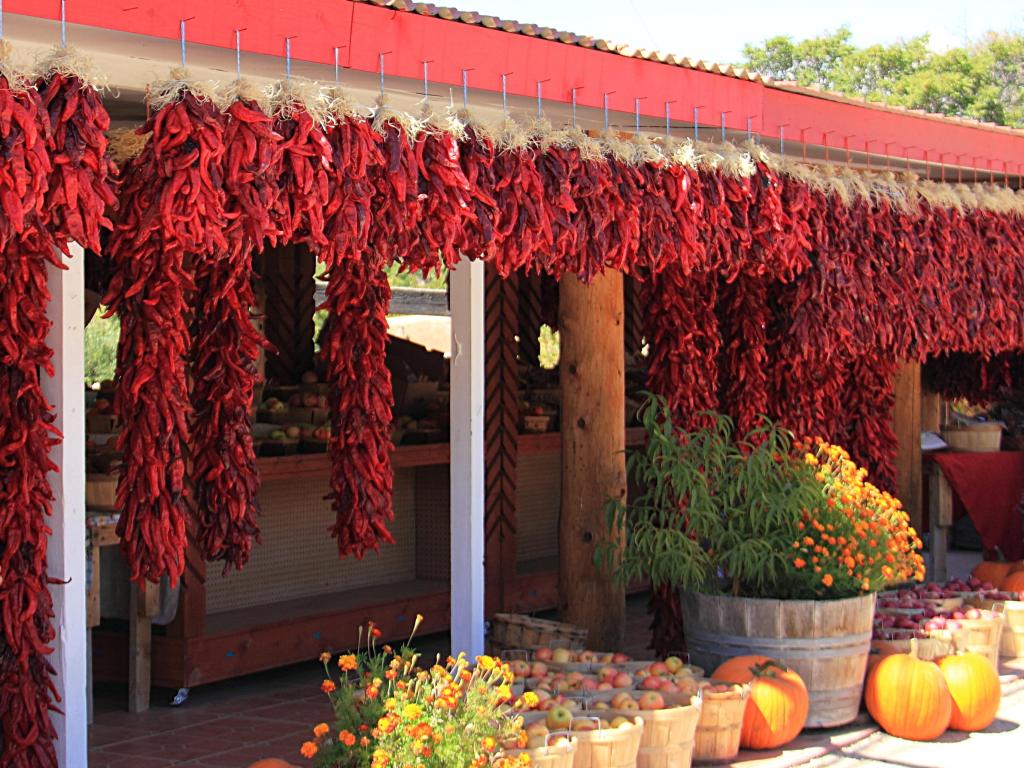 If you're ready for a break from the delicious New Mexican flavors, Dolina Café and Bakery is a real highlight of the area, as is Kakawa Chocolate House. Or check out Tia Sofia's or Café Pasqual's for an unforgettable breakfast.
While it doesn't have the same number of dining options as Santa Fe, you'll still be able to enjoy some fabulous food while you're in Taos. Just check ahead for opening hours if you have a particular place in mind.
Local favorite The Love Apple focuses on seasonal, locally-inspired cooking, while Doc Martin's serves up southwestern classics with live jazz. Aceq and Orlando's New Mexican Café also come highly recommended.
Which place has better accommodation options, Santa Fe or Taos?
As you'd expect from New Mexico's state capital, Santa Fe has a great range of accommodation choices, from modern motels to pueblo-revival inns.
Accommodation in Santa Fe spans a range of price points. Depending on travel dates you'll often be able to find a well-reviewed, centrally-located 3* hotel or inn for reasonable prices, with 4* hotels coming in more expensive than both.
Expect these rates to peak in July and August, though, when you'll need to book months in advance to guarantee your preferred choice.
One of our favorite places to stay in Santa Fe is La Fonda on the Plaza, Santa Fe, a centrally located, historic hotel with great views out across the city from the beautiful rooftop pool and bar.
Rooms here are traditionally decorated, and public spaces throughout the hotel are adorned with splashes of color and local style. Paid parking is available on-site, so you won't have to take your chances with the time-limited city parking.
In contrast, Taos is a much smaller place so there are fewer accommodation choices. Even so, there's a good range of different options ranging from quirky vintage trailers to historic inns.
Prices in Taos are reasonable and offer a range of choices starting under $100 per night if you don't mind staying on the edge of town. That makes Taos a more affordable destination than Santa Fe, without compromising on quality.
Our favorite place to stay is the beautiful Inn on La Loma Plaza. Its historic buildings are set in colorful and relaxing gardens where there are plenty of places to sit outside and enjoy the New Mexico sunshine.
Rooms here are spacious and comfortable and feature a mix of local style and quirky design features. It's also within walking distance of Taos's restaurants, and also offers an excellent breakfast to guests. There's free parking on site as well, which will be very helpful in the busier months.
Which place is easier to reach, Santa Fe or Taos?
Santa Fe is the easier city to reach by road as it's located right on I-25, which connects directly with Denver to the north. It's around an hour off I-40 if you're traveling on an east-west road trip or following part of Route 66.
If you want to explore the area and its history more, you can follow the route of early wagon trails on the Santa Fe Trail National Scenic Byway or head out along the scenic byway through Santa Fe National Forest.
Given the long driving time to reach Santa Fe from many parts of the country, you might prefer to fly to New Mexico and then pick up a hire car for your trip. Santa Fe airport is the closest to the city however, you'll probably need to take a connecting flight from Phoenix, Denver or Dallas-Fort Worth.
About an hour away via I-25, Albuquerque International Sunport is New Mexico's main aviation hub and is likely to be a more convenient arrival point in spite of the longer drive to Santa Fe.
There are frequent flights to destinations across the US, including Los Angeles, Chicago O'Hare, Atlanta and Dallas-Forth Worth, for a choice of international connections.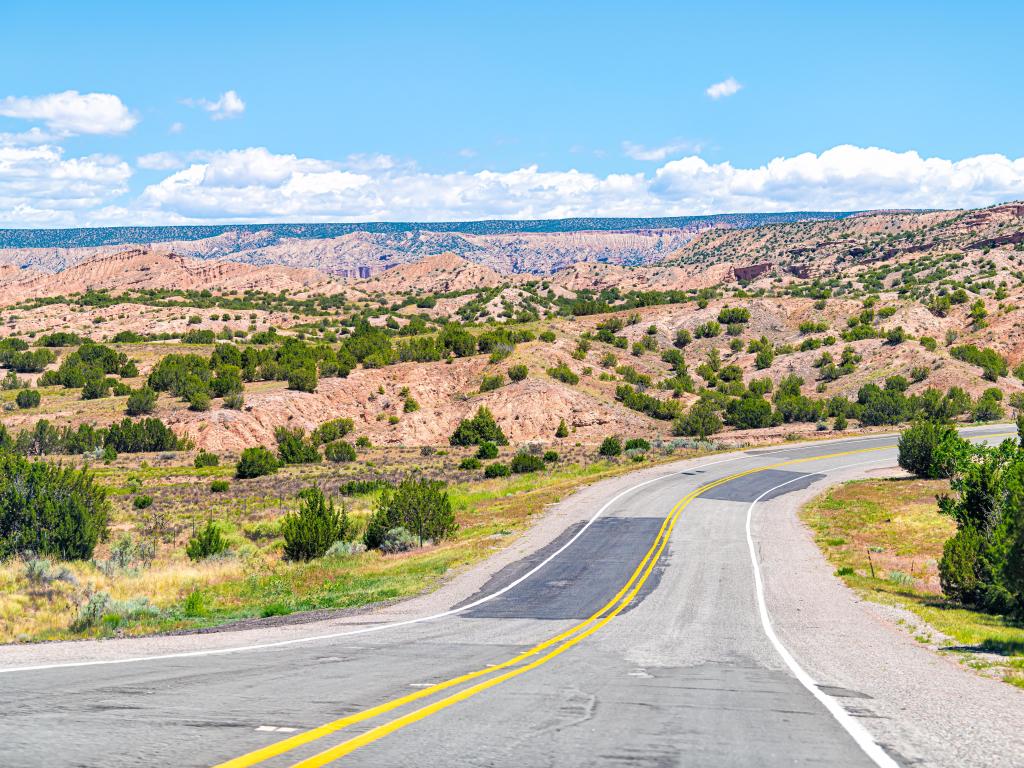 In comparison, you'll have to work a little harder to get to Taos as it's not located directly on the interstate network. The main route into Taos is via 4-lane highway (US-84/US-185) as far as Santa Cruz. From here, NM-68 is 2 lanes for most of the rest of the way.
There are also some super-scenic drives that start in or near Taos, so if you're trying to avoid interstate driving on your road trip, then Taos should be top of your list.
The High Road to Taos takes you through stunning scenery and small towns and villages. However, it winds along mountain roads which some drivers might find a little intimidating and remote. Please click here to reach our comprehensive guide to help you navigate this drive more confidently.
Taos Regional Airport has limited, seasonal connections to LA, San Diego and sometimes Dallas. There are plans to increase the service but for most travelers, the most convenient way to fly to Taos is to use Albuquerque or Santa Fe then pick up a hire car.
Parking in Santa Fe vs Taos
Once you've arrived at your chosen destination, you'll also need to factor in parking. It's possible to use paid on-street parking close to the center of Santa Fe, and there are three main parking lots in the center of the city.
There's a maximum stay of 12 hours in most of Santa Fe's paid parking so check for longer stay options when you're booking accommodation.
In contrast, it can be a little cheaper to park in Taos as the town operates three free parking lots. If these fill up, there's also metered on-street parking including around Taos Plaza, and a number of privately-operated (paid) parking lots. Parking is more likely to be tricky in the peak summer season.
Comparing Santa Fe and Taos by season
With the two cities only separated by 70 miles of road, both Santa Fe and Taos enjoy very similar seasons. With warm summers and snowy winters, there's plenty to keep you busy whatever time of year you visit.
Santa Fe proudly boasts of having 320 days of sunshine each year, so even if you visit in winter you should be able to enjoy some time outdoors.
You'll also find plenty of seasonal attractions and events in Taos, making it a great place to visit all year round.
Santa Fe vs Taos in spring
Spring in Santa Fe is dry and warms up quickly, although there can be snow as late as April. May is a great time to visit as it's much less crowded than the summer, and prices are lower.
In Taos, temperatures linger in the low 50s in March and there's still a good chance of snow. Taos Spring Arts, a week-long season of creative arts, performances and exhibitions, is held each year in late March or early April.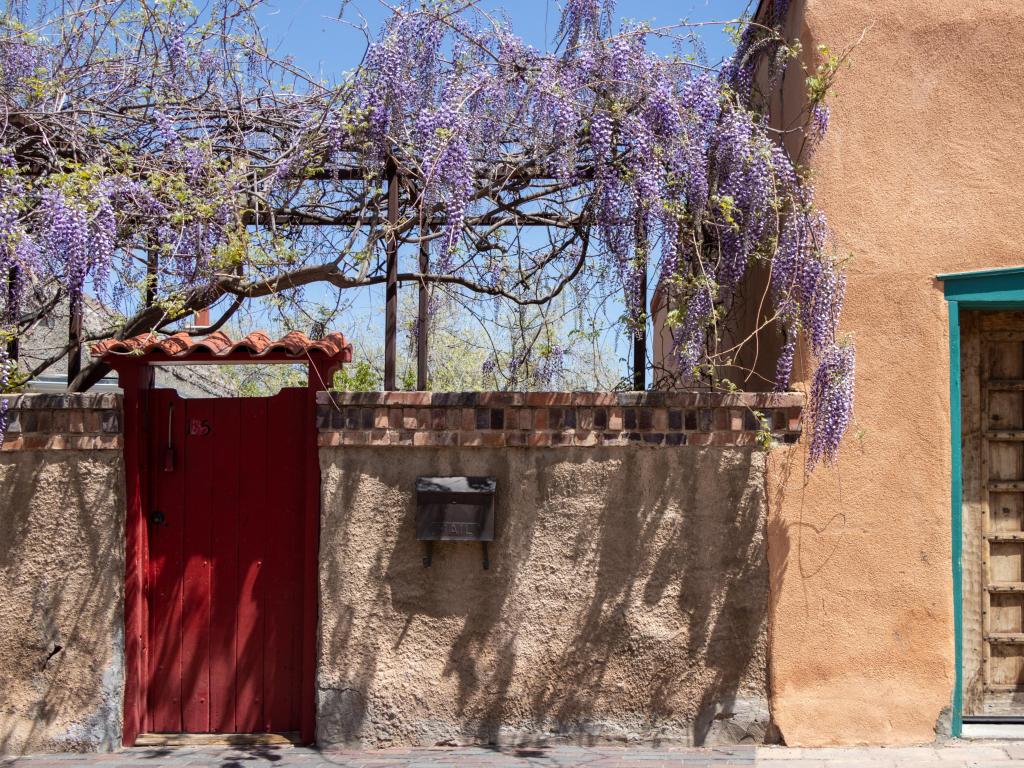 Unless you want to ski, late spring is one of the best times to visit Taos as you'll find the town less crowded unless you catch the popular Dennis Hopper Day in May. This commemorative motorcycle ride celebrates the life and work of the Easy Rider director and travels through many of the iconic movie's locations in and around Taos.
Santa Fe vs Taos in summer
Summer in Santa Fe is hot and sunny, although the higher altitude means that temperatures don't often reach much beyond the mid-80s Fahrenheit.
July and August often see heavy rain showers as the day progresses, which help to clear the air and take the edge off the heat, as well as setting up some impressive sunsets.
You'll be able to see Rodeo de Santa Fe if you visit in June, whilst July kicks off 6 weeks of outstanding performances through the Santa Fe Opera season.
One of the highlights of the year in the city is August's Santa Fe Indian Market. More than 1,000 outstanding Native American artists come to Santa Fe to display artwork including textiles, sculpture, weaving and pottery.
Try to book at least 6 months in advance for a summer trip to Santa Fe. The holiday season, great weather and festivals mean this is a popular time to visit the city.
Summer is also warm in Taos, with temperatures in the 80s Fahrenheit. This makes it a little cooler than other parts of New Mexico, due to its high elevation, so it's a popular summer destination. With this in mind, accommodation can get booked up and parking can be harder in the summer vacation season.
July is a particularly busy time to visit. Taos Pueblo Pow Wow is a coming together of tribes from across the US, whilst Las Fiestas de Taos are a colorful celebration of the region's Hispanic heritage.
Santa Fe vs Taos in the fall
Fall is a great time to immerse yourself in a festival, whether you're visiting Santa Fe or Taos. Both places remain warm until mid-October and early fall can be a great time to look for cheaper accommodation while also enjoying the sunshine. Snowfall begins in November, but can be a little unpredictable.
Starting over Labor Day weekend, Santa Fe Festival kicks off with the Burning of Zozobra - a huge effigy is set light - followed by nine more days of parades and festivities. Then in October, Santa Fe International Film Festival comes to town.
Meanwhile, fall in Taos brings the chance to see the beautiful colors of the foliage on surrounding slopes before temperatures dip heading into November.
September's Taos Fall Arts Festival is a long-standing event showcasing creative arts in Taos, while the Paseo is an outdoor community event that brings people together through art.
Later in the fall you can also enjoy Frank Morgan Taos Jazz Festival, when world-class jazz musicians head to Taos for a week of unforgettable performances.
Santa Fe vs Taos in winter
You might not think of New Mexico as a festive destination, but both Taos and Santa Fe mid-December and you can catch the Christmas procession of Las Posadas. Later in December, farolitos lanterns are lit around Santa Fe Plaza.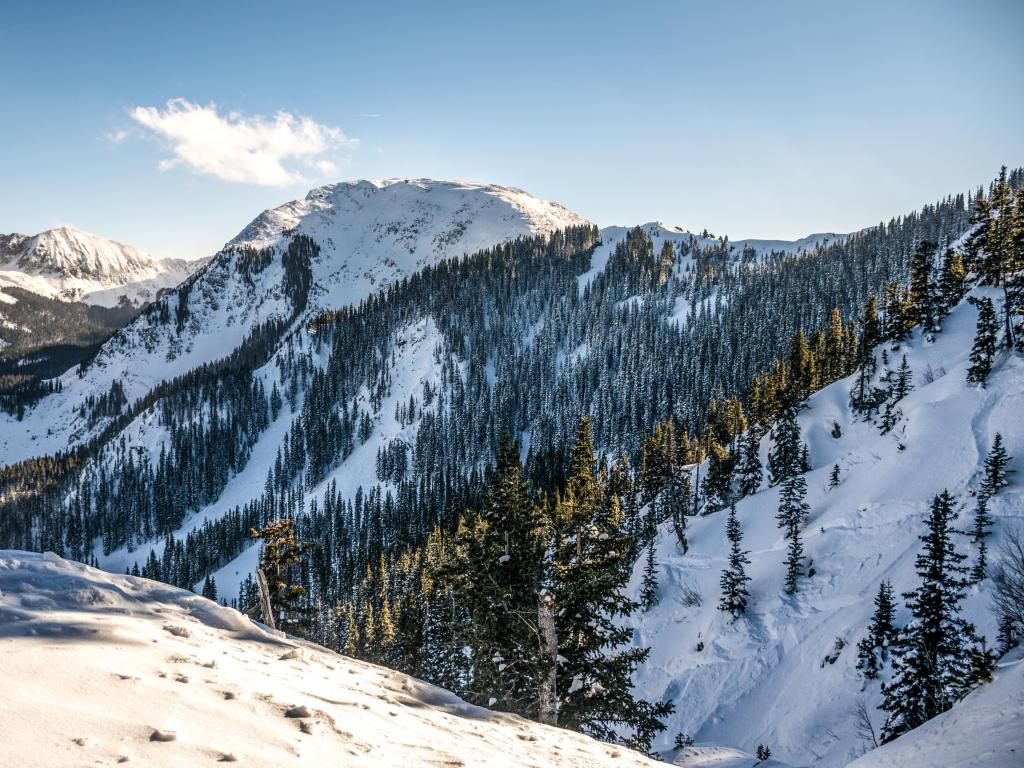 Through the rest of the winter, one of the highlights of both Santa Fe and Taos is their proximity to ski slopes in the Sangre de Cristo Mountains. From Santa Fe, the slopes usually open soon after Thanksgiving.
Taos Ski Valley is a short drive out of the town itself – come from January to early March to enjoy the slopes at their best. In January, you can warm up after a day on the slopes at Taos Winter Wine Festival too.
As you might expect, ski-worthy snowfall is accompanied by much lower winter temperatures, which dip as low as 15 degrees Fahrenheit overnight in winter, but usually warm up to the low-40s in the daytime. It will be colder if you're heading out skiing though.
Planning a road trip to Santa Fe or Taos
One of the great things about taking a trip to either Santa Fe or Taos is that you'll have the chance to travel through some other awesome cities and landscapes to get there.
A road trip to Santa Fe or Taos could see you driving through stunning natural landscapes, including Joshua Tree, White Sands, Zion or Arches National Parks. Or take a detour from a Route 66 road trip to visit one or both of the cities.
Popular road trips to Santa Fe

| Starting city | Distance (time) | Highlights |
| --- | --- | --- |
| El Paso | 300 miles (5 hours) | Alamogordo, Cloudcroft (detour), White Sands National Park (detour), Carrizozo |
| Denver | 390 miles (5 hours 45 minutes) | Colorado Springs, Pikes Peak, Pueblo CO, Pecos National Historical Park |
| Phoenix | 525 miles (7 hours 40 minutes) | Sedona, Route 66, Flagstaff, Meteor Crater, Petrified Forest National Park, Albuquerque |
| Austin | 685 miles (11 hours) | Abilene (detour), Sweetwater, Lubbock, Fort Sumner, Lake Sumner, Santa Rosa |
| Los Angeles | 845 miles (12 hours 15 minutes) | Palm Springs, Joshua Tree National Park, Kingman, Flagstaff, Winslow, Albuquerque |
| Houston | 875 miles (13 hours) | Sam Houston National Forest, Fort Worth, Route 66, Amarillo, Glenrio, Tucumcari, Santa Rosa |
With Santa Fe less than 90 minutes from Taos it's possible to visit both in a single road trip, but if you'd prefer to skip the big city then there are some amazing road trips that take you directly to Taos.
Popular road trips to Taos

| Starting city | Distance (time) | Highlights |
| --- | --- | --- |
| Albuquerque | 130 miles (2 hours 30 minutes) | Sandia Crest, Santa Fe, Santa Cruz, Santa Fe National Forest, Los Luceros Historic Site |
| Denver | 290 miles (4 hours 40 minutes) | Great Sand Dunes National Park and Preserve (detour), Colorado Springs, Garden of the Gods, Pueblo |
| Salt Lake City | 590 miles (10 hours) | Green River, Moab, Canyonlands National Park, Arches National Park |
| Las Vegas | 700 miles (12 hours) | Valley of Fire State Park, St George and Red Cliffs National Conservation Area, Wahweap, Carson National Forest |
*Please click the highlighted links above for our detailed guide on each road trip
Which place is the best, Santa Fe or Taos?
As you've already discovered, both Santa Fe and Taos are fabulous places to visit, but here's a quick wrap-up of which place might suit your travel needs the best.
Both cities have a similar style of architecture in their downtown area. Santa Fe's is more substantial, but you can see the mountains more easily from Taos.
Both have stunning mountains and high desert scenery within easy reach, but as Taos is so much smaller, you'll be able to get out and enjoy the scenery more easily there.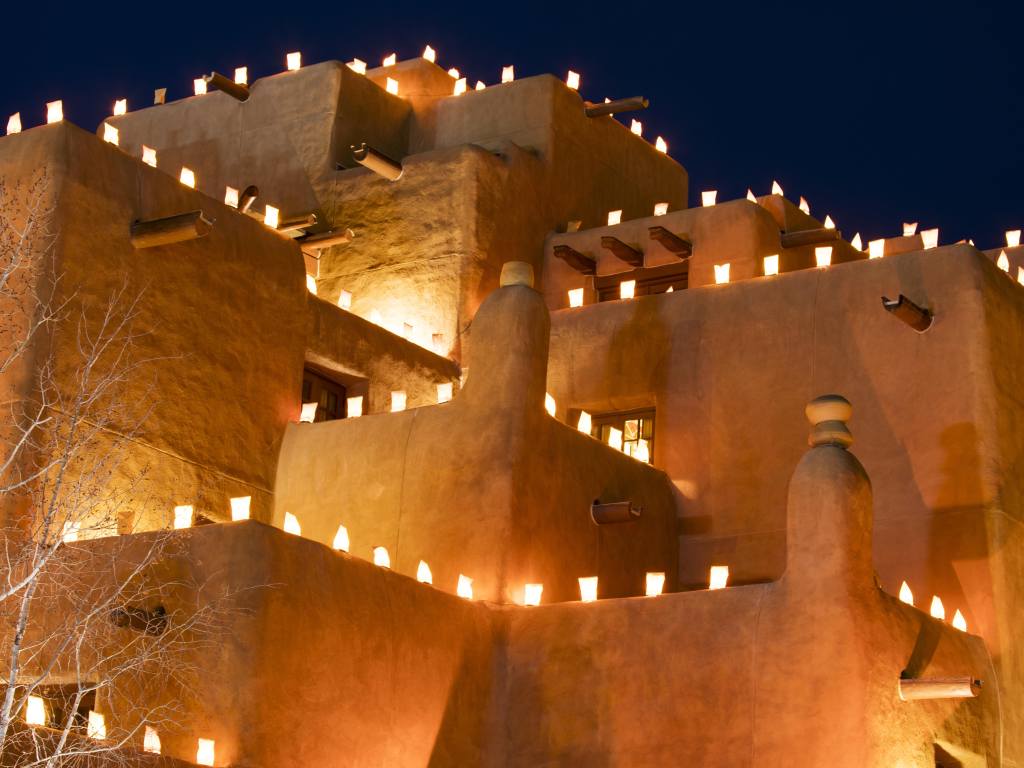 Santa Fe has a wider range of cultural/historic attractions and the vibrant Railyard District to add a more modern hit to a visit. If you're looking for nightlife, you'll definitely find more of this in Santa Fe. However, Taos Pueblo is a really unique place to visit.
Santa Fe is easier to get to compared to Taos, as it's closer to the airports and located right on the interstate. It is also good to note that Santa Fe has more child-friendly options and more more activities designed for children.
Taos is a more affordable place to visit compared to Santa Fe, with accommodation prices being lower. Most visitors won't have to add in extra costs like paid parking either. However, that being said, Santa Fe does have more lodging and dining options than Taos.
When it comes down to choosing which city to visit, it is quite challenging to pick either Santa Fe or Taos with some many unique attractions and interesting places to explore in each. So the decision will come down to how much time you have on your hands.
If you have about 5 days to a week, we highly recommend visiting both cities and making the best of your time in this beautiful and historic area in New Mexico.