Road Trip From San Diego To Santa Barbara
Driving from San Diego to Santa Barbara is an absolute beauty of a drive along the West coast of California. You could just catch a flight between the two cities, but where would be the fun in that? There are plenty of amazing stops on route to make this a trip to remember.
The 220-mile road trip from San Diego to Santa Barbara will take about 3 hours 30 minutes of driving, LA traffic permitting. Make stops along the Pacific Highway in San Clemente and Malibu and check out Venice Beach and Santa Monica on your route.
To help with the planning of your amazing road trip, check out all the information below for great inspiration, information and things to do along the way.
How far is Santa Barbara from San Diego and how long will the road trip take?
The road trip from San Diego to Santa Barbara is approximately 220 miles and takes around 3 hours 30 minutes, that's if you were to drive nonstop along the route, without accounting for stops and breaks.
Traffic in the Los Angeles area is notoriously hectic and unpredictable, this can add plenty of time onto the drive, so please be vigilant and aware of this.
There's no point in a road trip if you just drive from A to B though. You need to take in that crisp Californian air with plenty of stops on route, don't worry this route is perfect for that sort of thing
My personal recommendation for this route is to take a steady three days to get between the two cities. This includes two overnight stops, one on either side of the beautiful city of Los Angeles. You may wish to add extra nights in each spot if you really want to unwind and soak up the luscious Californian sunshine.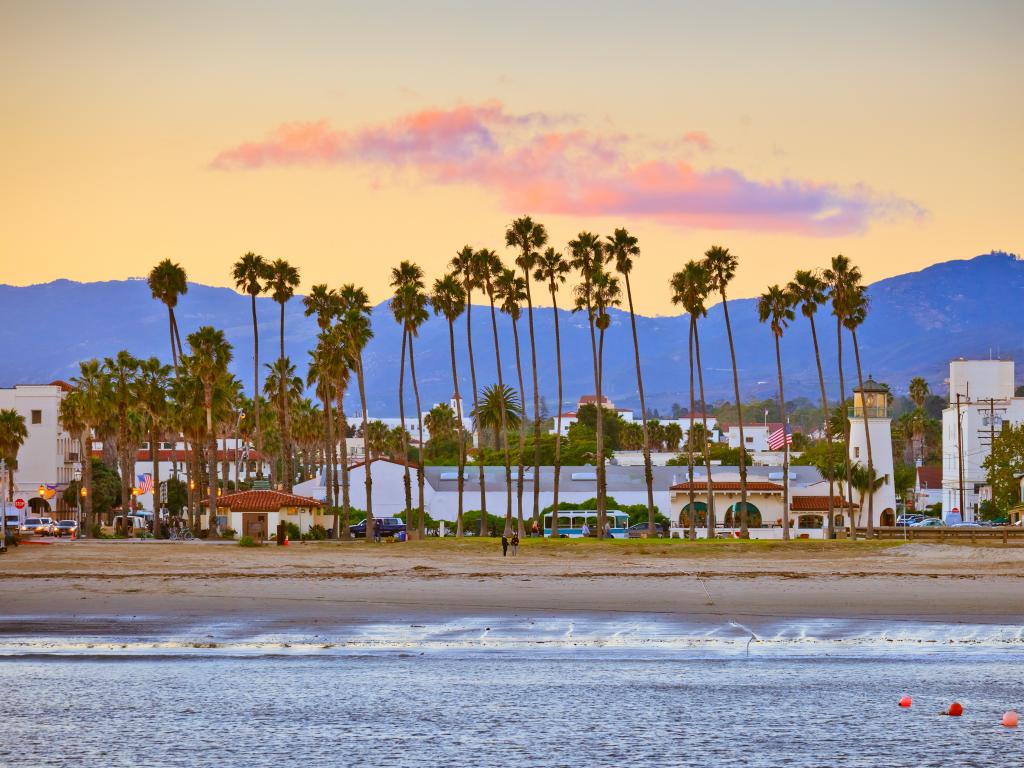 Best road trip route from San Diego to Santa Barbara
There is one straight route between San Diego and Santa Barbara. Not only is it the quickest route but it also boasts the most gorgeous views of the Pacific Ocean.
Unless you were planning to really head off route, perhaps towards Joshua Tree National Park or potentially further inland, you'll be best to stick to the stunning route that runs alongside the Pacific Ocean and up through Los Angeles.
Road trip route from San Diego to Santa Barbara
Hop on the I-5 straight out of San Diego heading North towards the bright lights of Los Angeles. Once you have passed through San Diego's suburbs the road will start to open up with gorgeous views all around. Gaze out to witness the crashing of the mighty Pacific Ocean's waves against the jagged coastline. The road winds snuggly against the beautiful blue ocean as you continue North through California.
Stay on the I-5 and take CA-73N towards I-405N. You will soon see the tall buildings of Los Angeles out in the horizon. You will be passing through some of the most iconic streets in the World. Once through the city, take US 101-N, once again this road will hug the gorgeous Californian coast line, eventually leading you to your destination of Santa Barbara.
Best places to stop between San Diego and Santa Barbara
As mentioned earlier, I would recommend two overnight stops along this beautiful route. I have outlined the best stopovers below with things to do and places to stay.
You can also combine the stopovers with other activities and sights along the route, I will list these further down.
Overnight stop in Long Beach, California
If you want a spot with impeccable beaches, delicious restaurants and dazzling entertainment, then Long Beach is definitely your best option.
Long Beach is approximately a two-hour drive from your start point of San Diego and only 30 minutes South of downtown Los Angeles.
Long Beach is jam packed with things to do, from a visit to the beautiful Queen Mary cruise liner to a stroll around Shoreline Village's many cafes and shops, or maybe you want to just sunbathe and chill out on Junipero Beach.
This spot is perfect as a stopover on your journey through California, there's something do for everyone, no matter what type of person you are.
There are a few great hotel options to choose from, however I think the best hotel in Long Beach is the Hyatt Centric the Pike. The hotel is in an ideal central location, just a short stroll to the main attractions.
No expense is spared at the Hyatt Centric the Pike. With modern and spacious rooms as well as a roof top sundeck and swimming pool, this hotel has everything you need to make sure you have an excellent and comfortable stay.
Try a taste of the millionaire lifestyle in Malibu, California
Heading over to the North side of Los Angeles, the second overnight stop I recommend staying in is Malibu, California. Home to some of the most pristine beaches, not only in the USA but in the entire world. After a busy day exploring the hustle and bustle of Los Angeles there is no better place to unwind than in the magnificent Malibu.
Malibu is only 50 minutes out of downtown Los Angeles and pleasantly situated just a 1 hour and 30 minute drive from your destination of Santa Barbara.
Malibu is a spot that is well known by many from all over the world. Once you've visited, it's obvious to see why this is the case. With the most golden sand and luscious clear waters you won't be disappointed with a stopover in Malibu.
Hotels centrally located in Malibu can be awfully expensive, however I have a perfect recommendation for a property situated a mere five miles from downtown Malibu and set on a beautiful 200 acre ranch, with access to an exclusive Malibu Beach Club.
The Calamigos Guest Ranch and Beach Club is one of the most well-presented properties I have ever seen. They have absolutely everything covered, take in the incredible views of the ranch, set in the gorgeous Malibu wine country and catch up on some well-earned rest in their beautifully presented rooms. Also having access to their exclusive beach club means this property ticks all the boxes as an amazing allrounder.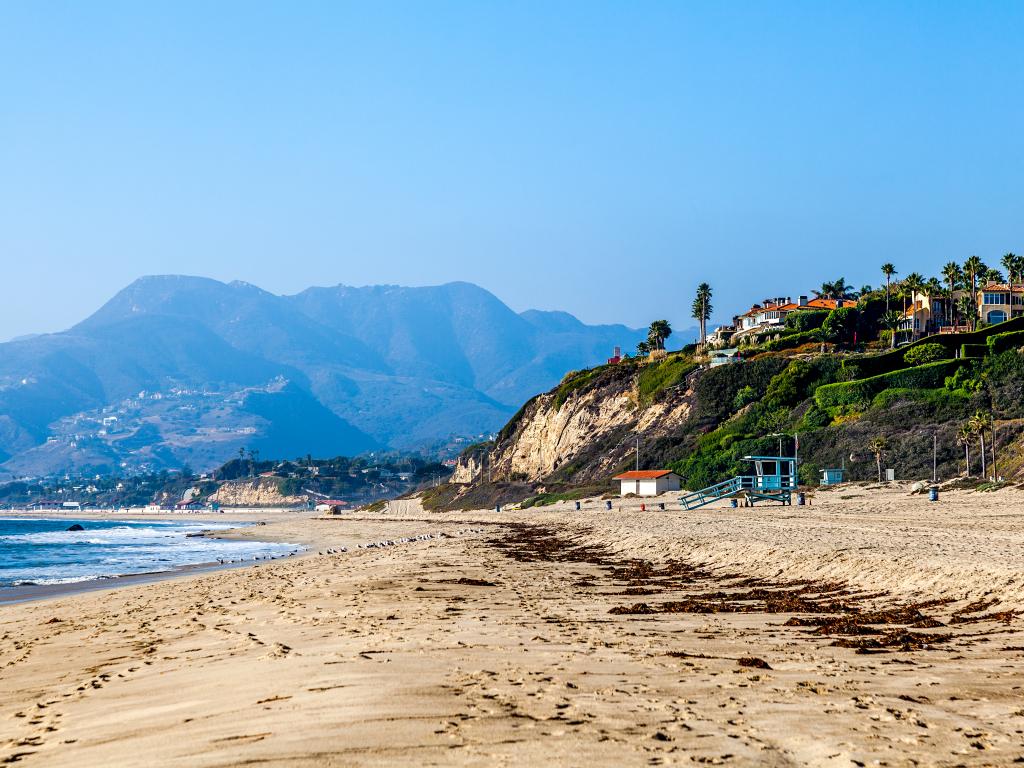 Things to see on a road trip from San Diego to Santa Barbara
The route between San Diego and Santa Barbara has plenty of amazing stops and sights to see en route. You could easily extend your time along this route if you wanted to take a slower, more relaxed pace.
I would be here all day describing every little spot, so I have created a list of the top fifteen things to do between San Diego and Santa Barbara.
California Legoland - Just up the road from San Diego in Carlsbad is a great place to stop along the way for kids and those young at heart.
San Clemente – A gorgeous coastal city in Orange County, gnarly surf=breaks and golden beaches, known as "Spanish Village by the Sea".
International Surfing Museum – Found in Huntington Beach, a great spot to explore and check out the museum.
Queen Mary Anchored Cruiseliner – It's possible to board and dine on the beautiful Queen Mary ship that has been docked in Long Beach since 1967.
Long Beach Harbour Cruise – Take in some stunning views of the long beach area.
Venice Beach – Stroll along one of the most famous beaches in the world.
Santa Monica Pier – The official end of "Route 66". Grab an ice cream or jump on one of the pier's fairground rides.
Hollywood's Walk of Fame – Search for some of Hollywood's most famous stars as well as the famous Hollywood sign.
In-N-Out Burger in Los Angeles – A Californian classic, founded in 1948 and home to some of the best burgers around.
The Comedy Store, Los Angeles – This spot has been home to some of the most famous names in a comedy, a visit is guaranteed to have you in stitches.
Beverly Hills – Spot some famous houses and potentially some famous faces.
Malibu Surfrider Beach – Watch some surfers as they ride some of the best waves in the world or opt to give it a go yourself.
Point Dume – Jutting out into the Pacific Ocean this spot has some fantastic photo opportunities.
Zuma Beach – One of the largest beaches in California, offering a variety of activities.
Malibu Wine Country – Indulge in some wine tasting in the beautiful Californian Vineyards.
Ventura – Explore the streets and church built in 1809 or opt to relax on the beach.
Channel Islands National Park - this small National Park is a chain of islands off the Californian coast and it's seriously underrated.
There are still more spots that you might find along the way, but the above list covers the main highlights between San Diego and Santa Barbara.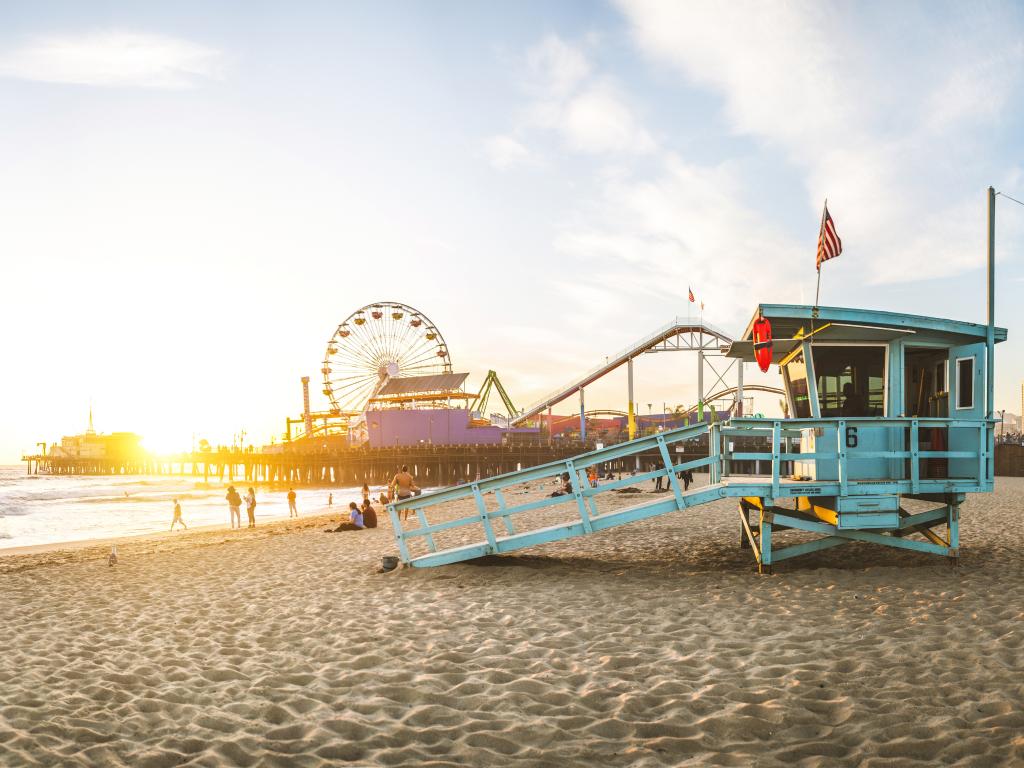 Best time to go on a road trip from San Diego to Santa Barbara
It's possible to road trip from San Diego to Santa Barbara any time of the year. They don't call California the golden state for nothing. With good temperatures and plenty of sunshine throughout the year there's never a bad time to embark on this road trip.
Having said that, if you really want to make the most of the Californian coast, I would recommend visiting in the Summer months. The temperatures will be even higher, creating perfect conditions for a swim in the ocean and sunbathe on the beach.
A word of caution though, it may be beneficial to avoid the Summer school holiday season as places may be fully booked especially in the Los Angeles area.
Being one of the best parts of the country to visit during the Summer many people flock here during the school holidays. Spring and Autumn are also great times of year to road trip from San Diego to Santa Barbara.
One thing's for sure, your road trip will include plenty of delicious food, spectacular views, amazing activities and lots of ice creams.