How long does it take to drive through Yosemite National Park?
Located in Central California, Yosemite is one of the most visited national parks in the United States. It's famed for its dramatic granite cliffs, towering waterfalls and views across the Sierra Nevada Mountains, so it's easy to understand why nearly 3 million people head here yearly.
The quickest way to drive across Yosemite National Park is to follow Tioga Road which takes 1 hour 40 minutes. It takes you through some of the park's most stunning mountain vistas, including Mono Pass, Tuolumne Meadows, Tenaya Lake and Olmsted Point.
As you might expect, the high visitor numbers, mountain weather and endless photo opportunities can all affect the time it takes to drive through Yosemite, so keep on reading to find out how long it really takes.
How long does it take to drive through Yosemite National Park
Comparison of travel times and distances through Yosemite National Park

| Route | Starting point | Ending point | Distance | Travel time |
| --- | --- | --- | --- | --- |
| Summer Route | Lee Vining | Crane Flat Lookout | 60 miles | 1 hour 40 minutes |
| Winter Route | Oakhurst | El Portal | 70 miles | 2 hours 20 minutes |
* Driving time without stops
If road and traffic conditions are in your favor you can drive through Yosemite National Park in around 1 hour 40 minutes on the east to west route along Tioga Road. Starting out at Lee Vining, you'll enter the park at the Tioga Pass Entrance, then follow the famous Tioga Road.
Most visitors to the national park will stop along the way to admire the amazing landscape, and we'd recommend at least a day and a half to appreciate the many trails, waterfalls and mountain views that Yosemite has to offer.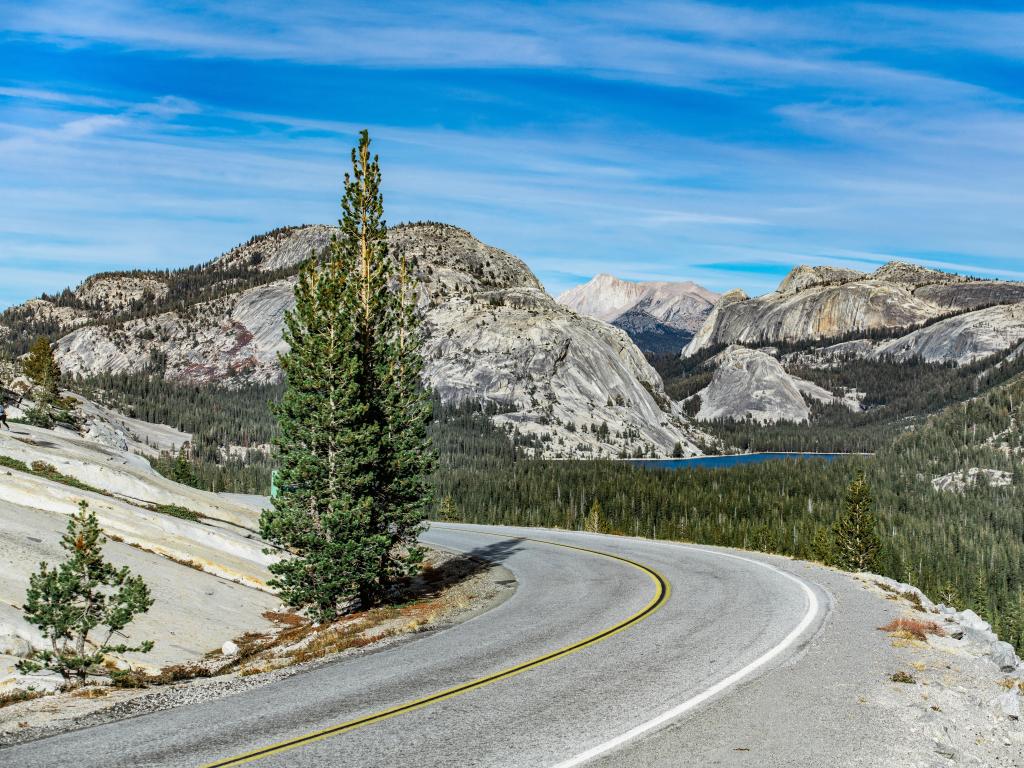 Even if time is tight, you should plan for a short stop every 10 miles or so, making 6 in total on the Summer Route and adding about 1 hour 30 minutes to your route time.
This means you can drive through Yosemite National Park in 3 hours and 10 minutes and use the Big Oak Flat Entrance to exit.
In winter, you won't be able to access the Tioga Pass Entrance or Tioga Road. This part of Yosemite closes to vehicles between November and May due to snow.
Instead, you can take an alternative route which starts out at Oakhurst, near the South Entrance, then takes you up to Yosemite Village before leaving the national park near El Portal using the Arch Rock Entrance to exit.
The Winter Route is a little longer and will take 2 hours 20 minutes to drive without stopping. If you add in up to 5 short few stops to this route then you'll be looking at a total travel time of 3 hours 35 minutes.
If you'd like to learn more about all the entrances you can use to visit the national park, please check out our ultimate guide.
Driving the Summer Route
In the southern part of Lee Vining, join Highway 120 and follow it eastwards towards Yosemite National Park. You'll have views of the Sierra Nevada up ahead to get you warmed up for your drive through the national park.
The road skirts Tioga Lake just before you reach Tioga Pass Entrance Station, and from here the drive is pretty straightforward. Simply continue ahead on Tioga Road to enjoy the unforgettable landscape of Yosemite National Park.
You'll drive through higher elevations along this road, with campgrounds if you want to stay overnight.
There are several trailheads leading off Tioga Road, but even if you don't have time for a long hike we'd recommend stopping at Tuolumne Meadows. Here you can visit the visitor center and enjoy the scenery at 8,600 feet in elevation.
Further along the road, you'll pass Tenaya Lake and Olmsted Point, where you can see the north side of the Half Dome.
On the western side of Yosemite, Tioga Road merges with Big Oak Flat Road which takes you the rest of the way through the national park. Pause for a hike up to Crane Flat Lookout. From here, it's just a short drive to the park's Big Oak Flat Entrance.
This route is easy to drive in just one day, so why not spend a little longer in the area to explore some of its other stunning natural attractions?
You can stay a night near Mammoth Lakes before you start your drive through the park. South of Lee Vining, it's a 40-mile drive to the Tioga Pass Entrance Station.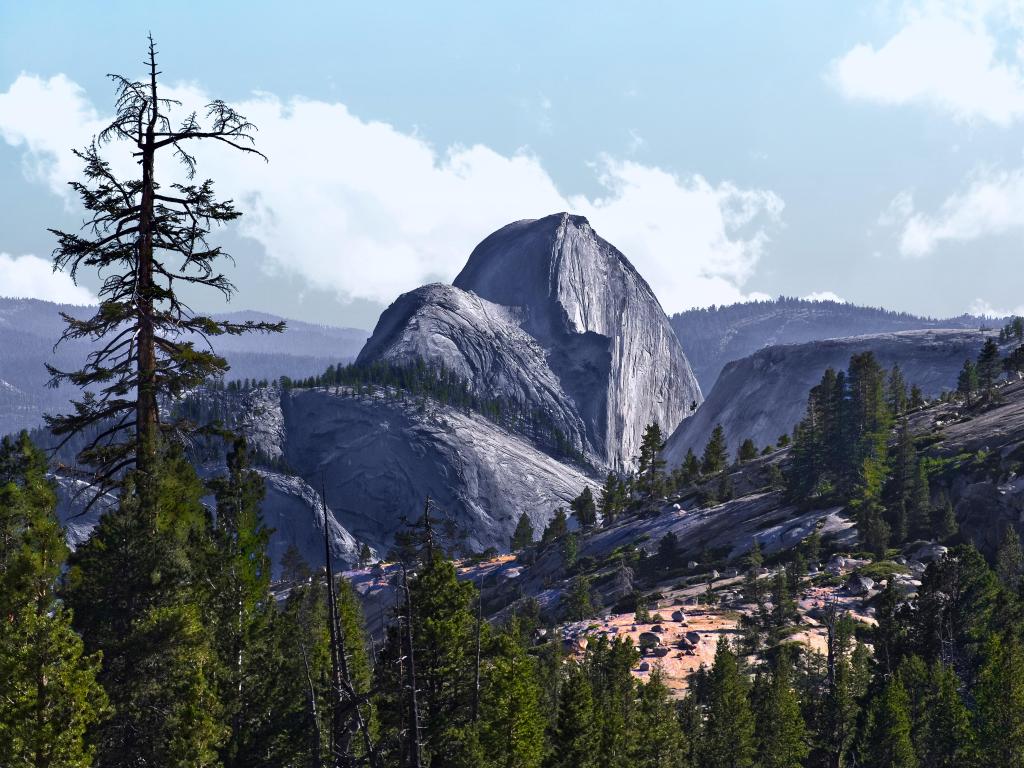 Driving the Winter Route
The route along Tioga Road is impassable from May to October or November, but other parts of Yosemite National Park are still accessible even in winter.
If you're visiting during the colder months, our Winter Route is a fabulous alternative which starts at Oakhurst, 14 miles south of the South Entrance.
Just after the South Entrance, detour to Mariposa Grove to visit Yosemite's famous Giant Sequoias. One of the trees, the Grizzly Giant, is said to be 3,000 years old. This part of the park isn't accessible for some of the winter, but it's definitely worth a visit at other times of year!
Continuing on Wawona Road you can opt to hike to Grouse Creek Falls before passing through the Wawona Tunnel. Then, stop at the famous Tunnel View, a roadside view of the forested valley and granite cliffs.
Next, you'll travel through Yosemite Valley on Southside Drive before crossing the Sentinel Bridge into Yosemite Village. There are many more notable trails, including ones to take you to Yosemite Falls.
From Yosemite Village, Northside Drive will take you back along Yosemite Valley. Take a detour along Big Oak Flat Road to reach Yosemite Valley Vista Point then return to the valley floor and continue west on El Portal Road.
You'll pass more amazing viewpoints as you follow the Merced River towards Yosemite's Arch Rock Entrance, finishing your drive a few miles outside the park at El Portal.
As it's a relatively short trip, you can easily drive the Winter Route in a day but you have a few options if you want to spend a little longer exploring Yosemite National Park.
Spending a night in Oakhurst before you set out will means you can get an early start and beat the traffic on the 16-mile drive to the South Entrance.
Where is Yosemite National Park located?
Yosemite National Park is located in Central California, and you can reach the national park's different entrance stations easily from I-5 in the west or US-395 in the east.
Depending on where you're starting, you might want to drive the Summer Route in reverse so that you can begin your drive through Yosemite as quickly as possible.
And don't forget that, although we've called in the Winter Route, the drive along Wawona Road and Yosemite Valley is accessible year-round if it's more convenient for you to use Yosemite's South Entrance.
Overview of the travel times and distances from major cities nearby to Yosemite National Park

| Origin point | Arrival point | Closest route | Distance | Travel time |
| --- | --- | --- | --- | --- |
| San Francisco | Oakhurst | Winter Route | 190 miles | 3 hours 15 minutes |
| Los Angeles | Oakhurst | Winter Route | 260 miles | 4 hours 15 minutes |
| Las Vegas | Lee Vining | Summer Route | 330 miles | 5 hours 10 minutes |
| Salt Lake City | Lee Vining | Summer Route | 540 miles | 8 hours 15 minutes |
| Phoenix | Lee Vining | Summer Route | 630 miles | 10 hours |
| Seattle | Lee Vining | Summer Route | 840 miles | 14 hours 15 minutes |
You can use the links in the table above to access our ultimate guides on these road trips.
Things to know that can impact your driving time
Depending on when you visit Yosemite National Park, there are a few things that could slow you down on your drive.
Tioga Road is the main route through the higher elevation region of Yosemite and it can get very congested in summer. You should expect delays at the entrance station and popular overlooks, especially during weekends in June, July and August.
This can easily add 30 minutes to your driving time, with longer delays possible. You might also have to wait for a space in parking areas if they're full when you arrive.
The South Entrance Station is also a bottleneck on the Winter Route and, when it's open, the road to Mariposa Grove can get very congested. If you're traveling in the warmer months, note that delays of up to an hour are quite common at the South Entrance on holidays like Independence Day.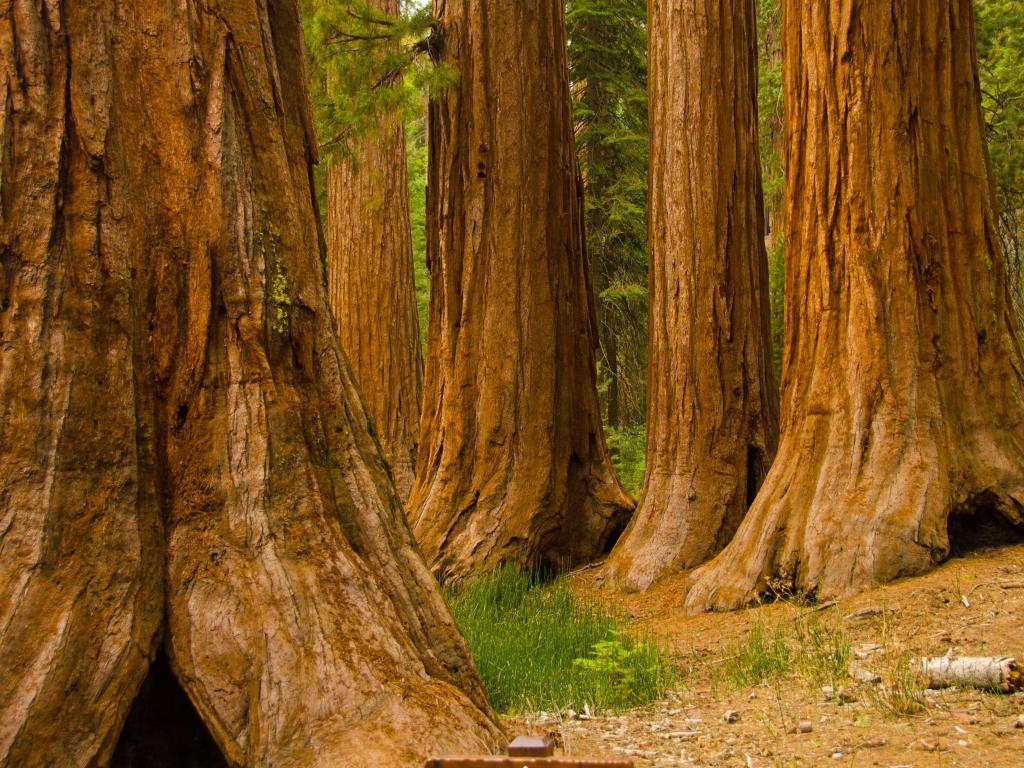 To avoid the rush, visit early in the mornings. Yosemite can already be very busy by 9 AM. If you're visiting in the summer, there's a free shuttle service which helps to reduce congestion in the park and also takes away the stress of finding parking spots.
The number of stops you make will also impact your driving time. We've allowed for five or six short stops, but the possibilities are endless in Yosemite so you might find yourself making more stops and taking longer to enjoy the view.
There are some amazing hikes in Yosemite National Park, ranging from 30 minutes to multi-day routes, so if you're taking one of the longer trails you'll obviously need to adjust your visit time accordingly.
As we've mentioned, Tioga Road is typically only open to vehicles from late May through to November. Opening and closing dates will vary depending on the weather conditions, so always check ahead if you're planning on taking this route at either end of the opening period.
If you arrive at Lee Vining to find the road hasn't opened for the summer yet, you'll face a lengthy drive to reach one of the other entrance stations.
With such extreme seasonal variation, roads through Yosemite can often be closed for repairs. In 2023 Tioga Road was closed until late July due to a partial collapse. If parts of the road need to be reduced to one-lane sections for ad hoc repairs, this will cause delays on either side of the repair work.
Speed limits are also important to bear in mind. Roads through Yosemite National Park are usually well-kept and in places, are wider than you might expect for a national park, but the speed limit is usually 45 MPH, dropping to 25 MPH in some areas.
Tips to drive through Yosemite National Park in the shortest possible time
With so much to see, we're sure you'll be keen to spend your time in Yosemite enjoying the lookouts and trails rather than sitting in a line, so we've put together our top tips to drive through the park in the shortest possible time.
During summer, Yosemite gets extremely busy. Avoid visiting with the biggest crowds between 9 AM to 5 PM.
Visit on a weekday or come in September for a quieter drive.
Consider using the frequent shuttles that take you to popular areas. This means you won't have to repeatedly wait for a parking space as you travel through Yosemite, although you might have to wait for a space on the bus on busy days.
Have two drivers available so you can alternate and stay fresh.
Fill up with gas at Lee Vining before entering Tioga Pass Road.
Check the road conditions on the National Park Service Website, in case of repairs or snow-related closures.
If driving in winter, a requirement for tire chains can be implemented at short notice, so travel prepared.
Yosemite in winter is spectacular, but remember Tioga Road is closed in winter so head to the Winter Route to experience the park in winter.
Things to see in Yosemite National Park
The list of things to see in Yosemite is endless, but to get you started with planning your trip we've selected some of our favorite views and visitor attractions in the national park.
Don't forget that you'll need to pay an Entrance Pass Fee to drive through Yosemite. This currently costs $35 for a private vehicle and passengers, and you can pay using a card at the entrance stations.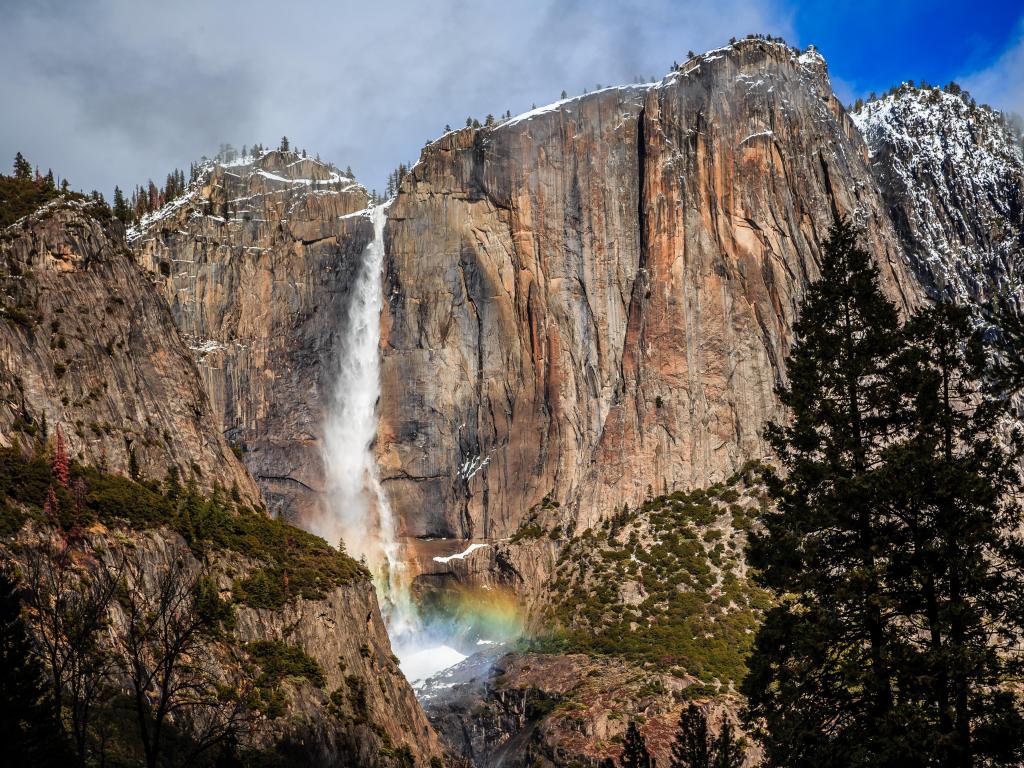 Yosemite Valley - This is the heart of the park and offers some of the most famous landmarks. The valley offers breathtaking views of granite cliffs, lush meadows, and the Merced River. Key sights here include El Capitan, a massive granite monolith, and Cathedral Rocks.
Half Dome - One of the most iconic granite formations in the world, Half Dome rises nearly 5,000 feet above the valley floor. Adventurous hikers can take the challenging 16-mile round trip hike to the summit, which provides an incredible panoramic view of the park. Note that permits are required for the final cable section.
Mariposa Grove of Giant Sequoias - Home to over 500 mature giant sequoias, this ancient grove includes some of the largest trees in the world. Notable trees include the Grizzly Giant and the California Tunnel Tree. The road to the grove closes down in winter.
Glacier Point - Offering one of the most spectacular viewpoints in the park, Glacier Point provides a panoramic view of Yosemite Valley, Half Dome, and the High Sierra peaks in the distance. Sunrise and sunset here can be particularly magical.
Yosemite Falls - As one of the tallest waterfalls in North America, Yosemite Falls is a three-tiered cascade that plummets a total of 2,425 feet from top to bottom. If you would like to learn more about the waterfalls in Yosemite, here is our detailed guide.
Whether you're planning a winter escape or a summer getaway, Yosemite National Park is a stunning destination. As you've read, it's an accessible national park that you can drive across easily, so all that's left is to pick a date!