15 Best Winter Road Trips from Dallas
Dallas is a shimmering bright light in the lone star state, defined by its rich history, artistic heritage, world-class museums and much more besides. The city's stellar location also makes it an ideal starting point for road trips across Texas and beyond, with plenty of choice when it comes to a winter road trip.
On our list of best winter road trips from Dallas, you will find endless options to satisfy every winter adventurer: from charming small towns adorned in festive lights, to Christmas markets and the Polar Express; from shimmering ski resorts to some fabulous Christmas shopping.
No matter what kind of road trip you might be interested in, our curated list will help you plan the best wintery adventure from Dallas! Read on to find out more about how to get to these magical locations, the best winter activities to do there and our top travel tips.
Best winter road trips from Dallas: a quick overview
Single-day trips (under 3 hours each way)
Our carefully curated selection of single-day trips, all under three hours from the city, is perfect for those spur-of-the-moment winter adventures near Dallas.
And for those planning ahead for the warmer months, don't forget to explore our ultimate guide for the Best Road Trips from Dallas, packed with ideas and inspiration for every season.
1. Dallas to Canton
60 miles from Dallas (1 hour)
Why you should visit: Imagine setting off from Dallas with the crisp winter air and a cup of your favorite seasonal beverage on a day filled with festive finds. This winter road trip from Dallas to Canton wraps the spirit of the season into a short, sweet journey perfect for a day trip or a weekend escape.
Canton is home to the world's largest flea market, where treasure hunting for unique Christmas gifts will be a holiday adventure of its own!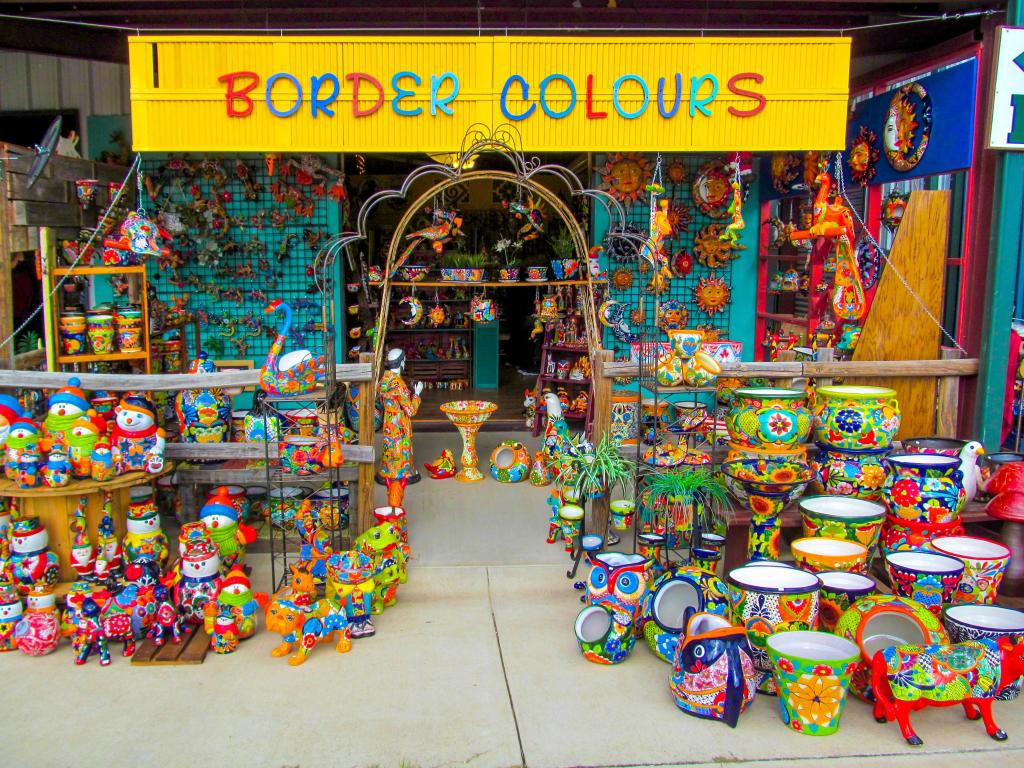 How to get there: On this short drive from Dallas to Canton, you will follow Interstate 20 (I-20) all the way to east and switch to TX-64 to reach Canton past Myrtle Springs.
Our highlights: Prepare to be enchanted by the offers you will find during First Monday Trade Days. As you meander through the myriad of stalls, each treasure you uncover tells a story, adding a personal touch to your holiday gift-giving.
The heart of Canton beats in its charming downtown, where you can take a stroll with a festive twist during the winter months. Historic buildings twinkle with holiday decorations, and you can explore the charming local shops and cozy cafes.
From the 24th of November, YesterLand Farm transforms into a Christmas Playland, complete with festive activities that capture the joy and wonder of the season.
You will feel the holiday spirit coming alive during your visit to Canton, making your winter road trip from Dallas to Canton a truly magical experience.
Did you know? Canton's First Monday Trade Days is steeped in tradition. It's been running since the 1850s, attracting visitors from all over the country.
Things to note: In 2023, Yesterland's Christmas Playland opens on 24th November. However, it is a good idea to check the opening days and times ahead of your visit to make sure you don't miss out.
Generally speaking, First Monday Trade Days takes place on Thursday, Friday, Saturday, and Sunday before the first Monday of the month. Check the website to confirm it's open when you arrive.
2. Dallas to Waco
100 miles from Dallas (1 hour 40 minutes)
Why you should visit: The wintery road trip from Dallas to Waco is a relatively short one, meaning you can make this drive as a day trip, if you are short on time.
With a lively market (a TV-famous one at that!) for Christmas shopping, or simply some retail therapy, Waco is a lovely place to visit during the winter months.
You can set off on this road trip in the morning and be back with your Christmas shopping done in the evening, ready for a festive meal!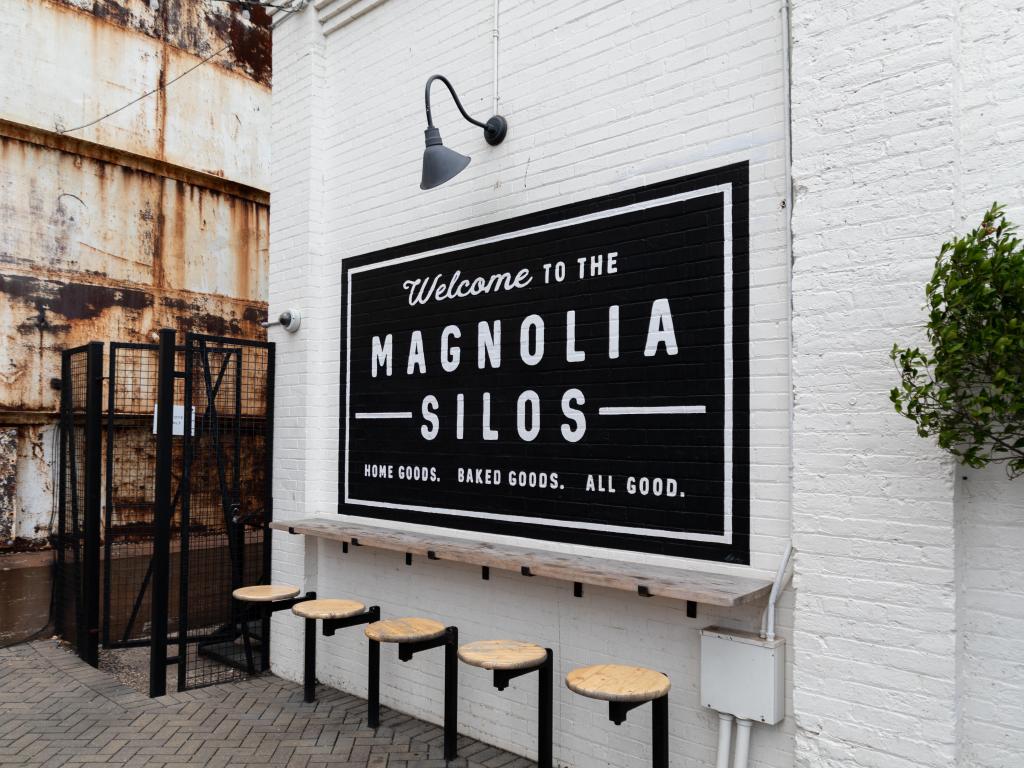 How to get there: Getting to Waco from Dallas is really straightforward, just follow I-35 all the way south until you reach Waco past Elm Mott.
Our highlights: On your way to Waco, you can stop at Waco Mammoth National Monument and learn more about Columbian mammoths, which could reach heights of up to 14 feet and weigh as much as 20,000 pounds! They once wandered the expanse of modern-day Texas millennia ago.
Magnolia Market at the Silos is a fantastic place to spend an afternoon and do some Christmas shopping. You can expect tastefully decorated stalls and possibly Christmas-themed workshops here. The perfect winter wonderland!
Craft Gallery is another great place to visit while in Waco, if you are looking for Christmas decorations and décor. The gallery features unique and on-of-a-kind Christmas gifts, great to impress friends and family.
Once you are done exploring, you can treat yourself to delicious kolaches at the Czech Stop and Little Czech Bakery in West, Texas, on your way back home. Everybody knows that calories don't count during the holidays!
Dr Pepper Museum is a great to visit, no matter what time you visit Waco. Here, you can learn more about this legendary drink and even make your own soda in a workshop. You can even book a Paranormal Tour of the museum in the evenings, if you dare!
With 5 historic homes to explore and several organizations staging theatrical and musical productions, some of which will likely be Christmas-themed, you might even want to extend your trip to Waco for a long weekend, especially if traveling with family.
Did you know? Magnolia Market is currently owned by Chip and Joanna Gaines, TV personalities best known for HGTV's Fixer Upper TV series.
Things to note: Since you will be traveling on major interstates, and due to the mild weather in this area, you can expect a smooth journey from Dallas to Waco.
In winter, the Dr Pepper Museum usually hosts seasonal events, such as make-your-own-soda using exclusive holiday syrup flavors, so keep an eye on their website closer to date.
If visiting Waco Mammoth National Monument, keep in mind that the park is open every day except Thanksgiving, Christmas, and New Year's Day. The park's operating hours are 9am to 5pm daily.
Magnolia Market is closed on the 24th, 25th and 31st of December, as well as the 1st of January. This includes the shops and the restaurants.
If visiting Craft Gallery or Little Czech Bakery, please check their website and social media channels for their opening times during the holidays, as these might change closer to date.
READ MORE - Road Trip from Dallas to Waco
3. Dallas to Palestine and Rusk
140 miles from Dallas (2 hours 20 minutes)
Why you should visit: You are in for not only one but two different winter experiences on this road trip from Dallas to Palestine and Rusk. On this adventure, you can make your dreams of riding the famous Polar Express, where bringing your PJs is highly encouraged!
This is the perfect family adventure as you journey through a winter wonderland aboard this storied locomotive, creating beautiful memories that you will always cherish. You also have a wintery Texas State Railroad camping experience waiting for you at the end of this trip in Rusk.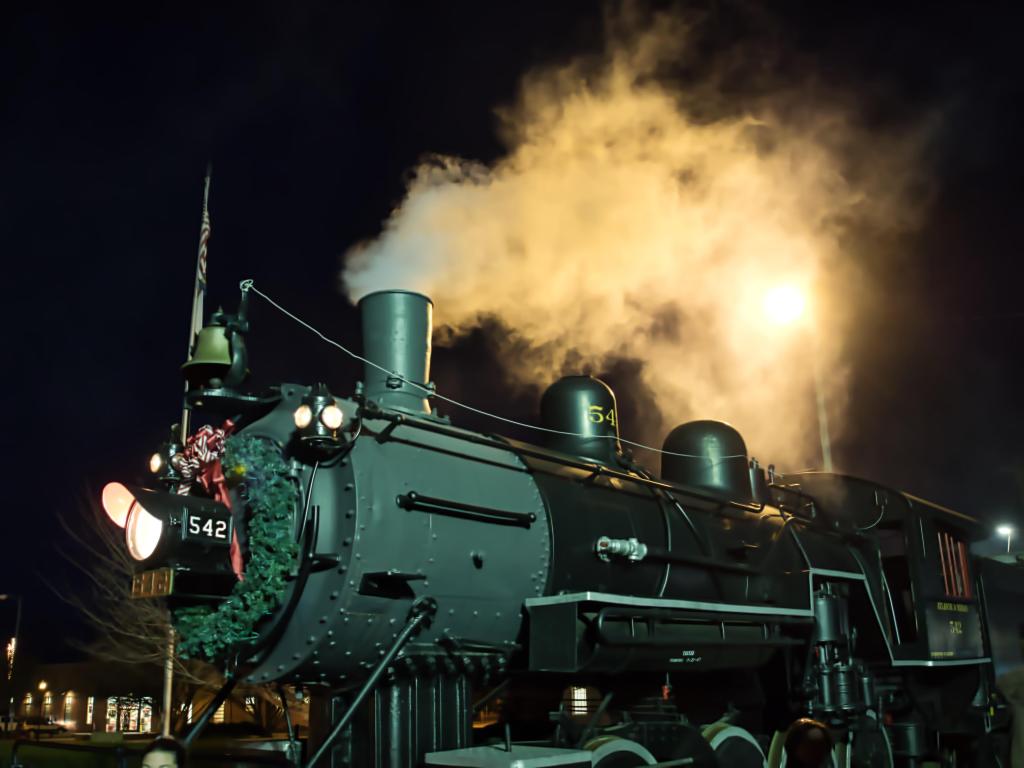 How to get there: Take US-175 as you leave Dallas and follow it southeast to Athens. Switch to TX-19 here, which will take you to Palestine. Then take US-84 to reach Rusk.
Our highlights: All aboard the Texas State Railroad for a heartwarming holiday journey on the Polar Express! Departing from Palestine, this festive train chugs its way towards a Texas-sized North Pole, offering families a sprinkle of Christmas magic and wide-eyed wonder.
And for those looking to snug up under the stars, the Rusk campground is the perfect spot to end a day filled with holiday spirit.
The historic heart of Palestine is decked out in holiday style, inviting you for a leisurely stroll through its merry streets. Don't miss the chance to chuckle at the Grinch, who's playfully locked up at the Anderson County Jail for his Christmas shenanigans!
Famous for its floral displays in the spring, Davey Dogwood Park offers a quieter charm in the winter. It's a perfect spot for a reflective walk through the crisp air, with the bare branches casting intricate shadows over the frosty paths.
The Rusk Footbridge is a journey over the longest footbridge in the nation! Built in 1861, this impressive structure offers a scenic stroll with views that are particularly striking when the winter chill has touched the landscape.
The drive between Palestine and Rusk on US-84 is a beautiful experience. Here, you'll find yourself winding through a peaceful countryside, over rivers and through the gentle frost-covered hills, each turn revealing scenes worthy of a holiday postcard.
Did you know? The Texas State Railroad is popular with TV and film enthusiasts. It's been used as a filming location for productions such as Walker, Texas Ranger and the 2001 film American Outlaws.
Things to note: In winter, take extra care because there might be ice patches on the road in the mornings.
The Texas State Railroad's Polar Express ride is a popular attraction. We recommend booking tickets in advance to avoid disappointment.
Check the opening times of attractions and shops. Both Palestine and Rusk sometimes have shorter opening hours during the winter months.
4. Dallas to Broken Bow
170 miles from Dallas (3 hours)
Why you should visit: A winter road trip from Dallas to Broken Bow is the perfect getaway in the neighboring state of Oklahoma if you are looking to escape the hustle and bustle of the city and enjoy the great outdoors.
You can visit the peaceful Beavers Bend State Park and enjoy winter hiking through the park and stay in rustic luxury log cabins. Beavers Bend State Park is open year-round, and hiking and fishing are still popular in the winter months.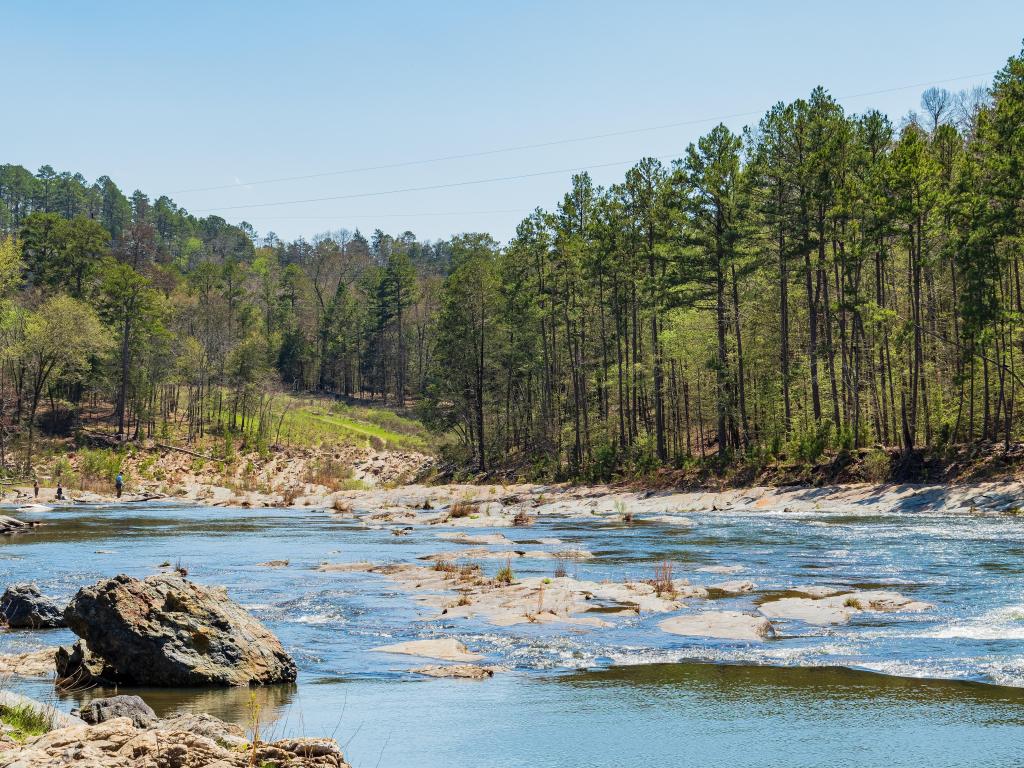 How to get there: This drive from Dallas to Broken Bow will see you traveling northeast on I-30 and then TX-24 until you reach Paris, Texas. Then follow TX-195 and US-259 will take you to Broken Bow and then Beavers Bend State Park.
Our highlights: In Broken Bow, outdoor activities don't stop in winter; wrap up warm and enjoy a scenic hike or go fishing at the Beavers Bend State Park.
If you are feeling more adventurous, you can book a winter cruise on an ATV for some adrenaline-pumping action. Nothing really beats reindeer-powered sleighs but this ATV tour might come close!
Once you are ready to settle down and enjoy the festive cheer, visit the nearby Hochatown, a charming small town with fabulous local wineries. You can enjoy wine tasting in one of these and pick some bottles to take home as the perfect Christmas present for wine aficionado friends or family.
For the perfect wintery experience, you can escape to a luxury cabin in Broken Bow. You will find plenty on offer that are perfect for a romantic couples' winter break or a family experience.
Did you know? Famous country singer Reba McEntire was raised on a nearby ranch in Chockie, Oklahoma.
Things to note: Beavers Bend State Park is open year-round, but check the weather forecasts if you are planning extensive hikes.
It is a good idea to book the cabins in advance, especially during the winter holidays and Thanksgiving.
Bring some shoes you don't mind getting dirty, whether venturing on a walk or staying close to your cabin. It gets wet underfoot.
READ MORE - Road Trip from Dallas to Broken Bow
Click here to skip back to the top.
Weekend trips (3-6 hours each way)
If you have more time on your hands, why not consider a longer winter road trip from Dallas? From Christmas shopping in beloved Texan cities to immersing yourself in charming German Christmas traditions, these road trips will allow you to enjoy the best of what winter offers.
5. Dallas to San Antonio
270 miles from Dallas (4 hours 15 minutes)
Why you should visit: This unforgettable winter road trip from Dallas to San Antonio will take you to Southern Texas, meaning you will experience a milder winter experience.
The River Walk in San Antonio becomes a winter wonderland with holiday lights, and the pleasant weather will mean that you will enjoy a still without having to worry about the cold.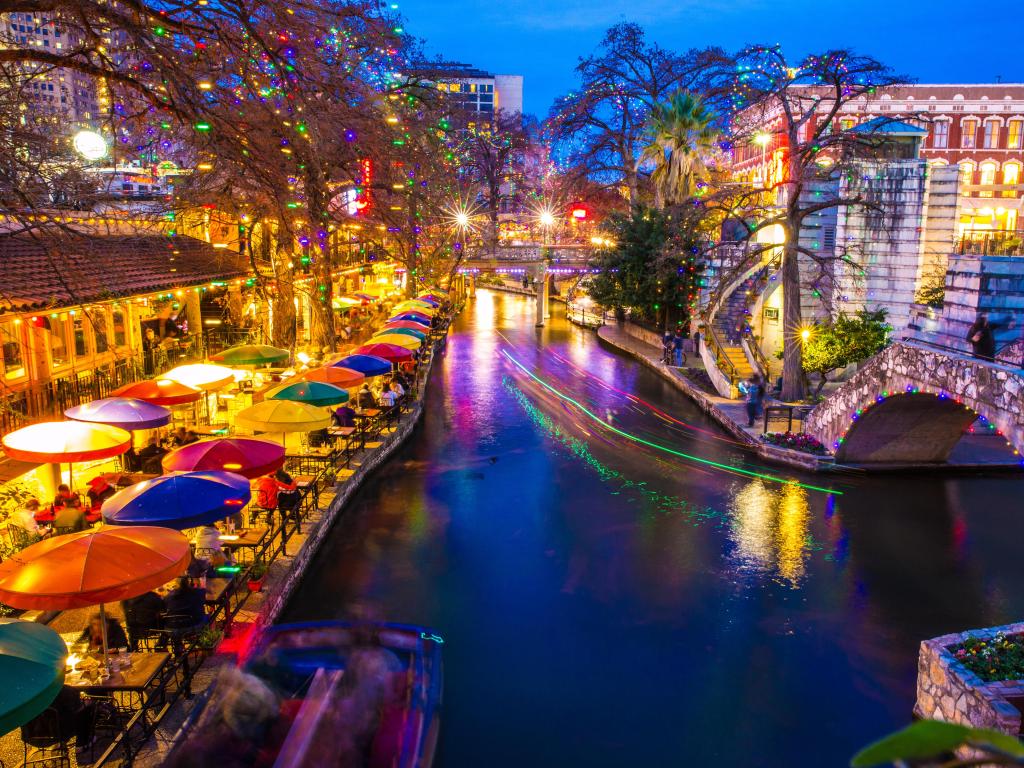 How to get there: Follow I-35 out of Dallas and drive south through Waco and Austin to reach San Antonio.
Our highlights: One of our favorite things to do during the winter in San Antonio is to spend some time by the San Antonio River on the famous River Walk. This area usually gets adorned in twinkling holiday lights on the 24th of November and you can feel the festivities in the air.
Why not take a boat tour while here to enjoy the scenery from a different perspective? Holiday Lights River Boat Cruises offers the opportunity to admire the downtown area's beautiful Christmas lights, which is pure joy! If you are lucky, you can also come across Carolin Boats on the river.
Not only the River Walk but many San Antonio attractions such as SeaWorld and San Antonio Zoo also come alive in the holidays. From parades to markets to concerts, make sure to check the events calendar for festive happenings throughout the city.
Once you have had your share of the joyful spirit and the winter activities, you can also explore the historic side of San Antonio. The Alamo is a famous and historic battle site and you can explore its museum and gardens, which are illuminated for the holidays in winter.
We highly recommend visiting the San Antonio Missions, where you can learn more about these UNESCO World Heritage-listed missions. Mission San Jose is over 300 years old and visiting this popular site in winter will mean that you will avoid the crowds.
Did you know? The San Antonio River Walk served as the backdrop for several films and TV shows. The picturesque setting was the scene for a famous comedy scene in Miss Congeniality.
In the scene, Miss Rhode Island (Heather Burns) was prompted to describe her perfect date and responded: "I'd have to say April 25th."
Useful bits of information: If you plan to take a boat tour to see the River Walk, book in advance, especially when the holiday season gets into full swing.
Keep in mind that some attractions can have different opening hours in winter, so it is a good idea to check ahead and plan accordingly.
As you might expect, the week around Christmas and New Year gets busy in San Antonio. Visiting early to mid-December will offer all the festive fun but without the crowds.
READ MORE - Road Trip from Dallas to San Antonio
6. Dallas to Houston
via College Station
275 miles from Dallas (4 hours 15 minutes)
Why you should visit: How does a "celestial holiday experience" sound? Taking this winter road trip from Dallas to Houston, you will be able to visit the world-famous NASA Space Center, where you can admire the Galaxy Lights.
If the idea of marveling at glittering stars doesn't have you convinced, then you might find it hard to resist a holiday classic; the theater district of Houston hosts performances full of wintery joy , including 'A Christmas Carol', a festive crowd favorite for decades.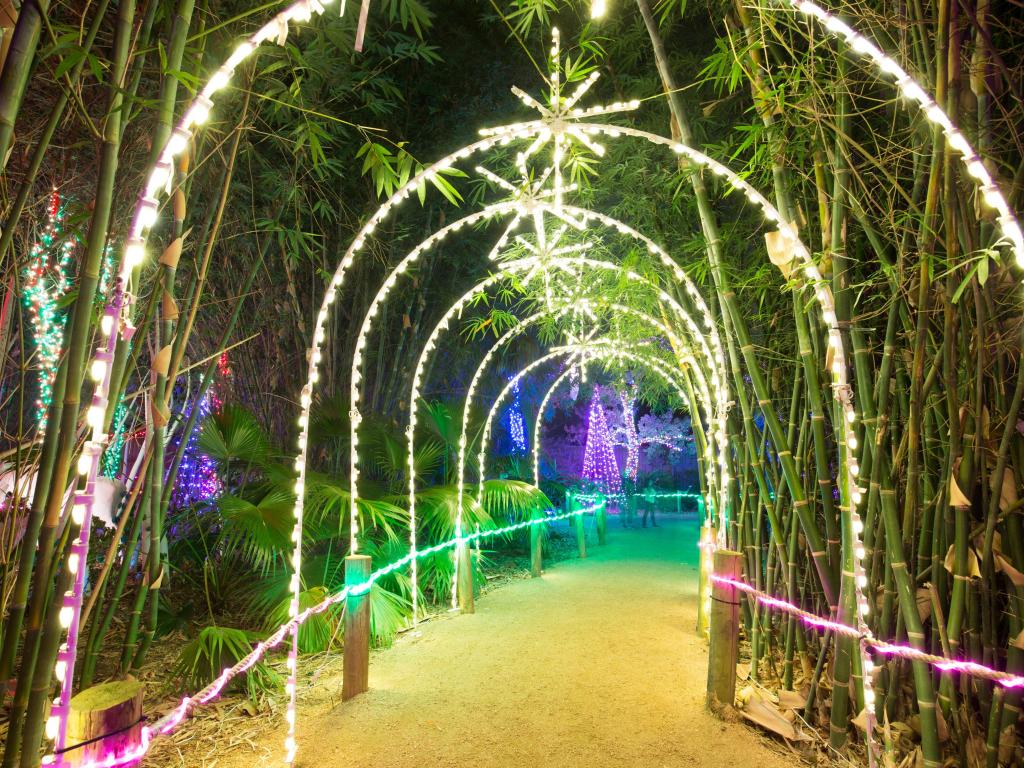 How to get there: To leave Dallas, follow I-35 south until Waco and hop on US-190 to arrive at College Station. From here, TX-6 and then US-290 will take you all the way to Houston.
Our highlights: A must-visit on your way to Houston is Santa's Wonderland. At College Station, Texas, you can visit the 'largest Texas Christmas Experience.' From mid-November onwards, you can visit the snow playground, meet Santa, and watch live entertainment.
If you love festive lights, then your first stop in Houston should be NASA's Space Center. After admiring the Galaxy Lights display, dubbed a "holiday light show that defies gravity", you can explore the rest of the complex and learn about America's role in space exploration.
You will find plenty of decorations outside, but Houston is also home to many indoor attractions are home to festive displays and seasonal exhibits during the colder months.
We recommend visiting Houston's world-class museums, including the Museum of Fine Arts, Houston Museum of Natural Science, and Contemporary Arts Museum Houston. Houston Zoo also is know for its cheerful and festive decorations.
Afterwards, warm up with a night of theater in Houston's thriving Theater District. While there's a wealth of performances, you can catch holiday-themed shows during winter.
What can be better than unwinding and enjoying some winter alfresco dining after all that exploration? When you feel peckish, have a winter dining experience at Houston's top restaurants. Many of which offer outdoor seating with cozy fire pits and seasonal decor.
Did you know? Space Center Houston is home to a massive Saturn V rocket. This is the same type of rocket known for launching the Apollo missions to the Moon.
Things to note: It is always a good idea to pack layers when traveling during the colder months. Although winter is mild in Houston, temperatures can still drop at night.
Christmas-themed theater shows are, maybe unsurprisingly, very popular. We recommend booking tickets way ahead of your visit to avoid any disappointment.
Keep in mind that the Galaxy Light display at the Space Center is at night and runs from 6pm. Also, general admission during day time does not include access to the Galaxy Lights.
If you plan to visit the Space Center during the day, we recommend booking tickets. The holiday season is expectedly a busy time. However, the rest of winter will be quieter.
READ MORE - Road Trip from Dallas to Houston
7. Dallas to Fredericksburg
via Austin
275 miles from Dallas (4 hours 30 minutes)
Why you should visit: This winter road trip from Dallas to Fredericksburg is the perfect adventure if you'd like to bring Europe to your doorstep without the hassle of flying. Fredericksburg is a charming city with a rich German heritage and offers an authentic holiday experience.
You might think you are in a Hallmark Christmas movie during your visit. From a stunning 30-foot Christmas tree to a genuine German Christmas Pyramid, "Weihnachtszeit", or Christmas season, transforms Fredericksburg into a winter playground.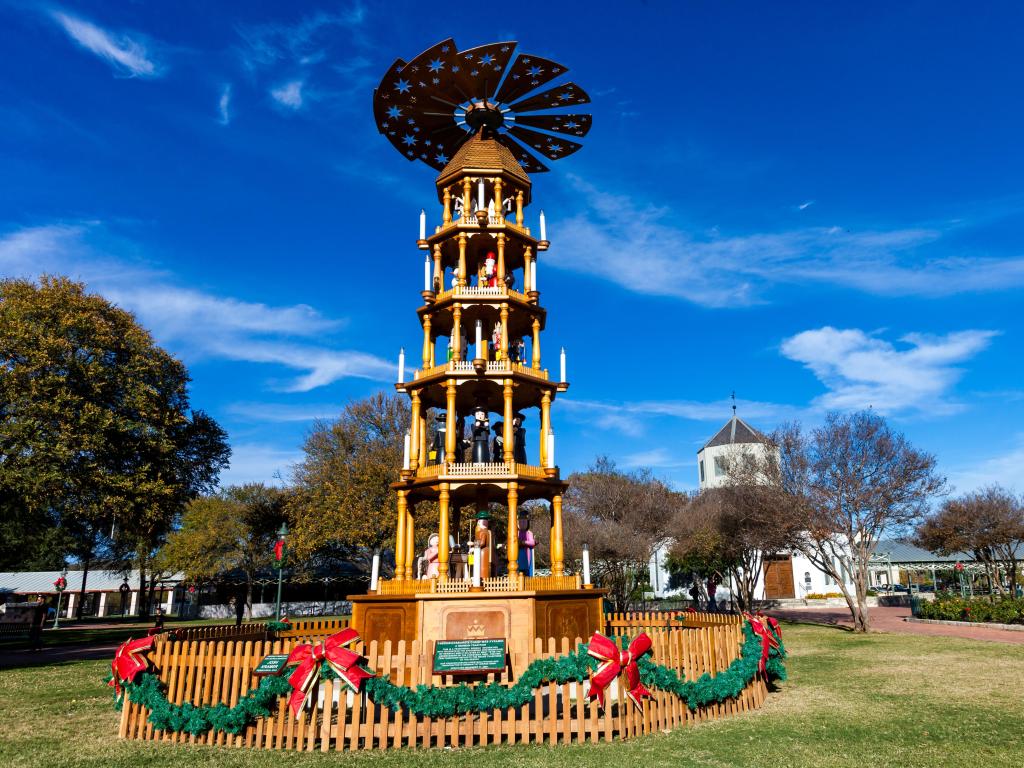 How to get there: Heading south on I-35 from Dallas, drive through Temple and follow the interstate into Austin. After your visit, follow US-290 west to reach Fredericksburg.
Our highlights: From its famous Weihnachtspyramide, Christmas pyramid, to Fredericksburg's Christmas Nights of Lights at the Marktplatz, the festive spirit can be found everywhere in this city.
Fredericksburg's Main Street is home to boutique shops and galleries. Decked with holiday decorations, it's the perfect place for festive shopping.
The city is not only bursting with events and things to do during the winter holidays, though. Fredericksburg is known for its fabulous wineries and sampling award-winning Texas wines by a fire or in cozy tasting rooms will be the perfect way to end a winter day.
On this winter road trip from Dallas to Fredericksburg, you can make a detour to Austin and visit ​German-Texan Heritage Society Christmas Market for last-minute holiday shopping.
Here, you can purchase handmade and imported gifts while traditional German Christmas music plays in the background. Don't forget to take home a Stollen cake! Who can resist the delicious combination of marzipan and rich fruit cake?
Did you know? Uptown Magazine called Fredericksburg the "Christmasiest Town in Texas" and it wasn't the only publication to do so. There is a reason why Southern Living called Fredericksburg the "Best Small Town for Christmas in the South"!
Things to note: It is a good idea to check the holiday schedule before you visit, the Christmas Pyramid illuminates from November.
Remember to stop by Markatplatz at 6pm to experience the Christmas Night of Lights. There's a 10-minute presentation to understand the German heritage, a countdown to the lighting, and some carols to boot.
8. Dallas to Hot Springs, Arkansas
290 miles from Dallas (4 hours 20 minutes)
Why you should visit: Hot Springs, Arkansas, aptly named for its naturally warm thermal springs, becomes a cozy haven when the mercury dips. Imagine swapping the chilly weather for a soothing dip in historic bathhouses, especially when they're most needed during the nippy winter months.
But the hot springs aren't all that's hot about this town. The quaint downtown, with its unique shops and eateries, is framed by the majestic Ouachita Mountains. In winter, these peaks don their snowy caps, and the rolling hillsides become a frosty paradise, offering a striking contrast to the warmth of the springs.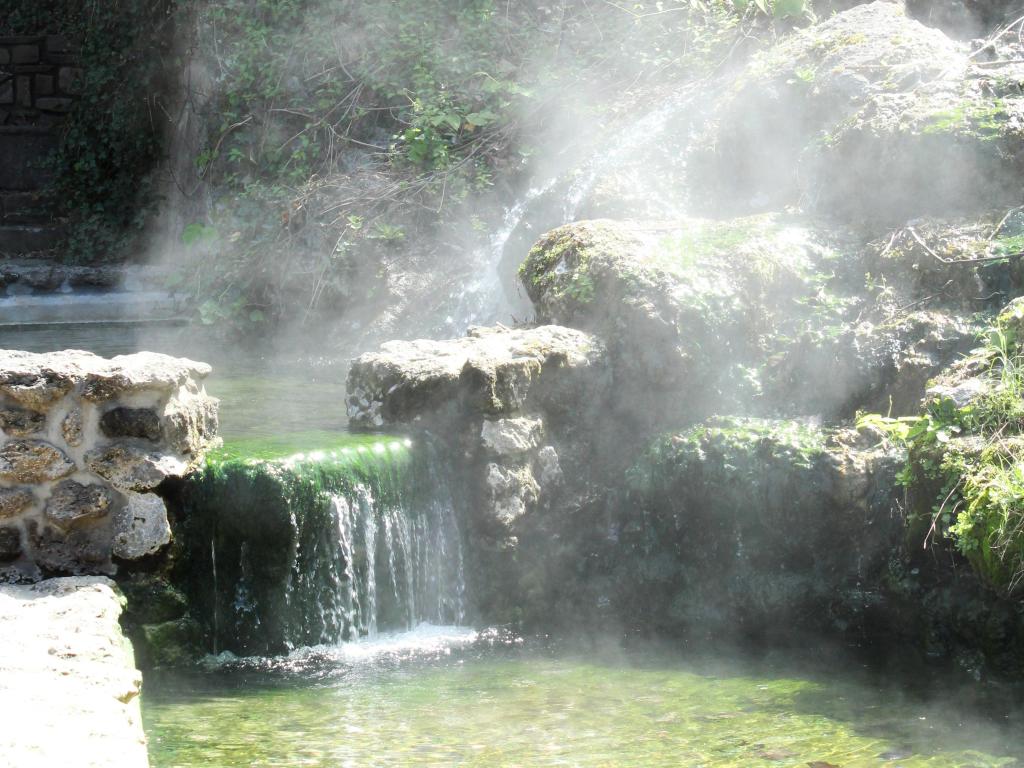 How to get there: To get to Hot Springs from Dallas, follow I-30 northeast through Sulphur Springs, New Boston and Texarkana. Past Arkadelphia, switch to AR-7 to reach Hot Springs, Arkansas.
Our highlights: Step back in time with a visit to Bathhouse Row, where you can indulge in a traditional bath experience. The iconic Buckstaff Bathhouse offers classic spa treatments that have pampered visitors for over a century.
It's a delightful respite where the thermal waters' warmth starkly contrasts the brisk winter air outside.
A winter's day in Downtown Hot Springs is well spent meandering through an array of local shops, each one offering a unique piece of this town's charm. And when it's time to warm up, step into the Ohio Club, rumored to be the oldest bar in Arkansas.
Hot Springs National Park is a great place to explore in the quieter winter months. Wrap up warm and set out on the hiking trails or take a scenic drive through the park. However, keep in mind that you cannot swim or soak in the hot springs located in this national park.
The Ouachita Mountains become a hiker's winter wonderland, with trails meandering through landscapes lightly dusted with snow. The crisp air and the muffled sounds of a winter's forest create an almost magical atmosphere for outdoor enthusiasts and nature lovers.
Did you know? Hot Springs was a favorite getaway spot for celebrities. Famous figures like Al Capone, Babe Ruth, and Franklin D. Roosevelt would enjoy a vacation here. There's even the Al Capone Suite at the Arlington Hotel.
Things to note: Be cautious when driving in the mountains. Snow and ice will make the roads hazardous.
Bathhouses and attractions may have different opening hours. Book treatments in advance for a stress-free experience.
Click here to skip back to the top.
Longer trips (Over 6 hours each way)
Unfortunately, it does not really snow all that much in Dallas, and your heart might be craving for a wintery adventure on the mountains. Worry not - these longer winter road trips from Dallas will take you to some of the best ski resorts in the country!
As a plus, you can also visit world-famous cities that know how to celebrate the holiday season in style and enjoy the festive charm at the popular theme parks of the East Coast.
9. Dallas to Memphis
via Little Rock
460 miles from Dallas (6 hours 50 minutes)
Why you should visit: Should you wish to spend a wintery weekend or a longer trip away from Dallas, Memphis is a great option. Significant Memphis events, King Day and Black History Month, take place in Memphis very close to Christmas, making it a fantastic place to visit during the middle of winter.
You will love the city's many wonderful museums in Memphis. With fairly mild Tennessee winters, you can very well enjoy these attractions during the colder months. There are also amazing restaurants to explore, and you can warm up with a winter ale at the city's many breweries.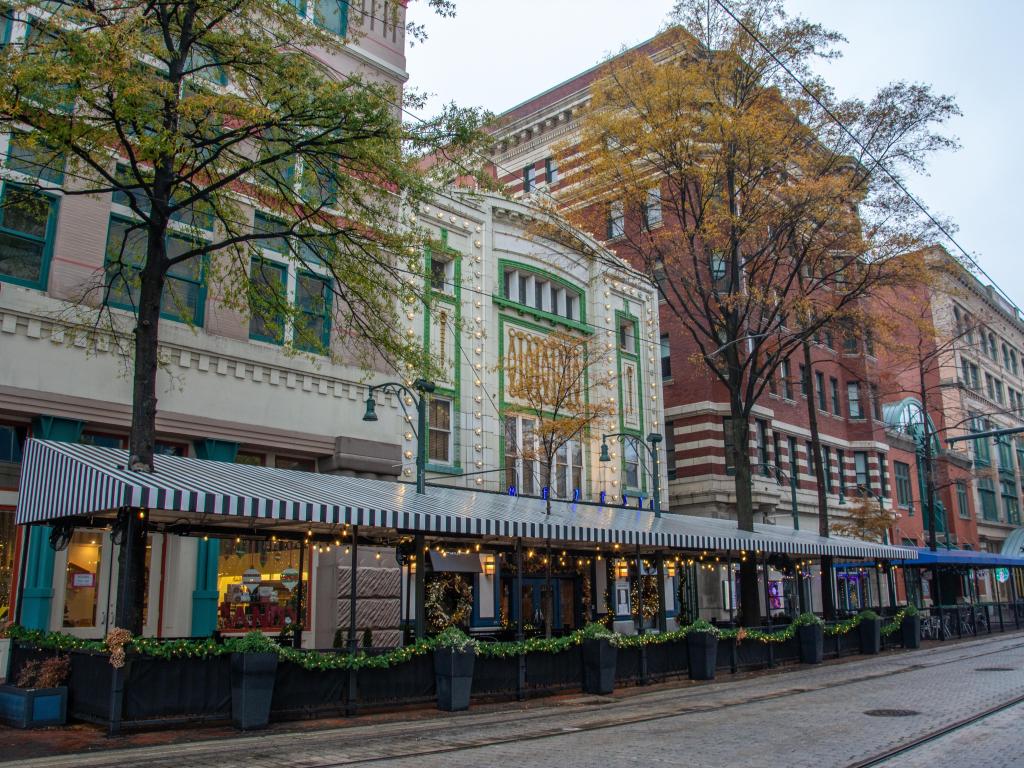 How to get there: Follow I-30 from Dallas to drive through Texarkana to Little Rock in Arkansas. From here, switch to I-40 to reach Memphis.
Our highlights: On the way, visit the bustling River Market District in Little Rock, the capital city of Arkansas. With many restaurants, bars, museums and shops, this market area is a lovely spot to visit on a wintry day.
Many popular artists have recorded their albums in the music studios of Memphis, including Johnny Cash and Elvis Presley. Elvis Presley's home Graceland, is one of the most popular attractions in Memphis, and indeed, Christmas at Graceland is a famous attraction, drawing tourists to visit Memphis in the middle of winter.
January the 15th celebrates King Day, Dr. Martin Luther King, Jr.'s birthday, at the National Civil Rights Museum in Memphis. On this day, you may explore the museum for free and also attend live music events and speeches outside the museum.
Visit the many breweries in Memphis for a warming beer, amber ale, or live music by the fireside; popular places include High Cotton Brewing Co., Loflin Yard, and Memphis Made Brewing.
Holiday Wonders at Memphis Botanic Garden is a wonderful destination for the whole family, with Christmas lights, decorated trees, hot Chocolate and much more.
Did you know? Memphis didn't have parks until the late 1800s, yet nowadays, it has one of the top urban park systems in the USA.
Things to note: There are major roads you may travel on to get from Dallas to Memphis, so driving conditions are generally good. However, these highways do get congested at times due to high traffic, so be aware while driving.
Graceland in Memphis is open all days of the year, except for Thanksgiving and Christmas Day.
Note that the National Civil Rights Museum is closed on Tuesdays.
10. Dallas to New Orleans
via Shreveport
520 miles from Dallas (7 hours 45 minutes)
Why you should visit: With mild winters, New Orleans is a lovely winter holiday destination and the generally vibrant and colorful city is full of wonderful holiday spirit, with many of the city's main areas and attractions decorated in colorful lights and Christmas decorations.
The trip is great for a long weekend away from Dallas, or perhaps even a fantastic week-long trip with so much to see and do in New Orleans in winter.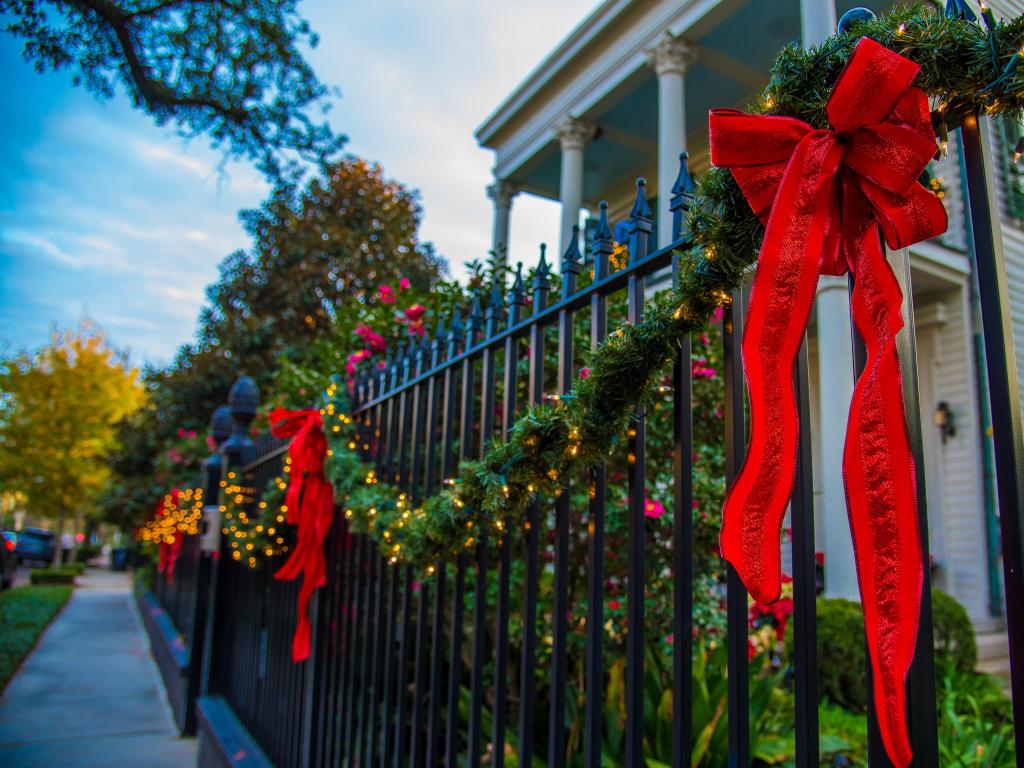 How to get there: Head east on I-20 from Dallas to reach Shreveport. From here, hop onto I-49 towards Lafayette and switch to US-190 past Opelousas and Baton Rouge, from where following I-10 will take you to New Orleans.
Our highlights: December is a festive period in New Orleans, with many concerts and live music events taking place then. Post Modern Jukebox, Algiers Bonfire & Concert by the Mississippi River, and NOLA Christmas Fest are some highlights.
Mardi Gras Day takes place in February or March each year, and the two weeks before the day itself are also filled with parades and festivities in New Orleans. Check out the Mardi Gras website to see what festivities might coincide with your winter road trip.
Oysters are a delicacy in this city, and best enjoyed during the winter months! Many of the restaurants in New Orleans prepare and serve oysters in a variety of ways during the festive season. Some favorite restaurants include Acme, Draco's, and Superior Seafood.
New Orleans City Park is transformed into an amazing light show during Thanksgiving and New Year's, and there is something to admire for the whole family.
R.W. Norton Art Gallery in Shreveport, on your way between Dallas and New Orleans, hosts an extensive collection of paintings, sculptures, and other artworks. The gallery is also often the site of Christmas exhibitions and activities.
Did you know? New Orleans is home to many exciting ghost tours and haunted mansions, so if you are in a Halloween-y kind of mood in winter, or simply love spooky things like us, then you can book a tour ahead!
Things to note: Louisiana is one of the states in the US that gets the least amount of snow in the winter months, and thus, weather is usually mild and pleasant in New Orleans.
You most likely won't need to worry about extreme weather on the roads while planning your road trip; however, the stretch between Baton Rouge and New Orleans does get very busy with traffic at certain times of the day - be vigilant in traffic.
Should you wish to visit Mardi Gras in New Orleans, it is advisable to book accommodation well in advance.
However, if you're looking for budget options to visit New Orleans, January is a good month, for many hotels drop their prices during this month between busy December and the month of Mardi Gras.
READ MORE - Road Trip from Dallas to New Orleans
11. Dallas to Nashville
via Memphis
660 miles from Dallas (9 hours 45 minutes)
Why you should visit: This winter road trip from Dallas to Nashville is particularly wonderful for music lovers, for it takes you to the "Blues Capital" of the world, Memphis, and eventually Nashville, "America's Music City" - and the city of country music.
During this winter road trip, you can enjoy fabulous festive events and beautiful city lights both en route and at the destination. Nashville hosts various wonderful music events during the winter season.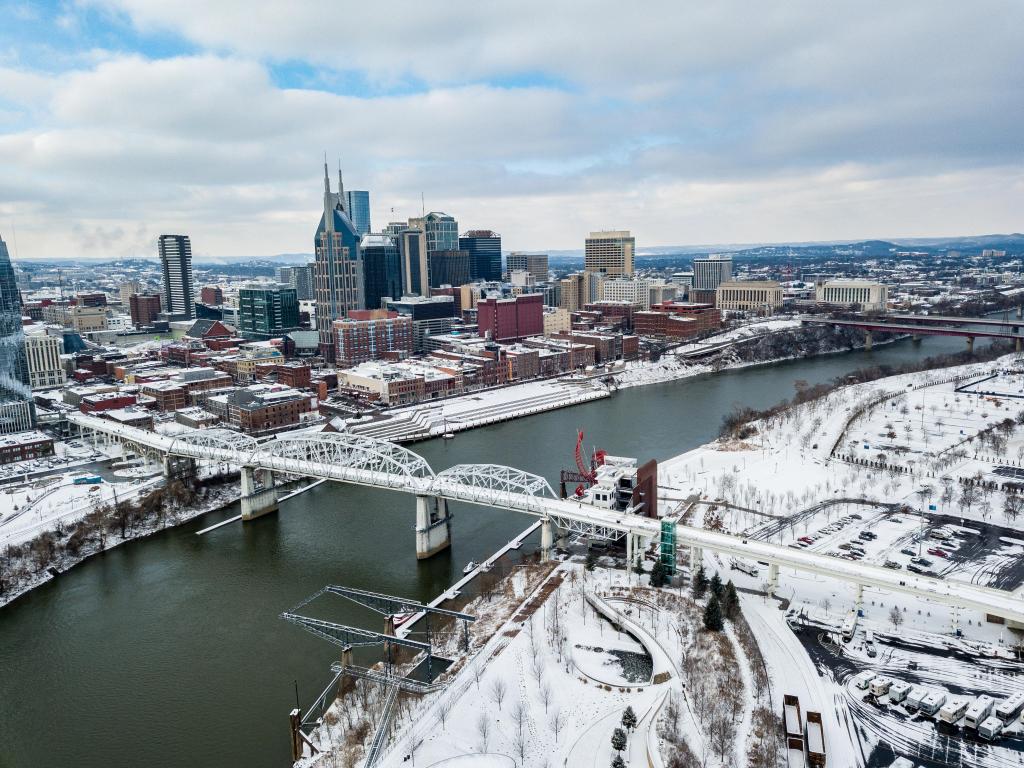 How to get there: The drive from Dallas to Nashville is pretty straightforward. Just follow I-30 and then I-40 northeast all the way.
Our highlights: On your way towards Nashville, make a stop at Memphis to enjoy Graceland: the home of Elvis Presley is especially spectacular during the festive season when visitors can view impressive Christmas decorations and displays.
Porter Lea Holiday Market, taking place around the middle of December, is a perfect place to find local and handmade gifts and crafts, should you wish to do some Christmas shopping.
Traditional holiday songs and millions of little lights can be enjoyed at the Dancing Lights of Christmas. During the festive season, Nashville is full of spectacular light shows, parades and live music, and you can enjoy a warming beer at the city's many breweries.
At the Country Music Hall of Fame and Museum, you may enjoy a tree lighting ceremony, special music performances, and much more, during the museum's month-long winter celebration.
You can enjoy a special Christmas show, Opry Country Christmas, at the Grand Ole Opry live music venue. Shows generally run during the month of December.
Did you know? Another thing Nashville is famous for is Johnny Cash; the singer and his wife lived outside Nashville for many decades, and he performed his music countless times at the stages of the city. The Johnny Cash Museum is another must-see attraction in Nashville.
Things to note: The Country Music Hall of Fame and Museum is open every day of the year, except for Thanksgiving, Christmas Eve, and Christmas Day.
The highways between Dallas and Nashville are generally in great condition and easy to drive.
READ MORE - Road Trip from Dallas to Nashville
12. Dallas to Santa Fe and Taos
via Amarillo
715 miles from Dallas (11 hours 10 minutes)
Why you should visit: This winter road trip from Dallas will take you to the heart of New Mexico to visit the historical and artistic locations of Santa Fe and Taos.
With winters rather chillier than the other seasons in Santa Fe and Taos, the winter months don't see as many tourists crowding here, so you can enjoy the historic districts and galleries more in peace.
With occasional snow in winter, and several fantastic ski resorts in the area, Santa Fe and Taos are a great option to head to during the colder months. Here, you can enjoy a range of activities, from skiing and snow shoeing, to soaking in hot springs.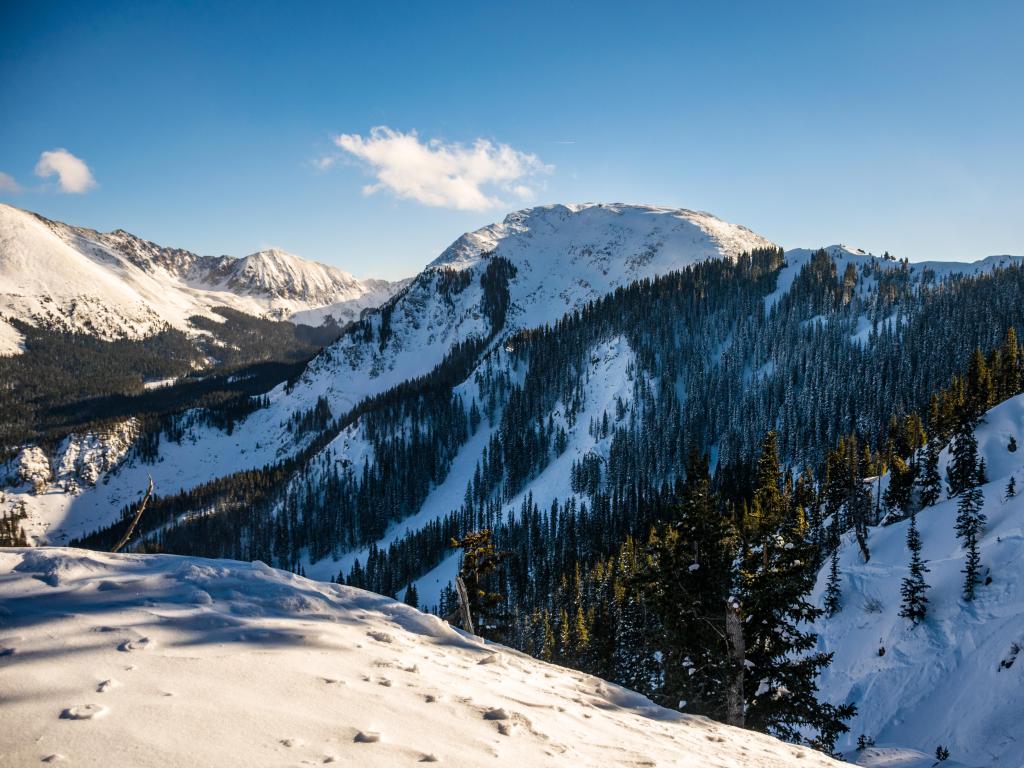 How to get there: Take US-287 and drive through Fort Worth, heading northwest to arrive at Amarillo. From here, take I-40, following the legendary Route 66. Past Santa Rosa, switch to US-285 and head north to Santa Fe and then Taos on NM-68.
Our highlights: Both Santa Fe and Taos have fascinating museums and stunning art galleries that you'll enjoy visiting to take a moment indoors while perhaps exploring the historic district in Santa Fe or Taos Pueblo in Taos on a wintry town walk.
Some highlights are the Museum of Indian Arts and Culture, the New Mexico History Museum, SITE Santa Fe and Taos Art Museum.
A must during a winter holiday to these locations is a day or a few out skiing. Located at high altitude, this area of New Mexico lends itself to snowy, sunny slopes; good choices for ski resorts are Taos Ski Valley, Ski Apache and Ski Santa Fe.
Especially after a day out in the snow, you may want to relax in a hot spring or pool. For example, Ten Thousand Waves, inspired by the Japanese hot spring resorts, offers lovely outdoor hot tubs located in a forest setting.
Taos Pueblo is famous for its traditional Christmas Eve and Christmas Day celebrations that you can observe as a visitor - please remember to be respectful of the Pueblo members, for some of the activities have religious or ceremonial origins.
GLOW at the Santa Fe Botanical Garden sees the garden set alight with a splendid display of Christmas lights during the festive season.
For more festive spirit, stop at Amarillo on the way in or out of Santa Fe and Taos to admire the display set forth by the residents of Bishop Hills; every year, the homeowners of this hilly neighborhood decorate their homes and decks with a spectacular array of Christmas lights for the whole town to see. Well worth a slow drive-through!
Did you know? Santa Fe happens to be both the highest (elevation-wise) and oldest state capital city in the US. It was established as early as 1607, and lies at an elevation of 7,198 feet.
Things to note: Although snow is common here in winter, it usually melts off the roads quickly, and in any case the major roads around Santa Fe and Taos are regularly maintained and kept open during the winter months.
It is always good, however, to be vigilant in the winter traffic in case of poor weather and icy conditions.
Should you wish to visit Taos Pueblo, this living Native American Community is open to visitors daily except for a usual 8-week closure in spring due to ceremonial reasons. While visiting, be respectful of the marked areas for tourists and private areas, and ask permission to take photographs.
13. Dallas to Denver and Breckenridge
via Wichita Falls
880 miles from Dallas (13 hours 40 minutes)
Why you should visit: Denver and Breckenridge are both well known for outdoor sports, and in the winter months, they are great bases for going skiing in the Rocky Mountains or doing other winter sports nearby.
During the festive season, Denver is a great place for exploring decorated shopping centers, enjoying theater shows and concerts, ice skating, or going skiing during the day and enjoying a warming après-ski in the evening.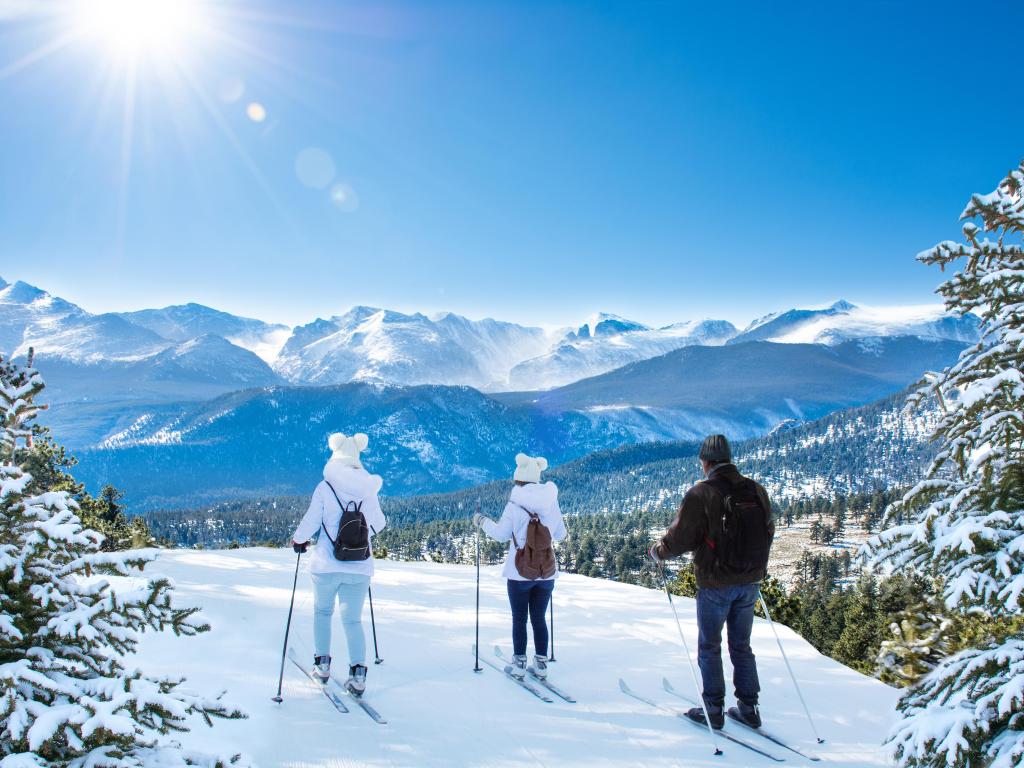 How to get there: The drive from Dallas to Denver will start on US-287, heading northwest through Wichita Falls. Switch to US-87 past Amarillo and to I-25 past Raton. Driving through Raton Pass and then Colorado Springs, you will reach Denver. From here, head west to visit Breckenridge,
Our highlights: The Big Christmas Expo at Wichita Falls on the way from Dallas to Denver is a two-day event in December. It's a great place for doing some Christmas shopping, with the Expo featuring a variety of arts, crafts, and gifts from local and regional vendors.
During the festive season, you can enjoy a colorful light display, animal encounters and nightly entertainment at the Denver Zoo.
We highly recommend visiting Cherry Creek North Winter Wanderland Light Walk between late November and Christmas, for a dazzling display of Christmas lights and traditional season melodies.
Denver also hosts a range of Christmas Markets during the festive season - explore these markets to find gifts, enjoy a warming hot chocolate or a beer, or sample the culinary delights of the wintry Denver.
Colorado Symphony Orchestra's holiday shows are also popular events. Make sure to book a show to enjoy some seasonal musical favorites.
Denver is an amazing destination in winter, even if you aren't traveling during the festive period due to its proximity to some world-famous ski resorts. If you are feeling adventurous, you can hit the slopes in Breckenridge nearby. This world-class ski town is a premier destination in the winter months.
You can also enjoy magical hikes in the nearby Rocky Mountain National Park when the park becomes a winter wonderland.
Did you know? Denver's downtown area is considered amongst one of the most walkable in the nation - do gear up with warm clothes and take a wander through the city's winter markets, galleries, and museums, and you can pop in for a warming beer at the city's many quality craft breweries.
Things to note: Denver does receive snowfall during the winter months, and although the city is well prepared to keep the roads cleaned, it is good to be prepared for winter driving when doing this road trip.
You can enjoy all of Denver's attractions more peacefully during the winter months, for the city sees fewer crowds during this season than in the summer. Hotel rates are generally also lower.
If visiting Rocky Mountain National Park, keep in mind that you might need to make a reservation ahead of your visit and check the official website for more information.
READ MORE - Road Trip from Dallas to Denver
14. Dallas to Miami
via Orlando
1,310 miles from Dallas miles (18 hours 55 minutes)
Why you should visit:This sunny winter road trip allows you to experience Miami in our favorite way: less tourists, pleasant temperatures, very little precipitation, and lovely holiday or Christmas traditions and celebrations to enjoy.
It is a longer road trip, so you'll get to experience the pleasant winters of southern Mississippi and Alabama en route as well.
During the winter months, Miami is host to special festivals and events, such as chocolate festivals, art shows, and boat shows, all of which make this southern Florida city a worthy winter holiday destination.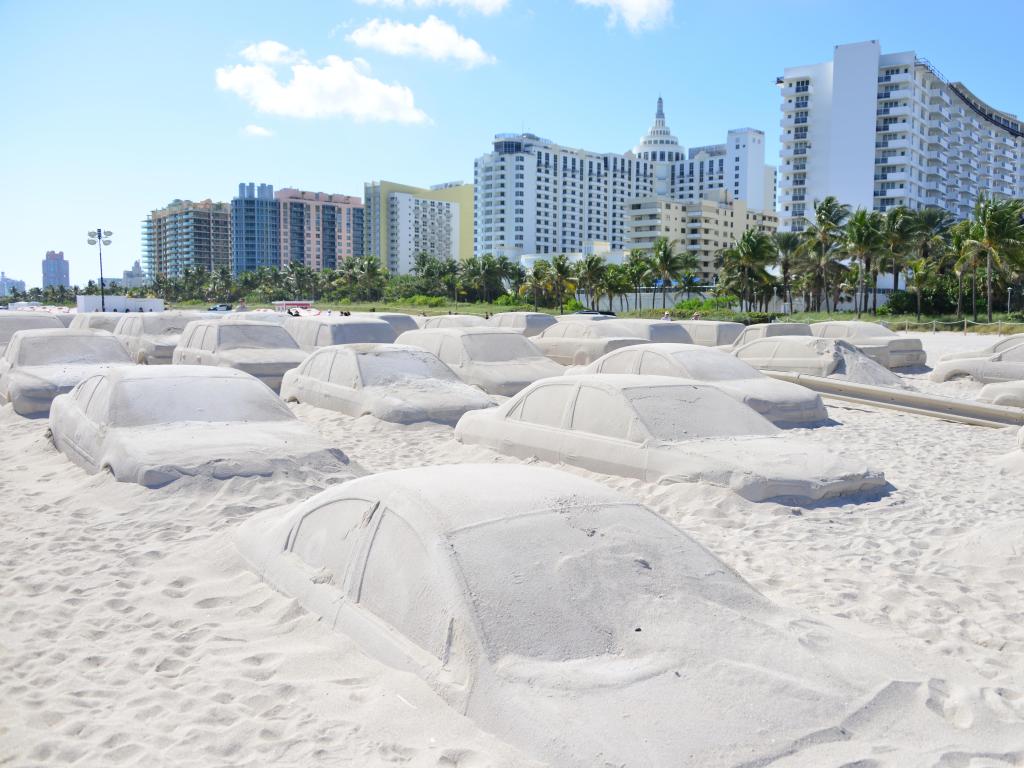 How to get there: This is a mammoth road trip for the ultimate wintery adventure. From Dallas, follow I-20 all the way to Jackson, Mississippi, and then hop onto US-49. Switch to US-98 past Hattiesburg and then I-10 past Mobile.
This interstate will take you all the way to Florida and you will get on I-75 past Lake City. Drive through Orlando and following Florida's Turnpike and then I-95 will take you to Miami.
Our highlights: On your way, discover the enchanting winter festivities in Orlando, where theme parks such as Walk Disney World Resort and Universal Orlando transform into merry wonderlands with seasonal parades and festive shows, providing an unforgettable holiday experience for the whole family.
The Night Garden at the Fairchild Tropical Botanic Garden includes light installations, sculptures, optical illusions, food and drinks, and is a well-loved spectacle where there's something to see and do for the whole family.
Miami is known for its fantastic winter events. Art Basel Miami takes place on Miami Beach every year in December and features stunning works of art by artists from all over the world.
The International Chocolate Festival in January is the most delicious winter event in South Florida. This event features artisan chocolatiers, lectures on chocolate making, a walk through a rainforest to learn about the cocoa plant, and much more.
Miami International Boat Show in February is a popular winter event with lots of fun entertainment, music, seminars on ocean conservation and boat-related seminars and learning events.
One winter spectacle worth seeing while in Miami is George Balanchine's The Nutcracker, performed by the Miami City Ballet. While this ballet might not be on every year, you will find other festive shows in the Miami City Ballet's program to enjoy.
Did you know? Yet another thing Miami is well known and loved for is food! With a strong Cuban influence, Miami's culinary scene is filled with things such as delicious pastelitos, Cuban sandwiches, meat dishes such as arepa and chicharron, and fresh, local seafood.
Things to note: Although a little less crowded in winter than in the summer months, Miami does see tourists all year round, and if you're visiting during the festive season, it is good to book flights and hotels well in advance.
You'll be driving on well-maintained highways for the duration of the road trip, and thus, driving will be smooth. Do be aware of heavier traffic when nearing Miami, though.
If you're hoping to watch the Nutcracker ballet performance, it is a good idea to book tickets in advance.
READ MORE - Road Trip from Dallas to Miami
15. Dallas to Las Vegas
1,295 miles from Dallas (20 hours 20 minutes)
Why you should visit: Las Vegas has much to offer at any time of the year, but visiting during the festive season can be extra special since many of the main attractions, shopping malls, hotels and other venues put on a fabulous holiday flare - despite the lack of snow, the city becomes a true Winter Wonderland.
This winter road trip through Texas, New Mexico, Arizona, and into Nevada will be an epic adventure to remember. You'll have a chance to go skiing in New Mexico or near Flagstaff, Arizona, and will land in Las Vegas, the "Entertainment Capital of the World" with many world-class attractions to explore.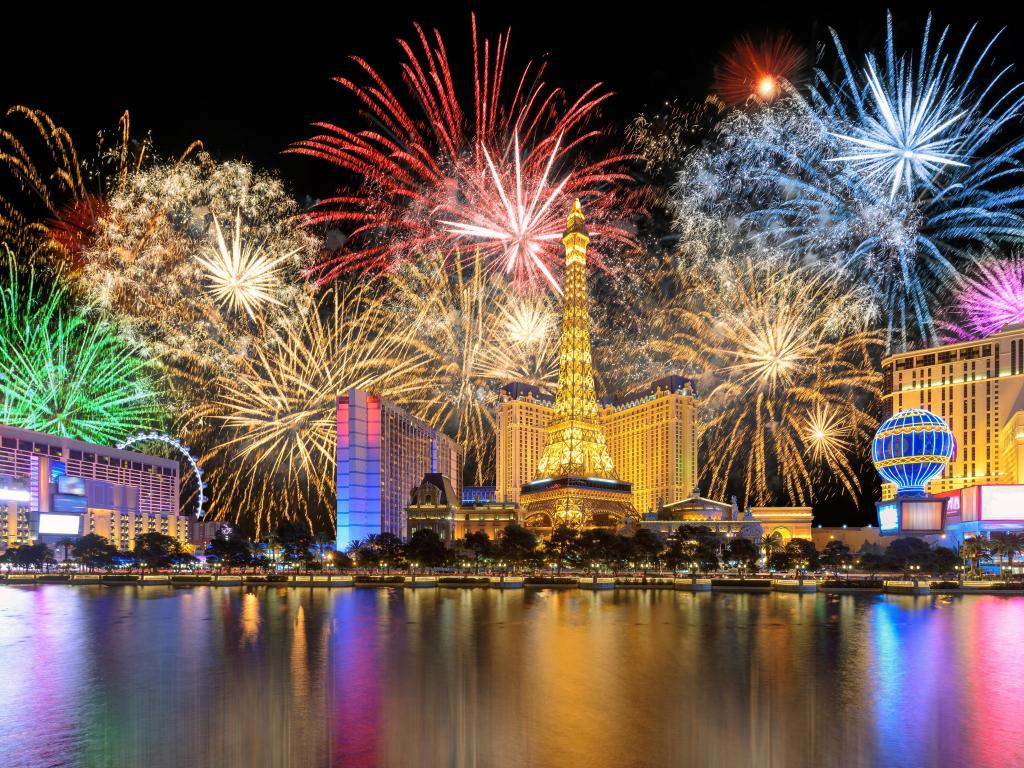 How to get there: Head west on I-30 and then I-20 on this drive from Dallas to Las Vegas. Crossing the border into New Mexico, drive to Cloudcroft and Ruidoso.
Following US-60, you will enter Arizona where you will switch to I-40 to drive sections of the famous Route 66. Head northwest past Kingman to reach your destination in Las Vegas.
Our highlights: Lincoln National Forest is a wonderful stopover location to enjoy winter activities such as skiing, snowshoeing, snowmobile tours and sledding.
In Las Vegas, many of the popular performances, such as All Motown, Frankly Frank, and Tournament of Kings, are updated for the holiday season to please the audience with Christmas carols, holiday outfits, and festive fun.
Enjoy a spectacular holiday lights adventure at the attraction "Enchant" at the Las Vegas Ball Park.
Another special Christmas tradition in Las Vegas is Glittering Lights, a 2.5-mile course of dazzling light displays that you may enjoy by driving or hopping on the Santa Tram.
For a truly unique experience of the festive season, head over to the Ice Rink at the Cosmopolitan. Take to the ice on your skates and enjoy hot adult beverages, light snowfall throughout the evening, roasting s'mores over the fire pits or watching holiday movies.
Did you know? Las Vegas is home to many skilled and loved cover bands that have become local legends. This means you can enjoy a cover band's performance and get a similar 5-star performance to watching a show by a major celebrity.
Things to note: Las Vegas shows are always very popular, so to find tickets at a fair price, it is advisable to book them well in advance.
The shoulder months January-March are also generally the cheapest and least crowded for visiting Las Vegas.
At Lincoln National Forest, a lovely stopover location en route, certain smaller roads may be closed during the middle of winter.
READ MORE - Road Trip from Dallas to Las Vegas